10 Things You Should Know About "The Boxtrolls"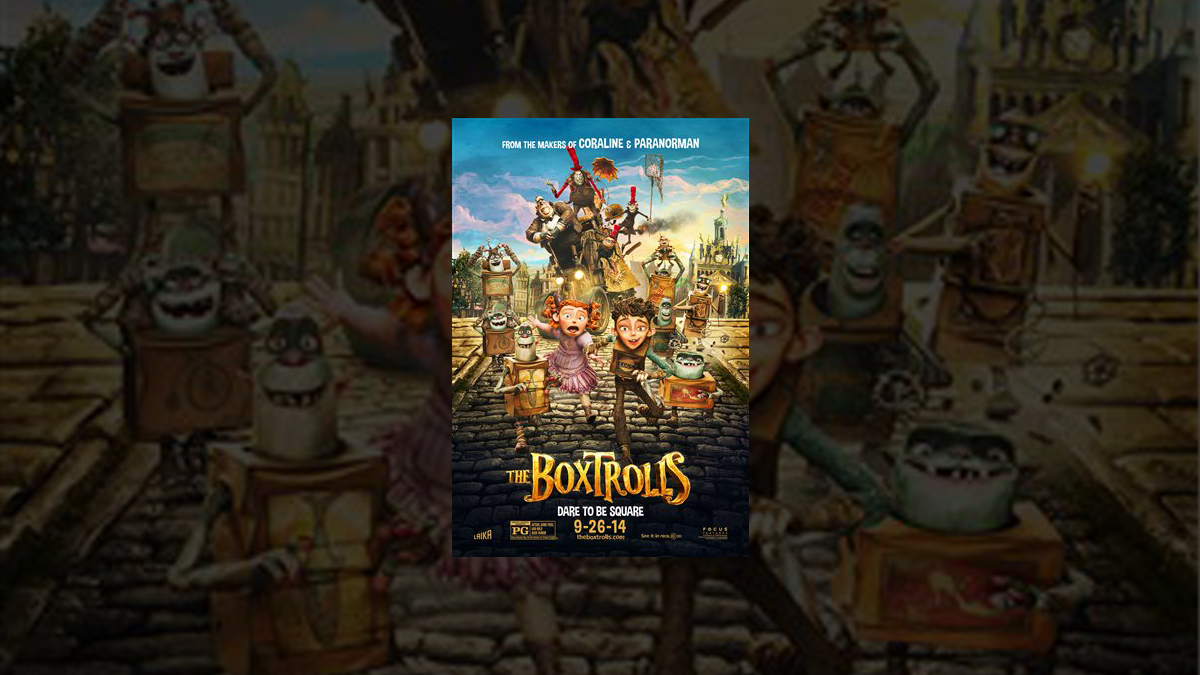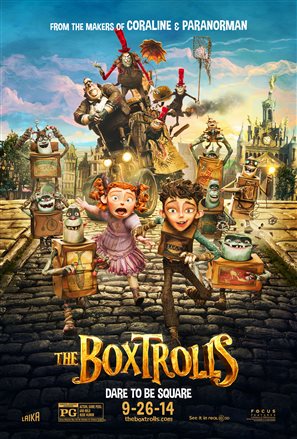 On September 26th, Focus Features will present LAIKA's "The Boxtrolls". A family event movie from the creators of "Coraline" and "ParaNorman" that introduces audiences to a new breed of family – The Boxtrolls, a community of quirky, mischievous creatures who have lovingly raised an orphaned human boy named Eggs (voiced by Isaac Hempstead-Wright) in the amazing cavernous home they've built beneath the streets of Cheesebridge. When the town's villain, Archibald Snatcher (Academy Award winner Ben Kingsley), comes up with a plot to get rid of the Boxtrolls, Eggs decides to venture above ground, "into the light," where he meets and teams up with fabulously feisty Winnifred (Elle Fanning). Together, they devise a daring plan to save Eggs' family
While keeping their community together underground, the humans' trash becomes the Boxtrolls' treasure. The kindhearted band of tinkerers also dumpster-dive and collect mechanical junk which they transform into magical inventions. But with his Boxtrolls family increasingly at risk because of Cheesebridge citizens misunderstanding them and because of Snatcher's dangerous scheme, Eggs must venture above ground, "into the light," where he meets and teams up with another 11-year-old, the fabulously feisty Winnie (Elle Fanning of Maleficent) – Lord Portley-Rind's daughter. Together, Eggs and Winnie devise a daring plan to save the Boxtrolls from Snatcher, embarking on an adventure with madcap antics and open hearts which proves that heroes come in all shapes and sizes – even rectangles.
---
10 THINGS TO KNOW ABOUT LAIKA'S LATEST GROUND-BREAKING MOVIE: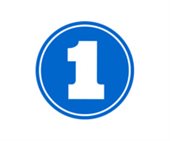 The BoxTrolls is a stop-motion, hand-drawn AND CG hybrid movie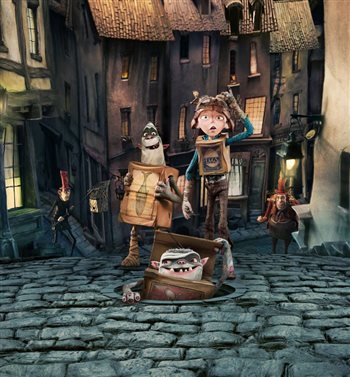 While the traditional
stop-motion process remains the bedrock of LAIKA, the company has continued to
integrate new technology, specifically RP (Rapid Prototyping) and CG
(Computer-Generated) advances, into its moviemaking. The Boxtrolls (2014), the company's third feature, was again
conceived and photographed in stereoscopic 3D. Notably, it is also an example
of hybridization: a stop-motion, hand-drawn, and CG hybrid which marries and
celebrates the handmade tradition and the latest tools of the trade. Once more
in Oregon, new ground is being broken in
exploring and expanding a classic art form
---

The Boxtrolls wear recycled cardboard boxes the way turtles wear their shells and get their names from their box labels.
[View:http://www.youtube.com/watch?v=lipo36UxhMQ]

---

A stop-motion feature is
comparable to a live-action feature – physical sets must be
built and dressed, performers need to be properly coiffed, clothed, and
lit – and given proper direction.
[View:http://www.youtube.com/watch?v=jAckX7fTkkM]
---



Alan Snow's bestselling fantasy
adventure Here Be Monsters!,
the first volume in the author's series of
books, was adapted into The Boxtrolls.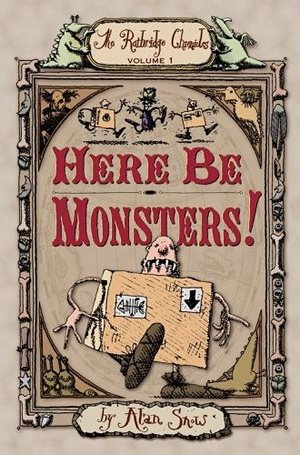 LAIKA CEO and Lead Animator Travis Knight reveals, "We have developed this movie for nearly a decade, starting
around the same time as Coraline.
That movie came together first, and then ParaNorman
jumped into view, but now here we are with this long-nurtured project
finally happening.

---

Boxtrolls speak their own language

[View:http://www.youtube.com/watch?v=X5Bkb_JVDvo]
---

Sir Ben Kinglsey performed the character of Snatcher in a reclined position


Producer David Bleiman Ichioka reveals, "That changed this amazing actor's voice performance – where it would come from within his body – and that in turn changed the way we were animating Snatcher and how his body and face would be moving. He took on a much more theatrical bent; he is always 'on.'"
The actor found the voiceover recording sessions "very releasing. I wasn't bound by physical behavior, costume, or even to a certain extent continuity. I'm quite intuitive, I think, and Snatcher's voice materialized on day one – I did it at home privately and then brought it to the recording session. It came out of his big gut."
---

The Boxtrolls and Imagination Foundation has invited kids of all ages anywhere in the world to build something amazing out of cardboard, recycled materials and imagination.



You can enter The Boxtrolls Cardboard Challenge now through September 29th by posting your cardboard creation on Twitter or Instagram using #TheBoxtrollsCC
---

The movie "Paranorman" needed a Face Wrangler and "The BoxTrolls" has a Face Librarian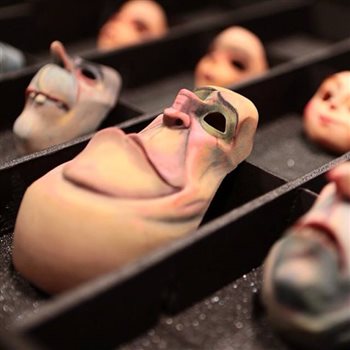 Replacement facial animation at LAIKA is groundbreaking; LAIKA was the first animation studio to use 3D printers to create the replacement mouth and brow of each character. On this movie, thousands of face parts were printed, which gives the lead characters an infinite amount of expression.
Tim Yates, who was lead face wrangler on ParaNorman and now lead face librarian
on The Boxtrolls, notes that "the human touch is never lacking in our characters;
there is a tremendous amount of nuance that goes into these faces. Having
thousands of replacement faces coming from the 3D printers, and kept in the
face library that our facial animation department has built up, helps our stop-motion
animators be able to give extra attention to the body movements. What all this
is in the service of is that audiences connect with the characters and feel
their emotions. LAIKA's movies are highly character-driven, and this range of
expressions helps our characters come even more alive."
The faces for all characters are now permanently housed in LAIKA's face library, which currently numbers over 1,300 archival boxes of nearly 53,000 faces
---

Some "Easter
eggs" did make it past the executives at LAIKA.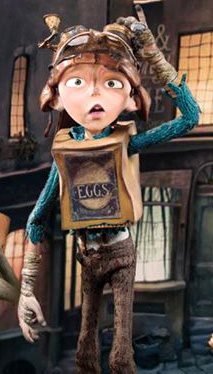 For those familiar with the original source material, Curt Enderle – Boxtrolls art director – reveals that
"people with sharp eyes might be able to spot signs on some buildings that
reference things in Alan Snow's book."
So keep your eyes peeled.
---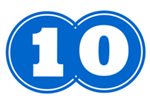 Snatcher's Mecha-Drill puppet, which stood 5′ tall & weighed over 75 pounds is the biggest stop-motion puppet rig ever built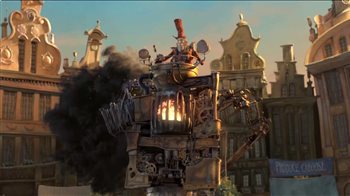 More Boxtrolls by the Numbers

An animator
typically took 1 week to complete 3.7 seconds' worth of footage, which is just
under 90 individual frames


190 puppets were
built for The Boxtrolls


200 costumes were
made for the movie


Mixing puppets
and CG, the ballroom set hosted 150 Cheesebridgeians


Over 53,000
individual face parts were 3D-printed; of those, 15,000 were Eggs'


The movie's
smallest costumes were for Eggs as a toddler: the sweater, measuring 3.5″ from
cuff to cuff across the length of both arms and chest, and the socks measuring
5/8″ long

CG humans are in
185 shots of the movie, CG Boxtrolls are
in 131 shots of the movie


The stop-motion flames "burning" in the furnace of the
Mecha-Drill are courtesy of a working iPad displaying a loop video inside the
"mouth" of the device


The river running through the sewer scene where Eggs
climbs the ladder was in fact handmade; a rig holding a 4'x2′ pane of shower
glass passed over a nest of white aluminum fishing-line wire, tiny pieces of
mirror and mylar, and colored masking tape to perfect the illusion of a watery
surface – creating rippling liquid without
actual liquid


The movie's
smallest prop was the tiny sewing thread and needle


The following
amounts of materials were used or consumed during production:


80 pounds of hot
melt glue sticks

96 cubic feet of
gold urethane foam

898 cans of spray
paint

1,000 sheets of
sandpaper

2,000 tongue
depressors

2,896 feet of
2×4's

2,904 doughnuts

4,000 X-Acto
blades

6,928 feet of
1×4's

12,000 cotton
balls

35,488 square
feet of plywood
THE BOXTROLLS releases in theaters on September 26!
Get social with the Boxtrolls:
http://instagram.com/theboxtrolls#
#TheBoxtrolls
Disney Will Bring D23: The Ultimate Disney Fan Event to Anaheim, California in August 2024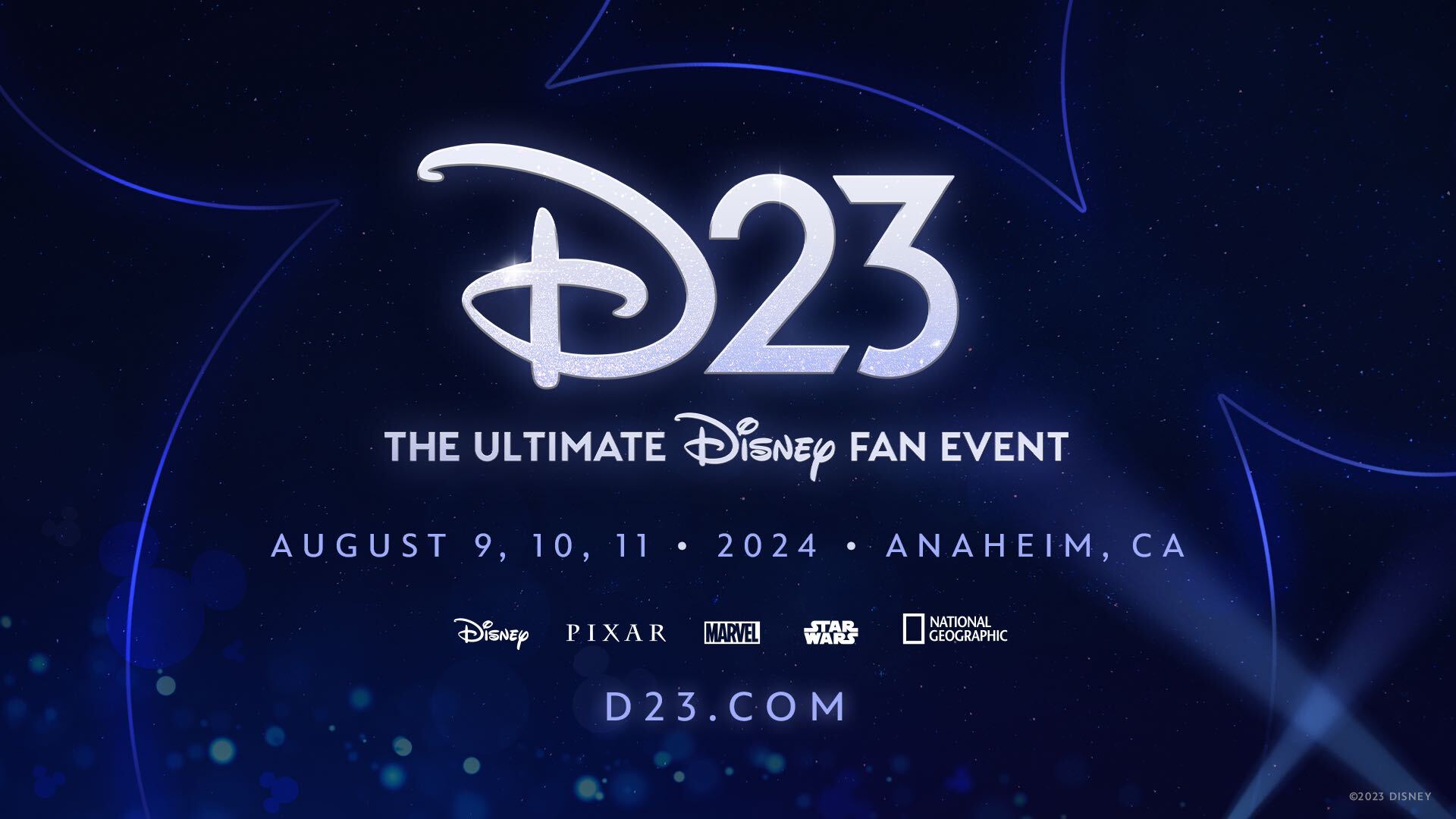 Expanded Disney Fan Experience Will Feature New and Exciting Events Across Multiple Locations, Including a D23 Takeover of the Happiest Place On Earth, Evening Entertainment at the Honda Center, D23 Day at Angel Stadium, and Much More
Fan Favorites Including Exhibits, Panels, Shows, and Shopping Will Dazzle Disney Enthusiasts at the Anaheim Convention Center
D23: The Ultimate Disney Fan Event is a one-of-a-kind fan experience like never before with spectacular shows, new venues, and multiple days of entertainment that will bring together the best of Disney, Pixar, Marvel, Star Wars, and more!
Highlightswill include:
Sunday, August 4: D23 Day at Angel Stadium, where D23 fans are invited to attend the Los Angeles Angels vs. New York Mets game.
Thursday, August 8: D23 kickoff celebration at Disneyland Resort.
Friday, August 9 – Sunday, August 11: Shopping, exhibits, panels, and presentations will take place at the Anaheim Convention Center during the day, with the fun extending into the evening at the Honda Center, the bigger home to marquee shows.
Tickets for D23: The Ultimate Disney Fan Event will go on sale in Spring 2024, with ticketing options to be announced later for access to the Anaheim Convention Center and the Honda Center. Admission for D23 Day at Angel Stadium and the D23 kickoff celebration at Disneyland Resort will be available as separate ticketed events. Additional details for D23: The Ultimate Disney Fan Event will be announced in early 2024.
You can get updates by staying connected to D23 via social media (@DisneyD23 on Facebook, Instagram, X), D23.com, and our weekly D23 FanFare email (sign up for free as a D23 General Member at JoinD23.com).
About D23
The name "D23" pays homage to the exciting journey that began in 1923 when Walt Disney opened his first studio in Hollywood. D23 is the first official club for fans in Disney's nearly 100-year history. It gives its members a greater connection to the entire world of Disney by placing them in the middle of the magic year-round through its quarterly publication, Disney twenty-three; the latest news and stories on D23.com; member-exclusive offers and discounts; the popular D23 Inside Disney podcast; and special experiences for D23 Members throughout the year.
Fans can join D23 at Gold Membership ($99.99/year), Gold Duo Membership ($129.99/year), and General Membership (complimentary) levels at D23.com. To keep up with all the latest D23 news and events, follow DisneyD23 on Facebook, Instagram, X, TikTok, and YouTube.
Star Wars Spoof: Space Robots in Outer Space Ep X: Battle for the Halcyon: The Last Starcruiser
Sure, Star Wars is cool and all. But let's not forget about that other multi-part sci-fi cinematic spectacular, "Space Robots in Outer Space." In fact, Hank Lonely (Hollywood's ultimate hyphenate — actor / producer / director / writer / guy who makes sure the Porto Potties are kept squeaky-clean) just announced that there'll soon be a 10th installment of this … Well, not exactly beloved. How about we say "admired from afar" instead? … series coming to a theater near you. In fact, here's the highly anticipated teaser trailer for that project. Which is supposed to be titled "Space Robots in Outer Space X — Battle for the Halycon: The Last Starcruiser."
Okay. Now the real story … In honor of Star Wars Day (i.e., May 4th. As in "May the Fourth Be With You"), Len Testa and I are sharing something that we produced with the help of all the nice folks who joined us last month aboard the Halycon.
We turned the Galactic Starcruiser as well as Black Spire Outpost into the backdrop for an affectionate send-up of all things Stars Wars. We hope that you (more importantly, the legal team at Lucasfilm) take this faux trailer in the spirit with which it was intended. Special thanks to Aaron Adams for so skillfully stitching all of this footage together. Also thanks to the team at Storybook Destinations, Touring Plans and the talented cast & crew aboard the "Star Wars: Galactic Starcruiser" for making this "Disney Dish" fan event so memorable.
Disney's New Trailer Reveals How Ralph & Vanellope Get to the Internet in "Ralph Breaks the Internet: Wreck-It Ralph 2"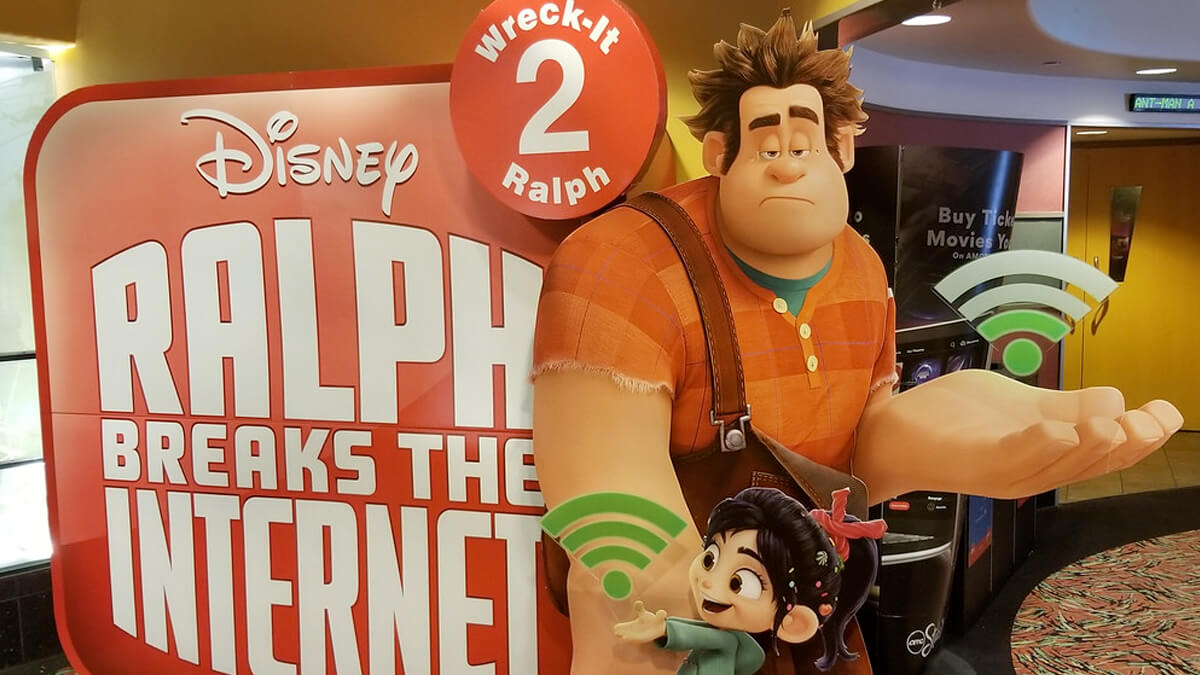 When "Wreck-It Ralph" opened on Nov. 2, 2012, it turned in the highest opening weekend ever for a Walt Disney Animation Studios film at the time of release. Now Disney is hoping Ralph will not only break the Internet but the 2018 Thanksgiving boxoffice records as well.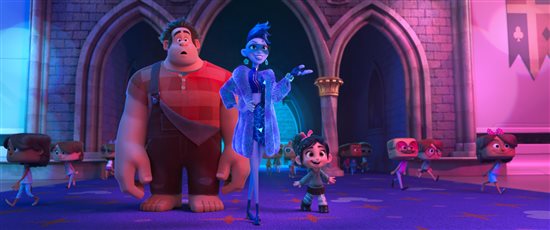 The film re-teams the original director, producer and co-writer behind "Wreck-It Ralph." The screenplay is currently being written by Phil Johnston and Pamela Ribon. Director Rich Moore, producer Clark Spencer, and co-writer Phil Johnston partnered with fellow director Byron Howard and co-writer/co-director Jared Bush to create the Academy Award®-winning blockbuster feature "Zootopia."
ROYAL REUNION – In "Ralph Breaks the Internet: Wreck It Ralph 2," Vanellope von Schweetz-along with her best friend Ralph-ventures into the uncharted world of the internet. When she finds herself surrounded by Disney princesses, she's surprised to learn that she actually has a lot in common with them. The scene, highlighted in a new trailer for the film (below), features several of the original princess voices, including Auli'i Cravalho ("Moana"), Kristen Bell (Anna in "Frozen"), Idina Menzel (Elsa in "Frozen"), Kelly MacDonald (Merida in "Brave"), Mandy Moore (Rapunzel in "Tangled"), Anika Noni Rose (Tiana in "The Princess and the Frog"), Ming-Na Wen ("Mulan"), Irene Bedard ("Pocahontas"), Linda Larkin (Jasmine in "Aladdin"), Paige O'Hara (Belle in "Beauty and the Beast") and Jodi Benson (Ariel in "The Little Mermaid"). Featuring Sarah Silverman as the voice of Vanellope, "Ralph Breaks the Internet: Wreck It Ralph 2" opens in theaters nationwide Nov. 21, 2018.