10 Things You Should Know About "The Boxtrolls"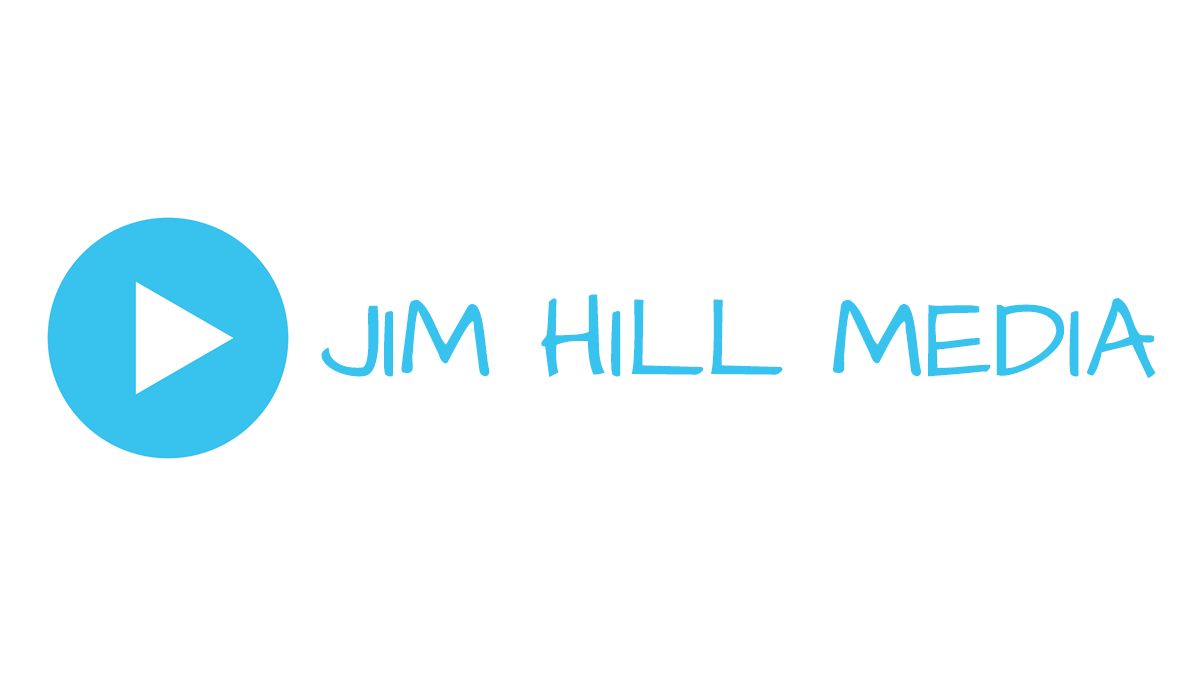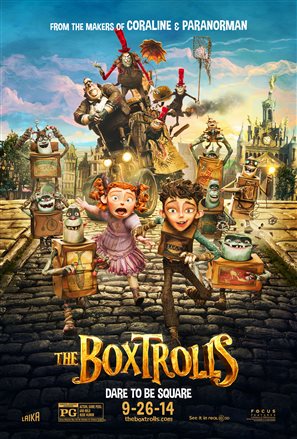 On September 26th, Focus Features will present LAIKA's "The Boxtrolls". A family event movie from the creators of "Coraline" and "ParaNorman" that introduces audiences to a new breed of family – The Boxtrolls, a community of quirky, mischievous creatures who have lovingly raised an orphaned human boy named Eggs (voiced by Isaac Hempstead-Wright) in the amazing cavernous home they've built beneath the streets of Cheesebridge. When the town's villain, Archibald Snatcher (Academy Award winner Ben Kingsley), comes up with a plot to get rid of the Boxtrolls, Eggs decides to venture above ground, "into the light," where he meets and teams up with fabulously feisty Winnifred (Elle Fanning). Together, they devise a daring plan to save Eggs' family
While keeping their community together underground, the humans' trash becomes the Boxtrolls' treasure. The kindhearted band of tinkerers also dumpster-dive and collect mechanical junk which they transform into magical inventions. But with his Boxtrolls family increasingly at risk because of Cheesebridge citizens misunderstanding them and because of Snatcher's dangerous scheme, Eggs must venture above ground, "into the light," where he meets and teams up with another 11-year-old, the fabulously feisty Winnie (Elle Fanning of Maleficent) – Lord Portley-Rind's daughter. Together, Eggs and Winnie devise a daring plan to save the Boxtrolls from Snatcher, embarking on an adventure with madcap antics and open hearts which proves that heroes come in all shapes and sizes – even rectangles.
---
10 THINGS TO KNOW ABOUT LAIKA'S LATEST GROUND-BREAKING MOVIE: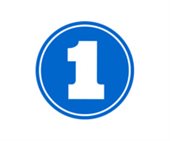 The BoxTrolls is a stop-motion, hand-drawn AND CG hybrid movie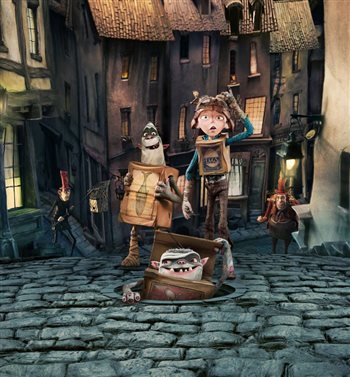 While the traditional
stop-motion process remains the bedrock of LAIKA, the company has continued to
integrate new technology, specifically RP (Rapid Prototyping) and CG
(Computer-Generated) advances, into its moviemaking. The Boxtrolls (2014), the company's third feature, was again
conceived and photographed in stereoscopic 3D. Notably, it is also an example
of hybridization: a stop-motion, hand-drawn, and CG hybrid which marries and
celebrates the handmade tradition and the latest tools of the trade. Once more
in Oregon, new ground is being broken in
exploring and expanding a classic art form
---

The Boxtrolls wear recycled cardboard boxes the way turtles wear their shells and get their names from their box labels.
[View:http://www.youtube.com/watch?v=lipo36UxhMQ]

---

A stop-motion feature is
comparable to a live-action feature – physical sets must be
built and dressed, performers need to be properly coiffed, clothed, and
lit – and given proper direction.
[View:http://www.youtube.com/watch?v=jAckX7fTkkM]
---



Alan Snow's bestselling fantasy
adventure Here Be Monsters!,
the first volume in the author's series of
books, was adapted into The Boxtrolls.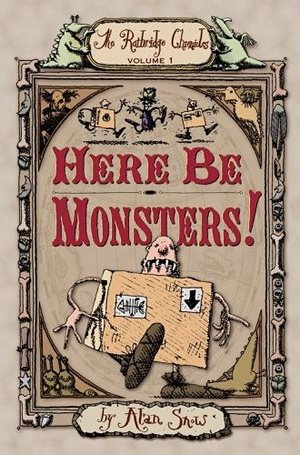 LAIKA CEO and Lead Animator Travis Knight reveals, "We have developed this movie for nearly a decade, starting
around the same time as Coraline.
That movie came together first, and then ParaNorman
jumped into view, but now here we are with this long-nurtured project
finally happening.

---

Boxtrolls speak their own language

[View:http://www.youtube.com/watch?v=X5Bkb_JVDvo]
---

Sir Ben Kinglsey performed the character of Snatcher in a reclined position


Producer David Bleiman Ichioka reveals, "That changed this amazing actor's voice performance – where it would come from within his body – and that in turn changed the way we were animating Snatcher and how his body and face would be moving. He took on a much more theatrical bent; he is always 'on.'"
The actor found the voiceover recording sessions "very releasing. I wasn't bound by physical behavior, costume, or even to a certain extent continuity. I'm quite intuitive, I think, and Snatcher's voice materialized on day one – I did it at home privately and then brought it to the recording session. It came out of his big gut."
---

The Boxtrolls and Imagination Foundation has invited kids of all ages anywhere in the world to build something amazing out of cardboard, recycled materials and imagination.



You can enter The Boxtrolls Cardboard Challenge now through September 29th by posting your cardboard creation on Twitter or Instagram using #TheBoxtrollsCC
---

The movie "Paranorman" needed a Face Wrangler and "The BoxTrolls" has a Face Librarian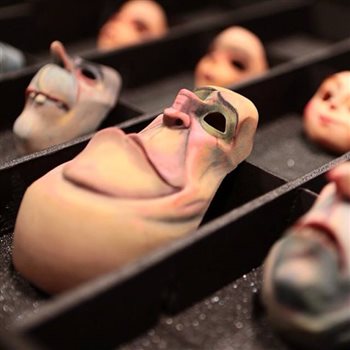 Replacement facial animation at LAIKA is groundbreaking; LAIKA was the first animation studio to use 3D printers to create the replacement mouth and brow of each character. On this movie, thousands of face parts were printed, which gives the lead characters an infinite amount of expression.
Tim Yates, who was lead face wrangler on ParaNorman and now lead face librarian
on The Boxtrolls, notes that "the human touch is never lacking in our characters;
there is a tremendous amount of nuance that goes into these faces. Having
thousands of replacement faces coming from the 3D printers, and kept in the
face library that our facial animation department has built up, helps our stop-motion
animators be able to give extra attention to the body movements. What all this
is in the service of is that audiences connect with the characters and feel
their emotions. LAIKA's movies are highly character-driven, and this range of
expressions helps our characters come even more alive."
The faces for all characters are now permanently housed in LAIKA's face library, which currently numbers over 1,300 archival boxes of nearly 53,000 faces
---

Some "Easter
eggs" did make it past the executives at LAIKA.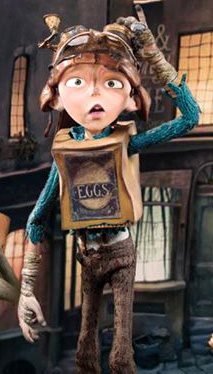 For those familiar with the original source material, Curt Enderle – Boxtrolls art director – reveals that
"people with sharp eyes might be able to spot signs on some buildings that
reference things in Alan Snow's book."
So keep your eyes peeled.
---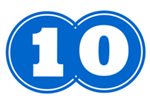 Snatcher's Mecha-Drill puppet, which stood 5' tall & weighed over 75 pounds is the biggest stop-motion puppet rig ever built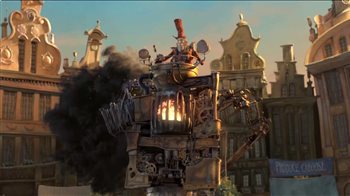 More Boxtrolls by the Numbers

An animator
typically took 1 week to complete 3.7 seconds' worth of footage, which is just
under 90 individual frames


190 puppets were
built for The Boxtrolls


200 costumes were
made for the movie


Mixing puppets
and CG, the ballroom set hosted 150 Cheesebridgeians


Over 53,000
individual face parts were 3D-printed; of those, 15,000 were Eggs'


The movie's
smallest costumes were for Eggs as a toddler: the sweater, measuring 3.5" from
cuff to cuff across the length of both arms and chest, and the socks measuring
5/8" long

CG humans are in
185 shots of the movie, CG Boxtrolls are
in 131 shots of the movie


The stop-motion flames "burning" in the furnace of the
Mecha-Drill are courtesy of a working iPad displaying a loop video inside the
"mouth" of the device


The river running through the sewer scene where Eggs
climbs the ladder was in fact handmade; a rig holding a 4'x2' pane of shower
glass passed over a nest of white aluminum fishing-line wire, tiny pieces of
mirror and mylar, and colored masking tape to perfect the illusion of a watery
surface – creating rippling liquid without
actual liquid


The movie's
smallest prop was the tiny sewing thread and needle


The following
amounts of materials were used or consumed during production:


80 pounds of hot
melt glue sticks

96 cubic feet of
gold urethane foam

898 cans of spray
paint

1,000 sheets of
sandpaper

2,000 tongue
depressors

2,896 feet of
2×4's

2,904 doughnuts

4,000 X-Acto
blades

6,928 feet of
1×4's

12,000 cotton
balls

35,488 square
feet of plywood
THE BOXTROLLS releases in theaters on September 26!
Get social with the Boxtrolls:
https://www.facebook.com/theboxtrolls
http://instagram.com/theboxtrolls#
https://twitter.com/TheBoxtrolls
#TheBoxtrolls
Disney's New Trailer Reveals How Ralph & Vanellope Get to the Internet in "Ralph Breaks the Internet: Wreck-It Ralph 2"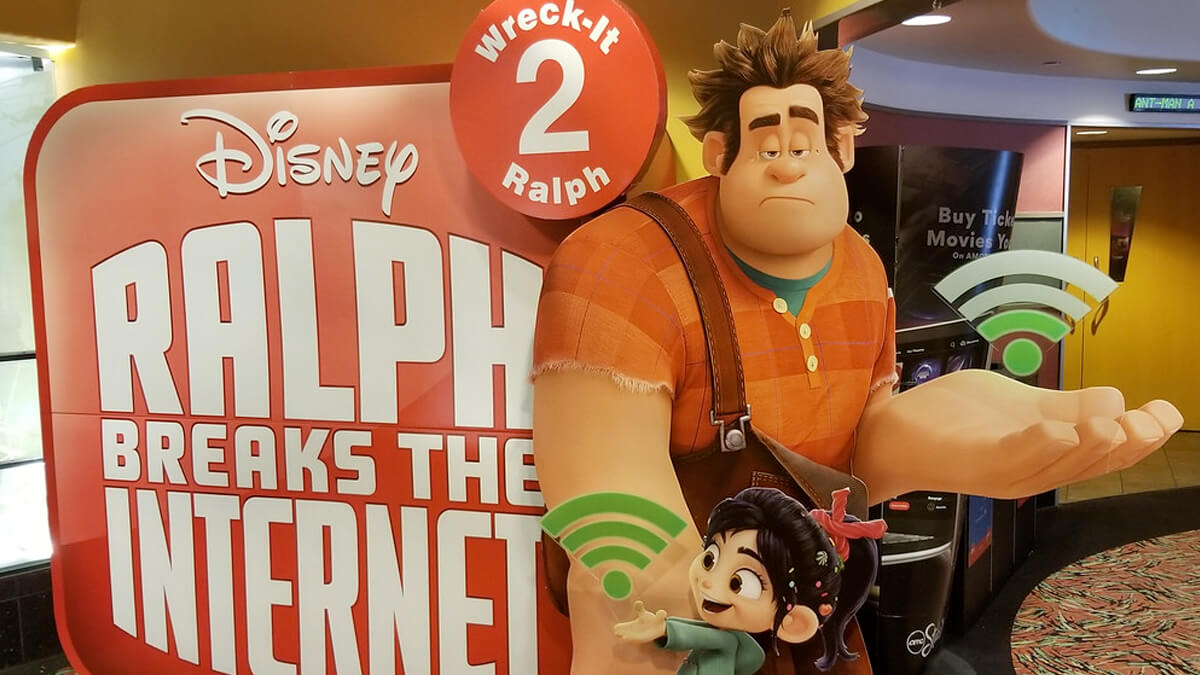 When "Wreck-It Ralph" opened on Nov. 2, 2012, it turned in the highest opening weekend ever for a Walt Disney Animation Studios film at the time of release. Now Disney is hoping Ralph will not only break the Internet but the 2018 Thanksgiving boxoffice records as well.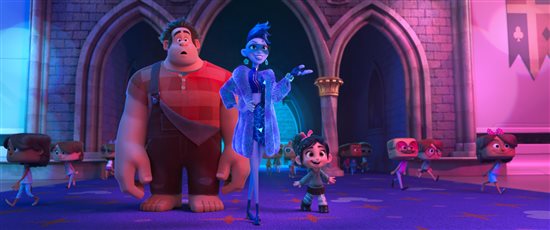 The film re-teams the original director, producer and co-writer behind "Wreck-It Ralph." The screenplay is currently being written by Phil Johnston and Pamela Ribon. Director Rich Moore, producer Clark Spencer, and co-writer Phil Johnston partnered with fellow director Byron Howard and co-writer/co-director Jared Bush to create the Academy Award®-winning blockbuster feature "Zootopia."
ROYAL REUNION – In "Ralph Breaks the Internet: Wreck It Ralph 2," Vanellope von Schweetz-along with her best friend Ralph-ventures into the uncharted world of the internet. When she finds herself surrounded by Disney princesses, she's surprised to learn that she actually has a lot in common with them. The scene, highlighted in a new trailer for the film (below), features several of the original princess voices, including Auli'i Cravalho ("Moana"), Kristen Bell (Anna in "Frozen"), Idina Menzel (Elsa in "Frozen"), Kelly MacDonald (Merida in "Brave"), Mandy Moore (Rapunzel in "Tangled"), Anika Noni Rose (Tiana in "The Princess and the Frog"), Ming-Na Wen ("Mulan"), Irene Bedard ("Pocahontas"), Linda Larkin (Jasmine in "Aladdin"), Paige O'Hara (Belle in "Beauty and the Beast") and Jodi Benson (Ariel in "The Little Mermaid"). Featuring Sarah Silverman as the voice of Vanellope, "Ralph Breaks the Internet: Wreck It Ralph 2" opens in theaters nationwide Nov. 21, 2018.
Marvel Fans: See Props, Costumes, New Games, Exclusive Content and More at Disney's D23 EXPO 2017 in Anaheim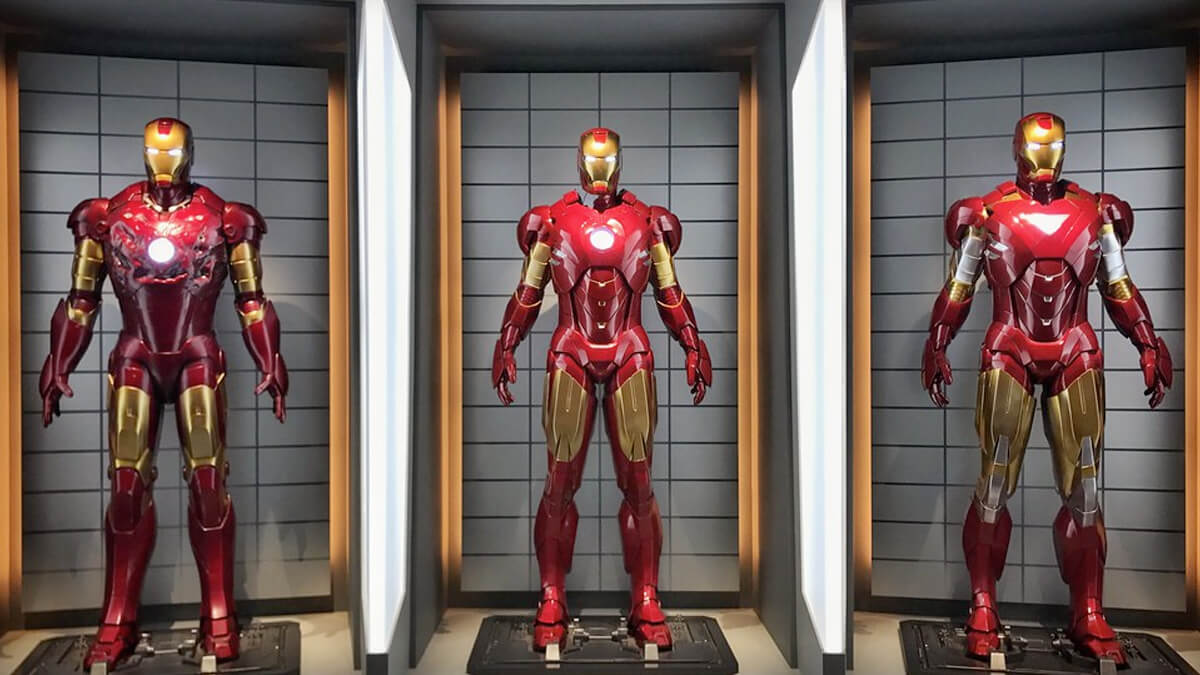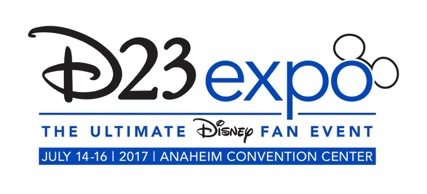 MARVEL ANNOUNCES EPIC EXPERIENCES FOR FANS AT DISNEY'S D23 EXPO 2017 IN ANAHEIM, JULY 14-16
BURBANK, Calif. (June 1, 2017) – Marvel will make its way to D23 Expo's show floor from July 14­-16 with an exciting look at its upcoming film titles in the Marvel Studios Pavilion, featuring an array of props and costumes from the Studios' upcoming slate, including Thor: Ragnarok, Black Panther, and more.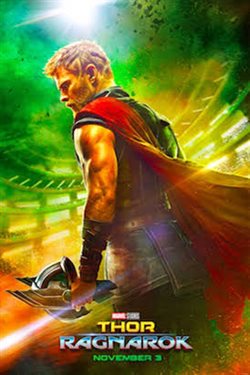 In Marvel Studios' Thor: Ragnarok, in theaters November 2017, Thor is imprisoned on the other side of the universe without his mighty hammer and finds himself in a race against time to get back to Asgard to stop Ragnarok-the destruction of his homeworld and the end of Asgardian civilization-at the hands of an all-powerful new threat, the ruthless Hela., played by Cate Blanchette.
But first he must survive the Grandmaster's gladiatorial contest that pits him against his former ally and fellow Avenger-the Incredible Hulk.
Fans will get an up-close look at the costumes and props from this highly anticipated movie as well as photo opportunities with exclusive set pieces from the film.
The incredible costumes from Black Panther will also be on display.
Black Panther follows the journey of T'Challa after the events of Marvel Studios' Captain America: Civil War,where he returns to the isolated, technologically advanced African nation of Wakanda to serve as his country's new leader.
In addition to the exciting props and costumes on display, Marvel Studios will host multiple giveaways and events within its pavilion space in Hall B.
Fans will get the chance to meet with Marvel Studios' filmmakers, development team, and talent. Exclusive artwork will be given away daily, along with other surprises. Details on talent appearances and special signings will be made available on the D23 Expo app.
Fans will also be able to enjoy all-new console and mobile Marvel Games, plus incredible exclusive content and announcements throughout the weekend!
For the first time at D23 Expo, guests will be able to get their hands on the hottest new console and mobile games featuring favorite Marvel Super Heroes, playing as the world-famous Avengers, Guardians of the Galaxy, Spider-Man, and more!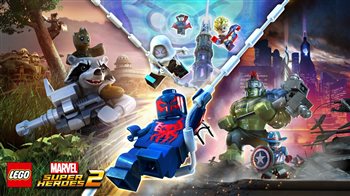 LEGO®Marvel Super Heroes 2 is an all-new, original adventure and sequel to the smash hit LEGO®Marvel Super Heroes.Bringing together iconic Marvel Super Heroes and Super Villains from different eras and realities, along with signature LEGO humor,the latest epic adventure from TT Games transports players into a cosmic battle across myriad Marvel locations ripped from time and space into the incredible open hub world of Chronopolis.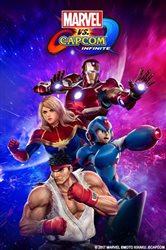 Adding to the infinite excitement of D23 Expo, Marvel vs. Capcom: Infinite will offer attendees hands-on opportunities with the next era of the highly revered action-fighting game series.
Marvel and Capcom universes collide like never before as iconic characters team up for action-packed player-versus-player combat.
Marvel vs. Capcom: Infinite features a variety of exciting and accessible single-player modes and rich multi-player content for new players and longtime fans alike and will be released on September 19, 2017, for PlayStation 4, Xbox One, and PC.
Gazillion will offer a chance to play Marvel Heroes Omega and win fantastic prizes.
Marvel Heroes Omega combines the core gameplay style of Action-RPGs and MMOs with an expansive library of heroes from the Marvel Universe. With thousands of hours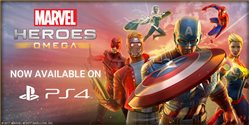 of character progression and rewards,Marvel Heroes Omegacomes packed with tons of replay value and a steady stream of new challenges with regular updates.
Netmarble is bringing its best to D23 Expo with MARVEL: Future Fight.
Featuring 120 Marvel Super Heroes to choose from, players create teams of their favorites to fight for their future. D23 Expo attendees can try their hand at saving the universe.
Marvel Puzzle Quest is where the best in match-3 puzzle gameplay meets Marvel's biggest Super Heroes and Super Villains in the most epic puzzle adventure game available on your phone, tablet, and PC.
Marvel Puzzle Questcombines favorite Marvel characters with deep RPG leveling, player-versus-player tournaments, Alliances, and much more. Guests can unleash their inner Super Hero and wage war against their enemies. Learn more atwww.marvelpuzzlequest.com.
Marvel will present incredible panels during D23 Expo, including the fan-favorite Cup o' Joe on Friday, July 14, at 1:15 p.m. in the D23 Expo Arena, featuring Chief Creative Officer of Marvel, Joe Quesada, in a no-holds-barred panel of everything Marvel!
That same day at 6 p.m. on Stage 28, Marvel Animation presents a surprise-filled panel of sneak peeks, special guests, exclusive footage, and big announcements about the future of Marvel Animation on Stage 28. Details will be available on the D23 Expo app.
Tickets for D23 Expo 2017 are available for $81 for one-day adult admission and $59 forchildren 3-9. Membersof D23: The Official Disney Fan Club can purchase tickets for $72 for a one-day adult admission and $53 for children 3-9. Multi-day tickets are also available.
For more information on tickets and D23 Expo 2017, visit D23Expo.com.
Shanghai To Host World Premiere Of Disney's "Pirates Of The Caribbean: Dead Men Tell No Tales"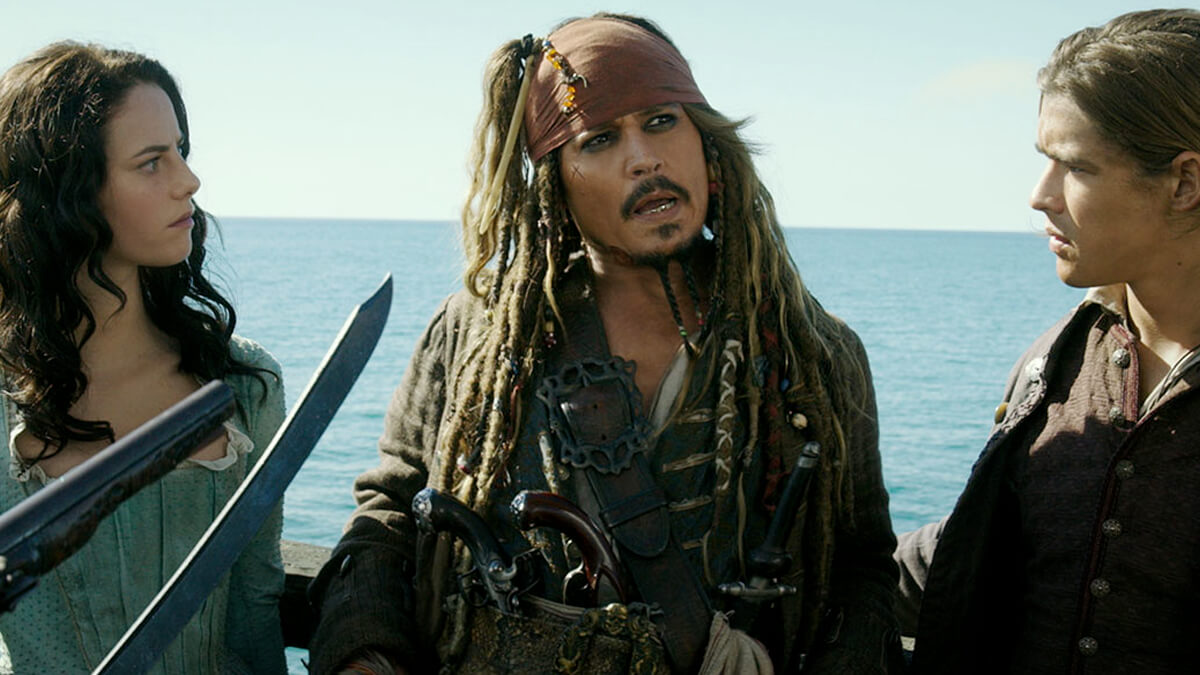 First-ever Mainland China Hollywood Movie World Premiere Will Take Place at Shanghai Disney Resort with an
All-star Lineup of Special Guests on May 11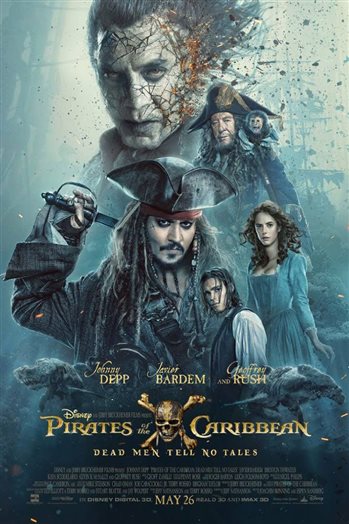 BURBANK, CALIF. (April 25, 2017)-Disney announced today that Disney/Jerry Bruckheimer Films' "Pirates of the Caribbean: Dead Men Tell No Tales" will have its World Premiere in Shanghai, China, at Shanghai Disney Resort on Thursday, May 11, marking the first time a Hollywood movie will premiere in Mainland China. Johnny Depp, Orlando Bloom, Geoffrey Rush, Javier Bardem, Brenton Thwaites, directors Joachim Rønning and Espen Sandberg, and producer Jerry Bruckheimer plan to attend the gala event.
The red-carpet event will take place in Disneytown at Shanghai Disney Resort. After the red carpet, the "Pirates of the Caribbean: Dead Men Tell No Tales" screening will be held in Walt Disney Grand Theatre at Disneytown. Shanghai Disney Resort is also home to Shanghai Disneyland, featuring Treasure Cove, the first pirate-themed land at a Disney park, inspired by the Pirates of the Caribbean franchise.
Premiere guests will enjoy a stunning presentation of the film in Dolby Vision laser projection and Dolby Atmos immersive audio provided by Dolby and delivered through QSC speakers and amplifiers with Q-SYS control at the Walt Disney Grand Theatre.
Samsung is the title sponsor of the World Premiere of "Pirates of the Caribbean: Dead Men Tell No Tales," which will be released on May 26 in China, day and date with its release in the U.S.
About the Movie:
Johnny Depp returns to the big screen as the iconic, swashbuckling anti-hero Jack Sparrow in the all-new "Pirates of the Caribbean: Dead Men Tell No Tales." The rip-roaring adventure finds down-on-his-luck Captain Jack feeling the winds of ill-fortune blowing strongly his way when deadly ghost sailors, led by the terrifying Captain Salazar (Javier Bardem), escape from the Devil's Triangle bent on killing every pirate at sea-notably Jack. Jack's only hope of survival lies in the legendary Trident of Poseidon, but to find it he must forge an uneasy alliance with Carina Smyth (Kaya Scodelario), a brilliant and beautiful astronomer, and Henry (Brenton Thwaites), a headstrong young sailor in the Royal Navy. At the helm of the Dying Gull, his pitifully small and shabby ship, Captain Jack seeks not only to reverse his recent spate of ill fortune, but to save his very life from the most formidable and malicious foe he has ever faced.
"Pirates of the Caribbean: Dead Men Tell No Tales" also stars Kevin R. McNally as Joshamee Gibbs, Golshifteh Farahani as the sea-witch Shansa, David Wenham as Scarfield, Stephen Graham as Scrum, Orlando Bloom as Will Turner, and Geoffrey Rush as Captain Hector Barbossa.
Joachim Rønning and Espen Sandberg are directing "Pirates of the Caribbean: Dead Men Tell No Tales" with Jerry Bruckheimer producing. The executive producers are Mike Stenson, Chad Oman, Joe Caracciolo, Jr., Terry Rossio and Brigham Taylor. The story is by Jeff Nathanson and Terry Rossio, and Jeff Nathanson wrote the screenplay. "Pirates of the Caribbean: Dead Men Tell No Tales" drops anchor in U.S. theaters on May 26, 2017.