A Heapin' Helpin' of Horror
JHM columnist Seth Kubersky returns from Tampa with a review of Busch Garden's "Howl-O-Scream" festivities. Seth also gives us an update on Universal's Halloween Horror Nights. Have the scares suddenly become scarce at that Central Florida theme park?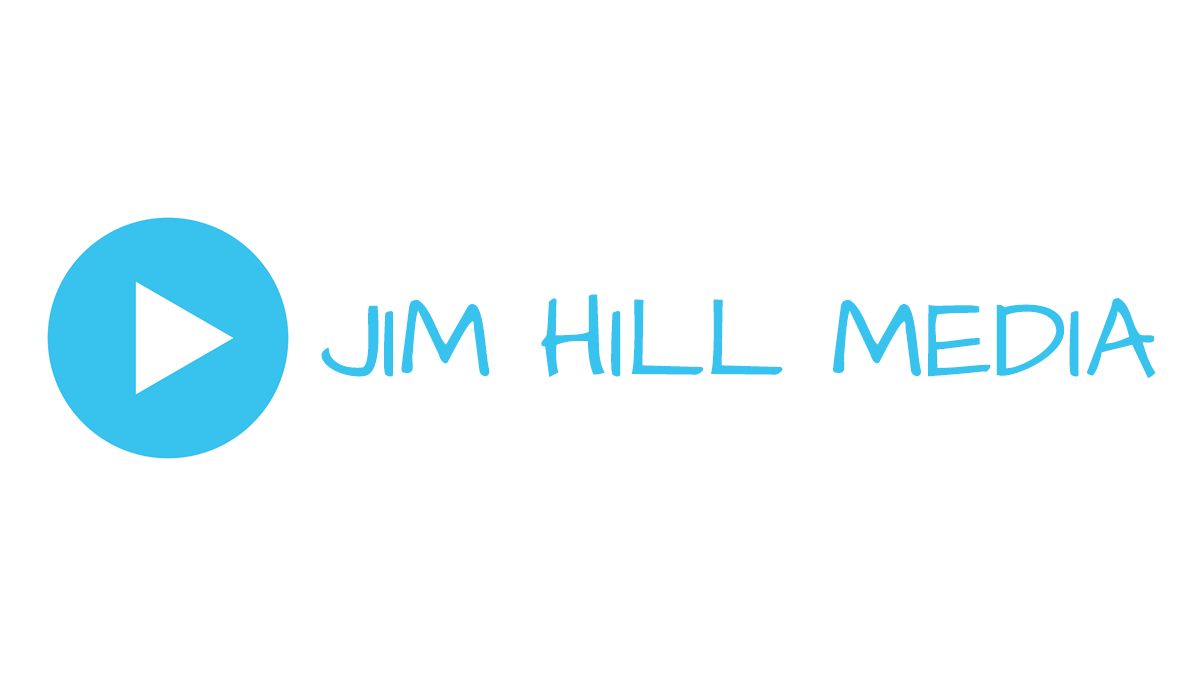 Pop quiz: What is the #1 haunted attraction in America?
Wrong!
According to Haunt World Magazine (2002), the answer is Howl-O-Scream at Busch Gardens in Tampa Bay, Florida. At least, that's what the advertising that has been blanketing Central Florida claims; I can't find back issues of Haunt World, and there's no mention of it on their website, so we'll have to take their word for it.
Busch has been heavily advertising Howl-o-scream (HOS) to the Orlando market this season, positioning their event as an alternative to Universal's heavily-attended Halloween Horror Nights (HHN). This surprised me, since I'd heard little buzz over the years about HOS. Certainly not enough to make it worth the hour-plus drive, especially when Universal's HHN is right in my neighborhood. I must admit some bias, since I am a staff alumni of HHN, as readers of my last review know. But the claims of #1 status intrigued me enough to get me on I-4 last Thursday afternoon for a trip to Tampa.
And you know what? They were right!
Busch Gardens' Howl-o-scream is not as slick or sophisticated as Universal's event. But in all the important ways, it's just as much fun, if not more. I had a fine time, and I'd recommend a visit to anyone in the area, as long as you go in with appropriate expectations.
But before I delve into my HOS experience, I'd like to share some thoughts from my return visit to Universal's HHN. Readers of my earlier review will recall I visited on the first Sunday of the event, and had a great time. I judged it a significant improvement over last year's event, and rated it a "B+". Since I have a "Frequent Fear" pass (unlimited off-peak visits), I decided it was time for another look, since the event often changes during its run.
What I encountered on Wednesday evening made me rethink my recommendation of the event. I had assumed that a mid-week visit was my best chance for a low-attendance crowd. Boy, was I wrong. Even with a projected attendance of only 24,000, the park felt more crowded than I found comfortable. Walkways were constantly jammed, destroying any opportunities for walk-around scareactors. The one house I experienced had a 65 minute wait, and it was one of the less crowded houses. I would have considered the Express passes mandatory for first-time visitors on that night, which is probably why their price had been raised to $20. Without those Express passes, it would be impossible for a guest to see all 6 haunted houses before the 12am closing, let alone see shows or ride the roller coasters.
And this was only a Wednesday. I can't fathom the disappointment of a guest paying full price for a Friday or Saturday night, discovering they've paid over $50 to fight maddening crowds and experience one or two attractions.
One thing I did enjoy was seeing the Lizardman. He performs in the Funhouse of Fear queue line, and is a genuine freak (he even has the word tattooed across his chest). He performs classic sideshow feats like sword swallowing, body manipulation, and blockhead tricks. Best of all, it does it with an engaging (and often crude) patter. This is what America is all about, kids, and it was the highlight of my visit.
Unfortunately, the same cannot be said of my second viewing of the Bill & Ted show. This is not one of the better editions of the show, and I may have been too kind in my first review. The big fight scene is so busy that you are distracted from the fact that the choreography is rather sloppy. Worse, the dancing is uninspired, and kills whatever comic momentum the show builds. People started fleeing the theater as soon and the dance number that occupies the last third of the show began. The friends I was with, first-time visitors to HHN, enjoyed the show, but I wanted to tell them about the sharp satire and big laughs from years past. And one of my favorite bits, involving a Disney cast member trying to deliver a safety spiel, has apparently been cut.
It was with all this in mind that I made the trip to Tampa the next afternoon. I arrived at 4:20 and entered the park a half hour before minutes before the 5pm closing. Once inside, I purchased a HOS upgrade pass ($21), and grabbed a map. Here is where you see the differences between Universal and Busch. Whereas Universal's map is legible and informative, Busch's is a mess. Entrances for houses are vague, there's no indication of what rides are operational, and the scarezone locations aren't labeled. One nice thing as the houses are given an "intensity" rating of one to five "skulls", though I didn't find that to directly correlate to the scariness of the attractions.
The employees weren't much help either. While all the employees were polite, friendly, and competent at their particular task, they we're very informed on basic details about the event. Questions to multiple staff members like "where is the nearest haunted house?" or "where am I on the map?" were repeatedly met with "I don't know".
For example, I saw a sign mentioning their "Fright Advantage" coupon booklets, similar to Universal's Express booklets. I went hunting for them, and was bounced among 5 different shops in the main entrance plaza, the last one sending me back to the first. I finally went to guest services. The gentleman was kind enough to walk me to a shop, show me which line to stand in, and point out which staff member to speak to. When I got to the head of the line, I discovered the guy he had pointed out didn't know what I was talking about, and sent me back to guest services.
At this point I read the flyer guest services had handed me, and just gave up looking for them all together. Universal's booklets run $15-$20 on an off-peak night, and give you a coupon for every house, ride, and show in the park. Busch's are $20 ($15 if bought in advance) but only give you front-of-the-line passes for 4 of the 6 houses. You also get a pass for one of the three roller coasters, and some modest discounts on concessions. As it turned out, there was no need for the booklet, and I never saw any being sold or used during the night.
I had just enough time before closing to ride Kumba a few times. This is the most underappreciated roller-coaster in Florida. Upstarts like Hulk and Kraken may get more buzz, and its park-mates Gwazi and Montu get more advertising play. But Kumba may be, second by second, the best of all of them. It doesn't have Hulk's dramatic takeoff, but you get a great view from the lift hill, and unlike Hulk it is intense and relentlessly paced from the first drop to the final brake run. It is perfectly integrated into the landscape, with tunnels and closely planted palms. I was able to ride three times before they kicked us off, and could have happily gone again. Gwazi, Montu, and most of the "spin & puke" rides were also open throughout the event, with modest waits. The roller coasters are some of the best in the country, and are well worth riding, especially in the dark.
At 5pm I discovered another big difference between Universal and Busch – how they handle the in-between guests. At Universal they treated like people who have spent a lot of money on both day and evening tickets (or valued annual passholders) deserve to, and are given perks. While they are necessarily confined to one area while the park is swept of day guests, they are given food, shopping, and attractions while they wait. More importantly, they are guaranteed early entry to at least one haunted house. This waiting period usually run less than 90 minutes.
Busch, on the other hand, shut down at 5pm with a vengeance. Those of us who were inside the "Timbuktu" area before 5pm were locked down with no food or drink to buy, no air conditioned place to sit, and no attractions operating. Just outside the entrance to the plaza we were trapped in was a crowd of other day-and-night guests who had been caught outside the neutral zone after 5pm. They were held standing in the sun, clutching their passes, waiting for someone or other to give the signal to allow them in. I know they were out there for at least half an hour, and for all I know they might still be there.
After exploring the architectural charms of the dormant Timbuktu plaza (total time: 6 minutes), I tried asking cast members if they had any idea when there would be anything for us to do or buy. "Nothing until 7:30" was the most popular answer, followed by a bored shrug. I finally found a manager who said there might be something open soon, but that all the houses and rides would be closed until 7:30.
Finally, after an hour of waiting, the area began to show signs of life. While the air-conditioned restaurant and larger snack bar remained closed, the smaller snack bar opened and was quickly swamped. Frightened by the look of the corn dogs, I went with the only other option, the slightly-less-scary chicken fingers. For my $10, I got a basket of limp fries, a small cup of lemonade so tart it made my eyes roll back, and the worst chicken fingers I've ever tasted. You couldn't even buy a beer, which I think would be unconstitutional in an Anheuser-Busch park. Not a good way to start the evening, especially since Busch usually has the best food of all the major theme parks.
Finally, at 6:40pm, after an hour and 40 minutes sitting outside, the "Haunted Lighthouse" attraction opened. This "4D" movie, based to the kiddie-horror books by R. L. Stein, is housed in the former dolphin show arena. How they got a very good horror director (Joe Dante) and very funny actors (Christopher Lloyd, Michael McKean) to make a movie that wasn't the least bit scary or funny is beyond me. This is a 22 minute waste of time that recycles every gag from every other 3D movie, does it badly, and then does it again until you're bored. The 3D is weak, with a distracting shimmering effect, and isn't as nearly as convincing as "Shrek 4D" or "Philharmagic." The plot is thin and uninteresting, the adult actors are given nothing to do, and even Weird Al seems embarrassed. Worst of all, the water effects are unpleasantly overdone, and it's no fun to tromp through haunted houses in damp clothes. This attraction made me long for Williamsburg's departed "Haunts of the Olde Country", which should give you an idea just how bad "Haunted Lighthouse" is.
Finally, at about quarter past 7, the haunted houses started opening up. There was no communication with the guests as to what was open or where we could go. I just discovered that the barrier to a house entrance had been removed. The attendant casually informed me that "everything" was now open, and that I could go in. In reality, the total time I was left waiting was less than 2 hours, and it didn't kill me. But it bothered me to see such poor communication with guests. If nothing else, we were a captive audience that could have been marketed to. Universal recognizes that these guests will spend more and stay later if treated well, and I wish Busch had picked up on that. Most importantly, they need to train their employees to communicate effectively with guests, and give accurate and consistent information.
But you know what? All these minor gripes and distractions melted away once the event got rolling. After two hours of aggravation and boredom, I was in the perfect mood to criticize the rest of the evening, but I just had too much fun.
Haunted Houses
A Halloween event lives and dies by its haunted houses, and in this Busch does not disappoint. You need to know up front that the production values in the houses, like everything else in the park, are not up to the high standard that Universal sets. While the houses are all large, creative, and well-constructed, they are not nearly as elaborate or detailed. Artistic details of lighting, sound, and scenic decoration are noticeably less refined, though still effective. There are few of the special effects and mechanical gags that Universal does so well. Gore is less prominent (though neither attraction is particularly bloody) and the severed heads and mutilated bodies that are there are obviously store-bought. Makeup and masks on the actors are also less elaborate, though this is an area Universal has also slipped in the last few years. Overall, finer points of story and theming, while a cut above your local neighborhood haunted house, suffer in comparison to Universal's bigger budget event.
To be honest, these aren't deficits that the average visitor will ever notice. Haunted house connoisseurs will notice the cruder designs and less elaborate effects. The other 99% of guests will be too busy being scared. It seems Busch has taken some of the money that would have been spent on sets and props, and spent them on actors instead. Though their houses are, on average, about the same size as Universal's, it felt like they were much more populated. A room that would have one scareactor at Universal had two or even three at Busch. I wasn't able to make a scientific count, but the effect was a more constant barrage of live scares. Again, the actors might not be as elaborately made-up or thoroughly directed, but there are lots of them, and they perform with as much energy and enthusiasm as any at Universal.
The other difference from Universal that every guest will notice is even more important: Busch pulses. Universal's HHN has become so popular that crowds overwhelm the houses, even on off-peak nights. Lines quickly exeede and hour, and the only way to keep them moving is to send a steady stream of guests though the houses. This destroys the sense of isolation that is key to effective scares.
Busch, on the other hand, is much better able to handle the smaller crowds that attend their event. The difference between the two parks was like night and day: while the crowds at Universal on Wednesday were so uncomfortable that I left after one house, Busch on Thursday felt practically empty. I was able to experience every house in the park (half of them twice), three shows, and a couple roller coasters, all before 10:30pm. None of the houses had more than a 15 minute wait during my visit, and most were much less.
Best of all, the smaller crowds allow Busch to pulse small groups through the houses, with brief gaps between groups. This makes for a much more intimate experience, and actors can time their scares better without fear of giving their position away to the next group. This alone elevates the houses above whatever budget limitations they might suffer from. As a guy who has worked in many a haunted house, the highest compliment I can give is to say that more than one of Busch's actors "got" me, something I cannot say about my 2 trips to this year's HHN.
Interestingly, several of Busch's houses use very similar themes to HHN's houses, so you can do an apples-to-apples comparison between the two events. Here is a brief summary of each house:
Tortured: This was the first house I visited, and the most generic. It is a fairly standard haunted dungeon, with the usual assortment of gothic torture devices. Lighting is poor, and there is no real sense of space, probably because the entire house is contained in the area usually used for the bumper cars. Still, the actors were well-hidden and aggressive, and there was no wait. The least of the houses, on the level of one you'd find in most towns this time of year. Grade: C
Ripper Row: This is more like it. Based loosely on Jack the Ripper, this house takes you through a series of Victorian London environments, from city streets to a barn (nice use of hay smell) to a park and a slaughterhouse. Simple but effective theming, some well-disguised boo-holes, and an energetic cast make this one a winner. The only thing that hurts it is being a little too short. Grade: B
Dark Heart's Fear Fair: Like Universal's "Funhouse of Fear", this is a circus-themed house. Unlike Universal's house, this one uses a wide variety of indoor and outdoor environments. It begins with a disorienting spinning tunnel, always a favorite of mine, and takes you though a series of freak sideshows and demented carnival games. There are mirror mazes, a strobe-lit shooting gallery, clowns on bungie cords, and even an opera performance. Best of all, there are multiple points at which the path diverges, with significant differences between the two sides, making this perfect for a second walk-though. Grade: A-
The Mortuary: Much like HHN's "Screamhouse", this is styled as a Southern gothic funeral home. A mortician/preacher regales the queue with a creepy revivalist patter, setting the mood perfectly. Inside is the usual succession of coffins, autopsy rooms, and crematoria, concluding in a trip through the underworld. Though not nearly as detailed as Universal's version, it is a very large house with lots of effective scares and, again, a large and enthusiastic cast. Grade: A-
Escape From Insanity – Resident's Revenge: This house is directly analogous to "PsychoScarapy", the highlight of this year's HHN, and nearly gives that house a run for it's money. It doesn't have the amazingly detailed sights (or smells) of Universal's house, or it's extremely creative actors. But it is just as effective in it's own way, and exceptionally long. There are some great moments, like a hallway covered in bugs, and plenty of actors, including a very disturbing drag queen who greets you. The downfall of this house is that much of the final third feels unfinished. After a series of well-designed sets depicting the inside of an asylum, you come to a very long stretch of unthemed black hallways with no actors to speak of. Perhaps they ran out of budget, but it's a shame that the excellence of the first part of the house is followed with such an uninspired finale. Grade: B+
Demented Dimensions: This house is also similar to HHN's "Funhouse of Fear", in that it combines bright colors, black light, and prismatic 3D glasses. It is also the most elaborate house scenically, with huge fluorescent murals covering every surface. This house will make you feel like you took the brown acid. It isn't particularly scary, but it is trippier than anything this side of "The Cat in the Hat", and a whole lot of fun. I only wish it could have been twice as long. Grade: B+
Scarezones: Universal themes each island at HHN with scenic pieces and scareactors. They are more successful in some islands (Jurassic Park, Toon Lagoon) than in others (Marvel, Seuss). Busch Gardens is far too large to theme every area, so instead they have designated 5 "scarezones", much as Universal used to at USF. These scarezones are like miniature outdoors haunted houses, themed side paths that can be explored or avoided at the guest's discretion. They combine set pieces, lighting, fog, and hidden actors to create some great scares (and photo ops). I especially liked the "Grisly Gardens" with moving shrubs and living statues, and the "Agony Express" filled with undead train conductors and tortured passengers. Grade: B
Shows
As a former employee (and current fan) of Universal's entertainment department, it kills me to say this: Busch has them beat this year. HHN's "Bill & Ted" show, once worth the price of admission by itself, has grown stale. Infestation is a waste of time, and is standing room only. The old days, when there would be an illusionist or hypnotist in one stadium and a musical revue at the main stage, are long gone. Busch, on the other hand, presents two fun (if corny) shows with comfortable seating, an amusing outdoor show, and a number of interactive DJs and street dancers. Like the houses, Busch's shows don't have Universal's production values, and they're not big on sophisticated satire or postmodern pop-culture deconstruction. What they do have is talented, enthusiastic performers, dance routines that don't wear out their welcome, and a good dose of creepy-funny Halloween spirit.
"Eternal Reward": This show is performed inside the air-conditioned Haunted Grill restaurant, so you can grab a sandwich and a beer while you watch the show. The plot is simple: four characters gather for the reading of the late relative's will, and the audience decides which one is guilty of murdering the deceased. The black widow sings the "Cell Block Tango" from Chicago, the son does a boy-band medley, the mistress lip-synchs to some Britney, and the stoner uncle jams to some classic rock. In the end, the audience votes by applause for one of the four to be tastefully disembowled. The music is a mix of live singing and tracking, the dancing is Vegas-lite but energetic, and the show moves at a zippy pace. Bonus points for using a song from the "Buffy the Vampire Slayer" musical. Grade: B+
"Fiends": Dr. Freakinstein and Igor ("it's pronounced Eye-gore") build some monsters and throw a party in this song-and-dance answer to Universal's Beetlejuice show. The characters are unlicensed, so the creature makeup is crude, the illusions are simple, and the jokes were old when Abbot and Costello were in vaudeville. But the dancers are athletic, the choreography is acrobatic, and the girls are great eye candy. Bonus points for gratuitous use of the "Time Warp", along with a good mix of Motown, disco, and 80's pop. Everyone on stage looks like they're having a great time, and the audience was too. Grade: A-
"Theatre De La Morte": This brief open-air show, performed near the "Escape from Insanity" house, is a "re-enactment" of an 18th century witch trial. After an over-long setup involving a flower girl hawking souvenirs, and warlock is dragged on stage and asked to recant his sins. The ensuing mayhem, involving a decapitation, resurrection, and disappearance, uses simple illusions and pyrotechnics. I found it amusing, especially the knot of teenagers behind me who seemed determined to create a "Rocky Horror" -style call-and-response to the show. Worth seeing if you're nearby when the show is about to start. Grade: B-
Final Grades:
Universal's HHN (revised grade after 2 visits): B
Busch Garden's HOS: B+
Busch Gardens has done what I would have thought impossible – they beat Universal at their own game. For the most part, Universal is a victim of their own success. HHN has become so popular that the heavy crowds hurt the guest experience on all but the slowest nights. This is exacerbated by the move to IOA, which handles large crowds much less efficiently than USF did. All the elaborate decor and expensive effects in the houses mean nothing if you have to wait hours and hours to see them.
Busch, on the other hand, has the blessings of size and lower attendance. They might not have the Hollywood-quality scenic designs, but they have plenty of thrills and chills. Maybe in a few years, when word of mouth spreads, Busch's HOS will become as overrun as HHN. Until then, it offers the better value for those in the area looking for tricks and treats. I'm just glad they're both in my backyard, so I don't have to choose!
The Closing of Walt Disney World's "20,000 Leagues Under the Sea"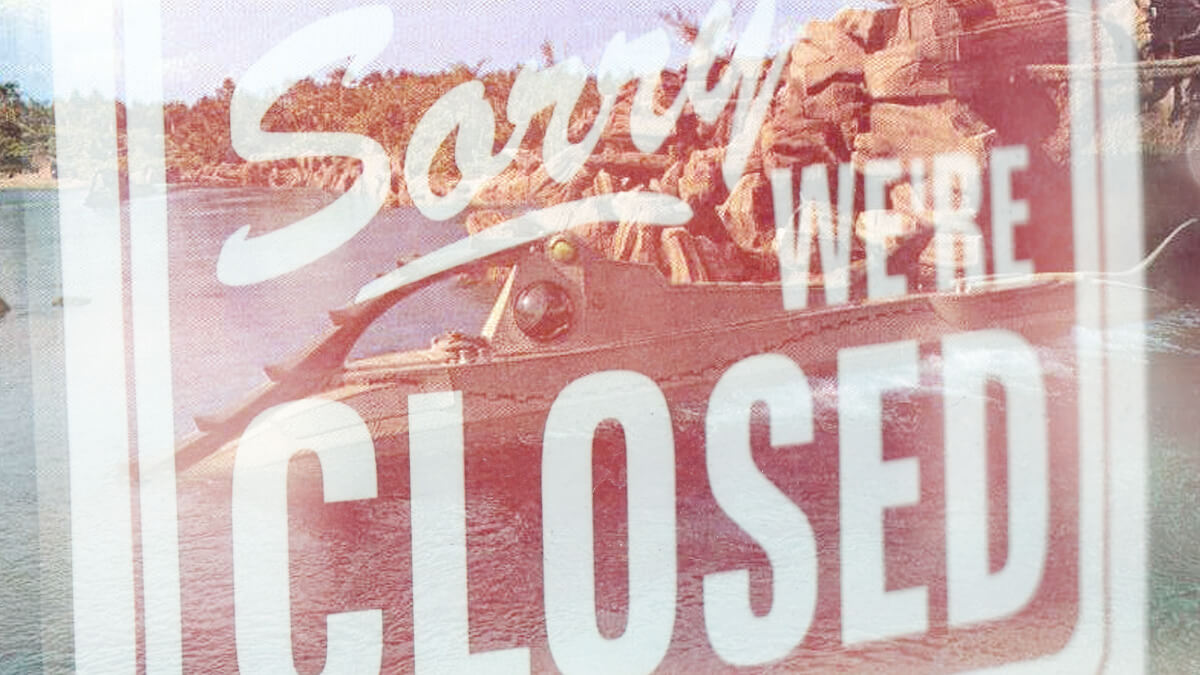 I need help from a Disney World employee. To be specific, someone who used to work at the Magic Kingdom back in the late 1980s / early 1990s.
The reason I'm asking for help is that there used to be this one-page newsletter that that theme park printed & distributed weekly to Cast Members who worked JUST at the Magic Kingdom.
Walt Disney World Cast Member Newsletter Request
I want to stress that this newsletter was different from the Eyes & Ears – which (back then, anyway) was a weekly newspaper (not a newsletter) that the Resort then printed & distributed to ALL Cast Members who worked on property.
This publication – which might have been called Kingdom Cast (Sorry. It's been almost 30 years now. I'm old after all and I'm now blanking this newsletter's name) – was typically printed on different colored paper stock every week.
I just need some help here when it comes to recalling the specific name of this newsletter which was primarily intended for Disney World employees who worked at the Magic Kingdom.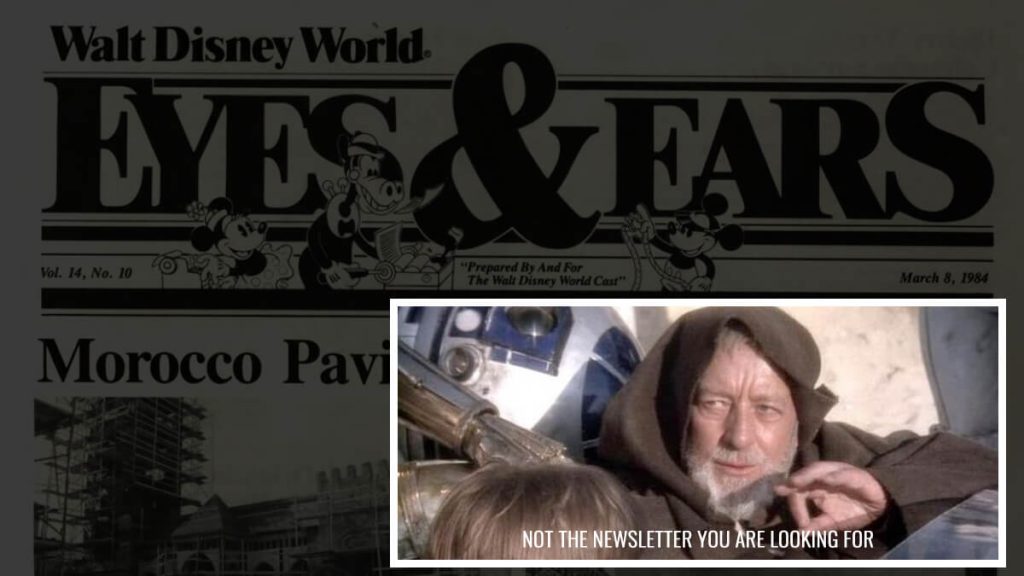 Magic Kingdom Newsletter – August 1994
Anyway … I was living down in Orlando at this time. Where I was trying to make a living writing about The Walt Disney Company. Which was challenging in those pre-Internet days. On the upside, I had lots of friends who worked at the Resort at the time. Who would then slip me copies of all sorts of in-house publications. Which then allowed me to stay on top of what was actually going on on-property.
Anywho … In late August of 1994, I got sent a copy of this particular Magic-Kingdom-only newsletter. Which included a brief item (That I'm recalling from memory now) that said …
… any & all Cast Members who had worked at "20,000 Leagues Under the Seas" over the past 23 years are invited to come by this Fantasyland attraction on the night of Monday, September 5th. We'd like to get together as many current & former 20K employees as possible for a group photo in front of that attraction's marquee. This image will then be used to commemorate the closing of this Disney World favorite.
This item in that newsletter then went on to say that – after the Magic Kingdom had officially closed for the night – all WDW Cast Members were then welcome to come by the Subs and get in one last ride before "20,000 Leagues" closed for good.
So I immediately realized that this was huge, huge news.
Disney World is closing the Subs at the Magic Kingdom.
And since I was friendly with Leslie Doolittle, the reporter who was wrote the "On Tourism" column for the Orlando Sentinel, I give Leslie a call and read her this item straight out of this Magic Kingdom employee newsletter verbatim. Which Ms. Doolittle then reports in her very next "On Tourism" column. Which then prompts WDW officials to lose their minds.
Initially senior management at the Resort flat-out denies that this Opening Day attraction is actually closing and they demand that the Sentinel immediately print a full retraction. After I provide Ms. Doolittle with a physical copy of this Magic Kingdom employee newsletter and she then shares that with WDW's PR team … Well, the Resort's senior management then changes its tune.
They now say … Well, yes. "20,000 Leagues" WILL be closing on September 5, 1994. But what was published in that Magic Kingdom employee newsletter was incorrect. This Fantasyland favorite is NOT closing permanently. But – rather –- 20K will be going down for a lengthy rehab. A REALLY lengthy rehab. The longest ever in this ride's history.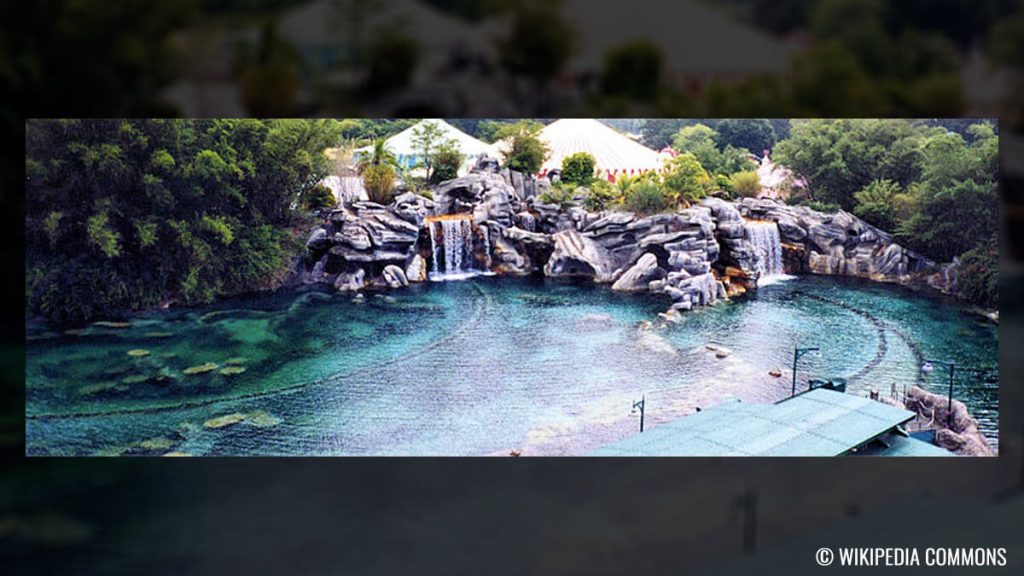 Maintenance Issues with WDW's "20,000 Leagues Under the Sea"
To explain: Anyone who loved this WDW attraction back in the day will talk about how frustrating it would be back then to visit the Magic Kingdom and then find that "20,000 Leagues" was down for maintenance … again.
Between the harsh Florida sun bleaching the color out of the fake coral & all those plastic fish (which is why – every year – the lagoon had to be drained & dried so these items could then be repainted) not to mention all of the mechanical challenges associated with keeping that fleet of 14 diesel-powered Subs up & running … "20K" was an operational nightmare.
Not to mention being a huge money suck when it came to the Magic Kingdom's annual operating budget.
So what Disney World senior management said – on the heels of that Orlando Sentinel story — was that "20K" was now closing for a top-to-bottom overhaul. This would be a two year-long project. But the good news was work would be completed in time for WDW's 25th anniversary celebration. Which was supposed to begin in October of 1996.
Which – I have to tell you – wasn't the truth at all.
That Magic Kingdom employee only newsletter had actually gotten everything right. Disney World's "20,000 Leagues" ride WAS closing for good on September 4, 1994. But not for the reason you might think.
Euro Disney Financial Troubles
Euro Disney had opened back in April of 1992. The park itself did well, attendance-wise. Not so much when it came to those 6 on-site hotels. Weighed down by enormous debt, Eisner actually talked about closing the place down in December of 1993 unless a new financial arrangement could be worked out with the 30+ banks that had originally funded construction of this $4.4 billion resort. A deal was reached in the late Winter / early Spring of 1994. But one of the conditions of this deal is that The Walt Disney Company would suspend the collection of any royalty payments that the Company was due from the Euro Disney Project from 1994 through 1998.
This new agreement / financial restructuring may have saved Euro Disney (which then got rebranded / relaunched as the Disneyland Paris Resort). But it also choked off a huge revenue stream at The Walt Disney Company. Which is why word then came down from on high that ALL divisions at the Mouse House now needed to tighten their belts. Economize.
And down at Walt Disney World … Well, managers then saw this edict as an opportunity to finally pull the plug on the Magic Kingdom's expensive-to-maintain / difficult-to-operate "20,000 Leagues" ride. And the beauty part was … This wasn't their fault. They were just following Corporate's orders.
Fan Backlash for "20,000 Leagues" Closing Announcement
What Walt Disney World senior management hadn't anticipated was – on the heels of Leslie Doolittle's story about how "20K" would be closing – that the Resort would then be flooded with letters begging Magic Kingdom managers to change their minds. Save this opening day attraction.
Which – again – brings us back to that "The-Subs-will-be-back-up-and-running-by-1996-just-in-time-for-WDW's-25th-anniversary" story. Which – I'll again remind you – just wasn't true. This was a lie that the Company quickly put out there to deflect & divert from what quickly had become a PR nightmare for the Magic Kingdom.
Michael Ovitz – Save or Close "20k Leagues"
So okay. We now jump ahead to August of 1995. Which is when Michael Ovitz – previously the head of CAA and once rumored to be the most powerful man in Hollywood – becomes the President of The Walt Disney Company. Michael Eisner hires Ovitz to be his new second-in-command (Following the tragic death of Frank Wells back in April of 1994).
And Ovitz … He wants to hit the ground running. Prove to Eisner that he's now going to be an extremely valuable member of the Disney team.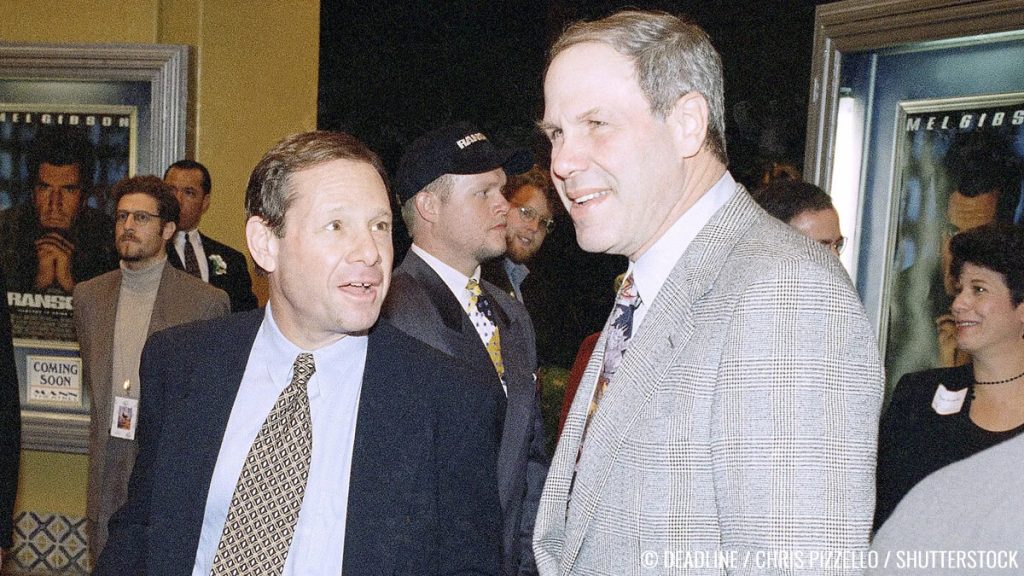 So picture this. It's now September of 1995. And Michael Ovitz – because he wants to learn about every aspect of The Walt Disney Company – is now on a familiarization tour of the entire corporation. And one of his very first stops is The Walt Disney World Resort.
And Michael (Ovitz, not Eisner) is a very data-driven guy. And he knows about the now-thousands of letters & phone calls that the Walt Disney World Resort has received about "20,000 Leagues Under the Sea." Which – again (remember) – WDW managers have been saying publicly is only temporarily closed. At this point, they're still insisting that that this Opening Day Attraction will be back up & running in time for WDW's 25th anniversary. Which is supposed to start on October 1, 1996.
So Ovitz – once he arrives on WDW property says – "Hey, I've heard about the Magic Kingdom's 20K problem. And I'd like to personally check out that ride while I'm down here in Florida. Maybe once I see it, I can then make some recommendations. Perhaps help speed along the funding you need to get that ride up & running again."
And seeing as Michael Ovitz is the newly installed second-in-command at the Mouse House, WDW senior management – after they hear this request – says "Sure. Absolutely. We'd love to do that, Mr. Ovitz. We'll come by your hotel first thing tomorrow morning and take you straight over to the Magic Kingdom before that park opens to the public. That way, you can see for yourself the challenges that we're now facing with bringing this Fantasyland ride back up online in time for Disney World's 25th anniversary celebration. We'd LOVE to hear your recommendations."
Which is why — the following morning at 7 a.m. — Mike Ovitz found himself standing in the queue at "20,000 Leagues Under the Sea" as a sub that was loudly belching smoke came rumbling up to the dock. The Disney Company's brand-new President then climbed down the stairs and found a quarter inch of water sloshing around in the bottom of the boat. When Mike pointed this out, a WDW ops staffer said "Well, you have to understand that a lot of our subs are over 20 years old, Mr. Ovitz. So many of them have developed small pinhole leaks over time."
The sub then lurched away from the dock and took Ovitz & the ops crew on a somewhat jerky trip around the "20K" ride track, with the attraction's soundtrack barely audible through the ship's crackling loudspeakers.
As you might imagine, once the boat pulled up to the dock, Michael quickly climbed out of the mildewed interior. He then turned to WDW's ops staff and then asked what it would cost to bring "20K" back online. Ovitz was then quoted a number that was reportedly more than the Resort was planning on spending on its entire year-long 25th anniversary celebration.
Ovitz knew that a redo of the Subs that was going to be that expensive would be a non-started with Eisner. Especially at that time in the Company's history, where – on the heels of the Euro Disney debt reorg and Disney deferring any royalty payments they were supposed to take out of that Resort 'til 1998 – word was coming down from on high to every division at Disney to economize & cut back.
Ovitz wanted to show Eisner that – as The Walt Disney Company's new president – that he could make the tough calls. So after hearing how much it would supposedly now cost the WDW Resort to bring the Subs back online, Ovitz then supposedy said "Well, maybe we'd just better cancel this rehab project and close 20K for good." And those WDW managers standing with Ovitz in the Subs Load / Unload area then said "Oh, no. Really? Are you sure?"
Not Reopening by Summer – 20,000 Leagues "Delayed"
Which is why – in the early part of 1996. Just a few months after Michael Ovitz visited the Walt Disney World Resort on that fam trip — Bruce Laval, who was (at that time, anyway) the Resort's Vice President for Operations – did an interview with the Sentinel. Where Bruce told Leslie Doolittle that …
"We were originally pursuing a short-term strategy with 20K. Something would have then allowed us to reopen the Subs with minor enhancements. But we found that there was no way we could accomplish that by this Summer."
Now please note that what Bruce is saying in early 1996 is very different from what the Resort had been putting out back in the Fall of 1994. Back then, the Magic Kingdom was going to shut down "20K" for a nearly two-year-long, top-to-bottom redo so that this Fantasyland attraction could then be part of WDW's 25th anniversary celebration looking bigger & better from ever. But come April of 1996, that story has significantly changed. The Park was now looking to re-open the Subs with "minor enhancements." But even that would be impossible for the Resort to now pull off by the Summer of 1996.
Which bring us to what Laval next told the Sentinel:
"We are abandoning those plans for the Subs and are now exploring other long term options."
So would it surprise you to learn that – in the middle of all the hoopla associated with the officially launch of WDW's 25th anniversary celebration in October of 1996 – Disney World's PR very quietly realizes the news that 20K is now closed permanently. That – on the recommendation of Michael Ovitz, the president of The Walt Disney Company — the Magic Kingdom is now abandoning any plans to rehab / revitalize that attraction.
Poor Guest Experience for Michael Ovitz
You wanna know the kicker to this story. Those WDW managers – when they brought Michael Ovitz into the Magic Kingdom early that September morning back in 1995 – had totally sandbagged the new president of The Walt Disney Company.
To make sure that Ovitz had the worst possible ride experience that morning …
Well, out of the fleet of 14 subs that had been built for this Fantasyland attraction, those managers deliberately picked the one that was in the worst possible shape.
They then recruited a veteran ride operator and quietly gave this Cast Member the expressed instructions to "Give Ovitz the roughest ride possible."
Then – to seal the deal — they threw a couple of buckets of water down into the bottom of that Sub to simulate a pinhole leak.
And all of this was done to give Ovitz the impression that WDW's subs were now beyond salvaging.
The real irony here is that Michael Ovitz, the man who made the permanent closure of the Subs at WDW's Magic Kingdom possible because he fell for the elaborate ruse that those Disney World managers staged back in September of 1995 … wasn't all that long-lived at the Mouse House.
Eisner fired Ovitz in December of 1996 (just 15 months after he'd taken the job) largely because Eisner felt that Ovitz just wasn't a good fit at Disney.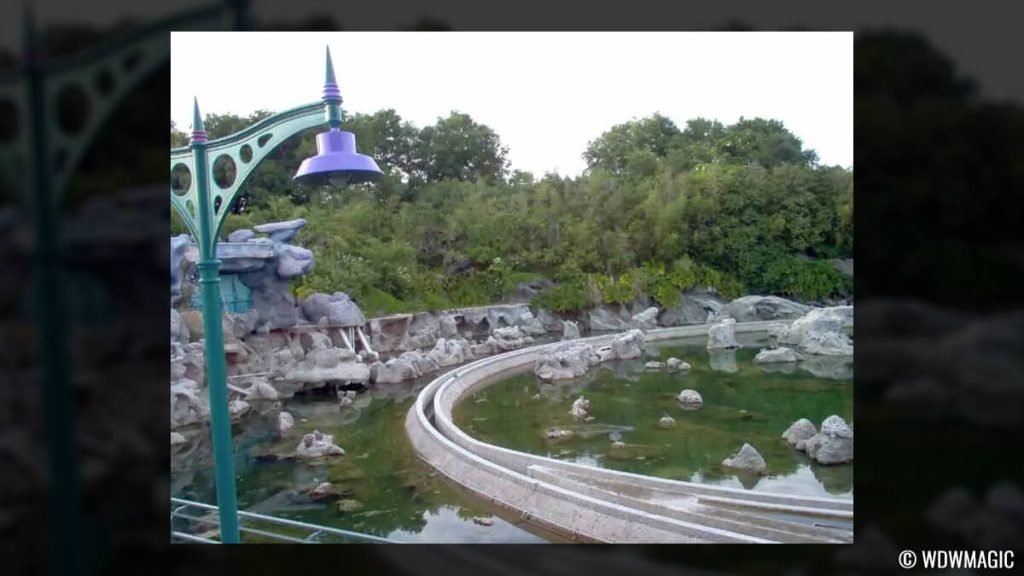 I have to tell you that WDW managers were thrilled that Ovitz was on the job at Disney for as long as he was. For – in September of 1995 — he made it possible to do what they couldn't. Which was close the Subs for good. Which then left that huge chunk of Fantasyland open for redevelopment.
Mind you, it would take nearly another 13 years (from when the WDW Resort finally officially announced that the Subs at the Magic Kingdom were closed in October of 1996 'til the first D23 Expo back in September of 2009. Which was when the WDW Resort officially confirmed that the long-rumored expansion of the Magic Kingdom's Fantasyland section was in the works) before that redevelopment effort would then move forward. But as anyone who's been watching the construction of "TRON Lightcycle Run" limp along at the Magic Kingdom these past five years, things move slowly these days at the Magic Kingdom.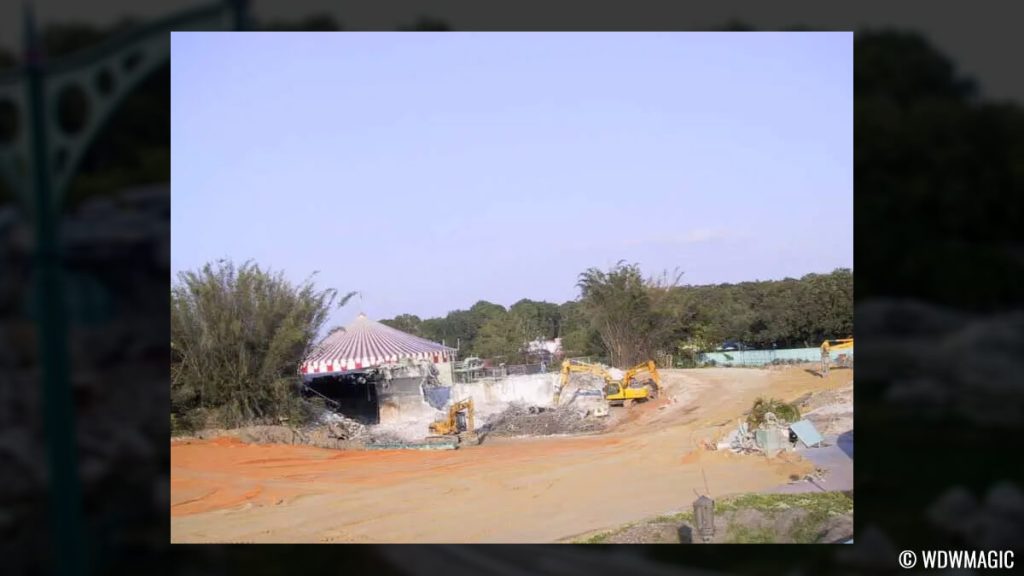 And – speaking of the Magic Kingdom – if anyone who worked at that theme park back in the late 1980s / early 1990s could please get back to me about that newsletter-for-Cast-Members-who-worked-specifically-at-that-Park (I'm 90% certain this weekly newsletter was called Kingdom Cast. But – again – I could be wrong), I'd really appreciate it.
This article is based on research for The Disney Dish Podcast "Episode 390", published on September 5, 2022. The Disney Dish Podcast is part of the Jim Hill Media Podcast Network.
Original Disneyland Lessee: Van Camp Seafood and The Chicken of the Sea Pirate Ship Restaurant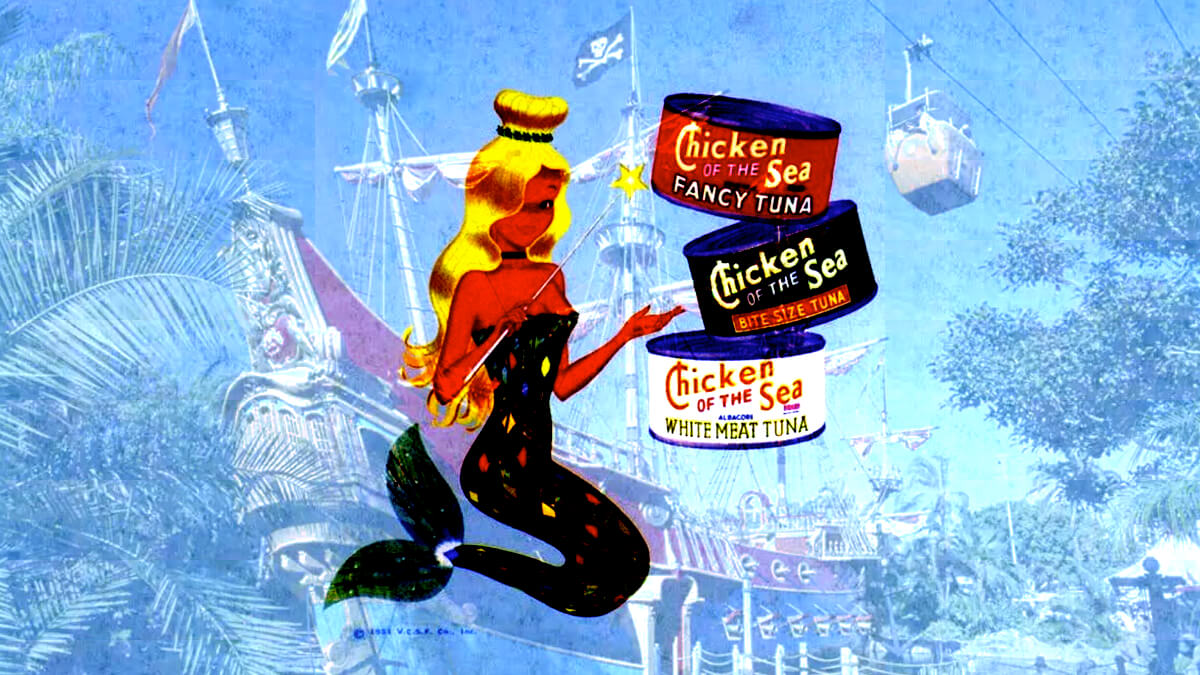 Since we've gotten such strong reaction to previous "Disney Dishes" where Len & I talked about original Disneyland lessees like Swift Meats (who sponsored the Red Wagon Inn at the Park, which was the precursor to Disneyland's Plaza Inn Restaurants) and Monsanto (who sponsor the Hall of Chemistry AND the House of the Future), I thought that we'd take a moment to shine a spotlight on another company that helped make up the original 48 lessees at Disneyland.
Original Disneyland Lessees
When Disneyland first opened in July of 1955 – the Park had 48 lessees. A number of those were short-lived outfits like Hollywood Maxwell's Intimate Apparel Shop and the BlueBird Shoes for Children Shop that came & went within the first few years that Disneyland was operational. By 1966 / 1967, the number of lessees that the Park had had shrunk down by nearly a third. To 33, to be exact.
That's an interesting number – 33.
Seems significant for some reason. Can't place why, though.
Van Camp Seafood Company
Some 67 years ago (August 29, 1955, to be exact), the Chicken of the Sea Pirate Ship Restaurant (the quick service restaurant that Van Camp Seafood sponsored at the Park) first opened for business.
Kind of appropriate that Van Camp Seafood came to sponsor a restaurant at Disneyland. After all, this fish canning company actually got its start some 95 miles to the south of Anaheim in San Diego, California back in May of 1914 – founded by Frank Van Camp & his son Gilbert.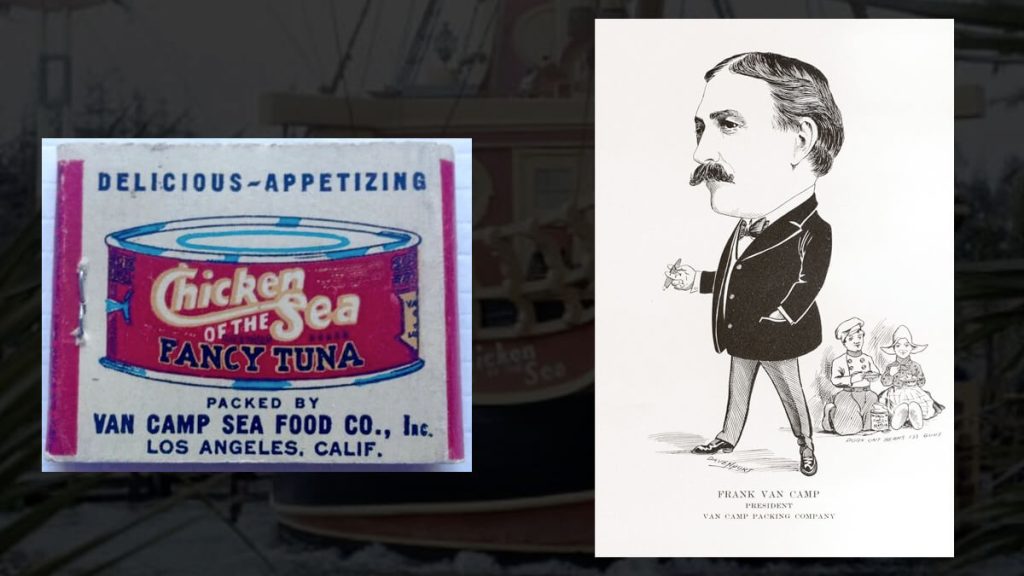 And as for that "Chicken of the Sea" thing … That was a bit of branding Van Camp embraced back in 1930. You see, the type of tuna that they initially specialized in canning (i.e., white albacore) was acclaimed for its mild flavor & color.
"Tastes like chicken" = "Chicken of the Sea."
By 1952, Van Camp Seafood further refined their brand by introducing the Company's icon: Catalina the Mermaid.
Interesting side note: If Catalina the Mermaid looks kind of familiar to all you Trekkies out there … Well, there's a good reason for that. Grace Lee Whitney – who played Yeoman Rand on the original "Star Trek" television series – was actually the inspiration for Van Camp Seafood's corporate icon.
Peter Pan & Mermaid Lagoon
We jump ahead now to February of 1953, which is when Walt Disney Studios releases its feature-length animated version of "Peter Pan" (which is based on J.M. Barrie's 1904 play about "The Boy Who Wouldn't Grow Up"). This animated feature includes a scene where Peter takes Wendy Darling to Mermaid Lagoon. Where those mermaids then try to drown Wendy. I guess Catalina hangs out with a rough crowd.
Jump ahead to 1954. Walt is looking to lock in sponsors for his new family fun park. And Disney's animated version of "Peter Pan" is still very front of mind. Which is why – when Disney representatives reach out to Van Camp Seafoods to ask if this fish canning company would be willing to sponsor some sort of attraction at Disneyland – Frank & his son Gilbert are interested.
The Van Camps do have some conditions, though. As part of whatever their Company sponsors at Disneyland, this shop, restaurant or attraction has to prominently feature Catalina the Mermaid, the Chicken of the Sea icon.
The folks at Disney go away for a bit to ponder this proposition … and then eventually come back with a proposal for the Van Camp family. What about a restaurant that's also an attraction? As in: The Chicken of the Sea Pirate Ship Restaurant.
The Chicken of the Sea Pirate Ship Restaurant
This massive structure – we're talking 79 feet long and 80 feet tall (That includes the ship's three masts. Which were each 60 feet tall) – was to be a recreation of the Jolly Roger, Captain Hook's ship from Disney's animated version of "Peter Pan." Guests would have the opportunity to board this vessel and explore the upper deck. Below decks, there'd be a quick service restaurant that only served food items that could be made with Van Camp Seafood products. We're talking:
A Tuna Sandwich
A Tuna Burger
A Tuna Pie served in a Pastry Shell
A Tuna Boat Salad
A Tuna Clipper Salad (a clipper is a slightly bigger boat)
Shrimp Cocktail (Van Camp Seafood also sold canned shrimp)
and Fruit Tart with Whipped Cream (which must have had a little tuna in it)
Reminds me of that Monty Python bit. "It's only got some spam in it. Spam, spam, spam, span, baked beans & spam.")
Frank & Gilbert Van Camp loved this idea. Even so, it took a while to Van Cap Seafood & Walt Disney Productions to negotiate the final contract. Not to mention draw up the construction blueprints for this Fantasyland restaurant / attraction. I've seen a set of these blueprints that Fred Stoos (he was one of the original construction coordinators on the Disneyland project) drew up that are dated May 7, 1955.
Building the Jolly Roger
That's basically 10 weeks before Disneyland first opens to the public. So as soon as those blueprints were signed off on, they immediately began building the Jolly Roger out behind the park's lumber mill. Which – after the Park was completed – this building would then become the Main Street Opera House.
The ship itself was built out of Douglas Fir. And as for this pirate ship's trim, that was genuine mahogany which had been shipped in from Honduras.
Now remember that condition that Frank & Gilbert Van Camp insisted upon? That Disneyland's Chicken of the Sea Pirate Ship Restaurant had to feature their company's icon – Catalina the Mermaid – in some way?
Catalina the Mermaid – Figurehead
Disney honored this sponsorship condition by making Catalina the Jolly Roger's figurehead. Chris Mueller (who sculpted all of the animals that Guests saw on Disneyland's "Jungle Cruise." Not to mention the giant squid in Disney Studio's "20,000 Leagues Under the Sea" film. In addition to creating "The Creature from the Black Lagoon" for Universal Pictures' 1954 film of the same name) not only created that beautiful 6-foot-tall piece, Mueller also sculpted an enormous piece for this ship's stern. Which replicated the way Catalina the Mermaid was depicted on each can of "Chicken of the Sea" tuna. With Catalina seated atop her shell throne which is then borne on the back of a giant sea turtle. Beautiful piece.
The Flying Jolly Roger
Remember how this pirate ship restaurant was quickly being built backstage at Disneyland out behind that park's lumber mill? When it came time for this building to finally be moved into place over in Fantasyland … Well, remember how the Jolly Roger flew in Disneyland's animated version of "Peter Pan" ? This structure flew as well. It was lifted by a construction crane over all of those still-under-construction Tomorrowland buildings and then dropped into place behind the Park's Mad Tea Party flat ride.
Painting and Camera Tricks
The only problem was … The night before that "Dateline: Disneyland" special aired live on ABC, Walt realized that he was running out of time & money. And the Chicken of the Sea Pirate Ship Restaurant (while it was now in its proper place in the Park) was still unpainted. And if the Van Camp family saw the restaurant / attraction that they'd paid for show up on live television looking like that, Frank & Gilbert would be furious.
Walt's solution to this not-enough-time / not-enough-money problem was kind of ingenious. He only had his painters paint the side of the Chicken of the Sea Pirate Ship Restaurant that faced into the Park (i.e. the side that would appear on camera). Walt then had a bunch of Disney Studios employees placed on deck. When the cameras came on, these folks rushed to the rail and then wave frantically towards the camera. That way, no one would notice that the props or rigging on this ship weren't in place either.
This trick worked. The Jolly Roger looked great on camera. And just so you know: It would take another six weeks of hard work after the "Dateline: Disneyland" TV special aired before the Chicken of the Sea Pirate Ship Restaurant was finally ready to serve food / begin entertaining Disneyland Guests.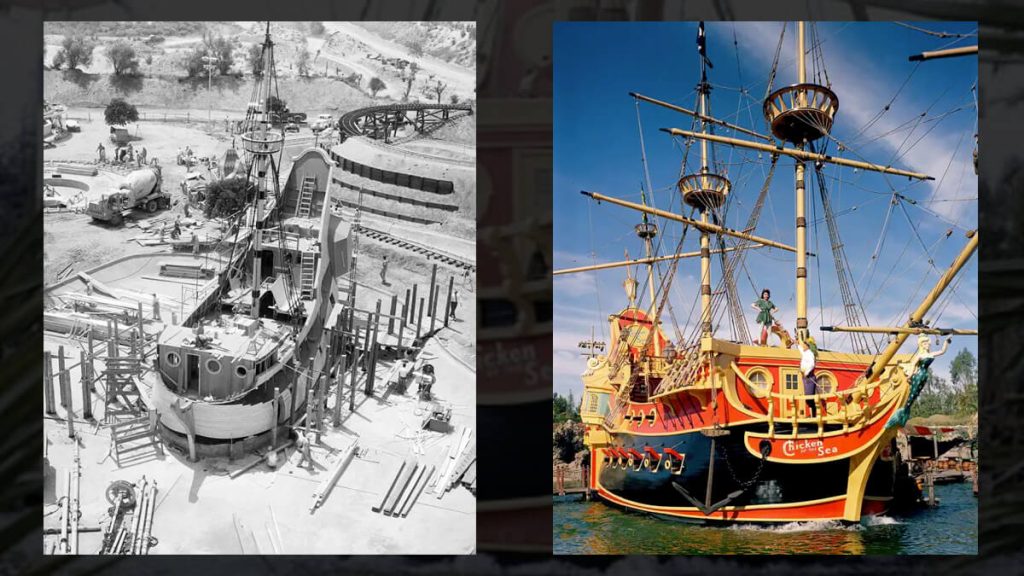 Popularity and Expansion of The Chicken of the Sea Pirate Ship
This eatery became so popular with Disneyland Guests that … Well, after Walt finally wrestled ABC's partial ownership of the Park away from that broadcast company in June of 1960 (He had to pay that company $7.5 million for its one third ownership of the Park) … One of the very first thing Disney did was to create a secondary seating area for this Fantasyland eatery.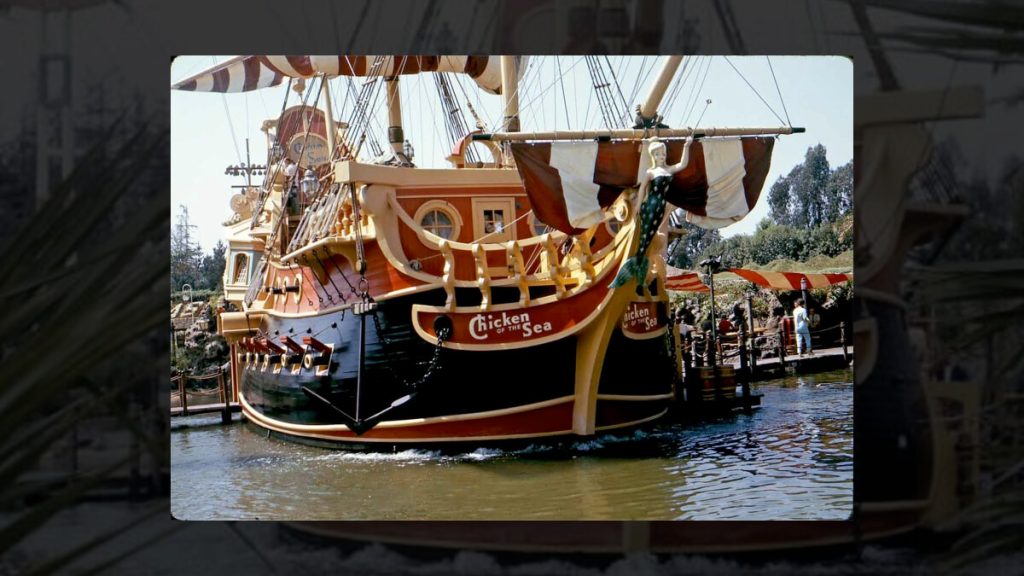 Here's how that expansion project was described in the October – November 1960 issue of the "Disneylander" (i.e., the park's employee newsletter back then):
This article's headline read: "Pirate Ship To Have New And Exotic Setting"
And here's a quote from this piece:
"By the time you read this, you'll be aware that the Chicken of the Sea Pirate Ship is closed for extensive rehab. It is scheduled to reopen about December 15th. Isolated by craggy cliffs covered with lush tropical foliage will be 'Pirate's Cove,' where the Park's well known Pirate Ship resides at anchor. WED designers have included in their plans the familiar landmark of Skull Rock from the Peter Pan story with three waterfalls cascading from rocky heights."
Construction of Pirate's Cove & Skull Rock actually took a little longer than expected. This Fantasyland addition wouldn't open 'til just before Christmas. December 23, 1960, to be exact.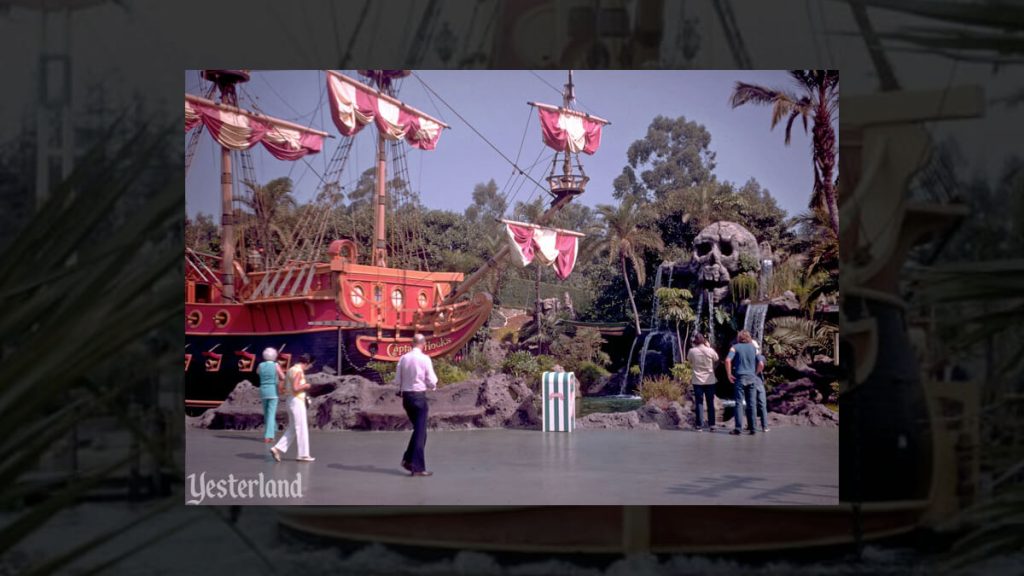 Van Camp Seafood Partnership
The folks at Van Camp Seafood initially seemed very pleased with their association with Disneyland Park. They renewed their original sponsorship agreement with the Park in 1962 for another seven year-long lease. Unfortunately, in 1963, Frank & Gilbert sold their fish canning company to Ralston Purina. And when the sponsorship contract for the Chicken of the Sea Pirate Ship Restaurant came up for renewal in 1969, Ralston Purina opted out.
Captain Hook's Galley
Disneyland management responded to this loss of sponsor by changing the name of this Fantasyland restaurant from The Chicken of the Sea Pirate Ship Restaurant to Captain Hook's Galley. They also made minor tweaks to the ship's figurehead and the giant stern piece so that the mermaids there no longer looked just like Catalina, Chicken of the Sea's corporate icon.
Moving to New Fantasyland
We now jump ahead to the Fall of 1981. Work has just begun on Disneyland's New Fantasyland. Which – when this side of the Park re-opens in the Summer of 1983 – will feature all-new versions of Disneyland's classic dark rides like "Snow White's Scary Adventures" & "Mr. Toad's Wild Ride" featuring then-state-of-the-art effects like fiber optics & digital sound.
Among the changes that are in the works for this side of the Park is that the ship that houses Captain Hook's Galley is once again going to be lifted by a crane. Only this time, it's going to lifted over a 100 feet or so that this full-sized pirate ship could then became the finale of Disneyland's Storybook Land Canal Boats ride. The canal boats – after floating by all of those miniaturized recreations of settings from famous Disney films – would now find themselves, in the final moments of this ride, right alongside of the Jolly Roger.
The Imagineers thinking here was … Well, Disneyland's Storybook Land Canal Boats ride starts off with a big moment (the canal boat you're riding in gets swallowed up by Monstro the whale from "Pinocchio"). It should then have a similarly big moment at the moment at the end. Besides – by moving the structure that previously housed Captain Hook's Galley from the centerbackmost portion of Fantasyland over to the eastern edge of this land at Disneyland – this then opened some very valuable real estate right in the middle of one of the more popular / most crowded corners of the Park.
So okay. So once this part of the Imagineers' plans for a new Fantasyland at Disneyland was signed off on by Park Management … Phase One of Operation "The Jolly Roger Flies Again" was to first gently pry Chris Mueller's now 26-year-old mermaid sculptures off of the bow & the stern of the Chicken of the Sea Pirate Ship Restaurant and then take them backstage to be restored. Then the pirate ship would be hoisted into its new location at the edge of Small World Plaza. Whereupon the load / unload area for the Storybook Land Canal Boats ride would be expanded to create a brand-new lagoon space that this pirate ship could be anchored in.
Just so you know: I've never been able to confirm that Skull Rock was to have then be recreated in this new location. The insinuation here was that – once both phases of the New Fantasyland project were complete (Phase One was to be ready for the Late Spring of 1983. While Phase Two – which involved the revamped version of the "Alice in Wonderland" dark ride, the relocation of Disneyland's "Mad Tea Party" dark ride and the Mad Hatter's Hat Shop – would open in the Spring of 1984) — the Imagineers would then attempt to ram through the creation of a second version of Skull Rock. Which would then help hide where the maintenance dock for the Storybook Land Canal Boats would be taken every night.
I have also been told that the below-decks area (which was initially supposed to be closed off to Guests once the Jolly Roger was flown into its new location of the Eastern edge of Small World Plaza) was to have then been completely renovated. And that – for the Summer of 1985 (Just in time for Disneyland's 30th birthday celebration) what had previously been a quick service restaurant would then be turned into a pirate-themed juice bar. Which was kind of a cool idea.
Problems with the Move & Demolition of the Jolly Roger
This was the plan anyway. Unfortunately, after those two mermaid pieces were carefully pried off of the bow & the stern of Captain Hook's Galley, the forklift that was taking both of these pieces backstage made a sudden stop. The mermaid pieces then fell off and shattered to smithereens.
Worse that that: When the New Fantasyland construction crew went to go arrange the harnesses that were necessary to hoist this 26-year-old pirate ship high in the air over to its new location, they then discovered that the old Chicken of the Sea Pirate Ship Restaurant (which — remember – had originally built out of Douglas Fir outside of Disneyland's old lumber mill and then been trimmed with genuine Honduran mahogany) was now riddled with termites. Long story short: This structure would have immediately crumbled into pieces as soon as that construction crane starts to pull on those harnesses.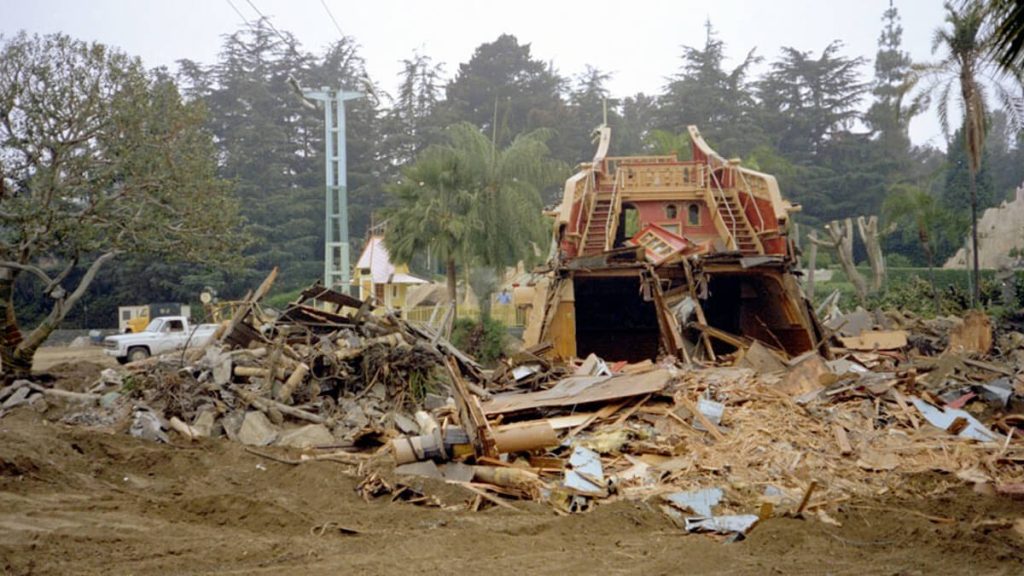 As a direct result, the Chicken of the Sea Pirate Ship Restaurant was left at anchor right where it was until a demolition team could come along and pull this ship-shaped structure down. While they were at it, this demolition team also destroyed one of Disneyland's favorite photo spots (Skull Island Cove). In its place today, you'll now find Disneyland's relocated Dumbo the Flying Elephant ride.
Which – of course – makes us OG Disneyland fans sad. I mean, that's something that Walt put in place and then plussed. But it's worth noting that the Jolly Roger — as well as Pirate Cove & Skull Rock — do live on. Only at a different Disney theme park.
Adventure Isle at Disneyland Paris
When the Imagineers opted to build Adventure Isle at Disneyland Paris in the early 1990s, they included a full-sized pirate ship that was then placed at anchor in front of a large-ish version of Skull Rock. And inside of this pirate ship, you'll find yet another Captain Hook's Galley. This one's a counter-service restaurant, though. Not a pirate-themed juice bar.
Disneyland Tuna Burger and Fruit Tart with Whipped Cream
Just so you know: If you're a Disneyland completist and wonder what it was like to actually dine at the Chicken of the Sea Pirate Ship Restaurant, if you Google "Disneyland Tuna Burger," you can find a number of recipes online that will then allow you to replicate this signature item from the menu of this now-gone-for-nearly-40-years restaurant.
Me personally, given that whole everything-served-here-must-make-use-of-items-that-Van-Camp-Seafood-makes-or-sells condition, I still have to wonder just how much tuna there was in that one dessert item the Chicken of the Sea Pirate Ship Restaurant sold. Which was the fruit tart with whipped cream.
This article is based on research for The Disney Dish Podcast "Episode 389", published on August 29, 2022. The Disney Dish Podcast is part of the Jim Hill Media Podcast Network.
History of Epcot's World ShowPlace & Millennium Celebration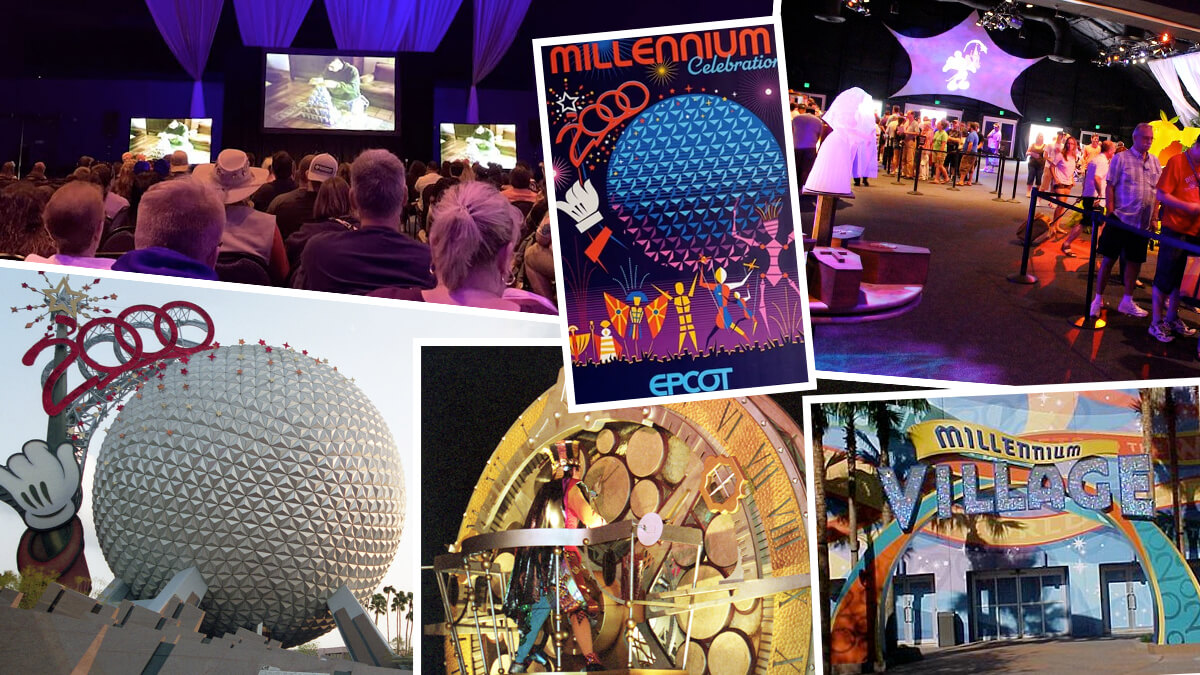 It's 1996. And Disney Parks & Resorts is already thinking about how it should handle the Millennium.
Not that Y2K bug thing, mind you.
Y2K and the Disney Theme Parks
Do you remember how – back in the late 1990s – there were people who were absolutely terrified that, due to a flawed bit of computer code … Well, at the very second the world transitioned over from 1999 to 2000, everything that was run by computer would suddenly shut down. Including the North American power grid.
This was something that many corporations – including The Walt Disney Company – took very, very seriously in the lead-up to the Millennium. The Mouse actually set up a dedicated task force of 800 employees to investigate the Disney Company's possible exposure to a Y2K bug threat and then put together a response plan.
One element of Disney's Y2K bug response plan was – should the North American power grid actually fail at the stroke of midnight on December 31, 1999 – each of Disney's stateside parks had dozens of emergency lights & back-up generators on hand. These items were stashed backstage at the Parks (out of sight of the Guests, of course), ready to be deployed at a moment's notice. Just in case the country's power grid really did suddenly collapse that night.
Shutting Down Every Attraction on 12/31/1999
And speaking of December 31, 1999, how many Disney theme park fans remember how – on that night – the Mouse shut down every single ride, show & attraction at its stateside theme parks 15 minutes prior to midnight and then held those things in place / in check for 30 minutes or so? They did this until it was clear that the North American power grid hadn't actually collapsed and that every computer on the planet hadn't really gone haywire.
"Better safe than sorry" was the thinking among the Park's Ops Team. They didn't want Guests stuck on Disneyland's or WDW's attractions should the Y2K bug prove be a very real thing.
Anyway … A half hour after the stroke of midnight on what-was-now-January 1st, 2000, all of those rides, shows & attractions at Disney's stateside parks were back up & running again. Loaded with happy, still alive Guests.
Mind you, the Mouse never admitted publicly that the reason they'd shut down all of the rides, shows & attractions at its stateside theme parks just prior to midnight on December 31, 1999 was out of Y2K bug-related safety concerns. What Disney spokespersons said instead was – in essence – " … we just to be sure that all of our Guests got the chance to see that night's special fireworks display."
Yeah. Right.
Millennium Celebration for Walt Disney World and Disneyland
Back to 1996 now.
What The Walt Disney Company was most concerned about – as it looked ahead to the Millennium was — … Well, to borrow a phrase from a very famous Prince song, figure out what to do in California & Florida when Disney theme park fans wanted " … to party like it's 1999."
On the West Coat, given that Disney's California Adventure would still be under construction at the start of the Millennium (That theme park wouldn't actually open to the public 'til February 8, 2001. And given that the Disneyland Parking Lot would close on January 21, 1998 to then make room for DCA … Well, the rest of that Resort would largely be a maze of construction fences when December 31, 1999 finally arrived), a one-night-only party seems like the smartest way to go.
Whereas in Florida … The thinking is – instead of a one-night-only party – Walt Disney World should explore the idea of a staging a months-long Millennium celebration. Something that could start in 1999 and then roll on into 2000.
Quick aside here: WDW's PR team just loved this idea. Largely because – by the late Spring / early Summer of 1999 — the newness & excitement associated with Disney's Animal Kingdom (That theme park was due to open in April of 1998) would have begun to wear off.
Selecting Epcot for the Millennium Celebration at Walt Disney World
As to which park should host Walt Disney World's Millennium Celebration … Well, that was kind of a gimmee back then. Largely because — while Epcot was the park at the Walt Disney World Resort with the second highest attendance levels (Magic Kingdom was first) — it was also [at that time, anyway] the least profitable park on property.
I know that that's strange to hear today. Especially given the hand-over-fist money that the WDW Resort now makes off of those super-sized, extended versions of Food & Wine and Flower & Garden. But you also have to remember that today's story starts back in 1996. And the …
1st Flower & Garden wasn't held til April of 1994 (And even then, it was just five weeks long)
Likewise the 1st Food & Wine wasn't held 'til September of 1996 (and it was just 30 days long)
Interestingly, the 1st Holidays Around the World / now International Festival of the Holidays debuted that very same year. In November of 1996 to be precise (it also was just five weeks long)
And Epcot's International Festival of the Arts is the newest of the bunch. It debuted just 5 years ago in January of 2017 (and was also only five weeks long)
So you have to understand that these massive money makers (as we know them today, anyway) weren't really in place back then. Which is why Epcot – which then had to largely rely on its original assortment of attractions to lure WDW visitors through its turnstiles – was the least profitable park on property.
Anyway … Disney Parks & Resorts hoped to turn this situation around (at least for 15 months or so) by making Epcot Center the center of WDW's Millennium Celebration. Which was supposed to get underway in October of 1999 and then run at least through December of 2000.
Just so you know, though: There was a secondary agenda being serviced here as well … Disney Parks & Resorts wanted to use WDW's Millennium Celebration as a way to reintroduce the world to a new, fun version of Epcot …
Epcot 2.0
Sound familiar? Yep, that is exactly what Walt Disney World had also hoped they'd be able to do with the Resort's 50th anniversary celebration which began back on October of 2021. Reintroduce the world to the brand-new, fun version of Epcot 2.0. (They say no good idea ever dies at Disney. But wasn't it Santayana who said that " … a fanatic is someone who redoubles their effort when they've forgotten their original aim" ? )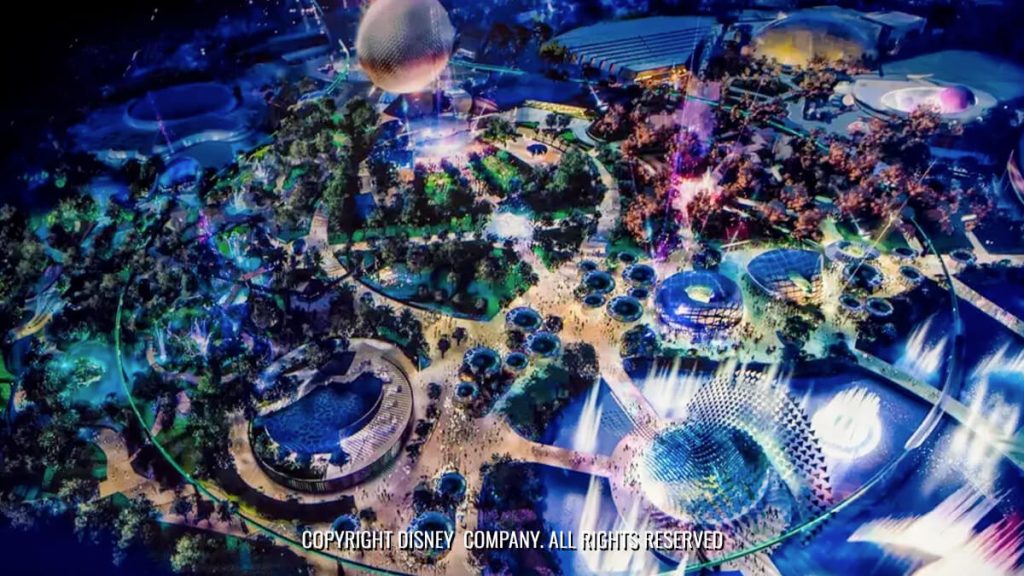 Of course, when it came to the launch of the brand-new, fun version of Epcot 2.0, the pandemic & its impact on the labor force and worldwide supply chains kind of blew that very ambitious plan right out of the water. So instead of a bright new shiny version of Walt Disney World's science & discovery park being in place just in time for the launch of this Resort's 50th anniversary celebration back in October of 2021 … What we got instead is a handful of new rides, shows & attractions like "Remy's Ratatouille Adventure," "HarmonioUS," "Guardians of the Galaxy: Cosmic Rewind," "The Creations Store," "Space 220," "The Connections Café & Eatery," and – soon – "Moana: The Journey of Water" opening one at a time in kind of a scattershot fashion … Which (let's be honest here) didn't have nearly as big an impact / make nearly as big a splash than as if all of these new rides, shows & attractions had managed to come online in the exact same window of time (i.e., late Summer / early Fall of 2021. Just in time for the start of WDW's 50th anniversary celebration).
Quick aside: I want to be clear here: This wasn't poor planning on Disney's part. Nobody could have ever foreseen that a once-in-a-century pandemic would come over the hill and then disrupt WDW's a-decade-in-the-making 50th anniversary plans. Epcot's still limping along through its reimagining right now. Which — I'm now hearing –should largely be complete by 2024 (This is when the Play! Pavilion, CommuniCore Hall & Communicore Plaza are supposed to finally come online. We'll get to those latter two projects in the back half of today's story).
Prepping Epcot for WDW's Millennium Celebration
Back to 1996 and the Resort's advance prep & planning for WDW's Millennium celebration now … There was a method to the Imagineers' madness. All of the changes that were to be made to Epcot out ahead of October of 1999 (the target date for the launch of this park's 15 month-long Millennium celebration) had a very deliberate purpose.
That giant "Sorcerer Mickey" arm which was erected over Spaceship Earth was supposed to send a message to Guests that Epcot was now far more magical & fun.
The "Tapestry of Nations" parade (which was presented twice daily, once starting at 6:30 p.m. and then a second presentation of the same parade starting at 8:10 p.m.) was supposed to compel Guests to stay in Epcot long enough each day to actually view that parade. And while these people were killing time waiting … Well, they'd either have to shop or grab a meal (Which would then hopefully help with Epcot's least-profitable-theme-park problem) …
Then – to absolutely make sure that people lingered as long as possible inside of Epcot while the Resort's Millennium Celebration was being presented – WDW Entertainment rolled out a brand-new edition of "Illuminations," "Reflections of Earth." Which was a significant upgrade of the previous nighttime show that had been staged out on World Showcase Lagoon. With giant torches erected all along the esplanade and the Inferno Barge literally starting this show with a bang.
The hope was that people would have such a great time at WDW's 15 month-long Millennium Celebration that they'd then want to commemorate this special occasion. This is why the Imagineers then built the "Leave a Legacy" plaza directly in front of Spaceship Earth.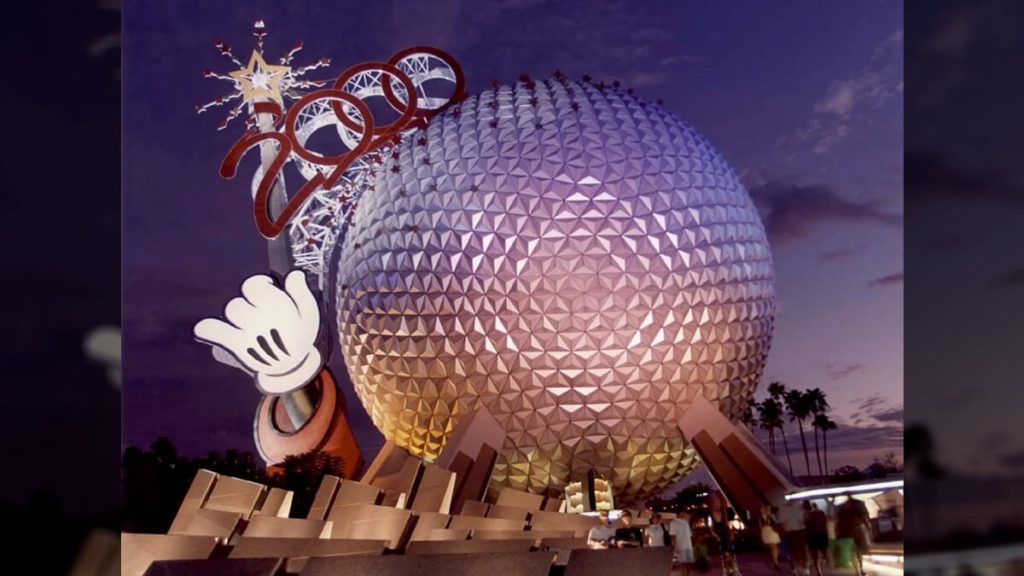 This retail initiative was a sequel of sorts to those hugely popular "Walk Around the World" pavers that had been sold over at the Magic Kingdom as part of WDW's 25th anniversary celebration.
FYI: WDW's 25th anniversary celebration was also originally supposed to be just a 15 month-long celebration, running from October of 1996 through December of 1997. But that event proved to be so popular with WDW visitors that the Resort's 25th anniversary celebration got extended another three months. All the way to March of 1998.
And to be honest, if the Resort could have gotten away with it, they'd have extended WDW's 25th anniversary celebration event even further than that. But they were forced to finally shut those festivities down in March of 1998, largely because Disney's Animal Kingdom would be opening in late April of that same year. And that theme park's opening was supposed to be the primary focus of the WDW Resort's promotional efforts for the bulk of 1998).
"Leave a Legacy" at Epcot
Back to the "Leave a Legacy" retail program now … The Imagineers built a Stonehenge-like plaza in front of Spaceship Earth which had space for 750,000 tiles that could then feature the smiling faces of Guests who had just attended Epcot's Millennium Celebration (Which the Company really hoped would eventually turn into a WDW 20th anniversary-like success. Which would have then forced the Resort to extend its 15th month-long Millennium celebration another three months into the late Winter / early Spring of 2001).
That wasn't to be, though. "Leave a Legacy" ultimately proved to be something of a disappointment. Only 440,000 tiles were sold over the course of Epcot's Millennium celebration. (I'm told that this was because most people didn't like how their likenesses on the finished tiles turned out AND because it was then hard to find your "Leave a Legacy" tile once it was finally put in place in that stone garden in front of Spaceship Earth).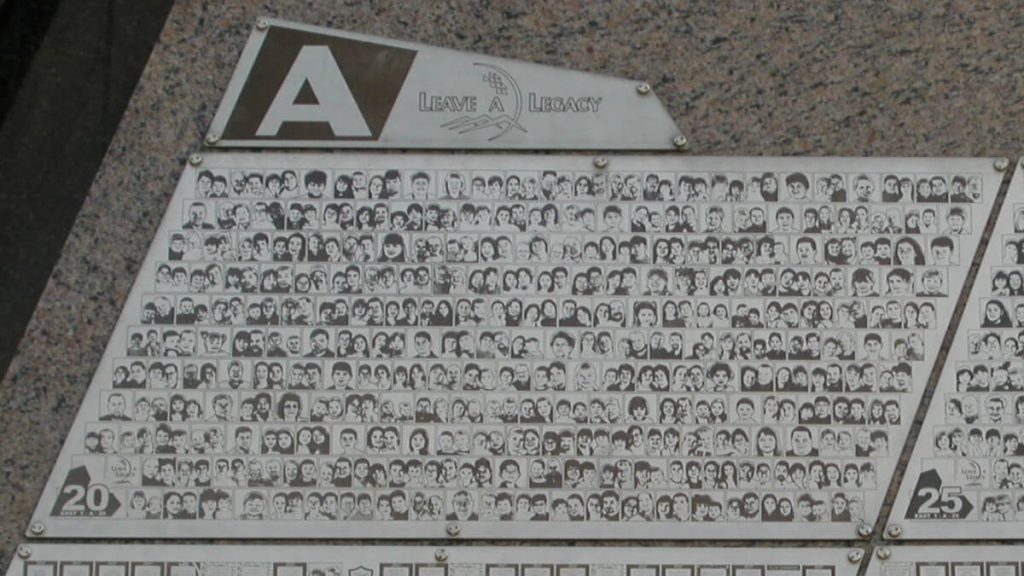 Terry Dobson (Walt Disney Imagineer)
We've talked about what Walt Disney World was going to do in order to get Guests to linger at Epcot in the late afternoon / early evening during that Resort's Millennium Celebration with that one-two punch of "Tapestry of Nations" and "Illuminations: Reflections of Earth." But what was supposed to compel people to visit that theme park earlier in the day while this 15-month-long event was going on?
That was the assignment that was handed to Terry Dobson. Who – at this point – was a veteran Show Producer at Walt Disney Imagineering.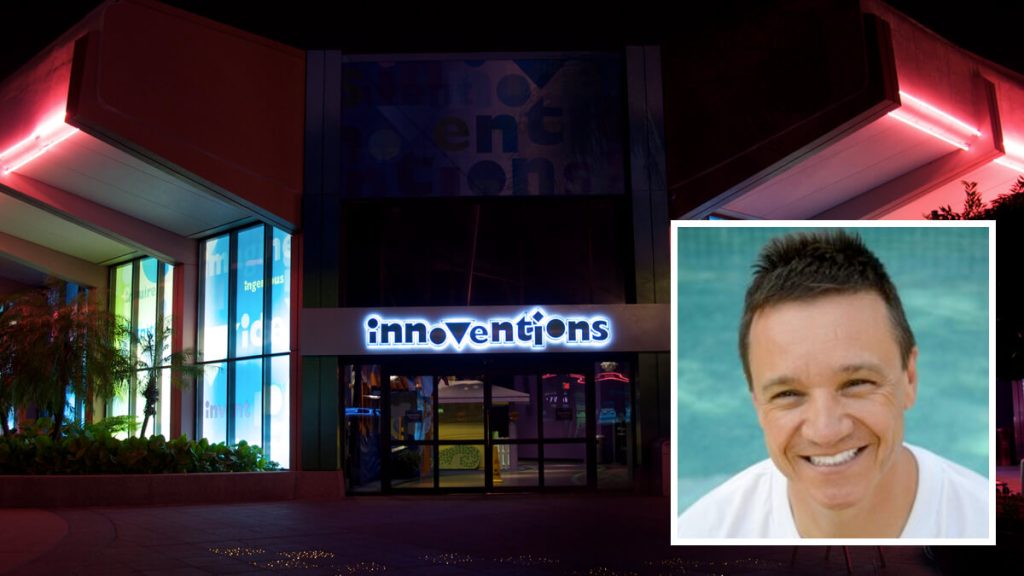 Innoventions at Epcot
From January of 1993 through October of 1994, Terry had been the guy who rode herd on the transformation of CommuniCore West into Innoventions. That 100,000 square foot exhibition officially opened in Epcot's Future World section in July of 1994 and featured displays by all sorts of major American corporations. Among them AT&T, GE, GM, Motorola, Honeywell, IBM, Apple, Silicon Graphics, and Lego.
That Future World display proved to be so popular that the team who was working on reimagining Disneyland's Tomorrowland area back in the late 1980s / early 1990s then said "Hey, we wanted an Innoventions too."
Disneyland Innoventions
So from February of 1996 through May of 1998 (which is when Disneyland's new version of a New Tomorrowland finally opened), Terry did the exact same thing. Which was take a pre-existing structure (In this case, the Carousel of Progress theater-go-round building) and then turn it into a space where … Well, here's a piece of Disney speak for you …
… deliver corporate messages through family play experiences through a mixture of high-tech, low-tech and no-tech hands-on exhibits.
This time around, Dobson delivered a 30,000 square foot exhibition space that featured displays by for SAP, Compaq, Honeywell, AT&T, GM and Kaiser Permanente. That last sponsor was a throwback to an opening day attraction at Disneyland.
Anyway, just like the East Coast version of Innoventions, the West Coast version of this exhibit proved to be hugely popular with Guests. Which is why – when Dobson finally returned to his office at Imagineering headquarters in Glendale – he found WDW's the Millennium Celebration team waiting for him.
Epcot's World ShowPlace and Millennium Village
They told Terry "Hey, how'd you like to tackle another Innoventions-like project with lots of displays? Only this time, you'll be working with countries, rather than corporations. Which – I'm sure — will be far easier to deal with. But the upside is … At least this time, you'll be working with a brand-new 65,000 square foot building."
Did I say "building" ? To be honest here, the World ShowPlace (that's what this 65,000 square foot structure eventually became known as. But let's not get ahead of ourselves here, shall we?) is a tent. A very large, supposed-to-be-temporary tent.
Those tents that now house Pete's Silly Sideshow & Big Top Souvenirs over WDW's Magic Kingdom, which were originally erected back in 1988 as part of Mickey Mouse's 60th birthday celebration and then only supposed to be in place for a year), there's nothing quite so permanent as a supposed-to-be-temporary tent at Walt Disney World.
As Terry Dobson began actively developing World ShowPlace and the Millennium Village display that was supposed to eventually be staged inside of this 65,000 square foot temporary building / tent, this Imagineering vet quickly realized that he was now serving two masters.
By that I mean: WDW Resort officials wanted the Millennium Village to be this must-see spectacle. A colorful gathering which represented over 50 nations from around the globe that would then compel people to fly on down to Orlando and check this exhibition out during its 15-month-long run. Disney World's only creative caveat going into this project was that Terry NOT include any displays from countries that already had a pavilion out along the shores of World Showcase Lagoon. Only new & different nations, please.
Whereas Epcot's management team … Well, they went into the Millennium Village / World ShowPlace project with a somewhat different agenda. They were much more intrigued by how this 65,000 square foot building / tent / supposedly-temporary structure could possibly be used AFTER WDW's 15-month-long Millennium Celebration was over.
Rain's Impact on Festival Attendance at Epcot
By that I mean: At this point in that theme park's history, Epcot had been running its seasonal Flower & Garden, Food & Wine, and Holidays Around the World festival for a few years now. And while all three of these seasonal events had shown huge profit potential … Well, the problem was that Flower & Garden, Food & Wine as well as Holidays Around the World was that they were largely events that were staged outdoors. Which mean that all it took to tank that day's attendance at Epcot (and thereby significantly undermine the profit potential of that particular seasonal event) was one of Central Florida's famous torrential rainstorms.
So – to mitigate this situation – Epcot wanted a big, new, under-cover venue. Some place where — even when it was pouring outside – Guests could then gather indoors and still enjoy food from around the globe, or listen to Disney's own horticulturists tell them how to improve their gardens at home, or shop for pieces of art that these tourists could then haul home.
Constructing Epcot's World ShowPlace
And to get this enormous, new, under-cover venue … Epcot was willing to make some pretty big sacrifices. They were willing to give up that expansion pad between World Showcase's Canada Pavilion and the UK Pavilion (This is where – back when EPCOT Center was originally being designed – the Imagineers envisioned another international pavilion eventually rising up) so that a long, wide walkway could then built to allow WDW visitors access to the largely-backstage area where World ShowPlace was being built.
Of course, this was kind of costly. Which is why Epcot's managers reached out to Walt Disney World's Special Events / Corporate Events office. And then basically said "The Imagineers are now designing a brand-new venue at our theme park that you guys are probably going to want to start using once WDW's Millennium Celebration is over. Do you want to give them any input / some notes?"
And indeed Disney World's Special Events / Corporate Events office did. Seeing World ShowPlace as a place where – in the not-so-distant future – they could soon begin staging super-sized dessert parties for companies that were holding their annual conventions on WDW property … Disney World's Special Events / Corporate Events office asked that the plans for World ShowPlace include:
A giant professional prep kitchen (which was supposed to have its loading dock deliberately orientated out towards Epcot's perimeter road. Which would then make food & supply deliveries to this super-sized facility far simpler)
An enormous bathroom just off of the theme-park-facing entrance to this 65,000 square foot structure. This was to be at the top of that walkway up from World Showcase Promenade. Which – again – had been built between Epcot's UK pavilion & the Canada pavilion.
The idea here was … Well, if you were having some sort of corporate event with an open bar, you'd then have a place where all of these deep-pocketed / paying-with-their-per-diem Guests could quickly pee before they then walked out towards World Showcase Lagoon to watch a presentation of "Illuminations: Reflections of Earth."
Next is an element that's crucial for any building-of-size that was being built in Central Florida today. And that's no less than six enormous professional-grade air conditioning units, which were set up around the perimeter of this enormous tent-like structure. Which would virtually guarantee that – no matter how many people were crammed into this building at any one time dressed in formal business attire – they'd all always stay cool.
And speaking of keeping things cool (or should I say "wet"?), a network of sprinklers were to be built into the roof line of the again-supposed-to-be-temporary World ShowPlace.
These sprinklers were be turned on every night just prior to the start of "Illuminations: Reflections of Earth." So that – should a stray firework shell ever accidentally come down on top of this massive tent-like structure as this nightly fireworks / laser extravaganza is being presented – World ShowPlace wouldn't then go up in flame.
Now please keep in mind that all of the above were permanent structures that were then added to the plans of what was originally supposed to be just a temporary structure. Which obviously added to the cost of originally building World ShowPlace but also – further on down the line — made this Epcot addition that much more valuable & versatile as a venue for corporate & special events.
"Millennium Village"
But before any of that stuff could happen, Terry Dobson had to first deliver that Innoventions-like "Millennium Village" display. Which needed to be up & running by October of 1999.
And remember how Terry's original marching orders were "We want a spectacle. A massive display featuring over 50 nations from around the globe"? Well, recruiting corporations to show off their latest & greatest hi-tech wares in Innoventions was a lot easier than persuading countries to come take part in Epcot's Millennium Village exhibition. In the end, Dobson was only able to persuade 24 nations to set up displays inside of World ShowPlace.
And even then, a lot of countries weren't willing to come be part of the "Millennium Village" unless they were then allowed to cut corners.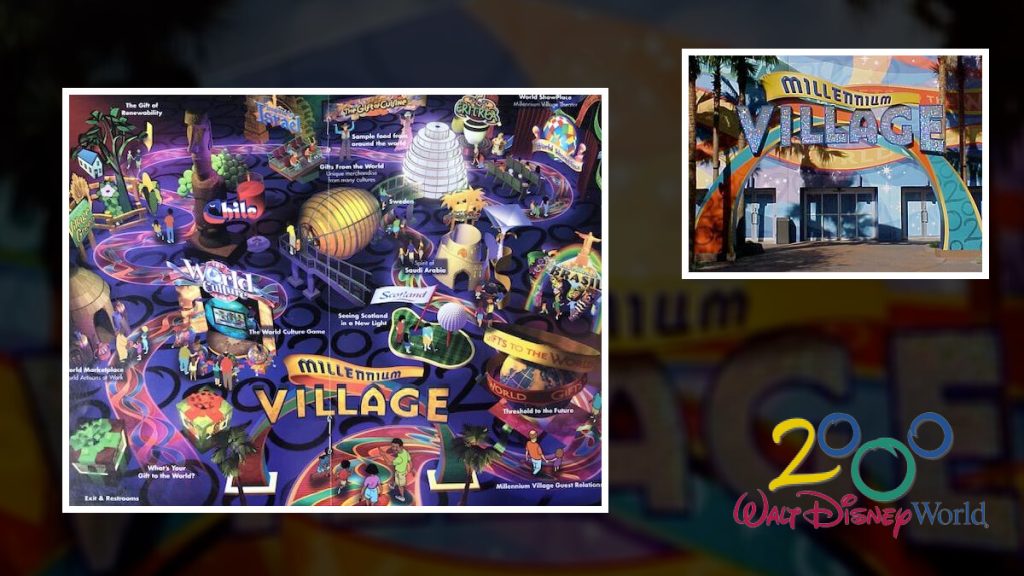 Sweeden
Case in point: Sweden. While this Nordic country was genuinely interested in taking part in Epcot's Millennium Celebration, Swedish officials weren't all that eager to spend a large sum of money to build a brand-new display for Disney World. Which is why they asked permission to just recycle the "Four Seasons of Sweden" exhibit that Swedish officials had originally built for Expo '98 (which had been held the year previous in Lisbon, Portugal) and erect those 30 foot-tall egg-shaped biodomes inside of World ShowPlace. Dobson said "Yes."
Jerusalem
One country that Terry maybe – in hindsight – wishes that he hadn't recruit for this event was Israel. Who then presented the somewhat controversial "Journey to Jerusalem" simulator ride in that country's section of the Millennium Village.
"And what was so controversial about Israel's 'Journey to Jerusalem' ride?," you ask. Well, this motion-based experience gave WDW visitors a simulated tour of that Holy City through various periods in history.
And because Jerusalem is considered a holy city by a number of religions, this motion-based experience became a hot button issue even before Epcot's Millennium Village officially opened in October of 1999.
The Arab League was especially incensed by the "Journey to Jerusalem" ride. They all but accused The Walt Disney Company of helping Israel to reinforce that country's long-held claim that Jerusalem was actually Israel's capital. Which had – of course — been a bone of contention in this region ever since Israel had first declared its independence back in May of 1948.
Disney (which had offered some creative input when the "Journey to Jerusalem" ride was first put into development) insisted that this motion-based simulator was apolitical. But when word got out that Israel's Ministry of Foreign Affairs – rather than its Ministry of Tourism – had contributed some $1.8 million towards the cost of building this $8 million attraction … Well, that then gave this controversy some additional oxygen.
As a direct result of this bout of bad publicity, WDW's Millennium Celebration got off to a somewhat rocky start. Disney tried to paper over this controversy by bringing Maya Angelou & UN Secretary General Kofi Annan in late October of 1999 to give the Millennium Village their official blessing.
World ShowPlace After Millennium Celebration
Once Epcot's Millennium Celebration officially ended in December of 2000, Epcot officials and the folks in charge of WDW's Special Events / Corporate Events office finally got to use World ShowPlace for the purposes they had originally envisioned. Which was as a large under-cover space where various aspects of Flower & Garden, Food & Wine, Festival of the Holidays & Festival of the Arts could be presented indoors. And – when those seasonal events aren't being staged – WDW's Special Events / Corporate Events office could then make this very same space available to companies that are staging their conventions down in Orlando.
The downside is … A lot of these corporations over the past 20+ years have already staged their company's events inside of World ShowPlace. And lately, they've been looking for someplace new on WDW property where they can then stage these events / hold their after-convention cocktail parties.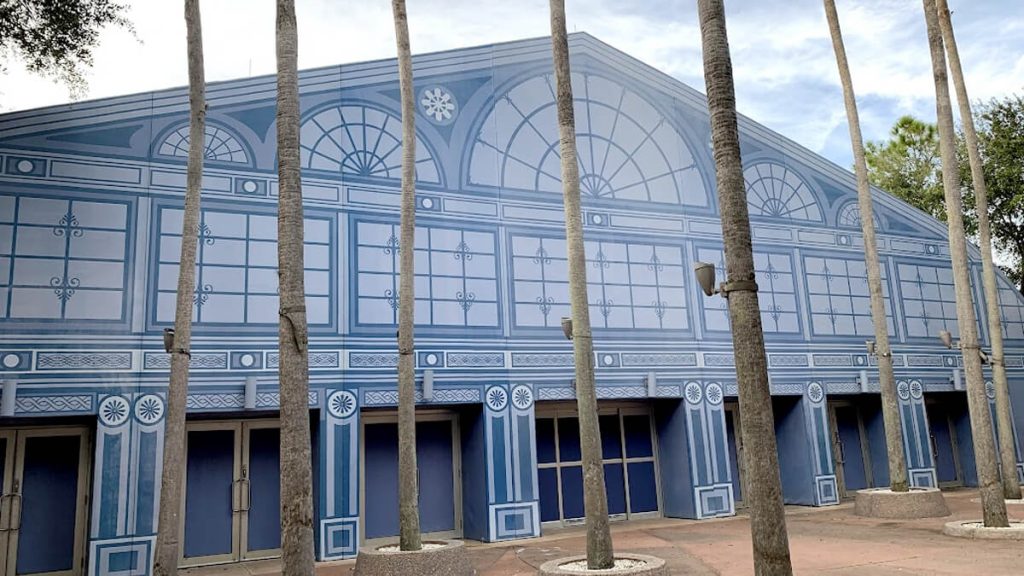 "Park in the Sky"
Which brings us to that "Park in the Sky" project which was first announced at the Disney Parks & Resorts panel that was held at the D23 Expo back in August of 2019. This was when Bob Chapek first revealed that Epcot's World Showcase was going to be broken up into three distinct neighborhoods:
World Discovery
World Nature
and World Celebration
And serving an anchor for World Celebration was supposed to be this brand-new pavilion, a three story-tall structure that would be both a venue for live events as well as the home base for Epcot's signature festivals.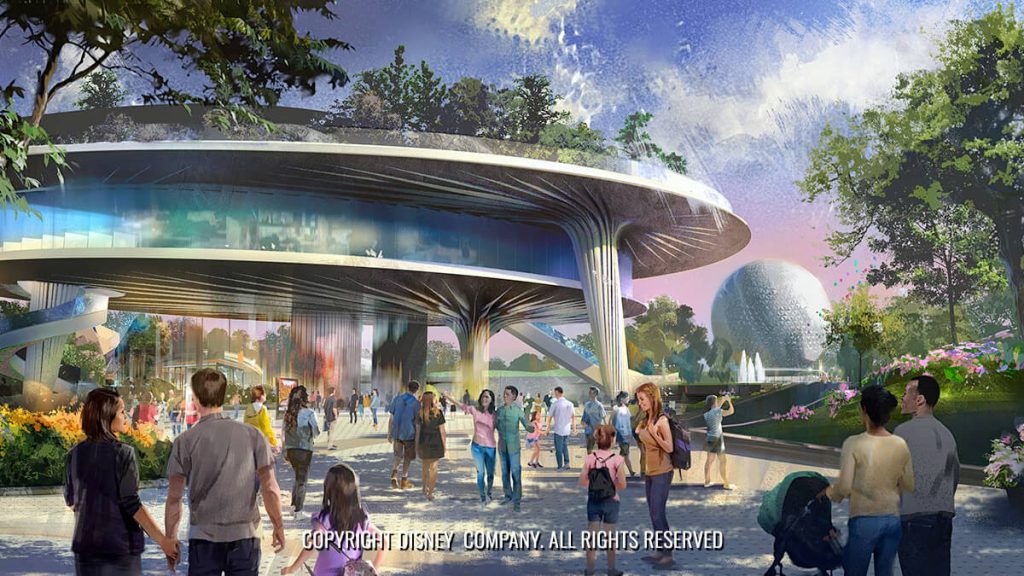 The ground level portion of this three story-tall structure was to have been known as the Plaza. Guests could easily passed through this space / directly under this building as they walked from the Creations Shop out towards World Showcase Lagoon.
As for the second floor of this structure, this was to have been the expo level. This was where various panels & presentations offered at Flower & Garden, Food & Wine, Festival of the Holidays & Festival of the Arts were to have been staged.
And as for the top floor of this three-story structure … This was the space that Disney's Corporate Events / Special Events office was most interested in. During the day, it was supposed to be this lovely green space filled with curving walkways that then offered commanding views of Epcot (Hence its "Park in the Sky" designation).
But at night, this elevated garden would have been offered to corporate groups as a possible venue for their cocktail parties / after-convention gatherings. And these companies would have been charged top dollar for the privilege of giving their employees such a stellar view of "HarmonioUS."
Sadly, in early May of this year, Walt Disney World announced that it had revised its plans for this corner of World Celebration. In place of that three-story tall "Park in the Sky" (which would have really made an interesting architectural statement), we're now going to get a far more conventional-looking (more importantly, cheaper-to-build) CommuniCore Hall & CommuniCore Plaza. Which – going forward – will eventually serve as Epcot's new festival center.
Which – I know – has to disappoint the folks at WDW's Special Events / Corporate Event offices. They'd already begun talking with various corporations about possibly renting out Epcot's "Park in the Sky" for their upcoming Orlando-based conventions. My understanding was that – prior to the pandemic – this three-story-tall structure was supposed to have opened no later than 2023.
CommuniCore Hall & CommuniCore Plaza
Now … From what I'm being told, the earliest that CommuniCore Hall & CommuniCore Plaza will be the Fall of 2024. And most of the corporations that had previously shown interest in staging events up on the third floor of Epcot's proposed "Park in the Sky" are now reportedly disappointed with this new version of the festival center that's now supposed to be built in World Celebration.
Of course, what's kind of ironic here is that – by the time CommuniCore Hall & CommuniCore Plaza finally open in late 2024 – World ShowPlace (that originally-supposed-to-be-temporary structure) will then be old enough to celebrate its 25th anniversary.
Nothing's quite as permanent as a temporary tent at Walt Disney World.
This article is based on research for The Disney Dish Podcast "Episode 386/387", published on August 8 & 15, 2022. The Disney Dish Podcast is part of the Jim Hill Media Podcast Network.