Cartoonist-at-Large #1: The "Secret Origin" of San Diego's Comic-Con International
Guest columnist Scott Shaw! looks back on the early, early days of SDCCI. Back before the Con had consumed the entire San Diego Convention Center, when the meet could still be held in the U.S. Grant's moldering basement.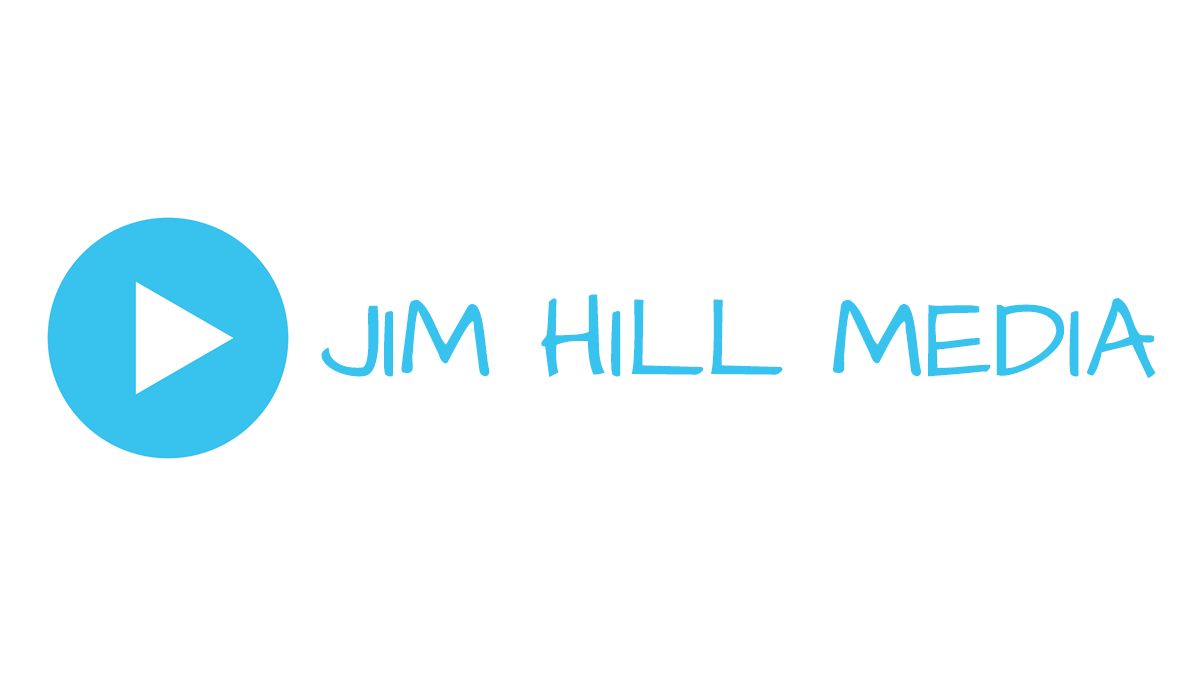 From July 14th through 17th, the city of San Diego will once again play host to Comic-Con International. Over the years, I've read and overheard a number of accounts relating how the annual event — once known as the "San Diego Comic-Con" — came into existence in the first place. Well, I was one of the small group of people who were there at the very start, and I'm one of the only remaining original organizers still involved with SoCal's annual media-fest. So, to the best of my memory, here are the actual events — as I experienced them — which led to the formation of what has become the nation's biggest annual geek-gathering of its type.
Growing up in San Diego, I was lucky enough to become friends with a few similarly-inclined young weirdos during my junior high and high school years in the 1960s. These included: Greg Bear (who's since become a Hugo Award-winning science fiction writer); John Pound (who's since become a well-known fantasy painter and humorous illustrator who's created hundreds of images for Topps Cards' infamous "Garbage Pail Kids" trading cards); and Roger Freedman (who's since become an award-winning physics professor and textbook author who teaches college courses on "Science Fiction for Scientists"). Other members of our oddball gang were H.P. Lovecraft aficionado Dave Clark and actor and horror movie maven/actor "Bilzo" Richardson. Working together, we formed our own "Underground Film Society," we published hand-lettered mimeographed fanzines with goofy titles like WORLDS OF WOW and FAN ATTIC and we occasionally ventured northward to Los Angeles for visits to Forrest J Ackerman's fabled "Ackermansion". There, we first met "big name" fans like Donald F. Glut and Bill and Beverly Warren, their names already familiar to us through Forry's classic FAMOUS MONSTERS OF FILMLAND magazine. These contacts led to attending my first convention, BayCon, the 1968 World Science Fiction Convention, held in Berkeley, California. There, my pals Greg and Dave and I met fellow fans (some soon to become pros) like Larry Ivie, Len Wein, Marv Wolfman, Rob and Jeff Gluckson, and Keith Tucker. Remember, this was 1968 Berkeley; I can't imagine a more mind-blowing introduction to fandom-at-large. And after BayCon 68, nothing seemed the same to our little fan contingent from San Diego.
Back in San Diego, we soon fell in with publisher/retailer Ken Krueger (an attendee of the very first "scientifiction" convention held in 1939, officially making him a member of the elite-if-obscure group known as "First Fandom") and collectible book dealer John Hull. We formed our own sci-fi fan club, "The ProFanests" (the group consisted pros and fans and we were certainly profane at times), quaffed beer and ate raw hamburger cocktails (don't ask) and hung out at Ken's flyblown Ocean Beach bookstore where we discussed the latest batch of "Ace Doubles" with the walk-in locals who frequented the place.
At that same time, I was working as a floor clerk at the newly opened B. Dalton, Bookseller retail store in San Diego's then-newly-opened Fashion Valley shopping center. (To my impressionable eyes, it seemed like a very sophisticated bookshop; I was particularly fascinated by the shop's window-display of a pyramid of paperbacks of Grove Press' adaptation of the controversial, semi-pornographic Danish art-film I AM CURIOUS YELLOW.) One night, a fellow named Bob Sourke came in, looking for a then-current series of PRINCE VALIANT reprints thinly disguised as children's books. When he learned I was an aspiring cartoonist and general funnybook fiend, Bob invited me to a get-together of comic book fans he knew. I didn't know what to expect, but I was always interested in meeting other people who loved comics and cartooning.
A few weeks later, I showed up for the informal meeting at a small apartment one Sunday afternoon. There, I met San Diego's "other" fan group, which included: Shel Dorf (then in his mid-thirties and recently relocated from Detroit, where he was one of the organizers of its "Triple Fan Fair"), Richard Alf (a local teenager who was one of the first — and most successful — mail-order back-issue comics dealers), and other fans, including Bill Lund, Mike Towry, Barry Alfonso, and the aforementioned Bob Sourke. Shel was running a slideshow of Golden Age comic books covers. (I recall his expression of surprise when I, a mere teenage hippie, correctly identified a vintage cover as having been drawn by Bernard Baily.)
In 1969, Shel arranged trips for many of us to visit cartoonist Jack Kirby and his wife Roz at their home in Thousand Oaks, California. (The warmth, hospitality, generosity and interest that the Kirbys showed us cannot possibly be overstated; Jack mentored me over the next three decades, until his death in 1994.) That's where we met Jack's assistants (and my friends for now over three decades) Mark Evanier and Steve and Gary Sherman. During one visit, Jack even volunteered to give five of us — Bill Lund, Mike Towry, Roger Freedman, John Pound, Barry Alfonso and myself — cameo roles in an issue of one of the "Fourth World" comics he'd recently begun doing for DC. Sure enough, SUPERMAN'S PAL JIMMY OLSEN No. 144 (December, 1972) introduced "The San Diego Five-String Mob", a rock band of evil assassins from the Darkseid-ruled planet, Apokolips, sent to Earth gunning for the Man Of Steel! (One of us, Barry Alfonso actually inspired two different Kirby creations: the Five-Stringers' "Barri-Boy," and later, "Klarion The Witchboy" in THE DEMON. Recently, Klarion received his own comic book series and the real Barry received a Grammy Award for his CD liner notes!)
By that time, most of my group of high school fan-friends, the ProFanests and Shel's group had become amalgamated into the ever-growing social blob that was San Diego's core of funnybook fandom. It wasn't long before we decided to stage our very first one-day comic convention. (San Diego's Mission Valley had already hosted the WesterCon science fiction convention a few years earlier.) We all eagerly agreed that a comic book convention was just what we — and San Diego — needed.
(Strangely enough, it never occurred to any of us that — since in those days, the majority of the talents involved in the comic book industry lived in or near New York City — San Diego was the perfect place to combine business and pleasure, and to take a tax-deductible family vacation, to boot!)
We plunged blindly ahead. Shel Dorf provided his list of professional contacts and potential guests, Richard Alf provided the vital seed-money for our initial operating expenses, and Ken Krueger provided his valuable savvy and know-how from a lifetime in fandom, conventions, publishing, and retail sales. The rest of us provided the raw enthusiasm to do whatever it took to get the con off the ground and running, if not flying. As for my role in the proceedings, I served as one of the first con's five committee chairmen and designed the convention's first logos and drew its advertising posters. I also hosted many of our early con-planning meetings on the patio at my parents' house in the College Grove area. (Hey, I was only 17 or so at the time!)
Shel enlisted our first pro guests for both the March one-day mini-con and August's first, full-blown, three-day "San Diego Comic-Con": Forry Ackerman, Mike Royer, Jack Kirby, Ray Bradbury, San Diego EVENING TRIBUNE editorial cartoonist Bob Stevens, and science fiction author A. E. Van Vogt. That first con, held in the basement of the U.S. Grant Hotel, was, for its day, a rousing success. (The U. S. Grant Hotel wasn't the snazziest of venues, but it was the only one made available to us; in fact, no other hotel in town was willing to risk hosting an event that would garner such a low bar-attendance. Fortunately, we had Ken and Shel to sign the contract; the rest of us were under-age!) Other than young Jackie Estrada (now co-publisher of Exhibit A Press and administrator of the prestigious Eisner Awards), the only females attending the 300-attendee event were fans' mothers!
My involvement with the convention continued. Its second year, saddled with the exhausting title of "The San Diego Golden State Comic-Con" (>Phew!<), the growing event was held on the campus of the University Of California At San Diego, and the one after that was hosted by the Sheraton Hotel located on San Diego's Shelter Island. Then the con moved to downtown San Diego, with its exhibition hall at the Community Concourse, and with lodging and most of the programming at the nearby El Cortez Hotel (the swimming pool of which was often clouded with fan-dispensed shark repellant.) It was early during this period that the convention's committee wisely voted to apply for a "not-for-profit" business status. Years later, the San Diego Comic-Con finally relocated to its current venue, San Diego's ocean-side Convention Center. (In fact, this will be the first year in which the con &shy; estimated to have a total attendance near 100,000 people — will occupy the entire available space of the Convention Center; from now on, there's nowhere to extend its domain — except upwards!) Now known as "Comic-Con International" (a name that oughtta keep San Diego's tourist bureau in a continual state of cooperative fear), the little 300-person basement-gathering has grown, over the past thirty-seven years, into the United States' largest event of its kind. In fact, it's San Diego's single biggest annual tourist event, its presence accompanied by a mind-blowing ballyhoo of TV and radio ads, street-banners and bus-posters.
Of course, the term "Comic-Con" doesn't even begin to describe the diversity of SDCCI's wall-to-wall programming. Aside from comic books, the convention's schedule includes events devoted to contemporary comic books (and their creators), vintage comic books (and their creators), original artwork (from both categories), science fiction and fantasy literature, animation (both domestic and foreign), genre television shows, pulp magazines, weaponry (both real and faux), genre theatrical (and direct-to-DVD) films, role-playing games, action figures, vintage toys, old time radio shows, video games, glamour art, costumes — and, oh, I give up (in much the same way I'm now forced to give up my hopes of navigating the con's entire exhibit hall.) Let's just say that, if a topic is considered to be somewhat dispensable and silly in real life, chances are, it¹s considered to be of primary importance at SDCCI.
Over the past thirty-seven years, some of my personal high points at the con have included: hosting the Inkpot Awards presentations, where I was able to shake the hands of so many notable creators; meeting cartoonists for the first time who would become some of my best friends, including Sergio Aragones, Stan Sakai, Dan Nakrosis, Mike Kazaleh, Dave Thorne, William Stout, Bill Morrison, Batton Lash and Don Dougherty, among many others; performing on-stage during the con masquerade with "Raoul Duke And His All-Human Orchestra"; befriending Sam Glanzman, the artist behind one of my childhood's favorite comic books, Dell's KONA, MONARCH OF MONSTER ISLE; presenting my Oddball Comics slideshow over the last four decades; and introducing our infant son Kirby to his namesake, Jack Kirby.
As for the low points? Being told, as an aspiring cartoonist, by Neal Adams to "give it up"? (Years later, he swears he was just kidding — and supposedly said the same thing to Frank Miller!) Getting physically threatened by a muscle-bound contestant who was furious that, while hosting the annual masquerade, I dared refer to his costume of the mighty Thor's immortal enemy, the Destroyer as "the Michelin Man"? (Hey, he really did look like he was made out of radial tires!) Or perhaps it was facing an angry crowd of blood-donors who were misinformed that I'd do a complimentary drawing for each and every one of them? (For the life of me, I can't possibly think of a less appropriate time or place to donate blood than at a funnybook convention.) Considering that I¹ve attended every single day of every single San Diego Comic-Con — International and otherwise — that really ain't such a bad track record.
(Y'know, William Shatner was right — I've really gotta get a life.)
As I look back at those early days of the Comic-Con and attempt to compare them to its current incarnation, I'm stymied — there's really no comparison at all! As I mentioned, attendance is huge, and bigger with every coming year. (I understand that the staff of the world-famous San Diego Zoo is justifiably jealous, they no longer can boast having the town's largest collection of exotic critters.) If comic book sales reflected this sort of public interest, the funnybook industry would be booming (which, by all counts — except those of the publishers' PR flacks — definitely ain't.) At times — usually on Saturdays — its exhibit hall's aisles are jammed with shoulder-to-shoulder pedestrian gridlock, and there's "standing room only" for many of the con's individual programs upstairs. The con's also become surprisingly diverse, with Kevin Smith-lookalike males barely outnumbering the females. (Where, oh where were you when I was 19, single and desperate for the companionship of a cute girl-geek?) Even entire families visit the con; in fact, some of their kids have literally grown up there, attending every year of their young lives!) By now, Hollywood's presence is unavoidable; it's hard to walk a few yards without tripping over Angelina Jolie or Keanu Reeves or a full-scale model of the Millennium Falcon. In general, big business seems to exert amazing influence over the convention — why else would otherwise intelligent individuals stand in line for hours on end for the privilege of purchasing a special, limited "variant edition" of a Muppet toy? Among all of these conspicuous displays of marketing and branding, old comic books and their fans seem to have actually become something of a minority at this crowded "comic-con." Sometimes, when I feel overwhelmed by all the Hollywood hype and corporate chest-beating, I can¹t help but miss the heady days of the U. S. Grant's moldering basement. But when I consider that Comic-Con International allows me the opportunity to reconnect with friends I've known for decades, at the world¹s biggest "class reunion," it's easy to shrug off whatever misgivings I may foster regarding the con's ever-mutating size and tone.
Still, there remain two aspects of the convention that haven't changed an iota. Despite advancements in the field, convention-hall food is just as rotten and overpriced as ever. And, as before, approximately one out of every thirty convention-goers seems to allocate their personal budgets toward the purchase of comic books rather than items of personal hygiene. (One of these days, I'm gonna invent "collectible deodorant" and make a financial killing — while simultaneously earning the undying thanks of the other four-fifths of the crowd. But with my luck, the buyers will probably refuse to remove my collectible deodorants from their wrappers to actually use ?so they can keep 'em in minty-fresh mint condition!)
Due to the initial efforts of Richard, Shel, Ken and all of the others who worked on that first San Diego Comic-Con committee — as well as the hundreds of people who've served on all the San Diego con committees ever since then — Comic-Con International has become the biggest and best celebration of cartoonery in the United States. I'll always be justifiably proud of the small part I had in its inception, over thirty-seven years ago.
So, who's got a nice copy of DC's SHOWCASE No. 71 (November – December, 1967) — featuring "The Maniaks" and guest-starring Woody Allen — for sale, cheap?

SCOTT SHAW! was born in New York City on September 4, 1951, but being a Navy brat, he grew up in San Diego, California. His first published work in comic books was for Ken Krueger¹s GORY STORIES QUARTERLY and other underground "comix" in the late 1960s, and his first mainstream work appeared in various mid-70s Hanna-Barbera titles, including THE FLINTSTONES, YOGI BEAR and LAFF-A-LYMPICS, all published by Marvel. With Roy Thomas, he co-created DC's CAPTAIN CARROT AND HIS AMAZING ZOO CREW! Since then, he¹s edited, written, pencilled and/or inked many other kid-friendly funnybooks, including Eisner Award-winning work on Bongo's SIMPSONS COMICS and BART SIMPSON'S TREEHOUSE OF HORROR. Scott has also worked extensively in animation as a producer/director/designer/writer/story director, receiving four Emmy Awards for his work on JIM HENSON'S MUPPET BABIES. For nearly ten years, he was Senior Art Director for the Ogilvy & Mather advertising agency, writing, designing, storyboarding and art directing all of the animated TV commercials, print ads and package designs for Post Pebbles (starring the Flintstones) and Alpha-Bits cereals. Scott¹s recent projects include writing and drawing gags and storyboarding sequences for Disney¹s direct-to-video productions, MICKEY¹S TWICE UPON A CHRISTMAS, MULAN II and THE THREE MUSKETEERS. Recent TV projects include Disney¹s TEAMO SUPREMO, AMERICAN DRAGON and KATBOT and Warner Bros.¹ DUCK DODGERS, WHAT¹S NEW, SCOOBY-DOO?, JOHNNY TEST and KRYPTO THE SUPERDOG. Scott also writes and draws stories for Bongo's line of comic books starring THE SIMPSONS. Additionally, he writes a popular weekly online column, ODDBALL COMICS, with over 1,000 archived entries that humorously examine and deconstruct "the craziest comic books ever published" (appearing exclusively at www.comicbookresources.com/columns/oddball/). Scott currently resides in Sherman Oaks, California with his lovely and patient wife Judith, talented son Kirby, three black cats (Ditko, Stanlee and Simon), a border collie (Daisy) and all-too-many vintage comic books, toys, DVDs, books, artwork, statuettes and other bizarre byproducts of a happily misspent life as a cartoonist-at-large. Visit Scott¹s website at http://www.shawcartoons.com/
Check out the CRAZIEST comic books ever published!
SCOTT SHAW! presents ODDBALL COMICS — voted Comic Book Resources' "Favorite Column"! A new weird 'n' wacky funnybook every Friday — with over 1,050 Oddball Comics now archived — exclusively available at: http://www.comicbookresources.com/columns/oddball/
New next week: ODDBALL COMIC # 1,076: FRIDAY, JULY 8, 2005 — Sure, many of you are well-aware of Charlton's superheroes such as Blue Beetle, Thunderbolt and Peacemaker! But have you ever heard of their would-be enemy — "evil's own superhero-or super smart aleck" &– Jack Biceps, AKA Sinistro, Boy Fiend? No, he's not Green Lantern's longtime foe — that's "Sinestro"! Instead, he's the star of an ODDBALL issue of CHARLTON PREMIERE from 1968! (If poor ol' Blue Beetle hadn¹t already been murdered, seeing this story again would have killed him for sure!)
Visit my Oddball Comics discussion board and vote in the weekly Oddball Comics Rate-A-Rama at http://forums.comicbookresources.com/forumdisplay.php?f=27
—–
Visit my website for my art samples and resume! http://www.shawcartoons.com/
© 2005 Scott Shaw!
Seward Johnson bronzes add a surreal, artistic touch to NYC's Garment District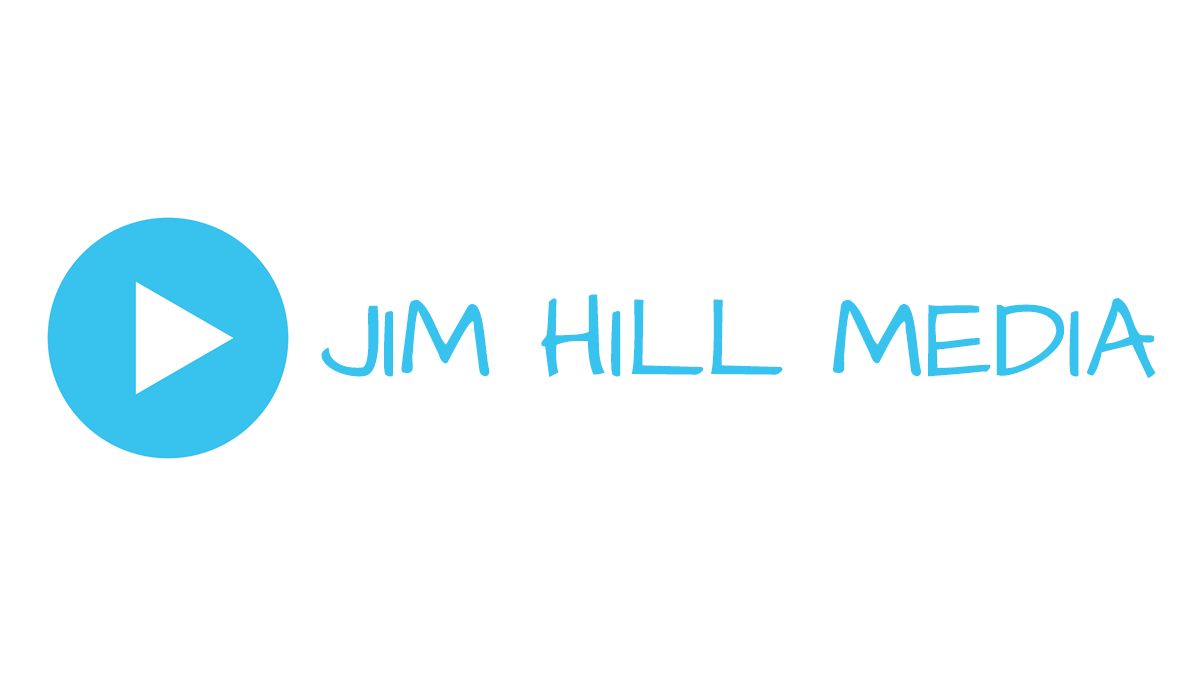 Greetings from NYC. Nancy and I drove down from New
Hampshire yesterday because we'll be checking out
Disney Consumer Products' annual Holiday Showcase later today.
Anyway … After checking into our hotel (i.e., The Paul.
Which is located down in NYC's NoMad district), we decided to grab some dinner.
Which is how we wound up at the Melt Shop.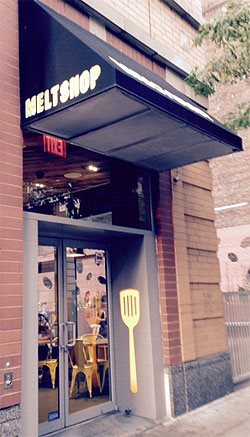 Photo by Jim Hill
Which is this restaurant that only sells grilled cheese sandwiches.
This comfort food was delicious, but kind of on the heavy side.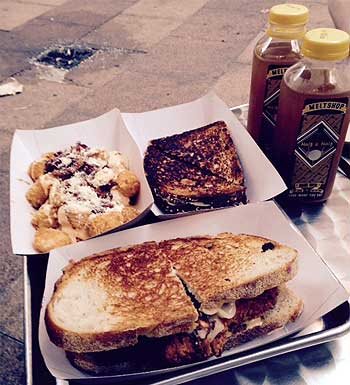 Photo by Jim Hill
Which is why — given that it was a beautiful summer night
— we'd then try and walk off our meals. We started our stroll down by the Empire
State Building
…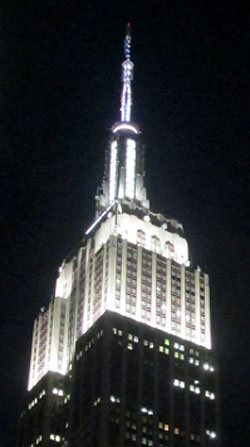 Photo by Jim Hill
… and eventually wound up just below Times
Square (right behind where the Waterford Crystal Times Square New
Year's Eve Ball is kept).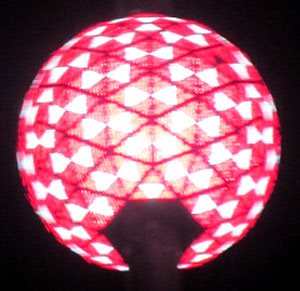 Photo by Jim Hill
But you know what we discovered en route? Right in the heart
of Manhattan's Garment District
along Broadway between 36th and 41st? This incredibly cool series of life-like
and life-sized sculptures that Seward
Johnson has created.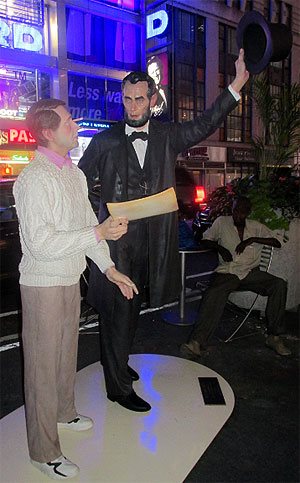 Photo by Jim Hill
And — yes — that is Abraham Lincoln (who seems to have
slipped out of WDW's Hall of Presidents when no one was looking and is now
leading tourists around Times Square). These 18 painted
bronze pieces (which were just installed late this past Sunday night / early
Monday morning) range from the surreal to the all-too-real.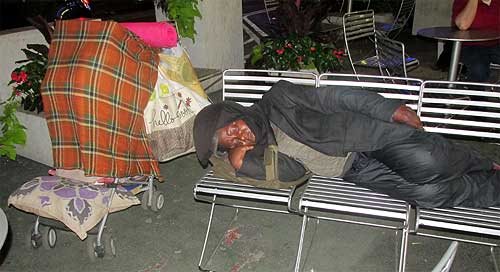 Photo by Jim Hill
Some of these pieces look like typical New Yorkers. Like the
business woman planning out her day …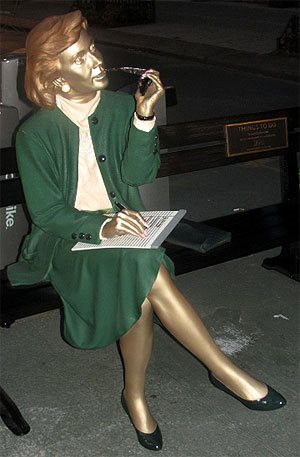 Photo by Jim Hill
… the postman delivering the mail …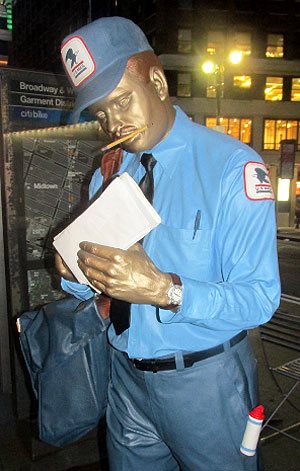 Photo by Jim Hill
… the hot dog vendor working at his cart …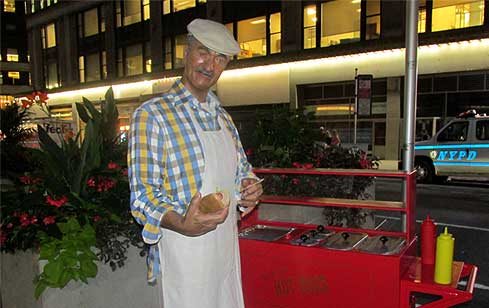 Photo by Jim Hill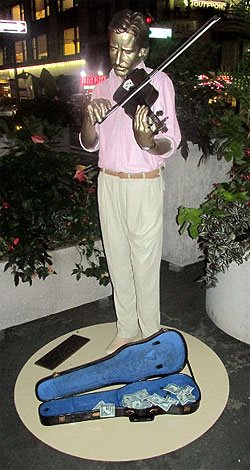 Photo by Jim Hill
… the street musician playing for tourists …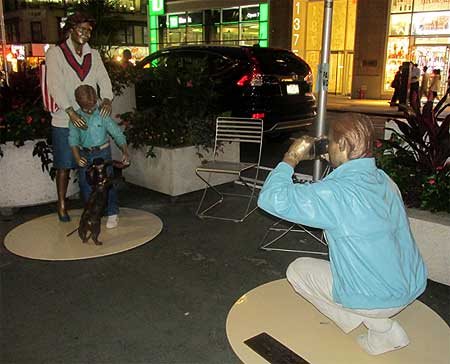 Photo by Jim Hill
Not to mention the tourists themselves.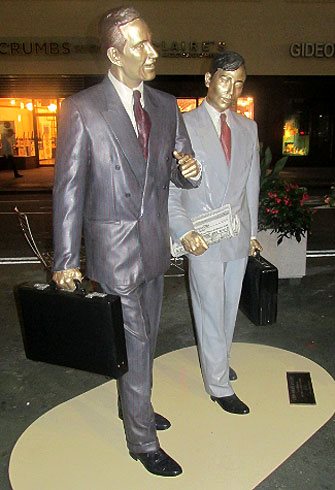 Photo by Jim Hill
But right alongside the bronze businessmen …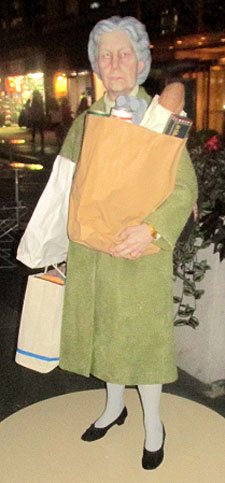 Photo by Jim Hill
… and the tired grandmother hauling her groceries home …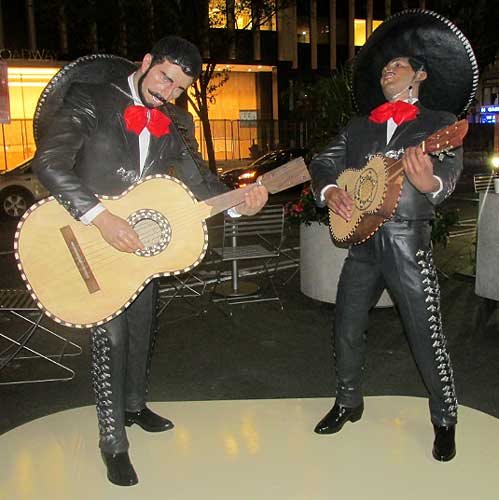 Photo by Jim Hill
… there were also statues representing people who were
from out-of-town …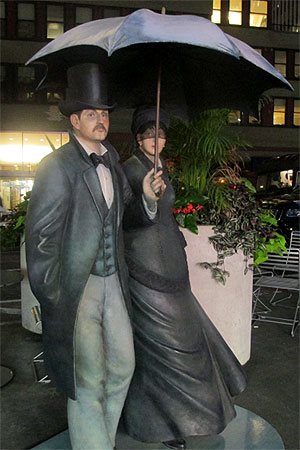 Photo by Jim Hill
… or — for that matter — out-of-time.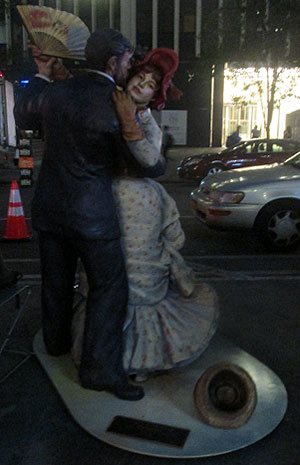 Photo by Jim Hill
These were the Seward Johnson pieces that genuinely beguiled. Famous impressionist paintings brought to life in three dimensions.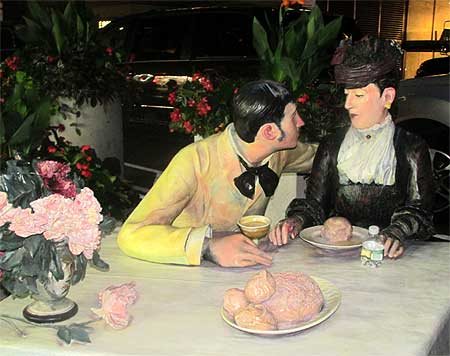 Note the out-of-period water bottle that some tourist left
behind. Photo by Jim Hill
Some of them so lifelike that you actually had to pause for
a moment (especially as day gave way to night in the city) and say to yourself
"Is that one of the bronzes? Or just someone pretending to be one of these
bronzes?"
Mind you, for those of you who aren't big fans of the
impressionists …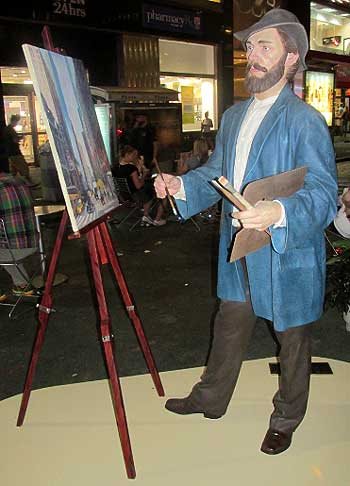 Photo by Jim Hill
… there's also an array of American icons. Among them
Marilyn Monroe …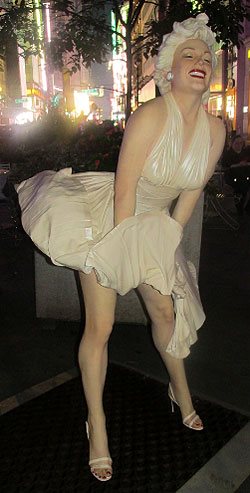 Photo by Jim Hill
… and that farmer couple from Grant Wood's "American
Gothic."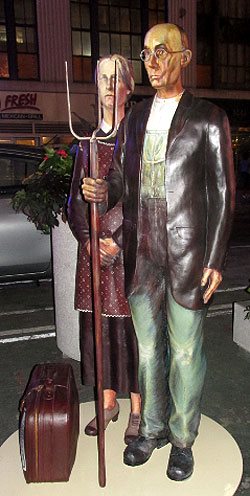 Photo by Jim Hill
But for those of you who know your NYC history, it's hard to
beat that piece which recreates Alfred Eisenstaedt's famous photograph of V-J Day in Times Square.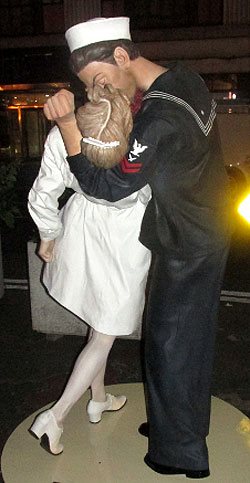 Photo by Jim Hill
By the way, a 25-foot-tall version of this particular Seward
Johnson piece ( which — FYI — is entitled "Embracing Peace") will actually
be placed in Times Square for a few days on or around August 14th to commemorate the 70th
anniversary of Victory Over Japan Day (V-J Day).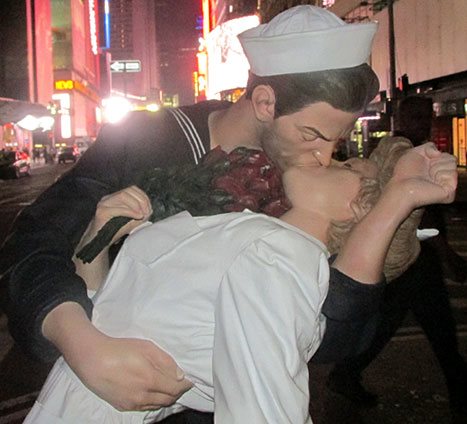 Photo by Jim Hill
By the way, if you'd like to check these Seward Johnson bronzes in
person (which — it should be noted — are part of the part of the Garment
District Alliance's new public art offering) — you'd best schedule a trip to
the City sometime over the next three months. For these pieces will only be on
display now through September 15th.
Wondering what you should "Boldly Go" see at the movies next year? The 2015 Licensing Expo offers you some clues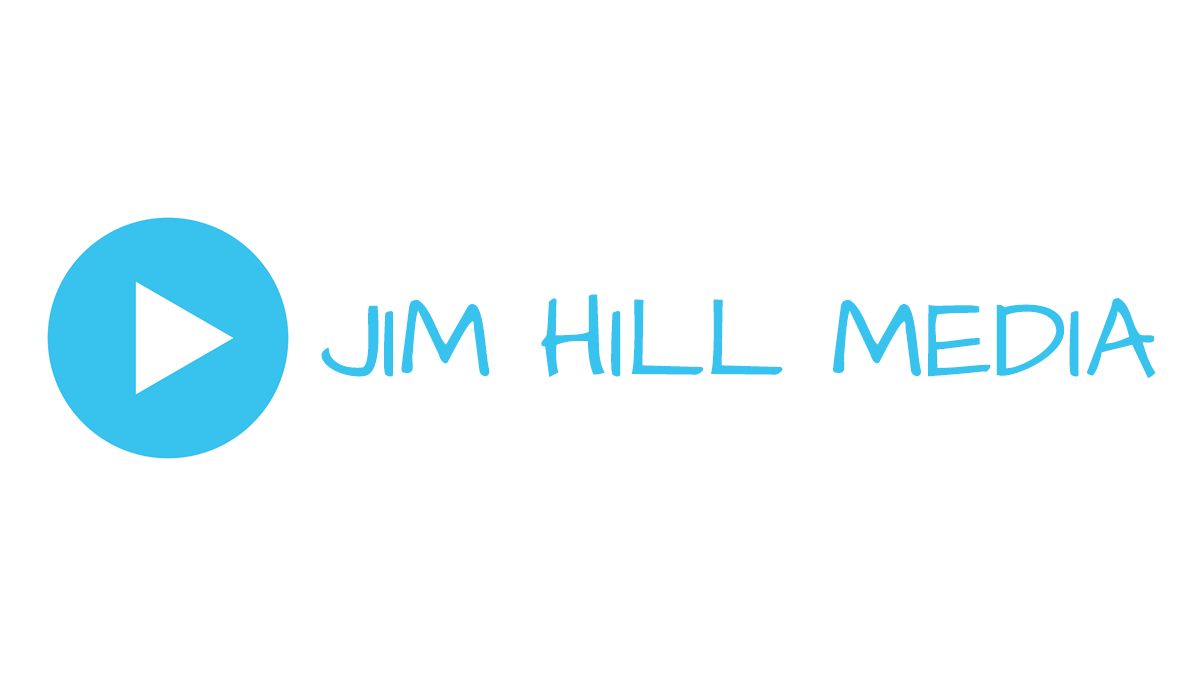 Greeting from the 2015 Licensing Expo, which is being held
at the Mandalay Bay
Convention Center in Las
Vegas.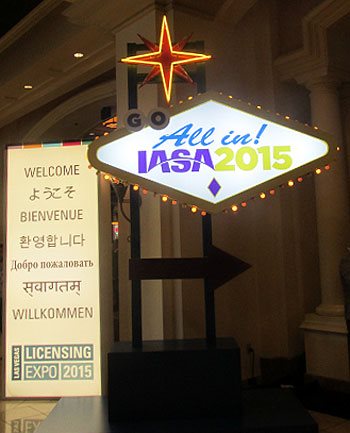 Photo by Jim Hill
I have to admit that I enjoy covering the Licensing Expo.
Mostly becomes it allows bloggers & entertainment writers like myself to
get a peek over the horizon. Scope out some of the major motion pictures &
TV shows that today's vertically integrated entertainment conglomerates
(Remember when these companies used to be called movie studios?) will be
sending our way over the next two years or so.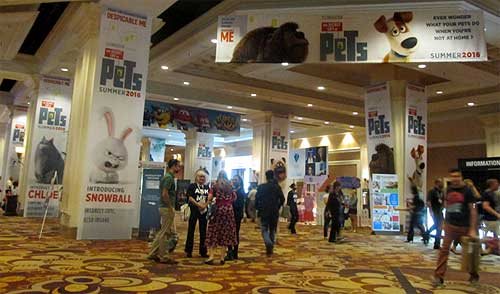 Photo by Jim Hill
Take — for example — all of "The Secret Life of
Pets" banners that greeted Expo attendees as they made their way to the
show floor today. I actually got to see some footage from this new Illumination
Entertainment production (which will hit theaters on July 8, 2016) the last time I was in Vegas. Which
was for CinemaCon back in April. And the five or so minutes of film that I viewed
suggested that "The Secret Life of Pets" will be a really funny
animated feature.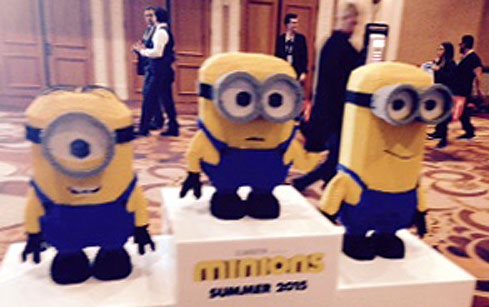 Photo by Jim Hill
Mind you, Universal Pictures wanted to make sure that Expo
attendees remembered that there was another Illumination Entertainment production
coming-to-a-theater-near-them before "The Secret Life of Pets" (And
that's "Minions," the "Despicable Me" prequel. Which
premieres at the Annecy International Animated Film Festival next week but
won't be screened stateside 'til July 10th of this year). Which is why they had
three minions who were made entirely out of LEGOS loitering out in the lobby.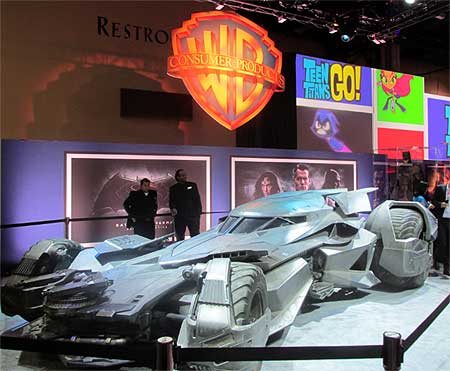 Photo by Jim Hill
And Warner Bros. — because they wanted "Batman v
Superman: Dawn of Justice" to start trending on Twitter today — brought
the Batmobile to Las Vegas.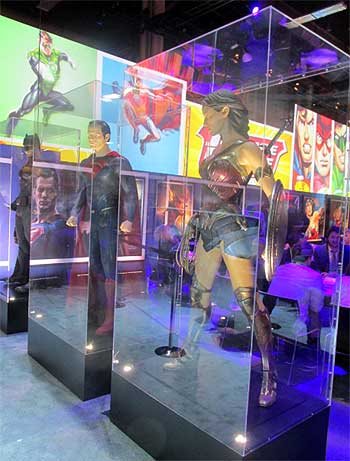 Photo by Jim Hill
Not to mention full-sized macquettes of Batman, Superman and
Wonder Woman. Just so conventioneers could then see what these DC superheroes
would actually look like in this eagerly anticipated, March 25, 2016 release.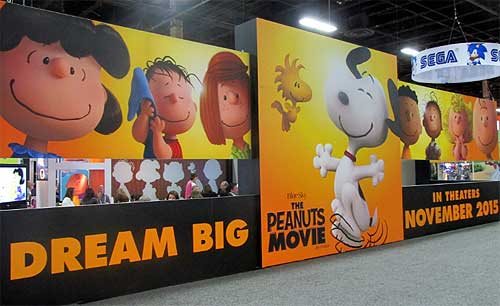 Photo by Jim Hill
That's the thing that can sometimes be a wee bit frustrating
about the Licensing Expo. It's all about delayed gratification. You'll come
around a corner and see this 100 foot-long ad for "The Peanuts Movie"
and think "Hey, that looks great. I want to see that Blue Sky Studios production
right now." It's only then that you notice the fine print and realize that
"The Peanuts Movie" doesn't actually open in theaters 'til November
6th of this year.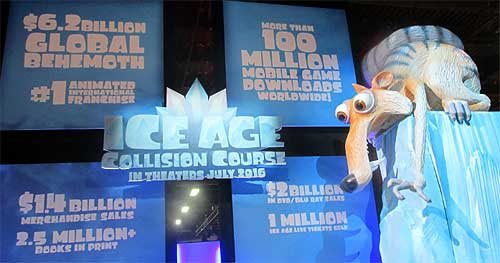 Photo by Jim Hill
And fan of Blue Sky's "Ice Age" film franchise are in for an even
longer wait. Given that the latest installment in that top grossing series
doesn't arrive in theaters 'til July
15, 2016.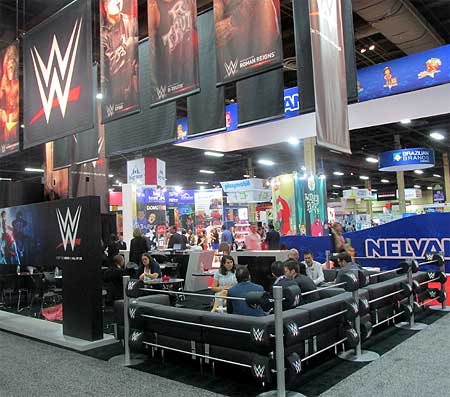 Photo by Jim Hill
Of course, if you're one of those people who needs immediate
gratification when it comes to your entertainment, there was stuff like that to
be found at this year's Licensing Expo. Take — for example — how the WWE
booth was actually shaped like a wrestling ring. Which — I'm guessing — meant
that if the executives of World Wrestling Entertainment, Inc. didn't like
the offer that you were making, they were then allowed to toss you out over the
top rope, Royal Rumble-style.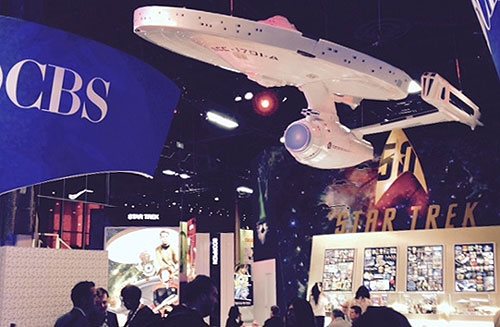 Photo by Jim Hill
I also have to admit that — as a longtime Star Trek fan —
it was cool to see the enormous Starship Enterprise that hung in place over the
CBS booth. Not to mention getting a glimpse of the official Star Trek 50th
Anniversary logo.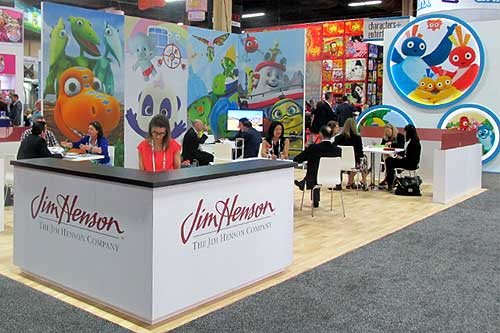 Photo by Jim Hill
I was also pleased to see lots of activity in The Jim Henson
Company booth. Which suggests that JHC has actually finally carved out a
post-Muppets identity for itself.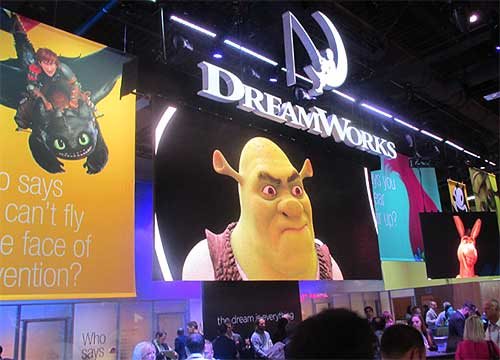 Photo by Jim Hill
Likewise for all of us who were getting a little concerned
about DreamWorks Animation (what with all the layoffs & write-downs &
projects that were put into turnaround or outright cancelled last year), it was
nice to see that booth bustling.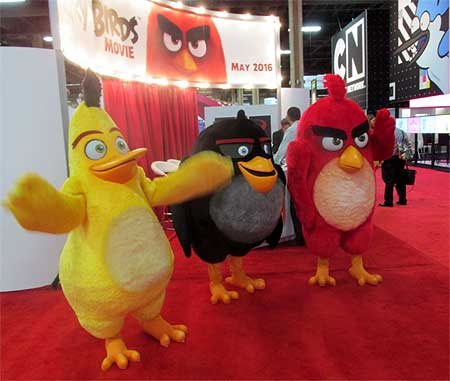 Photo by Jim Hill
Every so often, you'd come across some people who were
promoting a movie that you weren't entirely sure that you actually wanted to
see (EX: "Angry Birds," which Sony Pictures Entertainment / Columbia
Pictures will be releasing to theaters on May 20, 2016). But then you remembered that Clay Kaytis —
who's this hugely talented former Walt Disney Animation Studios animator — is
riding herd on "Angry Birds" with Fergal Reilly. And you'd think
"Well, if Clay's working on 'Angry Birds,' I'm sure this animated feature
will turn out fine."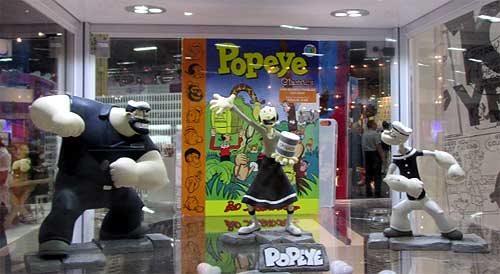 Photo by Jim Hill
Mind you, there were reminders at this year's Licensing Expo
of great animated features that we're never going to get to see now. I still
can't believe — especially after that brilliant proof-of-concept footage
popped up online last year — that Sony execs decided not to go forward
with production of Genndy Tartakovsky's
"Popeye" movie. But that's the
cruel thing about the entertainment business, folks. It will sometime break
your heart.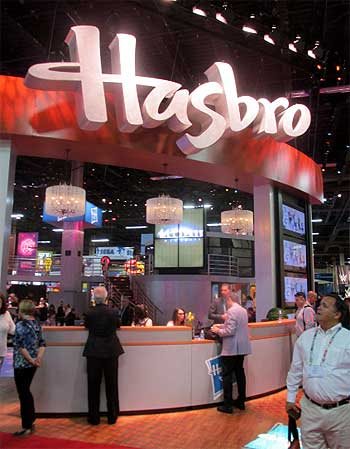 Photo by Jim Hill
And make no mistake about this. The Licensing Expo is all
about business. That point was clearly driven home at this year's show when —
as you walked through the doors of the Mandalay
Bay Convention Center
— the first thing that you saw was the Hasbros Booth. Which was this gleaming,
sleek two story-tall affair full of people who were negotiating deals &
signing contracts for all of the would-be summer blockbusters that have already
announced release dates for 2019 & beyond.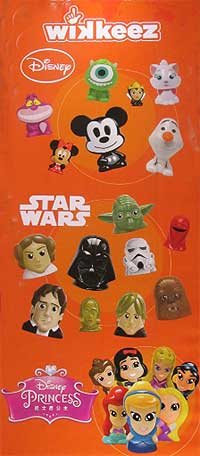 Photo by Jim Hill
"But what about The Walt Disney Company?," you
ask. "Weren't they represented on the show floor at this year's Licensing
Expo?" Not really, not. I mean, sure. There were a few companies there hyping
Disney-related products. Take — for example — the Disney Wikkeez people.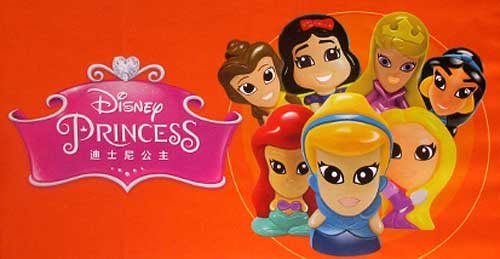 Photo by Jim Hill
I'm assuming that some Disney Consumer Products exec is
hoping that Wikkeez will eventually become the new Tsum Tsum. But to be blunt,
these little hard plastic figures don't seem to have the same huggable charm
that those stackable plush do. But I've been wrong before. So let's see what
happens with Disney Wikkeez once they start showing up on the shelves of the
Company's North American retail partners.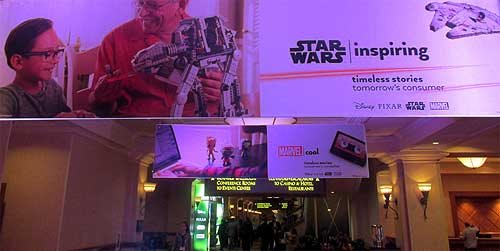 Photo by Jim Hill
And speaking of Disney's retail partners … They were
meeting with Mouse House executives behind closed doors one floor down from the
official show floor for this year's Licensing Expo.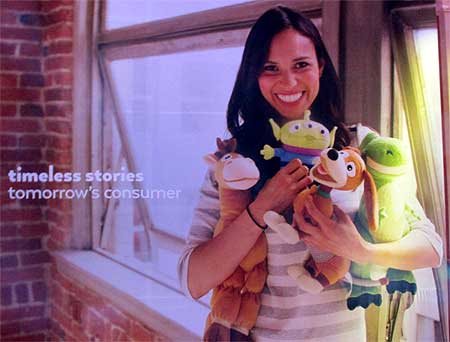 Photo by Jim Hill
And the theme for this year's invitation-only Disney shindig? "Timeless
Stories" involving the Disney, Pixar, Marvel & Lucasfilm brands that
would then appeal to "tomorrow's consumer."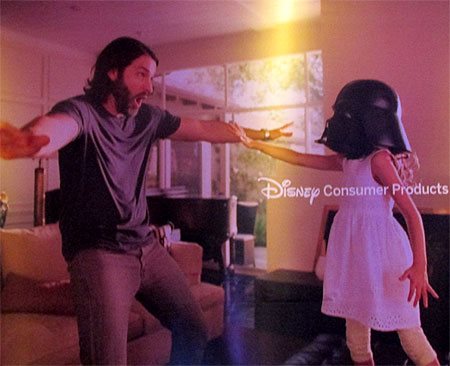 Photo by Jim Hill
And just to sort of hammer home the idea that Disney is no
longer the Company which cornered the market when it comes to little girls
(i.e., its Disney Princess and Disney Fairies franchises), check out this
wall-sized Star Wars-related image that DCP put up just outside of one of its
many private meeting rooms. "See?," this carefully crafted photo
screams. "It isn't just little boys who want to wield the Force. Little
girls also want to grow up and be Lords of the Sith."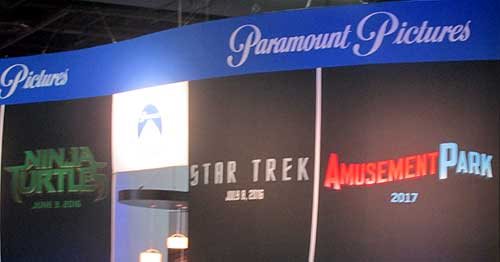 Photo by Jim Hill
One final, kind-of-ironic note: According to this banner,
Paramount Pictures will be releasing a movie called "Amusement Park"
to theaters sometime in 2017.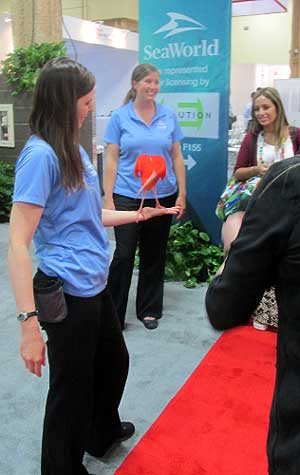 Photo by Jim Hill
Well, given all the "Blackfish" -related issues
that have been dogged SeaWorld Parks & Entertainment over the past two years, I'm
just hoping that they'll still be in the amusement park business come 2017.
Your thoughts?
It takes more than three circles to craft a Classic version of Mickey Mouse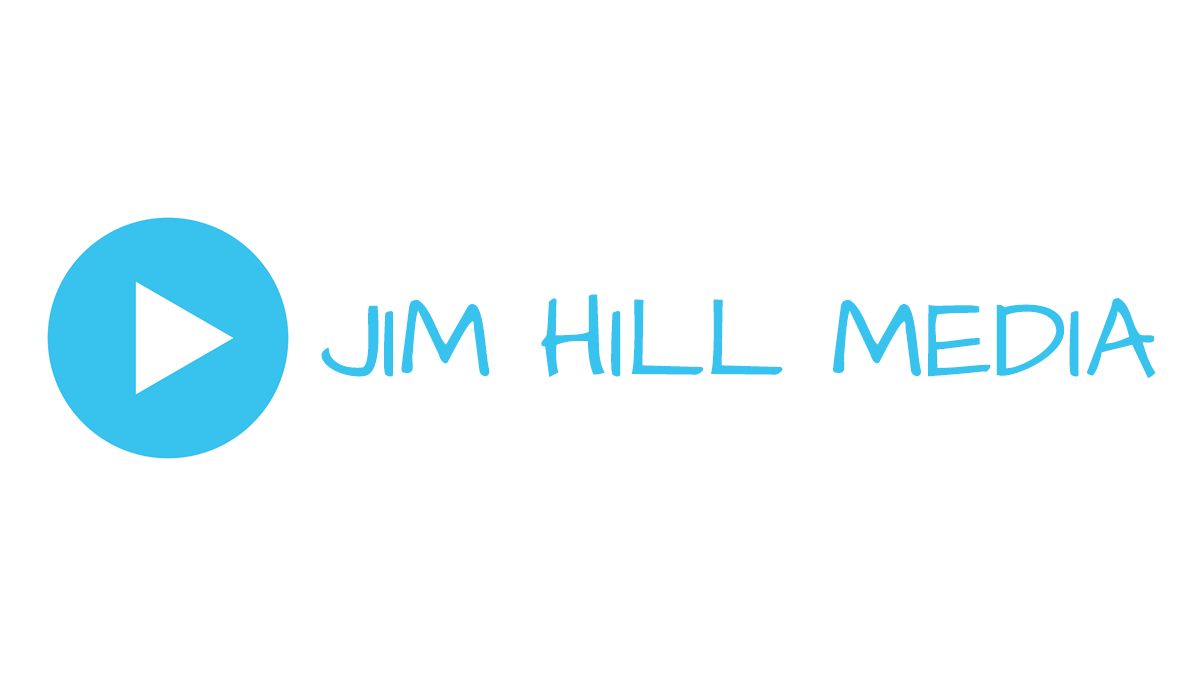 You know what Mickey Mouse looks like, right? Little guy,
big ears?
Truth be told, Disney's corporate symbol has a lot of
different looks. If Mickey's interacting with Guests at Disneyland
Park (especially this summer, when
the Happiest Place on Earth
is celebrating its 60th anniversary), he looks & dresses like this.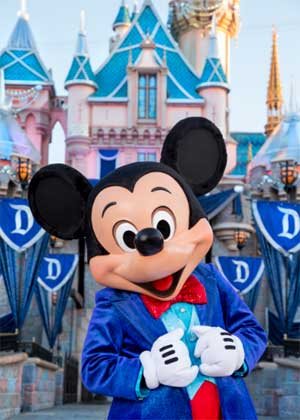 Copyright Disney Enterprises,
Inc.
All rights reserved
Or when he's appearing in one of those Emmy Award-winning shorts that Disney
Television Animation has produced (EX: "Bronco Busted," which debuts
on the Disney Channel tonight at 8 p.m. ET / PT), Mickey is drawn in a such a
way that he looks hip, cool, edgy & retro all at the same time.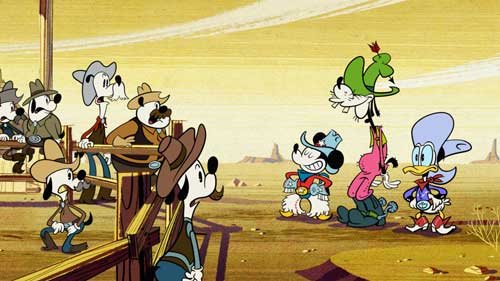 Copyright Disney Enterprises, Inc. All rights
reserved
Looking ahead to 2017 now, when Disney Junior rolls out "Mickey and the
Roadster Racers," this brand-new animated series will feature a sportier version
of Disney's corporate symbol. One that Mouse House managers hope will persuade
preschool boys to more fully embrace this now 86 year-old character.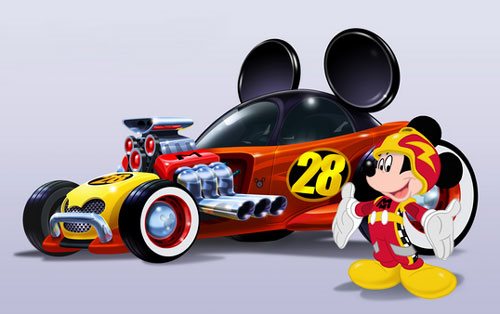 Copyright Disney Enterprises,
Inc. All rights reserved
That's what most people don't realize about the Mouse. The
Walt Disney Company deliberately tailors Mickey's look, even his style of
movement, depending on what sort of project / production he's appearing in.
Take — for example — Disney
California Adventure
Park's "World of Color:
Celebrate!" Because Disney's main mouse would be co-hosting this new
nighttime lagoon show with ace emcee Neil Patrick Harris, Eric Goldberg really had
to step up Mickey's game. Which is why this master Disney animator created
several minutes of all-new Mouse animation which then showed that Mickey was
just as skilled a showman as Neil was.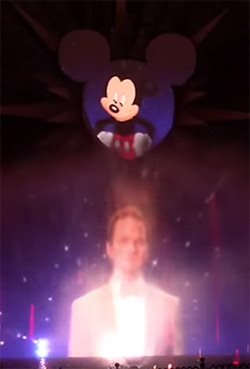 Copyright Disney Enterprises,
Inc.
All rights reserved
Better yet, let's take a look at what the folks at Avalanche Studios just went
through as they attempted to create a Classic version of Mickey & Minnie.
One that would then allow this popular pair to become part of Disney Infinity
3.0.
"I won't lie to you. We were under a lot of pressure to
get the look of this particular version of Mickey — he's called Red Pants
Mickey around here — just right," said Jeff Bunker, the VP of Art
Development at Avalanche Studios, during a recent phone interview. "When
we brought Sorcerer Mickey into Disney Infinity 1.0 back in January of 2014,
that one was relatively easy because … Well, everyone knows what Mickey Mouse
looked like when he appeared in 'Fantasia.' "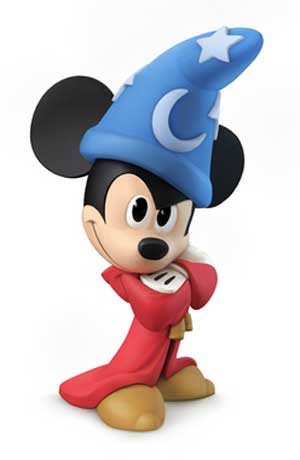 Copyright Disney Enterprises,
Inc. All rights reserved
"But this time around, we were being asked to design
THE Mickey & Minnie," Bunker continued. "And given that these Classic
Disney characters have been around in various different forms for the better
part of the last century … Well, which look was the right look?"
Which is why Jeff and his team at Avalanche Studios began watching hours &
hours of Mickey Mouse shorts. As they tried to get a handle on which look would
work best for these characters in Disney Infinity 3.0.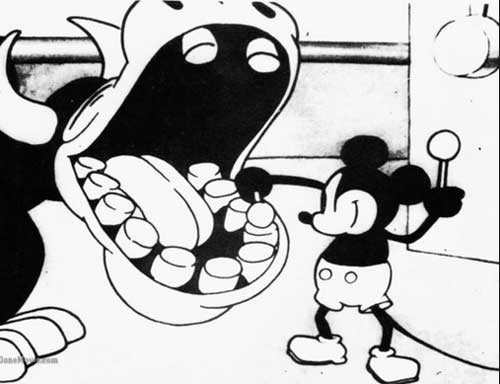 Copyright Disney
Enterprises, Inc. All rights reserved
"And we went all the way back to the very start of Mickey's career. We began
with 'Steamboat Willie' and then watched all of those black & white Mickey shorts
that Walt made back in the late 1920s & early 1930s. From there, we
transitioned to his Technicolor shorts. Which is when Mickey went from being
this pie-eyed, really feisty character to more of a well-behaved leading
man," Bunker recalled. "We then finished out our Mouse marathon by
watching all of those new Mickey shorts that Paul Rudish & his team have
been creating for Disney Television Animation. Those cartoons really recapture
a lot of the spirit and wild slapstick fun that Mickey's early, black &
white shorts had."
But given that the specific assignment that Avalanche Studios had been handed
was to create the most appealing looking, likeable version of Mickey Mouse
possible … In the end, Jeff and his team wound up borrowing bits & pieces
from a lot of different versions of the world's most famous mouse. So that
Classic Mickey would then look & move in a way that best fit the sort of
gameplay which people would soon be able to experience with Disney Infinity
3.0.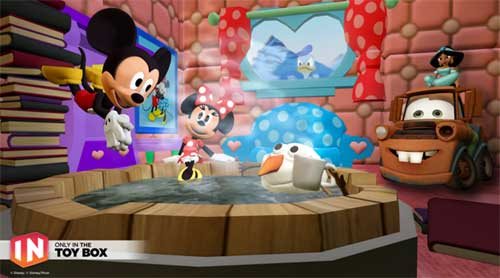 Copyright Disney Enterprises,
Inc. All rights reserved
"That — in a lot of ways — was actually the toughest
part of the Classic Mickey design project. You have to remember that one of the
key creative conceits of Disney Infinity
is that all the characters which appear in this game are toys," Bunker
stated. "Okay. So they're beautifully detailed, highly stylized toy
versions of beloved Disney, Pixar, Marvel & Lucasfilm characters. But
they're still supposed to be toys. So our Classic versions of Mickey &
Minnie have the same sort of thickness & sturdiness to them that toys have.
So that they'll then be able to fit right in with all of the rest of the
characters that Avalanche Studios had previously designed for Disney Infinity."
And then there was the matter of coming up with just the
right pose for Classic Mickey & Minnie. Which — to hear Jeff tell the
story — involved input from a lot of Disney upper management.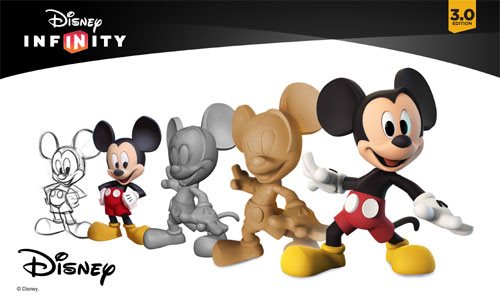 Copyright Disney Enterprises,
Inc. All rights reserved
"Everyone within the Company seemed to have an opinion
about how Mickey & Minnie should be posed. More to the point, if you Google
Mickey, you then discover that there are literally thousands of poses out there
for these two. Though — truth be told — a lot of those kind of play off the
way Mickey poses when he's being Disney's corporate symbol," Bunker said.
"But what I was most concerned about was that Mickey's pose had to work
with Minnie's pose. Because we were bringing the Classic versions of these
characters up into Disney Infinity 3.0 at the exact same time. And we wanted to
make sure — especially for those fans who like to put their Disney Infinity
figures on display — that Mickey's pose would then complement Minnie.
Which is why Jeff & the crew at Avalanche Studios
decided — when it came to Classic Mickey & Minnie's pose — that they
should go all the way back to the beginning. Which is why these two Disney icons
are sculpted in such a way that it almost seems as though you're witnessing the
very first time Mickey set eyes on Minnie.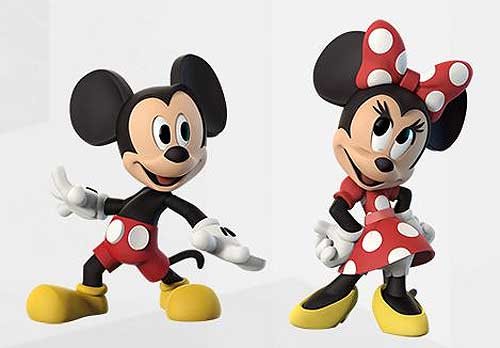 Copyright Disney Enterprises,
Inc. All rights reserved
"And what was really great about that was — as soon as
we began showing people within the Company this pose — everyone at Disney
quickly got on board with the idea. I mean, the Classic Mickey that we sculpted
for Disney Infinity 3.0 is clearly a very playful, spunky character. But at the
same time, he's obviously got eyes for Minnie," Bunker concluded. "So
in the end, we were able to come up with Classic versions of these characters
that will work well within the creative confines of Disney Infinity 3.0 but at
the same time please those Disney fans who just collect these figures because
they like the way the Disney Infinity characters look."
So now that this particular design project is over, does
Jeff regret that Mouse House upper management was so hands-on when it came to
making sure that the Classic versions of Mickey & Minnie were specifically
tailored to fit the look & style of gameplay found in Disney Infinity 3.0?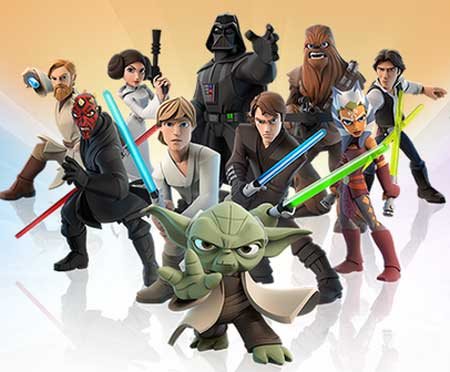 Copyright Lucasfilm / Disney
Enterprises, Inc. All rights reserved
"To be blunt, we go through this every time we add a new character to the
game. The folks at Lucasfilm were just as hands-on when we were designing the
versions of Darth Vader and Yoda that will also soon be appearing in Disney
Infinity 3.0," Bunker laughed. "So in the end, if the character's
creators AND the fans are happy, then I'm happy."
This article was originally posted on the Huffington Post's Entertainment page on Tuesday, June 9, 2015