D23 members get sneak preview of Times Square Disney Store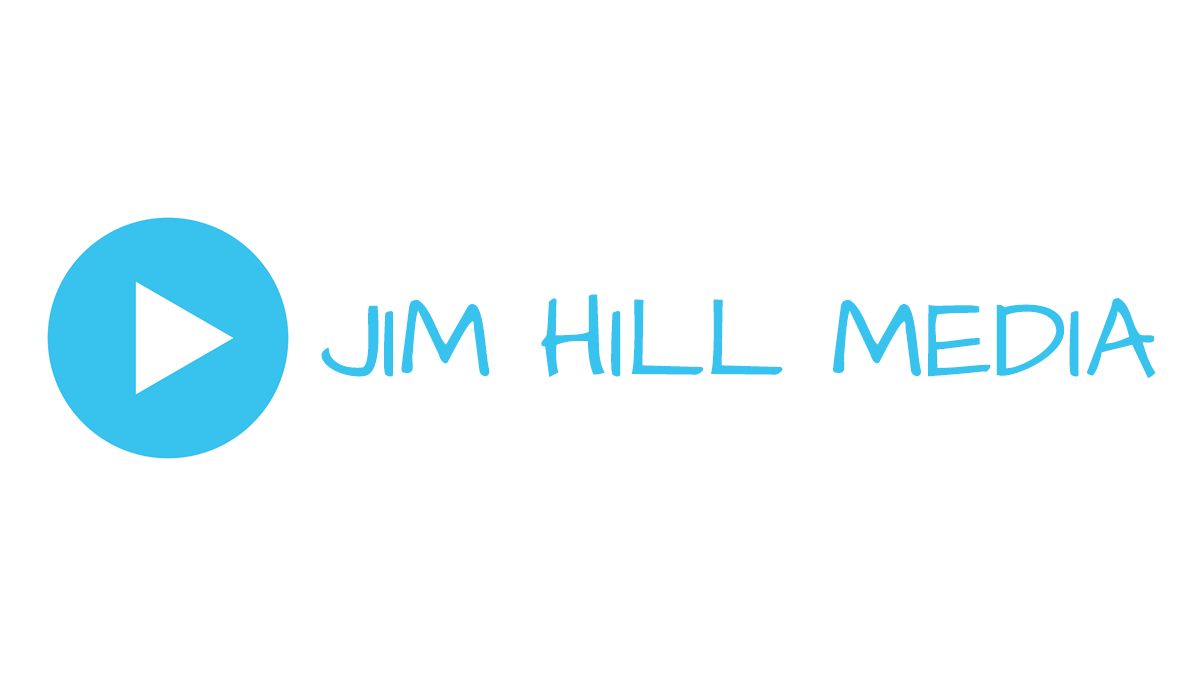 It was a cold grey November morning in New York City.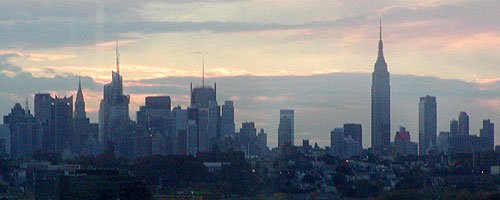 Photo by Nancy Stadler
And even though people were feeling somewhat discombobulated from the first morning of Daylight Savings Time (Not to mention the fact that the ING New York City Marathon was being held that same day. Which meant that streets were soon to be closed all over the city), D23 members from all over the country still made their way to Times Square. Eager to be among the very first to experience the Company's brand-new flagship Disney Store.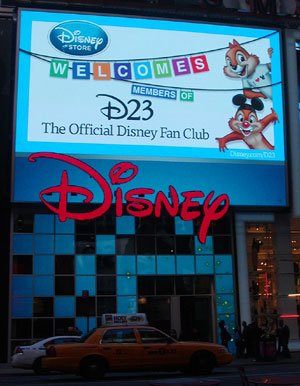 Photo by Nancy Stadler
Given that the tickets for this particular Official Disney Fan Club event supposedly sold out in less than 3 hours … Well, that may explain why people began lining up to get into the store at 6 a.m. And once the doors opened at 7:30, D23 members surged in the store …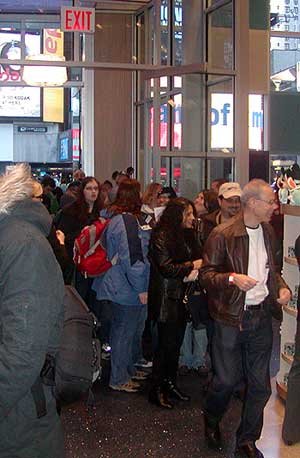 Photo by Nancy Stadler
… blowing right those stylized NYC displays that you'll find on the first floor …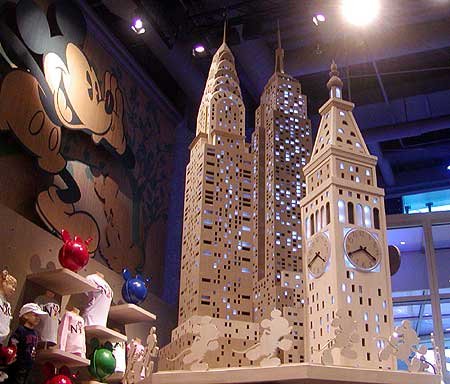 Photo by Nancy Stadler
… just so they could then get their hands on those limited edition Vinylmation figures that are only going to be sold at the Times Square store.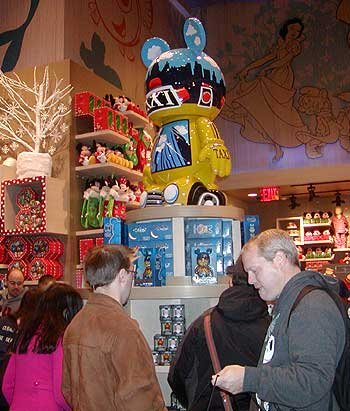 Photo by Nancy Stadler
Seriously. As soon as Disney Store cast members would place these highly collectible figures on the shelf, D23 members would snatch them up. These folks were also pretty aggressive when it came to buying up the adult trend items that were also on display in the store.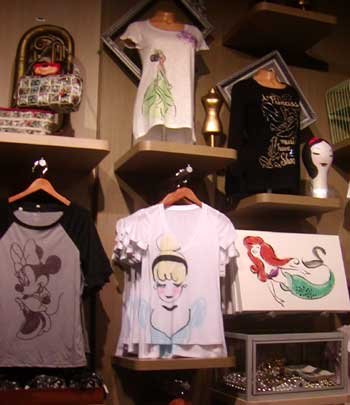 Photo by Nancy Stadler
In fact, these members of the Official Disney Fan Club were so determined to make the most of that 20% off discount card that D23 had given them (which was only good for purchases that were on the day of this sneak preview event) …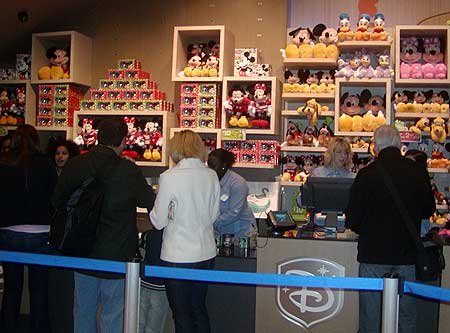 Photo by Nancy Stadler
… that they sometimes missed some of the wittier touches that the Disney Store designers had deliberately placed in the Times Square flagship store. Take – for example – those numbers that you see on the wooden box which is standing on end next to that old-fashioned projector.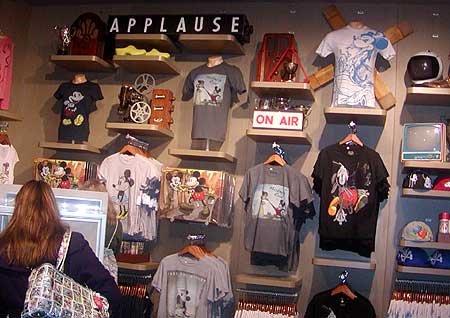 Photo by Nancy Stadler
"119" references to the Times Square Disney Store's official grand opening. Which is being held on Tuesday, November 9th.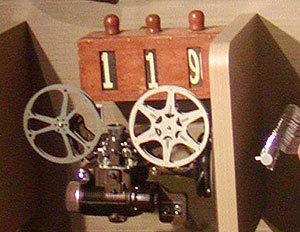 Photo by Nancy Stadler
To be honest, there are witty touches like this throughout the Times Square Disney Store. Like the silhouettes of Peter, Michael, John and Wendy from "Peter Pan." Not to mention Zazu from "The Lion King," the house from "Up" as well as the title character from "Dumbo." All of these flying Disney characters suggesting that you ascend to the second floor …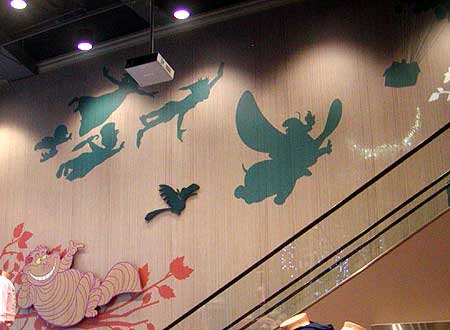 Photo by Nancy Stadler
… where the real retail magic begins.
As he welcomed D23 members yesterday morning, Jim Fielding- the president of Disney Stores Worldwide – talked about what a huge challenge it had been for the Company to get the Times Square store up out of the ground. How it had taken a solid year of negotiation to finally sign a lease on the old Virgin Megastore. More to the point, he stated that The Walt Disney Company wanted to show that they were serious about being back in the Disney Store business. They wanted to make a statement with the Times Square location.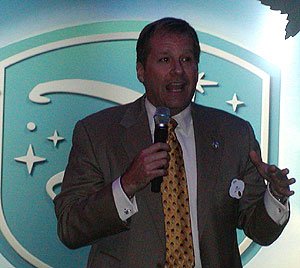 Jim Fielding, president of Disney Stores Worldwide.
Photo by Nancy Stadler
Which is why the designers of this Disney Store flagship actually tore out the fourth floor of the old Virgin Megastore. So that they'd have the room necessary to build a 20-foot-tall interactive Disney Princess Castle …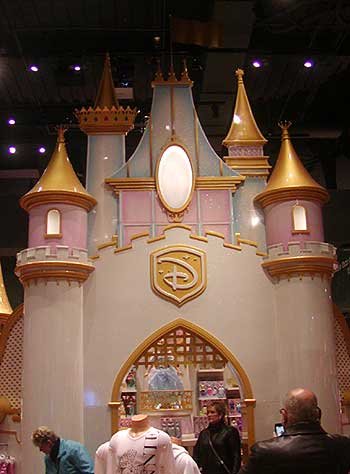 Photo by Nancy Stadler
… complete with talking magic mirrors as well as a beautiful chandelier.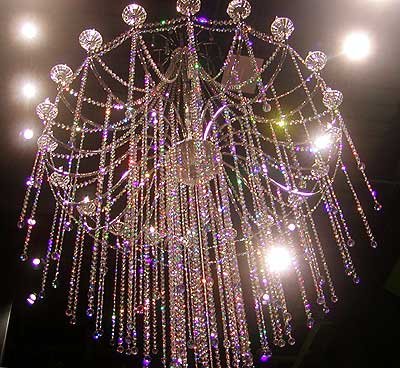 Photo by Nancy Stadler
And who better to help inaugurate this new fairytale-themed retail environment than Miss Jodi Benson, the voice of Disney's Little Mermaid …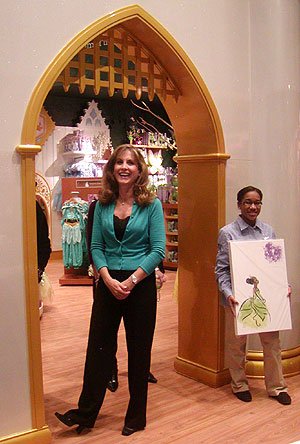 Jodi Benson waits to make her grand entrance.
Photo by Nancy Stadler
… who happily signed copies of a special limited-edition stretched canvas of her Disney Princess that had been created for Times Square Disney Store's grand opening.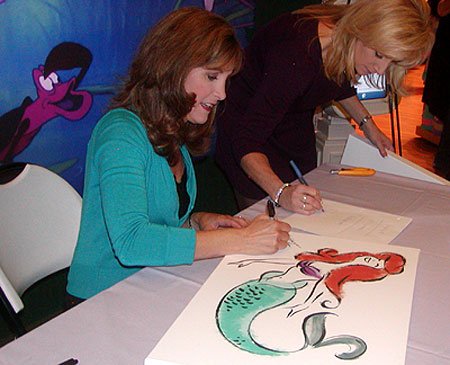 Jodi Benson signs copies of the Grand Opening Little Mermaid stretched canvas.
Photo by Nancy Stadler
And given that most of the D23 members immediately lined up to get Jodi's autograph on their limited-edition stretched canvas … Well, that's when I decided to check out the Times Square store's many neighborhoods. Including the Marvel section …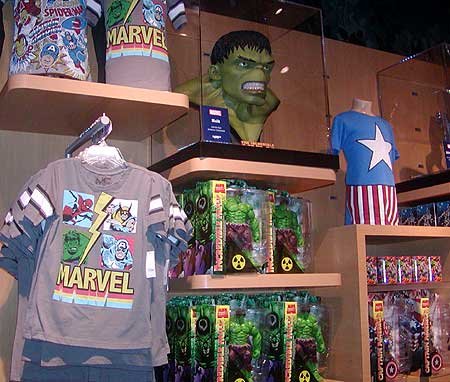 Photo by Nancy Stadler
According to what Fielding told me, the Times Square Disney Store is the first in the chain to have a dedicated Marvel section. But it won't be the last. As the Mouse moves forward with its plans to open 30 – 40 of these newly designed Disney Stores (eventually topping out at 225 stores in North America), each will feature a Marvel section, along with more flexible areas that will support the Studio's latest releases. Like "TRON Legacy" …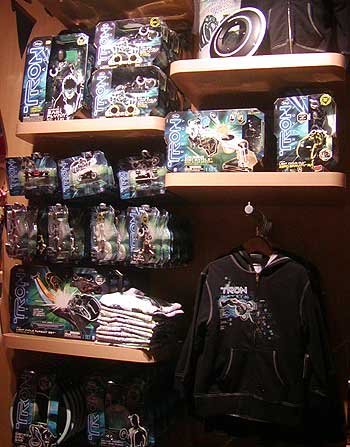 Photo by Nancy Stadler
… and "Tangled."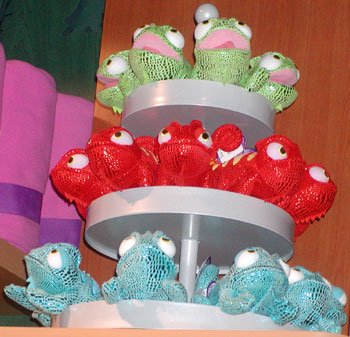 Photo by Nancy Stadler
As well as on-going Disney Channel & Disney XD series like "Phineas & Ferb."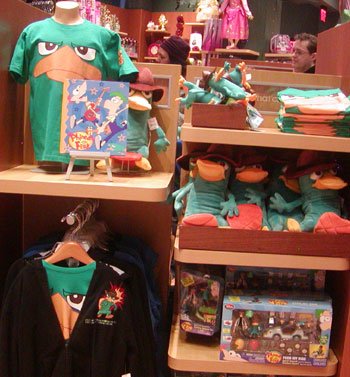 Photo by Nancy Stadler
But – to be honest – what impressed me about the Times Square Disney Store wasn't so much its magical forest of ever-changing plexi-glass trees …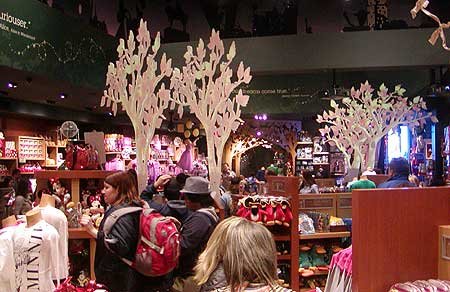 Photo by Nancy Stadler
… But – rather – those little touches that only a Disney die-hard would get. Like the silhouette of Professor Ned Brainard's Flubber-powered Model-T weaving its way through the city's skyscrapers.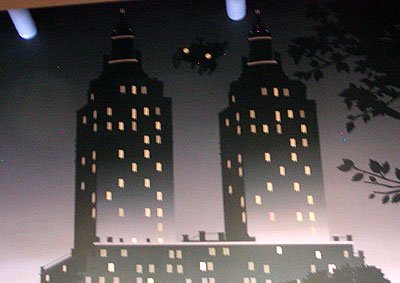 Photo by Nancy Stadler
All too soon, an announcement came over the store's PA that it was almost time for D23's sneak preview event to end.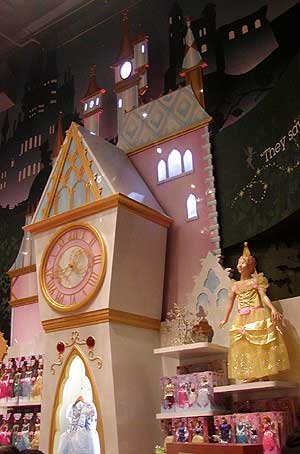 Photo by Nancy Stadler
So there was just enough time to get a few more photographs …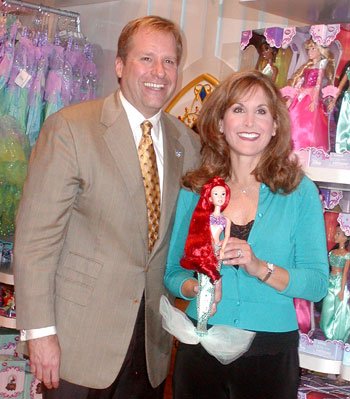 Jim Fielding and Jodi Benson with the new singing Little
Mermaid Disney Princess doll. Photo by Nancy Stadler
… and make a few more purchases …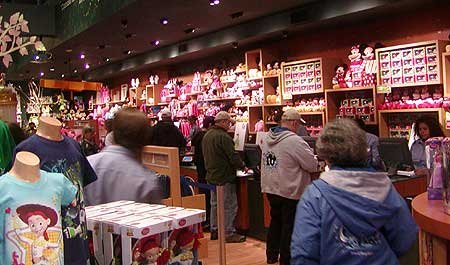 Photo by Nancy Stadler
… before the general public then had to be let in so that this store could continue with its soft opening phase. More importantly, so that the 250 cast members who now work at the Times Square Disney Store could then get used to dealing with the crowds that come surging into this shop (Which has really proven to be something of a challenge. Given that — in the three days that the Times Square Disney Store has been in soft opening mode — they actually had to extend the store's operating hours on all three days from midnight to 1a.m. to accommodate the tourists, families and NYC locals that have come out, eager to check out this new addition to Times Square).
Now what was kind of cute was that – at the very moment that the Times Square Disney Store officially opened to the public – a young boy (whose family Jim Fielding had personally chosen through his DisneyStorePrez Twitter feed) was handed this ginormous key …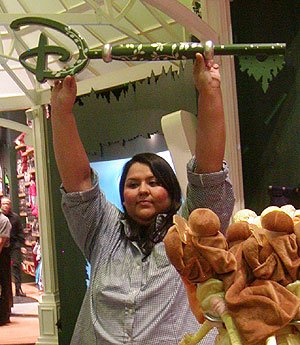 Photo by Nancy Stadler
… so that he could then unlock the imagination of this brand-new establishment. And to commemorate his part in this magical ceremony (which concluded with faux fireworks lighting up the store's ceiling), this boy was then presented with a miniature version of the enormous key he had just wielded.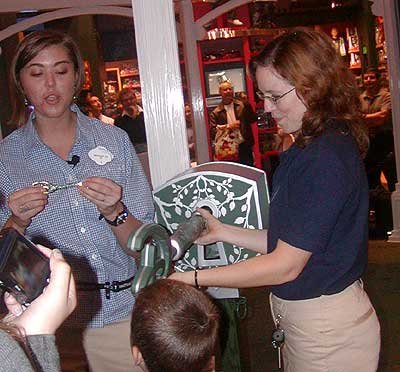 Photo by Nancy Stadler
As D23 members headed back downstairs, they then passed under this giant image of Mickey & Minnie which said …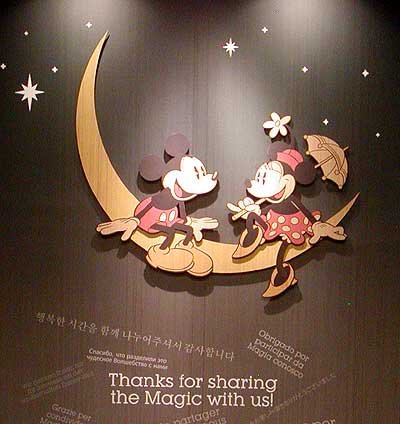 Photo by Nancy Stadler
… "Thanks for sharing the Magic with us!"
Which was rather appropriate. Given this event was a pretty magical way to get introduced to the Disney Store's new flagship.
FYI: As I mentioned earlier in this article, the Times Square Disney Store will be having its Grand Opening on Tuesday, November 9th. And provided that the rain & the snow that's lashing the East Coast right now lifts by Tuesday morning … Well, I'm told that the Mouse has something really special in the works for the official opening of its new flagship store. Which is why JHM is headed back down to NYC on Tuesday to cover that event. So look for that story on Wednesday or thereabouts, okay?
Your thoughts?
Marvel Animation bets big on shorts as it launches the second season of its Funko-inspired comic match-ups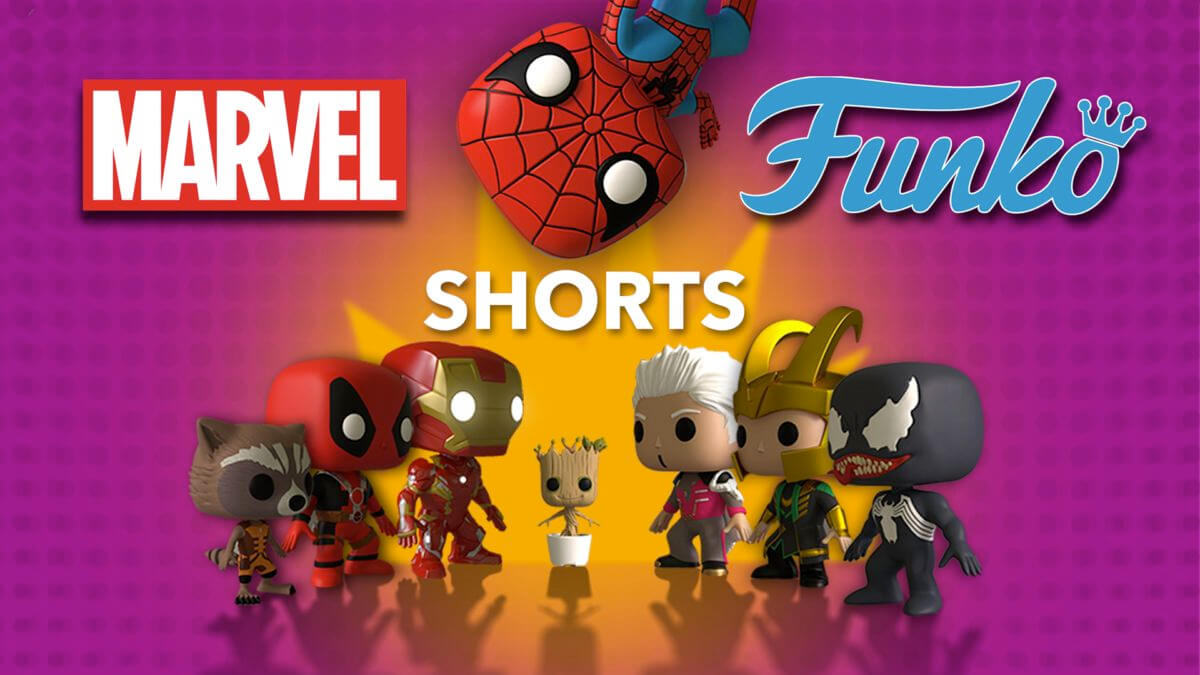 Marvel Entertainment has long been celebrated for its ability to weave these epic-length narratives that can then play out across multiple motion pictures, TV shows and comic books.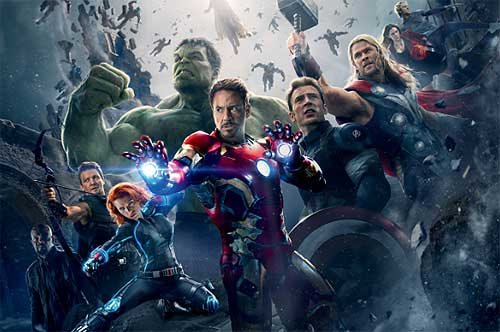 Copyright Marvel Studios. All rights reserved
So if length really plays to this studios' storytelling strength, why then is Marvel Animation headed in the opposite direction? Creating a series of stand-alone, 90-second long shorts that – rather than putting Marvel's super heroes through their usual action-adventure paces – opt to shine a spotlight on these characters' more comic side?
"It's all about new formats, new audiences," explained Cort Lane, Marvel's Senior Vice President of Animation & Family Entertainment. "That's been our mission statement for this past year here at Marvel. I mean, we obviously have the affinity of our core target audiences. We have those people who already love our characters, go to see our movies or are aware of them. But we wanted to do something that would possibly help Marvel reach a broader audience. And we thought that comedy might be the way to get there."
Mind you, what spurred Cort & Co. to initially explore this idea was this series of animated promos that Funko created for its Marvel Collector Corps subscription boxes.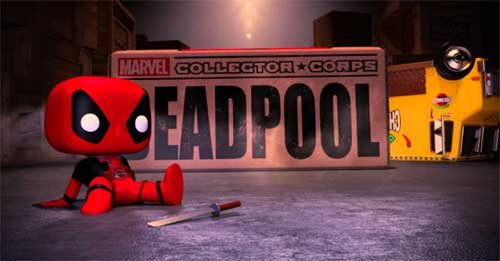 Copyright Marvel / Funko. All rights reserved
"These promos were created by this tiny little studio in the U.K. called A Large Evil Corporation. And the folks who work there, they are very inventive and have a great comedy sensibility," Lane enthused. "Even though the Funko versions of our characters don't have mouths, A Large Evil Corporation was still able to animate these very simple versions of the Marvel characters in a way that was very expressive and highly entertaining."
So – building on A Large Evil Corporation's previously existing relationship with Funko – Marvel Animation launched a trial balloon late last year. They put together a trio of shorts that were basically expanded versions of those animated promos for the Marvel Collector Corps subscription box scripts.
The first of these shorts (i.e., "Spellbound." Which debuted online back on November 30th of last year and starred the Funko versions of Spider-Man, Iron Man & Loki) was viewed 600,000+ times. By the time the third in this series (i.e., "Chimichangas." Which featured Funko's versions of Deadpool & Venom fighting in & around a food truck) bowed on December 14, 2016, these shorts were now getting 4 million views. Which is when Marvel Animation decided to go all in with its comic shorts initiative.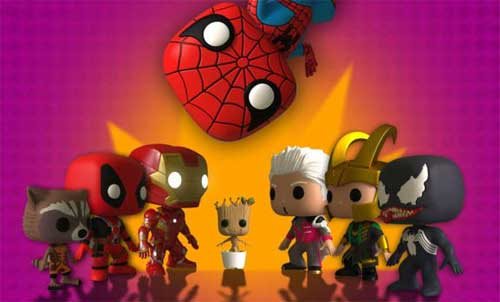 Copyright Marvel / Funko. All rights reserved
"Our thinking was – by placing these comedy short form pieces across multiple platforms – we'd then be able to reach a broader audience. Getting all the eyeballs that we might not traditionally get through our animated series. Which – while they have been doing well on Disney XD — have been more boy-targeted," Cort stated. "By deliberately making these pieces only 90 seconds long, that then makes it possible for these comedy shorts to go on social media, to be put up on YouTube. Which then makes it possible for them to reach an exponentially larger audience."
Ironically enough, though it obviously doesn't take as much effort to craft a scenario for a 90-second long comedy short as it does to write a teleplay for a 22-minute long episode of an animated series or the screenplay for a feature-length film, Lane still insists that a lot of thought & effort goes into each o these short form pieces.
"Creating fully formed, independent little stories that can actually be told in 90 seconds requires a lot of discipline and some really tight storytelling," Cort said. "You'd think that – given that the Funko versions of our characters don't have mouths – they'd then be easier to animate. But they really aren't. And given that A Large Evil Corporation has such a small staff of animators … Well, we had to be careful. Make sure that we didn't overwhelm that studio by sending them too many shorts to work on at any one time. Allow them to turn each of these short form pieces into a comedy gem."
The first of these gems which were created for Season 2 of this series – "Cosmic Sleigh Ride" – can be seen below:
"For Season 2, we'll be ultimately be releasing eight of these comedy shorts. Some will be synergistic. 'Cosmic Sleigh Ride' – which features the Funk versions of Star-Lord, Rocket and Taserface — is bowing now because the Blu-ray / DVD version of "Guardians of the Galaxy – Vol 2″ hit store shelves a few weeks back," Lane explained. "While other shorts in this series will premiere online when buzz is building around a particular character. Our ultimate goal here is to give our audience more of what it wants. Which – in this case – is connecting with the characters, but connecting in a different way. With comedy. And in a different format."
So does Cort have a favorite among the eight new short form comedy pieces that will be debuting online as part of Season 2?
"From a storytelling perspective, there's one coming up with Hulk and Black Widow that's a personal favorite of mine which plays on their interesting relationship. I love those two characters because there's such contrast there," Lane teased. "I don't want to reveal too much about this comedy short in advance. What I will say is that they're on a spy mission and Hulk isn't so great at spy missions."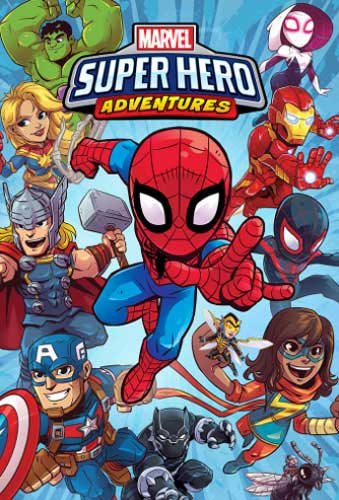 Copyright Marvel Entertainment. All rights reserved
So what with this "new formats, new audiences" initiative, should fans of Disney XD series like "Guardians of the Galaxy" and "Marvel's Spider-Man" be concerned? Cort says no.
"Moving into shorts is obviously a big shift for us. But we're still in the business of creating long form animation. That said, all of the diverse platform opportunities that you get with short form really open you up to new audiences. And we'll continue to explore that opportunity with things like our pre-school series, the Marvel Super Hero Adventures. Those will be a series of 3 & ½ minute shorts that will be coming out soon," Lane concluded. "So, as you can see, we're stretching. We're committed to exploring short form as a format because the kind of audience that you can potentially get out of it is so significant."
And that's the long & the short of what Marvel Animation is doing with its new short form comedy pieces.
Mm
This piece was originally published by the Huffington Post on Wednesday, September 27, 2017
"Let It Go" gets the LEGO treatment as a whole new Disney "Frozen" story unfolds across books, TV & digital with "Frozen Northern Lights"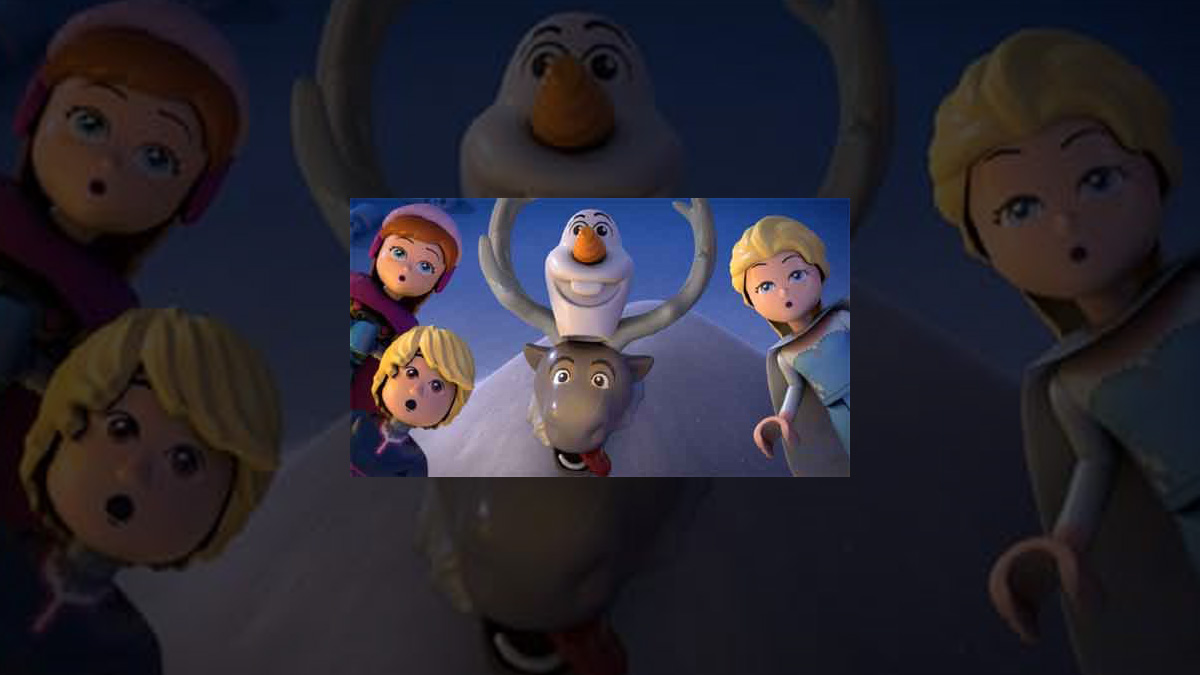 What with "Frozen – Live at the Hyperion" opening in late May at Disney California Adventure Park and Epcot's "Frozen Ever After" attraction opening its doors later this morning, Anna & Elsa have had a very busy month.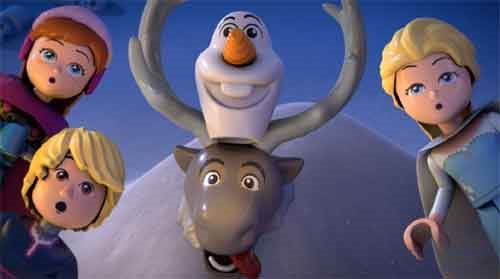 Copyright Disney Enterprises, Inc. All rights reserved
So what will these Scandinavian sisters be doing for an encore? Would you believe joining forces with the LEGO Group? Anna & Elsa – along with Kristoff, Olaf & Sven – will be starring in four new "Frozen" animated shorts that will air on the Disney Channel. Not only that, but these new LEGO shorts will be based on a brand-new published-by-Random-House story, "Frozen Northern Lights."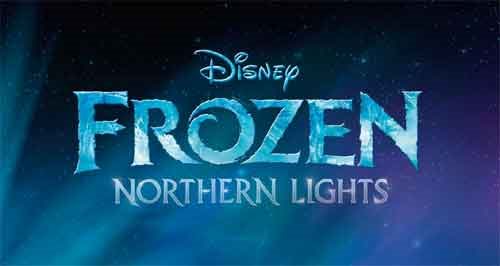 Copyright Disney Enterprises, Inc. All rights reserved
The fun officially gets underway in July as "Frozen" fans can once again return to the kingdom of Arendelle thanks to a cleverly interconnected collection of books, animated shorts from the LEGO group as well as digital games & activities.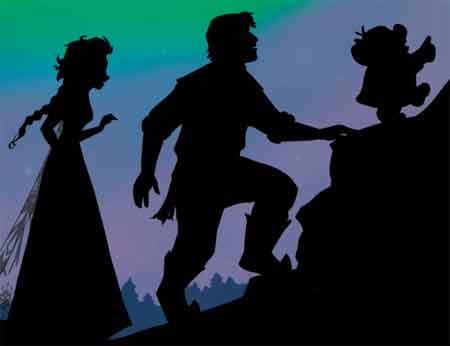 Copyright Disney Enterprises, Inc. All rights reserved
"So what awaits 'Frozen' fans once they return to Arendelle?," you ask. "Frozen Northern Lights" tells the story of Little Rock, one of those trolls that adopted young Kristoff & Sven in the original "Frozen" film. Little Rock needs help earning his tracking crystal. So Anna, Elsa, Kristoff, Sven & Olaf join this tiny troll on an epic mountain adventure to restore the glimmer of the Northern Lights.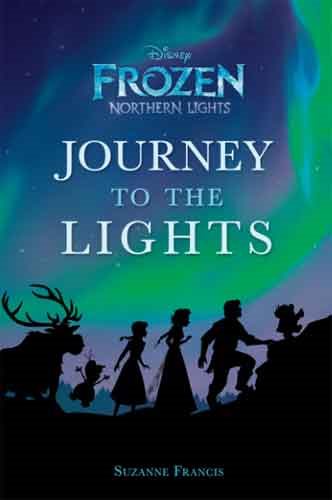 Copyright Disney Enterprises, Inc. All rights reserved
The hardcover novelization of this story — "Disney Frozen Northern Lights: Journey to the Lights" – will hit store shelves next month. As for those four animated shorts, the LEGO Group will definitely be bringing its unique style of animation and quirky sense of humor to the world of "Frozen."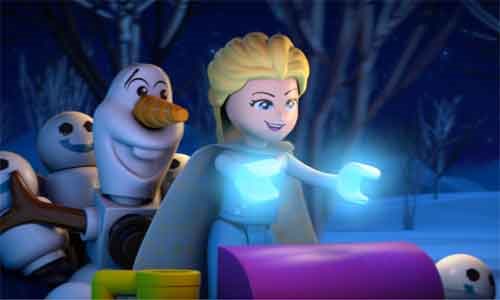 Copyright Disney Enterprises, Inc. All rights reserved
And did I mention that the vocal talent from the original Disney "Frozen" will be returning to reprise their roles? Or that a full compilation of all four of the LEGO "Frozen Northern Lights" shorts will air on the Disney Channel later this Fall?
So are you ready to see "Let It Go" get the LEGO treatment?
This article originally appeared on the Huffington Post's Entertainment page on Tuesday, June 21, 2016
"Yo-kai Watch 2: Bony Spirits and Fleshy Souls" coming to America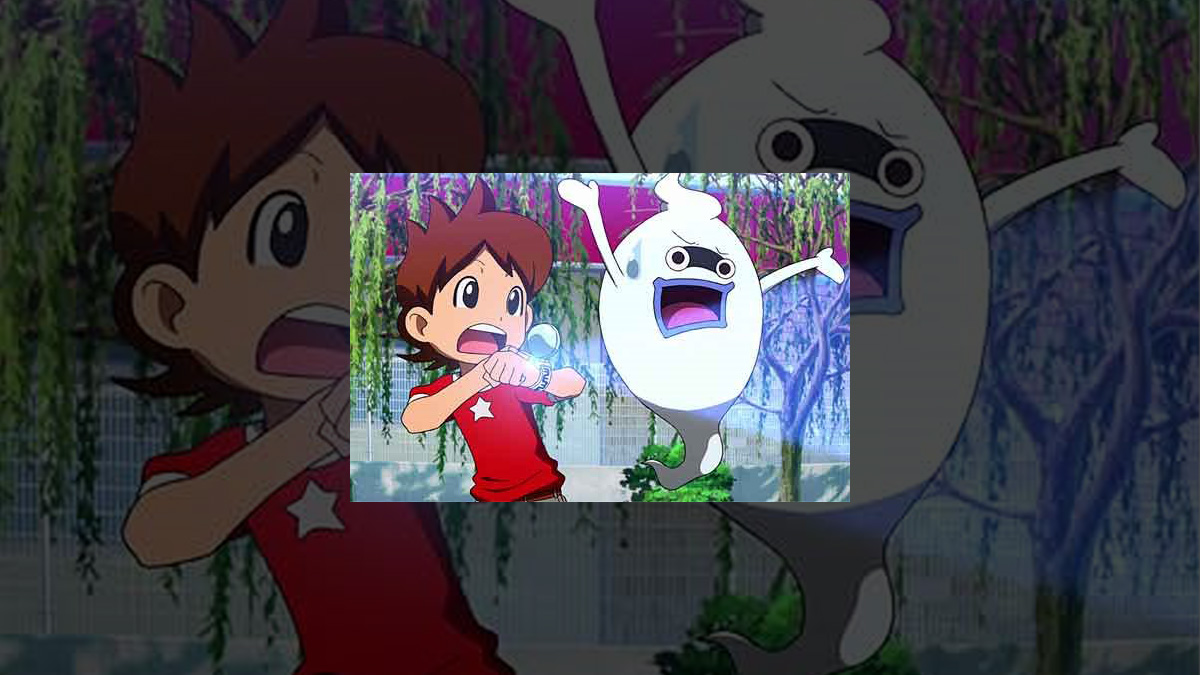 If you've been watching Disney XD lately OR If you've been in a Target, a Walmart, a Hot Topic OR anywhere that sells video games … Heck, if you've been around a group of kids lately, chances are you've heard of Yo-Kai Watch.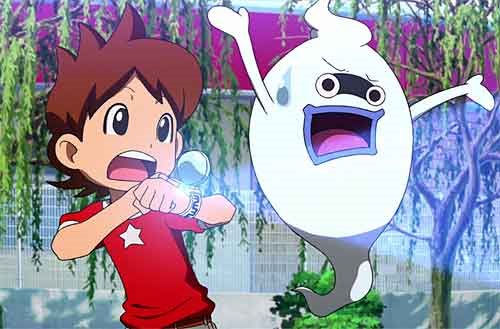 Initially released in Japan by Level-5 in 2013, just last year the first of Yo-Kai Watch games were translated and brought over for American audiences. In Japan, the game was a huge, bombastic hit. And why not? The creatures within the game were based on characters from popular Japanese stories. The kappa, the nekomata, and the kitsune, just to name a few. Via use of their Yo-Kai Watch, the main character — Nate in the English version — is able to see the invisible Yo-Kai, who haunt and inspirit the world around them.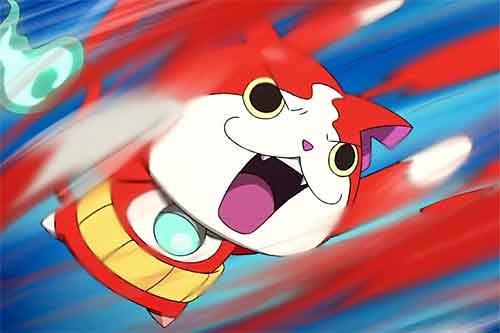 Given it was so rooted in Japanese culture, it was thought that this series would have an uphill battle once it arrived in the US. But luckily, Yo-Kai Watch wound up with an extremely solid viewership on Disney XD. And the game — despite a demo that was sort of 'eh' — was a really inspired, beautifully detailed, fun game. The writing in the game really held it up, despite the battles sometimes becoming repetitive. Overall, it was a fantastic, moving experience to play.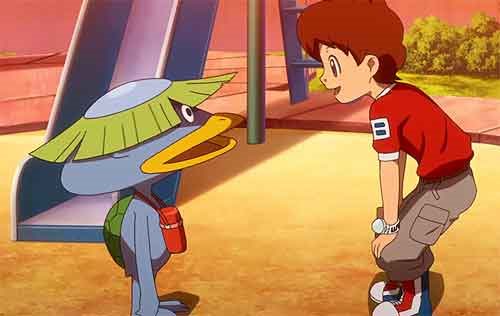 So imagine how excited I was to see that the long-awaited sequel was finally announced. English fans had been campaigning under the hashtag '#LocalizeYW2' passionately, and it seems they've been heard. Or the game sold enough. Or hey, probably both. "Yo-Kai Watch 2: Bony Spirits and Fleshy Souls" will be arriving in America on the 3DS on September 30th, 2016.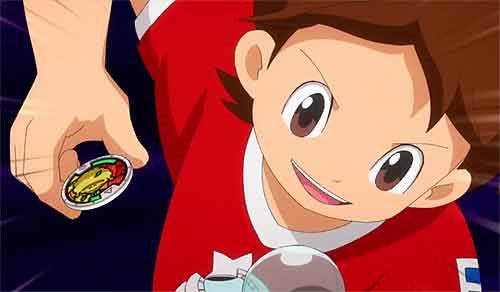 Kind of an odd name, right? Well, there's going to be two versions. If you're familiar with Pokemon (And sorry. it's a bit of a sore point when Yo-Kai Watch is brought up next to Pokemon. But sometimes comparisons need to be made) you probably are aware of the fact that typically two versions of one game are released — Pokemon Diamond and Pearl, X and Y, etc. Well, that's what's happening here. The game introduces 184 new Yo-Kai, and some are split between the two versions of the game. There's also different quests, and different exclusive DLC add-ons between the two.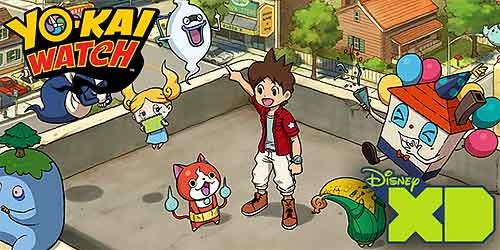 With new merch coming out, and the sequel on the horizon, it seems Yo-Kai Watch is really picking up speed here in North America. If you'd like to check out this phenomenon, "Yo-Kai Watch" airs weekdays at 5 p.m. on Disney XD.