Disney Deja View: Sorting out the sequels II
JHM guest columnist Dan Weckerly continues his multi-part series on the various film series that Walt Disney Studios has produced over the years.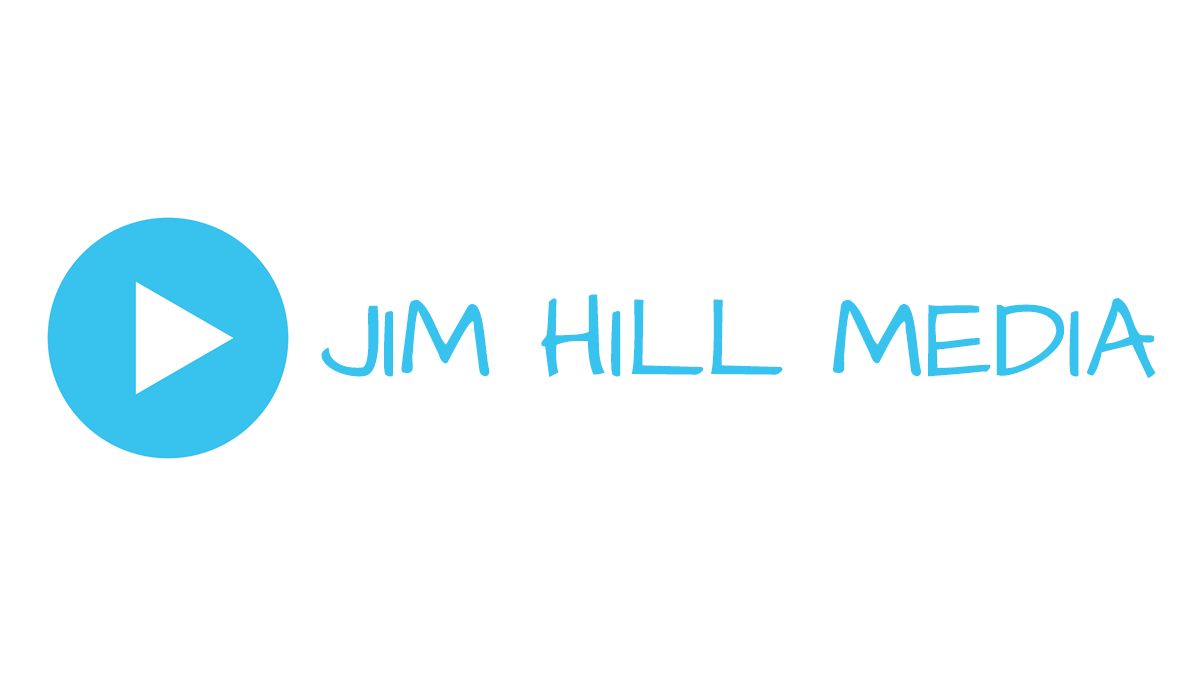 By the 1960s, as the Disney Studios learned well that, despite founder Walt's original hesitance to repeat himself, thar was money in them thar box office revisits. For instance, 1961 became a watershed year in terms of fodder for future sequels and remakes.
A No Brainerd
"The Absent Minded Professor" (1961) was one of the results, a screwball setup wherein a university science teacher accidentally invents an elastic goo with amazing powers, including zero-gravity. Through the course of this 97-minute romp, Ned Brainerd fixes a basketball game, thwarts a plot to steal his formula, derails a plot to steal his *girl,* and advises the U.S. military on his new secret weapon. All in glorious black-and-white.
The comedic possibilities were just too ripe, so in 1963, "Son of Flubber" hit the screens. This time, Professor Brainerd deals with Flubber derivatives, including the glass-shattering notion of "dry rain." But once again, financial disaster looms at the hands of the greedy Alonzo Hawk (Keenan Wynn, who is paired with his flustering dad, Ed Wynn), and a rigged football game substitutes for the hoops in the original.
Technology advancing as it did, Disney saw fit to remake the original "Absent Minded Professor" in 1997, titling it "Flubber." Robin Williams took over for MacMurray, with a new first name, Philip versus Ned. He also got a cutesy sidekick, a flying personal assistant named Weebo. Weebo, looking like one of those little aliens from "*batteries not included," is voiced by Jodi Benson, whose pipes brought Ariel to life in "The Little Mermaid."
There are missed weddings, a flying red convertible, and a Flubberized sports here, too, as well as a number of inept burglar gags. Flubberbabies also dance a Mambo and perform Busby Berkeley moves. All that and a fart joke.
Seeing Double… and Triple
1961 also brought forth "The Parent Trap," an eye-popping variation of "The Prisoner of Zenda," this time with identical twins (a double-shot of Hayley Mills) swapping places to get their divorcing parents back together. There's comedy and heart (and a terrific stop-animation title sequence), and although the pacing flags just a little in the second act, it's a gem.
The small screen saw "The Parent Trap II" in 1986. Sharon has divorced, and her daughter Nikki (and sister
Advertisement
Susan) plot to repair her love life. Eagle-eyed Disneyphiles will get some of the inside jokes that revolve around character names (Nikki, Mary, Walter and Lillian Elias), but other than that, this TV sequel is more fondly remembered by the girls who were preteens when they saw it on The Wonderful World of Disney.
It did spawn yet two more outings with Sharon and Susan in 1989: "The Parent Trap III" and "Parent Trap IV: Hawaiian Honeymoon." There are triplets now involved, but more meddling over parents marrying the "wrong" person. In Hawaii, the plot echoes Disney's "Snowball Express," with everyone trying to keep an aging resort afloat.
Although "PTII" is fun to see the still-gorgeous Hayley Mills in action, as the concept wore on, it definitely petered out.
The *original* "Parent Trap" was then given a complete theatrical overhaul in 1998, with Lindsay Lohan replacing Hayley Mills. She juggles conflicting accents well, but the charm and innocence of the original aren't quite there. In a nod to the 1961 cast, Joanna Barnes plays her own mother (Barnes played Vicki in the original, and Meredith's mother, Vicki again, in the sequel).
Dots a Lotta Dogs
One more Disney release from 1961 supported a virtual assembly line of sequels: "101 Dalmatians." Based on a novel by Dodie Smith, this is one of Disney's most enjoyable animated features of the 1960s, a clever spy-escape story with a passel of pups and one of the most vicious villains to ever grace the screen, Cruella De Vil.
Disney dipped into the doggie dish again to launch a live-action version in 1996, shortening the title to a better-marquee-fitting "101 Dalmatians." Cruella was embodied by Glenn Close, who comes pretty close to her cartoon inspiration in both vocal delivery and physical shtick. The live action version juiced up the "Home-Alone"-style violence and misses opportunities like the original's clever Twilight Bark, but all is well in the end.
The animated feature produced a live-action remake, which then produced a live-action *sequel* in "102 Dalmatians" (2000). Cruella is released from prison, but her 12-step canine addition program was a few installments short. Before long, she's lusting after spotted fur once more. She is aided by Monsieur le Pelt, played by Gerard Depardieu in a god-awful mullet. The law of diminishing returns is definitely in effect.
So the thought became to return to the 1961 animated movie and make a sequel to *that.* Hence 2003's direct-to-video "101 Dalmatians II: Patch's London Adventure." Patch, the TV-addicted dal from the original, goes off to London to help his hero, Thunderbolt. Cruella, Jasper, and Horace still want puppy fur, so they tail along, blah-de-blah. The under-10 set, who can identify with the desire to be 1 dog, not 1 of 101, seem to accept this Saturday-morning TV-style animation and color-by-numbers scripting best.
SPCA Meets AAA
"The Incredible Journey" (1963) is a beautifully filmed animal adventure in which a Siamese cat (Tao), a Bull Terrier (Blodger), and Yellow Labrador Retriever (Luath) traverse 200 miles of wilderness to return to their family. The film, based on Sheila Burnford's novel, follows the pets as they face predators and perils, with Disney staple Rex Allen providing a warm, homespun narration.
In "Homeward Bound: The Incredible Journey" (1993), the original story is remade and updated. There's no narration — and even the pets' names have been changed: dogs Chance and Shadow, and kitty Sassy. They speak for themselves (thankfully with no "Babe"-like mouth manipulations) in the voices of Michael J. Fox, Don Ameche, and Sally Field, respectively. The emphasis is more on one-liners, ad libs, and slapstick, but the movie finds the right amount of heart to be effective.
"Homeward Bound II: Lost in San Francisco" (1996) stretches the original concept to the breaking point. The family is going on vacation to Canada and loses the pets in the airport, stranding them in the City by the Bay. Will someone please advise this family of the value of microchipping their pets? Chance, Shadow, and Sassy continue cracking wise and (barely) avoiding trouble. There's also a romance thrown in for Chance. And, Shadow now sounds like Pa Walton, with good reason: Don Ameche's passing opened the role to Ralph Waite.
Jonesin'
"The Misadventures of Merlin Jones" was conceived for the Disney television show, where Walt figures a series starring Tommy Kirk as sort of a Ned Brainerd Jr. would work nicely. A number of comedic vignettes were developed, but in the process, the decision was made to string 'em together and release them as a feature film. "MOMJ" came out in 1964 and although critics were unimpressed with Tommy Kirk's abilities to read minds and engage in hypnotism, kiddy audiences lapped it up. The beautiful Annette Funicello didn't hurt things, either.
The following year, the formula was re-mixed and re-served in "The Monkey's Uncle." Merlin tries his hand at sleep-learning and man-powered flight, to big laughs.
Neither of these movies, in the vein of the "Crockett" films, escapes their TV look and feel. "The Monkey's Uncle" gains a slight edge for its deeper visual humor. The very notion of man-powered flight contains more gags, and the movie plays these to the hilt (including a funny dream sequence). It also has the advantage of a boppy title tune by the Beach Boys.
Darn It!
"That Darn Cat" (1965) involved a more grown-up Hayley in a bank-robbing/kidnapping plot, when her feline, DC, arrives home with a wristwatch mysteriously around the neck. The FBI is brought in, and dual romances evolve, as sisters Ingrid (Dorothy Provine) and Patti (Mills) get involved with men (Dean Jones' cat-allergic Agent Kelso and Tom Lowell's surfer-dude Canoe). Nosy neighbors provide comic relief.
Remade in 1997, "That Darn Cat" retained the original plot elements but scrambled the details. There's a cat and a kidnapping and a message scratched into a collar, but the laughs are gone. Christina Ricci takes over for Hayley Mills, and Agent Kelso is now the grossly unfunny Doug E. Doug. Not even a cameo by the original Kelso, Dean Jones, can save this dog of a cat movie.
Herbie!
March 13, 1969 saw the beginning of what was to become one of the most prolific franchises the Studio ever saw, with the release of "The Love Bug." The tale of the scrappy Volkswagen Beetle with a mind of its own, the washed-up racecar driver who finds it/him (Dean Jones), his wacky mechanic (Buddy Hackett), a dark villain (David Tomlinson), and the girl (Michele Lee) caught audiences' fancies and drove off with significant box office returns. "The Love Bug" out-earned numerous notable films of that year, including "Midnight Cowboy," "True Grit," and "Easy Rider."
The studios revved up the first sequel in 1974 with "Herbie Rides Again." None of the original cast returns, which caused this movie to sag like a leaky tire. Still, the film — with Ken Berry, the venerable Helen Hayes (who plays Tennessee Steinmetz' aunt!), and Stephanie Powers — is enjoyable enough, thanks again to some great stunt work and camera tricks from director Robert Stevenson.
Dean Jones returned as racer Jim Douglas in 1977's "Herbie Goes to Monte Carlo," but mechanic Tennessee is apparently still on that mountaintop, nursing his guru. Replacing him as both grease monkey and comic relief is Don Knotts. At stake is the purse for a Paris-to-Monte Carlo race. The villains this time are a pair of British jewel thieves who hide a gem in the Beetle's gas tank. Herb also has a love interest. It all starts to feel like so much retread.
In "Herbie Goes Bananas" (1980), the anthropomorphic car becomes the property of Jim's nephew, Pete (Steven W. Burns). Pete and his friend Dave (Charles Martin Smith) go south of the border to pick him up and get involved with an orphan boy on the lam. They all go shipboard, where Herbie predictably creates havoc, and another race is needed to make everything right.
The needle in the Herbie franchise was beginning to hover around E at this point.
In March of 1982, Herbie crossed over from the big screen to the small, as CBS green-lighted a weekly sitcom with the car. Jim Douglas has retired from racing and holds Herbie's registration card once again. Herb thwarts a bank robbery, rescues the pretty captive (played by Claudia Wells), and arranges a marriage. Jim runs a driving school and supplements his income teaching drivers' ed at a local high school. The series lasted exactly five episodes and was cancelled in April 1982.
Herbie was revived again in 1997, this time in a TV movie that went back to the original title "The Love Bug." Hank Cooper (Bruce Campbell) wins the Volkswagen in a lottery, and soon learns of his quirky talents and madcap capabilities. Evil Simon Moore III (John Hannah) let the car slip through his fingers inadvertently, and so, out of revenge, creates a black anti-Herbie Beetle. About the only thing this TV remake has going for it is a brief appearance by Jones, one more time as Jim Douglas.
Disney recognized finally that Herbie deserved a rest, so for the next eight years, he was garaged. In 2005, amid much trumpeting (and press reports on bad-girl behavior from Lindsay Lohan), "Herbie: Fully Loaded," roared out of the studio lot.
Herbie is languishing away at a junkyard but "chooses" Maggie (Lindsay Lohan), a plucky 20-something whose family — imagine! — is into racing. Dad (a grizzled Michael Keaton) was good years back, but there's some sort of family curse going on, affecting both him and his wanna-race son, Ray Jr. (Brecklin Meyer). Villain this time is a slick racecar driver with Whitestripped sharky teeth, played by Matt Dillon. Mechanic/comic/love interest (!) is Kevin (Justin Long).
The 2005 edition makes much more use of CGI effects to give Herbie his personality, and he's never been more animated. He blinks. He winks. He smiles and frowns with his bumper. He lusts. He pants. He shakes like a dog. In fact, "Herbie: Fully Loaded" plays like a live-action version of "Speed Buggy" (sputtering voice of Mel Blanc), the Hanna-Barbera cartoon of the 1970s, which is ironic, considering "Speed Buggy" ripped off "The Love Bug" in the first place.
But best of all, Herbie races. And as he's done five times hence, he comes through in the — excuse the expression — clutch.
Next up: The Disney live-action movies of the 1970s-1980s and their sequels.
Jens Dahlmann of LongHorn Steakhouse has lots of great tips when it comes to grilling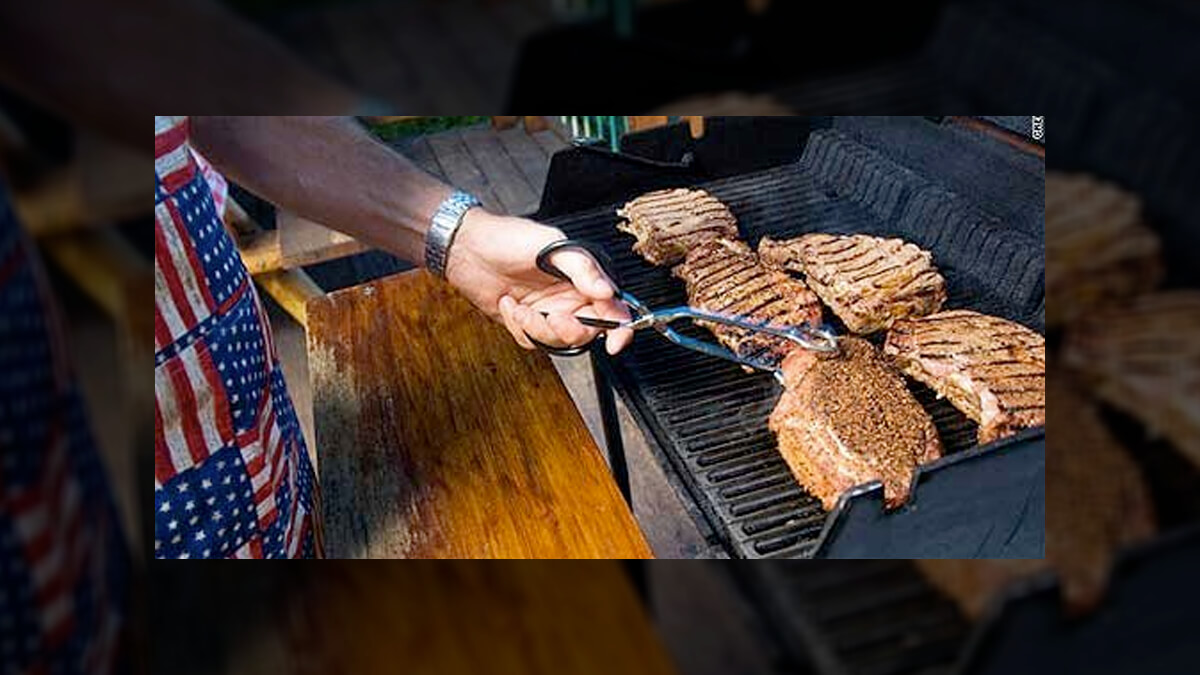 Sure, for some folks, the Fourth of July is all about fireworks. But for the 75% of all Americans who own a grill or a smoker, the Fourth is our Nation's No. 1 holiday when it comes to grilling. Which is why 3 out of 4 of those folks will spend some time outside today working over a fire.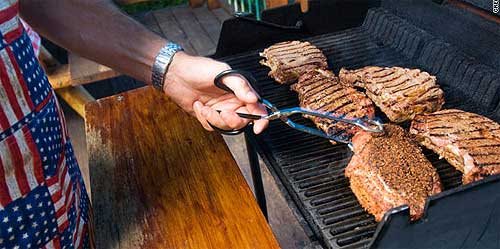 But here's the thing: Though 14 million Americans can cook a steak with confidence because they actually grill something every week, the rest of us – because we use our grill or smoker so infrequently … Well, let's just say that we have no chops when it comes to dealing with chops (pork, veal or otherwise).
So what's a backyard chef supposed to in a situation like this when there's so much at steak … er … stake? Turn to someone who really knows their way around a grill for advice. People like Jens Dahlmann, the Vice President and Corporate Executive Chef for Darden Restaurant's LongHorn Steakhouse brand.
Given that Jens' father & grandfather were chefs, this is a guy who literally grew up in a kitchen. In his teens & twenties, Dahlmann worked in hotels & restaurants all over Switzerland & Germany. Once he was classically trained in the culinary arts, Jens then jumped ship. Well, started working on cruise ships, I mean.
Anyway … While working on Cunard's Sea Goddess, Dahlmann met Sirio Maccioni, the founder of Le Cirque 2000. Sirio was so impressed with Jens' skills in the kitchen that he offered him the opportunity to become sous-chef at this New York landmark. After four years of working in Manhattan, Dahlmann then headed south to become executive chef at Palm Beach's prestigious Café L'Europe.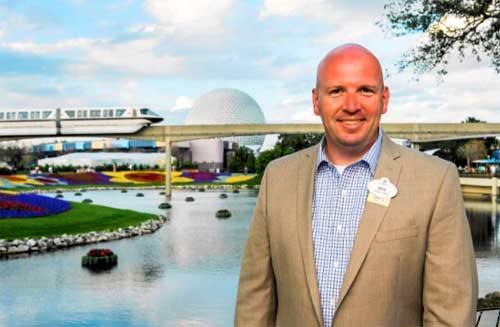 Jens Dahlmann back during his Disney World days
And once Jens began wowing foodies in Florida, it wasn't all that long 'til the Mouse came a-calling. Mickey wanted Dahlmann to shake things up in the kitchen over at WDW's Flying Fish Café. And he did such a good job with that Disney's Boardwalk eatery the next thing Jens knew, he was then being asked to work his magic with the menu at the Contemporary Resort's California Grill.
From there, Dahlmann had a relatively meteoric rise at the Mouse House. Once he became Epcot's Food & Beverage general manager, it was only a matter of time before he wound up as the executive chef in charge of this theme park's annual International Food & Wine Festival. Which – under Jens' guidance – experienced some truly explosive growth.
"When I took on Food & Wine, that festival was only 35 days long and had gross revenues of just $5.5 million. When I left Disney in 2016, Food & Wine was now over 50 days long and that festival had gross revenues of $22 million," Dahlmann admitted during a recent sit-down. "I honestly loved those 13 years I spent at Disney. When I was working there, I learned so much because I was really cooking for America."
And it was exactly that sort of experience & expertise that Darden wanted to tap into when they lured Jens away from Mickey last year to become LongHorn Steakhouse's new Vice President and Corporate Executive Chef. But today … Well, Dahlmann is offering tips to those of us who are thinking about cooking steak tips for the Fourth.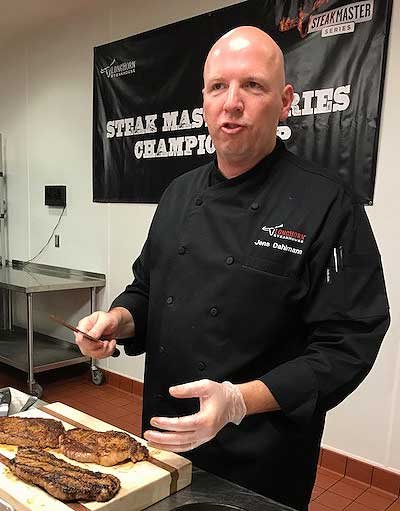 Photo by Jim Hill
"When you're planning on grilling this holiday, if you're looking for a successful result, the obvious place to start is with the quality of the meat you plan on cooking for your friends & family. If you want the best results here, don't be cheap when you go shopping. Spend the money necessary for a fresh filet or a New York strip. Better yet a Ribeye, a nice thick one with good marbling. Because when you look at the marbling on a steak, that's where all the flavor happens," Jens explained. "That said, you always have to remember that — the higher you go with the quality of your meat — the less time you're going to want that piece of meat to spend on the grill."
And speaking of cooking … Before you even get started here, Jens suggests that you first take the time to check over all of your grilling equipment. Making sure that the grill itself is first scraped clean & then properly oiled before you then turn up the heat.
"If you're working with a dirty grill, when you go to turn your meat, it may wind up sticking to the grill. Or maybe those spices that you've just so carefully coated your steak with will wind up sticking to the grill, rather than your meat," Dahlmann continued. "Which is why it's always worth it to spend a few minutes prior to firing up your grill properly cleaning & oiling it."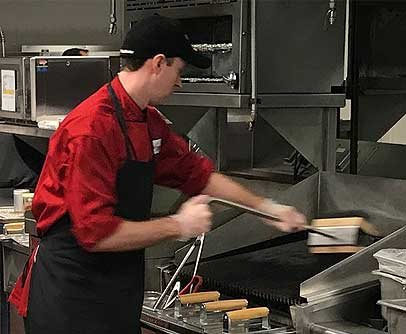 Photo by Jim Hill
And speaking of heat … Again, before you officially get started grilling here, Jens says that it's crucial to check your temperature gauges. Make sure that your char grill is set at 550 (so that it can then properly handle the thicker cuts of meat) and your flattop is set at 425 (so it can properly sear thinner pieces of meat).
Okay. Once you've bought the right cuts of quality meat, properly cleaned & oiled your grill, and then made sure that everything's set at the right temperature ("If you can only stand to hold your hand directly over the grill for two or three seconds, that's the right amount of heat," Dahlmann said), it's now time to season your steaks.
"Don't be afraid to be bold here. You can't be shy when it comes to seasoning your meat. You want to give it a nice coating. Largely because — if you're using a char grill — a lot of that seasoning is just going to fall off anyway," Jens stated. "It's up to you to decide what sort of seasoning you want to use here. Even just some salt & pepper will enhance a steak's flavor."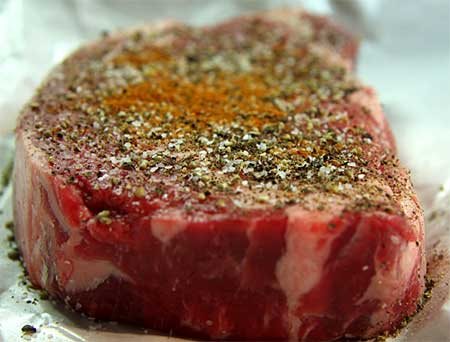 Then – according to Dahlmann – comes the really tough part. Which is placing your meat on the grill and then fighting the urge to flip it too early or too often.
"The biggest mistake that a lot of amateur cooks make is that they flip the steak too many times. The real key to a well-cooked piece of meat is just let it be, "Jens insisted. "Of course, if you're serving different cuts of meat at your Fourth of July feast, you always want to put your biggest thickest steak on the grill first. If you're also cooking a New York Strip, you want to put that one on a few minutes later. But after that, just let the grill do its job and flip your meat a total of three or four times, once every three minutes or so."
Of course, the last thing you want to do is overcook a quality piece of meat. Which is why Dahlmann suggests that – when it comes to grilling steaks – if you're going to err, err on the side of undercooking.
"You can always put a piece of meat back on the grill if it's slightly undercooked. When you over-cook something, all you can do then is start over with a brand-new piece of meat," Jens said. "Just be sure that you're using the correct cut of meat for the cooking result you're aiming for. If someone wants a rare or medium rare steak, you should go with a thicker cut of steak. If one of your guests wants their steak cooked medium or well, it's best to start with a thinner cut of meat."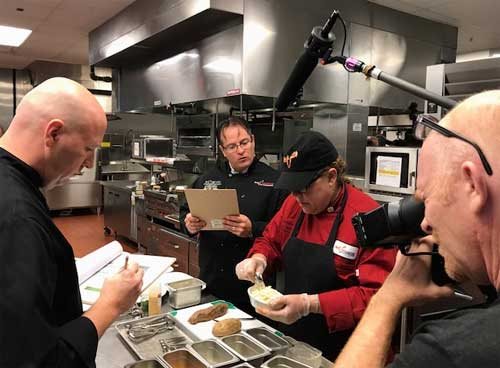 Photo by Jim Hill
As you can see, the folks at Longhorn take grilling steaks seriously. How seriously? Just last week at Darden Corporate Headquarters in Orlando, seven of these brand's top grill masters (who – after weeks of regional competitions – had been culled from the 491 restaurants that make up this chain) competed for a $10,000 prize in the Company's second annual Steak Master Series. And Dahlmann was one of the people who stood in Darden's test kitchens, watching like a hawk as each of the contestants struggled to prepare six different dishes in just 20 minutes according to Longhorn Steakhouse's exacting standards.
"I love that Darden does this. Recognizing the best of the best who work this restaurant," Jens concluded. "We have a lot of people here who are incredibly knowledgeable & passionate when it comes to grilling."
Speaking of which … If today's story doesn't include the exact piece of info that you need to properly grill that T-bone, just whip out your iPhone & text GRILL to 55702. Or – better yet – visit ExpertGriller.com prior to firing up your grill or smoker later today.
This article was originally published by the Huffington Post on Tuesday, July 4, 2017
Brattleboro's Strolling of the Heifers is a sincere if somewhat surreal way to spend a summer's day in Vermont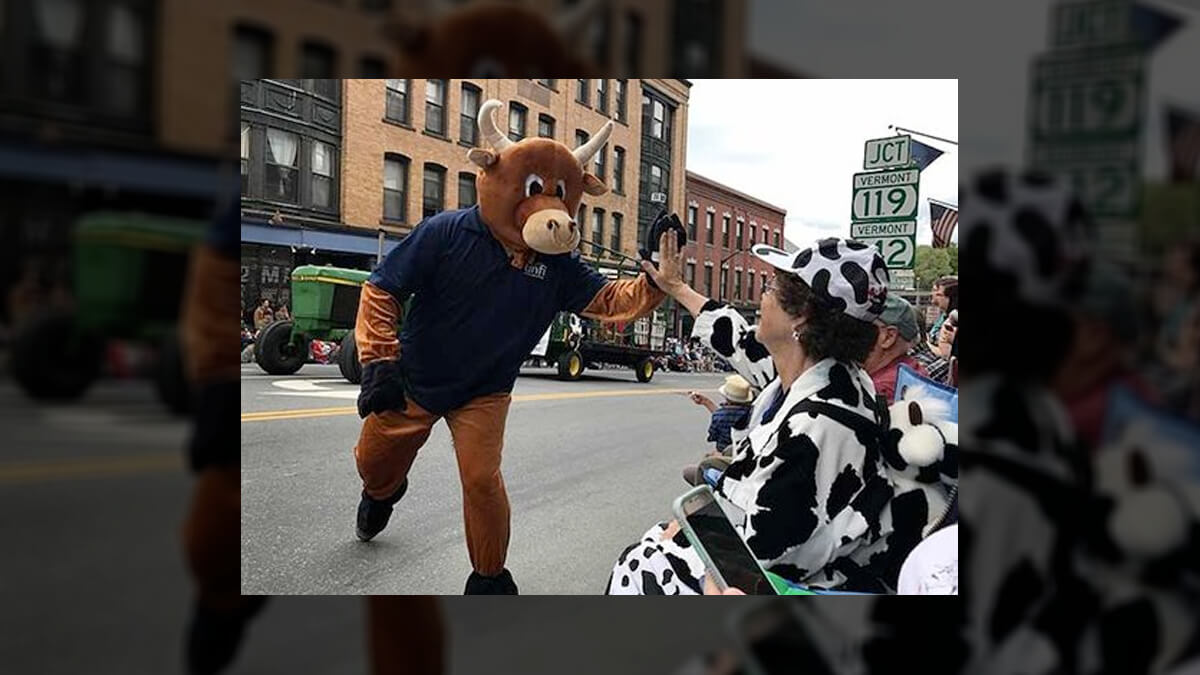 Some people travel halfway 'around the planet so that they can then experience the excitement of the Running of the Bulls in Pamplona. If you're more of a Slow Living enthusiast (as I am), then perhaps you should amble to Brattleboro, VT. Where – over the first weekend in June – you can then join a herd of cow enthusiasts at the annual Strolling of the Heifers.
Now in its 16th year, this three-day long event typically gets underway on Friday night in June with a combination block party / gallery walk. But then – come Saturday morning – Main Street in Brattleboro is lined with thousands of bovine fans.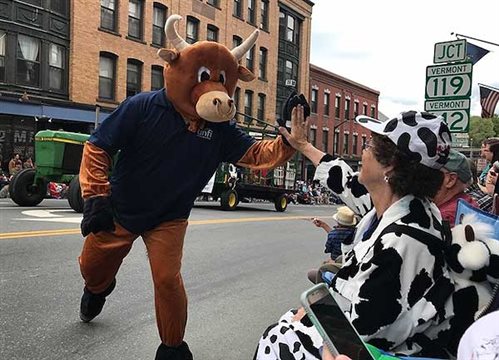 Photo by Jim Hill
They've staked out primo viewing spots and set up camp chairs hours ahead of time. Just so these folks can then have a front row seat as this year's crop of calves (which all come from local farms & 4-H clubs) are paraded through the streets.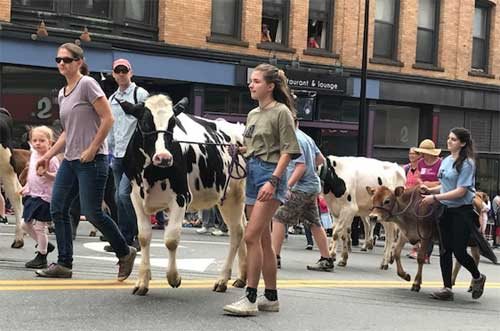 Photo by Jim Hill
Viewed from curbside, Strolling of the Heifers is kind of this weird melding of a sincere small town celebration and Pasadena's Doo Dah Parade. Meaning that – for every entry that actually acknowledged this year's theme (i.e. "Dance to the Moosic") — …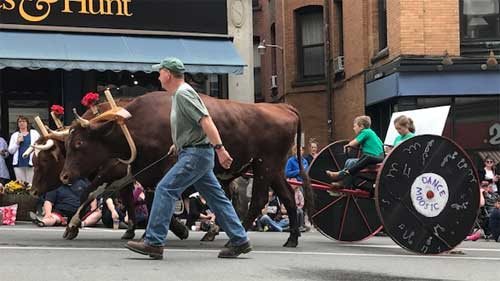 Photo by Jim Hill
… there was something completely random, like this parade's synchronized shopping cart unit.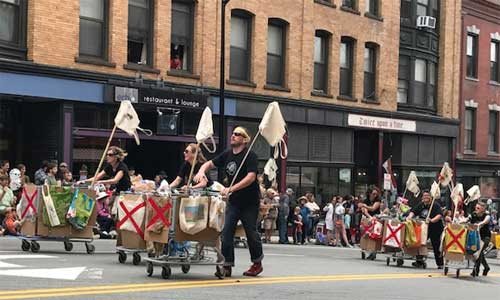 Photo by Jim Hill
And for every piece of authentic Americana (EX: That collection of antique John Deere tractors that came chugging through the city) …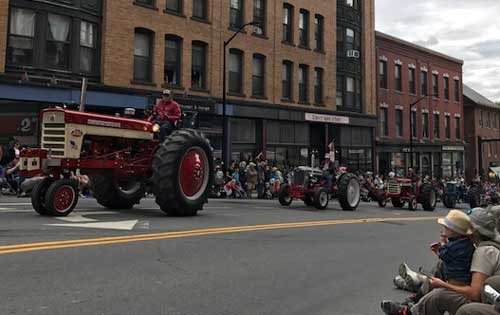 Photo by Jim Hill
… there was something silly. Like – say – a woman dressed as a Holstein pushing a baby stroller through the streets. And riding in that stroller was a pig dressed in a tutu.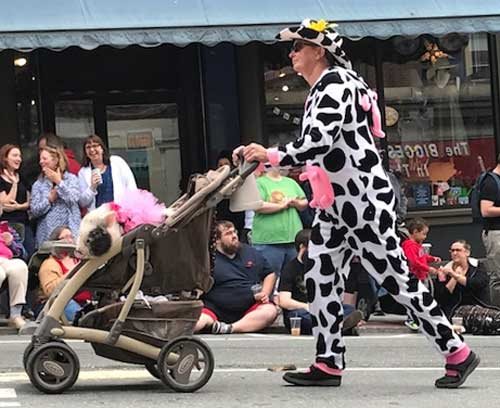 Photo by Jim Hill
And given that this event was being staged in the Green Mountain State & all … Well, does it really surprise you to learn that — among the groups that marched in this year's Strolling of the Heifers – was a group of eco-friendly folks who, with their chants of "We're Number One !," tried to persuade people along the parade route not to flush the toilet after they pee. Because – as it turns out – urine can be turned into fertilizer.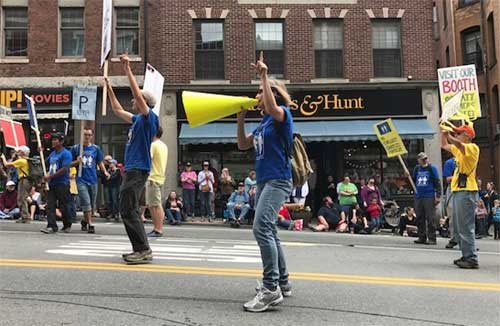 Photo by Jim Hill
And speaking of fertilizer … At the tail end of the parade, there was a group of dedicated volunteers who were dealing with what came out of the tail end of all those cows.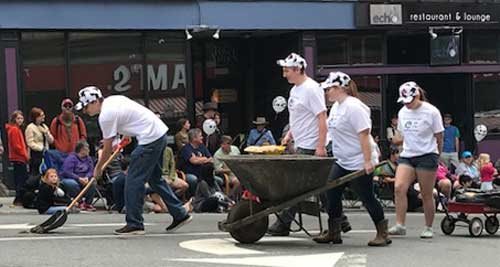 Photo by Jim Hill
This year's Strolling of the Heifers concluded at the Brattleboro town common. Where event attendees could then get a closer look at some of the featured units in this year's parade…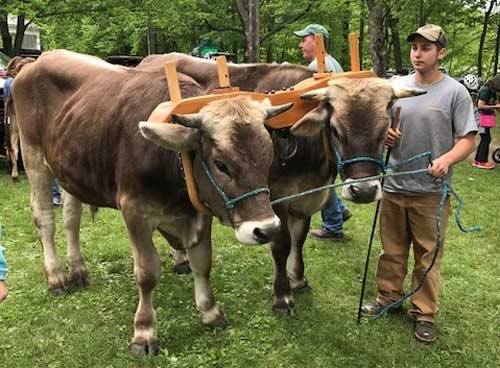 Photo by Jim Hill
… or perhaps even pet a few of the participants.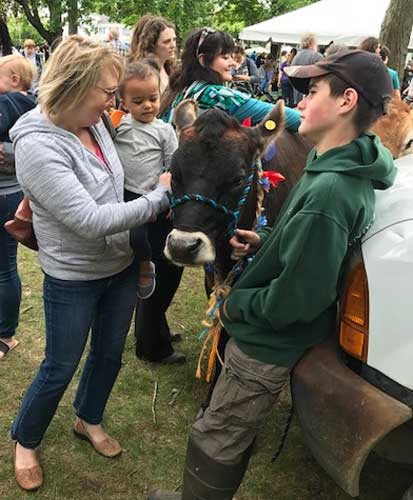 Photo by Jim Hill
But as for the 90+ calves who took part in the 2017 edition of Strolling of the Heifers, once they reached the town common, it was now time for a nosh or a nap.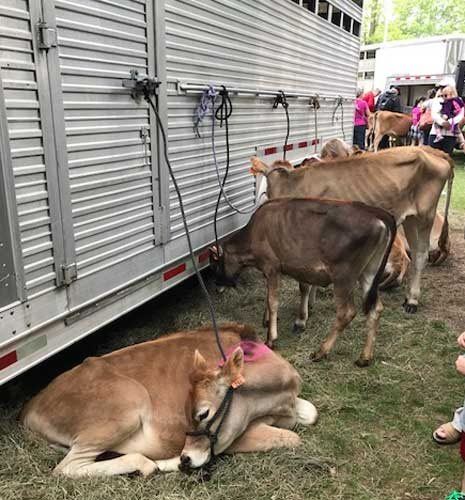 Photo by Jim Hill
Elsewhere on the common, keeping with this year's "Dance to the Moosic" theme, various musical groups performed in & around the gazebo throughout the afternoon.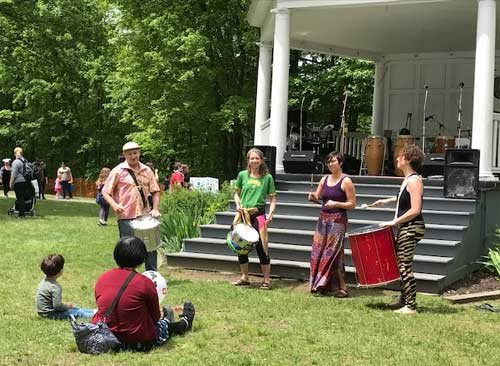 Photo by Jim Hill
While just across the way – keeping with Brattleboro's tradition of showcasing the various artisans who live & work in the local community – some pretty funky pieces were on display at the Slow Living Exposition.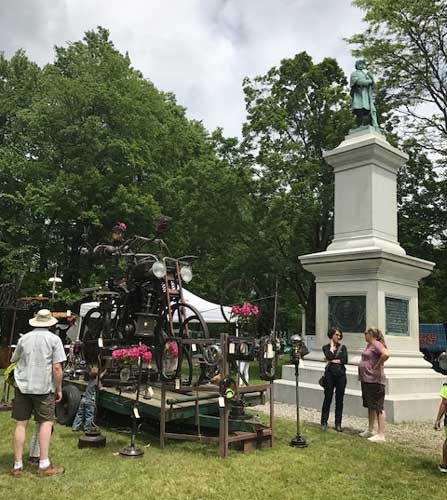 Photo by Jim Hill
All in all, attending Strolling of the Heifers is a somewhat surreal but still very pleasant way to spend a summer's day in Vermont. And that's no bull.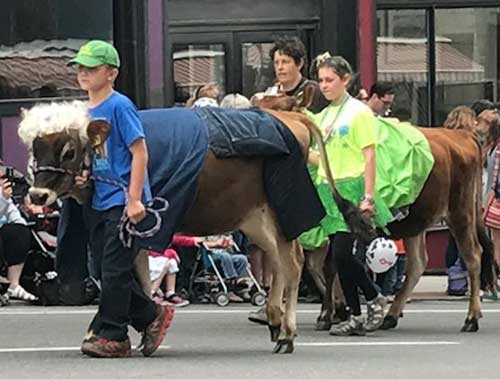 Photo by Jim Hill
Well, that could be a bull. To be honest, what with the wig & all, it's kind of hard to tell.
This article was originally published by the Huffington Post on Sunday, June 4, 2017
Looking to make an authentic Irish meal for Saint Patrick's Day? If so, then chef Kevin Dundon says not to cook corned beef & cabbage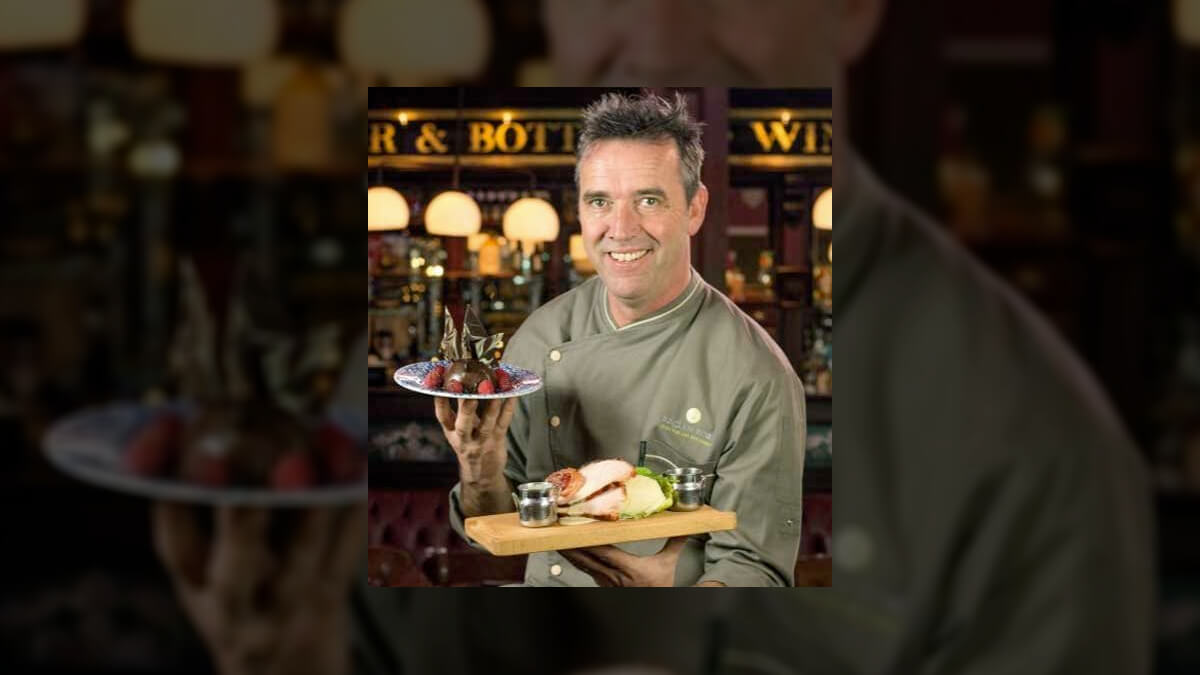 Let's at least start on a positive note: Celebrated chef, author & TV personality Kevin Dundon – the man that Tourism Ireland has repeatedly chosen as the Face of Irish Food – loves a lot of what happens in the United States on March 17th.
"I mean, look at what they do in Chicago on Saint Patrick's Day. They toss all of this vegetable-based dye into the Chicago River and then paint it green for a day. That's terrific," Kevin said.
But then when it comes to what many Americans eat & drink on St. Paddy's Day (i.e., a big plate of corned beef and cabbage. Which is then washed down with a mug of green beer) … Well, that's where Dundon has to draw the line.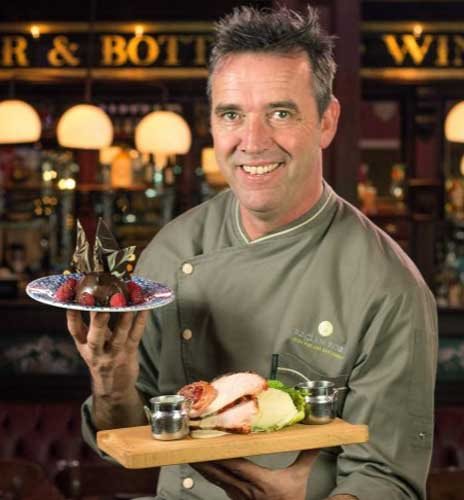 Irish celebrity chef Kevin Dundon displays a traditional Irish loin of bacon with Colcannon potatoes and a Dunbrody Kiss chocolate dessert. Photo by Tom Burton. Copyright Disney Enterprises, Inc. All rights reserved
"Green beer? No real Irishman would be caught dead drinking that stuff," Kevin insists. "And as for eating corned beef & cabbage … That's not actually authentic Irish fare either. Bacon and cabbage? Sure. But corned beef & cabbage was something that the Irish only began eating after they'd come to the States to escape the Famine. And even then these Irish-Americans only began serving corned beef & cabbage to their friends & family because they had to make do with the ingredients that were available to them at that time."
And thus begins the strange tale of how corned beef & cabbage came to be associated with the North American celebration of Saint Patrick's Day celebration. Because – according to Dundon – beef just wasn't all that big a part of the Irish diet back in the 19th century.
To explain: Back in the Old Country, cattle – while they were obviously highly prized for the milk & cheese that they produced – were also beasts of burden. Meaning that they were often used for ploughing the fields or for hauling heavy loads. Which is why – back then — these animals were rarely slaughtered when they were still young & healthy. If anything, land owners liked to put a herd of cattle on display out in one of their pastures because that was then a sign to their neighbors that this farm was prosperous.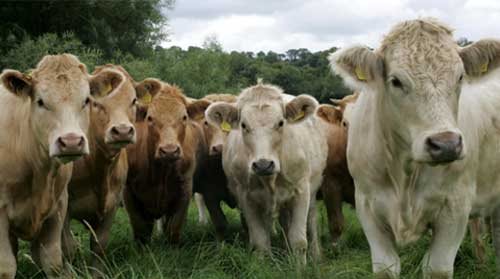 "Whereas pork … Well, everybody raised pigs back then. Which is why pork was a staple of the Irish diet rather than beef," Dundon continued.
So if that's what people actually ate back in the Old Country, how then did corned beef & cabbage come to be so strongly associated with Saint Patrick's Day in the States.? That largely had to do with where the Irish wound up living after they arrived in the New World.
"When the Irish first arrived in America following the Great Famine, a lot of them wound up living in the inner city right alongside the Germans & the Jews, who were also recent immigrants to the States. And while that farm-fresh pork that the Irish loved wasn't readily available, there was brisket. Which the Irish could then cure by first covering this piece of meat with corn kernel-sized pieces of rock salt – that's how it came to be called corned beef. Because of the sizes of the pieces of rock salt that were used in the curing process – and then placing all that in a pot of water with other spices to soak for a few days."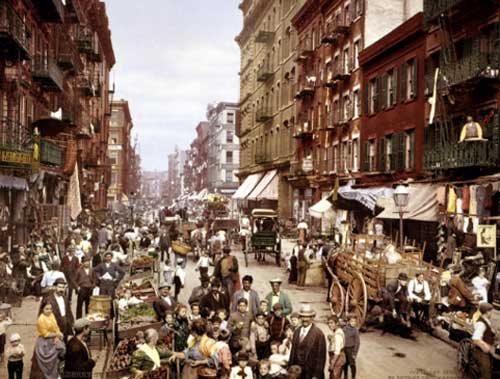 And as for the cabbage portion of corned beef & cabbage … Well, according to Kevin, in addition to buying their meat from the kosher delis in their neighborhood, the Irish would also frequent the stores that the German community shopped in. Where – thanks to their love of sauerkraut (i.e., pickled cabbage) – there was always a ready supply of cabbage to be had.
"So when you get right down to it, it was the American melting pot that led to corned beef & cabbage being found in the Irish-American cooking pot," Dundon continued. "Since they couldn't find or didn't have easy access to the exact same ingredients that they had back in Ireland, Irish-Americans made do with what they could find in the immediate vicinity. And what they made was admittedly tasty. But it's not actually authentic Irish fare."
Mind you, what Kevin serves at Raglan Road Irish Pub and Restaurant at Disney Springs (which – FYI – Orlando Magazine voted as the area's best restaurant back in 2014) is nothing if not authentic. Dundon and his team at this acclaimed gastropub pride themselves on making traditional Irish fare and then contemporized it.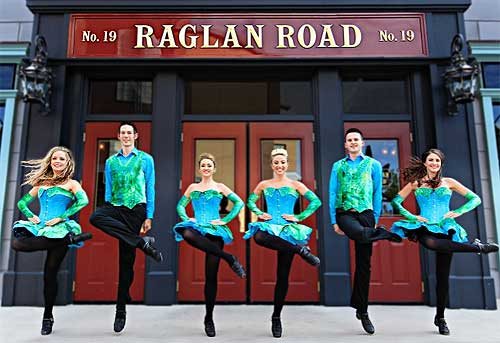 Copyright Disney Enterprises, Inc. All rights reserved
"Take – for example – what we serve here instead of corned beef & cabbage. Again, because it was pork – rather than beef – that was the true staple of the Irish diet back then, what we offer instead is a loin of bacon that has been glazed with Irish Mist. That then comes with colcannon potatoes. Which is this traditional Irish dish that's made up of mashed potato that have had some cabbage & bacon mixed through it," Kevin enthused. "This heavenly ham – that's what we actually call this traditional Irish dish at Raglan Road, Kevin's Heavenly Ham – also includes some savory cabbage with a parsley cream sauce as well as a raisin cider jus. It's simple food. But because of the basic ingredients – and that's the real secret of Irish cuisine. That our ingredients are so strong – the flavors just pop off the plate."
Which brings us to the real challenge that Dundon and the Raglan Road team face every day. Making sure that they actually have all of the ingredients necessary to make this traditional-yet-contemporized Irish fare to those folks who frequent this Walt Disney World favorite.
"Take – for example – the fish we serve here. We only used cold water fish. Salmon, mussels and haddock that have been hauled out of the Atlantic, the ocean that America and Ireland share," Kevin stated. "Not that there's anything wrong with warm water fish. It's just that … Well, it doesn't have the same structure. It's a softer fish, which doesn't really fit the parameters of Irish cuisine. And if you're going to serve authentic food, you have to be this dedicated when it comes to sourcing your ingredients.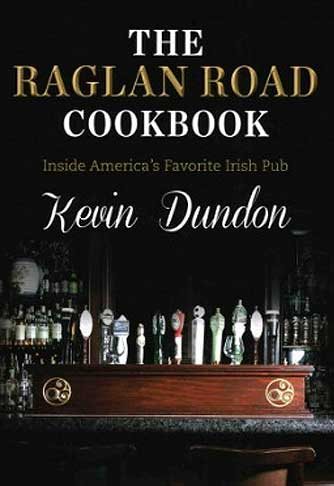 Copyright Mitchell Beazley. All rights reserved
And if you're thinking of perhaps trying to serve an authentic Irish meal this year, rather than once again serving corned beef & cabbage at your Saint Patrick's Day Feast … Well, back in September of last year, Mitchell Beazley published "The Raglan Road Cookbook: Inside America's Favorite Irish Pub." This 296-page hardcover not only includes the recipe for Kevin's Heavenly Ham but also it tells the tale of how this now-world-renown restaurant wound up being built in Orlando.
On the other hand, if you happen to have to the luck of the Irish and are actually down at The Walt Disney World Resort right now, it's worth noting that Raglan Road is right in the middle of its Mighty St. Patrick's Day Festival. This four day-long event – which includes Irish bands and professional dancers – stretches through Sunday night. And in addition to all that authentic Irish fare that Dundon and his team are cooking up, you also sample the fine selection of beers & cocktails that this establishment's four distinct antique bars (each of which are more than 130 years old and were imported directly from Ireland) will be serving. Just – As ucht Dé (That's "For God's Sake" in Gaelic) – don't make the mistake of asking the bartender there for a mug of green beer.
"Why would anyone willingly drink something like that?," Dundon laughed. "I mean, just imagine what their washroom will look like the morning after."
This article was originally published by the Huffington Post on Friday, March 17, 2017