Disney Deja View: Sorting out the sequels IV
JHM guest columnist Dan Weckerly continues his multi-part series on the various film series that Walt Disney Studios has produced over the years.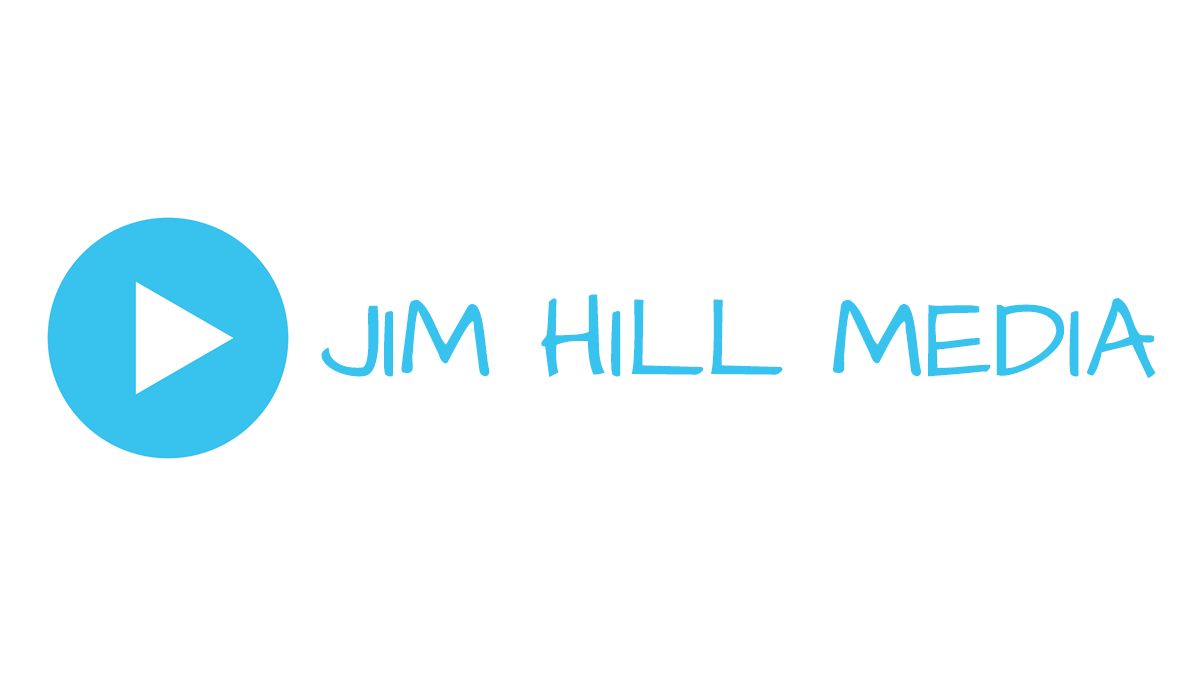 The Disney Studio didn't just self-cannibalize its live action films across the years. The animated classics were often redone, extended, rethought, and revamped.
Mssrs Stokowski and Levine
Walt's grand theatrical experience "Fantasia" (1940) was conceived as a work-in-progress, meaning that as a concert feature, it would be reissued periodically with new segments inserted and others retired. But, as we all know, that never happened, and the eight pieces presented by Leopold Stokowski and the Philadelphia Orchestra (Bach, Tchaikovsky, Dukas, Stravinsky, Beethoven, Ponchielli, Mussorgsky, and Schubert) remained in place, as the film hit screens again and again over the years.
The audio half the film, however, was "remade" in 1982, when the studio decided to issue a true stereo version that could benefit from the pure sound of digital recording technology. Veteran conductor/arranger Irwin Kostal rerecorded the music, using a pick-up orchestra (to much controversy). It was a formidable task: With the animation already in place, the timing of the music had to be exact, rather than the usual process of the other way 'round. Kostal also changed arrangements for "Night on Bald Mountain," opting for the wilder Mussorgsky orchestration rather than the somewhat-more-tame Rimsky-Korsakov version used in 1940. Also, Deems Taylor's narration was replaced by Hugh Douglas. Purists cried foul, and when "Fantasia" was re-re-released for its 50th Anniversary in 1990, the original tracks (cleaned) were restored, along with Taylor's commentary.
But Walt's original notion of a rotation of musical selections inspired the studio to release "Fantasia 2000." There are eight segments again (Beethoven, Respighi, Gershwin, Shostakovich, Saint-Saens, Dukas from the original, Elgar, and Stravinski), but James Levine and the Chicago Symphony replace the 1940 musicians. Narration duties are split by popular Disney contract players of the time, notably Steve Martin, Bette Midler, and Angela Lansbury. Most exciting (Walt would have loved it!), "F2000" was released in IMAX format, meaning the full power of the marriage between image and sound could be unleashed.
Fancy Footwear
Disney animation bounced back from post-war malaise with "Cinderella" (1950), a then-$2.9 million animated version of the Charles Perrault story. "Cinderella," with its reliance on magic and fantasy, was a perfect fit for Disney and his imaginative artists. The story was fleshed out with peripheral characters that also provided comic relief.
Apparently, though, Happily Ever After doesn't necessarily mean End of Story. "Cinderella II: Dreams Come True" (2002), a direct-to-video release, is really three stories combined: Cinderella has difficulties in her early days in the palace, Mouse Jaq yearns to become a human, and love finds Stepsister Anastasia, who was so misunderstood all this time. Who knew?
"Cindy II" is a sad affair; the animations are flat and without a hint of the original's depth, artistic vision, or care. The backgrounds are bland. The writing is trite. Even the vocal work sounds phoned-in. How the mighty hath fallen.
Never Grew Up
The freedom of animation also enabled Disney to bring "Peter Pan" to the screen in a way not possible by any of its prior iterations. "Pan" represents a seminal chapter in young Walt's life, and in watching the 1953 version — particularly where the flying Pan (Bobby Driscoll) soars above London and the clouds part, revealing a dizzying point-of-view shot — the feeling emerges that he has finally achieved a deep-seated dream.
That whatever-happened-to question was raised with the Pan crew in 2002, producing the answer in "Return to
Advertisement
Never Land." Wendy has grown up and married and now has a daughter, Jane. To escape the drear of the Blitz in London, Jane dutifully listens to her mother's tails of fairies and treasure, but is unbelieving. Her doubts remain until Hook and company kidnap her in an effort to get Peter to reveal the location of hidden treasure.
The vocal cast are all sound-alikes (some better than others) for the talents of Hans Conried, Bill Thompson, and company. They try hard, but there's only so far that can be gotten in imitation of masters. Further, there is little of the wit and style of the original film. Oh to have even one moment in "Return to Never Land" that even approaches distantly the genius behind the 1953 scene in which Pan and Hook face off in the cavern holding Princess Tiger Lily.
He's a Tramp… er, Scamp!
"Lady and the Tramp" (1955) stands as one of the Studio's most consistently heart-warming and entertaining features. It's the tale of a middle-class cocker spaniel in love with a cross-the-tracks mutt. She doesn't always appreciate his blue (dog) collar ways, but when the chips are down, she knows she can count on him.
The original ends with Lady and Tramp having a litter, and in 2001, one of those pups, Scamp, got his own story in "Lady and the Tramp II: Scamp's Adventure."
Scamp is more like his father than his mother and wishes for the care-free leash-less life. He takes off on his own and encounters the Junkyard Dogs. He also meets Angel, a female dog, with whom he recreates many of the dating episodes of his parents (notably, a spaghetti and meatball meal).
While not as awful as other direct-to-video offerings, "Scamp's Adventure" does suffer from some flat animation and rather obvious scripting. Also severely lacking is the film's score — an inestimable asset of the 1955 edition. "Welcome" sets a nice Victorian tone, but a number of the other songs forget their time period and setting. And nothing is as memorable as the original's "Siamese Cat Song" or "Bella Notte."
A Pooh or Two
The books of A.A. Milne were brought to the screen by Disney in 1966 with the short "Winnie the Pooh and the Honey Tree" (released with "The Ugly Dachshund"). With narration by Sebastian Cabot and vocalizations from Disney vet Sterling Holloway, the look and feel of the film was very much in style with the original illustrations by Ernest H. Shepherd.
The score by the Sherman Brothers ("Mary Poppins") brings a true charm to this story of a bear of little brain who gets stuck in Rabbit's hole after gorging on honey. The Shermans were instrumental in getting Pooh to the screen, consulting for hours while working on Poppins with designer Tony Walton (Julie Andrews' then-husband), who helped them get a feel for these classic British characters and the story.
Once they had it right, it made sense to continue; therefore, "Winnie the Pooh and the Blustery Day" came along in 1968, bounding ahead with a new Milne character, Tigger. Tigger got more of his own story with "Winnie the Pooh and Tigger, Too!" in 1974.
The shorts were combined in 1977, with some bridging animation and reshuffled Sebastian Cabot narration, as "The Many Adventures of Winnie the Pooh."
In 1984, Disney tried Pooh again — despite the loss of much of the original vocal cast — with "Winnie the Pooh and a Day for Eeyore." It was released with a "Sword in the Stone" reissue.
From 1988 to 1991, The Hundred Acre Woods denizens were on the small screen in "The New Adventures of Winnie the Pooh." It shuffled around from The Disney Channel to ABC for a while, but it remained very popular.
A number of seasonal specials and direct-to-video offerings marched out of Christopher Robin's toy box and into stores over the next handful of years. But in 2000, Disney got Pooh and company back into theaters with "The Tigger Movie." Thankfully, John Fiedler, from the 1966 cast, was still in good enough health to play the put-upon Piglet, but Paul Winchell's pipes were insufficient, leaving him to say TTFN to the film franchise. He did, however, return for Tigger's voice for the WDW dark-ride attraction. And the Shermans were recalled to the Studio (first time since 1971's "Bedknobs and Broomsticks") to add more of their signature tunes, including extra verses to the infectious "The Wonderful Thing about Tiggers."
More big-screen shenanigans with the Hundred Acre Woods gang came in 2003, with "Piglet's Big Movie." Again, Fiedler was on hand to provide a trademark stutter to the li'l porker, a job he held for the last time with "Pooh's Heffalump Movie" (2005), having passed away in June 2005.
The DTV arm of the Pooh franchise has been almost too prodigious to catalog, as episodes of the TV show were repackaged, reheated, and re-served. "Pooh's Grand Adventure" in 1997 and "Winnie the Pooh and Springtime for Roo" in 2004 are typical examples.
Wanna Be Like Them?
"The Jungle Book" (1967), the last animated feature to bear Walt's personal imprimatur, uses only a smattering of Kipling but makes for an enjoyable 78 minutes. The cast — Phil Harris, Sebastian Cabot, George Saunders, and Sterling Holloway in particular — go a long way toward making the feature captivating.
The jungle came alive for real in the 1994 live-action remake: "Rudyard Kipling's The Jungle Book." Mowgli (Jason Scott Lee) is raised by wolves, exits the jungle for civilization, falls in love with a girl, is humiliated cruelly, and returns. Along the way, he's pursued for his knowledge of a temple overflowing with riches. The live action version is not nearly as frenetic as the original and therefore might pose an attention problem to younger children, but as an action-adventure for preteens, it more than redeems itself.
The animated "Jungle Book 2" came to theaters in 2003. Suffice it to say that by the time the Oscar-winning song "The Bare Necessities" is reprised for the third time, it's clear: A re-release of the 1967 original film would have been preferable.
Mice in NY and Oz
"The Rescuers" (1977) brought Margery Sharp's novel to the screen, as Penny (Michelle Stacy), a hapless orphan, is kidnapped to help a greedy villain, Madam Medusa (Geraldine Page) find a valuable diamond. Penny scribbles a plea for help and tosses the note in a bottle, which eventually lands in New York, where the Rescue Aid Society sends help in the form of two mice: Bianca (Eva Gabor) and Bernard (Bob Newhart).
The pace is easy-going — a little too easy-going in spots — but there's comedy and excitement in an animated feature that echoed some of the more memorable work Walt oversaw himself.
In the 1990 sequel "The Rescuers Down Under," Bernard and Bianca (Newhart and Gabor again) are hot on the tail of McLeach (George C. Scott), a ruthless poacher intent on killing a golden eagle in Australia. A young boy and an Aussie kangaroo rat are on hand to help.
By 1990, the next crew of Disney animators was finding its footing, vaulting off the success of "The Little Mermaid," and becoming more comfortable with the artistic abilities their new computer programs were providing. The many breath-taking sequences in "Down Under" (when Cody soars on the back of the eagle, for example) are prime examples. Some of the simplicity of the original is gone, but then again, so, too is the awkward song-over-a-montage technique for bridging gaps in continuity. Both films, however, stand tall as excellent entries in the Disney canon.
Everything's Ducky
The DuckTales TV series that had been a hit since 1987 on the Disney Channel received a big-screen treatment in "DuckTales the Movie: Treasure of the Lost Lamp" (1990). The TV show involved Scrooge McDuck (Alan Young) and various adventures with nephews Huey, Dewey, and Louie (all Russi Taylor).
"Treasure of the Lost Lamp" took the crew to Egypt to find the treasure of Collie Baba. They are pursued by Murlock (Christopher Lloyd) and his sidekick Dijon (Richard Libertini).
The quality of the animation (from Disney's French offshoot Disney Movietoons) is a step up from the television forebear, but not a big step up.
Hunting Wabbits
In 1988, the Studio cooperated with Steven Spielberg and his staff to bring Gary K. Wolf's comic-strip- style novel "Who Censured Roger Rabbit?" to the screen in a whiz-bang spectacle of blended live-action and animation. The movie opened with a Warner Bros. homage short ("Somethin's Cookin'), wherein Baby Herman (Lou Hirsch, adult) is being saved from all kinds of Tex Avery kitchen mayhem from the frenetic Roger Rabbit (a spluttering Charles Fleischer). The cartoon, from its Looney Tunes cornucopia title card to its Carl Stallings-ish score, certainly held out a great promise that Disney/Amblin could continue to cooperate on more Roger.
And as a lead-in to "Honey, I Shrunk the Kids" in 1989, that's exactly what happened with the RR short "Tummy Trouble." Baby Herman accidentally swallows his rattle, and a breakneck trip to the hospital ensues. Roger's second short holds itself well against its forebear, and the beginnings of a terrific franchise appear at the ready.
"Roller Coaster Rabbit" was attached to "*** Tracy" in 1990. Roger and Baby Herman chase a red balloon at an amusement park with amusing results.
"Trail Mix-up" was an opener for 1993's "A Far Off Place," and Roger and his ward face dangers during a picnic.
All four RR installments (including the one in "WFRR," which is snuffed aborning) are side-splittingly funny. They masterfully capture the spirit and fun of their big studio ancestors and could easily have continued delighting both the kids of the day and their boomer parents, who fondly remember shorts as a standard bill-of-fare.
Some other RR projects were discussed, including a sequel to "WFRR" ("Who Discovered Roger Rabbit?" — green-lit as far back as 1989, even proposed as DTV, but never advanced) and several more installments of the shorts ("Hare in My Soup," "Cotton Swabs"). But once Katzenberg shuttled himself off with Spielberg to create DreamWorks, Roger sadly fell victim to the enmity between the two studios and the carping of the lawyers.
Next up: Dan continues his listing of Disney animated sequels.
Jens Dahlmann of LongHorn Steakhouse has lots of great tips when it comes to grilling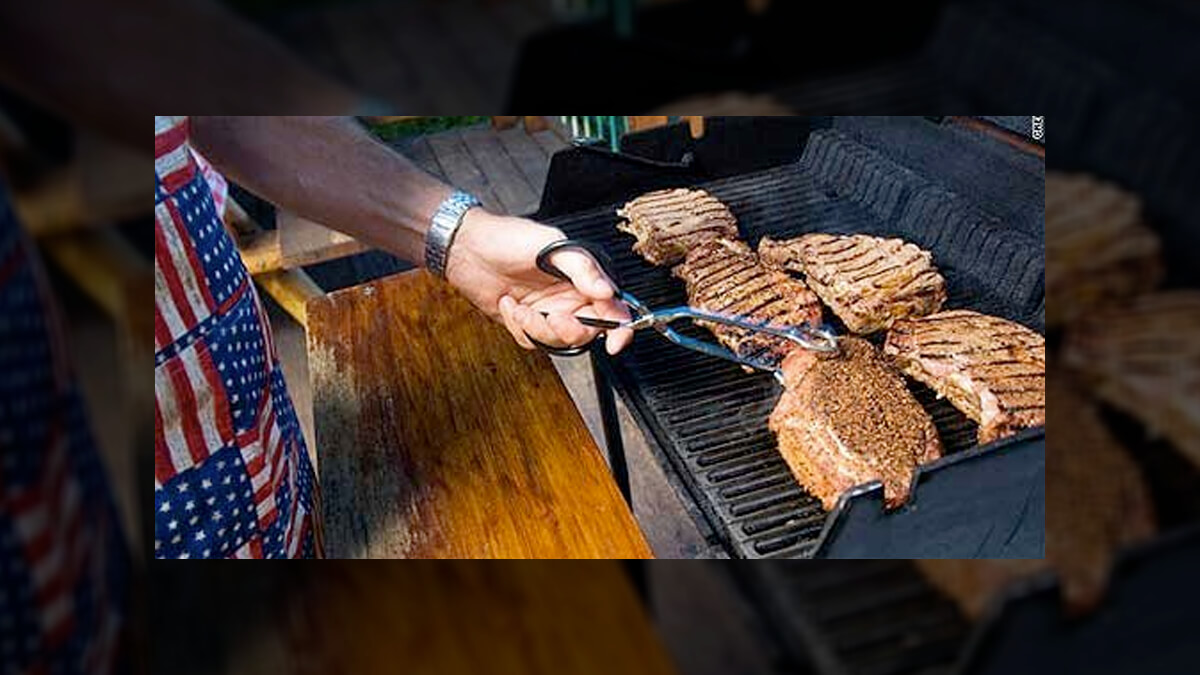 Sure, for some folks, the Fourth of July is all about fireworks. But for the 75% of all Americans who own a grill or a smoker, the Fourth is our Nation's No. 1 holiday when it comes to grilling. Which is why 3 out of 4 of those folks will spend some time outside today working over a fire.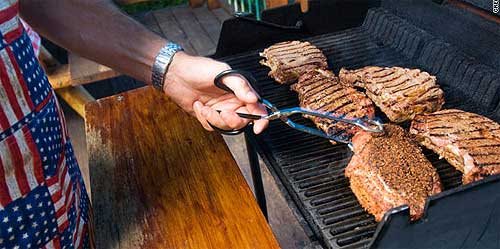 But here's the thing: Though 14 million Americans can cook a steak with confidence because they actually grill something every week, the rest of us – because we use our grill or smoker so infrequently … Well, let's just say that we have no chops when it comes to dealing with chops (pork, veal or otherwise).
So what's a backyard chef supposed to in a situation like this when there's so much at steak … er … stake? Turn to someone who really knows their way around a grill for advice. People like Jens Dahlmann, the Vice President and Corporate Executive Chef for Darden Restaurant's LongHorn Steakhouse brand.
Given that Jens' father & grandfather were chefs, this is a guy who literally grew up in a kitchen. In his teens & twenties, Dahlmann worked in hotels & restaurants all over Switzerland & Germany. Once he was classically trained in the culinary arts, Jens then jumped ship. Well, started working on cruise ships, I mean.
Anyway … While working on Cunard's Sea Goddess, Dahlmann met Sirio Maccioni, the founder of Le Cirque 2000. Sirio was so impressed with Jens' skills in the kitchen that he offered him the opportunity to become sous-chef at this New York landmark. After four years of working in Manhattan, Dahlmann then headed south to become executive chef at Palm Beach's prestigious Café L'Europe.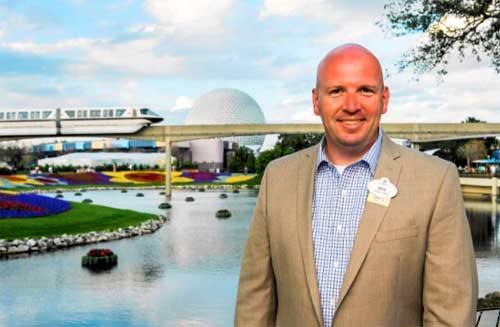 Jens Dahlmann back during his Disney World days
And once Jens began wowing foodies in Florida, it wasn't all that long 'til the Mouse came a-calling. Mickey wanted Dahlmann to shake things up in the kitchen over at WDW's Flying Fish Café. And he did such a good job with that Disney's Boardwalk eatery the next thing Jens knew, he was then being asked to work his magic with the menu at the Contemporary Resort's California Grill.
From there, Dahlmann had a relatively meteoric rise at the Mouse House. Once he became Epcot's Food & Beverage general manager, it was only a matter of time before he wound up as the executive chef in charge of this theme park's annual International Food & Wine Festival. Which – under Jens' guidance – experienced some truly explosive growth.
"When I took on Food & Wine, that festival was only 35 days long and had gross revenues of just $5.5 million. When I left Disney in 2016, Food & Wine was now over 50 days long and that festival had gross revenues of $22 million," Dahlmann admitted during a recent sit-down. "I honestly loved those 13 years I spent at Disney. When I was working there, I learned so much because I was really cooking for America."
And it was exactly that sort of experience & expertise that Darden wanted to tap into when they lured Jens away from Mickey last year to become LongHorn Steakhouse's new Vice President and Corporate Executive Chef. But today … Well, Dahlmann is offering tips to those of us who are thinking about cooking steak tips for the Fourth.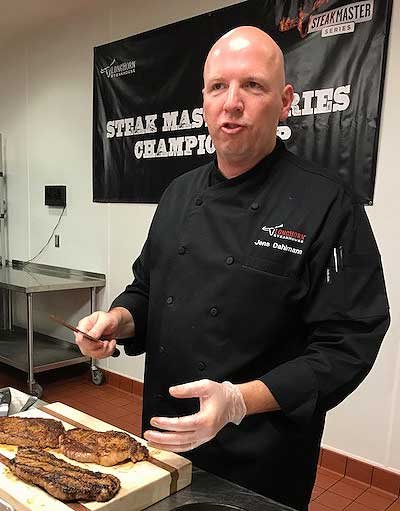 Photo by Jim Hill
"When you're planning on grilling this holiday, if you're looking for a successful result, the obvious place to start is with the quality of the meat you plan on cooking for your friends & family. If you want the best results here, don't be cheap when you go shopping. Spend the money necessary for a fresh filet or a New York strip. Better yet a Ribeye, a nice thick one with good marbling. Because when you look at the marbling on a steak, that's where all the flavor happens," Jens explained. "That said, you always have to remember that — the higher you go with the quality of your meat — the less time you're going to want that piece of meat to spend on the grill."
And speaking of cooking … Before you even get started here, Jens suggests that you first take the time to check over all of your grilling equipment. Making sure that the grill itself is first scraped clean & then properly oiled before you then turn up the heat.
"If you're working with a dirty grill, when you go to turn your meat, it may wind up sticking to the grill. Or maybe those spices that you've just so carefully coated your steak with will wind up sticking to the grill, rather than your meat," Dahlmann continued. "Which is why it's always worth it to spend a few minutes prior to firing up your grill properly cleaning & oiling it."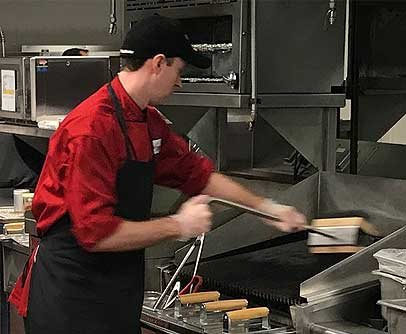 Photo by Jim Hill
And speaking of heat … Again, before you officially get started grilling here, Jens says that it's crucial to check your temperature gauges. Make sure that your char grill is set at 550 (so that it can then properly handle the thicker cuts of meat) and your flattop is set at 425 (so it can properly sear thinner pieces of meat).
Okay. Once you've bought the right cuts of quality meat, properly cleaned & oiled your grill, and then made sure that everything's set at the right temperature ("If you can only stand to hold your hand directly over the grill for two or three seconds, that's the right amount of heat," Dahlmann said), it's now time to season your steaks.
"Don't be afraid to be bold here. You can't be shy when it comes to seasoning your meat. You want to give it a nice coating. Largely because — if you're using a char grill — a lot of that seasoning is just going to fall off anyway," Jens stated. "It's up to you to decide what sort of seasoning you want to use here. Even just some salt & pepper will enhance a steak's flavor."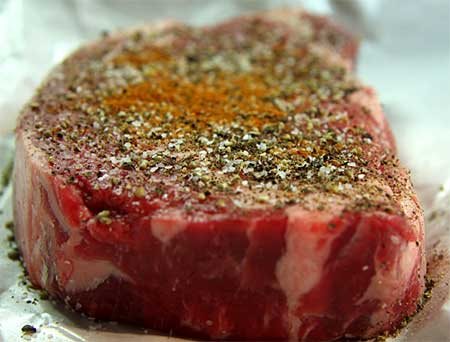 Then – according to Dahlmann – comes the really tough part. Which is placing your meat on the grill and then fighting the urge to flip it too early or too often.
"The biggest mistake that a lot of amateur cooks make is that they flip the steak too many times. The real key to a well-cooked piece of meat is just let it be, "Jens insisted. "Of course, if you're serving different cuts of meat at your Fourth of July feast, you always want to put your biggest thickest steak on the grill first. If you're also cooking a New York Strip, you want to put that one on a few minutes later. But after that, just let the grill do its job and flip your meat a total of three or four times, once every three minutes or so."
Of course, the last thing you want to do is overcook a quality piece of meat. Which is why Dahlmann suggests that – when it comes to grilling steaks – if you're going to err, err on the side of undercooking.
"You can always put a piece of meat back on the grill if it's slightly undercooked. When you over-cook something, all you can do then is start over with a brand-new piece of meat," Jens said. "Just be sure that you're using the correct cut of meat for the cooking result you're aiming for. If someone wants a rare or medium rare steak, you should go with a thicker cut of steak. If one of your guests wants their steak cooked medium or well, it's best to start with a thinner cut of meat."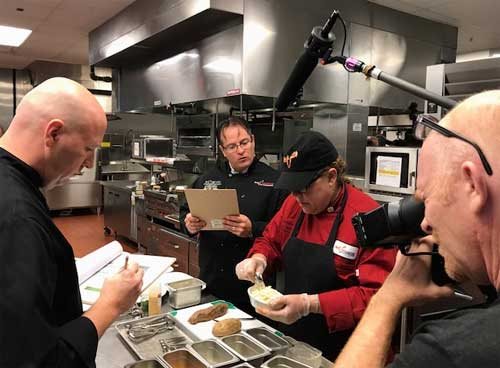 Photo by Jim Hill
As you can see, the folks at Longhorn take grilling steaks seriously. How seriously? Just last week at Darden Corporate Headquarters in Orlando, seven of these brand's top grill masters (who – after weeks of regional competitions – had been culled from the 491 restaurants that make up this chain) competed for a $10,000 prize in the Company's second annual Steak Master Series. And Dahlmann was one of the people who stood in Darden's test kitchens, watching like a hawk as each of the contestants struggled to prepare six different dishes in just 20 minutes according to Longhorn Steakhouse's exacting standards.
"I love that Darden does this. Recognizing the best of the best who work this restaurant," Jens concluded. "We have a lot of people here who are incredibly knowledgeable & passionate when it comes to grilling."
Speaking of which … If today's story doesn't include the exact piece of info that you need to properly grill that T-bone, just whip out your iPhone & text GRILL to 55702. Or – better yet – visit ExpertGriller.com prior to firing up your grill or smoker later today.
This article was originally published by the Huffington Post on Tuesday, July 4, 2017
Brattleboro's Strolling of the Heifers is a sincere if somewhat surreal way to spend a summer's day in Vermont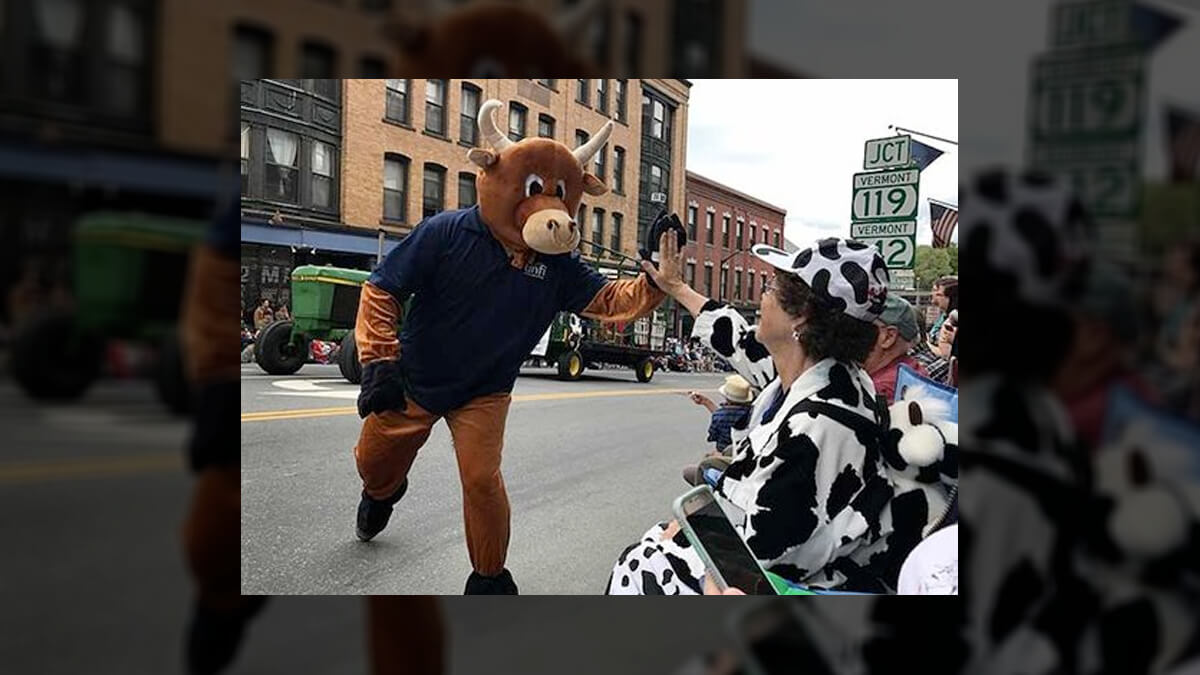 Some people travel halfway 'around the planet so that they can then experience the excitement of the Running of the Bulls in Pamplona. If you're more of a Slow Living enthusiast (as I am), then perhaps you should amble to Brattleboro, VT. Where – over the first weekend in June – you can then join a herd of cow enthusiasts at the annual Strolling of the Heifers.
Now in its 16th year, this three-day long event typically gets underway on Friday night in June with a combination block party / gallery walk. But then – come Saturday morning – Main Street in Brattleboro is lined with thousands of bovine fans.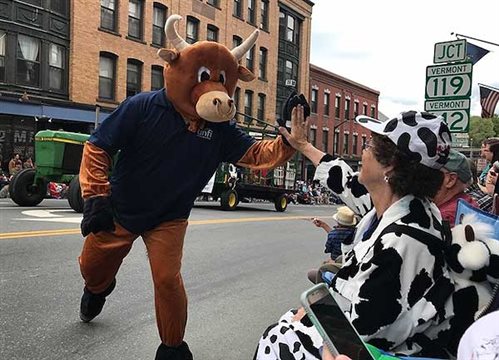 Photo by Jim Hill
They've staked out primo viewing spots and set up camp chairs hours ahead of time. Just so these folks can then have a front row seat as this year's crop of calves (which all come from local farms & 4-H clubs) are paraded through the streets.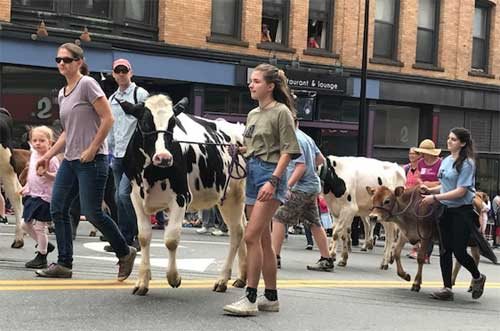 Photo by Jim Hill
Viewed from curbside, Strolling of the Heifers is kind of this weird melding of a sincere small town celebration and Pasadena's Doo Dah Parade. Meaning that – for every entry that actually acknowledged this year's theme (i.e. "Dance to the Moosic") — …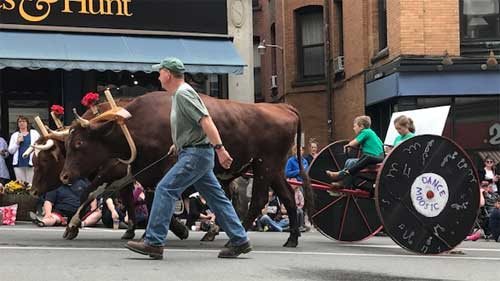 Photo by Jim Hill
… there was something completely random, like this parade's synchronized shopping cart unit.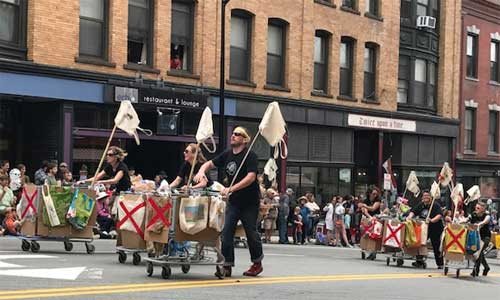 Photo by Jim Hill
And for every piece of authentic Americana (EX: That collection of antique John Deere tractors that came chugging through the city) …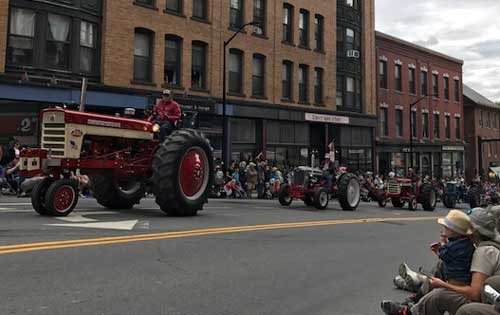 Photo by Jim Hill
… there was something silly. Like – say – a woman dressed as a Holstein pushing a baby stroller through the streets. And riding in that stroller was a pig dressed in a tutu.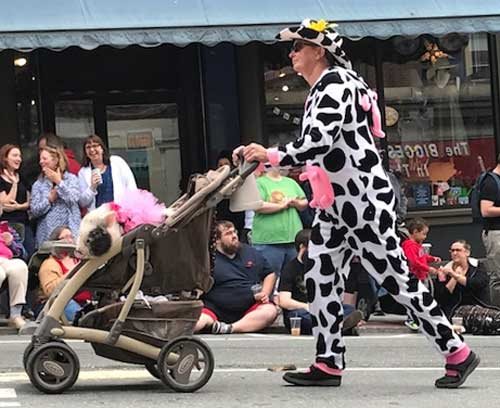 Photo by Jim Hill
And given that this event was being staged in the Green Mountain State & all … Well, does it really surprise you to learn that — among the groups that marched in this year's Strolling of the Heifers – was a group of eco-friendly folks who, with their chants of "We're Number One !," tried to persuade people along the parade route not to flush the toilet after they pee. Because – as it turns out – urine can be turned into fertilizer.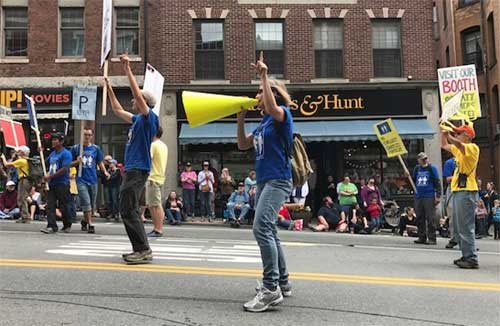 Photo by Jim Hill
And speaking of fertilizer … At the tail end of the parade, there was a group of dedicated volunteers who were dealing with what came out of the tail end of all those cows.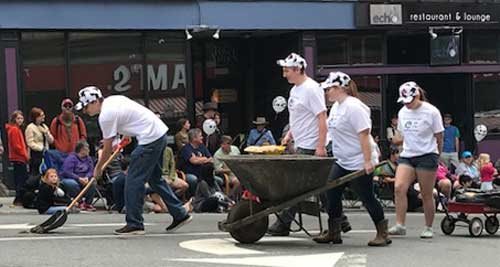 Photo by Jim Hill
This year's Strolling of the Heifers concluded at the Brattleboro town common. Where event attendees could then get a closer look at some of the featured units in this year's parade…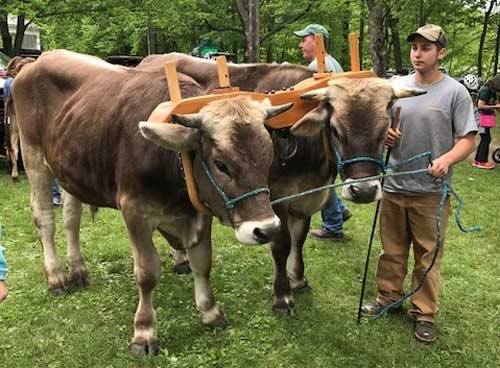 Photo by Jim Hill
… or perhaps even pet a few of the participants.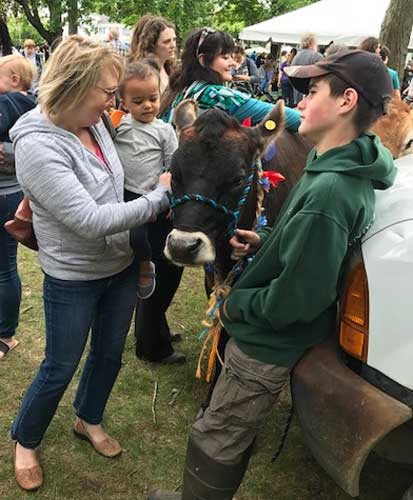 Photo by Jim Hill
But as for the 90+ calves who took part in the 2017 edition of Strolling of the Heifers, once they reached the town common, it was now time for a nosh or a nap.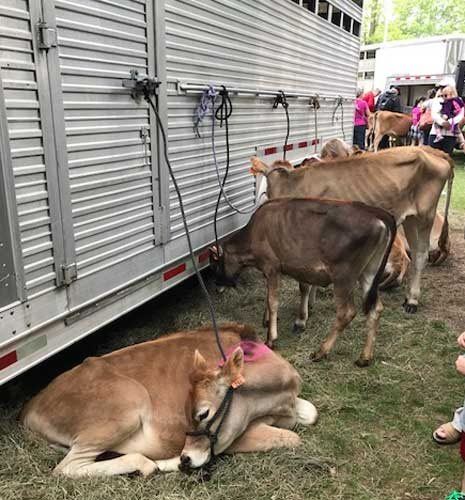 Photo by Jim Hill
Elsewhere on the common, keeping with this year's "Dance to the Moosic" theme, various musical groups performed in & around the gazebo throughout the afternoon.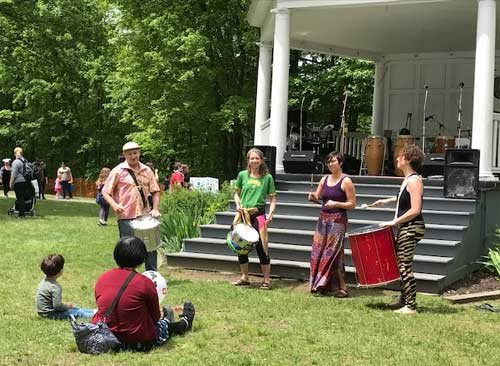 Photo by Jim Hill
While just across the way – keeping with Brattleboro's tradition of showcasing the various artisans who live & work in the local community – some pretty funky pieces were on display at the Slow Living Exposition.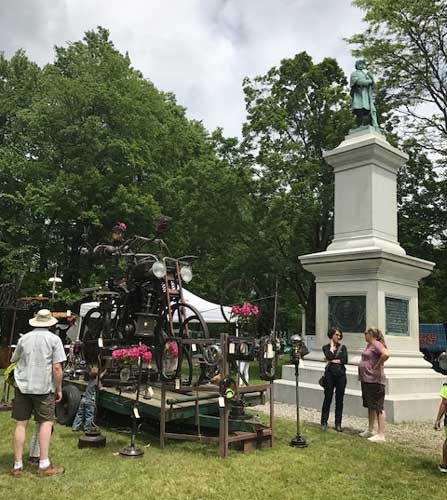 Photo by Jim Hill
All in all, attending Strolling of the Heifers is a somewhat surreal but still very pleasant way to spend a summer's day in Vermont. And that's no bull.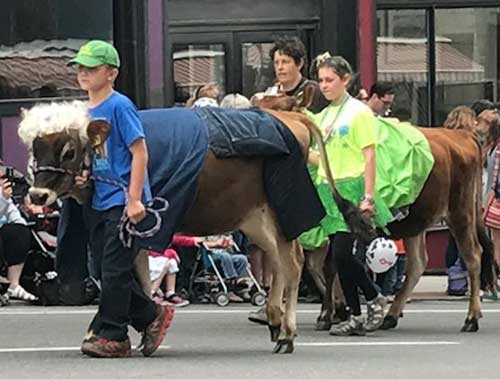 Photo by Jim Hill
Well, that could be a bull. To be honest, what with the wig & all, it's kind of hard to tell.
This article was originally published by the Huffington Post on Sunday, June 4, 2017
Looking to make an authentic Irish meal for Saint Patrick's Day? If so, then chef Kevin Dundon says not to cook corned beef & cabbage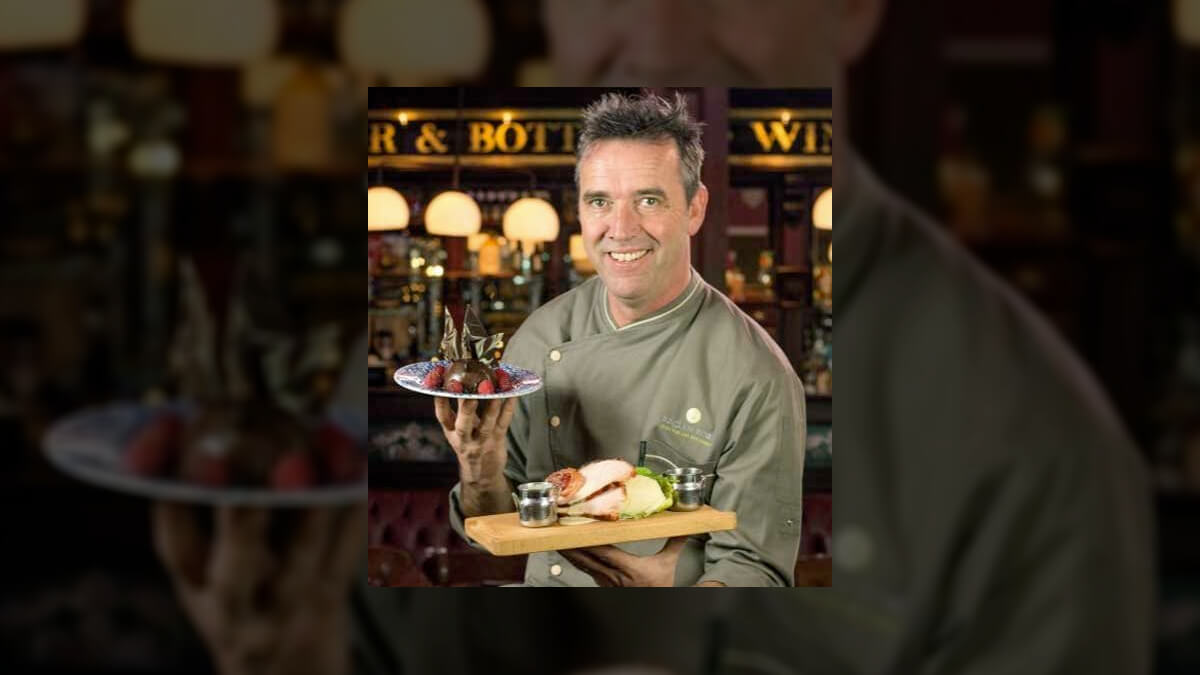 Let's at least start on a positive note: Celebrated chef, author & TV personality Kevin Dundon – the man that Tourism Ireland has repeatedly chosen as the Face of Irish Food – loves a lot of what happens in the United States on March 17th.
"I mean, look at what they do in Chicago on Saint Patrick's Day. They toss all of this vegetable-based dye into the Chicago River and then paint it green for a day. That's terrific," Kevin said.
But then when it comes to what many Americans eat & drink on St. Paddy's Day (i.e., a big plate of corned beef and cabbage. Which is then washed down with a mug of green beer) … Well, that's where Dundon has to draw the line.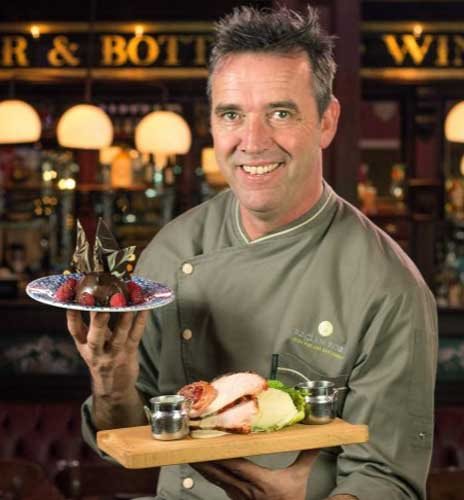 Irish celebrity chef Kevin Dundon displays a traditional Irish loin of bacon with Colcannon potatoes and a Dunbrody Kiss chocolate dessert. Photo by Tom Burton. Copyright Disney Enterprises, Inc. All rights reserved
"Green beer? No real Irishman would be caught dead drinking that stuff," Kevin insists. "And as for eating corned beef & cabbage … That's not actually authentic Irish fare either. Bacon and cabbage? Sure. But corned beef & cabbage was something that the Irish only began eating after they'd come to the States to escape the Famine. And even then these Irish-Americans only began serving corned beef & cabbage to their friends & family because they had to make do with the ingredients that were available to them at that time."
And thus begins the strange tale of how corned beef & cabbage came to be associated with the North American celebration of Saint Patrick's Day celebration. Because – according to Dundon – beef just wasn't all that big a part of the Irish diet back in the 19th century.
To explain: Back in the Old Country, cattle – while they were obviously highly prized for the milk & cheese that they produced – were also beasts of burden. Meaning that they were often used for ploughing the fields or for hauling heavy loads. Which is why – back then — these animals were rarely slaughtered when they were still young & healthy. If anything, land owners liked to put a herd of cattle on display out in one of their pastures because that was then a sign to their neighbors that this farm was prosperous.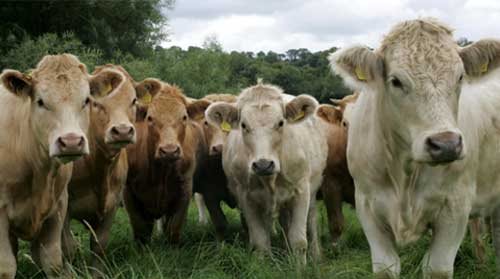 "Whereas pork … Well, everybody raised pigs back then. Which is why pork was a staple of the Irish diet rather than beef," Dundon continued.
So if that's what people actually ate back in the Old Country, how then did corned beef & cabbage come to be so strongly associated with Saint Patrick's Day in the States.? That largely had to do with where the Irish wound up living after they arrived in the New World.
"When the Irish first arrived in America following the Great Famine, a lot of them wound up living in the inner city right alongside the Germans & the Jews, who were also recent immigrants to the States. And while that farm-fresh pork that the Irish loved wasn't readily available, there was brisket. Which the Irish could then cure by first covering this piece of meat with corn kernel-sized pieces of rock salt – that's how it came to be called corned beef. Because of the sizes of the pieces of rock salt that were used in the curing process – and then placing all that in a pot of water with other spices to soak for a few days."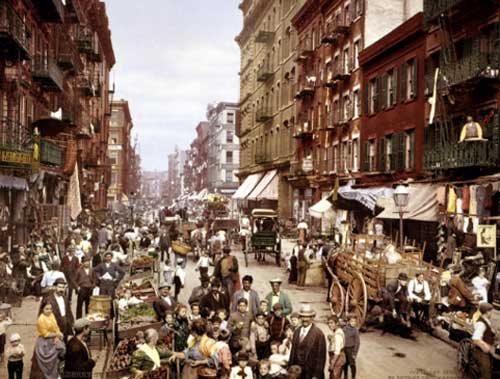 And as for the cabbage portion of corned beef & cabbage … Well, according to Kevin, in addition to buying their meat from the kosher delis in their neighborhood, the Irish would also frequent the stores that the German community shopped in. Where – thanks to their love of sauerkraut (i.e., pickled cabbage) – there was always a ready supply of cabbage to be had.
"So when you get right down to it, it was the American melting pot that led to corned beef & cabbage being found in the Irish-American cooking pot," Dundon continued. "Since they couldn't find or didn't have easy access to the exact same ingredients that they had back in Ireland, Irish-Americans made do with what they could find in the immediate vicinity. And what they made was admittedly tasty. But it's not actually authentic Irish fare."
Mind you, what Kevin serves at Raglan Road Irish Pub and Restaurant at Disney Springs (which – FYI – Orlando Magazine voted as the area's best restaurant back in 2014) is nothing if not authentic. Dundon and his team at this acclaimed gastropub pride themselves on making traditional Irish fare and then contemporized it.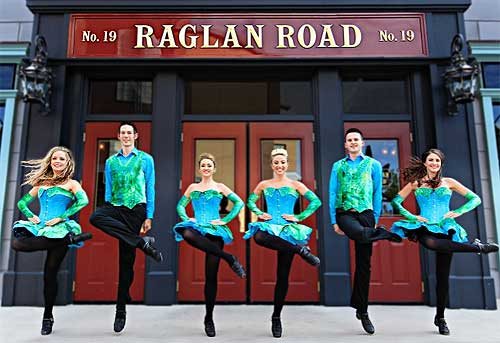 Copyright Disney Enterprises, Inc. All rights reserved
"Take – for example – what we serve here instead of corned beef & cabbage. Again, because it was pork – rather than beef – that was the true staple of the Irish diet back then, what we offer instead is a loin of bacon that has been glazed with Irish Mist. That then comes with colcannon potatoes. Which is this traditional Irish dish that's made up of mashed potato that have had some cabbage & bacon mixed through it," Kevin enthused. "This heavenly ham – that's what we actually call this traditional Irish dish at Raglan Road, Kevin's Heavenly Ham – also includes some savory cabbage with a parsley cream sauce as well as a raisin cider jus. It's simple food. But because of the basic ingredients – and that's the real secret of Irish cuisine. That our ingredients are so strong – the flavors just pop off the plate."
Which brings us to the real challenge that Dundon and the Raglan Road team face every day. Making sure that they actually have all of the ingredients necessary to make this traditional-yet-contemporized Irish fare to those folks who frequent this Walt Disney World favorite.
"Take – for example – the fish we serve here. We only used cold water fish. Salmon, mussels and haddock that have been hauled out of the Atlantic, the ocean that America and Ireland share," Kevin stated. "Not that there's anything wrong with warm water fish. It's just that … Well, it doesn't have the same structure. It's a softer fish, which doesn't really fit the parameters of Irish cuisine. And if you're going to serve authentic food, you have to be this dedicated when it comes to sourcing your ingredients.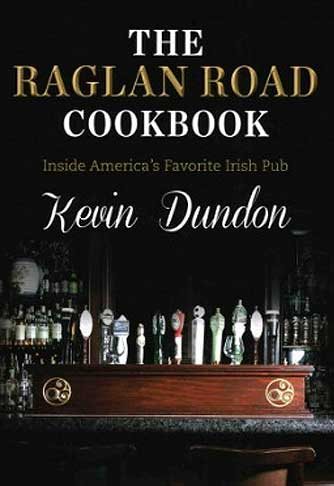 Copyright Mitchell Beazley. All rights reserved
And if you're thinking of perhaps trying to serve an authentic Irish meal this year, rather than once again serving corned beef & cabbage at your Saint Patrick's Day Feast … Well, back in September of last year, Mitchell Beazley published "The Raglan Road Cookbook: Inside America's Favorite Irish Pub." This 296-page hardcover not only includes the recipe for Kevin's Heavenly Ham but also it tells the tale of how this now-world-renown restaurant wound up being built in Orlando.
On the other hand, if you happen to have to the luck of the Irish and are actually down at The Walt Disney World Resort right now, it's worth noting that Raglan Road is right in the middle of its Mighty St. Patrick's Day Festival. This four day-long event – which includes Irish bands and professional dancers – stretches through Sunday night. And in addition to all that authentic Irish fare that Dundon and his team are cooking up, you also sample the fine selection of beers & cocktails that this establishment's four distinct antique bars (each of which are more than 130 years old and were imported directly from Ireland) will be serving. Just – As ucht Dé (That's "For God's Sake" in Gaelic) – don't make the mistake of asking the bartender there for a mug of green beer.
"Why would anyone willingly drink something like that?," Dundon laughed. "I mean, just imagine what their washroom will look like the morning after."
This article was originally published by the Huffington Post on Friday, March 17, 2017