Disney Deja View: Sorting out the sequels V
JHM guest columnist Dan Weckerly continues his multi-part series on the various film series that Walt Disney Studios has produced over the years.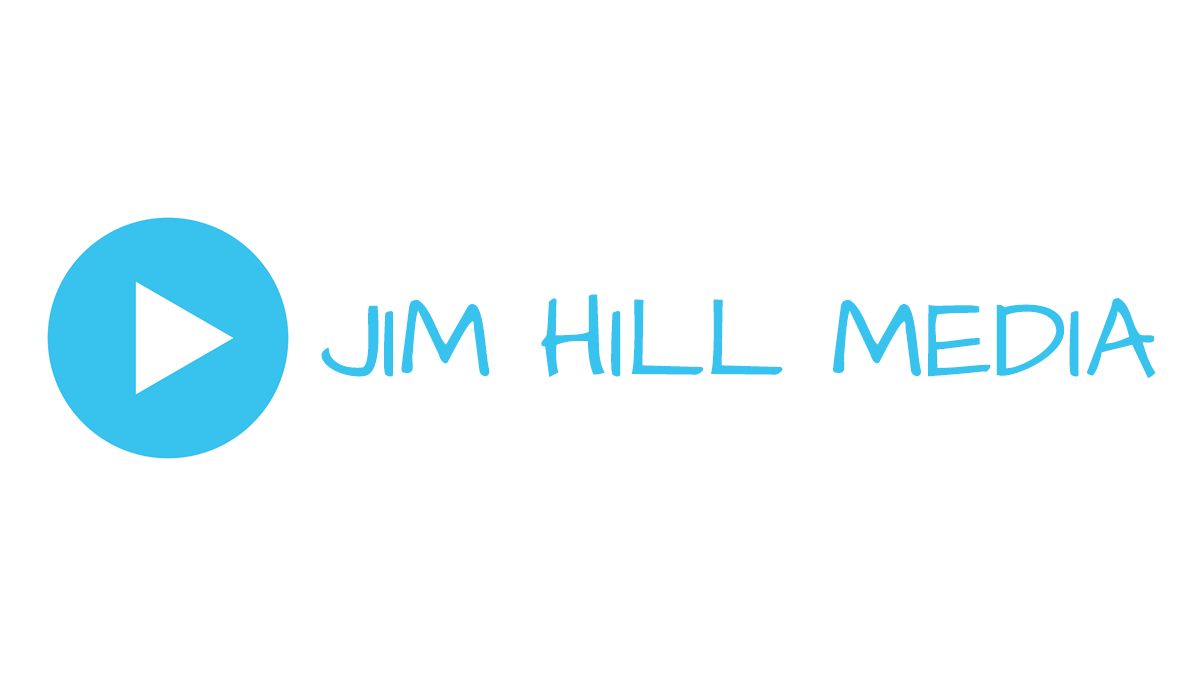 Something Fishy
Disney recaptured the magic of its animated classics in 1989 with "The Little Mermaid," a fanciful, bright, witty, tuneful, upbeat update on the Hans Christian Andersen original story. Ariel (Jodi Benton) gets more than she wished for when she asks for legs from the evil Sea Witch (Ursula) to spite her mer-father, King Triton (Kenneth Mars), and pursue a human love interest. A slew of seaside friends, including a daffy seagull (Buddy Hackett) and a calypso crab (Samuel E. Wright) make sure everything lands happily ever after.
"The Little Mermaid" sent shockwaves throughout the industry: Disney animation was back in a *huge* way, and the phenomenon was pulling in audiences from every demographic. Moviegoers loved spunky Ariel, and the Broadway-style presentation of the story had them literally applauding in the aisles.
Milking the concept, the Studio released a DTV sequel "The Little Mermaid II: Return to the Sea" in 2000. Luckily, most of the vocal cast is intact, but the muddy plot turns the original inside-out. Ariel and Eric have married and produced a daughter, but she wishes she were a mer-kid rather than a human. It doesn't take long for Ursula the Sea Witch to happen by and grant the request.
The animation is passable and the performances are adequate, but among the missing puzzle pieces in the sequel is a memorable score. The Menken/Ashman brilliance in the original has been replaced by five (count 'em) other tunesmiths, none of whom contribute much that is worthwhile.
Ringing Belles
Advertiser
"Once upon a time, in a faraway land, a young prince lived in a shining castle." So begins the narrator in "Beauty and the Beast" (1991), the only animated feature ever to be nominated (rightfully) for Best Picture. The plot is familiar but has been contemporized slightly: Belle (Paige O'Hara) is a headstrong bookworm. In escaping the man she's *supposed* to marry — the lout Gaston (Richard White) — she finds the Beast (Robbie Benson), a tortured creature living out a cursed existence. She falls in love with the unlikely suitor, to the delight of the rest of the household, namely a teapot (Angela Lansbury), a candelabra (Jerry Orbach), and a mantle clock (David Ogden Stiers), who are also living the curse.
"BATB: The Enchanted Christmas" came on the DTV market in 1997. It was the first "mid-quel," meaning neither a sequel nor a prequel, covering details merely glossed over in the original film. We see Belle's winter at the Beast's castle, specifically the Christmas they spent together. There's the usual blather about learning the "True Meaning of Christmas," but Tim Curry provides some fun as the Beast's evil pipe organ.
An animated series was considered for Belle/Beast, but when plans were scotched, the DTV market got three episodes strung together clumsily in "BATB: Belle's Magical World" (1998). The special edition DVD added one more story to pad the running time to 92 minutes, but the powers that be at Disney may well have not even bothered.
Three Wishes
Another outta-the-park box office giant was released in 1992 with "Aladdin." Here, the computer imagery was stunning and extensive — not only producing such eye-popping backgrounds such as those used in the escape from the Cave of Wonders (which plays like a thrilling theme-park ride) but also the characters themselves, notably the magic carpet. Also pulling in audiences by the aisle-ful was Robin Williams as the manic Genie of the Lamp. His ad libs were fast and furious (and more than a little anachronistic and dated), and only the quick pens of the Disney animators could keep up with them.
"Return of Jafar" went direct-to-video in 1994, filling in further chapters in the story of Al and Jasmine. They are about to be married, but the vexed Jafar, captive in his lamp from the original film, is released and bent on revenge.
The biggest asset in the first film — Robin Williams — becomes the biggest liability in the second, because he chose not to participate, owing to a contract dispute. Who, then to replace him? The Studio went for Dan Castellaneta, of "The Simpson's" fame. Castellaneta tries hard, but he's a far comparison for the rapid-fire stream of consciousness of Williams. The trimmed budget is also reflected in the look and feel of the film, which is flat and listless. Regardless, on the strength of the original movie alone, "Return of Jafar" sold 10.5 million copies, becoming the best-selling DTV release ever at that time. Around the same time, "Aladdin" was brought to the Disney Channel as a series.
"Aladdin and the King of Thieves" hit the home vid market in 1996. Back was the rapid-fire comedy of Robin Williams. The plot brings Jasmine and Al closer to their actual wedding, interrupts the nuptials with an appearance by the 40 Thieves, and introduces Al's pop, Cassim. Although the animation remains of lower quality, the storyline takes a slight jump in quality from "Jafar."
An Avalanche from Pride Rock
"Hamlet," with a heavy dose of "Bambi" thrown in was how "The Lion King" (1994) was perceived. Regardless of the inspiration, the Disney Studios hit another home run with its African Lion. Again, the supporting characters, Pumbaa (Ernie Sabella) and Timon (Nathan Lane) were standouts. And a fantastic score helped bound box office returns north of $300 million when all was said and done. Is it any wonder the decision to tell us more about Pride Rock was made?
In 1995, Timon and Pumbaa got their own TV series. Ernie Sabella returned for the role of the porky one, but Nathan Lane was replaced.
1998's "The Lion King II: Simba's Pride" at least dealt with Simba (somewhat) rather than the sidekicks. In this direct-to-video sequel, Kiara (Neve Campbell) meets the Pride Outcasts and befriends Kovu (Jason Marsden), unbeknownst to her that he and his mother, Zira (Suzanne Pleshette) have been plotting revenge for years. One question for the makers of this re-do: Who casts the gentle Mrs. Bob Hartley as a villain?
One more sequel was born in 2004, the interesting and experimental "The Lion King 1½." The makers decided to retell Simba's story from the perspective of Timon (Nathan Lane again) and Pumbaa (Ernie Sabella again), but this time, turn the legend on its tawny, tufted ear. Full of metahumor and irreverence, "LK v.1.5" was a breath of fresh air in a sea of Disney sequels that were blandly forgettable and wholly unnecessary.
Colors of the Rewind
The look and feel of Pocahontas (1995) is more 'West Side Story" than historical drama, but the movie benefited from some terrific animation and an Oscar-winning main tune. Once more, it was the comic relief of the secondary characters (Flit, Percy, Meeko) who kept the youngsters in the audience from getting too antsy. $141 million in ticket sales meant a sequel was almost a certainty from the start.
Direct-to-video "Pocahontas II: Journey to a New World" (1998) takes the Indian princess to England, where, clearly, she does not fit in. Flit, Meeko, and Percy are along for the ride, but the flat quality to the animation and the tired theme of Poc-as-ambassador make this a DTV must-have for only the most ardent fans.
Toys to the World
Fast, funny, bright, innovative, evocative, and striking universal chords among the younger set and their boomer parents, Toy Story (1995), was a deserved box office smash. Pixar studios had finally reached a level where their computers and animation programs could handle a full-length feature, and what resulted was both eye-popping and well-scripted and -acted. The last act has a sequence that is downright disturbing, like something from Tod Browning's "Freaks," but audiences adored it, and Walt would surely have approved.
"Toy Story 2" popped out of its (toy) box in 1999, a true rarity: a sequel that works. It was intended to go DTV, but when early scenes worked so well, the big-screen treatment was okayed. By shifting the focus from Buzz (Tim Allen) to Woody (Tom Hanks) and layering on familiar touch points like the eBay craze of buying and collecting vintage toys, "TS2" stands tall next to its original. The sequel also tugged at our heartstrings, with Sarah McLaughlan's ode "When She Loved Me" as a Kleenex-necessary highlight.
Hyucks!
"A Goofy Movie" (1995) deals with the TV show suburban-Goofy (Bill Farmer), not the cinematic sportsman-Goofy of the shorts of the 1940s and 50s. The Goof's son, Max (Jason Marsden), makes a last-day-of-school promise to his girlfriend, Roxanne (Kellie Martin). Max gets swept away in a cross-country road trip with his dear ol' bumbling Dad, but they eventually cross paths with a disco-dancing Bigfoot and the mega-group PowerLine, where Max finally has a chance to make good — if Goofy can stay out of the way long enough.
Inside jabs with "AGM" make it more entertaining than expected, especially a funny roasting of the Disney Theme parks' Country Bear Jamboree audio-animatronics.
"An Extremely Goofy Movie" looks and feels DTV but saw a theatrical release in 2000. It plays like Rodney Dangerfield's "Back to School," without the raunch (this *is* Disney, after all). Max and Goof sharing a dorm room at college, where they prep for some Olympic-style games and Goofy finds a soul-mate.
Hunches in Bunches
The Tin Pan Alley approach to Disney animated features continued as the 1990s wore on, but source material was beginning to become a problem. New ideas, apparently, were scant; therefore the decision to revisit known properties — begun with the historically themed "Pocahontas" — continued with the literary-inspired "The Hunchback of Notre Dame" (1996). To make the story "more palatable" to children (or avoid poking a stick at the beehive of religious institutions, some of whom were already in an angry buzz over WDC), Archdeacon Frollo is changed to Judge Frollo. Most of the Victor Hugo story stays relatively intact, except for his tragic ending… oh, and three talking gargoyle sidekicks.
The artistry — for whatever its role in making the original "HOND" memorable — was completely gone in the DTV sequel in 2002. The plot was a rehash, the animation was clunky and ugly, and the songs insufferable.
I'll Make a Sequel Out of You
Girl-power was the theme of the day with the Disney take on the Chinese legend of a warrior princess who disguises herself as a man to take her ailing father's place on the Hun battlefield in "Mulan" (1998). Fluid animation (completely from the Florida animation studio, R.I.P.), noteworthy songs, and detailed backgrounds — as well as an anachronistic but humorous dragon sidekick from Eddie Murphy — helped make the movie a hit.
But betting that we'd want, as Paul Harvey puts it, "…the *rest* of the story," "Mulan II" appeared DTV in 2004. The story's much thinner (involving the escort of princesses necessary for an alliance), as is the animation budget and the musical score. Murphy, now playing a wisecracking sidekick in the "Shrek" franchise over at Dreamworks, was replaced as Mushu, with middling results. "MII" isn't as unbearable as some of the other DTV installments, but it's not exactly a must-own, either.
Hollywood and Vines
More literary inspiration for animation begat "Tarzan" (1999), with song-writing duties handed over to Phil Collins. Technology took the Studio on another leap forward as mere computer-aided backgrounds were fully realized in Deep Canvas depth. They fit the story of Lord Greystoke perfectly, as he swung around, through, and over his lush jungle setting.
In 2001, the ape man and his jungle pals came to the small screen in "The Legend of Tarzan." Three of these dreary episodes were packaged with some bridging animation in "Tarzan and Jane," released on video in 2002. None of the original cast from the film was involved, and it showed.
"Tarzan" got yet another DTV treatment in the 2005 mid-quel, neither sequel nor prequel. It tries to fill in some missing details from the original — as if anyone missed them in the first place. We see more of Tar's growing-up and the issues he faced — wasn't this all covered in 1999? – and although some of the strong original cast has returned and Phil Collins lends more tunes, it's all a rather pale imitation.
A Tizzy of Lizzies
In its quest to dominate the middle-school market with Disney Channel programming, the Studio created "Lizzie McGuire" (2001) a *** comedy/soap. The show survived by sticking to mostly inoffensive "safe" themes, by creating a sweet-as-pie central character (played by Hilary Duff), and by inserting animated pop-ups to heighten the comedy and give Lizzy a clever way to engage in her internal monologues. The show became a merchandising workhorse, selling CDs, posters, games, toys, dolls, etc.
The Junior Hi crowd got a big-screen opportunity in "The Lizzie McGuire Movie" (2003), when they all traipsed off to Italy to find adventure and romance. Critics blanched, but the prepubescent set broke into their piggy banks to the tune of $42 million.
Lizzie's TV antics continue to be repackaged and released on video.
Digging for Gold
Disney sci-fi has been hit/miss in the live action realm ("20,000 Leagues under the Sea"? Hit. "The Island at the Top of the World"? Miss), but the genre had never really gotten an animated feature from the Studio until "Atlantis: The Lost Empire" (2001). Adventurer Milo Thatch (Michael J. Fox) and a scrappy crew set off to find — what else? — the lost city of Atlantis. Along the way, there is treachery and danger and a li'l cross-cultural romance. The style of the film is a departure from Disney of the 1990s, where every feature had a Great White Way feel and a gang of comic side-kicks, but it also was decidedly downbeat and rather hard to follow for the under-10s in the audience.
"Atlantis: Milo's Return" (2003) was a three-play of Atlantis-related vignettes, strung together for DTV length. With most of the vocal cast gone and none of the budget to recreate the detail of the original, this "Atlantis" sinks pretty quickly.
In Stitches
Another franchise came to light with the original story "Lilo & Stitch" (2002). Set in Hawaii and using an ice cream parlor of soft colors, the movie was a breath of fresh air, turning the "E.T." story comically on its ear. Lilo, a lonely parentless girl, befriends Stitch, an intergalactic escapee and defends him against a steadfast bounty hunter. The film was bright, fresh, funny, and tuneful, making liberal use of original Elvis songs.
The film was serialized in 2003 on the small screen with "Lilo & Stitch: The Series" (it was kicked off with a DTV release, "Stitch, the Movie"). The genetic experimentation that resulted in Stitch has also produced other weird offspring, and the series followed the continued efforts to reign in these creatures. The episodic structure made for a good television cartoon.
2005 brought the DTV "Lilo & Stitch 2: Stitch Has a Glitch." Seems some programming errors have been plaguing Lilo's pal, and something must be done about it. The movie involves a hula competition for Lilo (now played by Dakota Fanning, taking over for Daveigh Chase) and an almost tragic ending to Experiment 626. But the engaging Elvis soundtrack remains.
Next up: Some final thoughts on Disney and its sequelization/remakifying.
Seward Johnson bronzes add a surreal, artistic touch to NYC's Garment District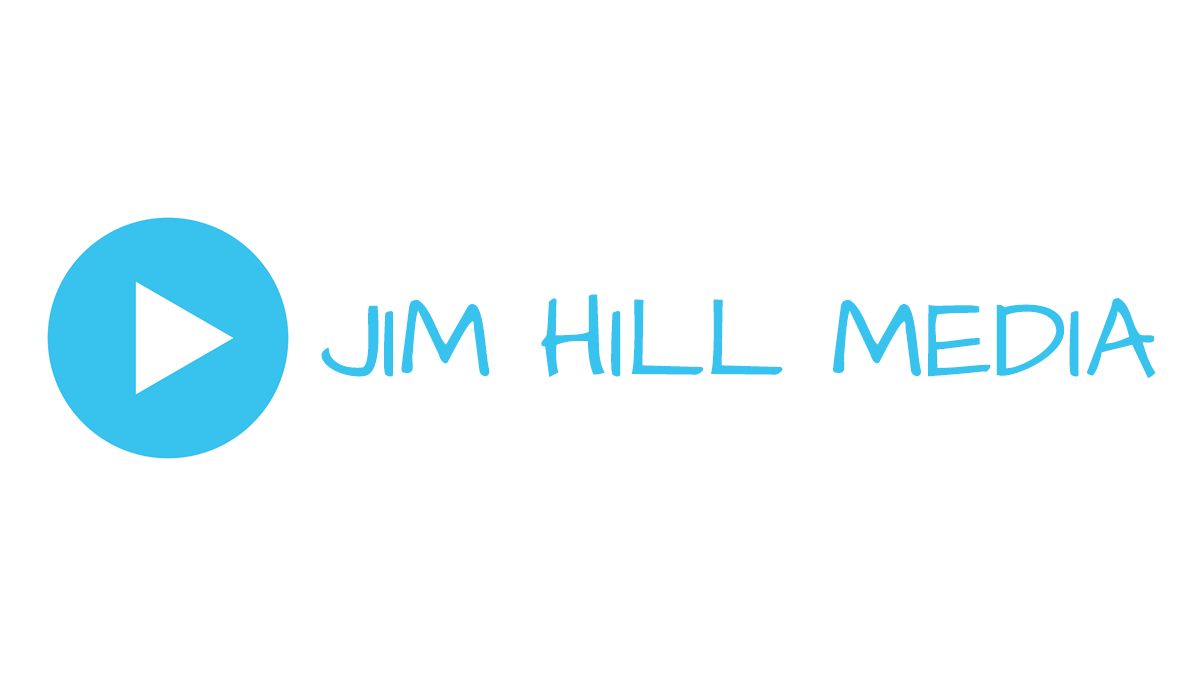 Greetings from NYC. Nancy and I drove down from New
Hampshire yesterday because we'll be checking out
Disney Consumer Products' annual Holiday Showcase later today.
Anyway … After checking into our hotel (i.e., The Paul.
Which is located down in NYC's NoMad district), we decided to grab some dinner.
Which is how we wound up at the Melt Shop.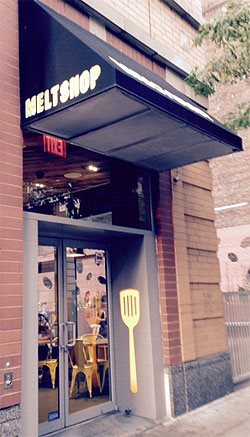 Photo by Jim Hill
Which is this restaurant that only sells grilled cheese sandwiches.
This comfort food was delicious, but kind of on the heavy side.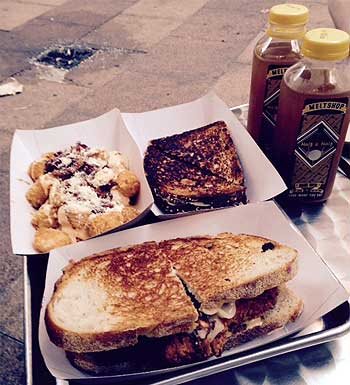 Photo by Jim Hill
Which is why — given that it was a beautiful summer night
— we'd then try and walk off our meals. We started our stroll down by the Empire
State Building
…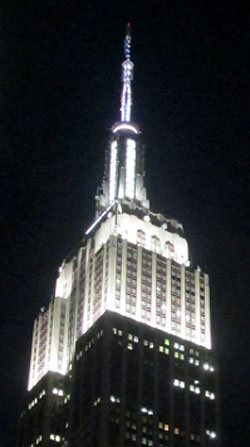 Photo by Jim Hill
… and eventually wound up just below Times
Square (right behind where the Waterford Crystal Times Square New
Year's Eve Ball is kept).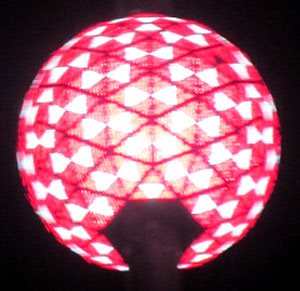 Photo by Jim Hill
But you know what we discovered en route? Right in the heart
of Manhattan's Garment District
along Broadway between 36th and 41st? This incredibly cool series of life-like
and life-sized sculptures that Seward
Johnson has created.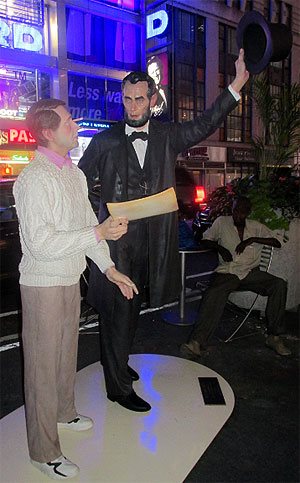 Photo by Jim Hill
And — yes — that is Abraham Lincoln (who seems to have
slipped out of WDW's Hall of Presidents when no one was looking and is now
leading tourists around Times Square). These 18 painted
bronze pieces (which were just installed late this past Sunday night / early
Monday morning) range from the surreal to the all-too-real.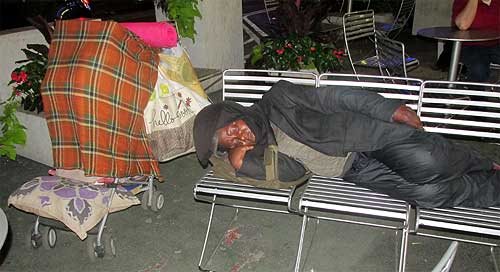 Photo by Jim Hill
Some of these pieces look like typical New Yorkers. Like the
business woman planning out her day …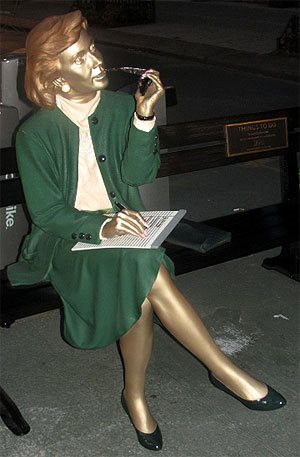 Photo by Jim Hill
… the postman delivering the mail …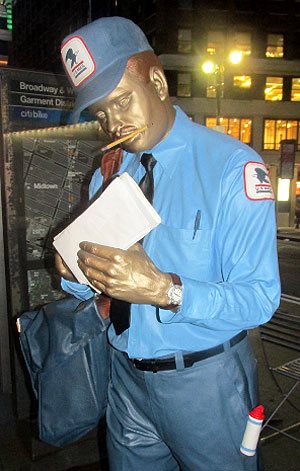 Photo by Jim Hill
… the hot dog vendor working at his cart …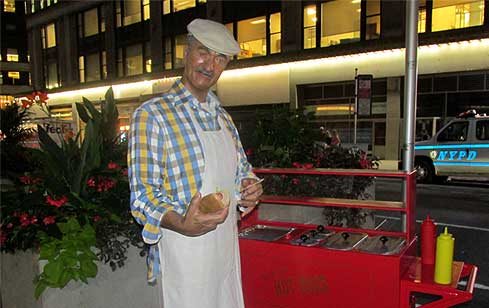 Photo by Jim Hill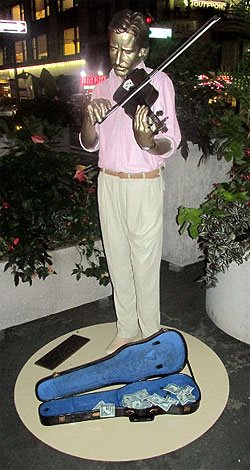 Photo by Jim Hill
… the street musician playing for tourists …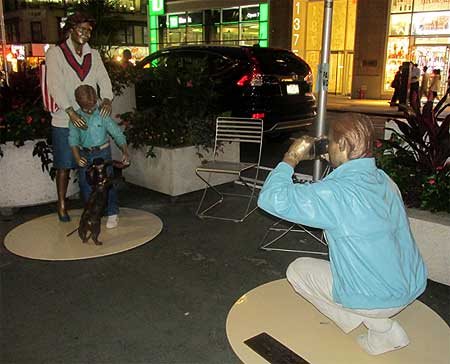 Photo by Jim Hill
Not to mention the tourists themselves.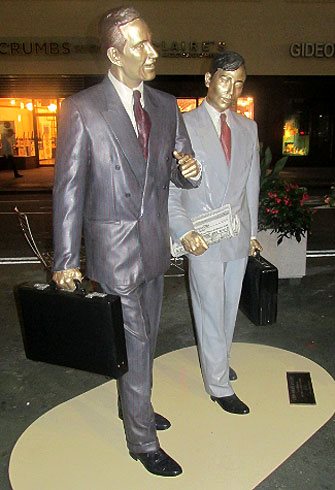 Photo by Jim Hill
But right alongside the bronze businessmen …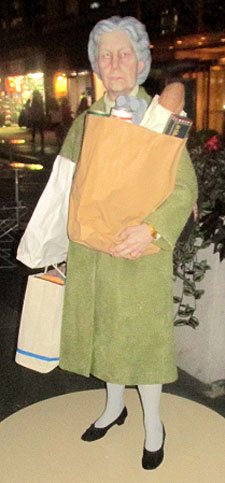 Photo by Jim Hill
… and the tired grandmother hauling her groceries home …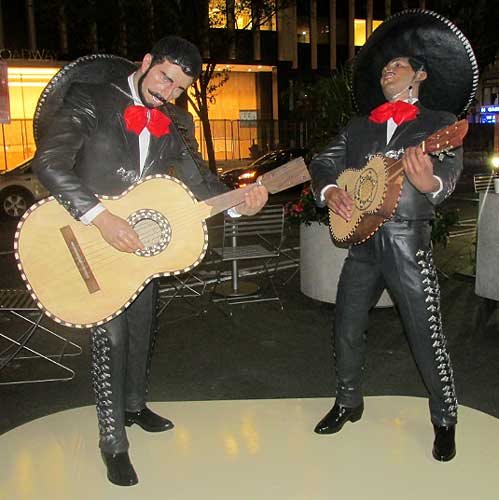 Photo by Jim Hill
… there were also statues representing people who were
from out-of-town …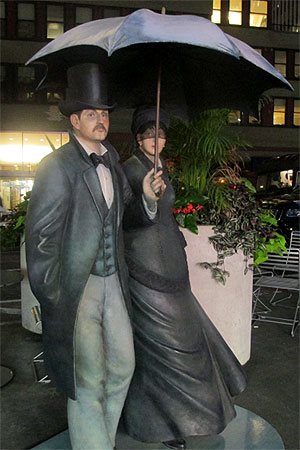 Photo by Jim Hill
… or — for that matter — out-of-time.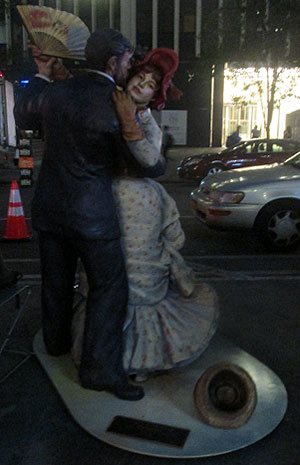 Photo by Jim Hill
These were the Seward Johnson pieces that genuinely beguiled. Famous impressionist paintings brought to life in three dimensions.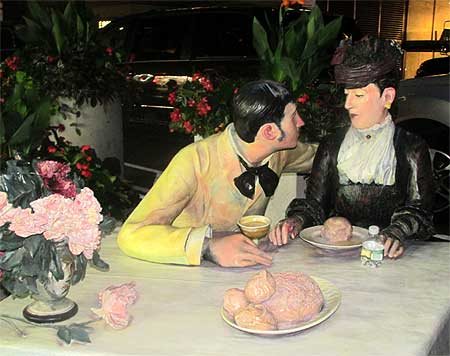 Note the out-of-period water bottle that some tourist left
behind. Photo by Jim Hill
Some of them so lifelike that you actually had to pause for
a moment (especially as day gave way to night in the city) and say to yourself
"Is that one of the bronzes? Or just someone pretending to be one of these
bronzes?"
Mind you, for those of you who aren't big fans of the
impressionists …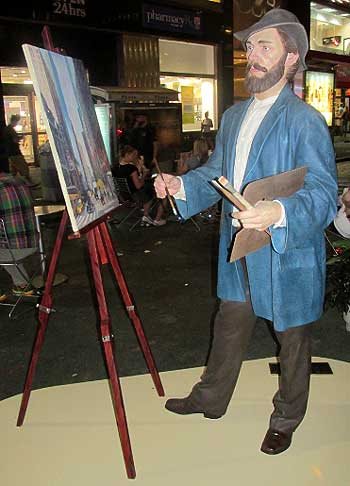 Photo by Jim Hill
… there's also an array of American icons. Among them
Marilyn Monroe …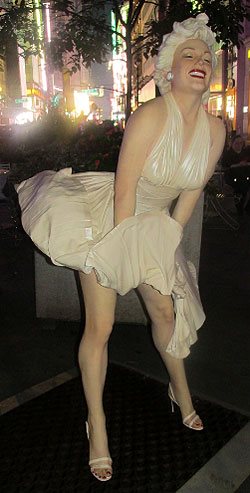 Photo by Jim Hill
… and that farmer couple from Grant Wood's "American
Gothic."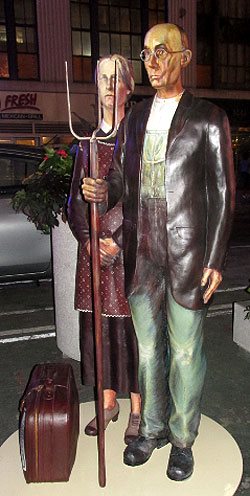 Photo by Jim Hill
But for those of you who know your NYC history, it's hard to
beat that piece which recreates Alfred Eisenstaedt's famous photograph of V-J Day in Times Square.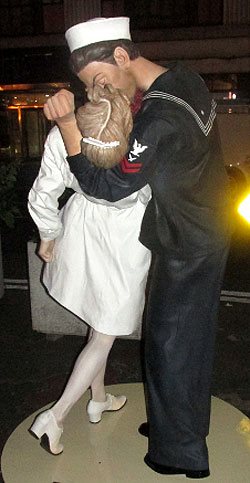 Photo by Jim Hill
By the way, a 25-foot-tall version of this particular Seward
Johnson piece ( which — FYI — is entitled "Embracing Peace") will actually
be placed in Times Square for a few days on or around August 14th to commemorate the 70th
anniversary of Victory Over Japan Day (V-J Day).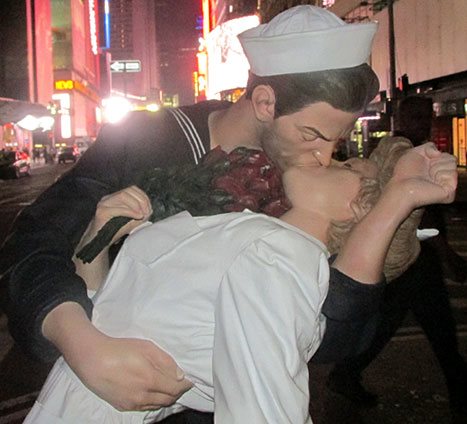 Photo by Jim Hill
By the way, if you'd like to check these Seward Johnson bronzes in
person (which — it should be noted — are part of the part of the Garment
District Alliance's new public art offering) — you'd best schedule a trip to
the City sometime over the next three months. For these pieces will only be on
display now through September 15th.
Wondering what you should "Boldly Go" see at the movies next year? The 2015 Licensing Expo offers you some clues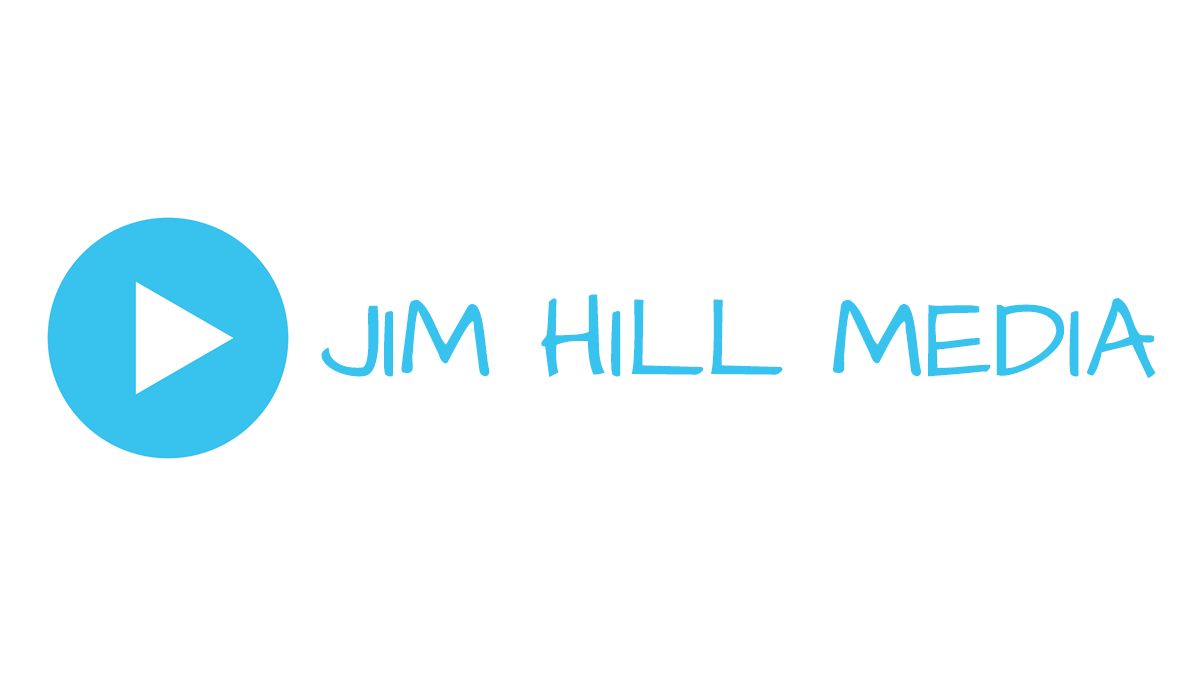 Greeting from the 2015 Licensing Expo, which is being held
at the Mandalay Bay
Convention Center in Las
Vegas.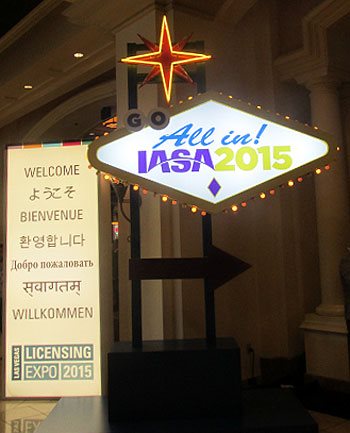 Photo by Jim Hill
I have to admit that I enjoy covering the Licensing Expo.
Mostly becomes it allows bloggers & entertainment writers like myself to
get a peek over the horizon. Scope out some of the major motion pictures &
TV shows that today's vertically integrated entertainment conglomerates
(Remember when these companies used to be called movie studios?) will be
sending our way over the next two years or so.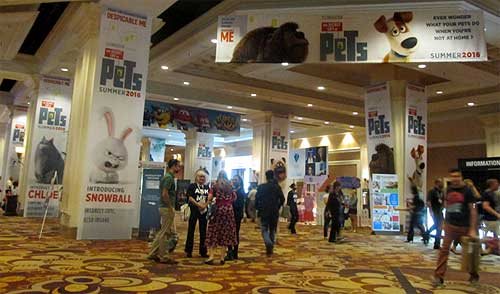 Photo by Jim Hill
Take — for example — all of "The Secret Life of
Pets" banners that greeted Expo attendees as they made their way to the
show floor today. I actually got to see some footage from this new Illumination
Entertainment production (which will hit theaters on July 8, 2016) the last time I was in Vegas. Which
was for CinemaCon back in April. And the five or so minutes of film that I viewed
suggested that "The Secret Life of Pets" will be a really funny
animated feature.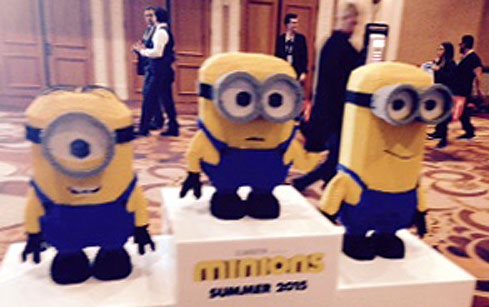 Photo by Jim Hill
Mind you, Universal Pictures wanted to make sure that Expo
attendees remembered that there was another Illumination Entertainment production
coming-to-a-theater-near-them before "The Secret Life of Pets" (And
that's "Minions," the "Despicable Me" prequel. Which
premieres at the Annecy International Animated Film Festival next week but
won't be screened stateside 'til July 10th of this year). Which is why they had
three minions who were made entirely out of LEGOS loitering out in the lobby.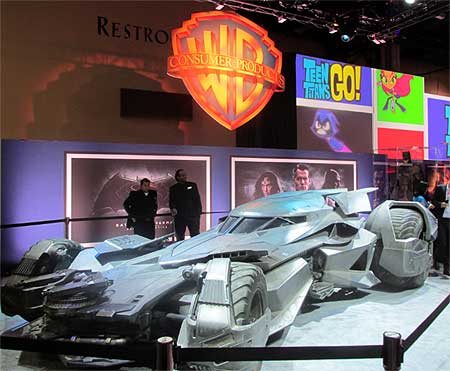 Photo by Jim Hill
And Warner Bros. — because they wanted "Batman v
Superman: Dawn of Justice" to start trending on Twitter today — brought
the Batmobile to Las Vegas.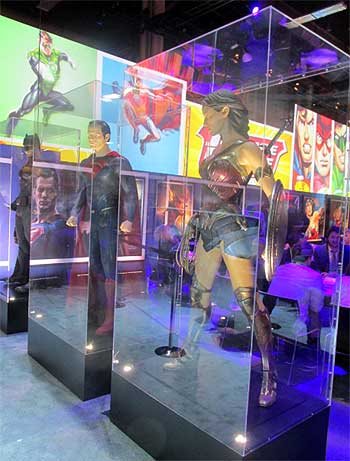 Photo by Jim Hill
Not to mention full-sized macquettes of Batman, Superman and
Wonder Woman. Just so conventioneers could then see what these DC superheroes
would actually look like in this eagerly anticipated, March 25, 2016 release.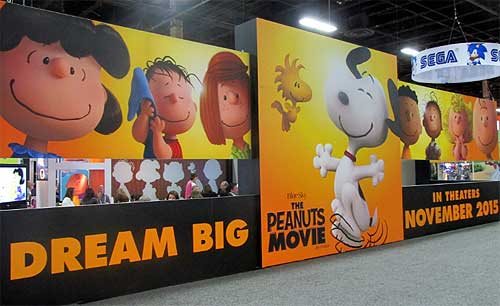 Photo by Jim Hill
That's the thing that can sometimes be a wee bit frustrating
about the Licensing Expo. It's all about delayed gratification. You'll come
around a corner and see this 100 foot-long ad for "The Peanuts Movie"
and think "Hey, that looks great. I want to see that Blue Sky Studios production
right now." It's only then that you notice the fine print and realize that
"The Peanuts Movie" doesn't actually open in theaters 'til November
6th of this year.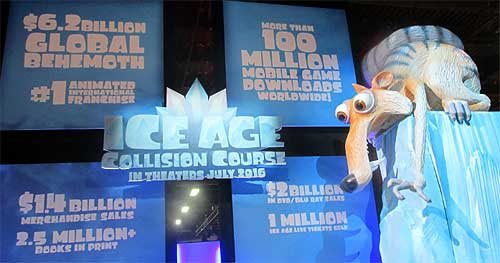 Photo by Jim Hill
And fan of Blue Sky's "Ice Age" film franchise are in for an even
longer wait. Given that the latest installment in that top grossing series
doesn't arrive in theaters 'til July
15, 2016.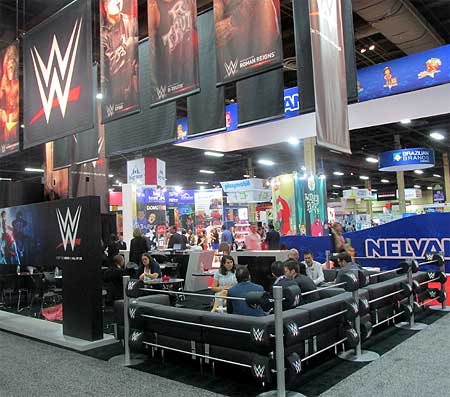 Photo by Jim Hill
Of course, if you're one of those people who needs immediate
gratification when it comes to your entertainment, there was stuff like that to
be found at this year's Licensing Expo. Take — for example — how the WWE
booth was actually shaped like a wrestling ring. Which — I'm guessing — meant
that if the executives of World Wrestling Entertainment, Inc. didn't like
the offer that you were making, they were then allowed to toss you out over the
top rope, Royal Rumble-style.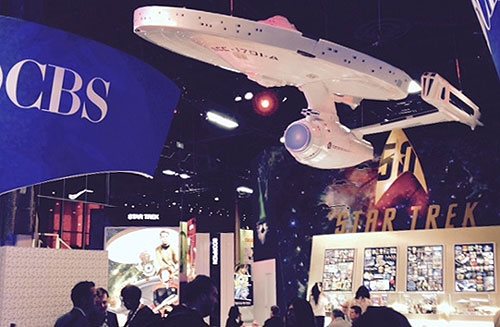 Photo by Jim Hill
I also have to admit that — as a longtime Star Trek fan —
it was cool to see the enormous Starship Enterprise that hung in place over the
CBS booth. Not to mention getting a glimpse of the official Star Trek 50th
Anniversary logo.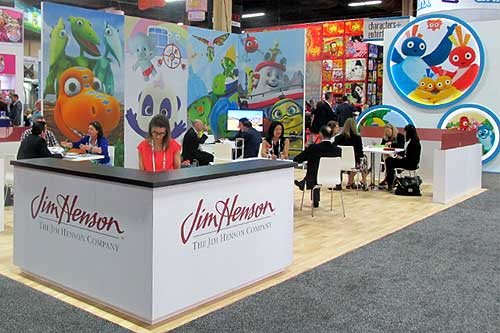 Photo by Jim Hill
I was also pleased to see lots of activity in The Jim Henson
Company booth. Which suggests that JHC has actually finally carved out a
post-Muppets identity for itself.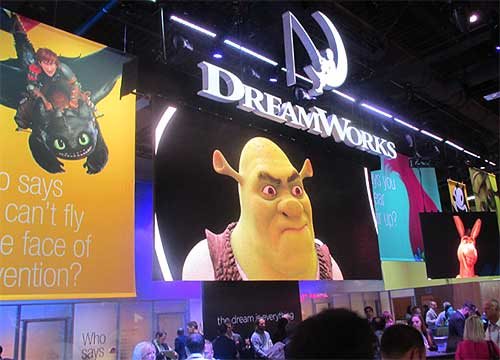 Photo by Jim Hill
Likewise for all of us who were getting a little concerned
about DreamWorks Animation (what with all the layoffs & write-downs &
projects that were put into turnaround or outright cancelled last year), it was
nice to see that booth bustling.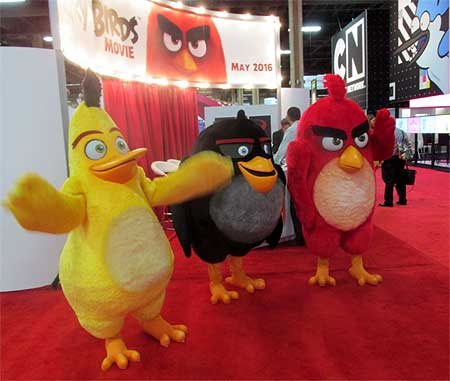 Photo by Jim Hill
Every so often, you'd come across some people who were
promoting a movie that you weren't entirely sure that you actually wanted to
see (EX: "Angry Birds," which Sony Pictures Entertainment / Columbia
Pictures will be releasing to theaters on May 20, 2016). But then you remembered that Clay Kaytis —
who's this hugely talented former Walt Disney Animation Studios animator — is
riding herd on "Angry Birds" with Fergal Reilly. And you'd think
"Well, if Clay's working on 'Angry Birds,' I'm sure this animated feature
will turn out fine."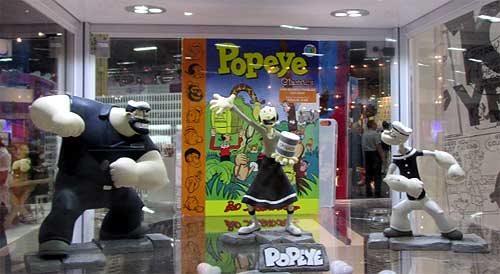 Photo by Jim Hill
Mind you, there were reminders at this year's Licensing Expo
of great animated features that we're never going to get to see now. I still
can't believe — especially after that brilliant proof-of-concept footage
popped up online last year — that Sony execs decided not to go forward
with production of Genndy Tartakovsky's
"Popeye" movie. But that's the
cruel thing about the entertainment business, folks. It will sometime break
your heart.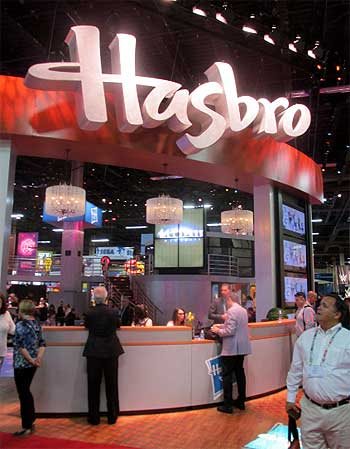 Photo by Jim Hill
And make no mistake about this. The Licensing Expo is all
about business. That point was clearly driven home at this year's show when —
as you walked through the doors of the Mandalay
Bay Convention Center
— the first thing that you saw was the Hasbros Booth. Which was this gleaming,
sleek two story-tall affair full of people who were negotiating deals &
signing contracts for all of the would-be summer blockbusters that have already
announced release dates for 2019 & beyond.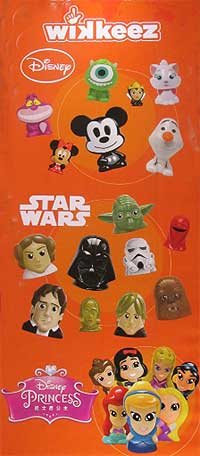 Photo by Jim Hill
"But what about The Walt Disney Company?," you
ask. "Weren't they represented on the show floor at this year's Licensing
Expo?" Not really, not. I mean, sure. There were a few companies there hyping
Disney-related products. Take — for example — the Disney Wikkeez people.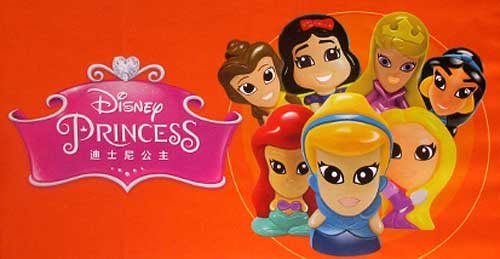 Photo by Jim Hill
I'm assuming that some Disney Consumer Products exec is
hoping that Wikkeez will eventually become the new Tsum Tsum. But to be blunt,
these little hard plastic figures don't seem to have the same huggable charm
that those stackable plush do. But I've been wrong before. So let's see what
happens with Disney Wikkeez once they start showing up on the shelves of the
Company's North American retail partners.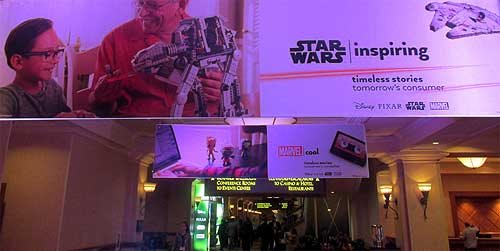 Photo by Jim Hill
And speaking of Disney's retail partners … They were
meeting with Mouse House executives behind closed doors one floor down from the
official show floor for this year's Licensing Expo.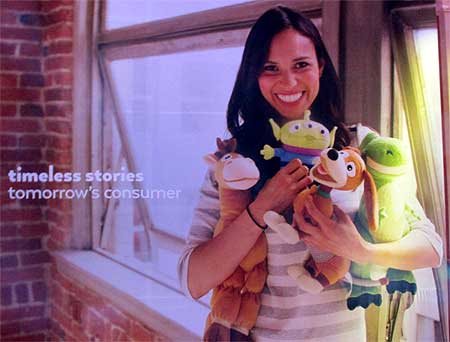 Photo by Jim Hill
And the theme for this year's invitation-only Disney shindig? "Timeless
Stories" involving the Disney, Pixar, Marvel & Lucasfilm brands that
would then appeal to "tomorrow's consumer."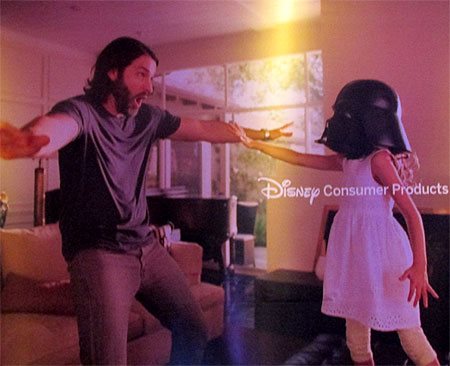 Photo by Jim Hill
And just to sort of hammer home the idea that Disney is no
longer the Company which cornered the market when it comes to little girls
(i.e., its Disney Princess and Disney Fairies franchises), check out this
wall-sized Star Wars-related image that DCP put up just outside of one of its
many private meeting rooms. "See?," this carefully crafted photo
screams. "It isn't just little boys who want to wield the Force. Little
girls also want to grow up and be Lords of the Sith."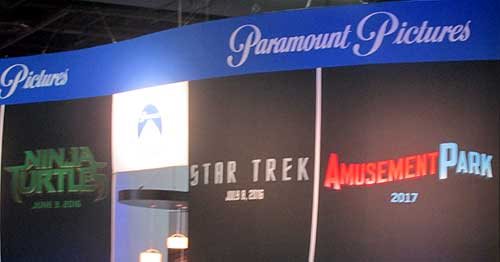 Photo by Jim Hill
One final, kind-of-ironic note: According to this banner,
Paramount Pictures will be releasing a movie called "Amusement Park"
to theaters sometime in 2017.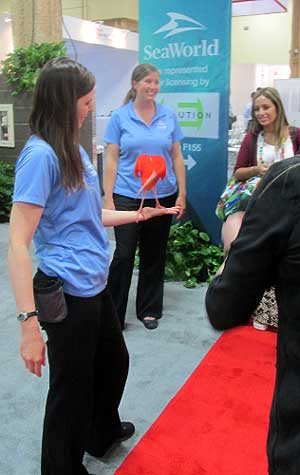 Photo by Jim Hill
Well, given all the "Blackfish" -related issues
that have been dogged SeaWorld Parks & Entertainment over the past two years, I'm
just hoping that they'll still be in the amusement park business come 2017.
Your thoughts?
It takes more than three circles to craft a Classic version of Mickey Mouse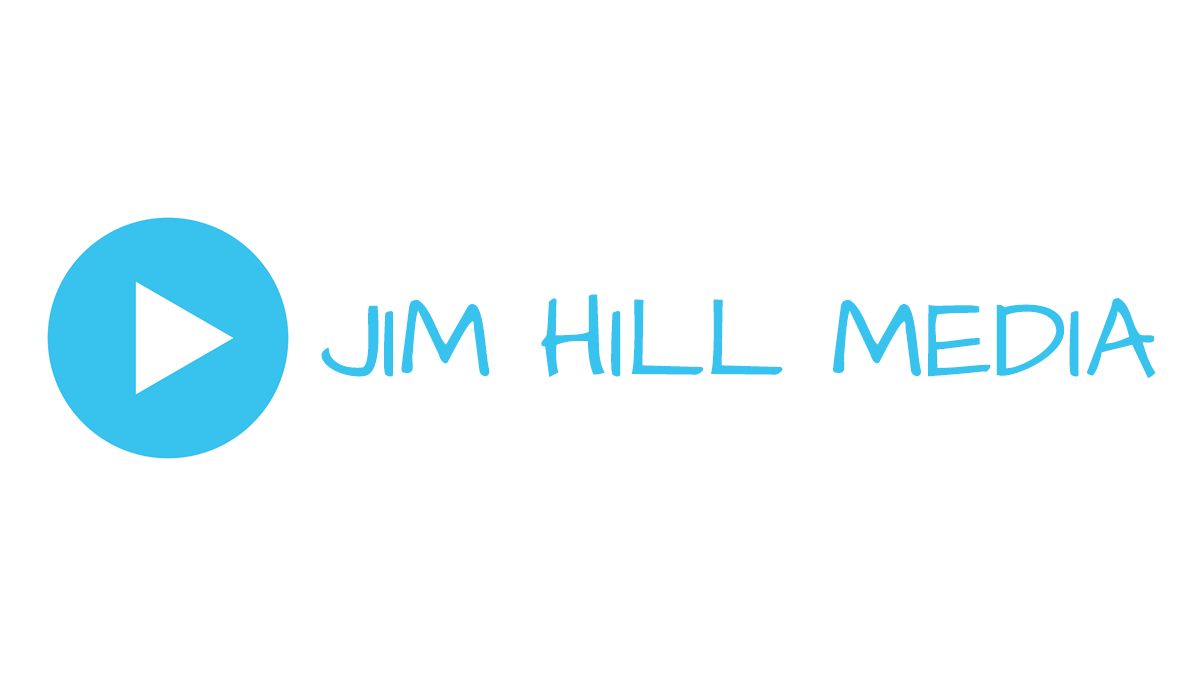 You know what Mickey Mouse looks like, right? Little guy,
big ears?
Truth be told, Disney's corporate symbol has a lot of
different looks. If Mickey's interacting with Guests at Disneyland
Park (especially this summer, when
the Happiest Place on Earth
is celebrating its 60th anniversary), he looks & dresses like this.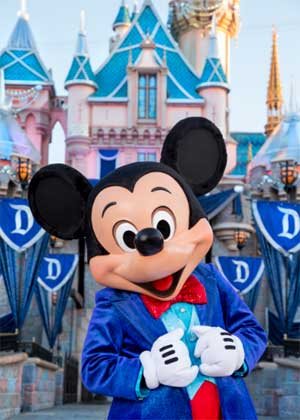 Copyright Disney Enterprises,
Inc.
All rights reserved
Or when he's appearing in one of those Emmy Award-winning shorts that Disney
Television Animation has produced (EX: "Bronco Busted," which debuts
on the Disney Channel tonight at 8 p.m. ET / PT), Mickey is drawn in a such a
way that he looks hip, cool, edgy & retro all at the same time.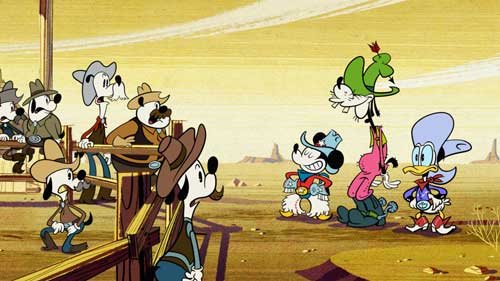 Copyright Disney Enterprises, Inc. All rights
reserved
Looking ahead to 2017 now, when Disney Junior rolls out "Mickey and the
Roadster Racers," this brand-new animated series will feature a sportier version
of Disney's corporate symbol. One that Mouse House managers hope will persuade
preschool boys to more fully embrace this now 86 year-old character.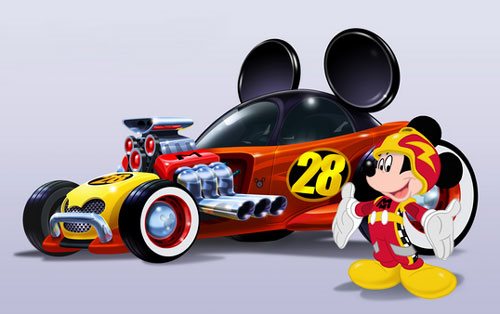 Copyright Disney Enterprises,
Inc. All rights reserved
That's what most people don't realize about the Mouse. The
Walt Disney Company deliberately tailors Mickey's look, even his style of
movement, depending on what sort of project / production he's appearing in.
Take — for example — Disney
California Adventure
Park's "World of Color:
Celebrate!" Because Disney's main mouse would be co-hosting this new
nighttime lagoon show with ace emcee Neil Patrick Harris, Eric Goldberg really had
to step up Mickey's game. Which is why this master Disney animator created
several minutes of all-new Mouse animation which then showed that Mickey was
just as skilled a showman as Neil was.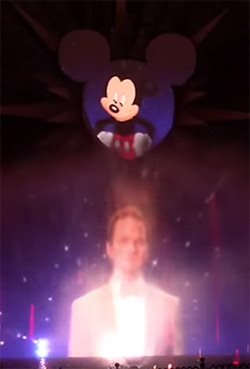 Copyright Disney Enterprises,
Inc.
All rights reserved
Better yet, let's take a look at what the folks at Avalanche Studios just went
through as they attempted to create a Classic version of Mickey & Minnie.
One that would then allow this popular pair to become part of Disney Infinity
3.0.
"I won't lie to you. We were under a lot of pressure to
get the look of this particular version of Mickey — he's called Red Pants
Mickey around here — just right," said Jeff Bunker, the VP of Art
Development at Avalanche Studios, during a recent phone interview. "When
we brought Sorcerer Mickey into Disney Infinity 1.0 back in January of 2014,
that one was relatively easy because … Well, everyone knows what Mickey Mouse
looked like when he appeared in 'Fantasia.' "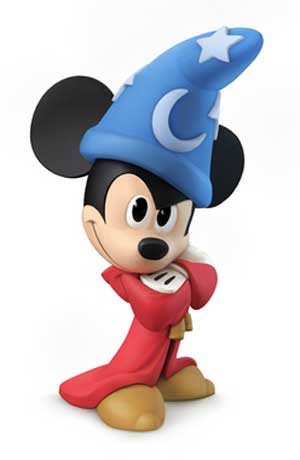 Copyright Disney Enterprises,
Inc. All rights reserved
"But this time around, we were being asked to design
THE Mickey & Minnie," Bunker continued. "And given that these Classic
Disney characters have been around in various different forms for the better
part of the last century … Well, which look was the right look?"
Which is why Jeff and his team at Avalanche Studios began watching hours &
hours of Mickey Mouse shorts. As they tried to get a handle on which look would
work best for these characters in Disney Infinity 3.0.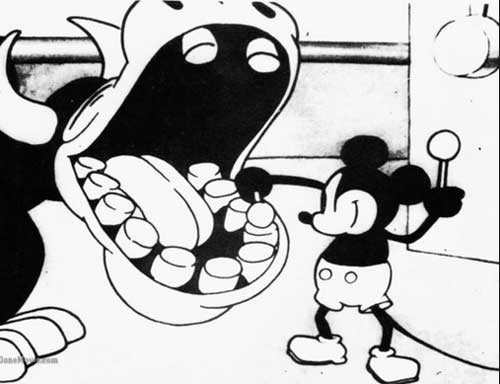 Copyright Disney
Enterprises, Inc. All rights reserved
"And we went all the way back to the very start of Mickey's career. We began
with 'Steamboat Willie' and then watched all of those black & white Mickey shorts
that Walt made back in the late 1920s & early 1930s. From there, we
transitioned to his Technicolor shorts. Which is when Mickey went from being
this pie-eyed, really feisty character to more of a well-behaved leading
man," Bunker recalled. "We then finished out our Mouse marathon by
watching all of those new Mickey shorts that Paul Rudish & his team have
been creating for Disney Television Animation. Those cartoons really recapture
a lot of the spirit and wild slapstick fun that Mickey's early, black &
white shorts had."
But given that the specific assignment that Avalanche Studios had been handed
was to create the most appealing looking, likeable version of Mickey Mouse
possible … In the end, Jeff and his team wound up borrowing bits & pieces
from a lot of different versions of the world's most famous mouse. So that
Classic Mickey would then look & move in a way that best fit the sort of
gameplay which people would soon be able to experience with Disney Infinity
3.0.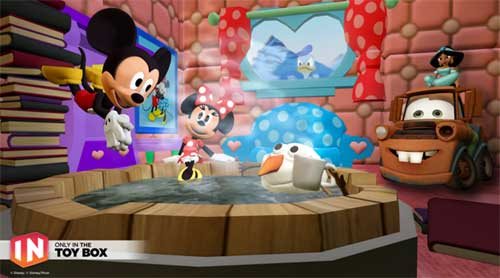 Copyright Disney Enterprises,
Inc. All rights reserved
"That — in a lot of ways — was actually the toughest
part of the Classic Mickey design project. You have to remember that one of the
key creative conceits of Disney Infinity
is that all the characters which appear in this game are toys," Bunker
stated. "Okay. So they're beautifully detailed, highly stylized toy
versions of beloved Disney, Pixar, Marvel & Lucasfilm characters. But
they're still supposed to be toys. So our Classic versions of Mickey &
Minnie have the same sort of thickness & sturdiness to them that toys have.
So that they'll then be able to fit right in with all of the rest of the
characters that Avalanche Studios had previously designed for Disney Infinity."
And then there was the matter of coming up with just the
right pose for Classic Mickey & Minnie. Which — to hear Jeff tell the
story — involved input from a lot of Disney upper management.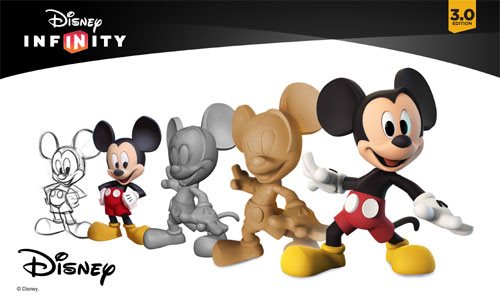 Copyright Disney Enterprises,
Inc. All rights reserved
"Everyone within the Company seemed to have an opinion
about how Mickey & Minnie should be posed. More to the point, if you Google
Mickey, you then discover that there are literally thousands of poses out there
for these two. Though — truth be told — a lot of those kind of play off the
way Mickey poses when he's being Disney's corporate symbol," Bunker said.
"But what I was most concerned about was that Mickey's pose had to work
with Minnie's pose. Because we were bringing the Classic versions of these
characters up into Disney Infinity 3.0 at the exact same time. And we wanted to
make sure — especially for those fans who like to put their Disney Infinity
figures on display — that Mickey's pose would then complement Minnie.
Which is why Jeff & the crew at Avalanche Studios
decided — when it came to Classic Mickey & Minnie's pose — that they
should go all the way back to the beginning. Which is why these two Disney icons
are sculpted in such a way that it almost seems as though you're witnessing the
very first time Mickey set eyes on Minnie.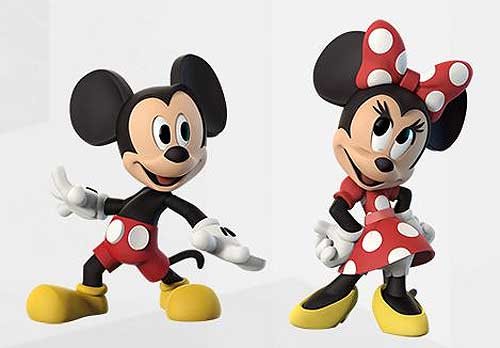 Copyright Disney Enterprises,
Inc. All rights reserved
"And what was really great about that was — as soon as
we began showing people within the Company this pose — everyone at Disney
quickly got on board with the idea. I mean, the Classic Mickey that we sculpted
for Disney Infinity 3.0 is clearly a very playful, spunky character. But at the
same time, he's obviously got eyes for Minnie," Bunker concluded. "So
in the end, we were able to come up with Classic versions of these characters
that will work well within the creative confines of Disney Infinity 3.0 but at
the same time please those Disney fans who just collect these figures because
they like the way the Disney Infinity characters look."
So now that this particular design project is over, does
Jeff regret that Mouse House upper management was so hands-on when it came to
making sure that the Classic versions of Mickey & Minnie were specifically
tailored to fit the look & style of gameplay found in Disney Infinity 3.0?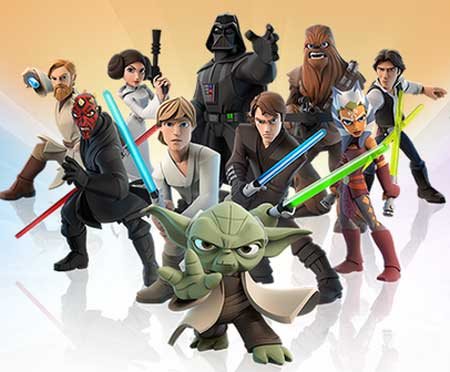 Copyright Lucasfilm / Disney
Enterprises, Inc. All rights reserved
"To be blunt, we go through this every time we add a new character to the
game. The folks at Lucasfilm were just as hands-on when we were designing the
versions of Darth Vader and Yoda that will also soon be appearing in Disney
Infinity 3.0," Bunker laughed. "So in the end, if the character's
creators AND the fans are happy, then I'm happy."
This article was originally posted on the Huffington Post's Entertainment page on Tuesday, June 9, 2015