Disney's timeless battle between the young punks and the old guard
Everything old is new again at the Mouse Factory. Or so says Disney Legend Floyd Norman, as he talks about the creative struggles that have gone at the Studios for decades now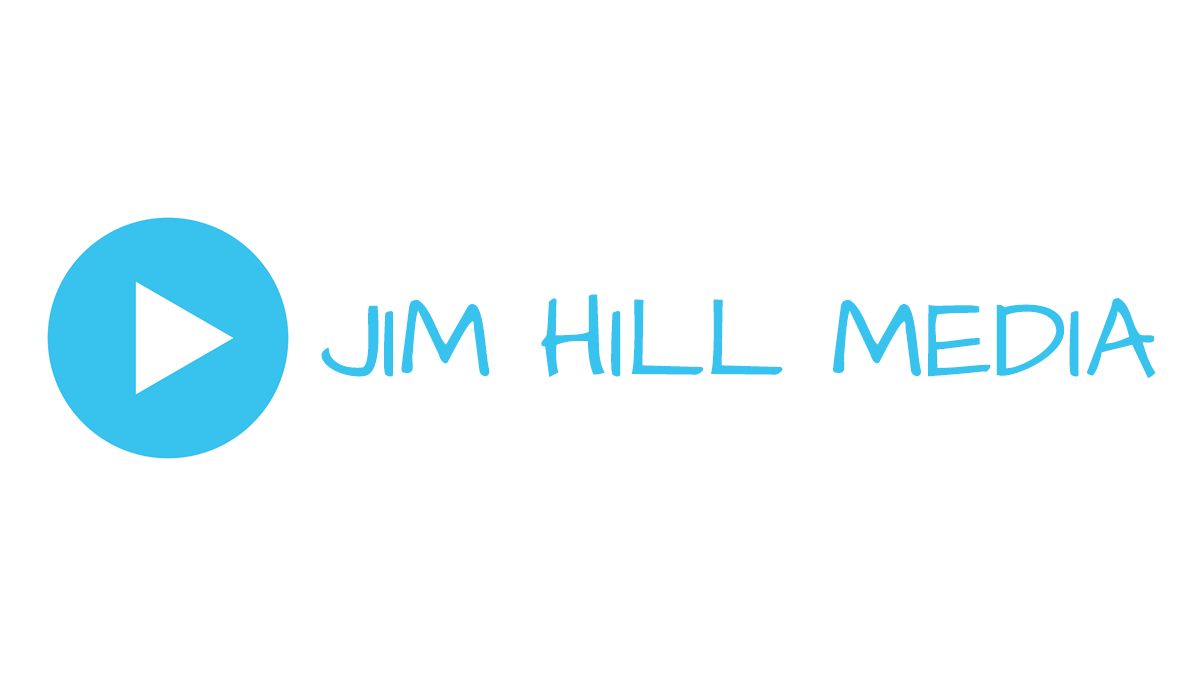 You probably already know the story. A group of young guys
move into the establishment and begin to shake things up. The old guard
naturally has issues with the young punks, and they begin to push back. It's a
story we've all heard before, and I find it amazing that it remains a story
that never really ends.
Disney's Old Guard did not eagerly embrace the pushy new youngsters and often found them a pain
You know the place well. It's the Walt Disney Studios in
Burbank where the Old Maestro, Walt Disney has been creating animated
masterpieces for decades. Disney's creative team was the cream of the crop, and
for years they defined cartoon film making for the rest of the animation
universe.
Suddenly, a gang of new kids invades this little creative
sanctuary. Most of them just out of school and getting their feet wet in the
cartoon business. They brought with them radical new ideas, and a fresh
approach to animated film making. Sure, they respected the "old school," but it
was also a new decade and things were rapidly changing in the fields of
painting, architecture and music. Clearly, it was time animation saw some
changes as well, and this new team of animation artists were determined to lead
the way.
As you can imagine, Walt's established veterans were not all
that pleased with the kids encroaching on their turf. And I regret to say some
even turned on the eager young guys. "Who do they think they are," grumbled the
Disney old timers. "We don't need any snot nose kids telling us how it's done!"
However, the youngsters persisted. They even had the audacity to come in on
weekends and quickly turn out storyboards and other development art. Their
approach to layout was unique, and the radical ideas suggested by the new
background artist puzzled many.
However, not all the Disney veterans were resistant to
change. Forward thinkers like Ward Kimball, Tom Oreb, Bill Peet and Don DaGradi
refused to maintain a closed mind. They encouraged the young guys, and talked
them up. They even looked forward to working with them because — even though they
were new to the business – the next generation still had much to offer. I've
always especially admired Ward Kimball for his approach. His unit was a mix of
old Disney veterans, and eager young kids. Ward was smart enough to know new
ideas and approaches were needed, but they had to be built on a solid
foundation.
Surprisingly, the rather conservative boss seemed open to new ideas and let the young guys push animation in a bold, new direction
In time, the new kids proved their worth, and they in no
small measure helped launch a revolution at Disney. Today, they're highly regarded
as Disney veterans, and masters in their chosen field. Most have profoundly
influenced this amazing medium, and I'm proud to have worked with many of them.
Several names are already coming to mind, right? You're
thinking of John Lasseter, Brad Bird, Tim Burton, John Musker and Henry Selick.
Sorry, but you'd be wrong. You see, these things happened long before. This
talented group of "Crazy Young Kids" arrived at the Walt Disney Studio in the
fifties. You can see their influence in many of Disney's animated films such as
"Melody," "Toot Whistle Plunk and Boom," "Sleeping Beauty" and "101 Dalmatians."
That's right, boys and girls, the kids I've been talking
about include Eyvind Earle, Walt Peregoy, Victor Haboush, Tony Rizzo, Ray
Aragon and a number of others who upset the status quo. Something studio
managers would do well to remember should they plan to keep the animation
business alive and vital.
(L to R) Vic Haboush, Tony Rizzo, Walt Peregoy & Tom Oreb. Some of the guys who led the "New Wave" at Disney in the 1950s
Did you enjoy Floyd's column today? If so, I should probably
let you that Mr. Norman currently has three books on the market that talk about
the joys & perils of working in the animation industry.

These volumes include Floyd's original collection of
cartoons and stories — "Faster! Cheaper! The Flip Side of the Art of
Animation" (which is available for sale over at John Cawley's Cataroo) as
well as two follow-ups to that book, "Son of Faster, Cheaper" &
"How the Grinch Stole Disney." Which you can purchase by heading over
to Afrokids.

And while you're at it, don't
forget to check out Mr. Fun's Blog. Which is where Mr. Norman postings his
musings when he's not writing for JHM.
There are only 17 more shopping days 'til Christmas? Yikes!
Well, if you're thinking about doing some of your holiday shopping on Amazon.com, could you do JHM a favor and click on the banner above before you begin bargain hunting.
If you do that … Well, Jim Hill Media then gets a teeny tiny chunk of whatever you spend. Which would be an awful nice way to show your appreciation for all the great stories that you've
read on this site over the past year.
Happy Holidays!
Fort Wilderness – What Might Have Been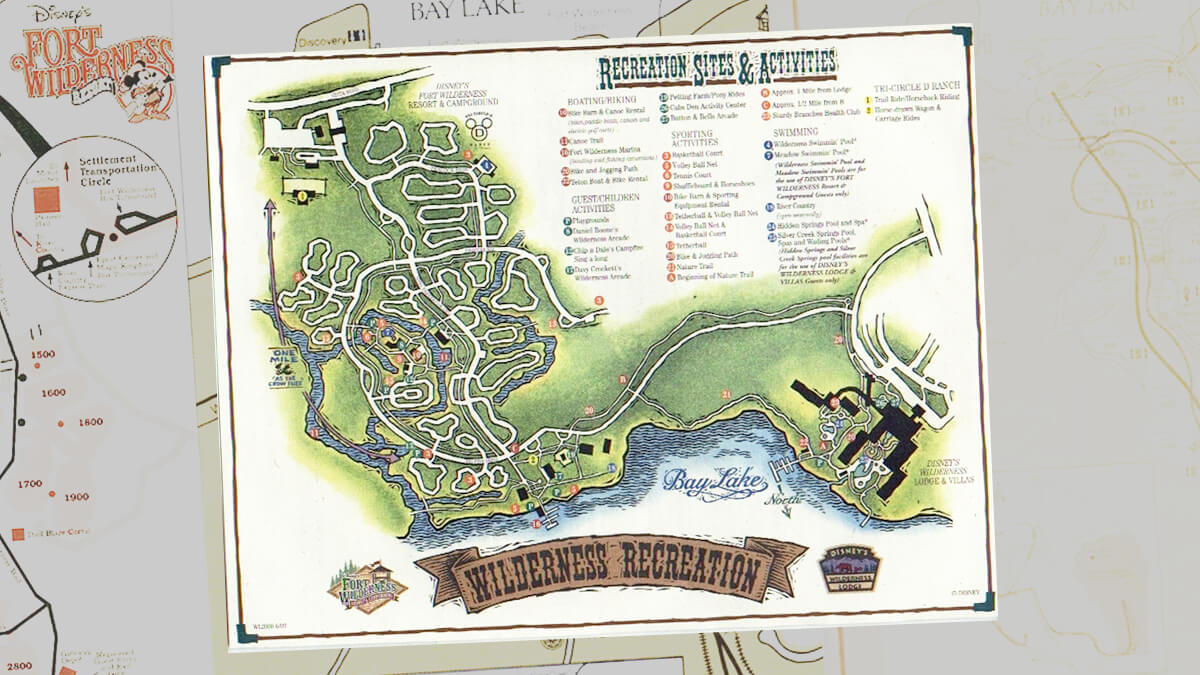 The Hoop-Dee-Doo Musical Revue at Fort Wilderness Campground has been silent for 27 months. On June 23, 2022, Pioneer Hall will come roaring back to life with three nightly presentations of this beloved musical dinner show (4 p.m., 6:15 p.m. & 8:30 p.m.)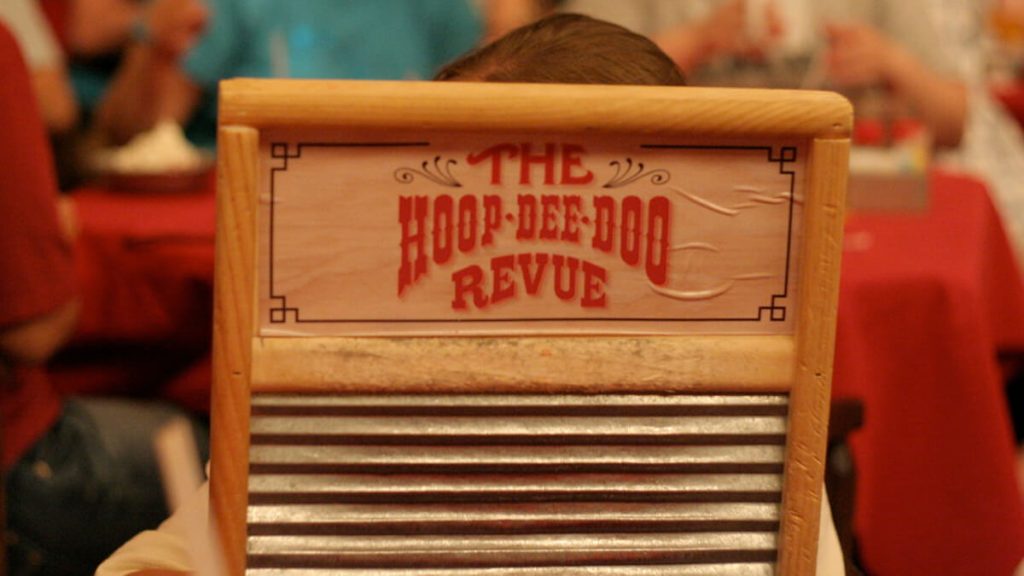 Building Fort Wilderness Campground
Just 9 months prior to the October 1971 opening of the WDW Resort – Dick Nunis (who had just been placed in charge of getting Disney World open on time) had just learned that little to no work had been done to date on the Disney's Fort Wilderness resort's campground.
Dick turned to Keith Kambak – a veteran Disneyland employee who had a degree in recreation – and effectively said "You're coming to Florida with me. And you're going to build a campground."
When Keith pointed out that he had never built a campground before and began to ask questions like "What sort of budget am I working with?," Dick growled "Don't bother me with questions. Just go build that campground?"
Kambak gets on the ground in Orlando and then discovers why Nunis didn't tell him what the budget was for Fort Wilderness.
There is no budget.
Disney World is so far over-budget at this point that there's a real question – in the late Winter / early Spring of 1971 – whether the Resort will be able to find the funding necessary to complete construction of the Contemporary and/or the Polynesian Village Resorts. Let alone get started on building a new onsite campground.
But the PR material for Walt Disney World has been talking up camping at the Vacation Kingdom for over 5 years now. Saying things like …
People have already booked trips to Disney World because they wanted to go camping at that Resort. Go swimming in Bay Lake. So Disney now has to figure out how to deliver on what it said in all those press release.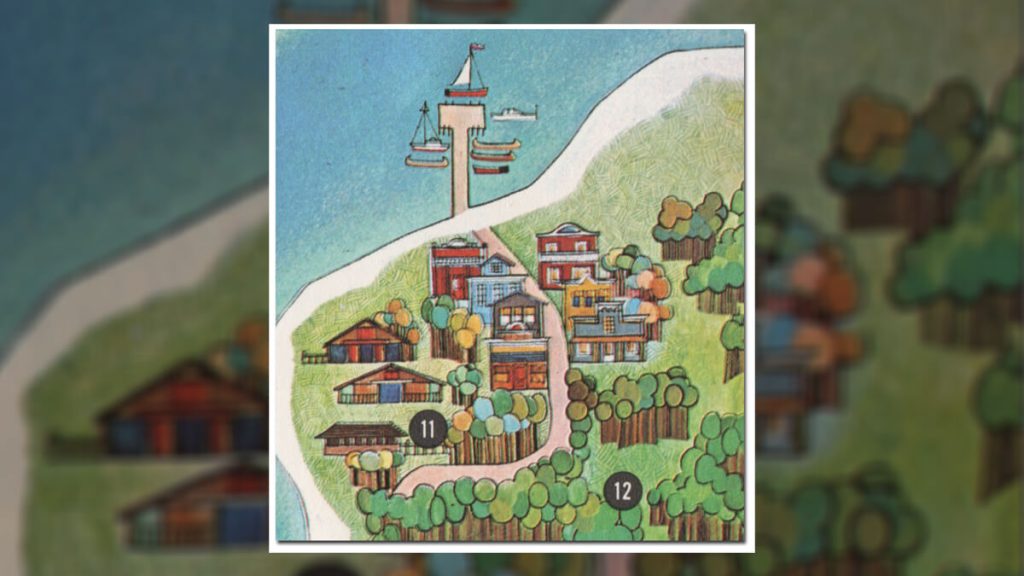 Luckily, Keith Kambak is clever, resourceful and slightly dishonest. He becomes famous for waiting 'til the construction workers go home at 5 and then sending trucks into the Magic Kingdom worksite to steal lumber & bags of cement. Which is what Keith then uses to build Fort Wilderness' original reception center and the first 200 campsites.
Opening Disney's Fort Wilderness Campground
Mind you – Fort Wilderness isn't ready for opening day.
Hell, this campground really isn't ready when in finally throws open its doors on November 19, 1971 – seven weeks after the first group of Guests pushed through the turnstiles over at the Magic Kingdom.
But even if Fort Wilderness isn't really ready for prime time, campers absolutely love the place right out of the gate. It initially costs $11 a night to stay there. And the people who stay there are really excited that – as part of that $11 fee – they get access to the entire WDW transportation system. The monorails, the launches, the motor coaches.
And given that demand for those 200 campsites far exceeds the available supply, Walt Disney World quickly begins to expand Fort Wilderness. In October of 1972 (just in time for the celebration of the Resort's grand opening a year previous), it is announced that Disney World's onsite campground will more than doubling in size. Adding an additional 300 sites.
By now, WDW managers have noticed an interesting phenomenon. Guests who are staying at the Contemporary & Polynesian Village will make a special trip over to Fort Wilderness over the course of their WDW vacation just to check the place out.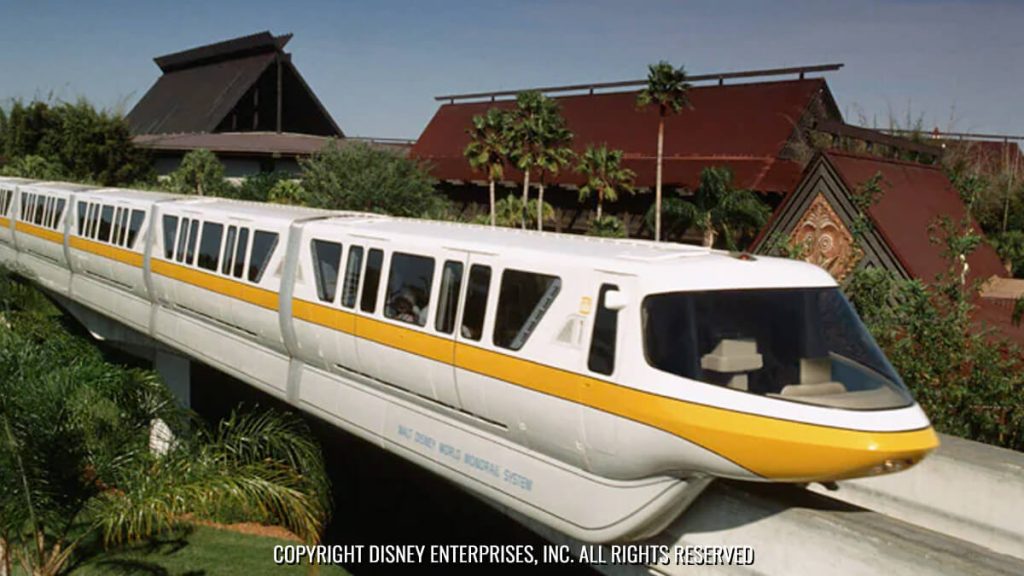 Mind you, there isn't much to see at this point. A handful of campsites and a trading post. But the Imagineers make note of the steady stream of daily visitors that Fort Wilderness has been experiencing and then decides … Well, let's give them something to see.
Fort Wilderness Railroad
So a plan is formed. First and foremost, the Imagineers decide to build a transportation system that will take Guests from Fort Wilderness' reception area to the south all the way up to the campground's recreation area along Bay Lake. This 3-mile-long round-trip narrow gauge rail line (which will be serviced by four steam trains with 5 cars each – capable of carrying 90 passengers at a time) will carry Guests from their campsites to the reception area and then down to the waterfront.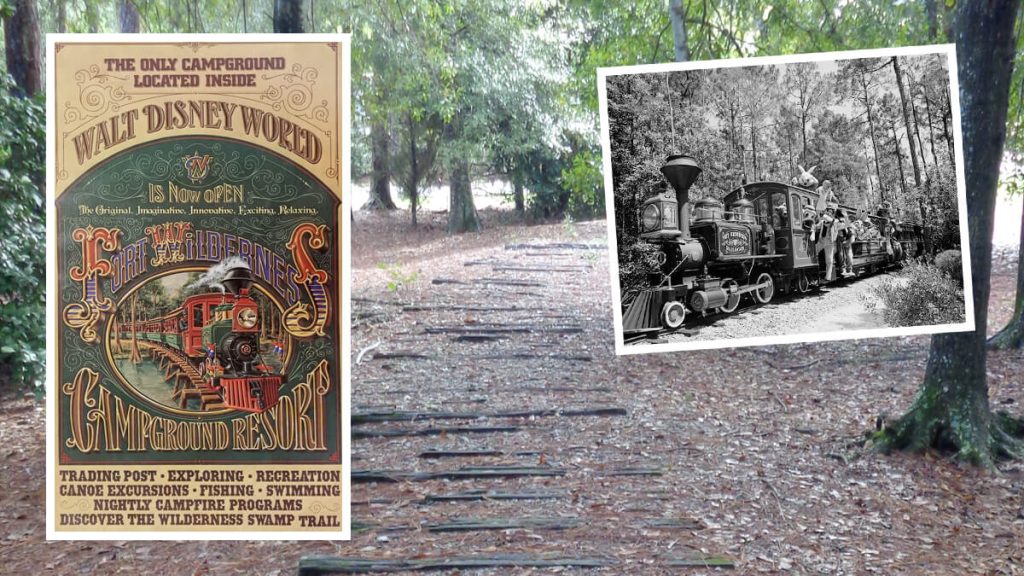 That rail line gets installed over the Summer of 1973. It's field-tested in the Fall of that same year and finally fully operational just time for Christmas Week 1973 / 1st week of January 1974.
Tri-Circle D Ranch
There's another reason that the Imagineers built that rail line. That's because they're looking to develop the middle-most section of Fort Wilderness. This area – known as the Settlement – initially holds just the Tri-Circle D Ranch (which is where the horses that pull the trolleys on Main Street over at the Magic Kingdom spend their days off. Likewise Fort Wilderness' petting zoo).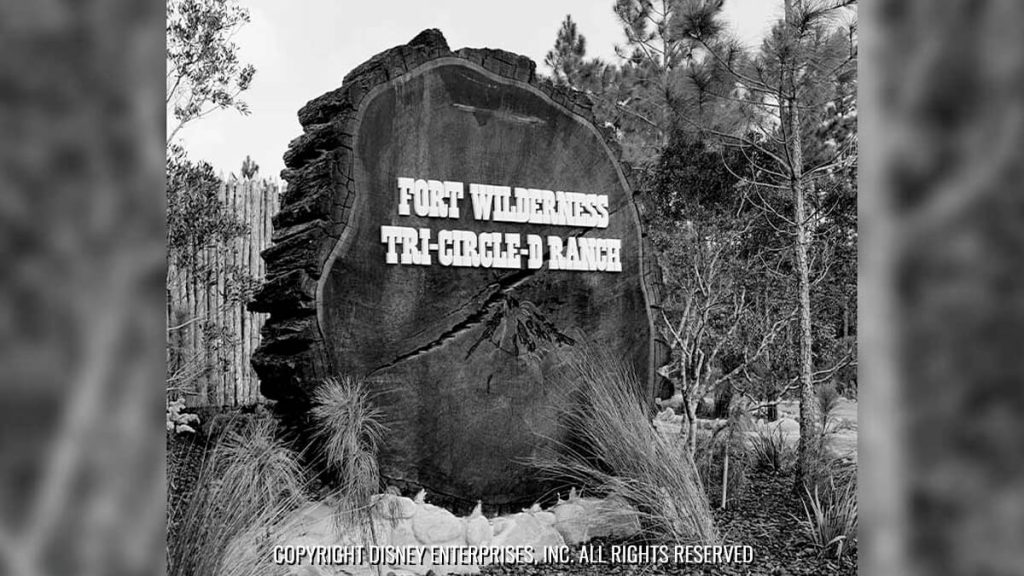 But because so many Guests staying at the Contemporary & the Polynesian Village are making a special trip over to Fort Wilderness as part of their WDW vacation just to see what there is to see over there … the Imagineers give them something to see.
Pioneer Hall
The first thing up out of the ground is Pioneer Hall, which is constructed out of 1,283 hand-fitted pine logs from Montana and 70 tons of stones from North Carolina. This venue first opens its doors on April 1, 1974. And initially there is absolutely no mention of the "Hoop-Dee-Doo Musical Revue."
Instead, Pioneer Hall is described as having " … a 250-seat steak house where ranch-style barbecues will be offered, plus a 150-seat snack bar, theme shops and an arcade for after-hours recreation."
Mind you, if you dig down in the original Pioneer Hall press release (which initially says that this complex will be up & running by February of 1974), there is mention that this "new service-oriented campground complex" would be fully equipped when it came to the presenting of musical stage shows.
But at this point (The Spring of 1974), there's honestly no talk of the "Hoop-Dee-Doo." There is – however – all sorts of talk of the other components of Fort Wilderness' Settlement project. Which are supposed to begin construction shortly.
And a year or so after Western Town opened at Fort Wilderness opened, the Imagineers then wanted to build (this is from the Company's 1973 annual report) …
The Roost and River Country
Wait. It gets better. WDW managers – at this point – were actually talking about building a fun house onsite at Fort Wilderness. One that would feature show scenes designed by Marc Davis and would be housed in an eccentric-looking mansion that would be called "The Roost."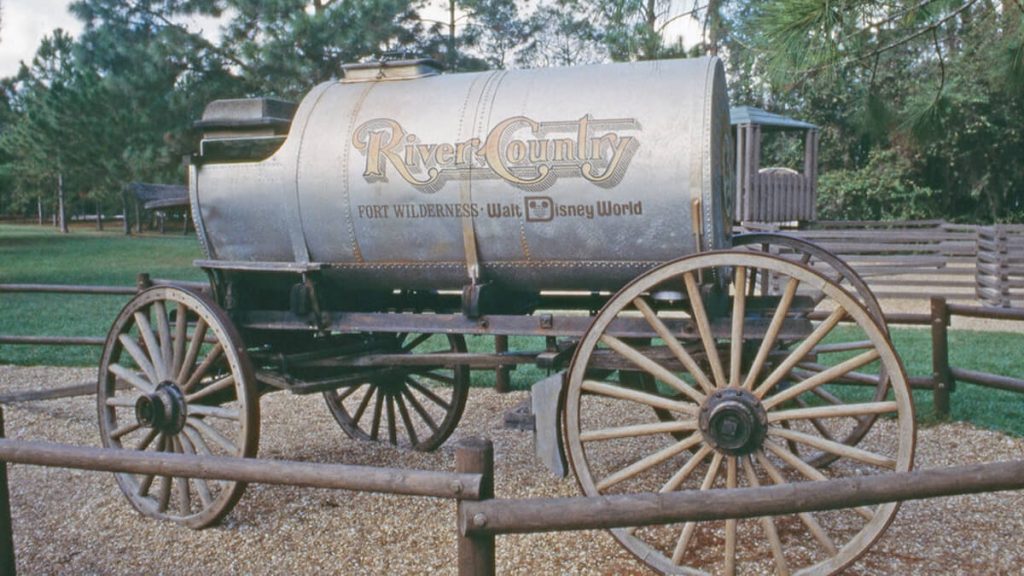 Once "The Roost" was opened (This project was projected to be completed by the Summer of 1977, with Fort Wilderness' swimming hole – eventually called "River Country" – opening the previous year. Just in time for America's bicentennial), WDW officials eventually envisioned selling visitors to their Florida vacation kingdom a special Fort Wilderness ticket book. Which would then give Guests a full day of fun at Fort Wilderness.
Take the bus over to Fort Wilderness' reception area
Then take the train down to that campground's settlement section
Swim in the morning at River Country
Spend the afternoon exploring the Roost, hiking Fort Wilderness' nature trails, visiting the petting zoo and/or go horseback riding
Catch a performance of the "Hoop-Dee-Doo Musical Revue" at Pioneer Hall
Do some souvenir shopping in Frontier Town
Walk down to the waterfront at Bay Lake after dusk and then catch a presentation of the "Electrical Water Pageant"
Grab the train and head back up to Fort Wilderness' reception area
Take a motor coach back to your hotel
1973 Arab Oil Embargo Impacts Fort Wilderness Development
This was the plan as the Fall of 1973. Which then – of course – is when the Arab Oil Embargo got underway. And attendance levels at Walt Disney World suddenly fell off by 20% because of the odd / even gas rationing that was going on at that time. So many Guests were worried that – if they began driving down to Walt Disney World – that they then wouldn't be able to find enough gasoline en route to complete their journey to the Resort.
The Arab Oil Embargo obviously had a huge impact on Fort Wilderness' previously-stellar occupancy levels (Typically at 100% capacity from Christmas Week through Labor Day) because of the number of people who'd drive down to Disney World pulling a trailer. Occupancy levels dropped to 70% and managers there got scared.
The other components of the Fort Wilderness' Settlement area – the Stockade and Western Town, to be specific – that were to follow Pioneer Hall got placed on hold. As did Marc Davis' The Roost project.
As for "River Country" … I'm told that the only reason that project went forward is because the Company had already ordered the 2500 feet of flume that would eventually be used to build Whoop-n-Holler Hollow.
Fascinating to think what might have been around Pioneer Hall if the Arab Oil Embargo hadn't tripped up WDW's executives to turn Fort Wilderness into a day-long destination for Disney World visitors to experience over their Florida vacation.
One final stat from a Disney annual report from 1974 that just fascinated me:
Just so you know: WDW didn't entirely abandon its plans to turn Fort Wilderness into a day-long vacation destination.
Opening River Country at Fort Wilderness Campground
River Country opened at Fort Wilderness on June 19, 1976. This five-acre water park quickly started drawing – on average — 4,700 Guests per day during the Summer months of 1976. Interestingly enough, there is no drop in attendance levels over at the Magic Kingdom after the opening of River Country. Which means that this new water park is drawing an additional nearly 5000 people to the Resort every day. Which means that River Country immediately became a huge new profit center at WDW.
Downside … All of these additional people coming to Fort Wilderness every day needing to get down to the water park just as most people staying at WDW's campsite want to get over to the Magic kingdom overwhelm the campground's steam train line / eventually causing the system to fail.
Imagineers immediately begin looking for ways to expand Fort Wilderness. Company's 1976 annual report mentions plans for " … more water rides, an additional raft ride or a two-man boat ride."
Likewise, to try and handle the crowds who are now pouring int Fort Wilderness each day, the Imagineers revisit the idea of building Frontiertown in the stretch of land that exists between Pioneer Hall and River Country.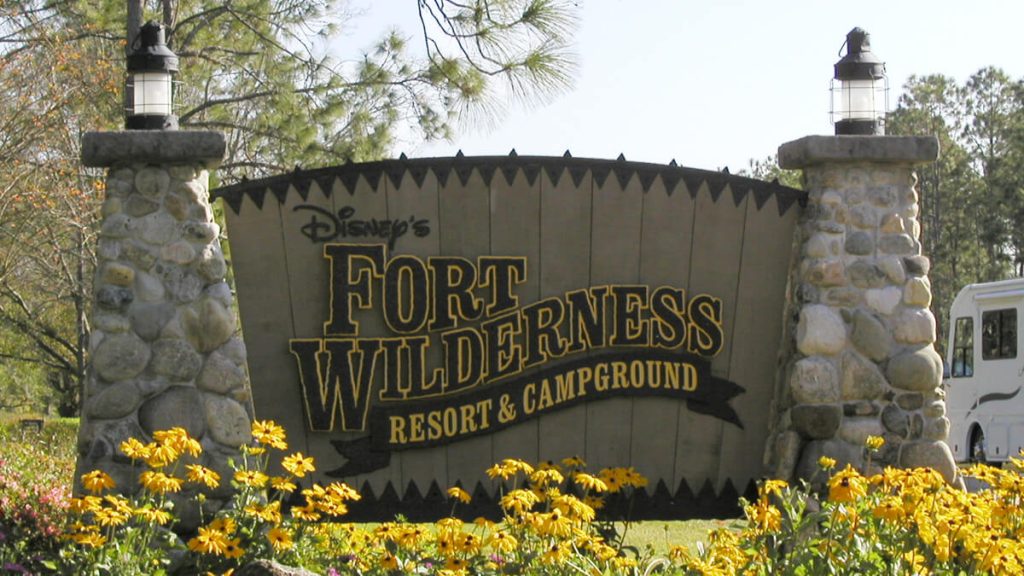 But then the Company gets serious about going forward with construction of EPCOT Center. And all available funding for future expansion at the WDW Resort – including the funds that had been set aside for Fort Wilderness – gets funneled into WDW's second gate.
This article is based on research for The Disney Dish Podcast "Episode 378", published on June 13, 2022. The Disney Dish Podcast is part of the Jim Hill Media Podcast Network.
Steam Trains & World's Fair Attractions: Speed of Construction at Disneyland in the 1960s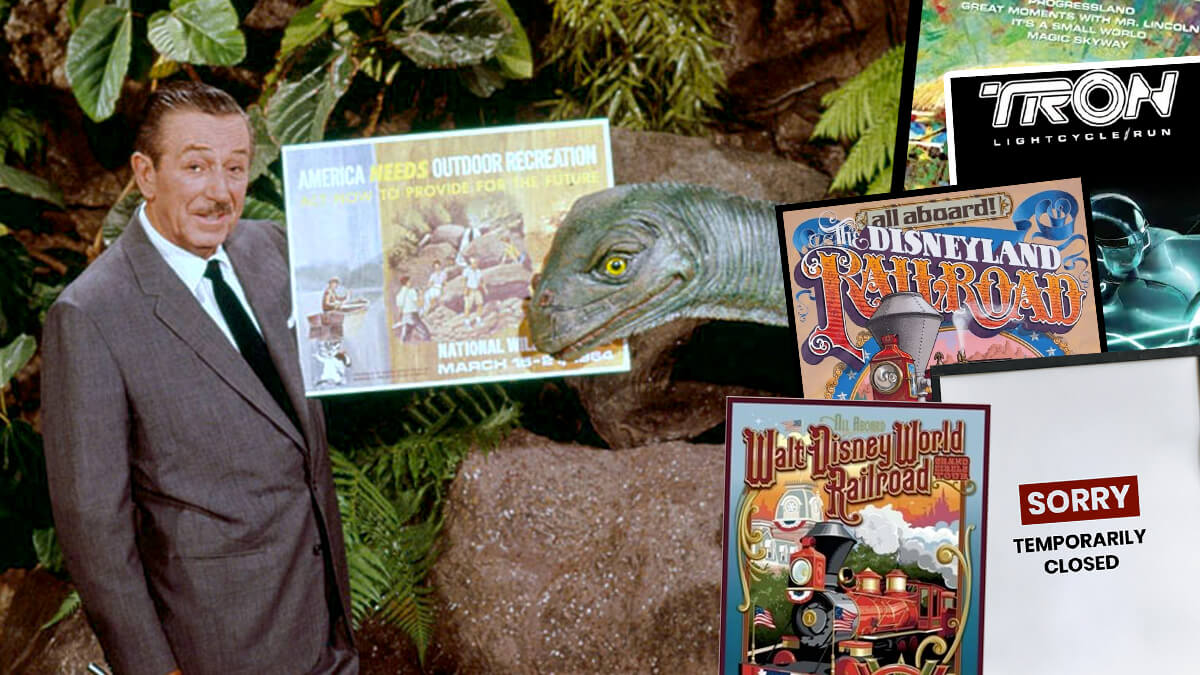 Steam train fans rejoiced in May 2022 when photos appeared online showing crews prepping the rail bed for the Walt Disney World Railroad. This Magic Kingdom favorite was temporarily shut down in early December of 2018 so that site prep could then begin for Tomorrowland's next thrill ride, TRON Lightcycle Run.
Three years and 5 months later (which – let's be honest here – is a pretty relaxed definition of "temporarily"), what with the rail bed being regraded … It's only a matter of time before the ties that the rails sit on get put in place. Which means that we're only months out from the Walt Disney World Railroad once again making a Grand Circle Tour of the Magic Kingdom. 20-minute-long experience / rolling along 1.5 miles worth of track.
Early Disneyland Attraction Downtime and Maintenance
I have to say that Walt himself wouldn't have tolerated the idea of Disney World's steam train being out of commission for 3 & a ½ years while a single attraction was added to the Magic Kingdom. He could barely tolerate it back in late 1965 / early 1966 when Disneyland's railroad had to be shut down for a few months so that FOUR new attractions could added to "The Happiest Place on Earth."
Mind you, Walt had an advantage in Anaheim back in the Fall of 1965 / Spring of 1966 that the folks who operate the Disney theme parks in Florida never got to enjoy. Which was — for much of the first 30 years Disneyland Park was in operation – that theme park was closed on Mondays & Tuesdays during the slow season. Which was the early Fall and late Winter months.
Which meant that – during those two-days-a-week the theme park-going public wasn't wandering around the Happiest Place on Earth, getting underfoot – construction teams could get a crazy amount of work done.
More to the point: This was right after "Mary Poppins" had first opened in theaters (Its Hollywood premiere was held in late August of 1964, with the film itself going into wide release just three weeks later). And given that this Walt Disney Productions release would go on to be the highest grossing film of 1964 … Well, Walt now had a money fire hose in his hand and wasn't afraid to use it.
World's Fair Attractions Moved to Disneyland
So the first season of the 1964 – 1965 New York World's Fair ends on October 18, 1964. Walt immediately has the Lincoln animatronic pulled out of the Illinois pavilion and brought back to Glendale. Where the Imagineers not only build a brand-new version of Honest Abe (one that will then address all of the operational issues that this Audio Animatronic had during its first year in Flushing Meadow where it was then constantly dealing with the Fair's flukey electrical system), they built a second animatronic Lincoln.
Which is how the "Great Moments with Mr. Lincoln" show was able to open in the Main Street Opera House on July 18, 1965 (just as Disneyland was celebrating its tencennial. As in: The 10th anniversary of the Park's opening to the public).
Changing Disneyland's Anniversary
Interesting side note: While Walt was still alive, Disney's anniversary of Disneyland's opening was always celebrated on July 18th (which was when the public was first allowed into that family fun park). After Walt died in December of 1966, the date of the celebration of the anniversary of the opening of Disneyland Park eventually got shifted one day forward to July 17th. Because – if the Company used that date instead of July 18th – it then became possible to reshow that 90 minute-long "Dateline: Disneyland" special that aired live on ABC. Not to mention share all of those pictures of celebrities who visited the Park on July 17, 1955.
Disney's done the same thing in the past. Mickey Mouse's birthday used to be October 1st. Walt Disney himself – back in 1933 – announced that was the Mouse's birthdate. But in 1978, then-Disney archivist Dave Smith issued a correction. Given that Mickey's first cartoon with synchronized sound – "Steamboat Willie" – debuted at New York City's Colonial Theatre on November 18, 1928 … Well, from that point forward, November 18th would be considered Mickey's birthday.
Long story short: To borrow a phrase from "Doctor Who," when it comes to the timey-wimey aspects of Disney Company history, things can get a little slippy-slidey.
Moving "it's a small world" to Disneyland
Getting back to Walt and his money fire hose … While the New York World's Fair was shut down for the Winter between October 1964 and April of 1967, Walt had the 27 technicians that he'd sent out from Disney Studios out to New York to keep all of the shows that the Imagineers had built for the Fair up & running … Well, Walt first had these folks retool the load / unload area for "it's a small world."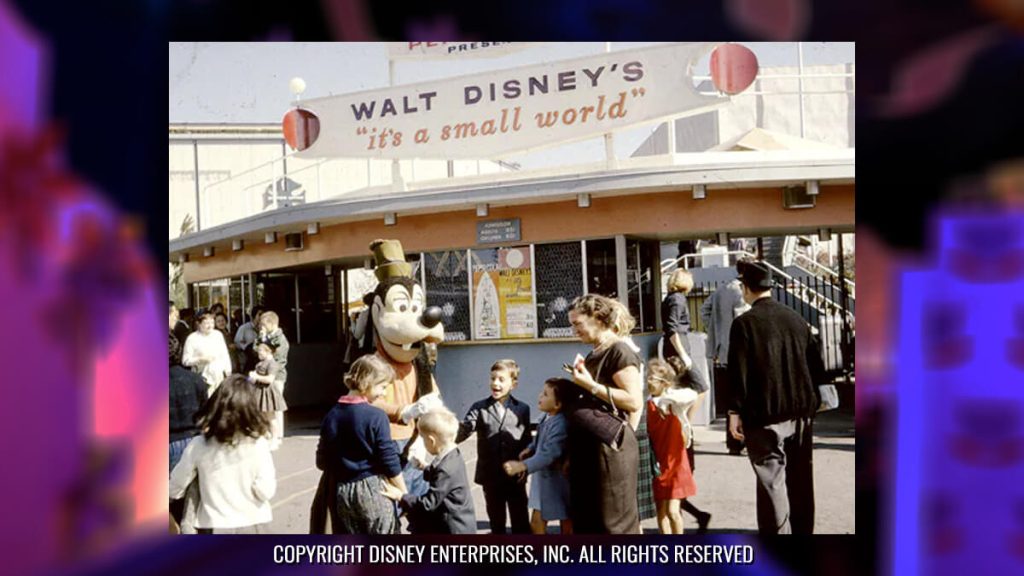 That sponsored-by-Pepsi-Cola attraction was a people-eating machine. On average, 4500 people a hour were able to experience "The Happiest Voyage That Ever Sailed." Which meant that 80% of the people who went to the New York World's Fair in 1964 & 1965 were able to experience "Small World."
But Walt thought that they could do even better. Which is why – during the off-season – he had the Imagineers reworked that attraction's load/ unload area so that it could be even more efficient. With the goal of getting an additional 500 people an hour through "it's a small world."
World's Fair Closing and Final Move
Of course, once the New York World's Fair closed for good on October 17, 1965, the race was on. The Imagineers partnered with the Mayflower Moving Company to get all of those sets & animatronic figures packed up as quickly as possible and then set back to Glendale for refurbishment. That's what happened to the 32 animatronic figures in "General Electric's Progressland" pavilion. Likewise all of the mechanical dinosaurs that used to menace fairgoers as they rolled through "Ford's Magic Skyway."
Now the genuinely crazy part of this story is that – just seven months later – the Disneyland versions of these New York World's Fair shows began to open in Anaheim. "it's a small world" opened on the West Coast on May 28, 1966. And this wasn't just the exact same show that had played in Flushing Meadow for the past two years. Walt insisted that it be plussed & improved prior to installation. Which is how the Anaheim edition of "it's a small world" wound up with two additional scenes – the Pacific Islands and the North Pole.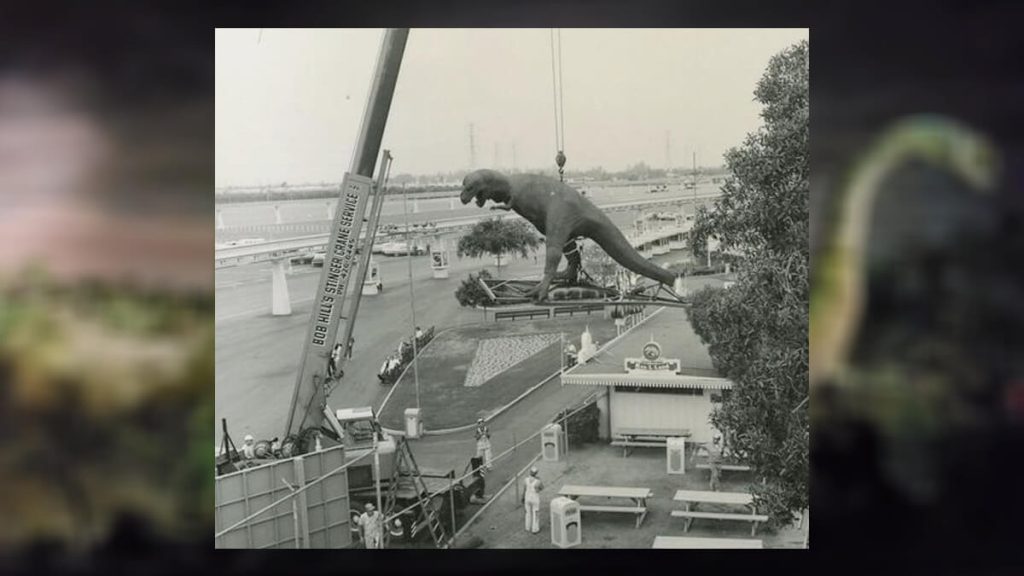 "The Primeval World" Diorama
And just a month or so after that, "The Primeval World" – which, at that time, the Company's PR team described as " … the world's largest diorama featuring life-like recreations of some of the largest creatures to ever roam our planet" – opened on July 1, 1966.
Now what's kind of intriguing about the "Primeval World" diorama is what's to either side of this structure. Which is the old Disneyland administration building. This three story structure – which was also built in late 1965 / early 1966 as part of what was then supposed to be the biggest building program in Disneyland history – was built in such a way that half of this 450 foot-long structure was built on the outside of the berm and the other half of this 450 foot-long structure was built on the inside of the berm. With the structure that the Disneyland steam train passed through, that lengthy glassed-in room full of animatronic dinosaurs then serving as … Well, if you think of Disneyland's new Admin building as an enormous Oreo, the "Primeval World" diorama then served as this 100,000 square foot structure's creamy center.
Kind of a funny side story here. Everyone who worked in the 200 offices who were housed in Disneyland's new Admin building would tell the same story. How – for the first few days you worked in this three story tall structure – you couldn't help but notice how the Admin building would rumble as the steam train passed through the giant diorama in the middle of that structure. Or – for that matter – how the roar of the mechanical dinosaurs below would endlessly faintly echo center through the building as long as that ride was running.
Conversely though, after a few days of working in the Disneyland admin building, the rumble of the steam train and the roar of the dinosaurs just became white noise. That's how you'd then know if you were dealing with a new hire at the Park. If someone who had just been assigned to the Admin building would then turn to you and say "What is that noise?" And – as a Company vet – you could then say "Oh, yeah. About that."
"…a Disneyland without its steam trains just isn't worth the full price of admission."
Getting back to all of the construction that was going on at Disneyland in late 1965 / early 1966 … You have to remember that – if we're talking about "Pirates of the Caribbean" and "it's a small world" – we're talking about two attractions with huge show buildings that were built outside of the theme park. Which meant – in order for these two boat-powered rides to take Guests under the berm and then out to their main show buildings and then back into the Park to their off-load areas … That meant digging a passage under the track bed of the Disneyland Railroad. Several passages, actually.
But again, because the steam train at Disneyland was Walt's personal property at this time (along with the Mark Twain steamboat AND the Alweg Monorail), Walt just wouldn't tolerate the idea that the steam train at the park would be shut down for a year or more to allow construction of these four new major attractions. As Disneyland's tencennial celebration began to wind down in the late Summer / early Fall of 1965, Walt turned to the Imagineers and said "I'll give you five months. Figure it out."
Mind you, Walt reportedly got furious with the Imagineers when – due to the enormous construction challenges this $23 million project entailed — …
… That – by the way – is what it cost to building the Disneyland version of "it's a small world," New Orleans Square, Pirates of the Caribbean, Primeval World AND the Park's new administration building. Just $23 million total .
… Anyway, Walt reportedly got furious when – due to a very wet Spring (By the way, that Albert Hammond song from 1972 – "It Never Rains in Southern California" – lies through its teeth) – work on getting the Disneyland Railroad fell behind schedule by one entire month.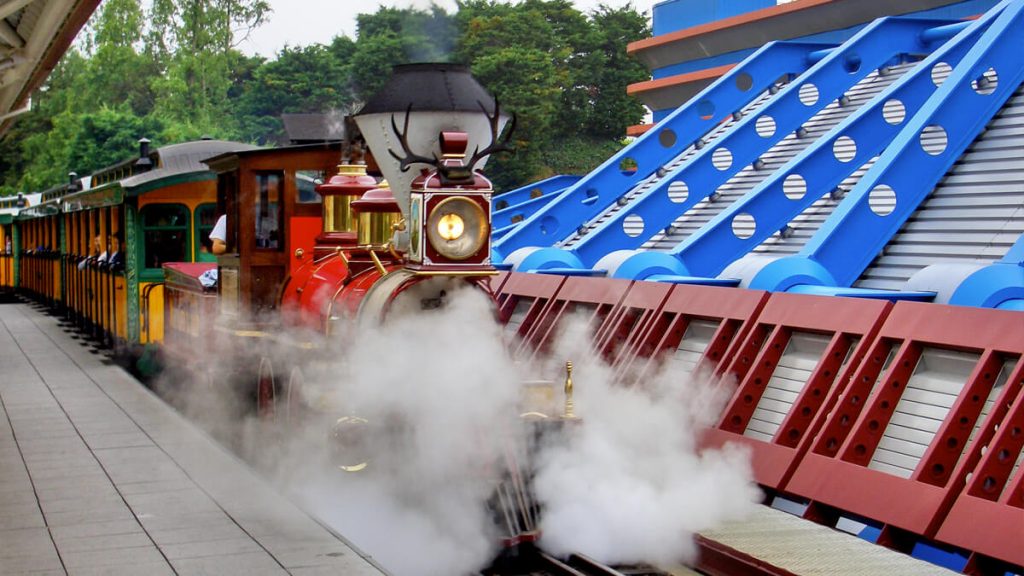 John Hench once told me about how – when they had to tell Walt that the opening of Disneyland's railroad would be delayed by a full month in the Spring of 1966 – he'd never seen his boss so mad. Walt reportedly went on & on about how a Disney theme park without a steam train wasn't worth the price that they were then charging people to get into Disneyland (a then-whopping $5.00 for adults, $4.50 for juniors – ages 12 – 17 – and $4.00 for kids 3 – 11. That would have gotten you the park's Deluxe 15 Ticket book). Walt reportedly turned to John and said "If people ask, we're going to have to agree to issue them a refund. Because a Disneyland without its steam trains just isn't worth the full price of admission."
I wonder what would happen if someone today went into City Hall at WDW's Magic Kingdom and shared that story from the Spring of 1966. What a Cast Member who was working in Guest Relations at that theme park would have to say in response.
Walt Disney World Railroad Downtime
I mean, I get that it's not their fault that the Walt Disney World Railroad has been out of commission since December of 2018. And we also have to acknowledge that much of the Resort was shuttered for months in 2020 during the early days of the pandemic.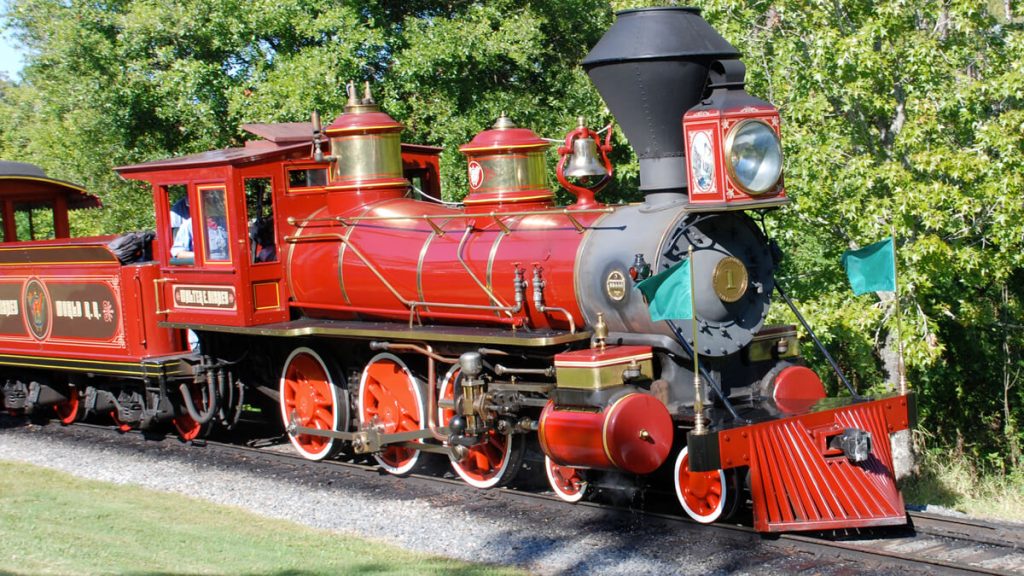 But even so, at a time when the Florida parks are continually struggling to keep the rides, shows & attractions that they already have up & running on a reliable, regular basis, to have a people eater like the Magic Kingdom's steam trains shut down for 3 & a half years … That's just inexcusable.
This article is based on research for The Disney Dish Podcast "Episode 377", published on June 6, 2022. The Disney Dish Podcast is part of the Jim Hill Media Podcast Network.
Walter Cronkite & How Celebrities Made It In EPCOT Center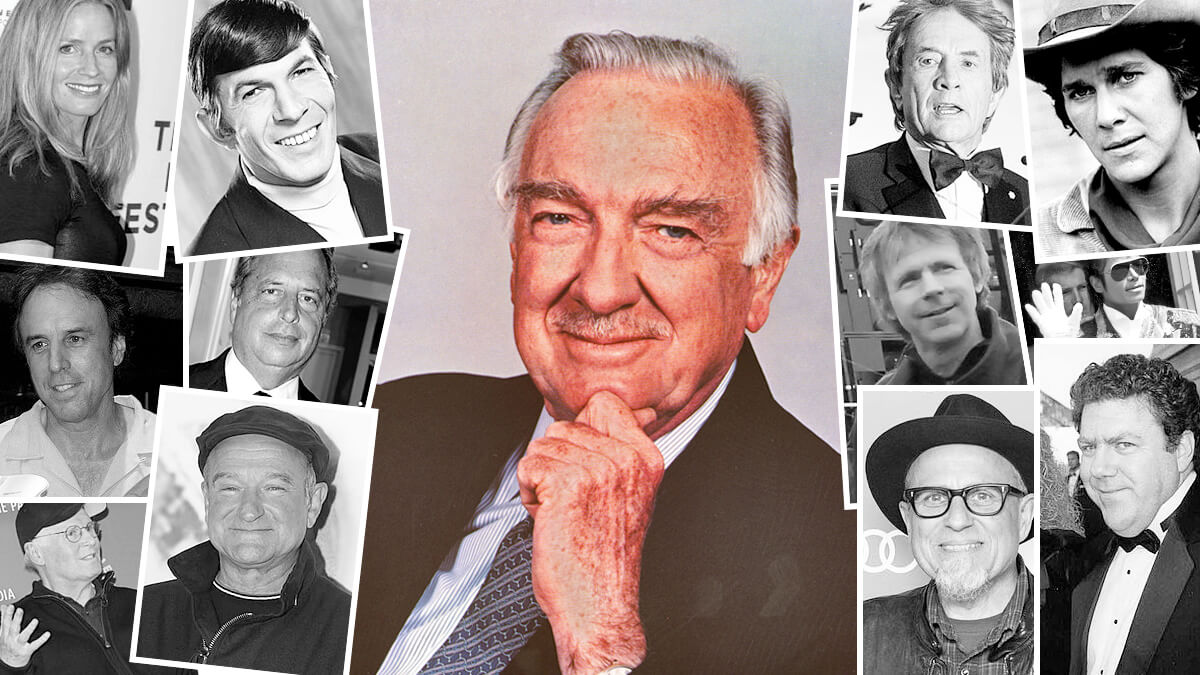 Are you familiar with the musical "Chicago"?
Fred Ebb & John Kander wrote a great song for that show called "Razzle Dazzle" which talks about how you can literally get away with murder – provided, of course, that you put on a good show first.
"Razzle Dazzle" has so many great lyrics. It's hard to settle on a favorite. Take — for example — this chunk:
To start, I want to share one key couplet from this show tune:
Michael Eisner – Fix EPCOT Center
So it's late September of 1984. And Michael Eisner has just been installed as the new head of The Walt Disney Company. One of Michael's very first duties is to fix EPCOT Center – which is about to celebrate the second anniversary of its grand opening.
Mind you, no one in management at the Walt Disney World Resort much feels like celebrating this anniversary. Especially given that attendance levels at EPCOT have fallen through the floor.
You see, word has gotten out among the theme park-going public that EPCOT Center — while beautiful designed & well-meaning — is a bagel. Not an Everything Bagel, or even an Onion Bagel or a Sesame Seed Bagel. But just a plain ordinary bagel.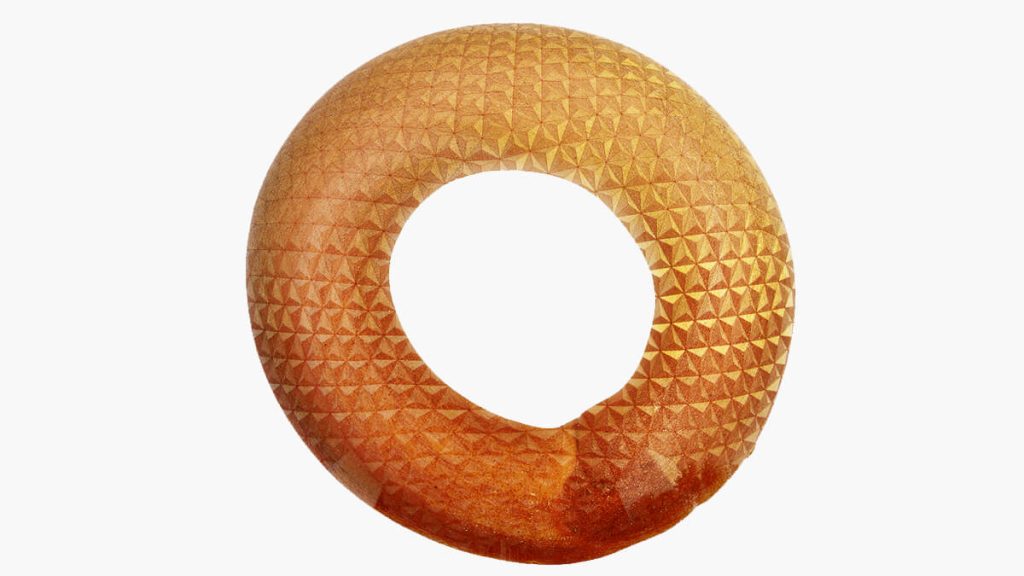 So Michael needs to find a way to make this bagel not seem quite so plain. Now you have to remember that Eisner came over to Disney from Paramount. Which was the hottest studio in Hollywood in the early 1980s.
So when Michael had a genuinely terrible movie during his days at Paramount …
How Eisner Fixed "Staying Alive"
Example: "Staying Alive," the 1983 sequel to Paramount's mega-hit from 1977, "Saturday Night Fever." "Staying Alive" was so terrible — it got such miserable reviews nearly 40 years ago — it has the distinction of being the oldest film on Rotten Tomatoes to get a 0% freshness rating. As in: There are NO good reviews out there anywhere for this Sylvester Stallone movie.
Yes, I know. I said a "Sylvester Stallone movie." Though John Travolta may have been the star, reprising his role as Tony Manero from "Saturday Night Fever," Stallone not only directed this movie, he also co-wrote & co-produced this Paramount Pictures production. Because — of course — when you're thinking of mounting a modern movie musical, the very first name that immediately comes to mind is Sylvester Stallone.
Anyway, Michael sees the rough cut of "Staying Alive" prior to its release to theaters in July of 1983 and realizes that it's a dud. But then Eisner decides that — in this particular situation — the best defense is a good offense. So Michael first has "Staying Alive" booked on 1660 screens nationwide. Eisner then sends Travolta & Stallone on this giant publicity tour, where this pair appears on every morning news program and every late night talk show.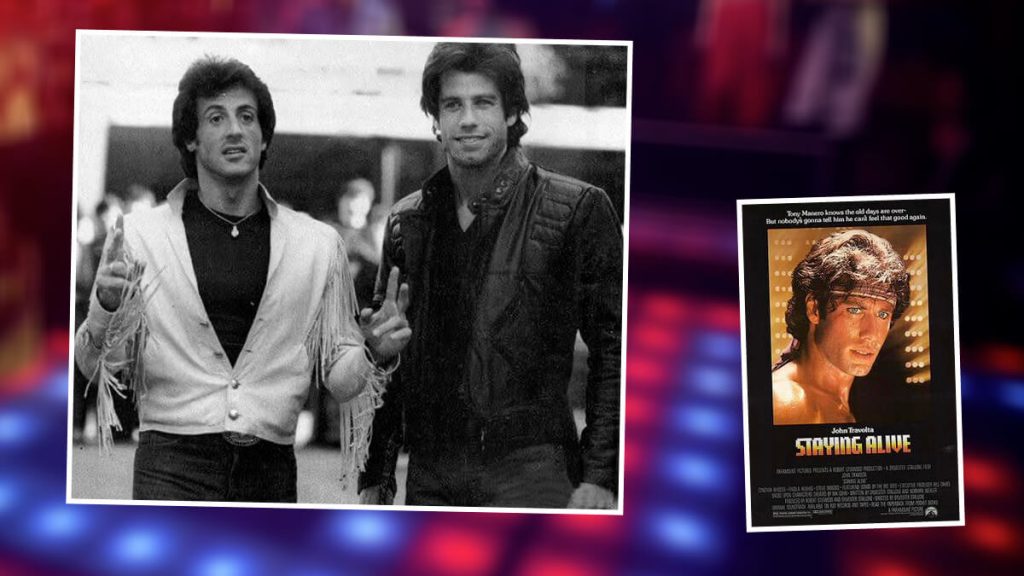 The end result is … Despite withering reviews, "Staying Alive" has the biggest opening weekend for a modern movie musical. It sold $12.1 million worth of tickets in North America. A record that this Sylvester Stallone movie held for 9 years 'til Disney's "Aladdin" opened in theaters in November of 1992 and then sold $19.2 million worth of tickets over its opening weekend in North America.
So Michael obviously knew the value of celebrity. That the right name — applied in the right way, of course — could quickly turn around the public's reception of a project.
Eisner Adds Celebrities in EPCOT Center
So when it came to EPCOT Center — which the public thought of as … Well .. Earnest. Educational. But not all that entertaining. Well, the quickest fix here was to throw a few celebrities at this theme park.
But where to start? How about with EPCOT's thesis attraction, Spaceship Earth. This 180-foot-tall geodesic sphere was typically the very first thing that Guests encountered as they entered this theme park. It was also usually the very first Future World attraction that Guests queued up for.
So who did Disney originally get to narrate EPCOT's thesis attraction? The really big show at this theme park? Vic Perrin.
There will now be a short pause for those of you who need to say "Who?"
FYI: Jack Benny did a variation of this very same gag when he made his debut on radio back in May of 1932. 90 years ago this month. What he said at that time was "This is Jack Benny talking. There will now be a short pause while you say 'Who cares?'"
Anyway … If you're a fan of the original "Star Trek" series, maybe you'll recall Perrin's brief appearances on that legendary TV show. He appeared as the two Tharns in "Mirror, Mirror." Also as the voice of Nomad in "The Changeling."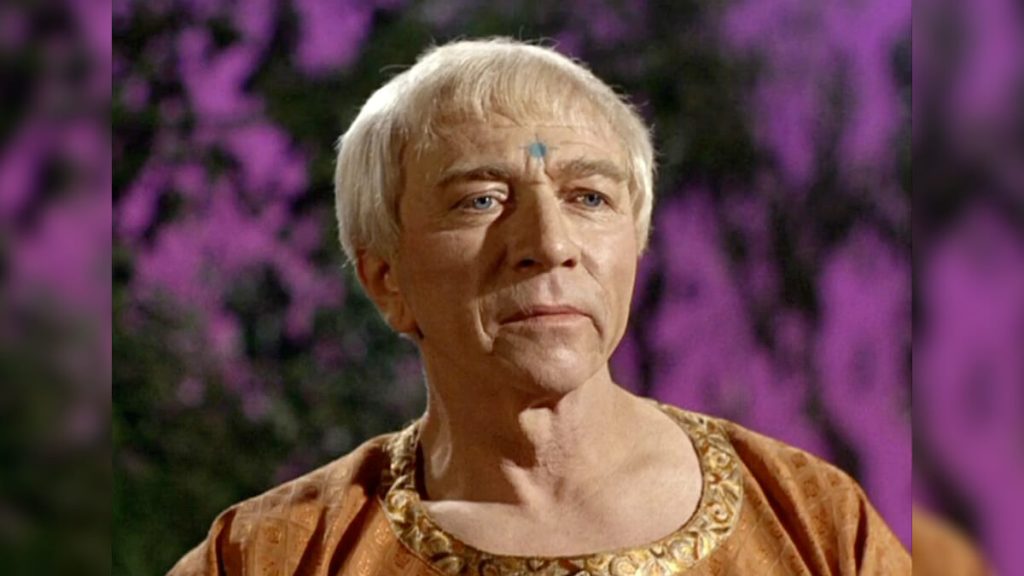 Speaking of Perrin's voice … If you know your 1960s sci-fi television series, maybe you remember "The Outer Limits." Which was ABC's response to the success of "The Twilight Zone." Which aired over on CBS.
Vic was the voice you heard at the very start of "The Outer Limits." "There is nothing wrong with your television set. We will control the horizontal. We will control the vertical."
That's the theory, anyway, as to how Vic Perrin got the gig of narrating "Spaceship Earth" as well as EPCOT's "Universe of Energy" pavilion. That there was a senior member of the Imagineering team who really liked "Star Trek" or "The Outer Limits" and then hired Perrin to be the voice of two Future World attractions which then sat side-by-side.
I've often wondered about visitors to the original version of EPCOT Center who — after they'd experienced Spaceship Earth — then went over to "Universe of Energy" only to then think "The Outer Limits Guy again? Really?"
So no disrespect to Vic. But Mr. Perrin — at least as far as Michael Eisner was concerned — wasn't really a name. And if Eisner was looking to make EPCOT Center suddenly seem … Well, sexy & exciting, the thesis attraction for this theme park was going to need a name narrator. Someone that the Guests would immediately recognize from the very first second the narration of that attraction got underway.
But who would that be?
Bringing Back "The Disney Sunday Night Movie"
Let's jump ahead now to the Summer of 1985. Where Walt Disney Productions has just cut a deal with ABC to revive the Studio's Sunday Night anthology. Which started out life as "Walt Disney's Wonderful World of Color," changed — upon Walt's death in December of 1966 — to "The Wonderful World of Disney." That long-running show — which eventually moved from NBC to CBS — went off the air in September of 1983. Largely because the Company didn't want people to be getting Disney content for free anymore after the Disney Channel had officially launched in April of that same year.
But now Michael Eisner was in charge of the Mouse House. And he wanted Disney back on network TV — if only for the sort of exposure a show like that would get. Which is why the Studios was now readying a new two-hour-long movie of the week series (which would be called — appropriately enough — "The Disney Sunday Night Movie") for launch in early February of 1986.
But then the question was … Who would be the host of "The Disney Sunday Night Movie" show? Walt had done such a wonderful job of hosting "The Wonderful World of Color" in the 1960s that he was deemed a tough act to follow. But since the thinking was — at that time, anyway — that this show needed an MC of some time … Well, a casting call went out and some legendary entertainers were considered for the role. Among the original candidates were:
Dick Van Dyke (kind of a no-brainer, given Dick's ties to the Studio's then-biggest hit, "Mary Poppins")
Danny Kaye (Also kind of a no-brainer. But given how miserably Kaye had behaved during the making of the EPCOT Center grand opening TV special — at one point, Danny deliberately dropped his pants on camera as he was directing the West Point choir, going out of his way to ruin a shot that had taken hours to set up — Kaye was quickly dropped from the candidate list)
Peter Graves (The star of TV's "Mission: Impossible." Also Eisner had worked with Graves on "Airplane!," which had been a huge hit for Paramount Pictures in the Summer of 1980. Michael liked Peter personally)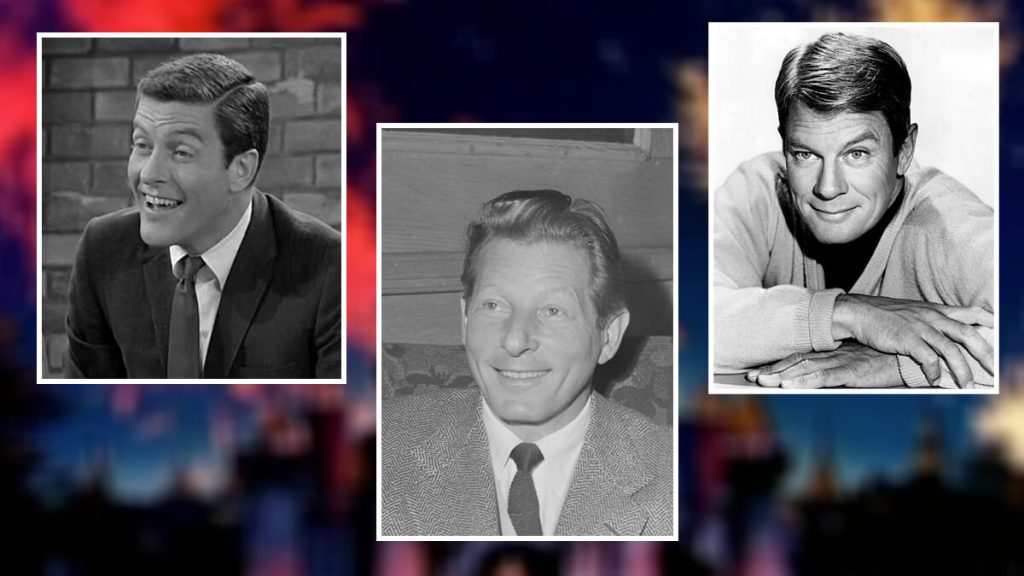 But because Eisner wanted "The Disney Sunday Night Movie" to be perceived as important … Well, he wanted a really big name to serve as the host of the revival of this long-running show. Someone like — well — the most trusted man in America.
Walter Cronkite – The Most Trusted Man in America
And in the mid-1980s, when you said a phrase like that (i.e., The most trusted man in America), only one name came up. And that was legendary newsman Walter Cronkite. Who — in March of 1981 — had stepped down as the anchor of "The CBS Evening News" after a 19 year run on that news program. Cronkite handed off that job to Dan Rather, who then went on anchor "The CBS Evening News" for a longer stint than Walter did. Rather stayed on in that job through March of 2005. Some 24 years, only to then be forced to step away from the CBS news desk because Dan got caught up in a scandal related to then-President George W. Bush's supposed service with the Texas Air National Guard.
Okay. So it's now four years after Walter has effectively retired from CBS (Cronkite still kept his hand in, though. Building on his years as a field correspondent covering the North Africa & European campaigns, Walter narrated a series of documentaries about the War entitled "World War II with Walter Cronkite." That multi-part series began airing in 1983). And the question then became "Well, how did we get ahold of this nearly 70-year-old man? Make him aware that we want him to come in & audition for the role of host / MC on the 'Disney Sunday Night Movie' ?"
This is when Walt's nephew — Roy E. Disney — stepped up and said "Leave that to me." You see, Roy E. was an enthusiastic sailor. And he knew that Cronkite shared this passion. So Roy E. quickly arranged a trip out to Martha's Vineyard (which is where Walter had retired to) and then — through friends there — set up a meet with Cronkite.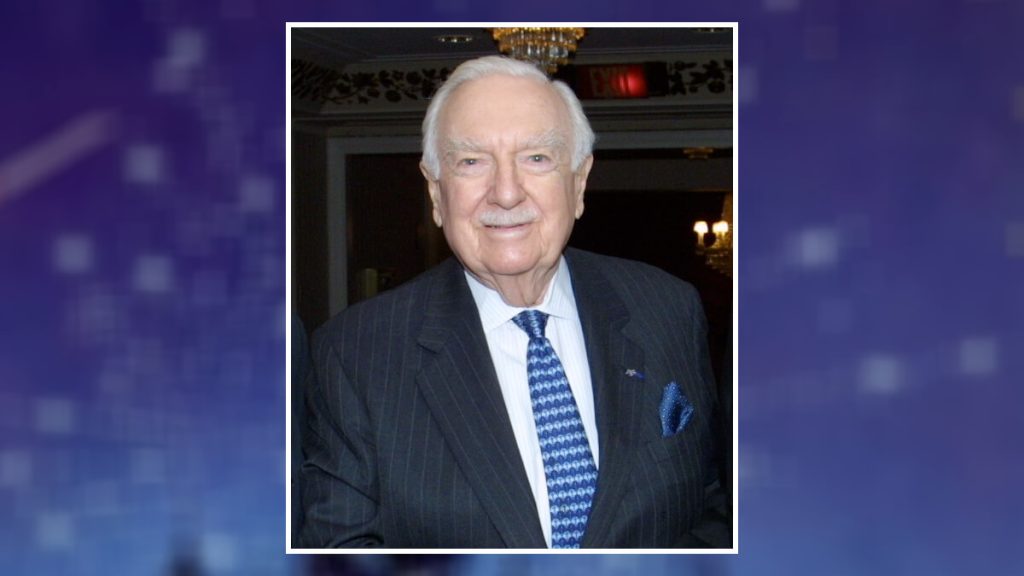 And I have to say that — from what I've been told — Cronkite was genuinely flattered by this offer. He had huge respect for the Disney organization. But as Walter reportedly told Roy E. "I'm retired now. I don't want the hassle that comes with working on a weekly show. Besides, Walt Disney is a tough act to follow."
So Walter politely but firmly turned that MC / hosting gig down. Which is how — almost by default — Michael Eisner then became the MC / host of "The Disney Sunday Night Movie." By Michael's own admission, he was initially terrible at this job. Eisner's own wife Jane reportedly told him that he looked terrible on camera. Awkward & stiff. But Michael kept at it. He even hired Michael Kay, who was this political consultant who specialized in creating campaign ads that made politicians who were just terrible in front of the camera look natural & folksy. Kay began working with Eisner on improving his on-camera performance. And over time, Michael got better at his hosting gig.
Getting Walter Cronkite into EPCOT Center
Back to Walter Cronkite now … Now that the Company had opened a line of communications with the most trusted man in America, the question now was: How do we take advantage of this? It was clear — from what Walter had told Roy E. — that he wasn't willing to take on a full-time gig at this time. But what about a project that would only take up — say — a day or so of Mr. Cronkite's schedule?
And remember: This is when Michael Eisner was looking to bedazzle EPCOT Center. Get some celebrities inserted into this Park to make it seem more excited & entertaining. You have to remember that this is late 1985 / early 1986. And the Company had already announced its deals with Michael Jackson & George Lucas. Which would — in just a few short months — result in the opening of "Captain EO," that 3D sci-fi music video something-or-other.
The downside was … "Captain EO" was woefully behind schedule. This 17-minute-long film had begun production in July of 1985 and was then supposed to be the new thing for the Parks for the Summer of 1986. But by the late Winter / early Spring of that same year, it became obvious that "EO" just wasn't going to be ready in time. There were still just too many FX shots that needed to be completed before this new 4D film could then be shown to Guests. So having this show ready by Memorial Day 1986 was no longer an option.
So what then to do to give EPCOT Center something to market as "new for the Summer of 1986" ? It was this point that someone at Imagineering came up with the idea of bringing in Walter Cronkite to re-record Vic Perrin's narration for "Spaceship Earth." Which would then give Michael Eisner something that he'd been asking for. Which was that EPCOT get a little star power. Add a celebrity or too.
Walter Cronkite's "Spaceship Earth" Script
So they contacted Cronkite. Who quickly agreed to the gig. That said, the revised version of the "Spaceship Earth" script that Walter was given to read was very different than the one Vic Perrin had been given to record back in 1980. It cut a lot of the poetic imagery that Ray Bradbury had originally written.
Here's the opening of the original version of Spaceship Earth:
And here's how the Walter Cronkite version of the opening of "Spaceship Earth" went. First there was an actual introduction:
Then Walter began speaking:
Far less poetry. More putting-the-hay-down-where-the-goats-can-get-at-it style narration.
I'm told that Walter recorded his narration for "Spaceship Earth" in April of 1986. The Imagineers spent the next few weeks editing that recording and then doing the final mix. Once that was done … Well, this Future World attraction was then briefly closed to allow installation of this new material.
1986 "Spaceship Earth" Additions and Adjustments
And when I say "briefly," I mean briefly. Like three days total. May 26 – 28, 1986. On the morning of May 29th, the very first Guests climbed aboard those ride vehicles at the base of Spaceship Earth and then heard Walter Cronkite as this Future World attraction's new narrator.
Other tiny tweaks that were made to "Spaceship Earth" during its three day-long shut down:
The fog machine that was previously located on the load hill was removed. Replaced by twinkle lights (which were supposed to simulate stars)
Two new scenes were added to the very topmost portion of "Spaceship Earth" 's ride track (just before the network operations center scene). These were still tableaus. To on the left side of the track, a scene was shoehorned in showing a woman working in a "paperless office." And on the right side, a scene that showed a boy in his bedroom looking at a personal computer was added.
On the load hill going down to the off-load area, images of happy children were added to better underlined the theme song for "Spaceship Earth" 's descending section, "Tomorrow's Child".
That's all they could do in three days time. Contrast this with "Spaceship Earth" 's next redo, which went from August 15th – November 23rd, 1994. Three months long. Lots of show scenes changed.
Walter Cronkite at Disney-MGM Studios
Cronkite really enjoyed worked on the "Spaceship Earth" redo. So much so that — when the Imagineers reached out just two years later and asked with Walter would be willing to be paired with Robin Williams to then serve as the co-host of "The Magic of Disney Animation" which was being prepped for the then-still-under-construction Disney-MGM Studio Tour, Cronkite immediately said "Yes."
That said, Walter really didn't get Robin's off-the-wall humor. There's a behind-the-scenes / blooper reel of sorts out there for "The Magic of Disney Animation." And it shows a lot of alternate jokes that Williams tried out for this attraction, followed by Walter looking at Robin like he's an idiot.
1986 EPCOT Center Celebrity Upgrade
Back to the Summer of 1986 now … Guest surveys taken between June & July of that year showed that the Guests thought having Walter Cronkite as the narrator for "Spaceship Earth" was a huge positive. Approval ratings for this Future World attraction reportedly went up by 15 points just based on Cronkite's name recognition (Though the new less flowery version of this ride's narration obviously helped too).
"Captain EO" opened in September of that same year and also wowed EPCOT Center visitors. And by this point, Michael was determined to bedazzle Future World.
The Wonders of Life theatre show "Cranium Command" attraction originally had an all-animated supporting cast. At Eisner's insistence, most of the animated sections of this attraction were dropped and then replaced with footage of celebrities:
"Wonders of Life" pavilion opened in October of 1989. Martin Short started in "The Making of Me." Tim Matheson & Elizabeth Shue starred in "Body Wars." Which was directed by Leonard Nimoy.
EPCOT then embraced celebrities & characters and never looked back.
This article is based on research for The Disney Dish Podcast "Episode 376", published on May 30, 2022. The Disney Dish Podcast is part of the Jim Hill Media Podcast Network.