Five members of the Original Mouseketeers to take part in a Walt Disney Birthplace fundraise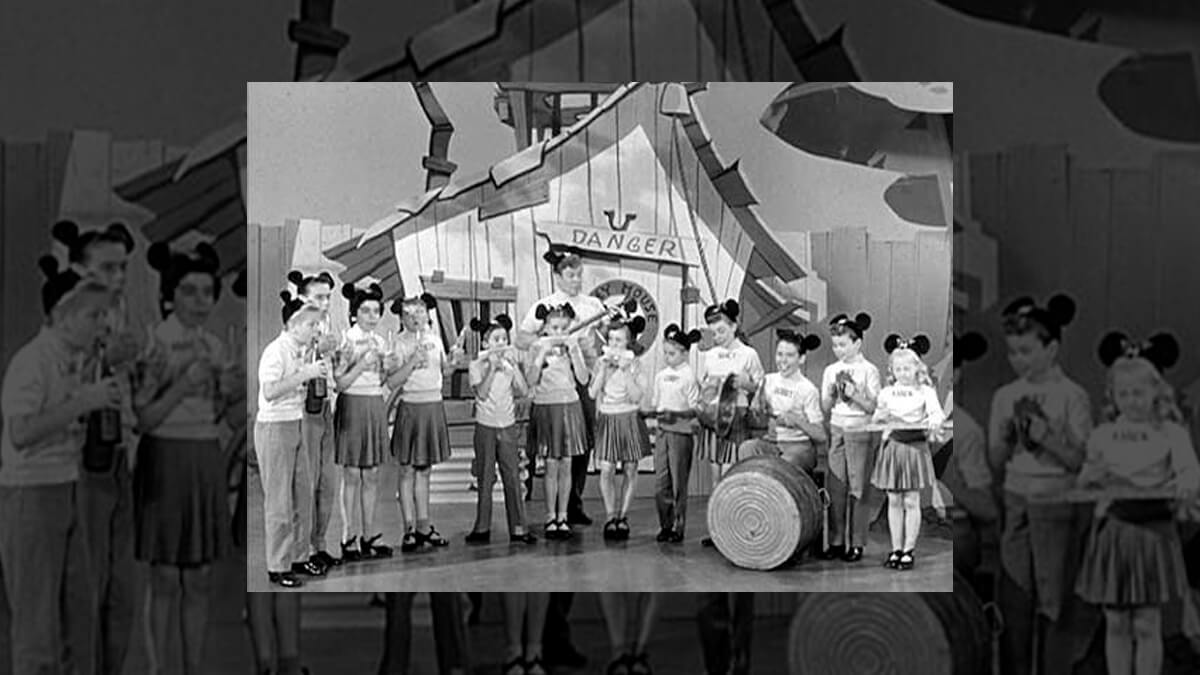 So if you had wanted to see the Original Mouseketeers in person back in their heyday (1955 – 1958), what were your chances if you lived outside of Southern California? Slim & none.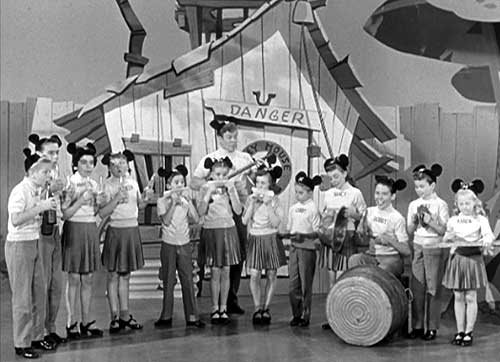 Copyright Disney Enterprises, Inc. All rights reserved
And why was that exactly? To be blunt, "The Mickey Mouse Club" didn't shoot in front of a live audience. More to the point, Cubby & Co. were just too busy rehearsing & then shooting this TV show to make all that many personal appearances when this Disney-produced program was originally on the air.
To explain: Because the weekly "Disneyland" anthology series immediately became a smash when it debuted on ABC back in October of 1954, network executives there quickly exercised an option in the contract that Walt had signed with them back in April of 1953 for a second Disney-produced program. This time around, though, ABC execs wanted something that could air during daytime. A late afternoon show that would take on the then-titans of children's television: Buffalo Bob Smith (i.e., host of the then-super-popular "Howdy Doody" show) and Pincus Leff (i.e., the former burlesque comic who headlined the equally-popular "Pinky Lee Show").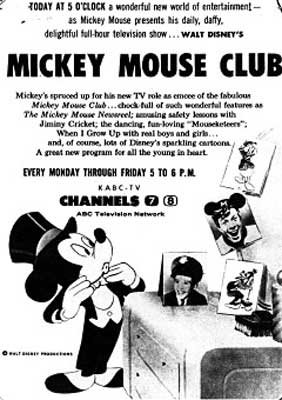 Copyright Disney Enterprises, Inc. All rights reserved
An undertaking of this size – which was supposed to air 5 days a week, Monday – Friday, from 5 – 6 p.m. – would require a huge cast (and an equally large behind-the-scenes production team). Which is why – in April of 1955 – Walt Disney Productions held open auditions for "The Mickey Mouse Club." And of the 500 kids who came out, 19 were then selected to become the Original Mouseketeers.
Production of the first 100 episodes that were supposed to make up Season One of this TV show began the very next month. Because California labor laws limited the amount of time that a child could appear in front of a camera to just four hours a day (with the other four hours that made up a standard eight hour-long work day then being set aside for three hours of school and one hour of lunch & recess), Disney Studios did what they could to maximize efficiency while "The Mickey Mouse Club" was shooting.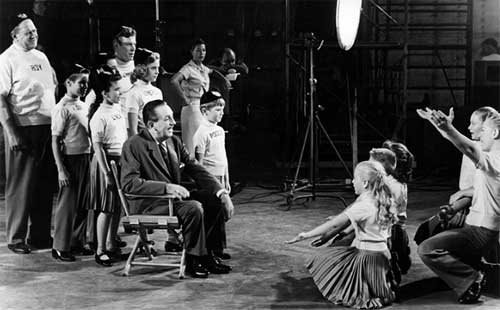 Copyright Disney Enterprises, Inc. All rights reserved
The key to meeting this TV show's daily footage quota (which was crucial if "The Mickey Mouse Club" was actually going to be ready to air in time for its already announced October 3, 1955 premiere date) was dividing the Mickey Mouse Club cast in three teams: Red, White & Blue. With the idea here being that – while the Red Team was in front of the cameras – the Blue Team could be rehearsing and the White Team could be attending classes in Disney's "Little Red Schoolhouse" (i.e., that tiny trailer on the Burbank lot where 12 kids at a time would study Math, English & Science under the tutelage of the official studio teacher). And once the kids who were in the Red Team were maxed out on the amount of time they could legally spend in front of a camera for that day … Well, the Blue Team would then leave their rehearsal hall and head for Stage 1 (i.e., the official on-the-Disney-lot home for production of "The Mickey Mouse Club") to begin shooting while the Red Team – after a break for lunch & recess – would swap places with the White Team in the "Little Red Schoolhouse." And as that group began its studies, the White Team would then head over to the rehearsal hall.
And this was the way things were on the Disney Lot for six days a week (Yes, in order to meet "The Mickey Mouse Club" 's previously announced airdate, Studio execs had the Mouseketeers working in front of those cameras Monday – Saturday) during the three year span that this daytime TV variety show was in production. Walt even had these kids working on Sunday during one hot July day in 1955. Though – to be fair here – that was so the Mouseketeers could then appear on ABC as part of the nationwide live broadcast of that 90-minute-long TV special which commemorated the grand opening of Disneyland Park.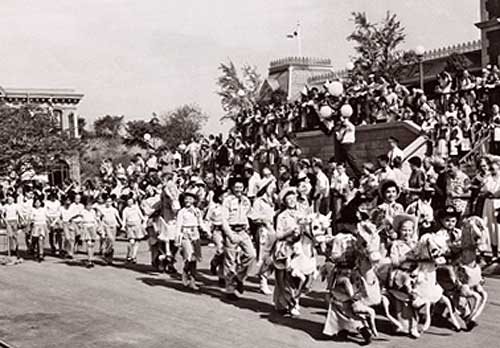 Copyright Disney Enterprises, Inc. All rights reserved
And speaking of "The Happiest Place on Earth" … One of the only times that the Mouseketeers ever got the chance to perform live in front of their fans was the extremely-short-lived Mickey Mouse Club Circus. Which was presented at Disneyland Park from November 24, 1955 to January 8, 1956.
This under-the-canvas extravaganza was present three times a day on weekdays and four times a day on weekends. And the Mouseketeers were prominently featured in this 75-minute-long presentation. They even rode on top of some of the classic circus wagons that rolled through Disneyland Park daily to herald the start of daily performances of the Mickey Mouse Club Circus.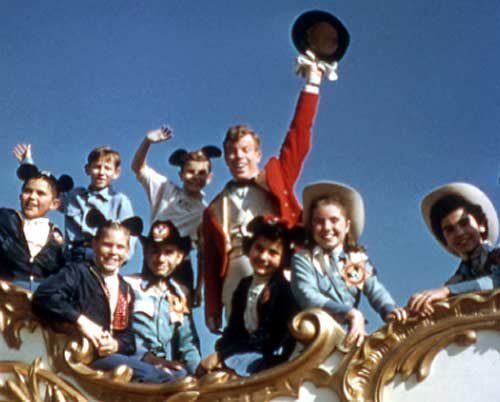 Copyright Disney Enterprises, Inc. All rights reserved
But because this show-under-the-Big-Top was kind of a big flop at the Happiest Place on Earth (As it turned out, people in the 1950s didn't go to Disneyland Park to see circuses. They drove out to Anaheim to check out all of the rides, shows & attractions that Walt had his Imagineers design) … Given the smallish sized crowds that had come to see the Mickey Mouse Club Circus, the Mouseketeers really didn't have a clue how hugely popular their daily TV show (which had premiered on ABC eight weeks earlier) was. These kids just went back to the Disney Lot and – under pretty much the exact same working conditions as they had shot Season One of this TV show – the Mouseketeers shot Seasons Two & Three of "The Mickey Mouse Club" in 1956 & 1957
In fact, for a number of the Mouseketeers, it wasn't 'til they journeyed to Australia for a post-production appearance in May of 1959 (Though "The Mickey Mouse Club" would continue to air on ABC through September of 1959, Disney Studios stopped shooting new episodes of this daytime variety show back in May of 1958) that these kids then learned how truly popular this television program had been. When they were greeted at Sydney Airport by 4,000 screaming fans (And to put this crowd in perspective: When the Beatles flew in from the U.K. on February 7, 1964 to begin their first American tour, the Fab Four encountered 5,000 screaming girls when they deplaned at JFK), these relatively sheltered child stars finally got the sense that they had been a part of something truly significant.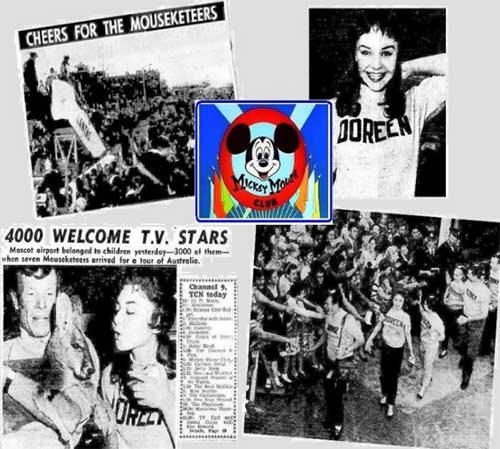 Copyright Disney Enterprises, Inc. All right reserved
How significant? According to the Nielsen ratings service, during the 1955 – 1956 television season, for the first three months that "The Mickey Mouse Club" was on the air, 48.7% of TV viewers in North America were watching this "kiddie show." Which meant that this Disney-produced program was the highest rated television show on all of daytime at that time.
The reason I bring this specific behind-the-scenes story up now is … Well, five surviving members of the Original Mouseketeers – to be specific: Sherry Alberoni, Sharon Baird, Bobby Burgess, Tommy Cole & Cubby O'Brien – will be at the historic Tivoli Theatre in Downers Grove on Sunday, June 25th. And while they're onstage, these five will be sharing stories about what it was like to work with Walt & singing classic Mickey Mouse Club songs. They'll even be taking part in a panel discussion which will take attendees behind-the-scenes on what it was like to be a member of the cast of this historic television program. Best of all, Sunday's "Magic of the Mouseketeers" presentation is a fundraiser for Creativity Days at the Walt Disney Birthplace.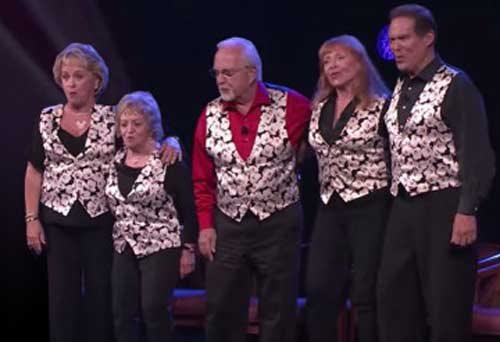 Copyright Disney Enterprises, Inc. All rights reserved
Mind you, if you can't make it out to Chicago this coming weekend, there is also a spectacular Disney-related event occurring on that exact same date – Sunday, June 25th — at Van Eaton Galleries in Sherman Oaks, CA. Over a thousand Disneyland artifacts will be coming up for bid. (The two illustrations that follow were pulled from the official "Walt Disney's Disneyland" auction catalogue).
If you're more of a window shopper, please be aware that many of the items that are about to come up for bid are now on public display. And if you swing by Van Eaton Galleries today or tomorrow (its exhibition hours are 10 a.m. to 6 p.m. on both days), you can then view the presentation map of Disneyland that Walt used to convince ABC executives to not only fund construction of what – back in 1953, anyway – the Disney Company was calling its " … family fun park," but this is also the piece of paper that sold network executives on the idea that they should produce a weekly "Disneyland" TV series as well as "The Mickey Mouse Club" variety show.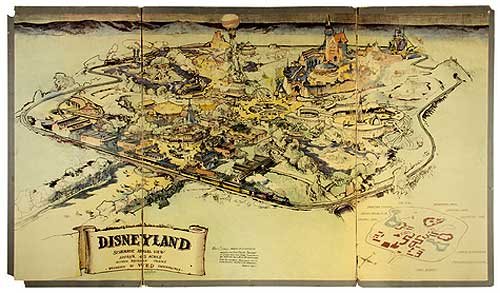 Copyright Disney Enterprises, Inc. All rights reserved
To bring this story full circle: If you look closely at the key for Disneyland's 1953 presentation map, in the place where Tom Sawyer's Island is currently located, what do you see? The Mickey Mouse Club. A "land" at this theme park with a physical clubhouse where fans of this 15-months-away-from-officially-being-optioned-by-ABC-executives TV show could then go and hang out.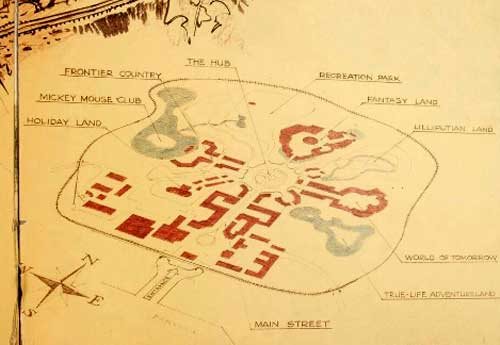 Copyright Disney Enterprises, Inc. All rights reserved
I mean, I know that Walt Disney was supposed to be this really forward-thinking fellow. But planning out something like this so far in advance puts a whole new spin on that lyric from the "Mickey Mouse Club March," "Hey there, Hi there, Ho there, you're as welcome as can be," don't you think?
This story was originally published by the Huffington Post on Friday, June 23, 2017
Who Wants to Film a Game Show? – History of Game Shows at Disney Theme Parks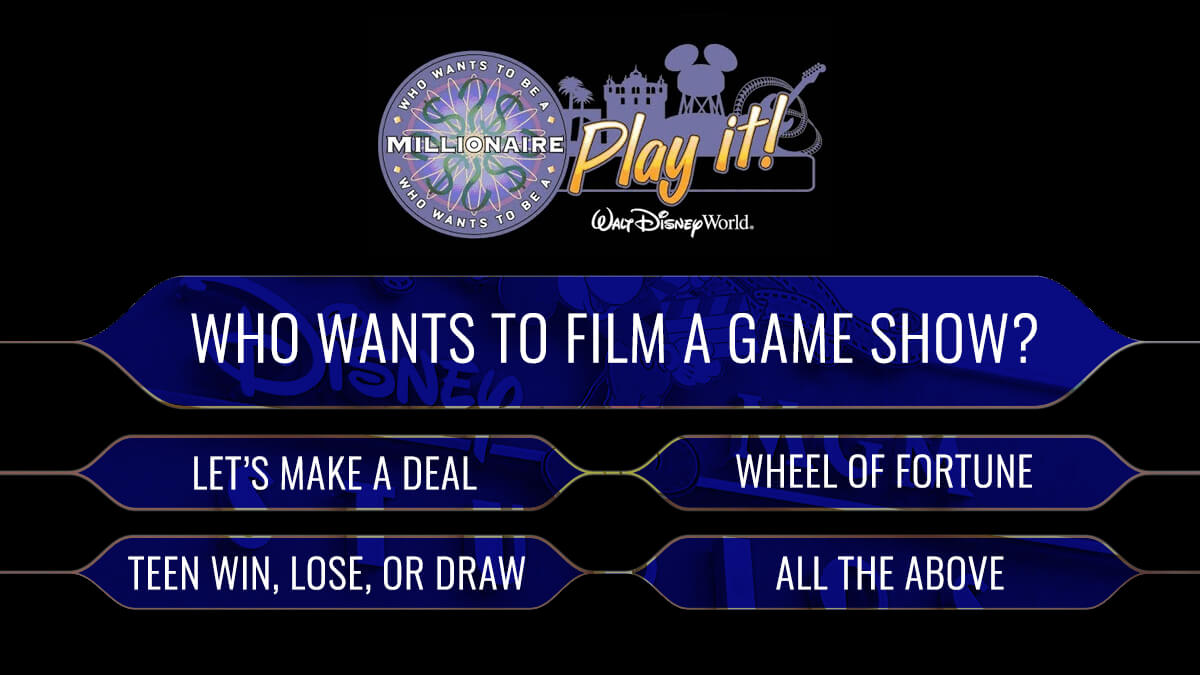 On April 10, 2001, a fleet of armored cars rolled through the streets of Disney's Hollywood Studios. And no, they weren't hauling away all of those $35 Lightning Lane fees that WDW visitors had been charged during Easter Week (That's surge pricing gone crazy). But – rather – those armored cars were delivering Regis Philbin & Mickey Mouse to the site of that theme park's newest attraction, "Who Wants to Be a Millionaire – Play It!"
"Who Wants to Be a Millionaire" – ABC Television Game Show
This was the Imagineers attempting to capitalize on a worldwide phenomenon. This hugely popular television game show had originally been launched just three years earlier in the UK. By 1999, ABC had acquired the US broadcast rights to "Who Wants to Be a Millionaire." In mid-August of that year, as sort of a trial balloon, that broadcast network did a two week-long run of this game show in primetime with Philbin (Who – as that time – was co-host of Buena Vista Television's syndicated daytime talk show, "Live with Regis & Kelly") as host.
"Who Wants to Be a Millionaire" scored so high in the ratings that ABC brought it to primetime just three months later. And this game show did so well ratings-wise during the crucial November 1999 Sweeps period, that – starting in 2000 – this Disney-owned television network began airing episodes of "Millionaire" sometimes three, four and even five nights a week. Where as many as 28 million viewers would then tune in to say Regis say "Is that your final answer?"
And given that this is The Walt Disney Company were talking about here (which – when it has a hit on television [Think Davy Crockett, Zorro, even Baby Grogu on "The Mandalorian"] – immediately looks for other ways to cash in on this phenomenon. Strike while the iron is hot. Haul in all those Benjamins before this fad inevitably fads), the question almost immediately came up: What can we do with "Millionaire" at the Disney Parks? Is there any way we can turn this hit game show into something that the Guests can do at – say – Disney's Hollywood Studios and/or Disney California Adventure.
Game Shows at Disney-MGM Studios
And the Imagineers said "Sure. We'll just do what we did with 'Let's Make a Deal' at the Studios back in 1990."
Do you remember the "Let's Make a Deal" attraction that used to be presented several times daily in Soundstage One at what was then called Disney-MGM Studios theme park back in the early 1990s? This was back when Walt Disney World's third gate was supposed to be a working studio. A place where Guests could then see actual movies & TV shows being made as they walked through those sound-proof, glassed-corridors. Which had been built into those three soundstages that Florida tourists got to visit whenever they took Disney-MGM's backstage tour.
This theme park opened in May of 1989. And almost immediately, Disney found that it was far harder to persuade film & television professionals to fly on down to Florida and then shoot their movies & TV shows on site at the Disney-MGM theme park than they thought it would be. And given that the Disney Channel couldn't really afford to film its entire broadcast line-up in Orlando (Over the years, only a handful of that cable channel's series – "MMC – The New Mickey Mouse Club," "Adventures in Wonderland," and "Storytime with Belle" – were actually shot at Disney-MGM) … As 1989 gave way to 1990, the executives who were in charge of Disney World's third theme park really began to scramble. Looking for some movie or TV show that was willing to be produced inside of Disney's brand-new, very-expensive-to-build soundstages in Central Florida.
"Wheel of Fortune" Filmed at Disney-MGM Studios
Mind you, by now, the syndicated version of "Wheel of Fortune" – hosted by Pat Sajak & Vanna White…
FYI: Those two have been working together on this TV game show since 1981. Sajak [Who – starting with the 2023 – 2024 season of "Wheel of Fortune" – has been the host of this game show for 41 years. Vanna, on the other hand, has been turning letters on this program since 1975. That's 46 years if you can believe it …
Anyway, "Wheel of Fortune" had – the year previous – shot 10 episodes onsite at Disney-MGM. And that TV game show already had plans to return to Orlando in 1990 and shoot another set of shows. Guests seemed to have really enjoyed getting the chance to sit in on a taping of "Wheel of Fortune." Which is what then made Disney-MGM officials think: "Okay. Let's see if there's another TV game show that might then be willing to be produced in our Florida soundstages."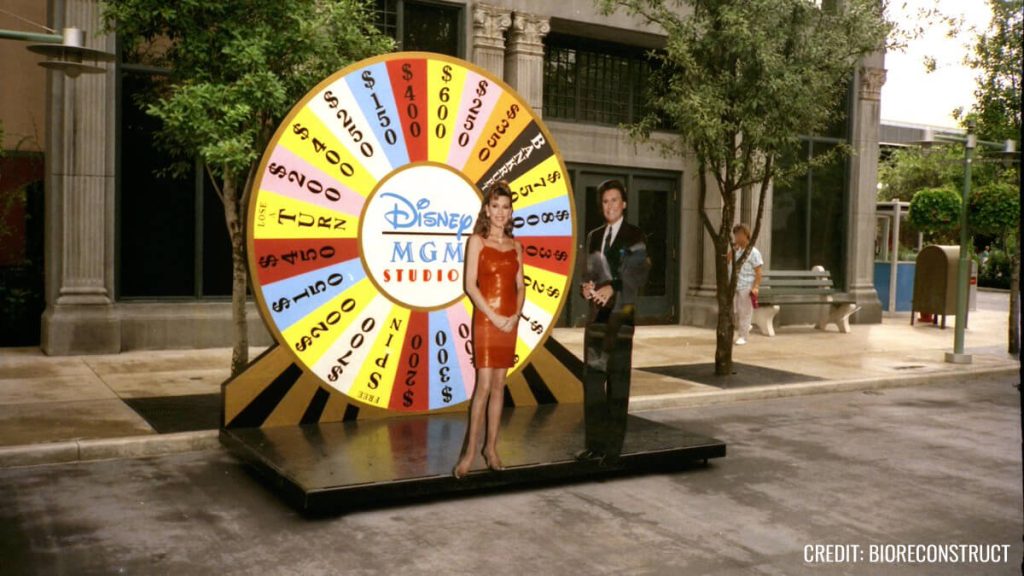 "Let's Make a Deal" Filmed at Disney-MGM Studios
And – as it turns out – there was: "Let's Make a Deal." This classic TV game show had originally debuted on NBC back in December of 1963 as part of that network's weekday morning line-up. After 5 years on the Peacock network, "Let's Make a Deal" suddenly jumped to ABC in 1968. Where it then ran as part of the Alphabet network's weekday morning line-up for another 8 years.
Hosted by Monty Hall (who served as master of ceremonies on 4500 half-hour-long episodes of this TV game show back in the 1960s & 1970s), "Let's Make a Deal" had been so popular with TV viewers / had such strong brand recognition that – by 1989 – there had already been two attempts to revive the program. One in 1981 and a second attempt in 1984.
By January of 1990, a third attempt to revive "Let's Make a Deal." Only this time around, Monty Hall wasn't going to be in front of the camera. He was only going to be a producer of this TV game show.
"I'm looking for new fields to conquer," Hall said in an interview with the Los Angeles Times at the time. "I am committed to finding just the right new host for the show."
Disney learned about this revival of "Let's Make a Deal" that was in the works and quickly approached Hall & Co. By February of 1990, a deal had been struck. This TV game show would begin shooting in Florida in June of that same year and typically shoot two shows a day several times a week.
Faux Shows of "Let's Make a Deal" at Disney-MGM Studios
Which brings us to what Disney-MGM would do on those days when this 1990 revival of "Let's Make a Deal" wasn't shooting. Which was that it would load Guests into Soundstage One anyway (sometimes five and six times a day) and do a pretend taping of "Let's Make a Deal." Guests would be pulled out of line outside of the soundstage and then taken into the soundstage ahead of this pretend taping. Where – just like game participants did during production of the original version of "Let's Make a Deal" game show back in the 1960s & 1970s – Guests would be encouraged to dress in zany outfits. Only these zany outfits would then be pulled from Disney World's Wardrobe Department. Which had over 15,000 costume pieces right there onsite at Disney-MGM (You used to be able to see a lot of these costumes on display when you took Disney-MGM's tram tour).
Disney spared no expense on this project. They built an elaborate two level set for this "Let's Make a Deal" revival inside of Soundstage One. They also installed seating for 800 Guests inside of that soundstage (So that 1600 people could then see a taping of this game show on those days when "Let's Make a Deal" was actually taping. Shooting two episodes back-to-back. And also because upwards of 4000 Guests could then get in on a faux taping of "Let's Make a Deal" on those days when production of this TV game show was dark and Disney-MGM was just pretending to shot an episode of "Let's Make Deal').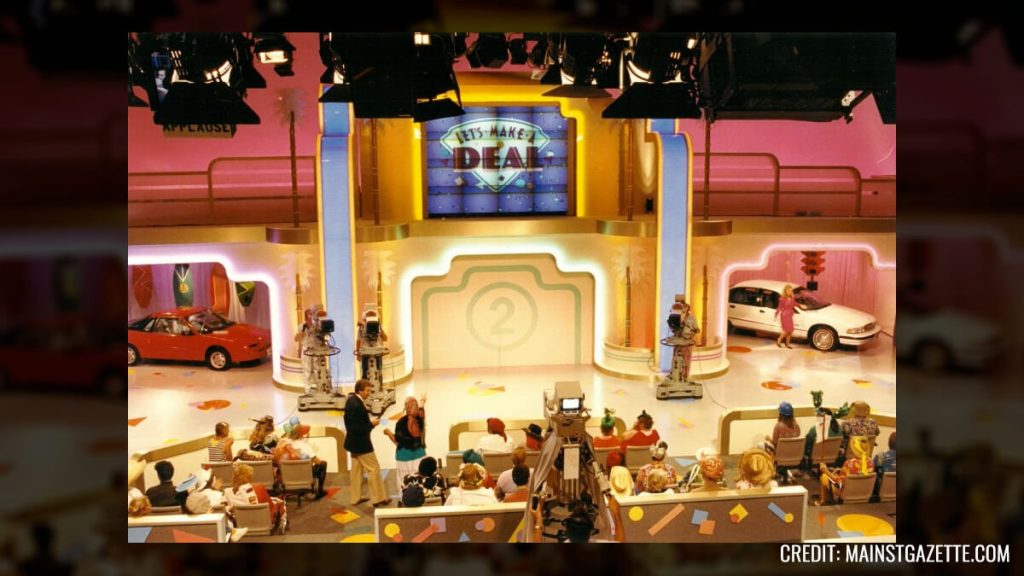 Did the Revived "Let's Make a Deal" Work?
It was a great idea on paper. The new version of "Let's Make a Deal" began shooting at Disney-MGM in June 4, 1990. These episodes actually began airing on NBC some 5 weeks later on July 9th of that same year. And that's when the trouble started. Monty Hall had selected as host of this "Let's Make a Deal" revival a young guy called Bob Hilton. Who was handsome & affable but just not up the task of handling a TV game show. Especially one that had a live audience of 800 people.
In hindsight, Disney's desire to turn this "Let's Make a Deal" revival into an actual attraction at Disney-MGM tanked the TV show. The original version of this television series on NBC & ABC in the 1960s & 1970s had an audience of only 200 people tops. It also had a simple, single level set of just … Well, Door Number One, Door Number Two and Door Number Three. Plus whatever was in the box that Jay was bringing down the aisle.
Whereas the version of the "Let's Make a Deal" set than was built on Soundstage One had two levels. Plus the Disney characters regularly took part in the tapings of this TV game show. Bob Hilton – as a TV newbie – just couldn't compete. He was swamped by his surroundings.
Quickly realizing that Hilton was in over his head, Monty Hall (who – let's remember – was one of the producers of this "Let's Make a Deal" revival) saw that the ratings for this TV game show were tanking and made a tough decision. Which was to fire Bob Hilton and then step in as the new host of this "Let's Make a Deal" revival.
It didn't help. By January of 1991 (just six months after this show had first debuted), NBC had pulled this "Let's Make a Deal" revival off of its weekly daytime morning line-up and then replaced with a reality show which featured footage from trials around the country. Which left Disney with a dark soundstage and a really expensive set that now needed to be torn down & hauled away.
"Who Wants to Be a Millionaire – Play It!"
Back now to "Who Wants to Be a Millionaire – Play It!" (which first opened to the theme parking-going public on April 7, 2001), the Imagineers definitely took the hard lessons they learned from that "Let's Make a Deal" revival and then applied those when it came to turning this hit ABC primetime series into a theme park attraction.
First of all, WDI made sure that what they were building inside of Soundstage Two & Three was virtually identical to what people had seen when they were watching "Who Wants to Be a Millionaire" at home. The set, the lighting cues, the sound effects, the musical stings were all replicated to the best of the Imagineers' abilities.
How Guests Played "Who Wants to Be a Millionaire – Play It!"
The one thing that was different was … Well, the Guests taking part in "Who Wants to Be a Millionaire – Play It!" weren't playing for money. But – rather – points.
And for each question they got right, the Guests were then awarded a certain number of points (and a collectible pin that then acknowledged that this person then acknowledged that they got to that particular level while taking part in "Who Wants to Be a Millionaire – Play It!"). And if this Guest then made it through the first few levels, they then:
At the 1,000-point level, they then earned a "Who Wants to Be a Millionaire – Play It!" baseball cap.
At the 32,000-point level, they earned a "Who Wants to Be a Millionaire – Play It!" polo shirt.
(In the early days of this attractions, contestants were also awarded a copy of the "Who Wants to Be a Millionaire" CD-ROM game after they correctly answered the 32,000-point question).
At the 1,000,000-point level, they were then awarded an "I'm a Million Point Winner" black leather jacket. These Guests were also gifted a trip to New York City to see a taping of the real "Who Wants to Be a Millionaire" TV show.
FYI: The folks at Disney-MGM sometimes changed this up. And – instead of that trip to NYC to attend a "Who Wants to Be a Millionaire" taping – they'd then gift these Guests a three night trip aboard the Disney Cruise Line.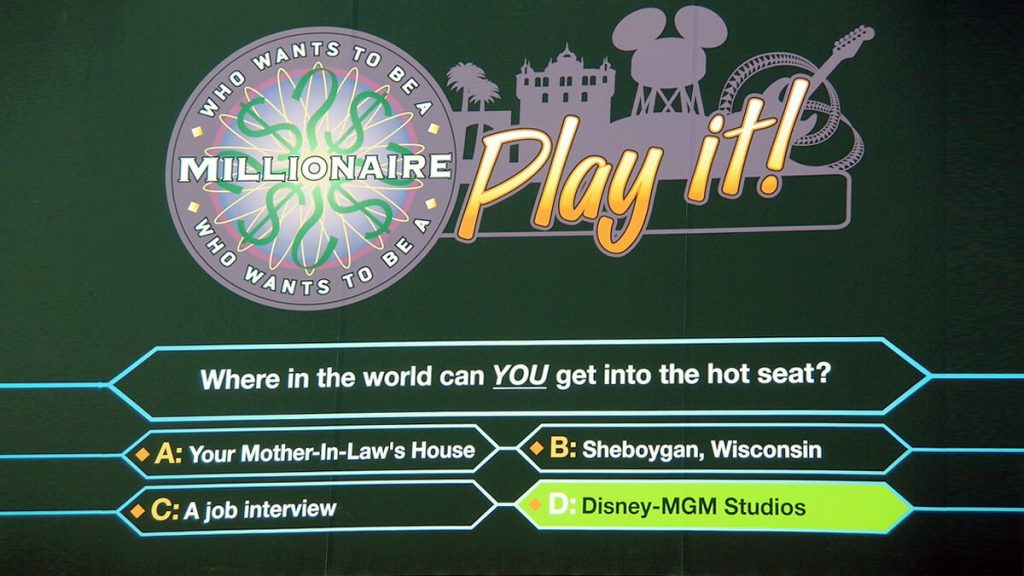 "Who Wants to Be a Millionaire – Play It!" at Disney California Adventure Park
"Who Wants to Be a Millionaire – Play It!" was popular enough with Disney-MGM visitors that a second version of this attraction was then fast-tracked for Disney California Adventure Park. A brand-new building – Soundstage 17 – was hurried thrown together in that Hollywood Studios Backlot section of that theme park over the Summer of 2001. With the West Coast version of this TV game show opening on September 14th of that same year. Just three days after 911.
"Who Wants to Be a Millionaire" Pulled from Network TV
Wait. It gets worse. By this point, ABC had effectively killed the golden goose. The "Who Wants to Be a Millionaire" TV show was airing so often on the Alphabet Network now that audiences had started to lose interest in this. And by late June of 2002, ABC execs had pulled "Who Wants to Be a Millionaire" off of that network's primetime schedule entirely.
Mind you, there was still the syndicated version of "Who Wants to Be a Millionaire" (which was hosted by Meredith Viera rather than Regis Philbin). Which would begin airing on television stations around the country in September of 2002. But "Who Wants to Be a Millionaire" was no longer the white-hot phenomenon that it once was. And the drooping attendance levels at the East & West Coast versions of "Who Wants To Be A Millionaire – Play It!" reflected that.
Removal from the Theme Parks
By August 20, 2004, Disney California Adventure threw in the towel. They shuttered their version of "Who Wants to Be a Millionaire – Play It!" on that day. And since that time, Soundstage 17 has been a variety of things. Among them "Olaf's Snow Fest" and – more recently – it's been the "Super Store featuring Avengers Campus." Meaning that Soundstage 17 is the place you go to buy MCU stuff when the lines are too long inside of the Avengers Campus.
In Florida, "Who Wants to Be a Millionaire – Play It" hung on two years longer. It eventually shuttered on August 19, 2006 so that Soundstages Two & Three could then become home to "Toy Story Mania." Which opened at Disney's Hollywood Studios some 21 months later on May 31, 2008.
Fun Little Fact about "Who Wants to Be a Millionaire – Play It!" The TV version of this game show had a "Phone a Friend" option. The theme park version of this game show had a "Phone a Complete Stranger." Which meant that a Cast Member standing outside of this soundstage would then attempt to recruit someone who just happened to be walking by this attraction at the moment this phone rang to come attempt to answer that question.
Memories of Game Shows in Disney Parks
Me personally, my favorite version of "Who Wants to Be a Millionaire – Play It!" was staged during "Star Wars Weekends" at Disney's Hollywood Studios. This was when "Phone a Complete Stranger" was replaced by "Ask the Jedi Council."
Any winners reading today? If so, do you still have your "Who Wants to Be a Millionaire – Play It!" baseball hat, polo shirt or leather jacket?
We would love to hear your stories. Let us know your memories of game shows in the parks in the comments or over on social media.
This article is based on research for The Disney Dish Podcast "Episode 422", published on April 3, 2023. The Disney Dish Podcast is part of the Jim Hill Media Podcast Network.
"Seinfeld" Moms: A Tribute to Two TV Moms We Lost in April 2022, Estelle Harris & Liz Sheridan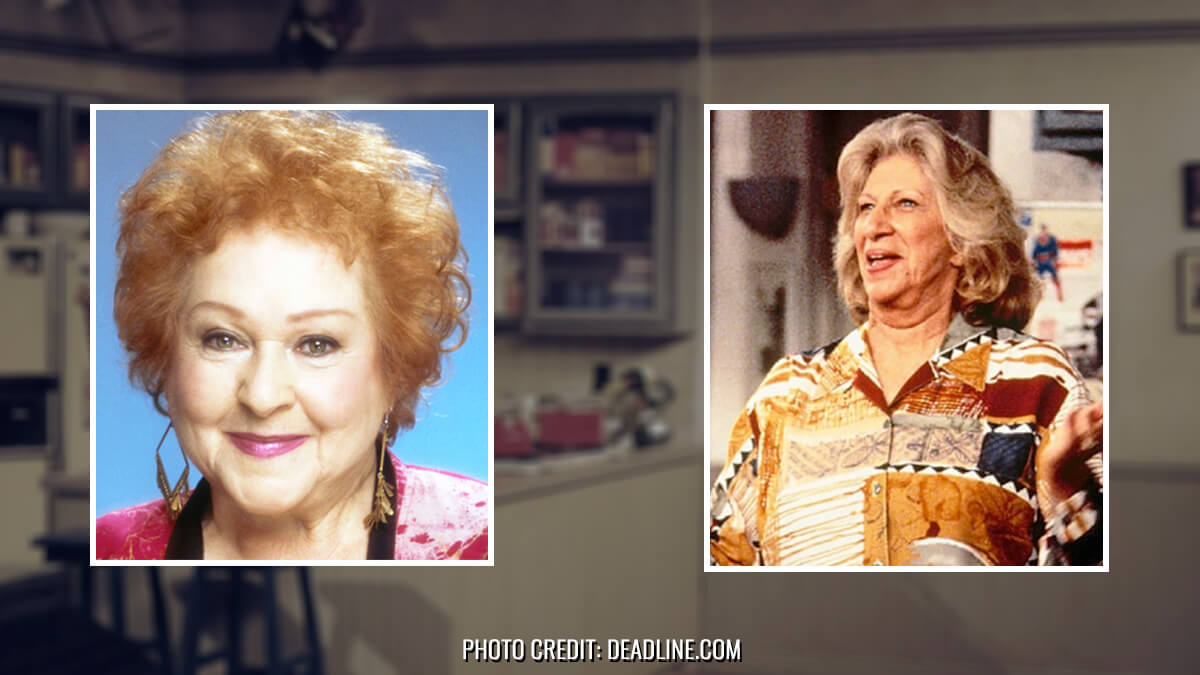 In what many have called his greatest poem, "The Waste Land" (Poetry fans will be celebrating the centennial of its publication later this year. It first appeared in print back in December of 1922. Anyway … ), T.S. Eliot once said " … April is the cruelest month."
Well, this past April was certainly cruel to "Seinfeld" fans. That's when we not only lost Estelle Harris (Who played George Costanza's Mom. Who was also named Estelle) but also Liz Sheridan (Who played the mother of that hit TV show's title character, Helen Seinfeld).
Less than two weeks separated these performers' passings. We lost Ms. Harris on Saturday, April 2nd and then Ms. Sheridan on Friday, April 15th. In a kind of interesting coincidence, both women died of natural causes at the age of 93.
Mind you, these two talented ladies took two very different paths when they started their careers in show business. Liz started early and began dancing on Broadway back in the 1950s.
In fact, if you'd like a look back at that time in Ms. Sheridan's career, you should pick up a copy of "Dizzy and Jimmy," the book she wrote back in 2000. It details her love affair with a certain 21-year-old Indiana farm boy who had traveled to NYC by way of Hollywood seeking his fortune. Maybe you've heard of this guy? Screen legend James Dean?
Whereas Estelle … Well, strange as this may seem (given how effortlessly she stole scenes from every other actor she ever worked with), Harris actually waited 'til she turned 53 before then embarking on her professional performing career.
Estelle Harris & Liz Sheridan: Early Career in Television & Film
Estelle's first film role was in Sergio Leone's "Once Upon a Time in America" (1984). Harris' first role of television quickly followed. She played Easy Mary, an elderly hooker on an episode of NBC's "Night Court" back in 1985. And Harris' performance got such big laughs at that night's taping that the show's producers quickly decided to write Estelle's character into additional episodes.
A similar sort of thing happened around this same time in Liz Sheridan's career. In 1986, she was hired to play the nosy neighbor on an episode of another NBC sitcom, "ALF." But Sheridan's performance as grumpy Raquel Ochmonek made such a big impression on the audience attending that evening's taping the producers brought her back multiple times. Over the course of "ALF" 's four season run on NBC (September of 1986 – March of 1990), Liz appeared in nearly 30 episodes.
So it stands to reason that — when production of "The Seinfeld Chronicles" was getting underway in 1989 (This show's name wouldn't officially be shortened to just "Seinfeld" until the start of Season 2 in January of 1991) — whenever the question of "Who's gonna play George or Jerry's Mom?" would come up, the show's creative team would always say it's gotta be someone solid and strong. Some veteran performer who just can walk in and then immediately claim that role. In short, someone like Estelle Harris or Liz Sheridan.
Roles on "Seinfeld"
Sheridan made her very first appearance as Jerry's Mom Helen relatively early on. We're talking Episode 2 of Season One in an episode entitled "The Stake Out." Which initially aired on NBC on May 31, 1990.
Whereas Georga Costanza's Mom, Estelle … That character didn't make her first appearance on "Seinfeld" until November of 1992. But give that Estelle Harris' entrance into this by-then-hit sitcom came with "The Contest," that infamous episode which introduced the phrase "Master of Your Domain" into the pop lexicon, few people ever forgot her arrival on that show.
Anywho … Being cast as George Costanza's Mom really put Estelle Harris on the map. At least as far as animation studios were concerned.
Work in Animation
Estelle was soon hired to voice Mrs. Potato Head in "Toy Story 2" (1999). Which was truly inspiring casting when it came to the wife of Don Rickles' Mr. Potato Head character. For her shrillness was a perfect counterpoint to Don's vocal bombastics. She reprised this role twice more, "Toy Story 3" (2010) and "Toy Story 4" (2019). And that vocal performance wound up being Harris' very last ever film role.
Just so you know: Liz Sheridan did some voice work for animation as well. She was the voice of Mrs. Stillman on "Life with Louie," that animated sitcom from the 1990s built around the late, great Louie Anderson's stand-up routine.
Back to Estelle Harris now … Since animators just loved her voice, Estelle wound up playing a lot of cartoon Moms over the past 25 years:
Professor Hubert J. Farnsworth's Mom on "Futurama"
Sylvester's Mom on "The Looney Tunes Show"
even Death's Mom on "Family Guy"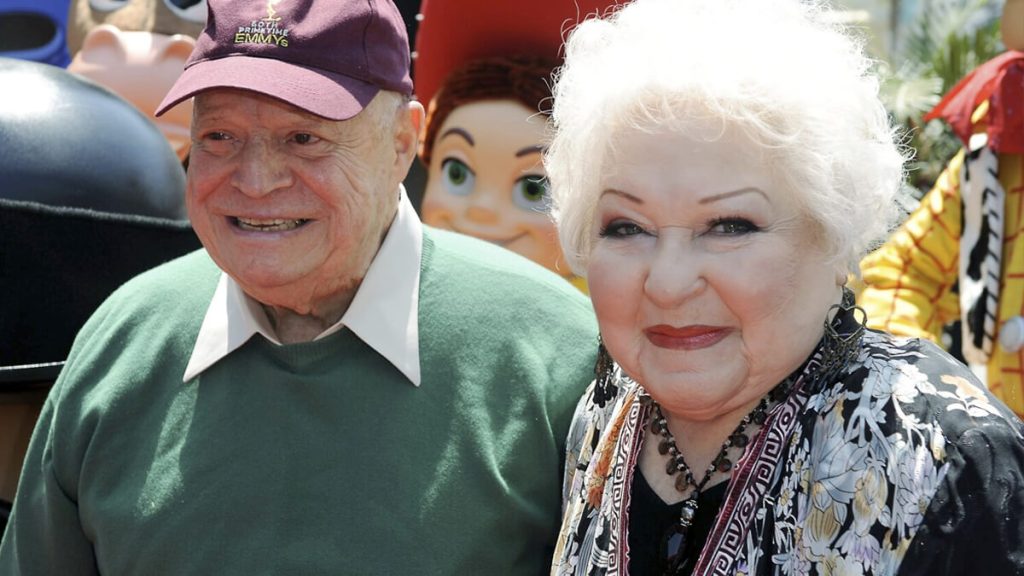 Conversation with Estelle Harris
And while I never got to meet Ms. Sheridan, I did once get the chance to sit down with Ms. Harris and then interview her in regards to Estelle's reoccurring role on that Disney Channel hit from the mid-2000s, "The Suite Life with Zack & Cody."
And I can tell you folks that — after having had a half hour-long conversation with this delightful woman — that that shrill, grating voice was Harris' real voice. But the lady herself could not have been nicer. Estelle was a sweet old broad who was actually in on the joke. She just loved the fact that people were constantly hiring her to come on their shows & then be incredibly annoying.
Back to Estelle's passing now … Last month, Harris' really-for-real son Glenn — issued this statement:
"It is with the greatest remorse and sadness to announce that Estelle Harris has passed on this evening at 6:25 pm. Her kindness, passion, sensitivity, humor, empathy and love were practically unrivaled, and she will be terribly missed by all those who knew her."
Then Estelle's TV son, the hugely talented Jason Alexander, Tweeted out a tribute to this beloved performer:
"One of my favorite people has passed. My TV mama, Estelle Harris. The joy of playing with her and relishing her glorious laughter was a treat. I adore you, Estelle. Love to your family. Serenity now and always. RIP Estelle Harris."
Jerry Seinfeld also used social media to share his thoughts about the sad passing of Liz Sheridan:
"Liz was always the sweetest, nicest TV mom a son could wish for. Every time she came on our show it was the coziest feeling for me. So lucky to have known her."
More "Seinfeld" Dads and Relatives
And just in case, you're wondering: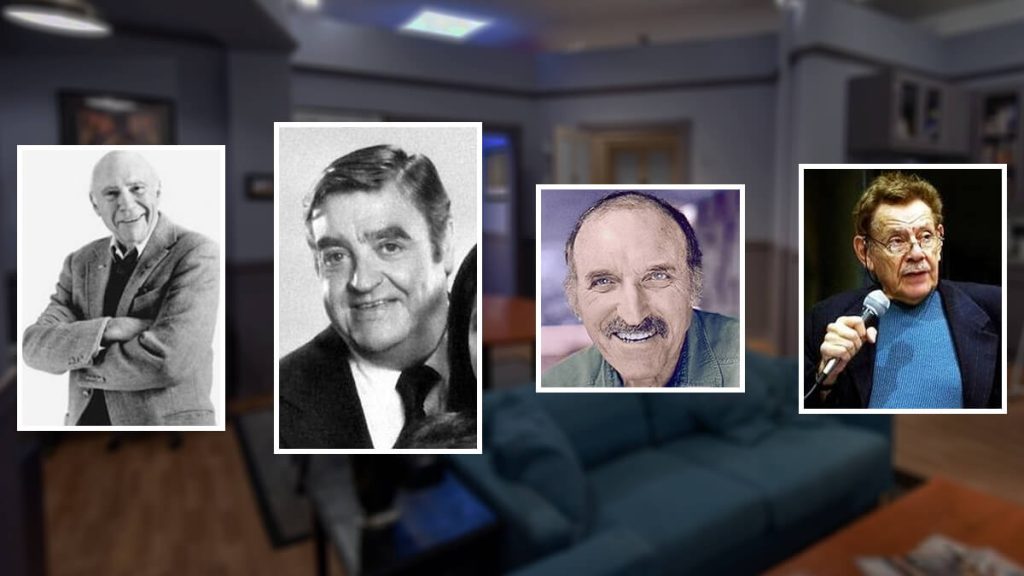 Mom – Let Her Know How You Feel
Okay. I know. These were just two very talented ladies who played Moms on TV. But let this be a reminder to you that — in this life — you only get one Mom. My own turned 90 earlier this year. So — if you get the chance today — be sure and let them know how you really feel about them.
Unless — of course — you have a somewhat problematic relationship with your Mother. If so … Well, then maybe you should wait 'til Festivus to let Mom know about how you really feel about her. Just remember that you're not allowed to air any grievances until you're actually holding that unadorned aluminum pole.
Happy Mothers Day!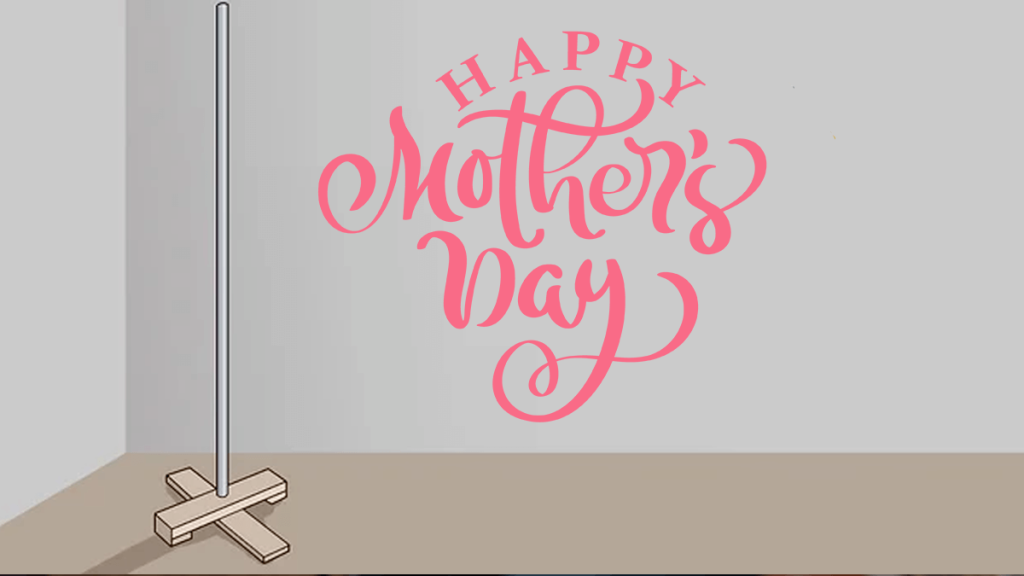 Looking back at the colorful show business career of original Mouseketeer Doreen Tracey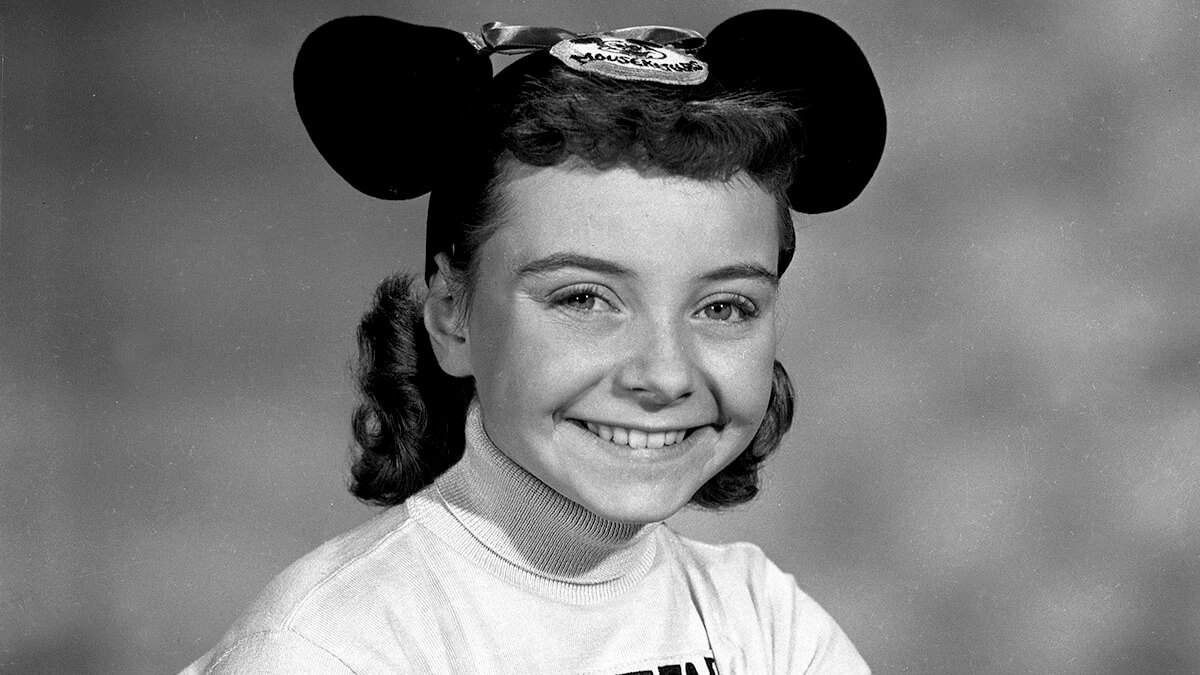 Doreen Tracey – who passed away last Wednesday while being treated for pneumonia at a hospital in Thousand Oaks, CA — had a complicated relationship with The Walt Disney Company.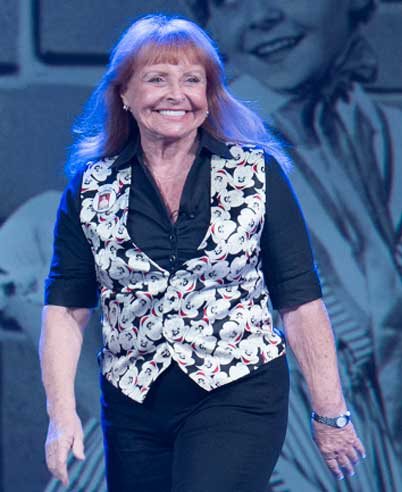 Copyright Disney Enterprises, Inc. All rights reserved
How so? Well, this story that Jennifer Armstrong shared in "Why? Because We Still Like You: An Oral History of the Mickey Mouse Club" (Grand Central Publishing, October 2010) should give you some idea of the challenges that this performer faced in her post-Mouseketeer career.
Picture this: It's January of 1968. At this point, it's been almost a decade since the last episodes of the original "Mickey Mouse Club" show have been shot. And the now-25 year-old Tracey has gone to extremes to distance herself from that particular Disney television production.
How extreme? Doreen's spent the past year touring Vietnam with the USO. Trading her formerly demur Mouseketeer sweater & ears for a skin-tight t-shirt, white go-go boots and mini-skirt, Tracey has choppering from base to base as she entertains the troops. Performing covers of then-popular 1960s songs like "Hold On, I'm Coming" and "We've Gotta Get Out of This Place" with her band, Doreen and the Invaders.
Anyway … It's the middle of the Tet Offensive. And Tracey & her band have just finished playing for the Army's Seventh Calvary. And as Doreen begins taking her bows, one soldier in the crowd starts singing "The Mickey Mouse Club March." And then the whole audience joins in.
As Armstrong recounts in her book:
At first Doreen was crushed. Would she ever be known as anything except a Mouseketeer? And yet (as the singing continued, Tracey) felt a proud swelling in her throat and tears dampening her face in spite of herself. Nostalgia overwhelmed her as the war-torn soldiers belted "M-I-C – See you real soon! K-E-Y – Why? Because we like you!" Who could deny the emotional impact of an audience full of warriors, mid-quagmire, with the world's most innocent song, from the world's most innocent kids' show, bubbling up from their memories and wafting out of their mouths?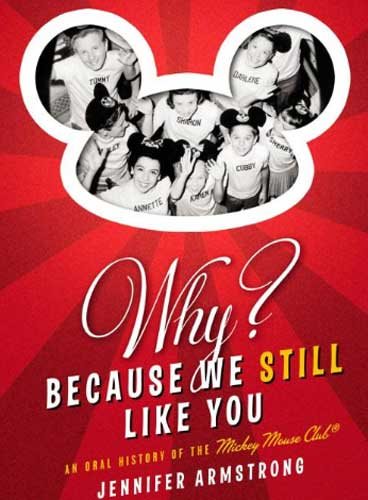 Copyright Grand Central Publishing. All rights reserved
"Every time I performed, I wanted to get away from the Mouseketeer thing," Doreen says. "I wanted (to be identified) as an entertainer on my own. But I couldn't escape my past."
The irony here is that – prior to agreeing to become one of the original Mouseketeers on "The Mickey Mouse Club" TV series (which aired on ABC every afternoon Monday – Friday from October of 1955 – August of 1959) – Tracey actually already had the makings of a very promising start when it came to a career as a child performer. She had parlayed an appearance in "The Farmer Takes a Wife" (i.e., a Betty Grable film that 20th Century Fox released back in July of 1993) into a guest spot on NBC's Colgate Comedy Hour.
But when a casting agent from Disney called the dancing studio that Doreen's Dad ran, saying that Walt was looking for talented young people to appear on a television project that his company was planning … The Tracey family saw this as a huge opportunity for their then-12 year-old daughter.
"That's what Walt himself once told me after I'd aced my audition and then actually signed a contract to do 'The Mickey Mouse Club,' " Doreen once told me during a 2015 phone interview. "He cautioned me that appearing on his TV show would probably have a huge impact on my career. But neither of us knew how right he was."
And Walt … He really loved what this talented youngster was doing on "The Mickey Mouse Club" TV show. So much so that – when production of this daily ABC television series was on hiatus – Disney would then find Tracey roles in motion pictures that his studio was producing at that time like 1956's "Westward Ho the Wagons!"
"The film that I wish Walt had gone forward with, 'The Rainbow Road of Oz,' I was supposed to have had a really great part in that movie," Doreen continued. "I was supposed to have played the Patchwork Girl of Oz. Bobby (Burgess) and I actually shot a version of the song that my character was supposed to have performed in that movie – Bobby was supposed to have been the Scarecrow to my Patchwork Girl. And that number then aired on ABC as part of the Disneyland TV show's fourth anniversary."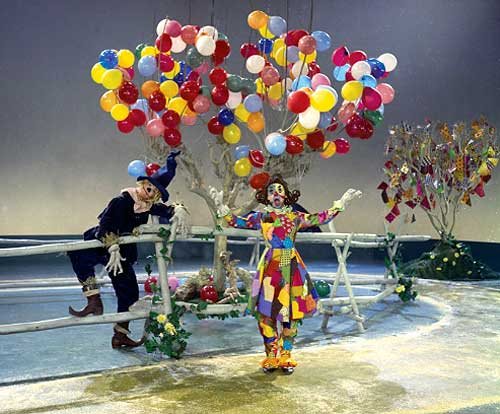 Bobby Burgess as the Scarecrow and Doreen Tracey as the Patchwork Girl of Oz perform a musical number from "The Rainbow Road to Oz" on the Disneyland TV series' fourth anniversary show. Copyright Disney Enterprises, Inc. All rights reserved
Unfortunately, when Walt opted to shut down production of "The Mickey Mouse Club" in May of 1958 (largely because Disney was reportedly upset with the number of commercials that ABC tried to cram into each daily airing of this kid's show), he also pulled the plug on "The Rainbow Road to Oz." And Tracey … Well, to hear her tell the story, she was then typecast at the age of 15 as "… that girl who used to be on 'The Mickey Mouse Club' show."
Which (to be blunt) kind of Doreen crazy in her late teens and early twenties. Which is why – in order to show the world that she was now a full-grown woman, rather than forever a Mouseketeer – Tracey married Robert Washburn on May 7, 1961. Given that this wedding took place just a month after Doreen had turned 18 … Well, is it really such a surprise to learn that – just 15 months later – it ended in divorce?
Mind you, there was at least one good thing that came out of this very brief union. And that was Doreen & Robert's son Bradley. And since Tracey was determined to provide for this child, she then worked all sorts of show biz-related gigs. Doing everything from working as the opening act for performers like George Gobel, Trini Lopez, the Mills Brothers, and Neal Sedaka to trying her hand at songwriting over at Crown Records.
Once she returned from entertaining the troops in Vietnam in the early 1970s, Doreen then transitioned to a position in promotions. And during the years that she worked at Warner Brothers Records, Tracey took great pride in the part she played in helping to launch the careers of the Doobie Brothers, Tower of Power and Frank Zappa.
But that said, Doreen still found herself dealing with colleagues who just couldn't see past her appearances on "The Mickey Mouse Club" TV show. They continued to view Tracey as that girl who used to dress in a Mouseketeer sweater and wear ears.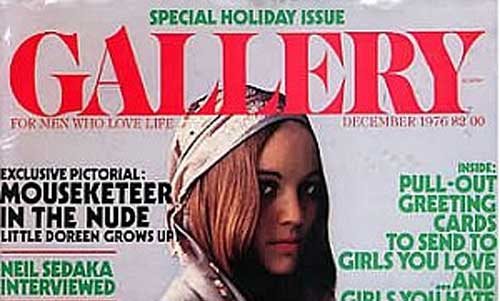 Which is why – in an effort to make a definitive break from her Disney-related past – Doreen agreed to appear in the December 1976 issue of "Gallery" magazine. That men's magazine trumpeted Tracy's appearance with a headline that read "… Exclusive pictorial. Mouseketeer in the nude: Little Doreen Grows Up."
That 5-page pictorial proved to be so popular that – less than 3 years later – "Gallery" asked Tracey to do another shoot. This one – which the magazine heralded with a "Mouseketeer Doreen Back (And Front) By Popular Demand" headline – was considered especially heinous by Mouse House managers at that time. Largely because (as Tracey recounted to Armstrong in "Why? Because We Still Like You: An Oral History of the Mickey Mouse Club") this article featured a photo where she flashed …
… the camera while posing near the actual Walt Disney Productions employee entrance at 500 S. Buena Vista Street. "I'm in a trench coat. I'm walking at Alameda and Buena Vista – that used to be our parking lot where we would also play baseball. It was like six o'clock in the morning and the guard wasn't on duty when we shot it. And there's a big sign that says PROPERTY OF WALT DISNEY STUDIOS. I thought it was brilliant."
Disney management obviously didn't share Tracey's opinion. Which is why – for a time – Doreen wasn't allowed to appear at any Mouseketeer reunion events. Which (given the main reason that Tracey had agreed to appear in "Gallery" was that she'd actively been looking for a way to put "The Mickey Mouse Club" behind her) initially suited her just fine.
But then – as Doreen continued to have success while working at Warners (She spent decades working at that studio and eventually became a valued member of their anti-piracy unit) – Tracey found that she now missed all of the friends that she'd made while working on "The Mickey Mouse Club." She found herself looking back fondly on moments like when Doreen & Annette had stolen some cigarettes from a hairdresser on the Disney Lot and then secretly smoked them out behind the sound stage. Thrilled that they'd now somehow made the jump from being Mouseketeers to becoming bad girls.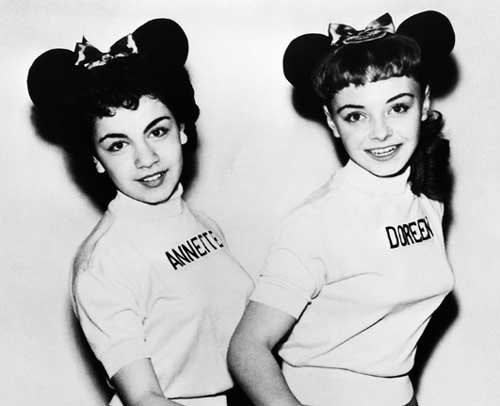 Copyright Disney Enterprises, Inc. All rights reserved
Given that Tracey shared all of these once-in-a-lifetime adventures with her fellow Mouseketeers (EX: Appearing as an aerialist in the "Mickey Mouse Club Circus" at Disneyland Park. That 1959 tour of Australia with Jimmy Dodd where they were mobbed by 4000 screaming teens at the airport in Sydney), she then decided to make amends with Disney. See if there was some way that everyone could possibly get past those pictorials.
Happily, given that the "Mickey Mouse Club March" actually includes the phrase " … you're as welcome as can be," I'm pleased to report that Disney execs eventually did come to overlook Doreen's appearances in "Gallery" magazine. Which is how Tracey was then able to spend so many happy hours with her fellow Mouseketeers meeting with fans at events like Disneyland's 50th & 60th anniversary celebrations. Not to mention the 2015 D23 EXPO.
So with apologies to Thomas Wolfe, sometimes you can actually go home again. Especially if you're someone like Doreen Tracey, a genuinely accomplished woman who was also enough of a show business pro / self-aware enough to realize that sometimes the smartest thing you can do for yourself is A) just let go and then B) get out of your own way.
Tracey is survived by her son, Bradley, as well as two grandchildren, Gavin & Autumn. She was 74.
This article was originally published by the Huffington Post on Monday, January 15, 2018