"He was always grandpa" : The Miller children recall Walt Disney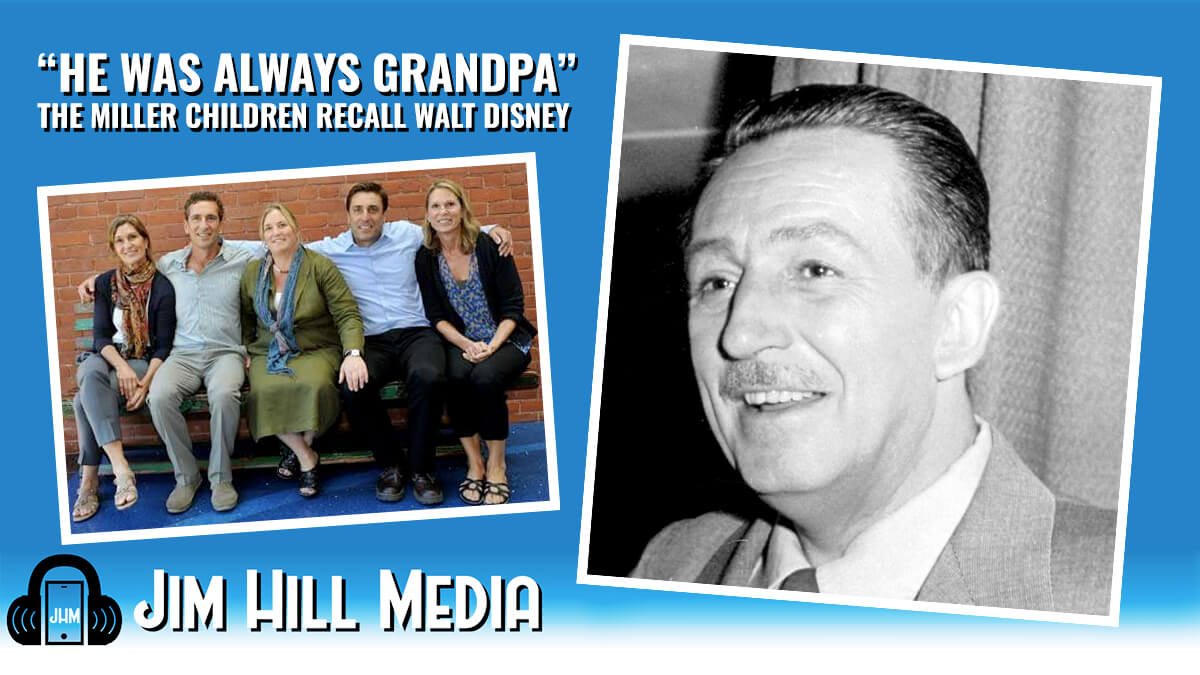 Family togetherness and memories of shared experiences to last a lifetime … those are at the heart of Walt Disney's many creations – from cartoon characters and heart-warming movies that have entertained generations to Disneyland, which has delighted guests between the ages of 2 and 102 since opening in 1955.
Family meant a great deal to Disney, both personally and professionally.
His daughter, Diane Disney Miller, told me in 2005 that despite her father's success, she and her sister, Sharon, lived a fairly typical family life. The girls had two loving, caring and protective parents.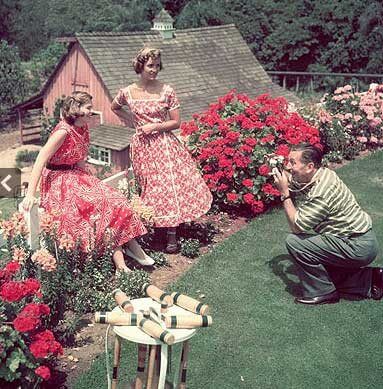 Her dad, she said, was a hugger who enjoyed family dinners at home, weekly outings with his girls, even time regularly spent driving his daughters to school on his way to the studio. Walt was quite happy with his little family, even though Diane learned many years later from her aunt that he had wanted more children but that doctors had advised her mother, Lillian, not to attempt another pregnancy after a few miscarriages.
It would have "only been me," Diane said, if her parents hadn't gone out and adopted her sister, Sharon.
Walt and Lillian would later become "very loving" grandparents. And, making Walt a grandparent was the "best thing I ever did for him," Diane said.
Diane and her husband, Ron Miller, parented seven children; six were born before Walt's death on Dec. 15, 1966.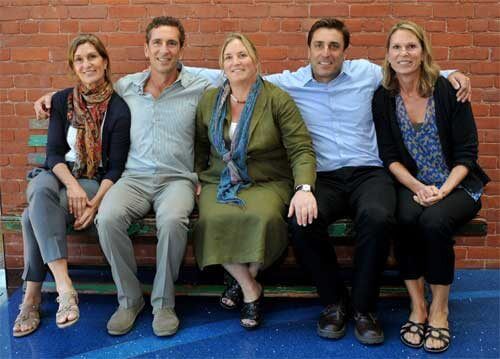 Five of them – Chris, Joanna, Tammy, Jennifer and Walter Miller – recently shared memories of their maternal grandfather in a special program at The Walt Disney Family Museum in San Francisco. Ron Jr., born in 1963, was too young when his grandfather died to participate with his siblings and Patrick Miller wasn't born until 1967.
The program provided an intimate look at Walt's family life from adored grandchildren who had a unique relationship to one of the most creative and influential men of the 20th century. They, too, said both their parents and grandparents did everything they could to give them a fairly typical family life.
The following is the first of two reports offering highlights of the program, plussed and sprinkled throughout with material obtained during an exclusive interview after the event. Part one focuses mostly on the grandchildren's memories of Walt. Part two will take a look at "Granny Lillian" and include more of their thoughts about Grandpa Walt, from his unfinished projects to the family foundation-funded museum at The Presidio.
Jeff Kurtti, a Disney historian, author and member of the team that helped plan the museum's galleries, served as the program's moderator. With an assist by researcher Paula Sigman-Lowery, Kurtti quoted Walt's own words as he introduced each participant in order from birth.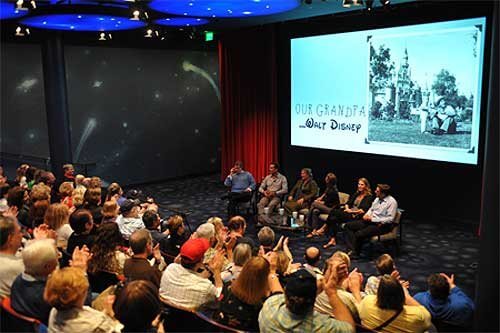 In a letter to his Aunt Jessie dated Dec. 9, 1954, Walt wrote about the upcoming arrival of his first grandchild Chris Miller: "We are planning to spend Christmas up near San Francisco … where Diane is now living. Her husband is in the service – he's stationed at Fort Ord, which is near Carmel. So, we'll all be together up there … and I'm going to be a grandfather, which I guess will make you a great-great aunt. We're all very happy and excited about this coming event."
As an adult, Walt also wrote several annual birthday letters to his younger sister, Ruth, born on Dec. 6, 1903. Walt was born on Dec. 5, 1901.
In his letter to her in December 1956, Walt talked about the arrival of his first granddaughter, Joanna: "Now that Ron is out of the service, he and Diane are settling down and are building themselves a home here in the valley. While they are waiting for it to be completed, they are spending most of their time at the house with us. And, although it gets a bit hectic at times, granddaddy and grandma are having the time of their lives with little Chris and Joanna. Joanna is as cute a little pixie as ever drew a breath and Chris is still as wonderful as ever."
In December 1957, following a two-month trip abroad, Walt wrote to Ruth: "Lilly just about had a fit having to be away from the grandchildren so long and I guess I'll have to admit to being homesick for them, too. We were as happy as two grandparents could be with just Chris and Joanna, but then little Tammy came along and found her little niche in our hearts, too."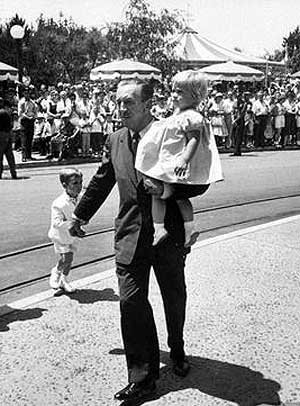 In December 1960, Walt shared his excitement about his third granddaughter, Jennifer, as well as his desire for another grandson. He wrote: "Diane had another little girl last May 8. … She's a little doll. No cuter than the others, but at this age she's a darn sight quieter. I was a little disappointed – kind of wanted another grandson – but Diane says 'I'm not to give up. There's always next time.' "
In December 1961, Walt wrote to Ruth: "I don't know if you had heard about the BIG news … the birth on Tuesday, Nov. 14th, of Walter Elias Disney Miller. Diane finally decided to name one of her sons for me, and I'm thrilled to have a male heir bearing my name. With the first boy, Diane pulled a name out of the blue. She didn't seem to like tagging a son of hers with my name. She had a particular aversion to the 'Elias' part of it. But, when this one came, she changed her mind and gave him the full treatment. She certainly made me very happy."
The letters were a touching way of beginning the program. They also illustrated a side of Walt often overshadowed in biographies and the historical record by his numerous professional accomplishments. This "family" story – with photos, film clips and several personal artifacts showing Walt as a son, a brother, a husband, a father and finally a grandfather – provides key bits of information to those studying Walt's life.
When you listen to Walt's own voice and then hear Diane, her children and the people who worked with him, you get a sense that Walt was, as Kurtti said, "the man he purported to be."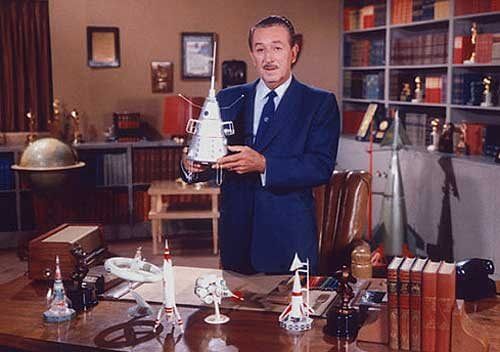 "Everytime we saw grandpa in the public or on television, he didn't seem any different than when he was in his own living room or watching us play in the yard," Chris said, kicking off the discussion.
Joanna recalled her and her siblings kissing grandpa's image when they saw him host his weekly TV show, but she became a bit perplexed when some of her friends told her they did the same thing. She'd tell them, "He's not your grandpa."
"I'm trying to remember if we ever kissed him on the television when he was sitting in the living room," Chris added, in one of the afternoon's many lighthearted exchanges.
To us, Jennifer said, "he was always grandpa. When we walked into the door, we were excited to see him and he was just mobbed."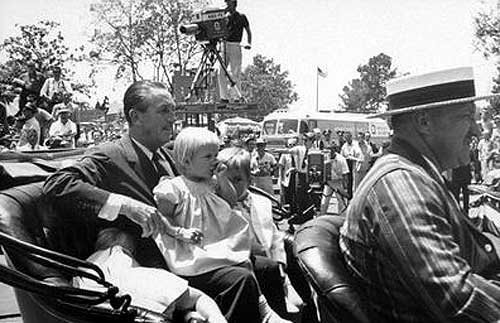 Kurtti asked if the five, as children, realized how famous their grandfather was.
"We'd have situations at Disneyland where we were thrust into the parades. … we recognized that something was different about him," Tammy said, adding that "another clue" came when Walt would take them to school and "people would run out and look at us."
"We're all pretty shy and I think some of our first experiences being in parades and the like at age 2, 3 and 4 … that was probably the most traumatic stuff we did with grandpa," Joanna said, "but we did it for him."
And, Grandpa "thought we'd have jolly good fun," Chris added.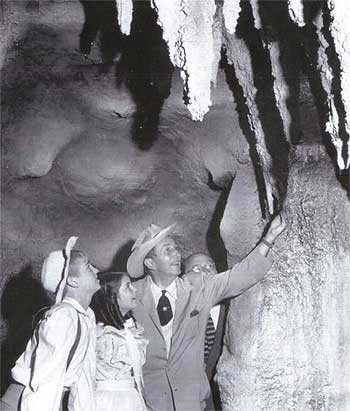 Walter called his grandpa "a little bashful, but gregarious.
"He wasn't shy like we were. You hear about him when he was a kid. He was an adventurous Tom Sawyer, who befriended adults. We were all terrified of adults when we were little."
"But I think a lot of that (shyness) was because we were protected" Tammy said. "We were also a little insecure about the fact that our grandfather was Walt Disney. We didn't want people using or trying to manipulate us.
"Of course," she added, "he was born in a different day and age, too. Could there be a Walt Disney today? Could that personality exist today with all the paparazzi and technology?"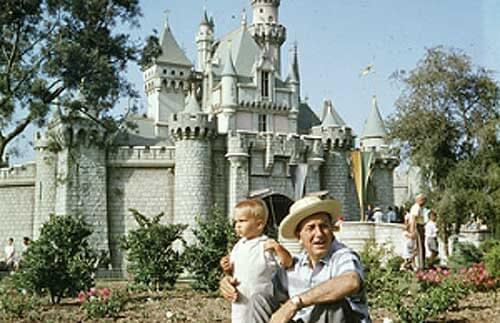 "I think there were a lot of assumptions," Chris said talking about his grandfather's fame. As children, it was … "hard to figure out what were dangerous assumptions," when you could "engage the inquisitor," or know "what someone was trying to get out of you" – even if that was simply free tickets to Disneyland.
"We … lived a very simple, traditional family life. So when people would confront us with 'your grandpa is Walt Disney,' it seemed like an odd affront to us," even though, Chris continued, "we knew grandpa was world-renowned."
"We were very lucky though," Jennifer added. "Our parents and grandparents did a beautiful job of protecting us. We really had such a normal life. They all made sure of it."
Walter talked about the three questions he and his siblings heard most frequently from peers at school: "Is your grandpa THE Walt Disney?"; "Do you get into Disneyland free?"; and "Is your grandpa frozen?"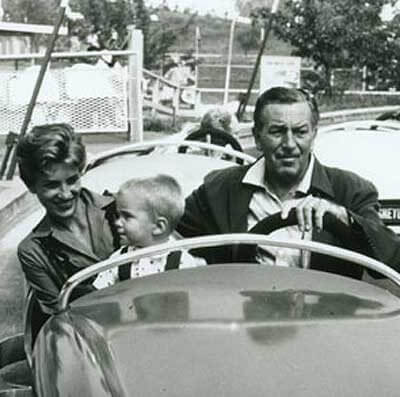 "I think the worst was having people ask if he had been frozen shortly after he died," Joanna said. "We were still getting over losing a relative."
She then asked her younger brother to repeat his reply to the cryogenics query. Walter would simply parrot the question back at the inquiring peer and ask – "Is your grandpa frozen?" It's a strategy he remembers using as far back as first or second grade.
Kurtti then asked "where is grandpa when you're having a memory about him?"
"I'm just thinking of the living room at their house," Joanna said. "He and granny sitting in their chairs, enjoying the evening together, before or after dinner."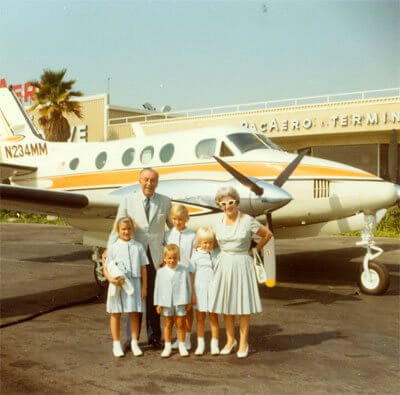 The grandkids spent most of their time with their grandparents at Walt and Lillian's two main residences, the "large but humble" Holmby Hills home and the Disneys' weekend retreat in Palm Springs. Both houses had huge yards and a lot of windows where Walt could keep a watchful eye on his grandkids if he wasn't sitting out in the yard as they played.
"You have to understand," Tammy said, "there were moments when grandpa was working and we'd be building forts with lawn furniture around him and he loved it."
"And I remember little Ronnie sitting in his lap landing airplanes on grandpa's head as he's reading," Joanna said.
"I think as children we didn't realize how much work he brought home," Chris said.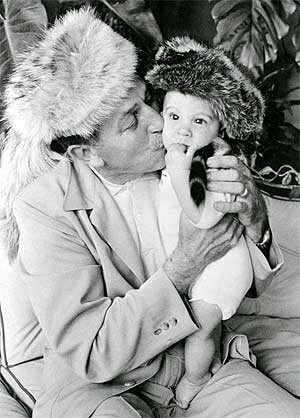 "He tolerated all of our chaos and he always seemed to appreciate it," Tammy said. "We felt so loved – cherished by him as a group. He wasn't somebody who picked out favorites. He … adored all of us and that's a wonderful feeling to be able to have."
Walter admitted that outside of the last year of his grandfather's life, he has "very few memories" of time spent with him. Most of his memories are sensory – tastes, smells, even some sounds.
He does remember sitting with his grandparents in the living room, "taking ice cubes out of (grandpa or granny's) Scotch Mist. I still remember that flavor, it was so unique," Walter said, adding that even today he's "not a Scotch drinker."
Kurtti recalled the early days of designing the museum galleries with Walter when boxes of Walt's personal items arrived. Walter responded to a shaving kit when he opened it and, Kurtti said, "I'll never forget you saying, 'Oh my God, it smells like grandpa.' "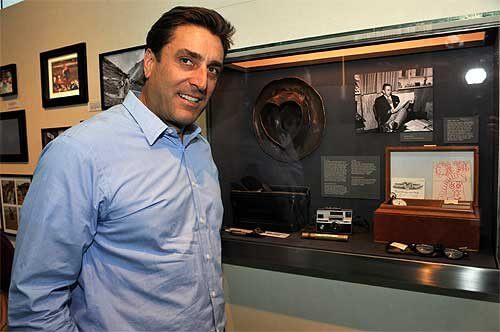 That prompted Walter's siblings to recall their own sense memories.
"The orange slices in the Scotch," Joanna said. "You really wanted one and (granny and grandpa would) put in lots of slices when we were there."
Tammy said she associates the smell of a grease pencil with her grandfather because he used them to mark up dozens of scripts he frequently brought home to review.
Jennifer says the smell of petunias brings back "happy memories" of Palm Springs, when grandpa would be in his office with the windows open "listening to us, enjoying us and watching us" as the kids would ride around and around on a path in the back yard. "He was always present when we were there," she said.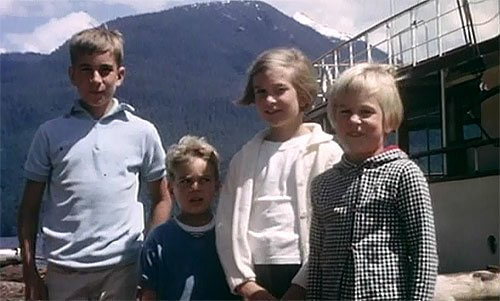 In addition to the time spent with grandpa and granny at the Disneys' two homes, the children's play areas extended on occasion to the Walt Disney Studio and the Golden Oak Ranch, which featured several sets and was used as a film and television shooting location.
The grandchildren remembered using Chris' or Joanna's Autopia cars and riding bicycles to explore The Walt Disney Studio and its backlot. They talked of visiting their grandpa's office and admiring his vast miniature collection. (Chris' Autopia car as well as a representative sampling of Walt's miniatures are on display at the museum.)
Walter remembers one trip to the Golden Oak Ranch and seeing "the greatest, most incredible treehouse" and then returning later and being "devastated" to find that it had been removed.
Jennifer remembers visiting Zorro's horse, Tornado, which was enjoying retirement from showbiz in the verdant pastures of the ranch.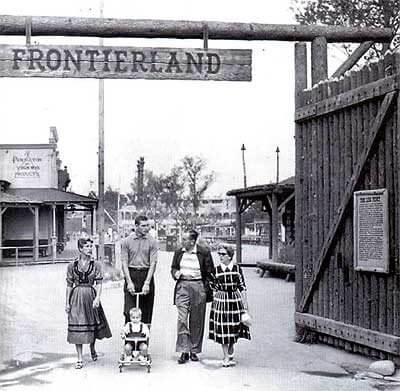 Still as special as those two places were, they paled in comparison to their time spent with grandpa and granny at Disneyland, the world's largest and greatest playground for all ages at least until 1971.
"Going to Disneyland with them was obviously something totally different from what anyone else gets to experience," Joanna said, talking about how Walt would prepare before taking the children out into the park by stuffing some pre-signed autographs into his pocket. "He was intent on getting us to enjoy the place. That's why he made it."
She also recalled watching him "casually talk" to the cast members and noticed "a warmth that he had with everybody. I don't know a lot of people who are able to do that."
Chris finally piped in with a sensory memory – one shared by his siblings.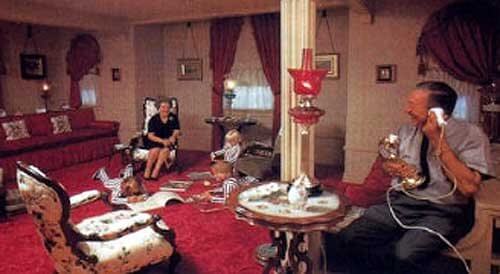 "Talking about the Disneyland experience, we had the great fortune of spending some nights at the apartment there (above the Main Street Fire Station.) We had this auditory sensation of The Jungle Cruise and the cannibals. We were safe in the apartment, but there were cannibals nearby."
"I'm very nostalgic about the apartment," Tammy said. "It was a personal favorite for us … the way we interacted with the jungle people," prompting several of her siblings to begin a headhunters' chant. "We had some fun back there."
Kurtti asked whether the Miller kids if their grandpa, who some employees remember as temperamental at times, ever got angry with them.
"He didn't get mad," Chris said, "he'd get impatient."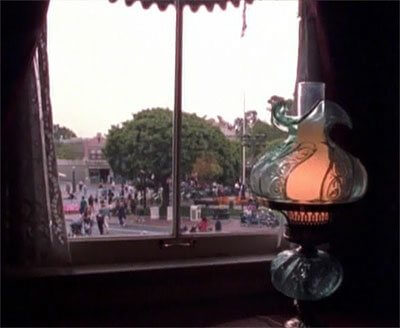 "We're close in age and we'd have our little sibling arguments," Joanna said, adding that their grandmother had reminded them that grandpa was "a very busy man and he doesn't want to hear you argue."
There was one time in Palm Springs when grandpa said "something about not wanting to hear that … that's all it took. We still argued at home, but not at granny and grandpa's … we respected that."
"It's pretty amazing that in all the time we spent with them, there's only the one time any of us can remember," Tammy said.
Kurtti asked about Christmas with the Disneys as he introduced a 1958 letter from Walt to Ruth when Walt wrote about "the little chuckle" that Joanna and Tammy gave him and Lillian when they "asked for (toy) guns and holsters" for Christmas. "Lilly thought she hadn't heard right … these old-fashioned grandparents thought the girls would want dolls, but guns it is."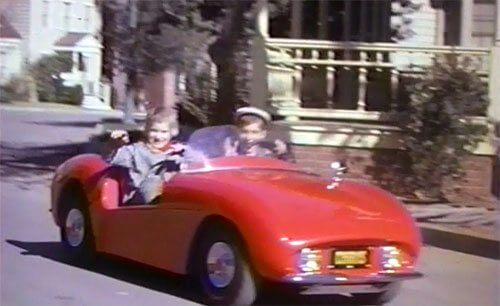 "Christmases were amazing," Tammy said.
Joanna said that the grandkids would get boxes with "gifts from all the characters, Jiminy Cricket, Mickey, Minnie, Goofy and Donald … lots of Disney products.
"I always felt sort of spoiled by that, but later on I learned that grandpa gave to more people than I knew and that pleased me."
Chris then talked about the Disney employee Christmas parties where everyone who brought a child left "with boxes of stuff," the same Disney products the grandkids would get from Disney's cartoon stars.
Toward the end of the program Kurtti asked about their final family vacation with Walt, taken five months before his death, before he knew he had lung cancer.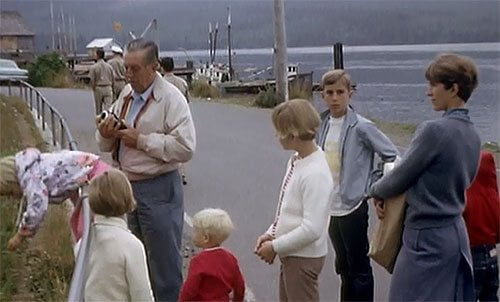 "That was sort of a finale for the family in a lot of ways … one of the first pure vacations we had," Chris said, talking about a two-week houseboat trip along the British Columbia coast. Walt and Lillian were joined by 11 immediate family members – their two daughters and their husbands, six of the Millers' kids and granddaughter Victoria Brown, Sharon's first-born.
"It was family on an adventure," Chris continued, "there wasn't a movie company nearby that grandpa was monitoring and my dad wasn't working."
Walter said some of his most vivid memories of grandpa are from the Vancouver cruise. One memory in particular stands out. Chris and Walter were in one of the rowboats when "Chris sees a bald eagle on a cliff … He's rowing away from the boat when all of the sudden we hear this megaphone: 'Chris, that's far enough,' " Walter recounted. I don't think grandpa was mad, he "just wanted to play with the megaphone … and during the cruise he loved to wear the captain's hat."
The grandkids remember stopping on small islands and walking through the forests with Walt. They saw totem poles and found eagle feathers on the ground. Walt stood on the deck and watched the grandkids swim and play in the water. During the trip Walt and Lillian celebrated their 41st wedding anniversary, not knowing it would be their last, and Tammy celebrated her ninth birthday.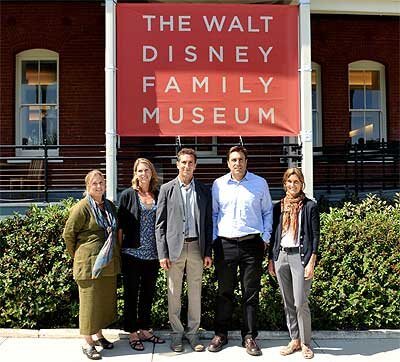 "Thinking back on it, it was just phenomenally fortunate that we had that with him when we did," Chris said.
This discussion lead to a beautiful multimedia presentation compiled by the family foundation's film archivist Scott Zone, featuring several photos (some on display in the museum galleries), a clip featuring Walter's film debut with Wally Boag as quite literally the bouncing baby boy in "Son of Flubber," and well as the Millers' personal family films, showing Walt enjoying his grandchildren at home, at Disneyland, and on that memorable Vancouver vacation. It was the perfect coda to a very special afternoon and left many people wiping away tears.
A few pre-selected audience questions followed, including what the grandkids would like their own children to know about Walt. For the answer to that and other highlights from the program and my exclusive chat, come back for part 2 of this article.
History of Reedy Creek Improvement District: Part 4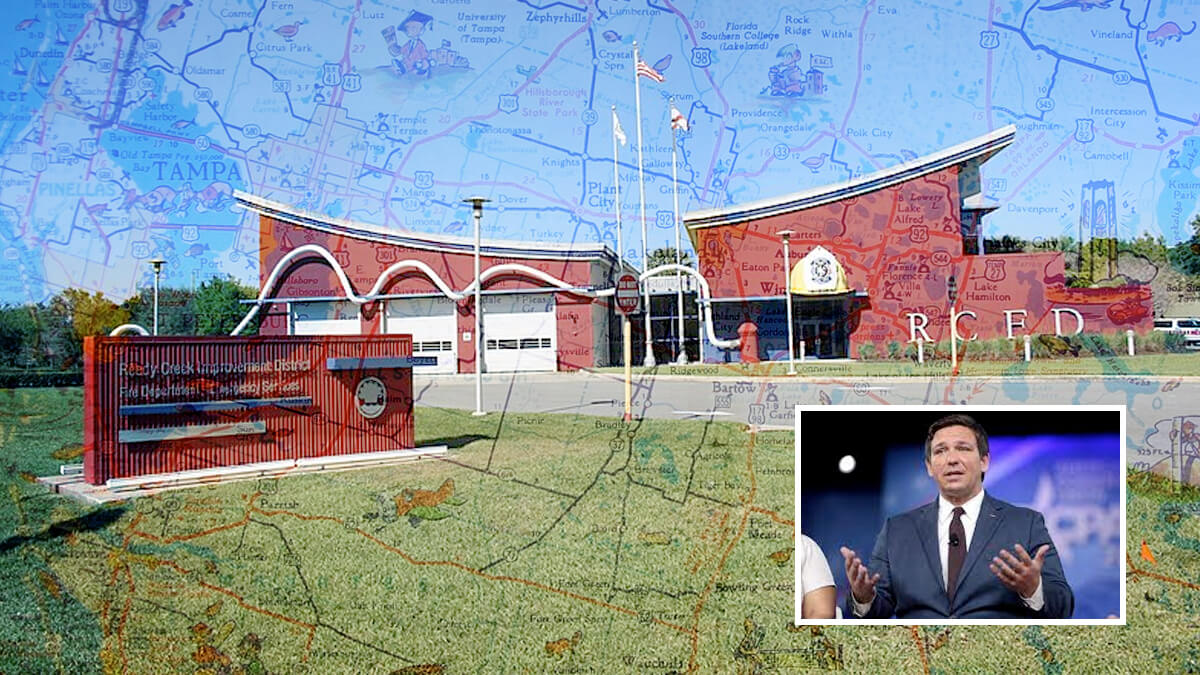 This article is part of a series – History of Reedy Creek Improvement District. Be sure to check out our additional research on the RCID.
Back in the 1960s, Florida legislators weren't picking fights with Disney Corporate. But rather, they welcomed the Mouse with open arms.
Do you remember how — on November 15, 1965 — Florida Governor Haydon Burns actually shared a dais with Walt Disney & his brother Roy at the Cherry Plaza Hotel in Orlando as they then shared their plans for Project Florida?
Florida Representatives Meet in Burbank
Well, what doesn't get talked about all that often is what happened just one month later. On December 16, 1965, a delegate of some of the most powerful people in Florida flew from Tallahassee to Burbank. We're talking:
Fred "Bud" Dickinson, the State Comptroller
J. Ed Straughn, the director of the Florida Revenue Commission
Wilken McDuff & Edward Cowart, both prominent attorneys within the Attorney General's Office
And Joseph Chapman, administrative assistant to Governor Haydon Burns
These gentlemen — along with key members of their support staff — made a special trip out to California just days before Christmas because, in the eyes of Governor Haydon Burns, this matter just could not wait. The Disney World Project was seen as such a huge opportunity for Florida that the state's elected officials had to move with all due speed.
So a month and a day after Walt first spoke — in pretty non-specific terms, mind you — about what his Company was thinking about doing with that 43 square miles of swampland in Central Florida it had just purchased, here was a delegation from Tallahassee meeting personally with Walt & Roy so that they could then better understand the whole of Walt Disney Productions. More importantly, so that these elected officials could then make it easier for the Mouse to quickly set up shop in the Sunshine State.
As Walt's brother recounted in an article that was published about these state officials' trip to Disney Corporate Headquarters in the December 1965 – January 1966 issue of "The Disney World," the Company's in-house newsletter back then:
"They need to study our operation in considerable detail so that they can then advise us on how Florida tax laws would apply to our proposed project," Roy said.
Touring WED and Disneyland
After they spent the morning with Walt & Roy drilling down into the specifics of Project Florida, the team from Tallahassee was then taken over to Glendale. Where they then toured WED (which is where all of the rides, shows & attractions for the Disney Parks were designed). More importantly, this was where the folks from Florida got their very first glimpse at what the Imagineers were actually dreaming up for Disney World.
To make sure that — when the team from Tallahassee flew back home to Florida — they had only good things to say about everything they'd seen … After WED closed for the day, the folks from Florida were then invited to linger at this facility after-hours. You see, that night (Friday, December 17th) was when Imagineering held its third annual holiday party / open house. So there was plenty of food & drink on hand. Not to mention the opportunity to schmooze with Disney stars like Dick Van Dyke & Dean Jones.
The very next day, this delegation from Florida was then driven down to Anaheim. Where they were then given a thorough behind-the-scenes tour of Disneyland Park. With the idea that they'd then have an intimate understanding of how an East Coast version of this family fun park might operate. After this backstage tour was over, the team from Tallahassee was then cut loose to explore Disneyland on their own / experience many of the Park's rides, shows & attractions for a few hours.
That evening, the Florida delegation regrouped in Town Square. Where they were then Walt's personal guests at the premiere of that year's edition of Disneyland's holiday parade.
These elected officials then flew home on Sunday. And — on Monday morning — walked back into the state capital and then told the Governor "Give Disney whatever it wants. We have to bring this project to Florida. We will make so much damn money."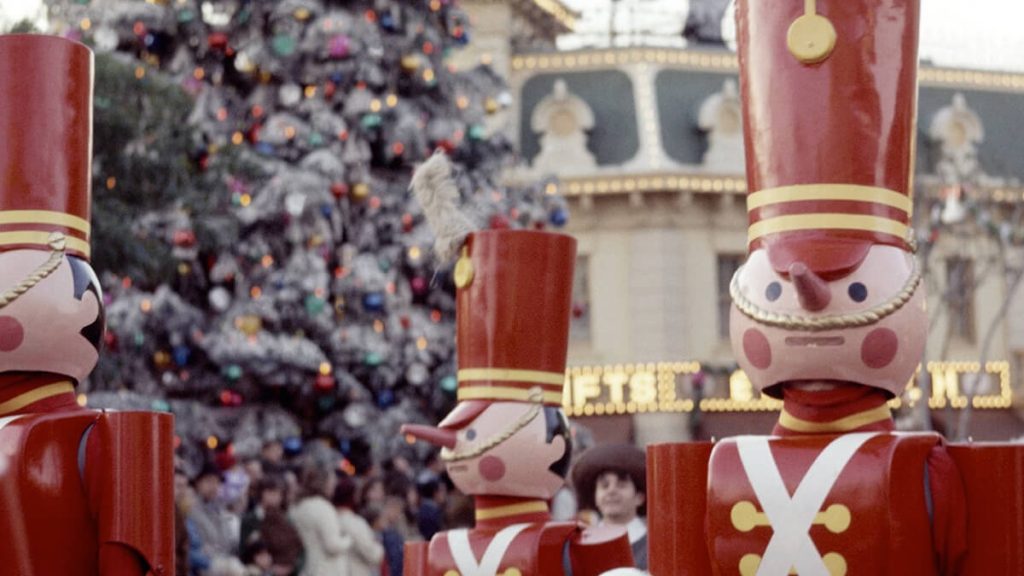 Excitement About EPCOT: Event at Park West Theater
We jump ahead to February of 1967. Which is when Walt Disney Productions — in an invitation-only event that's held in the Park West Theater in Winter Park, FL — shows people other than that selected delegation that flew out to Burbank in December of 1965 — exactly what the Company's plans are for all that swampland in Orange & Osceola County.
908 leaders from the local community cram into this auditorium and are just dazzled by what the Disney team presents. Which — at that time, anyway — call for developing (over time) 20,000 of the 27,500 acres that the Mouse now owned in Central Florida.
It's important to stress here that a lot of what excited the audience in the Park West Theater wasn't that Vacation Kingdom the Imagineers wanted to build next to Bay Lake (i.e., The Magic Kingdom and the monorail resorts right outside that theme park). But — rather — Phase 2 of Project Florida. Which was supposed to see a city of the future (with a 30 story-tall skyscraper at its very center) and its adjacent industrial park. Which was then — in Walt's own words — supposed to eventually become " … " … a showplace for American free enterprise."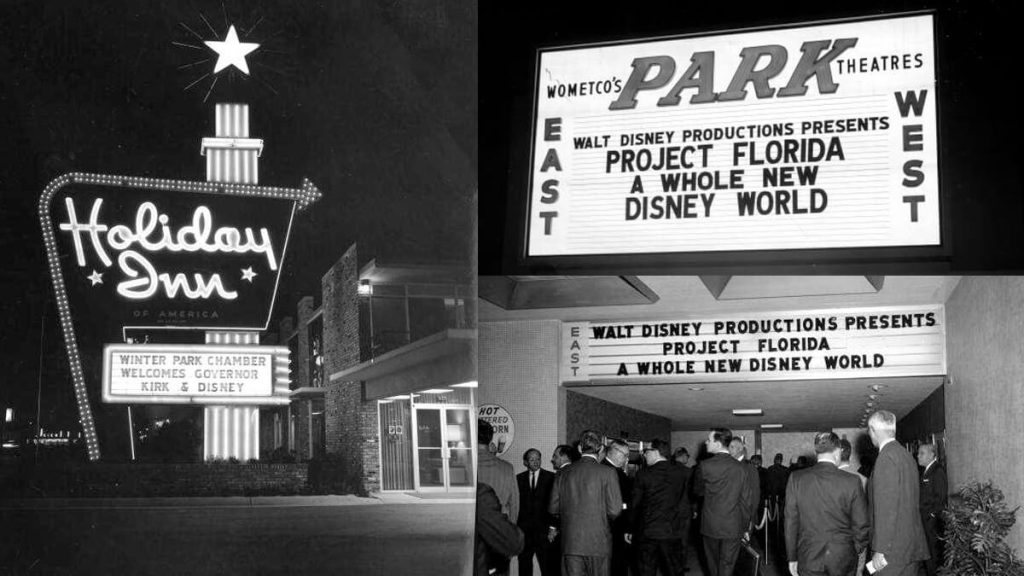 It was this part of Project Florida that especially tantalized the folks up in Tallahassee. Think about it: If Disney had actually built Epcot-the-City and that radial design industrial park right next door, Central Florida wouldn't just become a tourism destination thanks to the Magic Kingdom and the monorail resorts. But rather, Walt Disney World could have potentially turned this part of the State into a second Cape Canaveral. A place where thousands of highly paid folks would then have worked at full-time hi-tech jobs.
Those folks who worked in Epcot's industrial park would have had to live locally. And the money that they made from those high paying, hi-tech jobs in this showcase for American industry would have then poured right back into the local economy.
It was this aspect of Project Florida — rather than the Vacation Kingdom — that really powered the push to ram the Reedy Creek Improvement District legislation through. If you thought that Ron DeSantis' response to Disney's opposition to Florida's "Parental Rights in Education " legislation (AKA the "Don't Say Gay" bill) was fast, consider this: That presentation in the Park West Theater was held in February 2, 1967.
Fast-tracking the Reedy Creek Improvement District
By May 12th of that same year (Just three months and 10 days later), the bill that gave Walt Disney Productions the right to … Well, not only to build 18 story-tall castles and install cutting-edge transportation systems without seeking the approval from some local planning commission — not to mention collecting taxes and issuing bonds — was being signed into law. In a ceremony that's held in the garden at the Governor's mansion, no less.
I also want to stress here that — back then, anyway — the Reedy Creek Improvement District had bipartisan support. Haydon Burns — the governor who shared the dais with Walt & Roy at the Cherry Plaza Hotel in November of 1965 — was a Democrat. Whereas Claude Kirk — the governor who actually signed this bill into law in May of 1967 — was a Republican. The first Republican governor the State of Florida had had since the Reconstruction, I might add.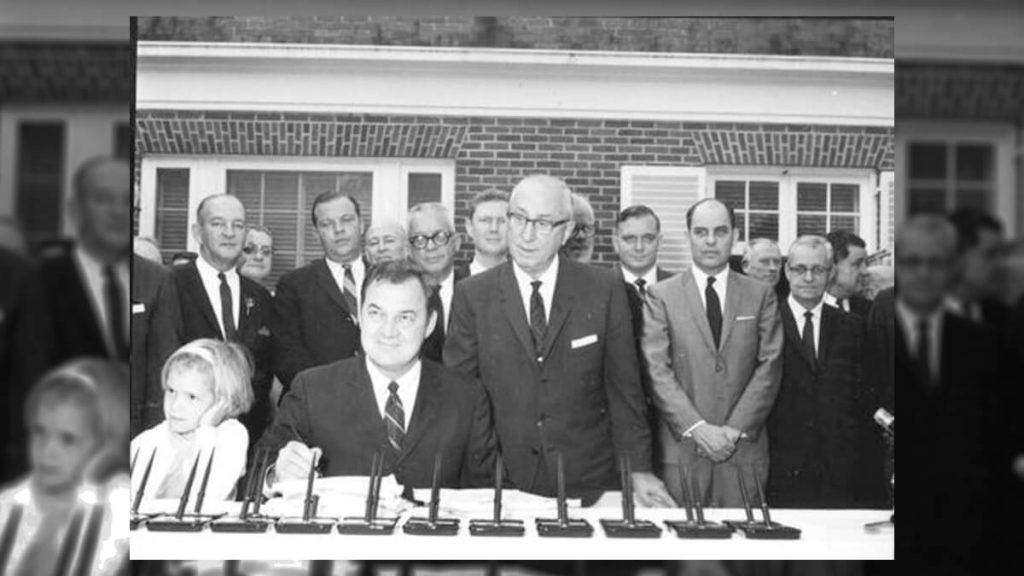 A bit more background here: At this special signing ceremony in the garden of the Governor's mansion in Florida, Roy O. Disney went out of his way to state publicly that …
The entire delegation from Orange and Osceola County, in which we will soon be making our home, have given us the upmost in cooperation since the inception of this project. I would particularly like to call attention to Senator Bob Elrod and Bill Gunter, and Representatives John Ducker and Henry Land of this delegation. These four men acted as floor leaders and primary sponsors for the Disney legislation.

Roy O. Disney
So — just to be clear here — the Reedy Creek Improvement District wasn't some sort of shady backroom deal with Walt Disney Productions that suddenly got rammed through by the folks up in Tallahassee in the dark of night. There were all sorts of public hearings and lots of thoughtful discussion about what should actually go into this bill prior to Governor Claude Kirk actually signing the thing.
Dissolving the Reedy Creek Improvement District in 2023: Where is the City of the Future?
That's why DeSantis' people are running into so much trouble now. They tried to undo a comprehensive piece of legislation that had been carefully crafted over a period of months by top notch state attorneys (Not to mention Disney's own corporate lawyers) with a bill that was hastily slapped together over days. Which is why their effort to dissolve the Reedy Creek Improvement District is doomed to fail once it finally gets challenged in court.
Which isn't to say that Governor DeSantis doesn't have another card up his sleeve. I'm told that his new plan when it comes to taking on The Walt Disney Company has to do with promises the Mouse made to the State of Florida that then weren't kept. To be specific, the construction of the City of EPCOT and its adjacent industrial park.
As I mentioned earlier, it was that aspect of Project Florida — rather than the Vacation Kingdom — that really excited Florida legislators back in the mid-1960s. The idea that the State could soon have a second Cape Canaveral of sorts, a second place in Florida where highly educated folks would work at high-tech jobs that paid well (with a good chunk of their salaries being funneled back into the local community via payroll taxes and purchases at area businesses & restaurants) was what ultimately powered Sunshine State officials to grant the Mouse this unprecedented amount of autonomy.
This is how DeSantis' people are reportedly looking to spin Phase 2 of their dissolve-Reedy-Creek effort. They're going to say " … We're doing this because Disney never actually delivered on their promise to build a city-of-the-future in the swamps of Central Florida. Back in the 1960s, we were promised all of these high paying, high tech jobs. What we got instead were thousands of low paying positions in Disney's theme parks."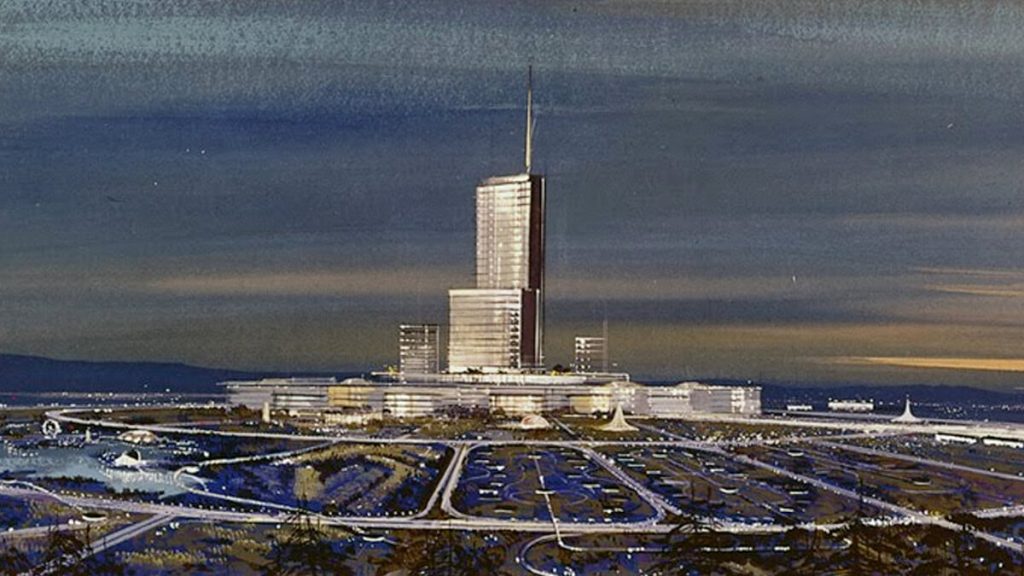 Given that the Walt Disney World Resort is still in the process of celebrating its 50th, it'll be hard for the Company to put together a solid response to this line of attack at this particular moment in time. I mean, it's been five decades now. Shouldn't that City of the Future — and all of those high paying jobs that were supposed to come along with it — have risen up out of Central Florida's swamps by now?
Of course, Disney's response will no doubt involve pointing at Epcot-the-theme park as well as at Celebration. But let's face it: A theme park and a residential community isn't exactly a City of the Future or its adjacent industrial park.
Disney's reportedly readying its response to the anticipated continuation of Governor DeSantis' effort to dissolve the Reedy Creek Improvement District. That's one of the main reasons that Geoff Morrell was let go as Disney's Communications Chief after less than four months on the job. Going forward, the Company wants to take a far more nuanced approach to how Disney Corporate handles the governor of Florida. Who has learned — given how much money has recently poured into DeSantis' war chest for his potential Presidential run in 2024 — how truly lucrative it can be to attack the Mouse House.
That's Disney's real worry right now. That what's happening in Florida — Disney being pulled into the culture war that's currently inflamed public discourse across the country — could then become a prairie fire. With other politicians across the United States deciding that they too need to get into the declaring-that-Disney-is-evil game. All with the hope that they too will then be able to fundraise off of this controversy.
The Reedy Creek Improvement District: Yesterday, Today, and Tomorrow
And that — for now, anyway — is the end of our look back at the formation of the Reedy Creek Improvement District. It's honestly hard to imagine — given how eager Florida officials initially were to make this deal, persuade Disney to spend hundreds of millions of dollars to turn some swampland in Orange & Osceola County into a world class tourist destination — to see the current state of the State's relationship with the Mouse House. But here we are.
And not to belabor the obvious, but we've got another six months 'til November. Which is when the Mid Terms happen. Not to mention when we learn whether Governor DeSantis winds up getting re-elected as the Governor of Florida. That's a lot of time for The Walt Disney Company to find itself back in the spotlight in a not-so-flattering fashion.
It's gonna be interesting to see what happens next.
This article is based on research for The Disney Dish Podcast "Episode 372", published on April 25, 2022. The Disney Dish Podcast is part of the Jim Hill Media Podcast Network.
History of Reedy Creek Improvement District: Part 3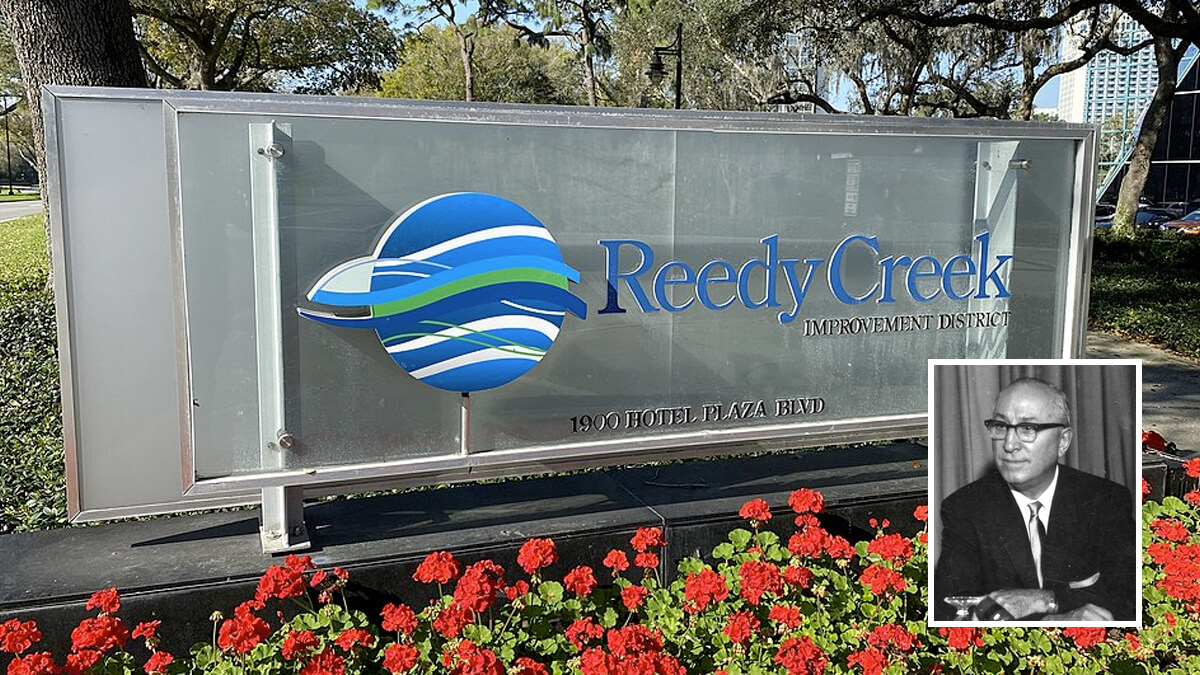 In our last Reedy Creek Improvement District article, I shared a lot of information that I had pulled from Walt Disney Productions' annual report of 1966. That fiscal year had closed back on September 30th of that same year. Staffers then pulled together the necessary info for this report about the various divisions at Disney. And the report itself was published on December 9, 1966.
Then Walt died just six days later on December 15, 1966.
Walt Disney Productions' Annual Report – Revisions After Walt's Death
This is why that year's annual report came with a wraparound. A document that had been hastily attached to the outside of that physical booklet. Which would then acknowledge … Well, the obvious.
I'm quoting from this wraparound now:
An Important Message to Our Shareholders and Employees.

This annual report was prepared prior to Walt Disney's passing.

The enthusiasm for the future you'll find in these pages stemmed directly from Walt.

In this report are the fact that supported that enthusiasm. It should confirm for you that the substantial creative assets of Walt Disney Productions — Motion Picture Properties (completed and yet to be produced), real estate, Disneyland, Character Merchandising, Music, Publications and the world-famous Disney name — will result in a successful future.

It was Walt's wish that — when the time came — he would have built an organization with the creative talents to carry on as he had established and directed it through the years. Today this organization has been built and we shall carry out this wish.

Walt Disney's preparation for the future is a solid, creative foundation. All of the plans for the future that Walt had begun — new motion pictures, the expansion of Disneyland, and our Florida and Mineral King projects as outlined in this report — will continue to move ahead.

Signed Roy O Disney. President and Chairman of the Board. Walt Disney Productions
Walt Disney Productions Real Estate
What fascinates me about this letter is — when Roy is listing what he sees as the Company's core assets in the wake of Walt's passing … Well, the batting order he puts together:
Motion Picture Properties
Real Estate
Disneyland
Then Character Merchandising
Think about that.
Roy put the Company's real estate holdings (Which — at that time — were mostly those 43 square miles of undeveloped swampland in Central Florida) ahead of Disneyland. That's really telling about Walt's brother's head space in the immediate wake of Walt's passing.
You have to remember that — at this point — Walt Disney Productions had spent roughly $5 million on the acquisition of that land. And then General Joe Potter — in order to get this land ready for construction (particularly that 2500 acre chunk right at the heart of this property which would eventually become the home of … Well, as the Company liked to describe Walt Disney World back in the late 1960s / early 1970s, "Florida's Vacation Kingdom").
Anyway … To get those 2500 acres of swampland & wetland ready for construction, General Joe had to first build 38 miles of water control channels. All of which Walt had asked Joe not to do as straight Panama Canal-like structures. But — rather — as picturesque winding canals that then blended in with the landscape.
This sort of work (as you might expect) was brutal, hot & expensive. And there were those with the Company (especially in the early part of 1967) who were wondering:
Should we really be spending this money ? I mean, Walt's gone. Does it even make sense now that we push ahead with construction of this giant project in Florida? Not to mention a ski area up in the High Sierras?
For a time, the sheer momentum of Project Florida was enough to keep that enterprise moving forward. By that I mean, Joe Potter and all that earth-moving equipment were already down in Orange & Osceola County. And even if the Company were to eventually abandon Walt's dream of building the Vacation Kingdom … Well, if they still wanted to get the full value out of Disney's massive real estate holding in Central Florida, they'd first have to complete construction of a network of access roads throughout the work site. Likewise mitigate all of that property's drainage problems. Which — again — brings us to the Reedy Creek Drainage District. The earliest iteration of the Reedy Creek Improvement District.
Florida Legislators and Project Florida
And now here are Florida's legislators. Who are still anxiously awaiting those detailed plans for Project Florida. Which Disney is supposed to finally unveil in February of 1967 at a special presentation to Orange & Osceola County officials.
This is a scary, scary time for those folks. Especially when Roy O. briefly steps away from the day-to-day operations of Walt Disney Productions so that he can then mourn the loss of his brother. This period — surprise, surprise — directly coincided with the time between when Walt passed away in December of 1966 and that date in late February of 1967 when the Company was supposed to finally unveil its plans for Project Florida.
And this whole time, officials up in Tallahassee are working the phone, calling folks who are supposedly in the know when it comes to what's going on in Anaheim & Burbank. As these elected officials try & get some information about what the current thinking inside the Mouse House might be.
Because — remember — Florida officials saw themselves as being in direct competition with the Mineral King project. The thinking back then is … Well, Walt's gone. And — in the wake of his passing — there is just no way that the Company will now go forward with construction of both of these ambitious projects. People & corporations naturally get conservative at moments like this. Disney will eventually have to regroup. Retrench.
And when that happens … One of these two projects is going to wind up falling by the wayside. And given what Project Florida could mean to the future of Orange & Osceola County (All of those jobs. Not to mention turning a chunk of Central Florida — which, back then, was largely rural and made most of its money off of growing citrus & raising cattle — into a tourist destination that could potentially eventually rival the Sunshine State's beaches) … Well, the stakes were just too high here. No matter what the costs, the folks up in Tallahassee just had to make sure that Project Florida ultimately went forward.
Mineral King or Project Florida?
That said, Florida's elected officials were heartened when they learned that — in late December of 1966 — wilderness protection groups (chief among them the Sierra Club) were mounting a challenge to Mineral King. Their chief concern was that all-weather road which the Forest Service had told Disney officials that it was willing to build in order to grant access to this ski resort which would then have to pass through a grove of Sequoias that had grown up — over time — outside of the physical boundaries of Sequoia National Forest.
To Disney's way of thinking, that was supposed to be one of the big draws for Mineral King. The natural beauty of California's High Sierras. Little did they realize that this would also eventually become one of the main drawbacks of Mineral King. That naturalists & environmentalists would have a huge problem with the idea of this giant corporation facilitating the destruction of a grove of Sequoias / old growth forest just so a bunch of tourists could then drive up into the mountains for the day and go hiking or skiing.
And the folks in Florida were right. Inside of the halls of Walt Disney Productions (at least in the early, early part of 1967), the thinking was
" … Why are we going ahead with this stupid ski area idea? Florida at least makes sense … Sort of. It's just Disneyland writ large. We — as a company — already have a decade's worth of experience when it comes to operating family fun parks. All we have to do in Orlando is replicate what we already have in Anaheim. And Boom! Profit."
That said, there were folks within Disney who argued that
" … we need to grow beyond just producing movies and operating theme parks. That's what Walt wanted to, after all. For the Company to keep changing & growing.

And the Company does have experience operating sport-related operations. Look at the Celebrity Sports Center in Denver. We've been the sole operator of that 7-acre facility with its 80 bowling alleys and Olympic-sized swimming pool since 1962. And we've been making good money off of that place.

More to the point, we — as a Company — know nothing when it comes to building cities. That's why we need to sell off all of that property in Central Florida. That Experimental Prototype Community of Tomorrow idea of Walt's is an absolute recipe for disaster now that he's gone. This is why we need to forget about Florida and concentrate all of our efforts in California.

Stick with the original Disneyland & our Studio in Burbank. And then build that ski area up in Mineral King."
So picture this. You're an elected official up in Tallahassee. And your staffers — who have been diligently working the phones — now come to you with these two distinctly different messages. Meaning that the folks at Disney themselves aren't sure about whether they want to go forward with Project Florida OR Mineral King.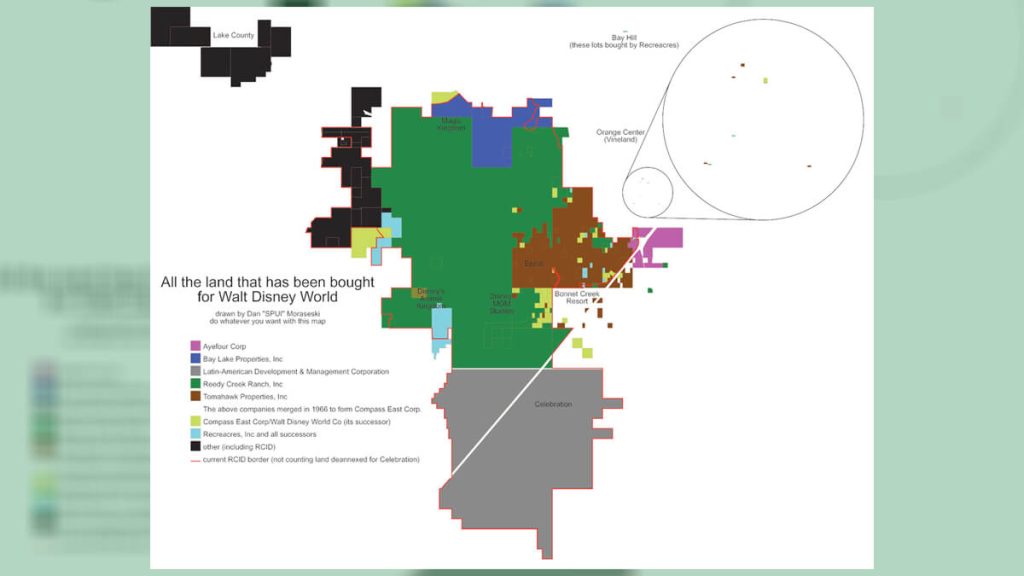 Say "Yes" – Disney's Leverage on Florida Legislators
At this point, in order to get Walt Disney Productions to say "Yes" to proceeding with developing all of this property that the Company owned in Central Florida (and then creating all sorts of jobs for the residents of largely rural Orange & Osceola County), Florida officials have to literally create a glide path to Disney saying "Yes." Remove virtually every impediment to the Company moving beyond building just those 38 miles of drainage canals.
Change the Reedy Creek Drainage District into a construction site where things then start going vertical. But to in order to make that happen … That would meaning relaxing a lot of Florida's zoning regulations and building codes.
Mind you, Florida had done this before. Back in the early 1960s, when developer Del E. Webb expressed an interest in building an East Coast version of Sun City (that hugely popular retirement community that he'd established out in the Southern California desert near the tiny town of Menifee), Sunshine State officials bent over backwards to try and make Del's dreams of a Sun City in Florida a reality.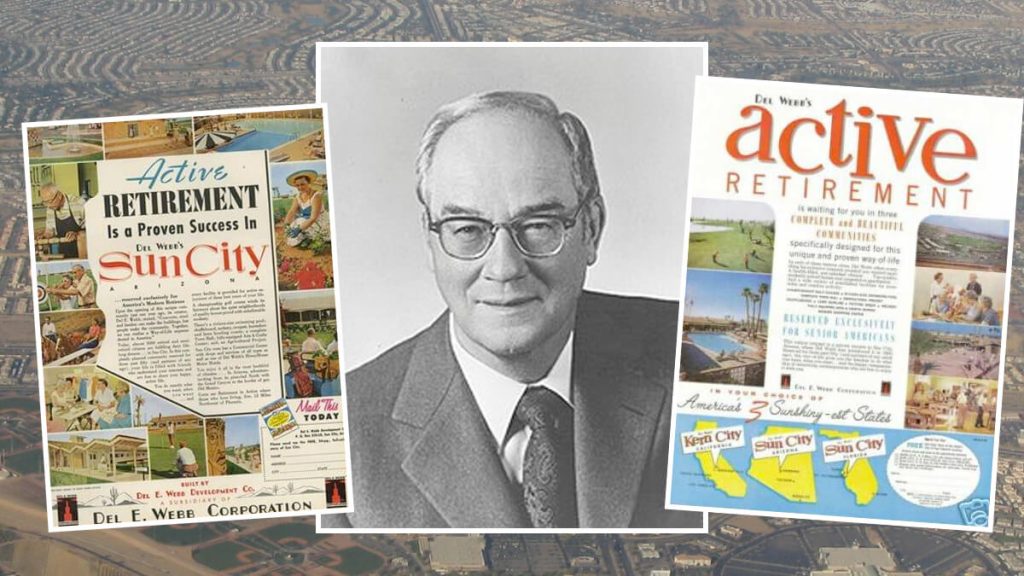 In order to get Webb to build Sun City Center in Southern Hillsborough County (to the south of Tampa and the north of Sarasota) on nearly 16 square miles of swampland … Florida made all sort of concessions to that developer. Keeping this huge chunk of property unincorporated, for example.
That — in the end — was enough to convince Webb to purchase this 12,000 acre property in early 1961. Today, Sun City Center (an age restricted retirement community) is home to over 30,000 people.
That was the thinking up in Tallahassee. If we're going to beat out that ski area up in the High Sierras, we're going to have to do for Disney what we did for Del Webb. Give them whatever they want.
History of Reedy Creek Improvement District: Part 4
In our next & final chapter, we'll talk about how the deal for the Reedy Creek Improvement District ultimately came together. And what's going to happen now, now that the Florida legislature — under the guidance of Governor DeSantis — seems determined to sunset any special districts that were created in that state prior to 1968. What this all means to Walt Disney World as well as the residents of Sun City Center.
This article is based on research for The Disney Dish Podcast "Episode 371", published on April 25, 2022. The Disney Dish Podcast is part of the Jim Hill Media Podcast Network.
Treasure Island: Walt Disney World's Evolving Island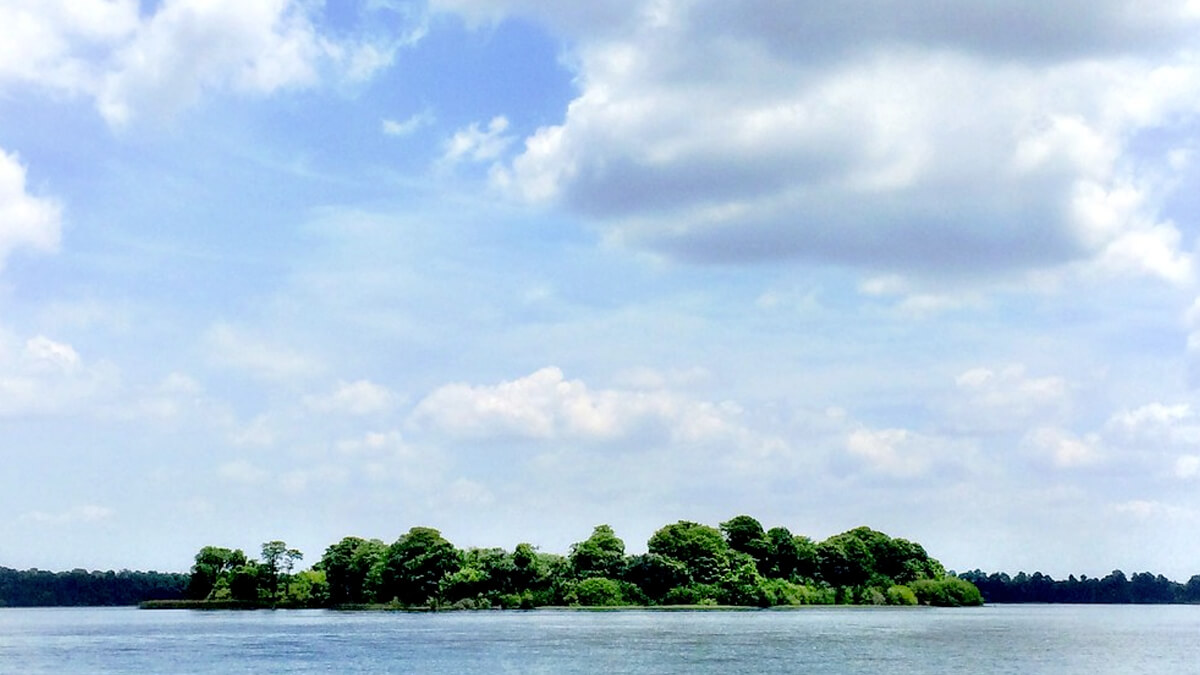 It's November of 1963. Walt Disney is in the Company's corporate plane. He and a group of executives have spent the past hour flying over huge expanses of Central Florida swampland as they're trying to decide where exactly they're going to build an East Coast Disneyland.
Then Walt sees it. Out of the window of the plane, in the middle of Bay Lake, he sees Raz Island.
Raz Island, Idle Bay Isle, Riles Island and Eventually Treasure Island
Truth be told, this 11.5 acre island went by a couple of different names.
As the property changes hands from the early 1900s right through the 1950s, it went from being called Raz Island to Idle Bay Isle to Riles Island. All Walt knew was — when he saw that island right in the middle of Bay — that's when Walt said "This is it. This is the piece of property we need to buy."
It wouldn't be 'til nearly two years later that Walt would reveal that his Company had purchased nearly 40 square miles of land in Orange & Osceola County (a chunk of property roughly twice the size of the Island of Manhattan). This is where Disney planned on building his vacation kingdom.
Mind you, for a while there, Walt's plans for the property were fairly amorphis. For a while there, there was no Seven Seas Lagoon out in front of the Magic Kingdom. Walt planned on enlarging Bay Lake and building several sets of vacation cottages along that waterfront. One that would be themed to Cape Cod. Another that would celebrate the South Seas.
But as for Raz Island (or Riles Island. I have to admit that I like that Idle Bay Isle name too), Walt knew exactly what he wanted to do. That was going to become a special stand-alone attraction at his vacation kingdom.
One where Guests could recreation the pirate-themed adventure that had been played out in Disney's June 1950 release, "Treasure Island."
Treasure Island – Disney Studios First Full-Length Live-Action Movie
Now that movie held a very special place in Walt's heart. It was the very first full-length live-action film that Disney Studios produced that didn't feature a spec of animation. To Disney's way of thinking, "Treasure Island" was a crucial movie which helped in the transition from Disney being a studio that only made animation to then becoming a modern corporation in Hollywood that made TV shows & theme parks.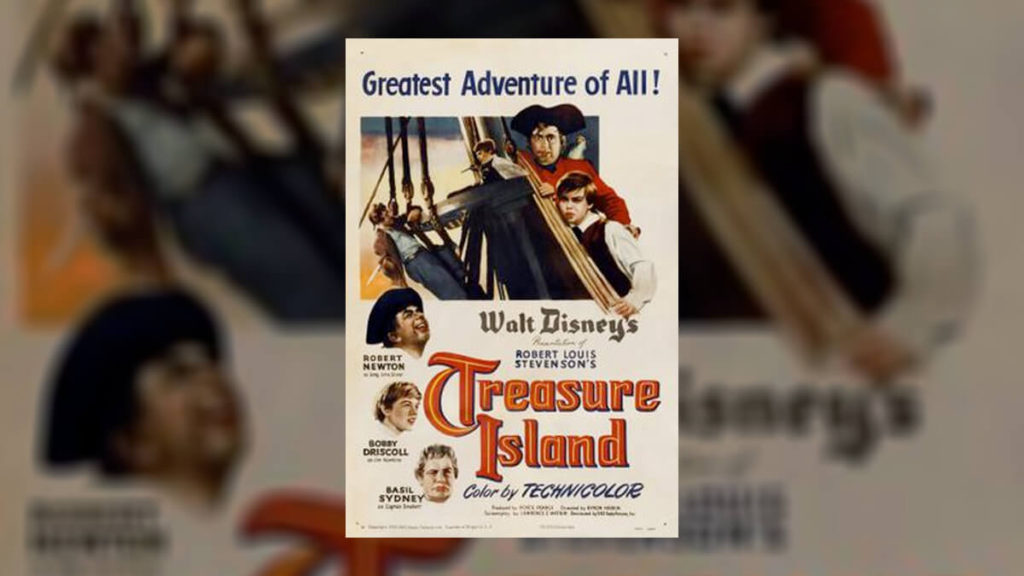 So Walt wanted Walt Disney World's "Treasure Island" attraction to really be something special. To feature things like full-sized recreations of Capt'n Flint's ship, the Walrus. Likewise a walk-through version of Ben Gunn's cave where a vast horde of gold & jewel would glisten in the dark.
As early as 1953, Walt was toying with paying tribute to Disney's version of "Treasure Island" in one of his theme park. The island out in the middle of Disneyland's Rivers of America was supposed to be home to the worldwide headquarters of the Mickey Mouse Club. At one point — Walt wanted to call this man-made island Treasure Island rather than Tom Sawyer Island.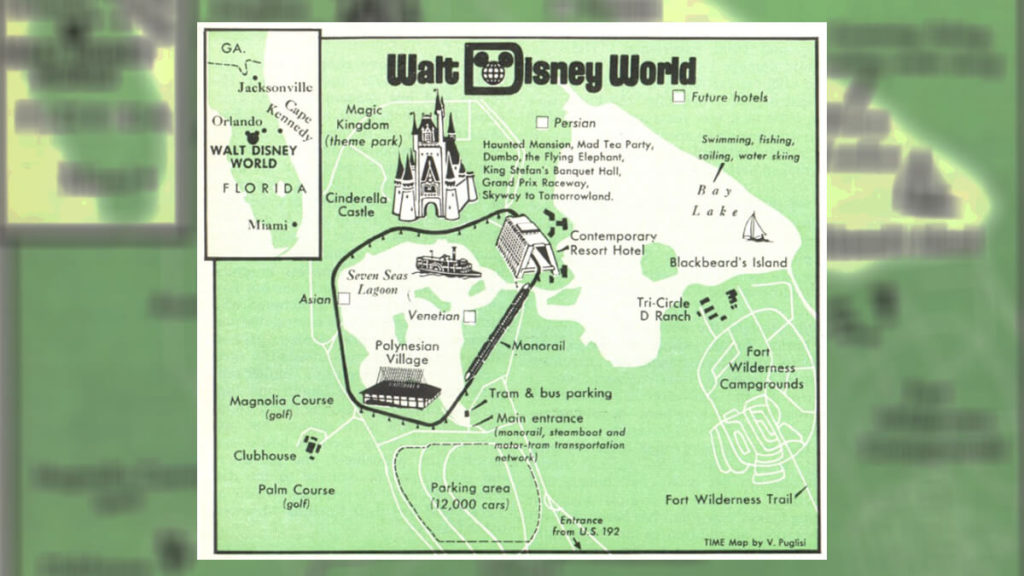 Initial Troubles with Treasure Island
Anyway … Walt died in December of 1966. And given that the cost of turning miles of Central Florida swampland into a vacation kingdom kept mushrooming (from the originally budgeted $100 million to $200 million to — eventually — a whopping $400 million), the development of WDW's Treasure Island stand-alone attraction gets pushed off 'til Phase 2 of the Florida Project.
The Oil Embargo of 1973 stalls things out for a bit. But by 1974, the Imagineers are ready to reimagine Raz Island. First they haul over 50,000 cubic yards of soil out to the middle of Bay Lake. 500,000 tons of boulders as well. The idea is that they first need to build a series of pathways through this 11.5 acre island which is — truth be told — only just-slightly-above-Florida's-already-high-water-table. They also have to create sites where — eventually — recreation of the Benbow Inn & Ben Gun's Cave will be built.
Realizing that they may need more than pirate-themed adventures to get people to pay to take a boat ride out to the middle of Bay Lake, the Imagineers also create enclosures for more than 600 tropical birds. With the idea that Treasure Island will then become a two-fer. A place where pirate enthusiasts can then challenge their inner Jim Hawkins. But also be a place where nature lovers can go and explore some flora & fauna.
Opening of Treasure Island at Walt Disney World
Walt Disney World's Treasure Island opens on April 4, 1974. Mind you, this is just Phase One of the project. So while a full-sized recreation of the wreck of Capt'n Flint's ship, the Walrus, has been set up along the shore and the map for this stand-alone attraction features all sorts of names like Doubloon Lagoon & Black Dog Bridge, there's no Benbow Inn or Ben Gunn's Cave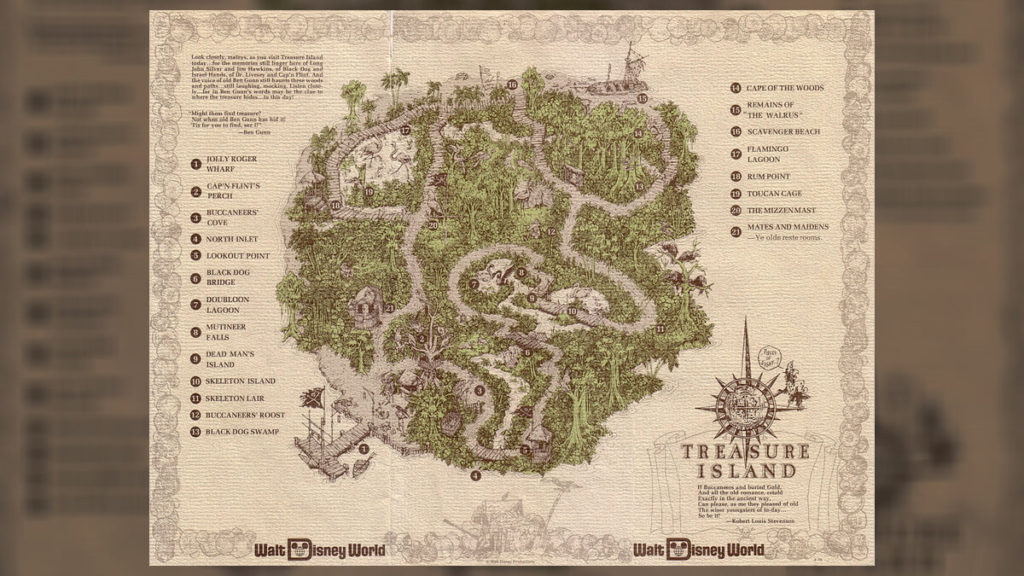 Mind you, you can see concept art for this supposedly-coming-soon aspects of WDW's Treasure Island in the 1973 edition of Walt Disney Productions' annual report. But those items are being held back for Phase 2 of the project.
"Treasure Island" Rating Change from G to PG
But then — in 1975 — something unusual happens. Walt Disney Productions goes to re-release its "Treasure Island" movie to theaters. As a courtesy, they send this film to the MPAA (The Motion Picture Association of America. These are the folks who determine whether a movie that's going to be released theatrically will receive a G, PG, R or X rating). So the MPAA takes a long at this now-25-year-old motion picture and says "Okay. Due to all of the piratical violence that kids will see when they watch Disney's 'Treasure Island,' this film needs to be released with a PG rating."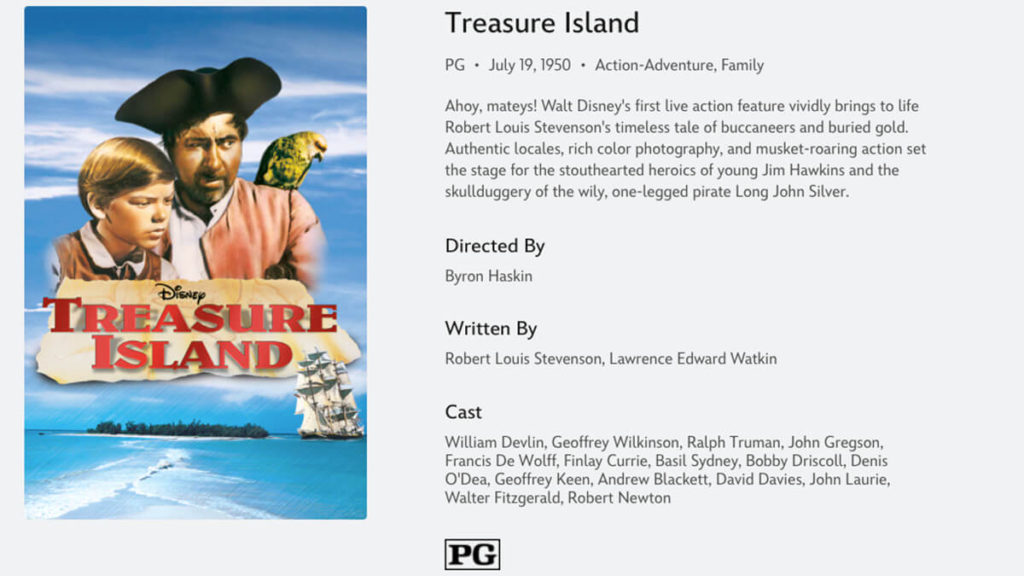 Now what you have to understand here is that — the previous year — Walt Disney Productions had adopted a new catchphrase. Which was "Look to Walt Disney Productions for the finest in family entertainment." More to the point, as Mouse House managers announced this new catchphrase, they made a point of saying that Walt Disney Studios would only produced G-rated fare. And now — here was the Studio's first-ever live-action film (which had previously been okay for kids to watch) now branded with a PG rating by the MPAA.
As you might expect, Disney executives at the time kind of lost their minds. They first made all sorts of passionate appeals to the Motion Picture Association of America. Arguing that Disney's "Treasure Island" had not only been released to theaters but also shown on NBC as a two-part episode of "Walt Disney's Wonderful World of Color" television and the Company didn't receive one letter of complaint in regards to that movie's violence. The MPAA still said "No dice. Our PG rating still stand."
Then the folks at Disney Studios began making cut to the original 1950 version of "Treasure Island." With the hope that — if they removed enough of that pirate themed violence — the MPAA would finally relent and allow this movie to go back out into theaters with a G rating.
In the end, they wound up cutting seven minutes of footage out of this originally-just-96-minute-long movie. But the MPAA then relented and gave Disney's "Treasure Island" a G rating.
Treasure Island Changes to Discovery Island
But — by now — the suits in charge of Walt Disney Productions had kind of lost their taste for pirate-themed adventure. Which is why they informed the Imagineers that they should abandon any plans to build the Benbow Inn & Ben Gunn's Cave out on Treasure Island. In fact, it might even be time for that stand-alone WDW attraction to get a new name.
Which is why — in March of 1976 — Treasure Island closed for a brief redo. When it finally re-opened a month later, this 11.5 acre area had a new name, Discovery Island. And it was now advertised to WDW Guests as a nature preserve with walking trails.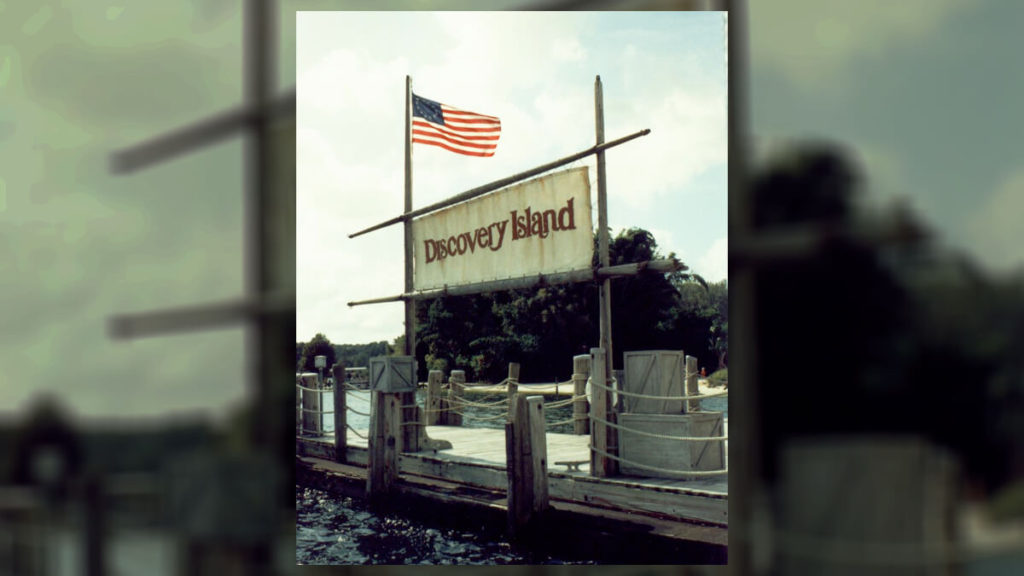 The irony of all this is — in July of 1976 — Walt Disney Productions actually released a new movie called "Treasure of Matecumbe." Which is a pirate-themed treasure adventure set just after the American Civil War which was actually shot at Walt Disney World around the edges of Bay Lake. In fact, if you look closely at this finished film, you can see scenes that were actually shot out on WDW's Treasure Island in 1975 just about the same time that Mouse House Managers were battling with MPAA officials about Disney's "Treasure Island" movie from 1950 being forced to get a PG rating when it was re-released to theaters.
By the way, if you'd like to see what Discovery Island looked like after all of the Treasure Island material was removed, head over to Disney+ and check out "The Mouseketeers at Walt Disney World." This episode of "The Wonderful World of Disney" originally aired on NBC in November of 1977. It was shot in the Spring of that year. So you can see the brand new Discovery Island as part of this show.
FYI: "Treasure of Matecumbe" is also available for viewing on Disney+.
Walt Disney World Closes Discovery Island
Discovery Island closed in April of 1999. The thinking was — given that Disney's Animal Kingdom theme park opened in May of the previous year — it just didn't make sense for the WDW Resort to have two animal-themed attractions that charged admission.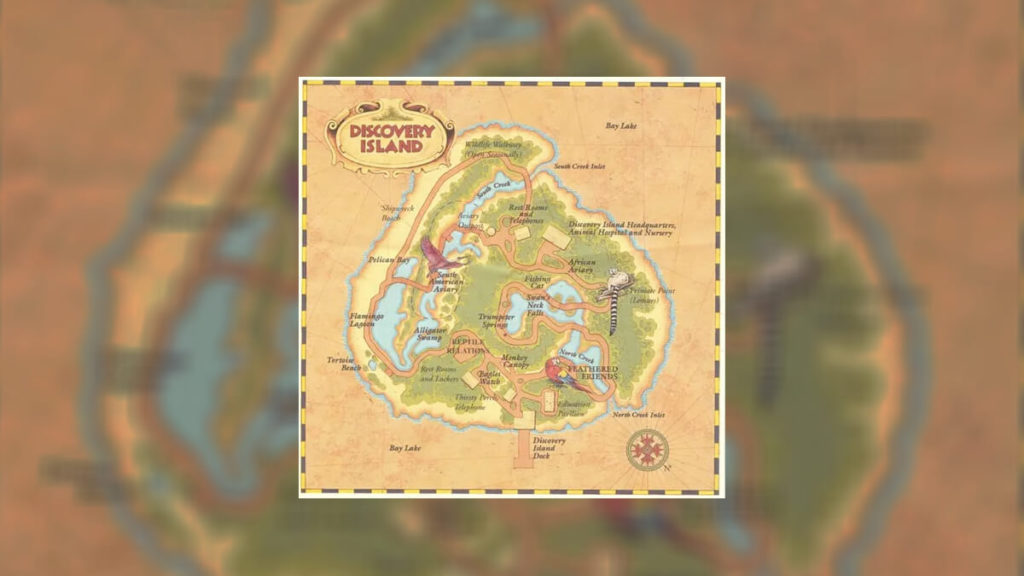 What's Next for Discovery – Treasure Island?
Discovery Island has been empty since closure in 1999. There has been discussions on a private high end resort, yet we have seen no movement.
The idea was revived as Phase 2 of "Reflections", a Disney Vacation Club resort, but that ideas is currently on hold.
If you want to hear discussion about the future of Discovery/Treasure Island, check out our Bandcamp Exclusive Podcast – "When WDW's Treasure Island became Discovery Island".