"He was always grandpa" : The Miller children recall Walt Disney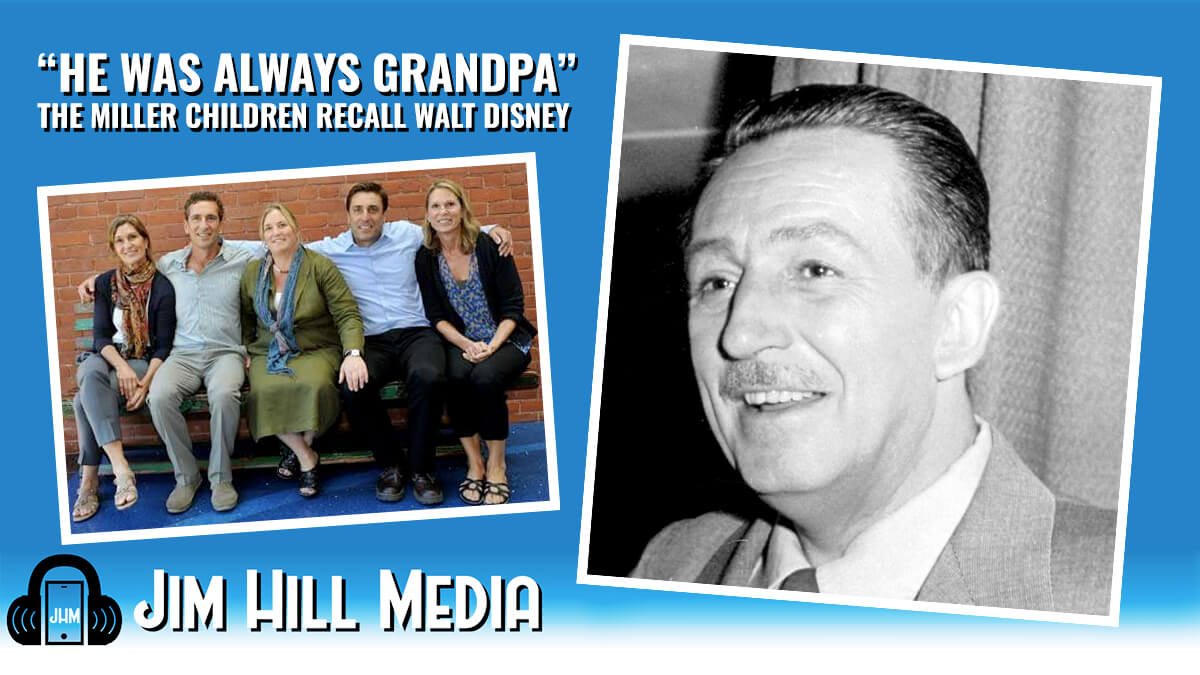 Family togetherness and memories of shared experiences to last a lifetime … those are at the heart of Walt Disney's many creations – from cartoon characters and heart-warming movies that have entertained generations to Disneyland, which has delighted guests between the ages of 2 and 102 since opening in 1955.
Family meant a great deal to Disney, both personally and professionally.
His daughter, Diane Disney Miller, told me in 2005 that despite her father's success, she and her sister, Sharon, lived a fairly typical family life. The girls had two loving, caring and protective parents.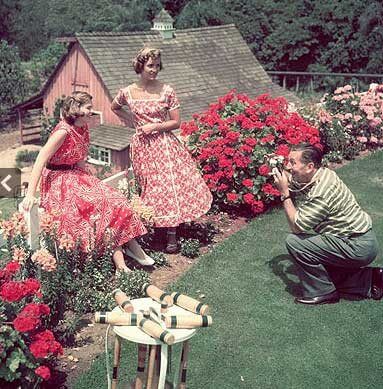 Her dad, she said, was a hugger who enjoyed family dinners at home, weekly outings with his girls, even time regularly spent driving his daughters to school on his way to the studio. Walt was quite happy with his little family, even though Diane learned many years later from her aunt that he had wanted more children but that doctors had advised her mother, Lillian, not to attempt another pregnancy after a few miscarriages.
It would have "only been me," Diane said, if her parents hadn't gone out and adopted her sister, Sharon.
Walt and Lillian would later become "very loving" grandparents. And, making Walt a grandparent was the "best thing I ever did for him," Diane said.
Diane and her husband, Ron Miller, parented seven children; six were born before Walt's death on Dec. 15, 1966.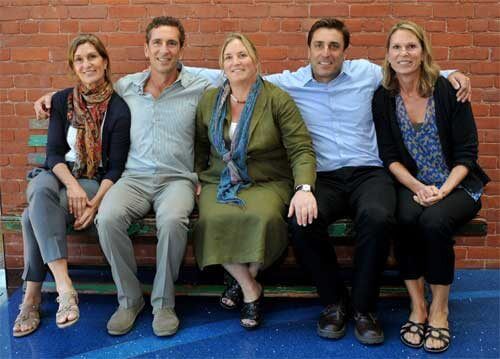 Five of them – Chris, Joanna, Tammy, Jennifer and Walter Miller – recently shared memories of their maternal grandfather in a special program at The Walt Disney Family Museum in San Francisco. Ron Jr., born in 1963, was too young when his grandfather died to participate with his siblings and Patrick Miller wasn't born until 1967.
The program provided an intimate look at Walt's family life from adored grandchildren who had a unique relationship to one of the most creative and influential men of the 20th century. They, too, said both their parents and grandparents did everything they could to give them a fairly typical family life.
The following is the first of two reports offering highlights of the program, plussed and sprinkled throughout with material obtained during an exclusive interview after the event. Part one focuses mostly on the grandchildren's memories of Walt. Part two will take a look at "Granny Lillian" and include more of their thoughts about Grandpa Walt, from his unfinished projects to the family foundation-funded museum at The Presidio.
Jeff Kurtti, a Disney historian, author and member of the team that helped plan the museum's galleries, served as the program's moderator. With an assist by researcher Paula Sigman-Lowery, Kurtti quoted Walt's own words as he introduced each participant in order from birth.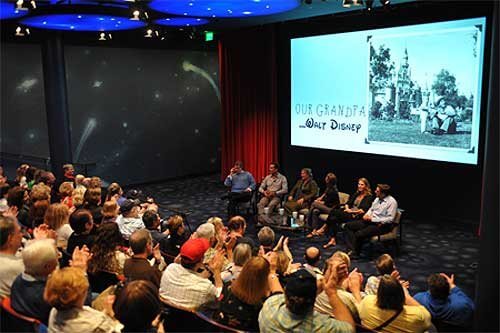 In a letter to his Aunt Jessie dated Dec. 9, 1954, Walt wrote about the upcoming arrival of his first grandchild Chris Miller: "We are planning to spend Christmas up near San Francisco … where Diane is now living. Her husband is in the service – he's stationed at Fort Ord, which is near Carmel. So, we'll all be together up there … and I'm going to be a grandfather, which I guess will make you a great-great aunt. We're all very happy and excited about this coming event."
As an adult, Walt also wrote several annual birthday letters to his younger sister, Ruth, born on Dec. 6, 1903. Walt was born on Dec. 5, 1901.
In his letter to her in December 1956, Walt talked about the arrival of his first granddaughter, Joanna: "Now that Ron is out of the service, he and Diane are settling down and are building themselves a home here in the valley. While they are waiting for it to be completed, they are spending most of their time at the house with us. And, although it gets a bit hectic at times, granddaddy and grandma are having the time of their lives with little Chris and Joanna. Joanna is as cute a little pixie as ever drew a breath and Chris is still as wonderful as ever."
In December 1957, following a two-month trip abroad, Walt wrote to Ruth: "Lilly just about had a fit having to be away from the grandchildren so long and I guess I'll have to admit to being homesick for them, too. We were as happy as two grandparents could be with just Chris and Joanna, but then little Tammy came along and found her little niche in our hearts, too."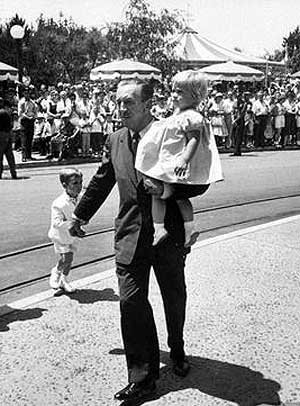 In December 1960, Walt shared his excitement about his third granddaughter, Jennifer, as well as his desire for another grandson. He wrote: "Diane had another little girl last May 8. … She's a little doll. No cuter than the others, but at this age she's a darn sight quieter. I was a little disappointed – kind of wanted another grandson – but Diane says 'I'm not to give up. There's always next time.' "
In December 1961, Walt wrote to Ruth: "I don't know if you had heard about the BIG news … the birth on Tuesday, Nov. 14th, of Walter Elias Disney Miller. Diane finally decided to name one of her sons for me, and I'm thrilled to have a male heir bearing my name. With the first boy, Diane pulled a name out of the blue. She didn't seem to like tagging a son of hers with my name. She had a particular aversion to the 'Elias' part of it. But, when this one came, she changed her mind and gave him the full treatment. She certainly made me very happy."
The letters were a touching way of beginning the program. They also illustrated a side of Walt often overshadowed in biographies and the historical record by his numerous professional accomplishments. This "family" story – with photos, film clips and several personal artifacts showing Walt as a son, a brother, a husband, a father and finally a grandfather – provides key bits of information to those studying Walt's life.
When you listen to Walt's own voice and then hear Diane, her children and the people who worked with him, you get a sense that Walt was, as Kurtti said, "the man he purported to be."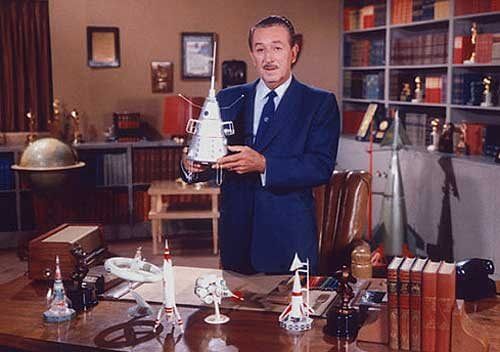 "Everytime we saw grandpa in the public or on television, he didn't seem any different than when he was in his own living room or watching us play in the yard," Chris said, kicking off the discussion.
Joanna recalled her and her siblings kissing grandpa's image when they saw him host his weekly TV show, but she became a bit perplexed when some of her friends told her they did the same thing. She'd tell them, "He's not your grandpa."
"I'm trying to remember if we ever kissed him on the television when he was sitting in the living room," Chris added, in one of the afternoon's many lighthearted exchanges.
To us, Jennifer said, "he was always grandpa. When we walked into the door, we were excited to see him and he was just mobbed."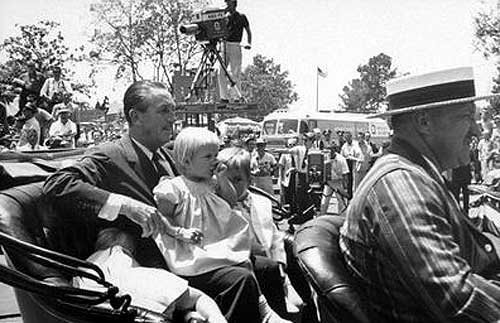 Kurtti asked if the five, as children, realized how famous their grandfather was.
"We'd have situations at Disneyland where we were thrust into the parades. … we recognized that something was different about him," Tammy said, adding that "another clue" came when Walt would take them to school and "people would run out and look at us."
"We're all pretty shy and I think some of our first experiences being in parades and the like at age 2, 3 and 4 … that was probably the most traumatic stuff we did with grandpa," Joanna said, "but we did it for him."
And, Grandpa "thought we'd have jolly good fun," Chris added.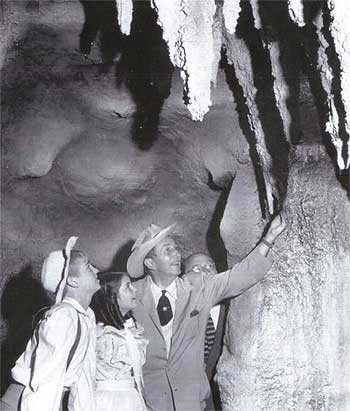 Walter called his grandpa "a little bashful, but gregarious.
"He wasn't shy like we were. You hear about him when he was a kid. He was an adventurous Tom Sawyer, who befriended adults. We were all terrified of adults when we were little."
"But I think a lot of that (shyness) was because we were protected" Tammy said. "We were also a little insecure about the fact that our grandfather was Walt Disney. We didn't want people using or trying to manipulate us.
"Of course," she added, "he was born in a different day and age, too. Could there be a Walt Disney today? Could that personality exist today with all the paparazzi and technology?"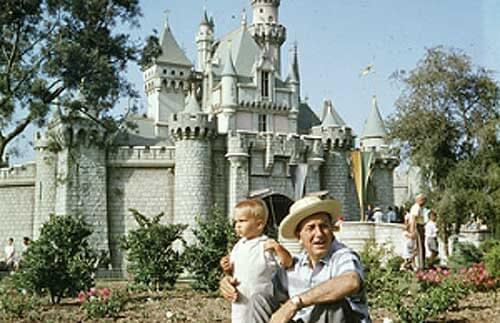 "I think there were a lot of assumptions," Chris said talking about his grandfather's fame. As children, it was … "hard to figure out what were dangerous assumptions," when you could "engage the inquisitor," or know "what someone was trying to get out of you" – even if that was simply free tickets to Disneyland.
"We … lived a very simple, traditional family life. So when people would confront us with 'your grandpa is Walt Disney,' it seemed like an odd affront to us," even though, Chris continued, "we knew grandpa was world-renowned."
"We were very lucky though," Jennifer added. "Our parents and grandparents did a beautiful job of protecting us. We really had such a normal life. They all made sure of it."
Walter talked about the three questions he and his siblings heard most frequently from peers at school: "Is your grandpa THE Walt Disney?"; "Do you get into Disneyland free?"; and "Is your grandpa frozen?"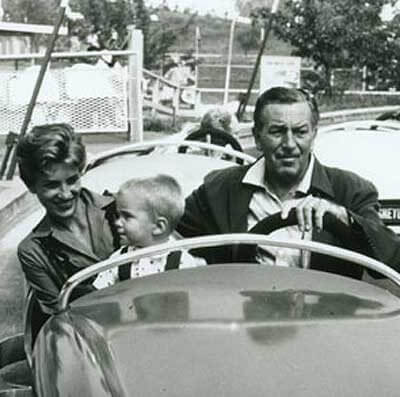 "I think the worst was having people ask if he had been frozen shortly after he died," Joanna said. "We were still getting over losing a relative."
She then asked her younger brother to repeat his reply to the cryogenics query. Walter would simply parrot the question back at the inquiring peer and ask – "Is your grandpa frozen?" It's a strategy he remembers using as far back as first or second grade.
Kurtti then asked "where is grandpa when you're having a memory about him?"
"I'm just thinking of the living room at their house," Joanna said. "He and granny sitting in their chairs, enjoying the evening together, before or after dinner."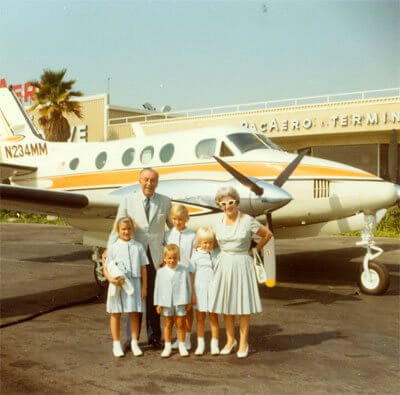 The grandkids spent most of their time with their grandparents at Walt and Lillian's two main residences, the "large but humble" Holmby Hills home and the Disneys' weekend retreat in Palm Springs. Both houses had huge yards and a lot of windows where Walt could keep a watchful eye on his grandkids if he wasn't sitting out in the yard as they played.
"You have to understand," Tammy said, "there were moments when grandpa was working and we'd be building forts with lawn furniture around him and he loved it."
"And I remember little Ronnie sitting in his lap landing airplanes on grandpa's head as he's reading," Joanna said.
"I think as children we didn't realize how much work he brought home," Chris said.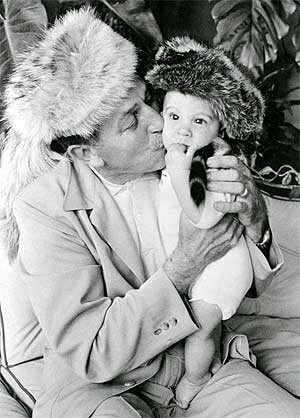 "He tolerated all of our chaos and he always seemed to appreciate it," Tammy said. "We felt so loved – cherished by him as a group. He wasn't somebody who picked out favorites. He … adored all of us and that's a wonderful feeling to be able to have."
Walter admitted that outside of the last year of his grandfather's life, he has "very few memories" of time spent with him. Most of his memories are sensory – tastes, smells, even some sounds.
He does remember sitting with his grandparents in the living room, "taking ice cubes out of (grandpa or granny's) Scotch Mist. I still remember that flavor, it was so unique," Walter said, adding that even today he's "not a Scotch drinker."
Kurtti recalled the early days of designing the museum galleries with Walter when boxes of Walt's personal items arrived. Walter responded to a shaving kit when he opened it and, Kurtti said, "I'll never forget you saying, 'Oh my God, it smells like grandpa.' "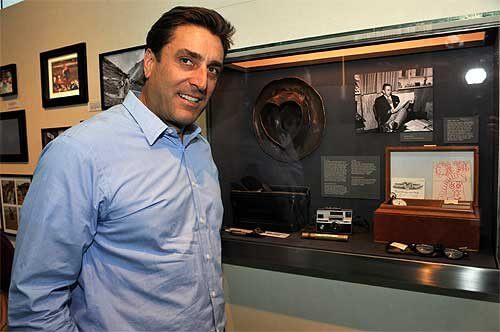 That prompted Walter's siblings to recall their own sense memories.
"The orange slices in the Scotch," Joanna said. "You really wanted one and (granny and grandpa would) put in lots of slices when we were there."
Tammy said she associates the smell of a grease pencil with her grandfather because he used them to mark up dozens of scripts he frequently brought home to review.
Jennifer says the smell of petunias brings back "happy memories" of Palm Springs, when grandpa would be in his office with the windows open "listening to us, enjoying us and watching us" as the kids would ride around and around on a path in the back yard. "He was always present when we were there," she said.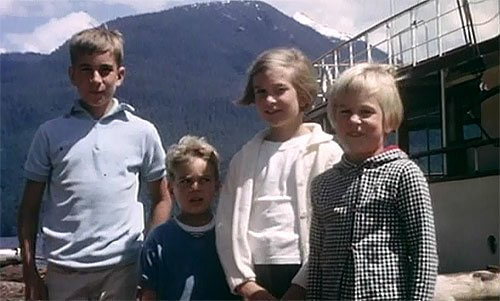 In addition to the time spent with grandpa and granny at the Disneys' two homes, the children's play areas extended on occasion to the Walt Disney Studio and the Golden Oak Ranch, which featured several sets and was used as a film and television shooting location.
The grandchildren remembered using Chris' or Joanna's Autopia cars and riding bicycles to explore The Walt Disney Studio and its backlot. They talked of visiting their grandpa's office and admiring his vast miniature collection. (Chris' Autopia car as well as a representative sampling of Walt's miniatures are on display at the museum.)
Walter remembers one trip to the Golden Oak Ranch and seeing "the greatest, most incredible treehouse" and then returning later and being "devastated" to find that it had been removed.
Jennifer remembers visiting Zorro's horse, Tornado, which was enjoying retirement from showbiz in the verdant pastures of the ranch.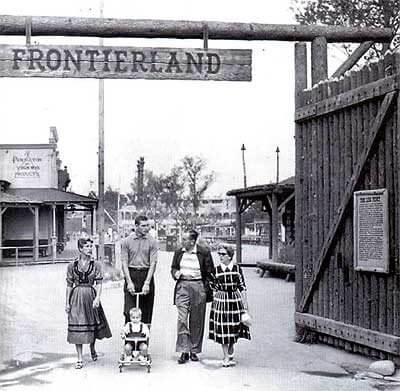 Still as special as those two places were, they paled in comparison to their time spent with grandpa and granny at Disneyland, the world's largest and greatest playground for all ages at least until 1971.
"Going to Disneyland with them was obviously something totally different from what anyone else gets to experience," Joanna said, talking about how Walt would prepare before taking the children out into the park by stuffing some pre-signed autographs into his pocket. "He was intent on getting us to enjoy the place. That's why he made it."
She also recalled watching him "casually talk" to the cast members and noticed "a warmth that he had with everybody. I don't know a lot of people who are able to do that."
Chris finally piped in with a sensory memory – one shared by his siblings.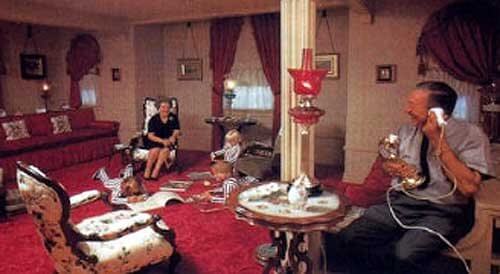 "Talking about the Disneyland experience, we had the great fortune of spending some nights at the apartment there (above the Main Street Fire Station.) We had this auditory sensation of The Jungle Cruise and the cannibals. We were safe in the apartment, but there were cannibals nearby."
"I'm very nostalgic about the apartment," Tammy said. "It was a personal favorite for us … the way we interacted with the jungle people," prompting several of her siblings to begin a headhunters' chant. "We had some fun back there."
Kurtti asked whether the Miller kids if their grandpa, who some employees remember as temperamental at times, ever got angry with them.
"He didn't get mad," Chris said, "he'd get impatient."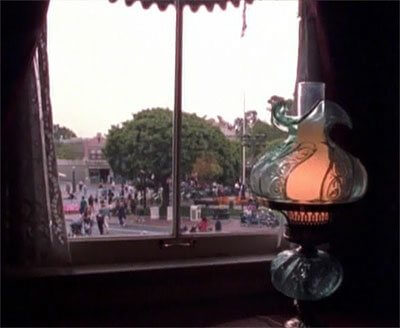 "We're close in age and we'd have our little sibling arguments," Joanna said, adding that their grandmother had reminded them that grandpa was "a very busy man and he doesn't want to hear you argue."
There was one time in Palm Springs when grandpa said "something about not wanting to hear that … that's all it took. We still argued at home, but not at granny and grandpa's … we respected that."
"It's pretty amazing that in all the time we spent with them, there's only the one time any of us can remember," Tammy said.
Kurtti asked about Christmas with the Disneys as he introduced a 1958 letter from Walt to Ruth when Walt wrote about "the little chuckle" that Joanna and Tammy gave him and Lillian when they "asked for (toy) guns and holsters" for Christmas. "Lilly thought she hadn't heard right … these old-fashioned grandparents thought the girls would want dolls, but guns it is."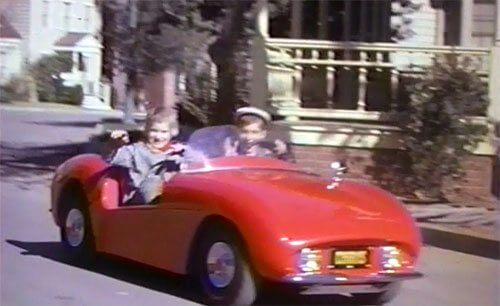 "Christmases were amazing," Tammy said.
Joanna said that the grandkids would get boxes with "gifts from all the characters, Jiminy Cricket, Mickey, Minnie, Goofy and Donald … lots of Disney products.
"I always felt sort of spoiled by that, but later on I learned that grandpa gave to more people than I knew and that pleased me."
Chris then talked about the Disney employee Christmas parties where everyone who brought a child left "with boxes of stuff," the same Disney products the grandkids would get from Disney's cartoon stars.
Toward the end of the program Kurtti asked about their final family vacation with Walt, taken five months before his death, before he knew he had lung cancer.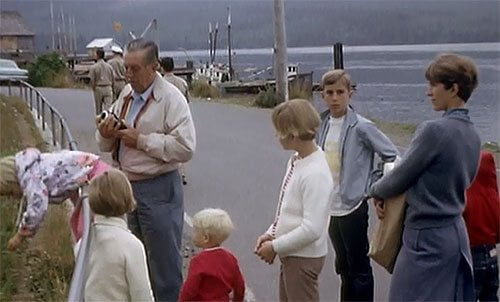 "That was sort of a finale for the family in a lot of ways … one of the first pure vacations we had," Chris said, talking about a two-week houseboat trip along the British Columbia coast. Walt and Lillian were joined by 11 immediate family members – their two daughters and their husbands, six of the Millers' kids and granddaughter Victoria Brown, Sharon's first-born.
"It was family on an adventure," Chris continued, "there wasn't a movie company nearby that grandpa was monitoring and my dad wasn't working."
Walter said some of his most vivid memories of grandpa are from the Vancouver cruise. One memory in particular stands out. Chris and Walter were in one of the rowboats when "Chris sees a bald eagle on a cliff … He's rowing away from the boat when all of the sudden we hear this megaphone: 'Chris, that's far enough,' " Walter recounted. I don't think grandpa was mad, he "just wanted to play with the megaphone … and during the cruise he loved to wear the captain's hat."
The grandkids remember stopping on small islands and walking through the forests with Walt. They saw totem poles and found eagle feathers on the ground. Walt stood on the deck and watched the grandkids swim and play in the water. During the trip Walt and Lillian celebrated their 41st wedding anniversary, not knowing it would be their last, and Tammy celebrated her ninth birthday.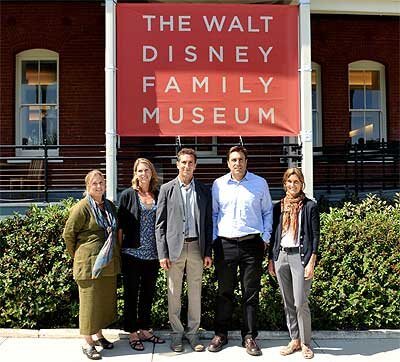 "Thinking back on it, it was just phenomenally fortunate that we had that with him when we did," Chris said.
This discussion lead to a beautiful multimedia presentation compiled by the family foundation's film archivist Scott Zone, featuring several photos (some on display in the museum galleries), a clip featuring Walter's film debut with Wally Boag as quite literally the bouncing baby boy in "Son of Flubber," and well as the Millers' personal family films, showing Walt enjoying his grandchildren at home, at Disneyland, and on that memorable Vancouver vacation. It was the perfect coda to a very special afternoon and left many people wiping away tears.
A few pre-selected audience questions followed, including what the grandkids would like their own children to know about Walt. For the answer to that and other highlights from the program and my exclusive chat, come back for part 2 of this article.
The Closing of Walt Disney World's "20,000 Leagues Under the Sea"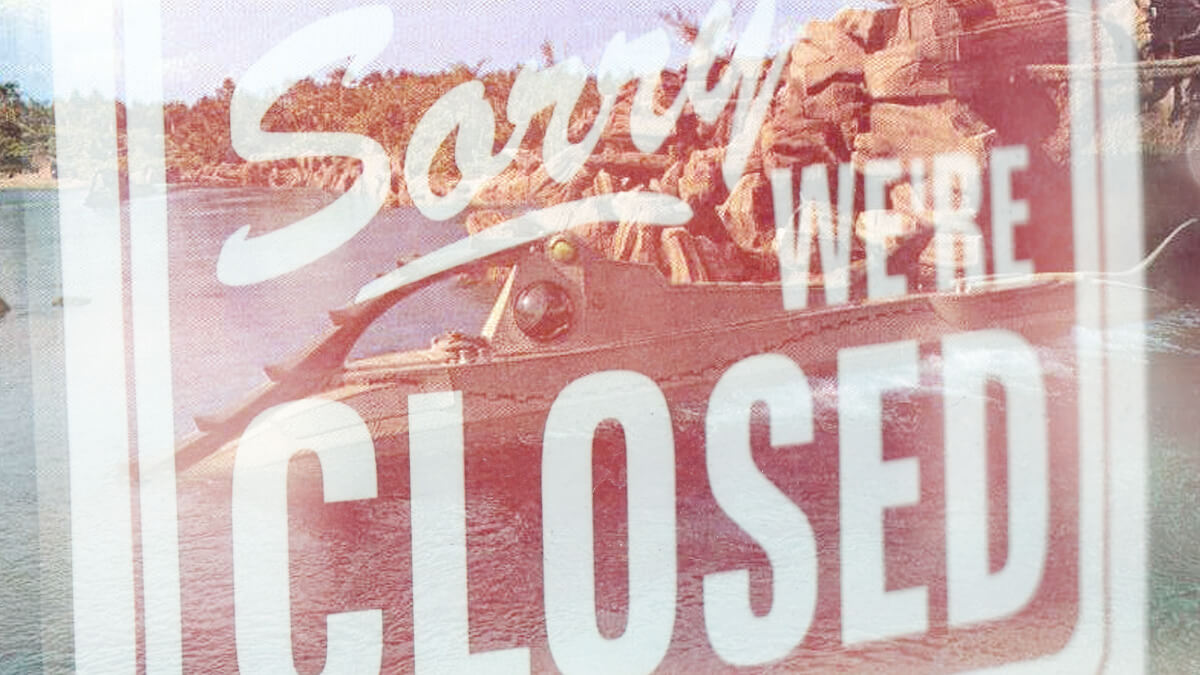 I need help from a Disney World employee. To be specific, someone who used to work at the Magic Kingdom back in the late 1980s / early 1990s.
The reason I'm asking for help is that there used to be this one-page newsletter that that theme park printed & distributed weekly to Cast Members who worked JUST at the Magic Kingdom.
Walt Disney World Cast Member Newsletter Request
I want to stress that this newsletter was different from the Eyes & Ears – which (back then, anyway) was a weekly newspaper (not a newsletter) that the Resort then printed & distributed to ALL Cast Members who worked on property.
This publication – which might have been called Kingdom Cast (Sorry. It's been almost 30 years now. I'm old after all and I'm now blanking this newsletter's name) – was typically printed on different colored paper stock every week.
I just need some help here when it comes to recalling the specific name of this newsletter which was primarily intended for Disney World employees who worked at the Magic Kingdom.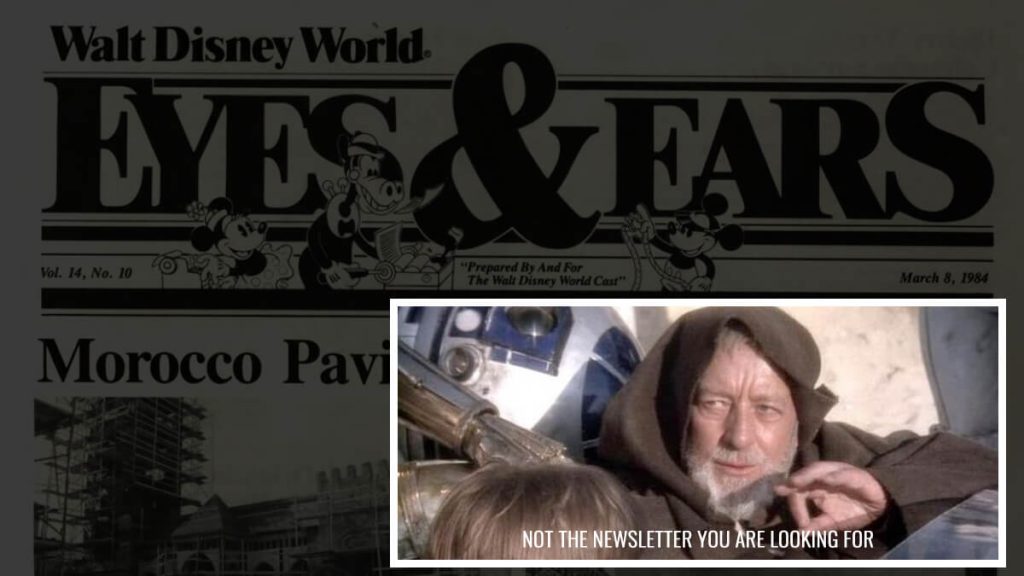 Magic Kingdom Newsletter – August 1994
Anyway … I was living down in Orlando at this time. Where I was trying to make a living writing about The Walt Disney Company. Which was challenging in those pre-Internet days. On the upside, I had lots of friends who worked at the Resort at the time. Who would then slip me copies of all sorts of in-house publications. Which then allowed me to stay on top of what was actually going on on-property.
Anywho … In late August of 1994, I got sent a copy of this particular Magic-Kingdom-only newsletter. Which included a brief item (That I'm recalling from memory now) that said …
… any & all Cast Members who had worked at "20,000 Leagues Under the Seas" over the past 23 years are invited to come by this Fantasyland attraction on the night of Monday, September 5th. We'd like to get together as many current & former 20K employees as possible for a group photo in front of that attraction's marquee. This image will then be used to commemorate the closing of this Disney World favorite.
This item in that newsletter then went on to say that – after the Magic Kingdom had officially closed for the night – all WDW Cast Members were then welcome to come by the Subs and get in one last ride before "20,000 Leagues" closed for good.
So I immediately realized that this was huge, huge news.
Disney World is closing the Subs at the Magic Kingdom.
And since I was friendly with Leslie Doolittle, the reporter who was wrote the "On Tourism" column for the Orlando Sentinel, I give Leslie a call and read her this item straight out of this Magic Kingdom employee newsletter verbatim. Which Ms. Doolittle then reports in her very next "On Tourism" column. Which then prompts WDW officials to lose their minds.
Initially senior management at the Resort flat-out denies that this Opening Day attraction is actually closing and they demand that the Sentinel immediately print a full retraction. After I provide Ms. Doolittle with a physical copy of this Magic Kingdom employee newsletter and she then shares that with WDW's PR team … Well, the Resort's senior management then changes its tune.
They now say … Well, yes. "20,000 Leagues" WILL be closing on September 5, 1994. But what was published in that Magic Kingdom employee newsletter was incorrect. This Fantasyland favorite is NOT closing permanently. But – rather –- 20K will be going down for a lengthy rehab. A REALLY lengthy rehab. The longest ever in this ride's history.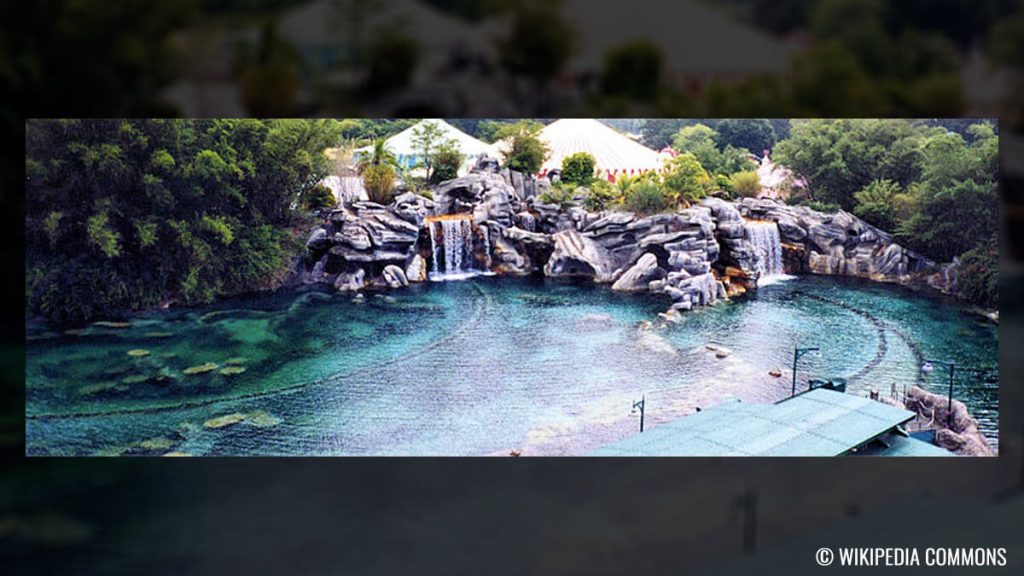 Maintenance Issues with WDW's "20,000 Leagues Under the Sea"
To explain: Anyone who loved this WDW attraction back in the day will talk about how frustrating it would be back then to visit the Magic Kingdom and then find that "20,000 Leagues" was down for maintenance … again.
Between the harsh Florida sun bleaching the color out of the fake coral & all those plastic fish (which is why – every year – the lagoon had to be drained & dried so these items could then be repainted) not to mention all of the mechanical challenges associated with keeping that fleet of 14 diesel-powered Subs up & running … "20K" was an operational nightmare.
Not to mention being a huge money suck when it came to the Magic Kingdom's annual operating budget.
So what Disney World senior management said – on the heels of that Orlando Sentinel story — was that "20K" was now closing for a top-to-bottom overhaul. This would be a two year-long project. But the good news was work would be completed in time for WDW's 25th anniversary celebration. Which was supposed to begin in October of 1996.
Which – I have to tell you – wasn't the truth at all.
That Magic Kingdom employee only newsletter had actually gotten everything right. Disney World's "20,000 Leagues" ride WAS closing for good on September 4, 1994. But not for the reason you might think.
Euro Disney Financial Troubles
Euro Disney had opened back in April of 1992. The park itself did well, attendance-wise. Not so much when it came to those 6 on-site hotels. Weighed down by enormous debt, Eisner actually talked about closing the place down in December of 1993 unless a new financial arrangement could be worked out with the 30+ banks that had originally funded construction of this $4.4 billion resort. A deal was reached in the late Winter / early Spring of 1994. But one of the conditions of this deal is that The Walt Disney Company would suspend the collection of any royalty payments that the Company was due from the Euro Disney Project from 1994 through 1998.
This new agreement / financial restructuring may have saved Euro Disney (which then got rebranded / relaunched as the Disneyland Paris Resort). But it also choked off a huge revenue stream at The Walt Disney Company. Which is why word then came down from on high that ALL divisions at the Mouse House now needed to tighten their belts. Economize.
And down at Walt Disney World … Well, managers then saw this edict as an opportunity to finally pull the plug on the Magic Kingdom's expensive-to-maintain / difficult-to-operate "20,000 Leagues" ride. And the beauty part was … This wasn't their fault. They were just following Corporate's orders.
Fan Backlash for "20,000 Leagues" Closing Announcement
What Walt Disney World senior management hadn't anticipated was – on the heels of Leslie Doolittle's story about how "20K" would be closing – that the Resort would then be flooded with letters begging Magic Kingdom managers to change their minds. Save this opening day attraction.
Which – again – brings us back to that "The-Subs-will-be-back-up-and-running-by-1996-just-in-time-for-WDW's-25th-anniversary" story. Which – I'll again remind you – just wasn't true. This was a lie that the Company quickly put out there to deflect & divert from what quickly had become a PR nightmare for the Magic Kingdom.
Michael Ovitz – Save or Close "20k Leagues"
So okay. We now jump ahead to August of 1995. Which is when Michael Ovitz – previously the head of CAA and once rumored to be the most powerful man in Hollywood – becomes the President of The Walt Disney Company. Michael Eisner hires Ovitz to be his new second-in-command (Following the tragic death of Frank Wells back in April of 1994).
And Ovitz … He wants to hit the ground running. Prove to Eisner that he's now going to be an extremely valuable member of the Disney team.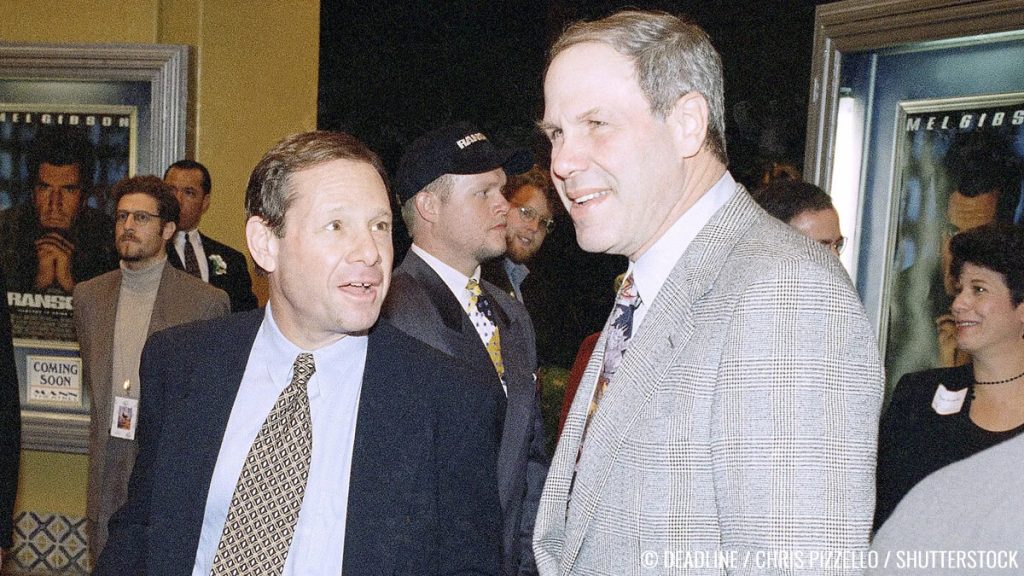 So picture this. It's now September of 1995. And Michael Ovitz – because he wants to learn about every aspect of The Walt Disney Company – is now on a familiarization tour of the entire corporation. And one of his very first stops is The Walt Disney World Resort.
And Michael (Ovitz, not Eisner) is a very data-driven guy. And he knows about the now-thousands of letters & phone calls that the Walt Disney World Resort has received about "20,000 Leagues Under the Sea." Which – again (remember) – WDW managers have been saying publicly is only temporarily closed. At this point, they're still insisting that that this Opening Day Attraction will be back up & running in time for WDW's 25th anniversary. Which is supposed to start on October 1, 1996.
So Ovitz – once he arrives on WDW property says – "Hey, I've heard about the Magic Kingdom's 20K problem. And I'd like to personally check out that ride while I'm down here in Florida. Maybe once I see it, I can then make some recommendations. Perhaps help speed along the funding you need to get that ride up & running again."
And seeing as Michael Ovitz is the newly installed second-in-command at the Mouse House, WDW senior management – after they hear this request – says "Sure. Absolutely. We'd love to do that, Mr. Ovitz. We'll come by your hotel first thing tomorrow morning and take you straight over to the Magic Kingdom before that park opens to the public. That way, you can see for yourself the challenges that we're now facing with bringing this Fantasyland ride back up online in time for Disney World's 25th anniversary celebration. We'd LOVE to hear your recommendations."
Which is why — the following morning at 7 a.m. — Mike Ovitz found himself standing in the queue at "20,000 Leagues Under the Sea" as a sub that was loudly belching smoke came rumbling up to the dock. The Disney Company's brand-new President then climbed down the stairs and found a quarter inch of water sloshing around in the bottom of the boat. When Mike pointed this out, a WDW ops staffer said "Well, you have to understand that a lot of our subs are over 20 years old, Mr. Ovitz. So many of them have developed small pinhole leaks over time."
The sub then lurched away from the dock and took Ovitz & the ops crew on a somewhat jerky trip around the "20K" ride track, with the attraction's soundtrack barely audible through the ship's crackling loudspeakers.
As you might imagine, once the boat pulled up to the dock, Michael quickly climbed out of the mildewed interior. He then turned to WDW's ops staff and then asked what it would cost to bring "20K" back online. Ovitz was then quoted a number that was reportedly more than the Resort was planning on spending on its entire year-long 25th anniversary celebration.
Ovitz knew that a redo of the Subs that was going to be that expensive would be a non-started with Eisner. Especially at that time in the Company's history, where – on the heels of the Euro Disney debt reorg and Disney deferring any royalty payments they were supposed to take out of that Resort 'til 1998 – word was coming down from on high to every division at Disney to economize & cut back.
Ovitz wanted to show Eisner that – as The Walt Disney Company's new president – that he could make the tough calls. So after hearing how much it would supposedly now cost the WDW Resort to bring the Subs back online, Ovitz then supposedy said "Well, maybe we'd just better cancel this rehab project and close 20K for good." And those WDW managers standing with Ovitz in the Subs Load / Unload area then said "Oh, no. Really? Are you sure?"
Not Reopening by Summer – 20,000 Leagues "Delayed"
Which is why – in the early part of 1996. Just a few months after Michael Ovitz visited the Walt Disney World Resort on that fam trip — Bruce Laval, who was (at that time, anyway) the Resort's Vice President for Operations – did an interview with the Sentinel. Where Bruce told Leslie Doolittle that …
"We were originally pursuing a short-term strategy with 20K. Something would have then allowed us to reopen the Subs with minor enhancements. But we found that there was no way we could accomplish that by this Summer."
Now please note that what Bruce is saying in early 1996 is very different from what the Resort had been putting out back in the Fall of 1994. Back then, the Magic Kingdom was going to shut down "20K" for a nearly two-year-long, top-to-bottom redo so that this Fantasyland attraction could then be part of WDW's 25th anniversary celebration looking bigger & better from ever. But come April of 1996, that story has significantly changed. The Park was now looking to re-open the Subs with "minor enhancements." But even that would be impossible for the Resort to now pull off by the Summer of 1996.
Which bring us to what Laval next told the Sentinel:
"We are abandoning those plans for the Subs and are now exploring other long term options."
So would it surprise you to learn that – in the middle of all the hoopla associated with the officially launch of WDW's 25th anniversary celebration in October of 1996 – Disney World's PR very quietly realizes the news that 20K is now closed permanently. That – on the recommendation of Michael Ovitz, the president of The Walt Disney Company — the Magic Kingdom is now abandoning any plans to rehab / revitalize that attraction.
Poor Guest Experience for Michael Ovitz
You wanna know the kicker to this story. Those WDW managers – when they brought Michael Ovitz into the Magic Kingdom early that September morning back in 1995 – had totally sandbagged the new president of The Walt Disney Company.
To make sure that Ovitz had the worst possible ride experience that morning …
Well, out of the fleet of 14 subs that had been built for this Fantasyland attraction, those managers deliberately picked the one that was in the worst possible shape.
They then recruited a veteran ride operator and quietly gave this Cast Member the expressed instructions to "Give Ovitz the roughest ride possible."
Then – to seal the deal — they threw a couple of buckets of water down into the bottom of that Sub to simulate a pinhole leak.
And all of this was done to give Ovitz the impression that WDW's subs were now beyond salvaging.
The real irony here is that Michael Ovitz, the man who made the permanent closure of the Subs at WDW's Magic Kingdom possible because he fell for the elaborate ruse that those Disney World managers staged back in September of 1995 … wasn't all that long-lived at the Mouse House.
Eisner fired Ovitz in December of 1996 (just 15 months after he'd taken the job) largely because Eisner felt that Ovitz just wasn't a good fit at Disney.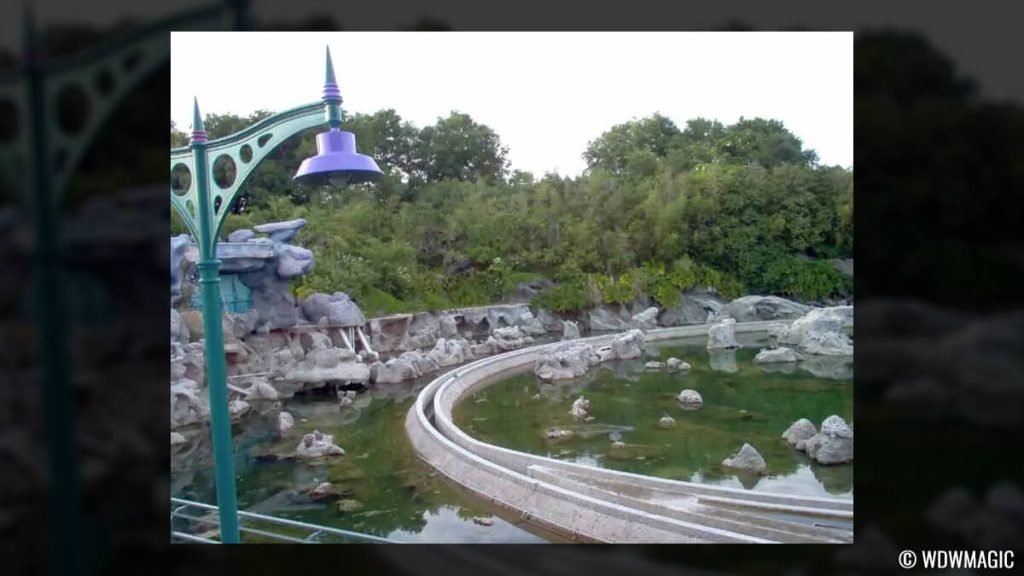 I have to tell you that WDW managers were thrilled that Ovitz was on the job at Disney for as long as he was. For – in September of 1995 — he made it possible to do what they couldn't. Which was close the Subs for good. Which then left that huge chunk of Fantasyland open for redevelopment.
Mind you, it would take nearly another 13 years (from when the WDW Resort finally officially announced that the Subs at the Magic Kingdom were closed in October of 1996 'til the first D23 Expo back in September of 2009. Which was when the WDW Resort officially confirmed that the long-rumored expansion of the Magic Kingdom's Fantasyland section was in the works) before that redevelopment effort would then move forward. But as anyone who's been watching the construction of "TRON Lightcycle Run" limp along at the Magic Kingdom these past five years, things move slowly these days at the Magic Kingdom.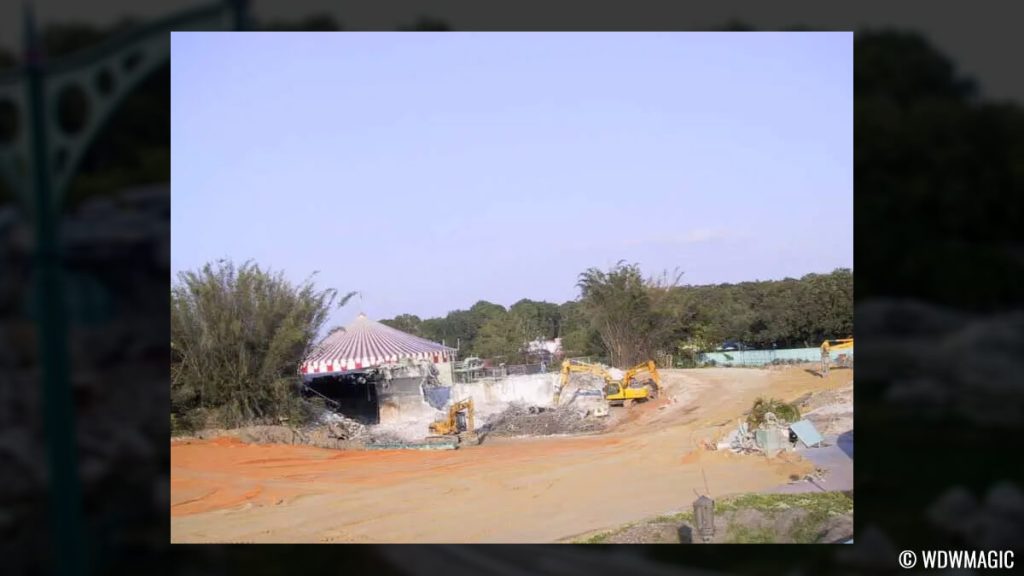 And – speaking of the Magic Kingdom – if anyone who worked at that theme park back in the late 1980s / early 1990s could please get back to me about that newsletter-for-Cast-Members-who-worked-specifically-at-that-Park (I'm 90% certain this weekly newsletter was called Kingdom Cast. But – again – I could be wrong), I'd really appreciate it.
This article is based on research for The Disney Dish Podcast "Episode 390", published on September 5, 2022. The Disney Dish Podcast is part of the Jim Hill Media Podcast Network.
Original Disneyland Lessee: Van Camp Seafood and The Chicken of the Sea Pirate Ship Restaurant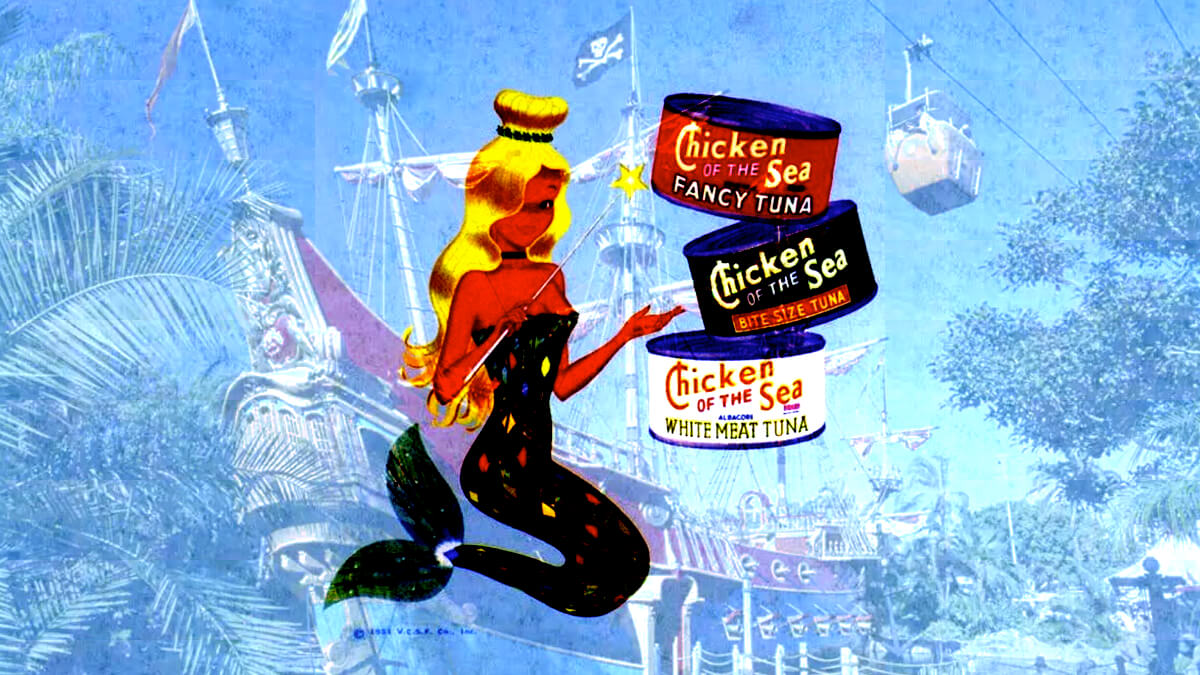 Since we've gotten such strong reaction to previous "Disney Dishes" where Len & I talked about original Disneyland lessees like Swift Meats (who sponsored the Red Wagon Inn at the Park, which was the precursor to Disneyland's Plaza Inn Restaurants) and Monsanto (who sponsor the Hall of Chemistry AND the House of the Future), I thought that we'd take a moment to shine a spotlight on another company that helped make up the original 48 lessees at Disneyland.
Original Disneyland Lessees
When Disneyland first opened in July of 1955 – the Park had 48 lessees. A number of those were short-lived outfits like Hollywood Maxwell's Intimate Apparel Shop and the BlueBird Shoes for Children Shop that came & went within the first few years that Disneyland was operational. By 1966 / 1967, the number of lessees that the Park had had shrunk down by nearly a third. To 33, to be exact.
That's an interesting number – 33.
Seems significant for some reason. Can't place why, though.
Van Camp Seafood Company
Some 67 years ago (August 29, 1955, to be exact), the Chicken of the Sea Pirate Ship Restaurant (the quick service restaurant that Van Camp Seafood sponsored at the Park) first opened for business.
Kind of appropriate that Van Camp Seafood came to sponsor a restaurant at Disneyland. After all, this fish canning company actually got its start some 95 miles to the south of Anaheim in San Diego, California back in May of 1914 – founded by Frank Van Camp & his son Gilbert.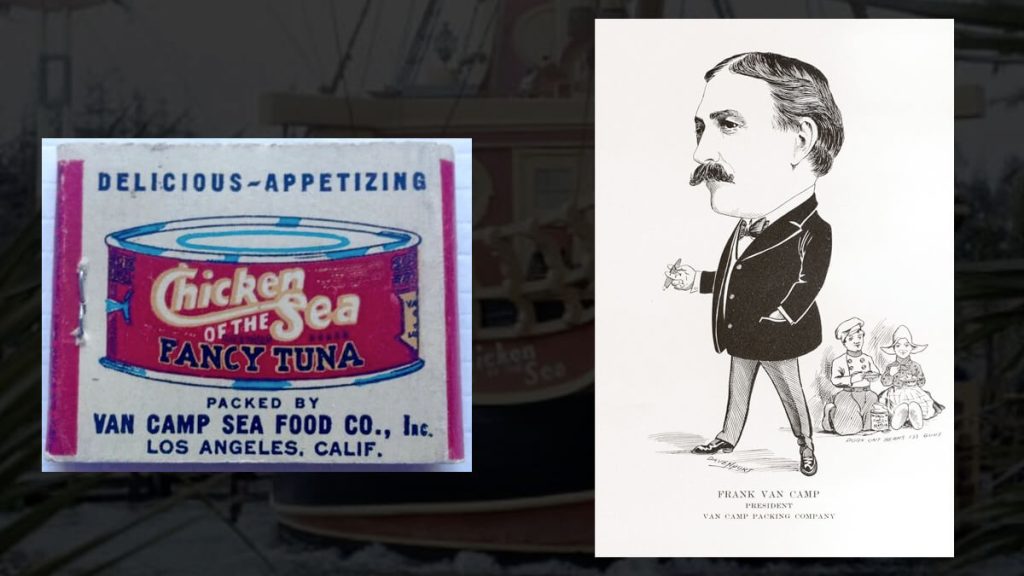 And as for that "Chicken of the Sea" thing … That was a bit of branding Van Camp embraced back in 1930. You see, the type of tuna that they initially specialized in canning (i.e., white albacore) was acclaimed for its mild flavor & color.
"Tastes like chicken" = "Chicken of the Sea."
By 1952, Van Camp Seafood further refined their brand by introducing the Company's icon: Catalina the Mermaid.
Interesting side note: If Catalina the Mermaid looks kind of familiar to all you Trekkies out there … Well, there's a good reason for that. Grace Lee Whitney – who played Yeoman Rand on the original "Star Trek" television series – was actually the inspiration for Van Camp Seafood's corporate icon.
Peter Pan & Mermaid Lagoon
We jump ahead now to February of 1953, which is when Walt Disney Studios releases its feature-length animated version of "Peter Pan" (which is based on J.M. Barrie's 1904 play about "The Boy Who Wouldn't Grow Up"). This animated feature includes a scene where Peter takes Wendy Darling to Mermaid Lagoon. Where those mermaids then try to drown Wendy. I guess Catalina hangs out with a rough crowd.
Jump ahead to 1954. Walt is looking to lock in sponsors for his new family fun park. And Disney's animated version of "Peter Pan" is still very front of mind. Which is why – when Disney representatives reach out to Van Camp Seafoods to ask if this fish canning company would be willing to sponsor some sort of attraction at Disneyland – Frank & his son Gilbert are interested.
The Van Camps do have some conditions, though. As part of whatever their Company sponsors at Disneyland, this shop, restaurant or attraction has to prominently feature Catalina the Mermaid, the Chicken of the Sea icon.
The folks at Disney go away for a bit to ponder this proposition … and then eventually come back with a proposal for the Van Camp family. What about a restaurant that's also an attraction? As in: The Chicken of the Sea Pirate Ship Restaurant.
The Chicken of the Sea Pirate Ship Restaurant
This massive structure – we're talking 79 feet long and 80 feet tall (That includes the ship's three masts. Which were each 60 feet tall) – was to be a recreation of the Jolly Roger, Captain Hook's ship from Disney's animated version of "Peter Pan." Guests would have the opportunity to board this vessel and explore the upper deck. Below decks, there'd be a quick service restaurant that only served food items that could be made with Van Camp Seafood products. We're talking:
A Tuna Sandwich
A Tuna Burger
A Tuna Pie served in a Pastry Shell
A Tuna Boat Salad
A Tuna Clipper Salad (a clipper is a slightly bigger boat)
Shrimp Cocktail (Van Camp Seafood also sold canned shrimp)
and Fruit Tart with Whipped Cream (which must have had a little tuna in it)
Reminds me of that Monty Python bit. "It's only got some spam in it. Spam, spam, spam, span, baked beans & spam.")
Frank & Gilbert Van Camp loved this idea. Even so, it took a while to Van Cap Seafood & Walt Disney Productions to negotiate the final contract. Not to mention draw up the construction blueprints for this Fantasyland restaurant / attraction. I've seen a set of these blueprints that Fred Stoos (he was one of the original construction coordinators on the Disneyland project) drew up that are dated May 7, 1955.
Building the Jolly Roger
That's basically 10 weeks before Disneyland first opens to the public. So as soon as those blueprints were signed off on, they immediately began building the Jolly Roger out behind the park's lumber mill. Which – after the Park was completed – this building would then become the Main Street Opera House.
The ship itself was built out of Douglas Fir. And as for this pirate ship's trim, that was genuine mahogany which had been shipped in from Honduras.
Now remember that condition that Frank & Gilbert Van Camp insisted upon? That Disneyland's Chicken of the Sea Pirate Ship Restaurant had to feature their company's icon – Catalina the Mermaid – in some way?
Catalina the Mermaid – Figurehead
Disney honored this sponsorship condition by making Catalina the Jolly Roger's figurehead. Chris Mueller (who sculpted all of the animals that Guests saw on Disneyland's "Jungle Cruise." Not to mention the giant squid in Disney Studio's "20,000 Leagues Under the Sea" film. In addition to creating "The Creature from the Black Lagoon" for Universal Pictures' 1954 film of the same name) not only created that beautiful 6-foot-tall piece, Mueller also sculpted an enormous piece for this ship's stern. Which replicated the way Catalina the Mermaid was depicted on each can of "Chicken of the Sea" tuna. With Catalina seated atop her shell throne which is then borne on the back of a giant sea turtle. Beautiful piece.
The Flying Jolly Roger
Remember how this pirate ship restaurant was quickly being built backstage at Disneyland out behind that park's lumber mill? When it came time for this building to finally be moved into place over in Fantasyland … Well, remember how the Jolly Roger flew in Disneyland's animated version of "Peter Pan" ? This structure flew as well. It was lifted by a construction crane over all of those still-under-construction Tomorrowland buildings and then dropped into place behind the Park's Mad Tea Party flat ride.
Painting and Camera Tricks
The only problem was … The night before that "Dateline: Disneyland" special aired live on ABC, Walt realized that he was running out of time & money. And the Chicken of the Sea Pirate Ship Restaurant (while it was now in its proper place in the Park) was still unpainted. And if the Van Camp family saw the restaurant / attraction that they'd paid for show up on live television looking like that, Frank & Gilbert would be furious.
Walt's solution to this not-enough-time / not-enough-money problem was kind of ingenious. He only had his painters paint the side of the Chicken of the Sea Pirate Ship Restaurant that faced into the Park (i.e. the side that would appear on camera). Walt then had a bunch of Disney Studios employees placed on deck. When the cameras came on, these folks rushed to the rail and then wave frantically towards the camera. That way, no one would notice that the props or rigging on this ship weren't in place either.
This trick worked. The Jolly Roger looked great on camera. And just so you know: It would take another six weeks of hard work after the "Dateline: Disneyland" TV special aired before the Chicken of the Sea Pirate Ship Restaurant was finally ready to serve food / begin entertaining Disneyland Guests.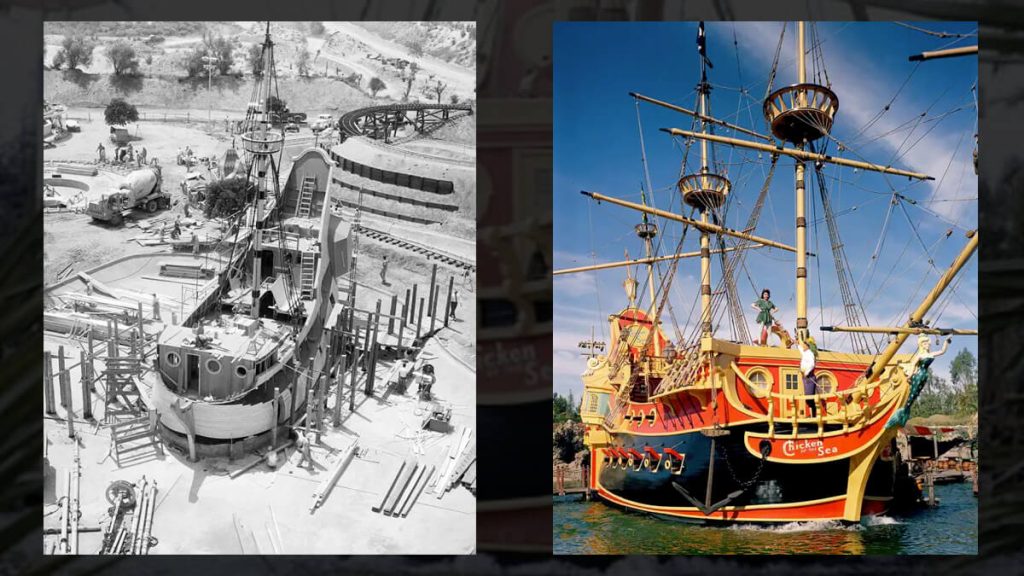 Popularity and Expansion of The Chicken of the Sea Pirate Ship
This eatery became so popular with Disneyland Guests that … Well, after Walt finally wrestled ABC's partial ownership of the Park away from that broadcast company in June of 1960 (He had to pay that company $7.5 million for its one third ownership of the Park) … One of the very first thing Disney did was to create a secondary seating area for this Fantasyland eatery.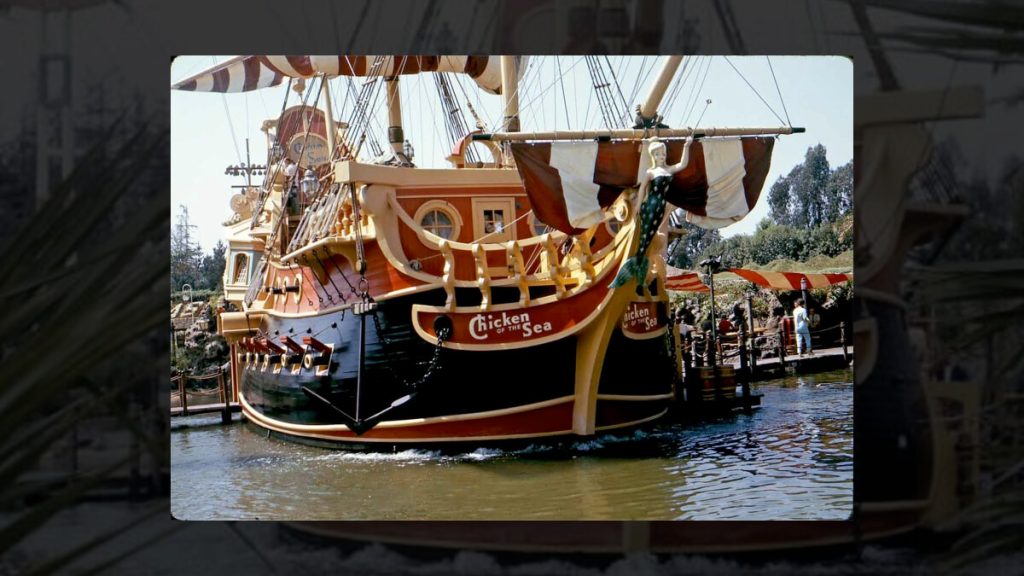 Here's how that expansion project was described in the October – November 1960 issue of the "Disneylander" (i.e., the park's employee newsletter back then):
This article's headline read: "Pirate Ship To Have New And Exotic Setting"
And here's a quote from this piece:
"By the time you read this, you'll be aware that the Chicken of the Sea Pirate Ship is closed for extensive rehab. It is scheduled to reopen about December 15th. Isolated by craggy cliffs covered with lush tropical foliage will be 'Pirate's Cove,' where the Park's well known Pirate Ship resides at anchor. WED designers have included in their plans the familiar landmark of Skull Rock from the Peter Pan story with three waterfalls cascading from rocky heights."
Construction of Pirate's Cove & Skull Rock actually took a little longer than expected. This Fantasyland addition wouldn't open 'til just before Christmas. December 23, 1960, to be exact.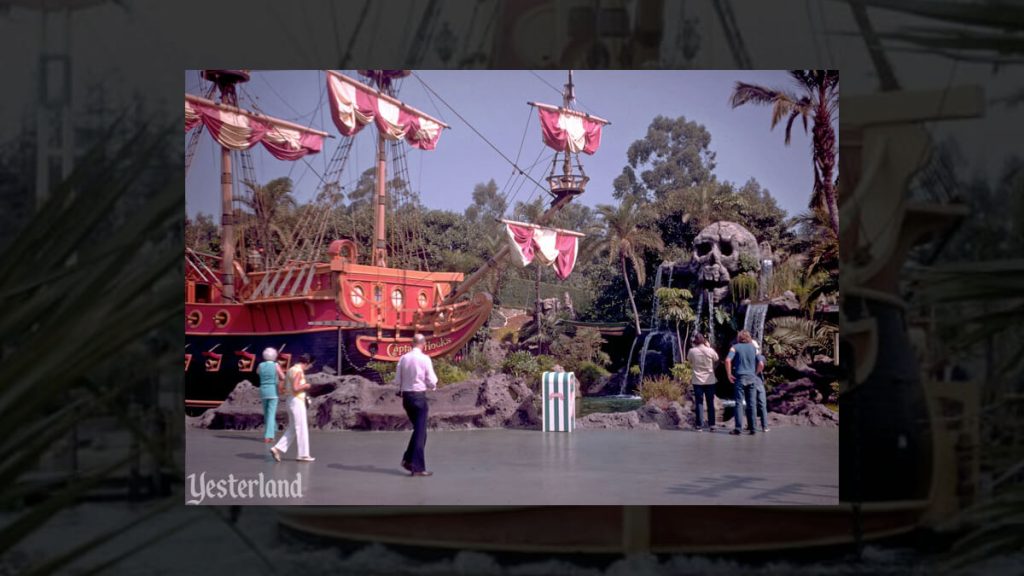 Van Camp Seafood Partnership
The folks at Van Camp Seafood initially seemed very pleased with their association with Disneyland Park. They renewed their original sponsorship agreement with the Park in 1962 for another seven year-long lease. Unfortunately, in 1963, Frank & Gilbert sold their fish canning company to Ralston Purina. And when the sponsorship contract for the Chicken of the Sea Pirate Ship Restaurant came up for renewal in 1969, Ralston Purina opted out.
Captain Hook's Galley
Disneyland management responded to this loss of sponsor by changing the name of this Fantasyland restaurant from The Chicken of the Sea Pirate Ship Restaurant to Captain Hook's Galley. They also made minor tweaks to the ship's figurehead and the giant stern piece so that the mermaids there no longer looked just like Catalina, Chicken of the Sea's corporate icon.
Moving to New Fantasyland
We now jump ahead to the Fall of 1981. Work has just begun on Disneyland's New Fantasyland. Which – when this side of the Park re-opens in the Summer of 1983 – will feature all-new versions of Disneyland's classic dark rides like "Snow White's Scary Adventures" & "Mr. Toad's Wild Ride" featuring then-state-of-the-art effects like fiber optics & digital sound.
Among the changes that are in the works for this side of the Park is that the ship that houses Captain Hook's Galley is once again going to be lifted by a crane. Only this time, it's going to lifted over a 100 feet or so that this full-sized pirate ship could then became the finale of Disneyland's Storybook Land Canal Boats ride. The canal boats – after floating by all of those miniaturized recreations of settings from famous Disney films – would now find themselves, in the final moments of this ride, right alongside of the Jolly Roger.
The Imagineers thinking here was … Well, Disneyland's Storybook Land Canal Boats ride starts off with a big moment (the canal boat you're riding in gets swallowed up by Monstro the whale from "Pinocchio"). It should then have a similarly big moment at the moment at the end. Besides – by moving the structure that previously housed Captain Hook's Galley from the centerbackmost portion of Fantasyland over to the eastern edge of this land at Disneyland – this then opened some very valuable real estate right in the middle of one of the more popular / most crowded corners of the Park.
So okay. So once this part of the Imagineers' plans for a new Fantasyland at Disneyland was signed off on by Park Management … Phase One of Operation "The Jolly Roger Flies Again" was to first gently pry Chris Mueller's now 26-year-old mermaid sculptures off of the bow & the stern of the Chicken of the Sea Pirate Ship Restaurant and then take them backstage to be restored. Then the pirate ship would be hoisted into its new location at the edge of Small World Plaza. Whereupon the load / unload area for the Storybook Land Canal Boats ride would be expanded to create a brand-new lagoon space that this pirate ship could be anchored in.
Just so you know: I've never been able to confirm that Skull Rock was to have then be recreated in this new location. The insinuation here was that – once both phases of the New Fantasyland project were complete (Phase One was to be ready for the Late Spring of 1983. While Phase Two – which involved the revamped version of the "Alice in Wonderland" dark ride, the relocation of Disneyland's "Mad Tea Party" dark ride and the Mad Hatter's Hat Shop – would open in the Spring of 1984) — the Imagineers would then attempt to ram through the creation of a second version of Skull Rock. Which would then help hide where the maintenance dock for the Storybook Land Canal Boats would be taken every night.
I have also been told that the below-decks area (which was initially supposed to be closed off to Guests once the Jolly Roger was flown into its new location of the Eastern edge of Small World Plaza) was to have then been completely renovated. And that – for the Summer of 1985 (Just in time for Disneyland's 30th birthday celebration) what had previously been a quick service restaurant would then be turned into a pirate-themed juice bar. Which was kind of a cool idea.
Problems with the Move & Demolition of the Jolly Roger
This was the plan anyway. Unfortunately, after those two mermaid pieces were carefully pried off of the bow & the stern of Captain Hook's Galley, the forklift that was taking both of these pieces backstage made a sudden stop. The mermaid pieces then fell off and shattered to smithereens.
Worse that that: When the New Fantasyland construction crew went to go arrange the harnesses that were necessary to hoist this 26-year-old pirate ship high in the air over to its new location, they then discovered that the old Chicken of the Sea Pirate Ship Restaurant (which — remember – had originally built out of Douglas Fir outside of Disneyland's old lumber mill and then been trimmed with genuine Honduran mahogany) was now riddled with termites. Long story short: This structure would have immediately crumbled into pieces as soon as that construction crane starts to pull on those harnesses.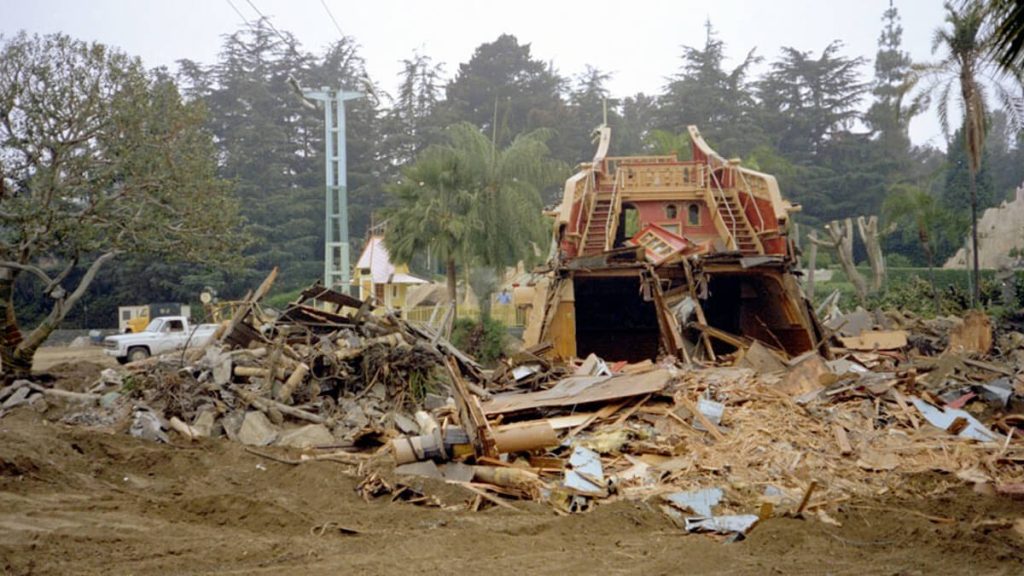 As a direct result, the Chicken of the Sea Pirate Ship Restaurant was left at anchor right where it was until a demolition team could come along and pull this ship-shaped structure down. While they were at it, this demolition team also destroyed one of Disneyland's favorite photo spots (Skull Island Cove). In its place today, you'll now find Disneyland's relocated Dumbo the Flying Elephant ride.
Which – of course – makes us OG Disneyland fans sad. I mean, that's something that Walt put in place and then plussed. But it's worth noting that the Jolly Roger — as well as Pirate Cove & Skull Rock — do live on. Only at a different Disney theme park.
Adventure Isle at Disneyland Paris
When the Imagineers opted to build Adventure Isle at Disneyland Paris in the early 1990s, they included a full-sized pirate ship that was then placed at anchor in front of a large-ish version of Skull Rock. And inside of this pirate ship, you'll find yet another Captain Hook's Galley. This one's a counter-service restaurant, though. Not a pirate-themed juice bar.
Disneyland Tuna Burger and Fruit Tart with Whipped Cream
Just so you know: If you're a Disneyland completist and wonder what it was like to actually dine at the Chicken of the Sea Pirate Ship Restaurant, if you Google "Disneyland Tuna Burger," you can find a number of recipes online that will then allow you to replicate this signature item from the menu of this now-gone-for-nearly-40-years restaurant.
Me personally, given that whole everything-served-here-must-make-use-of-items-that-Van-Camp-Seafood-makes-or-sells condition, I still have to wonder just how much tuna there was in that one dessert item the Chicken of the Sea Pirate Ship Restaurant sold. Which was the fruit tart with whipped cream.
This article is based on research for The Disney Dish Podcast "Episode 389", published on August 29, 2022. The Disney Dish Podcast is part of the Jim Hill Media Podcast Network.
"Khrushchev at Disneyland" – The Film Walt Disney Almost Made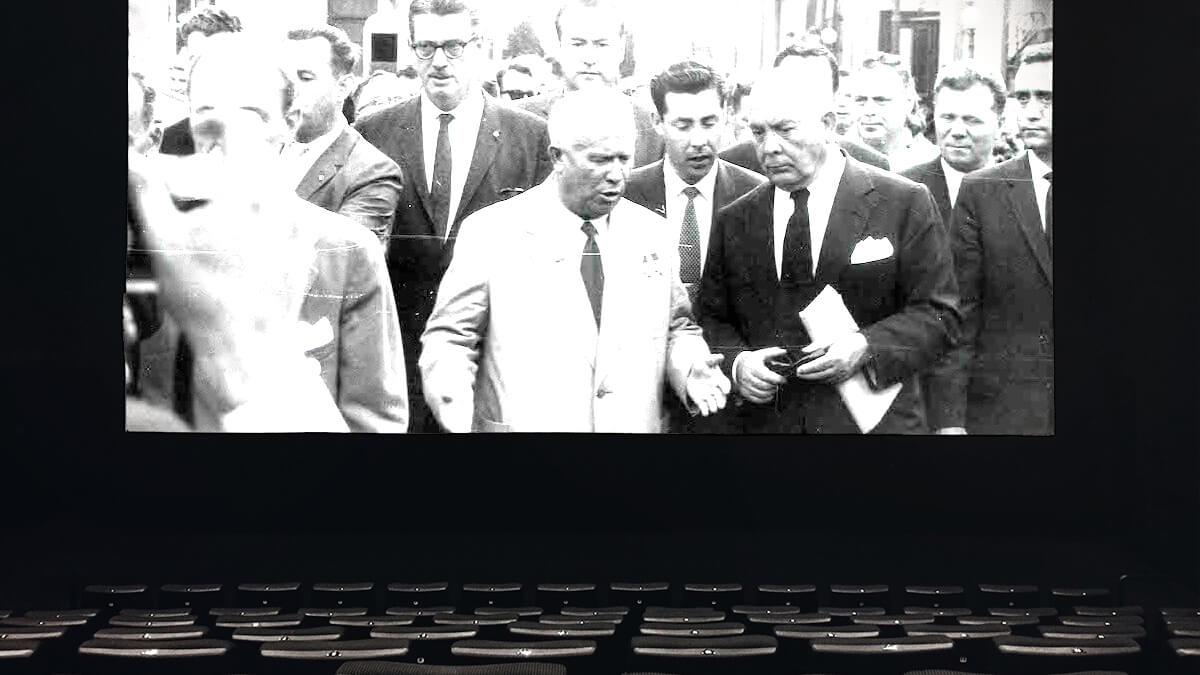 Did you ever hear about … "Khrushchev at Disneyland"?
It was back in October of last year that Disney+ revealed that they were now working on a film about the creation of Disneyland.
Given that Evan Spiliotopoulos – who crafted the screenplay for the Company's live-action reimagining of "Beauty & the Beast" (which then went on to earn $1.26 billion at the worldwide box office back in 2017) – is reportedly writing the script for this yet-to-be-titled film, I have high hopes for this movie about the making of The Happiest Place on Earth.
After all, if we go by "Saving Mr. Banks" (i.e., That 2013 Walt Disney Pictures release about the making of "Mary Poppins," where Emma Thompson played "Poppins" author P.L. Travers and Tom Hanks turned in a masterful performance as Walt Disney), this company-of-storytellers has already proven that it can turn its own history into entertaining motion pictures.
But that said, if The Walt Disney Company is now actively looking for moments from its past that it can possibly turn into motion pictures … Well, might I suggest a moment that Walt himself might make one hell of a movie. And that's Soviet Premier Nikita Khrushchev's non-visit to Disneyland.
Khrushchev's US Visit (1959)
I don't know how many of you are familiar with the details surrounding this incident. Which occurred during Khrushchev's 11-day trip to the US in September 1959. The Soviet Premier and his entourage arrived in Washington D.C. and — after making a brief stop at the UN in New York City — flew out to LA … And that's when all the trouble started.
The Los Angeles leg of Nikita's nationwide tour really did get off to an awful start. By that I mean: As the Premier's motorcade sped away from LAX, the limousines were actually pelted with tomatoes.
Then Khrushchev was taken to 20th Century Fox, where he and his family were supposed to be feted at a luncheon that featured hundreds of Hollywood's top stars. Bob Hope, Frank Sinatra, Marilyn Monroe, Shirley MacLaine, David Niven and Maurice Chevalier were there.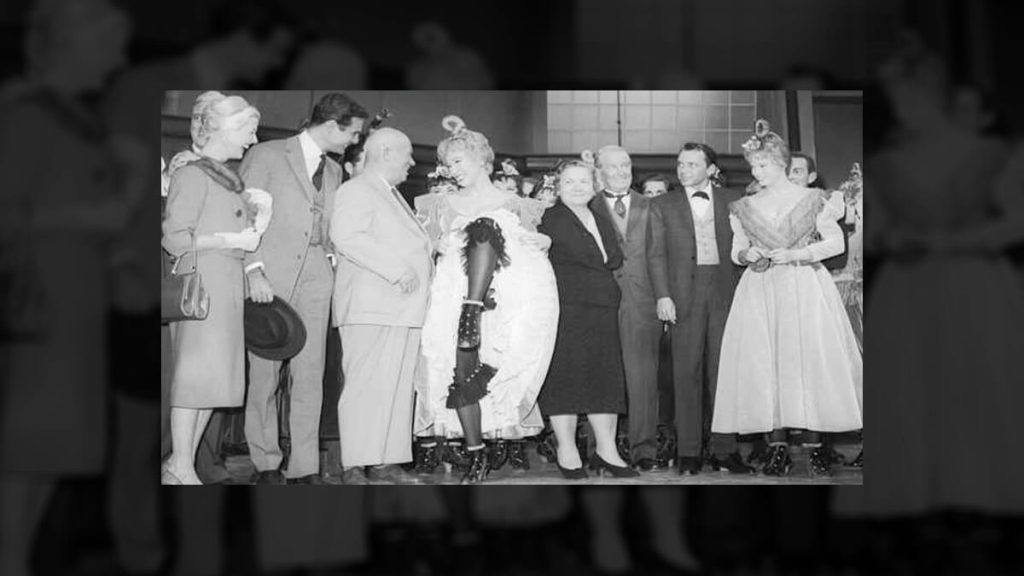 Which (you'd think) would have been enough to entertain the Soviet Premier.
Not Nikita. He stood up at this luncheon and — in front of the entire Hollywood press corps — had a hissy fit. Here's an excerpt from the remarks that Khrushchev made that afternoon:
We have come to this town where lives the cream of American art. And just imagine (that) I, a Premier, a Soviet representative, when I came here to this city, I was given a plan. A program of what I was to be shown and whom I was to meet here.

But just now I was told that I could not go to Disneyland. I asked 'Why not? What is it? Do you have rocket-launching pads there?' I do not know.

And just listen – just listen to what I was told – to what reason I was told. We, which means the American authorities, can not guarantee your security if you go there.

What is it? Is there an epidemic of cholera there or something? Or have gangsters taken over the place that can destroy me? Then what must I do? Commit suicide?

This is the situation I am in. Your guest. For me, this situation is inconceivable. I can not find words to explain this to my people.
Visiting the "Happiest Place on Earth"
Truth be told, the Soviet Premier was somewhat mistaken. The original itinerary for the Los Angeles leg of his U.S. tour called for just Khrushchev's wife and children to tour the "Happiest Place on Earth," while Nikita was scheduled to tour a housing development out in Granada Hills. But when the Russian leader learned where his family was headed, he reportedly told his State Department handlers "Well, I wanna go to Disneyland too."
This — unfortunately — was just impossible to pull off on such short notice. Los Angeles Police Chief William Parker immediately put the kibosh on Khrushchev's request. Citing the difficulty of providing adequate security for the Soviet Premier and his motorcade all the way out to Anaheim.
Walt Disney Interested in Khrushchev Visiting Disneyland
Now where this gets interesting is that — somewhere along the way, as US officials were preparing for Khrushchev's arrival in America — Walt Disney was told that the Russian Premier and his family were interested in visiting Disneyland. And Walt (of course) immediately saw this official state visit as a huge opportunity to generate some publicity for his then-four-year-old theme park.
Disneyland's PR staff envisioned creating a photo opportunity by having Walt and Khrushchev stand on the "Submarine Voyage" 's loading dock as all eight of the ride's faux subs floated by. Disney's gag writers even provided a quip for Walt to casually toss off at this photo op. As Nikita looked out at all of those subs, Disney was supposed to say: "Well, now, Mr. Khrushchev, here's my Disneyland submarine fleet. It's the eighth largest submarine fleet in the world."
Walt was — of course — disappointed when he learned that, due to security concerns, only Mrs. Khrushchev and the kids would be coming out to the Park that afternoon. So imagine Disney's delight when this firestorm of publicity suddenly rose up when the Soviet Premier was told that he wouldn't be allowed to go to "The Happiest Place on Earth" too.
Disneyland Trip Cancelled for Nikita Khrushchev
Because — once Nitika learned that his own trip out to Anaheim had been axed — he fell into a truly foul mood. In a fit of pique, the Soviet Premier declared that — since it wasn't safe for him to go to Disneyland — then it wasn't safe for his wife and children to go out to Anaheim either. So their long planned Disneyland excursion got canceled ASAP.
Immediately after the luncheon broke up, Khrushchev was taken to a nearby soundstage where the Russian Premier observed the filming of a scene from a forthcoming 20th Century Fox musical, "Can Can." But — rather than being titillated by the sight of Juliet Prowse flashing her 19th century bloomers as she performed the film's title number — Nikita reportedly declared the whole episode "horribly decadent." Which embarrassed State Department officials as well as offending the Soviet Premier's Hollywood hosts.
From there, Khrushchev's motorcade was taken to Granada Hills, where the Russian Premier was supposed to tour model homes along Sophia Avenue. But — since Nikita was still sulking about not being allowed to go to Disneyland — he refused to even get out of his limousine.
As he pouted inside the car, Khrushchev reportedly told his State Department handlers that "… putting me in a closed car and stewing me in the sun is not the right way to guarantee my safety. This (not being allowed to go to Disneyland) development causes me bitter regret. I thought I could come here as a free man."
To add insult to injury, four Soviet newsmen (who had been assigned to cover Khrushchev's US trip) slipped away to Anaheim for the afternoon. They spent four happy hours touring Disneyland, then told US reporters that they believed that the Russian Premier and his family would have really enjoyed the theme park.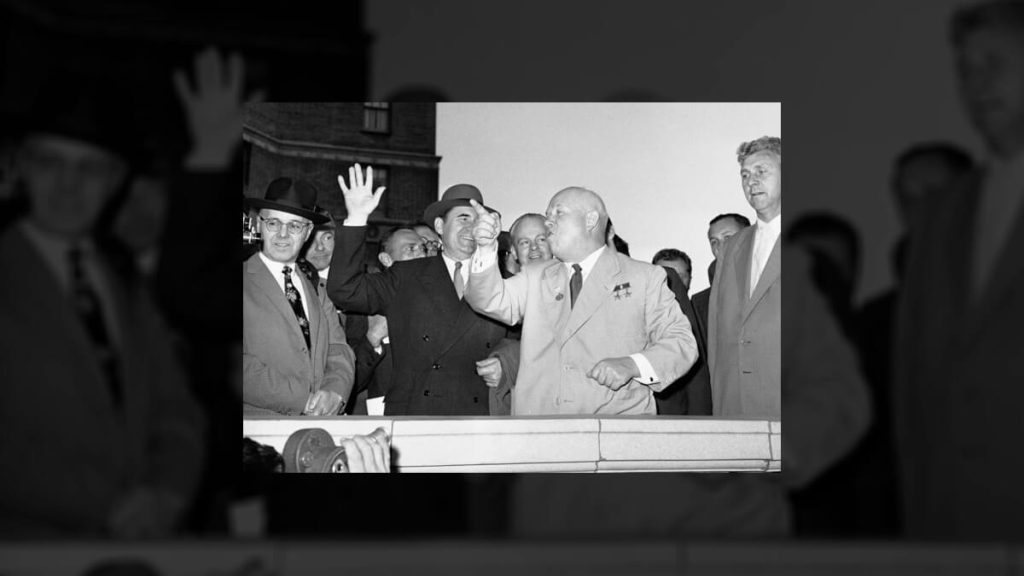 Later that evening, Khrushchev gave a speech at a Los Angeles area hotel. But there was, understandably, very little written about whatever remarks the Soviet Premier made at that long-forgotten dinner. Given that the next day's newspapers devoted page after page to coverage of Nikita's very public tantrum once he learned that he was not going to be allowed to visit Disneyland.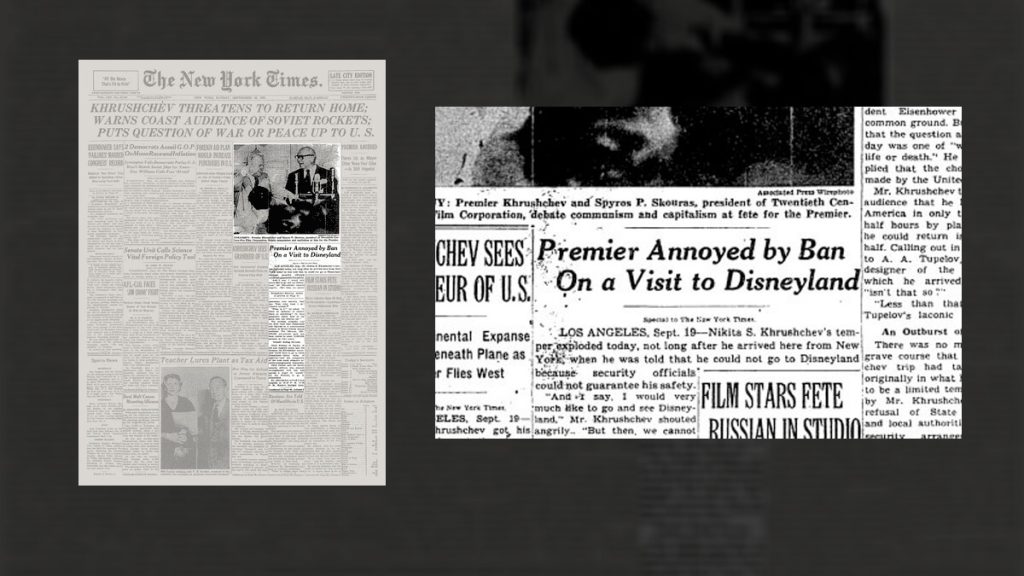 Khrushchev and his party tried to put some distance between themselves and the Disneyland debacle by quickly boarding a train and heading up to San Francisco. From there, the Russian Premier flew off to Des Moines and eventually returned to Washington D.C. Where Nikita spent a few days at Camp David with President Eisenhower talking about Cold War-related issues.
Which (you'd think) would be how history would remember the Soviet Premier's 1959 trip to the United States. That Khrushchev & Eisenhower actually sat down and then tried to find a solution to their Germany & Berlin problem. But (picture John Belushi saying this) N-O-O-O-o-o-o. All the US press corps could talk about is how upset Nikita seemed when he had been told that he wouldn't be allowed to visit Disneyland.
Media Covers Khrushchev's Disneyland Denial
Within a day or so, there were political cartoons in newspapers nationwide that made fun of the Premier's very public tantrum. Even Bob Hope eventually got into the act. As part of his annual Christmas television special, Hope stood in front of hundreds of military personnel at a U.S. Air Force base in Nome and quipped: "Here we are in America's 49th state, Alaska. That's halfway between Khrushchev and Disneyland."
And of course, all this talk about how upset the Russian Premier was about not being allowed to visit "The Happiest Place on Earth" generated tons of positive publicity for Walt's theme park. Newspapers around the world printed article after article about this amusing international incident. Even Herman Wouk (best known as the author of "The Caine Mutiny" and "The Winds of War") chimed in: "I really don't blame Khrushchev for jumping up and down in a rage over missing Disneyland. There are fewer things more worth seeing in the United States or indeed anywhere in the world."
And Walt just didn't want this fun to end. He kept looking for ways to perpetuate the story. Which is why Disney insisted that clippings highlighting the whole Khrushchev affair be included in the official Disneyland press kit for a number of years after this incident.
Movie About Khrushchev's "Disneyland Trip"
But as the 1950s slipped into the 1960s and Khrushchev was forced from power by Leonid Brezhnev in October 1964, this story lost some of its charm. But still Walt loved to tell the tale of Nikita's tantrum. And Disney began to wonder: might there be a way that his company could continue to capitalize on this incident? Like perhaps by maybe making a movie that would put a comic spin on the whole "Khrushchev denied access to Disneyland" incident?
So Walt turned to his very best producer, Bill Walsh (best known these days as the guy who wrote and produced "Mary Poppins," "The Love Bug" and "Bedknobs & Broomsticks") and told him to create a screenplay for a live-action comedy that would then be based on this infamous incident. So Walsh got together with his long-time collaborator, Don DaGradi. And eventually the two of then crafted a script or a film they wanted to call "Khrushchev at Disneyland."
This screenplay (at least for the first 30 pages or so) pretty much follows how the real-life events played out. It recounts — in a light, breezy manner — how the Soviet leader had supposedly flown over to America to meet with President Eisenhower. But — in reality — Nikita had actually traveled all this way because what he really wanted to do was go to Disneyland.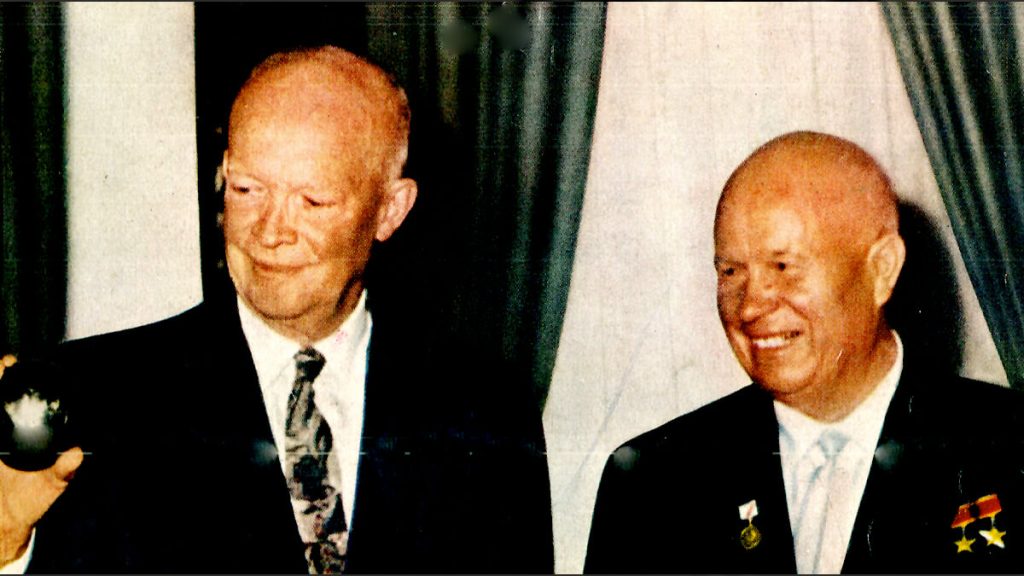 So Khrushchev flew into Southern California, all excited that he was finally going to get his chance to visit "The Happiest Place on Earth." Only to discover that — due to safety concerns — the State Department had canceled his trip out to Anaheim. Moviegoers were then supposed to see a slightly comic take on the Soviet Premier's infamous tantrum at 20th Century Fox. And then …
Well, then the film morphs into your typical Walt Disney Productions live-action comedy of the 1960s. First Khrushchev is seen moping around his hotel suite in downtown Los Angeles later that evening. Then the Premier realizes that Disneyland is only 30 miles away. More importantly, that the theme park is open 'til midnight that night.
So Nikita decides that he's going to sneak out of his hotel and somehow make his way out to Anaheim. Using a goofy disguise, he gives both his Soviet security detail as well as all of his State Department handlers the slip. Then Khrushchev somehow makes his way out to Disneyland, with all of these US & Soviet officials in hot pursuit … and hilarity ensues.
Okay. Admittedly, we're not talking about "Lawrence of Arabia" here. Walt wasn't really looking to make a historically accurate film based on this amusing, relatively minor international incident. Disney, Walsh, and DaGradi envisioned "Khrushchev at Disneyland" as being a film that would be very similar in tone to "That Darn Cat!" A comedy caper picture that was aimed straight at the family audience.
So — once this script was completed — how close did "Khrushchev at Disneyland" actually come to getting made? So close that Walt had already lined up an A-List actor to play the Soviet Premier. And that was Academy Award winner Peter Ustinov.
If all had gone according to plan, "Khrushchev at Disneyland" would have been Peter's follow-up project for Disney Studios once work was completed on "Blackbeard's Ghost." Bill Walsh was slated to produce the picture, while the prolific Robert Stevenson would be directing.
By the fall of 1966, all of the necessary pieces were already in place. Disney Studio had a script in hand that was ready to shoot. They also had an A-List actor that was positively eager to get in front of the cameras and then do his impression of the Soviet Premier. Not only that, but Disney's top producer was slated to ride herd on this project and the studio's very best director would be helming this picture.
"Khrushchev at Disneyland" Movie Halts Production
So why didn't "Khrushchev at Disneyland" get made? Well, because Walt Disney died before production could officially get underway. And given that all the studio execs that Walt had left behind were … Well … The polite term for them is "cautious corporate citizens." The not-so-polite term is "gutless wimps."
Anyway, these guys shied away from this project. Largely because they were concerned that there would were film fans out there who wouldn't see the humor in "Khrushchev at Disneyland." Their genuine fear was – because of Peter Ustinov's sure-to-be-charming performance as Nikita Khrushchev – there were certain segments of the US population that would then accuse Walt Disney Company of corrupting America's youth / of going soft on Communism by suggesting that – GASP ! — the Russian people were actually a lot like us. That they too like to do fun things like – say – go to Disneyland.
Of course, the real irony here is that one of the main reason that Walt really wanted his Studio to make "Kruschchev at Disneyland" was because he'd already seen that a Russians-are-people-too family comedy could succeed at the box office without controversy.
"The Russians Are Coming, The Russians Are Coming"
I'm talking – of course – about "The Russians Are Coming, The Russians Are Coming." Which MGM had released to theaters in May of 1966 and had then gone on become the seventh highest grossing film of the year at the North American box office.
And I know for a fact that Walt was well aware of "The Russians Are Coming, The Russians Are Coming" for a couple of reasons.
This Norman Jewison movie starred Brian Keith, who – just 5 years previous – had co-starred in Disney's "The Parent Trap" along with Hayley Mills & Maureen O'Hara
The year after Disney's "Parent Trap" had been released to theaters, Jewison had directed "40 Pounds of Trouble." Which was the first live-action film that Walt had ever allowed to be shot on location at Disneyland Park.
For the entire Summer of 1966, "The Russians Are Coming, The Russians Are Coming" and Disney's own "Lt. Robin Crusoe, U.S.N." were duking it out at the North American box office. Seeing which family comedy would then go on to sell more tickets domestically. In the end, Disney came out on top. With that Dick Van Dyke movie selling $22 million worth of tickets in North America, while MGM's Russians-are-people-too picture sold $21 million worth of tickets domestically.
This is why – when Walt made his very last trip to the Disney lot in November of 1966 – "Khrushchev at Disneyland" was very much on his mind. As far as Disney was concerned, this project was a go. Something that his Studio would start shooting in 1967 and then release to theaters the following year.
This is why Walt made a point of dropping by the set of "Blackbeard's Ghost" that November morning. He wanted to let Peter Ustinov & Bill Walsh know how much he was looking forward to "Khrushchev at Disneyland." And Ustinov … Well, Peter was supposedly even more excited about this back-then-soon-to-begin-shooting-movie than Walt was. Ustinov reportedly told Disney that – to insure that he look as much like the Soviet Premier as possible – this acclaimed actor was actually planning on shaving his head.
Ustinov then cracked up Walt by saying that he was thinking of basing his portrayal of Khrushchev on Peter's mother back in England. As Disney laughed, Ustinov insisted that his Mom was a dead ringer for Nikita. "I didn't know that your Ma was bald," Walt replied.
Having really enjoyed his visit to the "Blackbeard's Ghost" set, Disney then quietly excused himself and left the soundstage. Once Walt had left, Walsh and Ustinov quietly talked amongst themselves about how pale and gaunt the studio head had looked.
Of course, neither Peter or Bill knew that Walt had – just days earlier – been diagnosed with lung cancer. Or that – at this point – Disney had just weeks left to live.
And when Walt Disney died in December of 1966, "Khrushchev at Disneyland" pretty much died with him. In spite of all the preparation that had already been done on this project up until that point, Walsh and DaGradi's script got shelved. And I'd imagine that this screenplay is now stashed away in some filing cabinet, where "Khrushchev at Disneyland" has been gathering dust for over five decades now.
Potential for "Khrushchev/Disneyland" Film
I bring up this project today … Well, for a couple of reasons.
Disney+ has this unending appetite for new content. And wouldn't it be cool if the Studio were to revive a project that Walt himself once wanted to make and then make that movie available to customers of the Company's subscription streaming service.
Given what's going on in the Ukraine right now and how the Cold War keeps threatening to become a hot one … Well, while I am no fan of Vladimir Putin, I think that a movie which reminds us that the Russian people (NOT the Russian government, mind you. But the Russian PEOPLE) are people too … That might be a smart, hopeful message to put out in the world these days.
Making-of-Disneyland Movie on Disney+
Anyway … If the Company is looking for a follow-up for that making-of-Disneyland movie they're prepping for Disney+ …
By the way … Interesting side note: The gentleman that Disney has tapped to direct this movie is David Gordon Green. He directed last year's smash hit horror film, "Halloween Kills." Which might make David seem like an odd choice to helm a film about The Happiest Place on Earth.
But then again, Gordon also executive-produces "The Righteous Gemstones." Which is this wonderfully funny TV series about a family of televangelists who also own & operate a theme park. Which perhaps makes Mr. Green the perfect person to direct a movie about the creation of Disneyland.
Anyway … If Disney+ is looking for the perfect follow-up for their making-of-Disneyland movie, might I suggest that someone dig out a copy of "Khrushchev at Disneyland."
More to the point, someone go ask Josh Gad if he'd be willing to shave off all those curly locks so that he could then play a certain Soviet Premier.