Guess (Doctor) who Disney Television Animation got to voice Scrooge McDuck for their "DuckTales" reboot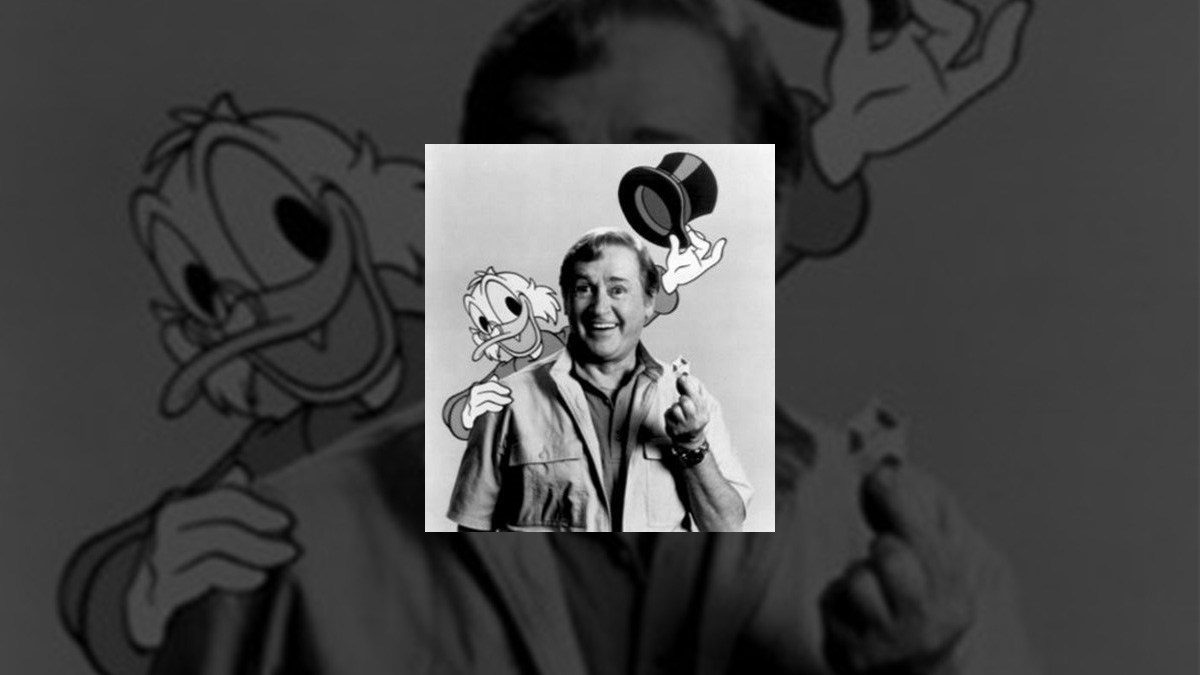 If you ask fans of the original "DuckTales" (which debuted in syndication back in September of 1987) what their favorite aspect of this animated TV series was, I'm sure that a lot of them would mention the late Alan Young's vocal performance as Scrooge McDuck.
Mind you, that Scottish burr that Young (who first voiced this character back in 1983 for Walt Disney Animation Studios' seasonal featurette, "Mickey's Christmas Carol") gave McDuck was the real thing. Alan (whose first name was originally Angus) actually hailed from North Shields, Northumberland. And though Young's family left from Scotland when Alan was only six, he was always fiercely proud of his heritage.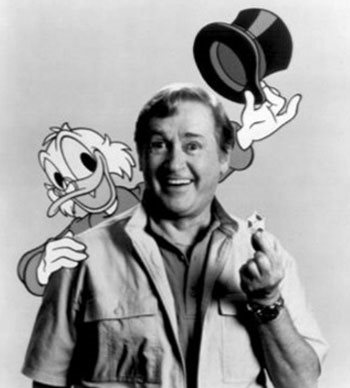 Copyright Disney Enterprises, Inc. All rights reserved
And given that the backstory that Scrooge McDuck creator Carl Barks had originally cooked up for this character stated that the world's richest duck had founded his fortune on a lucky dime that young Scrooge had earned while working as a shoeshine boy in Glasgow … Well, the fact that Young put a Scottish burr on all of McDuck's dialogue made the "DuckTales" version of this character all the more authentic.
Sadly, when Disney Television Animation decided to reboot "DuckTales" a year or so back, Alan was in now poor health and unable to continue voicing Scrooge (Young eventually passed away in May of this year at the age of 96). But since the McDuck that fans of the original animated series knew & loved was supposed to be a proud Scotsman … Well, the creative team behind this "DuckTales" reboot knew that – for authenticity's sake – they had to find just the right voice actor.
But who should that performer be? Or should I say Doctor Who?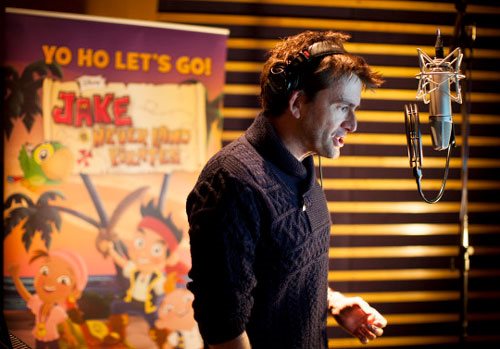 David Tennant recording dialogue for Disney Junior's "Jake and the Neverland Pirates." Copyright Disney Enterprises, Inc. All rights reserved
In April of last year, Disney XD acquired the rights to air Seasons Two through Fourth of this popular BBC science-fiction series. And who played the Time Lord during this period in that program's history (i.e., 2006 – 2008)? Scottish performer / voice actor David Tennant.
Just about this same time, Tennant began working directly for Mickey. His first official gig at the Mouse House was portraying Kilgrave, AKA the Purple Man for that acclaimed Netflix series, "Marvel's Jessica Jones." And David continued to explore the darker side of Disney when he voiced Dread the Evil Genie for Disney Junior's "Jake and the Neverland Pirates."
Of course, one of the things that makes Tennant such a delight to watch as a performer is his accent. Which – given that David was born in Bathgate, West Lothian – is about as authentically Scotch as one can get.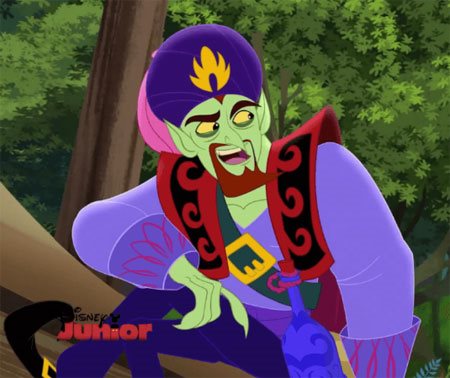 Dread, the evil genie character that David Tennant voices on Disney Junior's "Jake and the Neverland Pirates." Copyright Disney Enterprises, Inc. All rights reserved
And given that Bathgate is this post-industrial town that's located between Edinburgh & Glasgow (And Glasgow – let's remember – is where Scrooge supposedly got his start) … Well, the creative team behind Disney's "DuckTales" reboot began to wonder if the Tenth Doctor might be willing to become the fourth person to voice the world's richest duck (prior to Young being cast to voice this character back in 1986, two other Disney vets – Dallas McKennon & Bill Thompson – briefly portrayed McDuck on earlier projects).
Happily, Tennant agree to join this high profile project. But David isn't the only intriguing choice that you'll discover as you look over the cast list for Disney Television Animation's "DuckTales" reboot. Danny Pudi from NBC / Yahoo's "Community" will be voicing Huey, Ben Schwartz from "Parks and Recreation" will be voicing Dewey, and Bobby Moynihan from "Saturday Night Live" will be voicing Louie.
Beck Bennett – who's also associated with "Saturday Night Live" – will be voicing Launchpad McQuack. Toks Olagundoye – who's probably best known to TV fans for her work on ABC's "The Neighbors" & "Castle" – will be voicing Mrs. Beakley. And Kate Micucci (i.e., half of that musical comedy duo, Garfunkel & Oats) will be voicing Webby Vanderquack.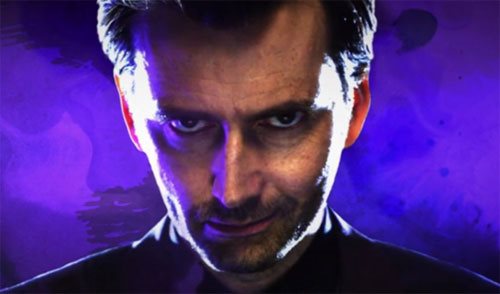 Kilgrave, AKA the Purple Man from Marvel's "Jessica Jones." Copyright Marvel Entertainment / Netflix. All rights reserved
If you'd like to see the voice cast of Disney Television Animation's "DuckTales" reboot in action, check out the video below:
This article was originally published by the Huffington Post on Friday, December 16, 2016.
"Seinfeld" Moms: A Tribute to Two TV Moms We Lost in April 2022, Estelle Harris & Liz Sheridan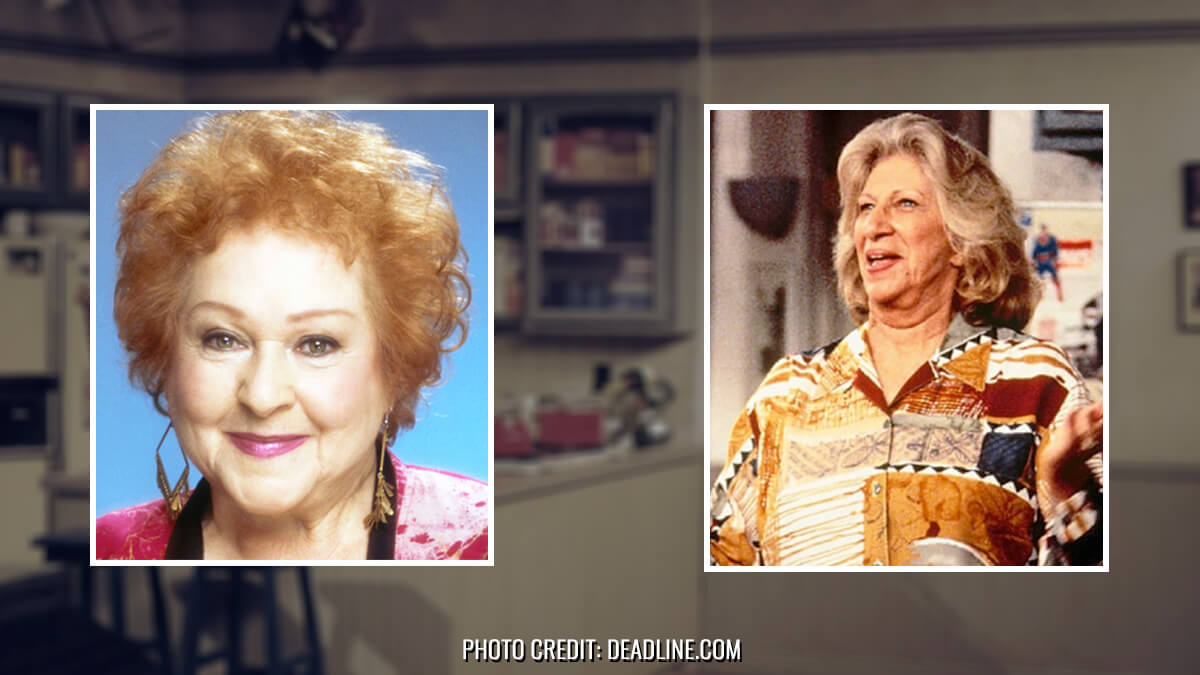 In what many have called his greatest poem, "The Waste Land" (Poetry fans will be celebrating the centennial of its publication later this year. It first appeared in print back in December of 1922. Anyway … ), T.S. Eliot once said " … April is the cruelest month."
Well, this past April was certainly cruel to "Seinfeld" fans. That's when we not only lost Estelle Harris (Who played George Costanza's Mom. Who was also named Estelle) but also Liz Sheridan (Who played the mother of that hit TV show's title character, Helen Seinfeld).
Less than two weeks separated these performers' passings. We lost Ms. Harris on Saturday, April 2nd and then Ms. Sheridan on Friday, April 15th. In a kind of interesting coincidence, both women died of natural causes at the age of 93.
Mind you, these two talented ladies took two very different paths when they started their careers in show business. Liz started early and began dancing on Broadway back in the 1950s.
In fact, if you'd like a look back at that time in Ms. Sheridan's career, you should pick up a copy of "Dizzy and Jimmy," the book she wrote back in 2000. It details her love affair with a certain 21-year-old Indiana farm boy who had traveled to NYC by way of Hollywood seeking his fortune. Maybe you've heard of this guy? Screen legend James Dean?
Whereas Estelle … Well, strange as this may seem (given how effortlessly she stole scenes from every other actor she ever worked with), Harris actually waited 'til she turned 53 before then embarking on her professional performing career.
Estelle Harris & Liz Sheridan: Early Career in Television & Film
Estelle's first film role was in Sergio Leone's "Once Upon a Time in America" (1984). Harris' first role of television quickly followed. She played Easy Mary, an elderly hooker on an episode of NBC's "Night Court" back in 1985. And Harris' performance got such big laughs at that night's taping that the show's producers quickly decided to write Estelle's character into additional episodes.
A similar sort of thing happened around this same time in Liz Sheridan's career. In 1986, she was hired to play the nosy neighbor on an episode of another NBC sitcom, "ALF." But Sheridan's performance as grumpy Raquel Ochmonek made such a big impression on the audience attending that evening's taping the producers brought her back multiple times. Over the course of "ALF" 's four season run on NBC (September of 1986 – March of 1990), Liz appeared in nearly 30 episodes.
So it stands to reason that — when production of "The Seinfeld Chronicles" was getting underway in 1989 (This show's name wouldn't officially be shortened to just "Seinfeld" until the start of Season 2 in January of 1991) — whenever the question of "Who's gonna play George or Jerry's Mom?" would come up, the show's creative team would always say it's gotta be someone solid and strong. Some veteran performer who just can walk in and then immediately claim that role. In short, someone like Estelle Harris or Liz Sheridan.
Roles on "Seinfeld"
Sheridan made her very first appearance as Jerry's Mom Helen relatively early on. We're talking Episode 2 of Season One in an episode entitled "The Stake Out." Which initially aired on NBC on May 31, 1990.
Whereas Georga Costanza's Mom, Estelle … That character didn't make her first appearance on "Seinfeld" until November of 1992. But give that Estelle Harris' entrance into this by-then-hit sitcom came with "The Contest," that infamous episode which introduced the phrase "Master of Your Domain" into the pop lexicon, few people ever forgot her arrival on that show.
Anywho … Being cast as George Costanza's Mom really put Estelle Harris on the map. At least as far as animation studios were concerned.
Work in Animation
Estelle was soon hired to voice Mrs. Potato Head in "Toy Story 2" (1999). Which was truly inspiring casting when it came to the wife of Don Rickles' Mr. Potato Head character. For her shrillness was a perfect counterpoint to Don's vocal bombastics. She reprised this role twice more, "Toy Story 3" (2010) and "Toy Story 4" (2019). And that vocal performance wound up being Harris' very last ever film role.
Just so you know: Liz Sheridan did some voice work for animation as well. She was the voice of Mrs. Stillman on "Life with Louie," that animated sitcom from the 1990s built around the late, great Louie Anderson's stand-up routine.
Back to Estelle Harris now … Since animators just loved her voice, Estelle wound up playing a lot of cartoon Moms over the past 25 years:
Professor Hubert J. Farnsworth's Mom on "Futurama"
Sylvester's Mom on "The Looney Tunes Show"
even Death's Mom on "Family Guy"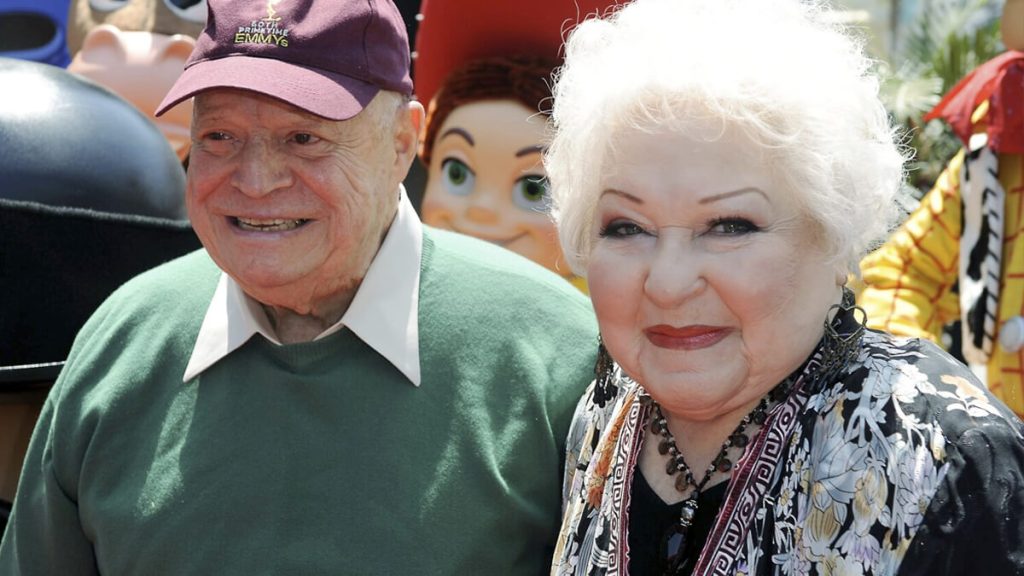 Conversation with Estelle Harris
And while I never got to meet Ms. Sheridan, I did once get the chance to sit down with Ms. Harris and then interview her in regards to Estelle's reoccurring role on that Disney Channel hit from the mid-2000s, "The Suite Life with Zack & Cody."
And I can tell you folks that — after having had a half hour-long conversation with this delightful woman — that that shrill, grating voice was Harris' real voice. But the lady herself could not have been nicer. Estelle was a sweet old broad who was actually in on the joke. She just loved the fact that people were constantly hiring her to come on their shows & then be incredibly annoying.
Back to Estelle's passing now … Last month, Harris' really-for-real son Glenn — issued this statement:
"It is with the greatest remorse and sadness to announce that Estelle Harris has passed on this evening at 6:25 pm. Her kindness, passion, sensitivity, humor, empathy and love were practically unrivaled, and she will be terribly missed by all those who knew her."
Then Estelle's TV son, the hugely talented Jason Alexander, Tweeted out a tribute to this beloved performer:
"One of my favorite people has passed. My TV mama, Estelle Harris. The joy of playing with her and relishing her glorious laughter was a treat. I adore you, Estelle. Love to your family. Serenity now and always. RIP Estelle Harris."
Jerry Seinfeld also used social media to share his thoughts about the sad passing of Liz Sheridan:
"Liz was always the sweetest, nicest TV mom a son could wish for. Every time she came on our show it was the coziest feeling for me. So lucky to have known her."
More "Seinfeld" Dads and Relatives
And just in case, you're wondering: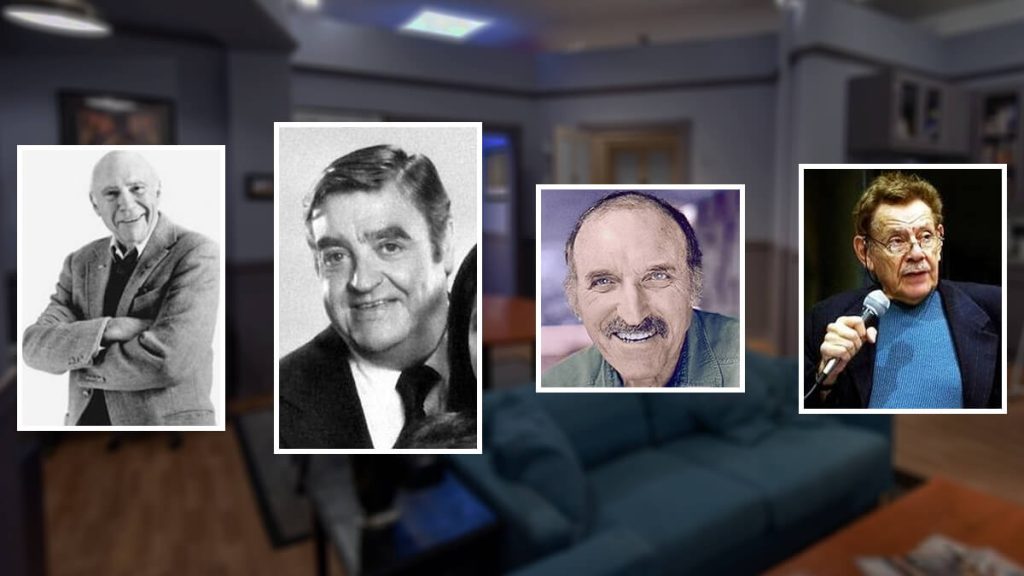 Mom – Let Her Know How You Feel
Okay. I know. These were just two very talented ladies who played Moms on TV. But let this be a reminder to you that — in this life — you only get one Mom. My own turned 90 earlier this year. So — if you get the chance today — be sure and let them know how you really feel about them.
Unless — of course — you have a somewhat problematic relationship with your Mother. If so … Well, then maybe you should wait 'til Festivus to let Mom know about how you really feel about her. Just remember that you're not allowed to air any grievances until you're actually holding that unadorned aluminum pole.
Happy Mothers Day!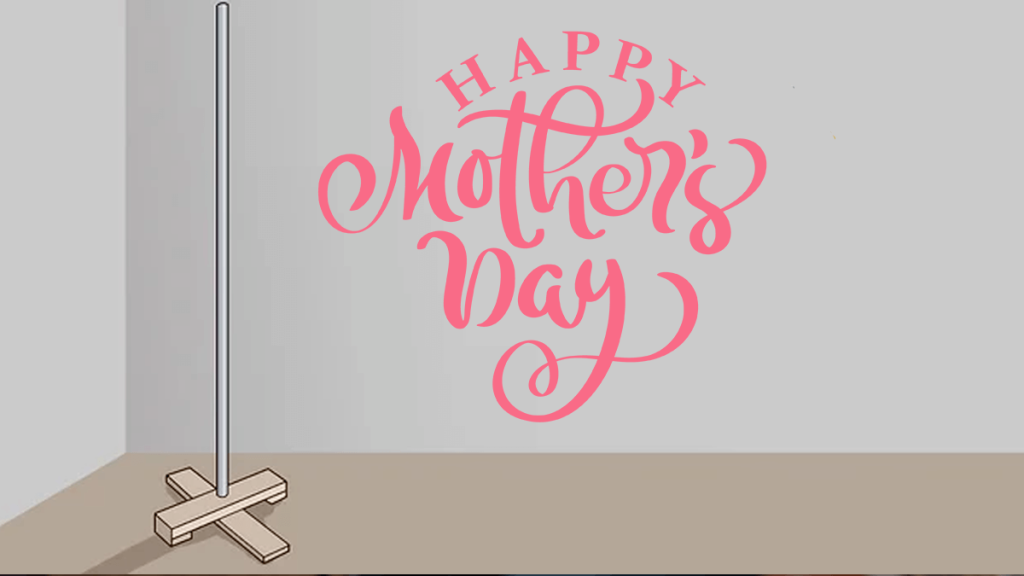 Looking back at the colorful show business career of original Mouseketeer Doreen Tracey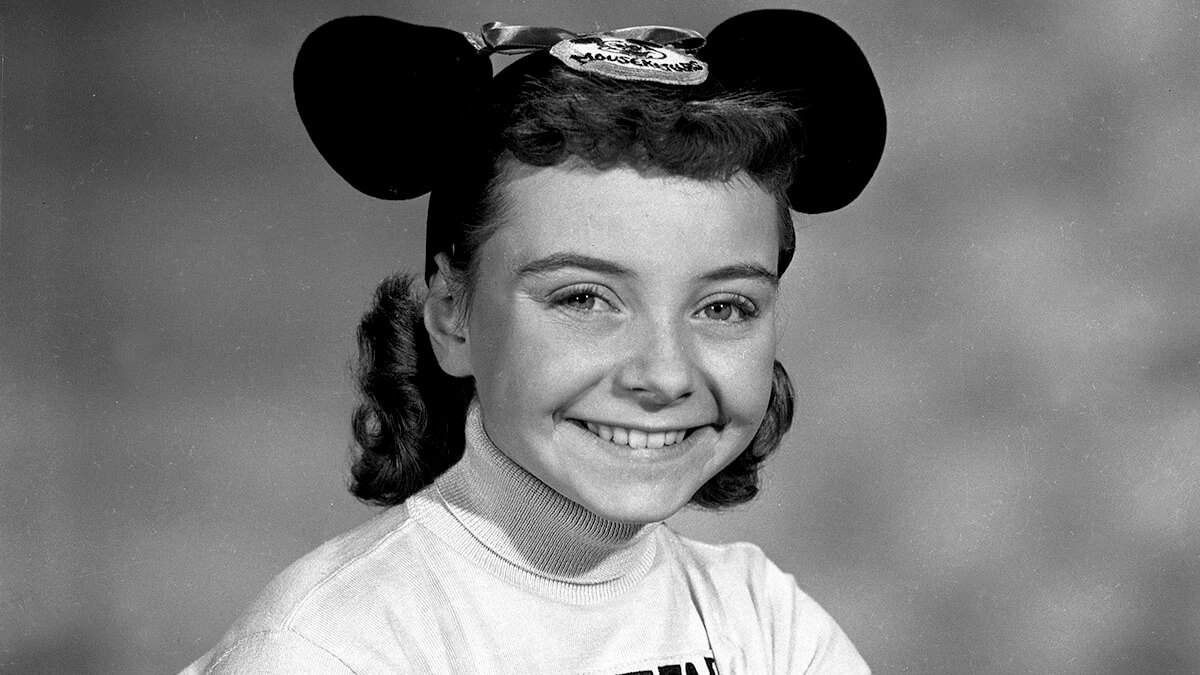 Doreen Tracey – who passed away last Wednesday while being treated for pneumonia at a hospital in Thousand Oaks, CA — had a complicated relationship with The Walt Disney Company.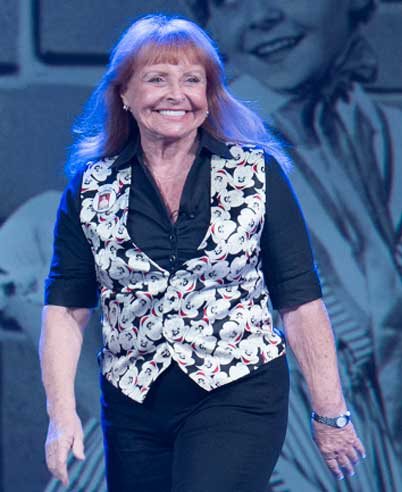 Copyright Disney Enterprises, Inc. All rights reserved
How so? Well, this story that Jennifer Armstrong shared in "Why? Because We Still Like You: An Oral History of the Mickey Mouse Club" (Grand Central Publishing, October 2010) should give you some idea of the challenges that this performer faced in her post-Mouseketeer career.
Picture this: It's January of 1968. At this point, it's been almost a decade since the last episodes of the original "Mickey Mouse Club" show have been shot. And the now-25 year-old Tracey has gone to extremes to distance herself from that particular Disney television production.
How extreme? Doreen's spent the past year touring Vietnam with the USO. Trading her formerly demur Mouseketeer sweater & ears for a skin-tight t-shirt, white go-go boots and mini-skirt, Tracey has choppering from base to base as she entertains the troops. Performing covers of then-popular 1960s songs like "Hold On, I'm Coming" and "We've Gotta Get Out of This Place" with her band, Doreen and the Invaders.
Anyway … It's the middle of the Tet Offensive. And Tracey & her band have just finished playing for the Army's Seventh Calvary. And as Doreen begins taking her bows, one soldier in the crowd starts singing "The Mickey Mouse Club March." And then the whole audience joins in.
As Armstrong recounts in her book:
At first Doreen was crushed. Would she ever be known as anything except a Mouseketeer? And yet (as the singing continued, Tracey) felt a proud swelling in her throat and tears dampening her face in spite of herself. Nostalgia overwhelmed her as the war-torn soldiers belted "M-I-C – See you real soon! K-E-Y – Why? Because we like you!" Who could deny the emotional impact of an audience full of warriors, mid-quagmire, with the world's most innocent song, from the world's most innocent kids' show, bubbling up from their memories and wafting out of their mouths?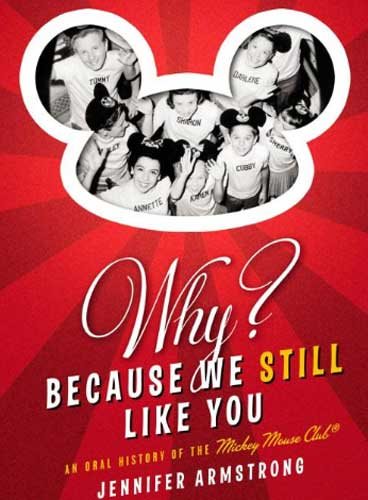 Copyright Grand Central Publishing. All rights reserved
"Every time I performed, I wanted to get away from the Mouseketeer thing," Doreen says. "I wanted (to be identified) as an entertainer on my own. But I couldn't escape my past."
The irony here is that – prior to agreeing to become one of the original Mouseketeers on "The Mickey Mouse Club" TV series (which aired on ABC every afternoon Monday – Friday from October of 1955 – August of 1959) – Tracey actually already had the makings of a very promising start when it came to a career as a child performer. She had parlayed an appearance in "The Farmer Takes a Wife" (i.e., a Betty Grable film that 20th Century Fox released back in July of 1993) into a guest spot on NBC's Colgate Comedy Hour.
But when a casting agent from Disney called the dancing studio that Doreen's Dad ran, saying that Walt was looking for talented young people to appear on a television project that his company was planning … The Tracey family saw this as a huge opportunity for their then-12 year-old daughter.
"That's what Walt himself once told me after I'd aced my audition and then actually signed a contract to do 'The Mickey Mouse Club,' " Doreen once told me during a 2015 phone interview. "He cautioned me that appearing on his TV show would probably have a huge impact on my career. But neither of us knew how right he was."
And Walt … He really loved what this talented youngster was doing on "The Mickey Mouse Club" TV show. So much so that – when production of this daily ABC television series was on hiatus – Disney would then find Tracey roles in motion pictures that his studio was producing at that time like 1956's "Westward Ho the Wagons!"
"The film that I wish Walt had gone forward with, 'The Rainbow Road of Oz,' I was supposed to have had a really great part in that movie," Doreen continued. "I was supposed to have played the Patchwork Girl of Oz. Bobby (Burgess) and I actually shot a version of the song that my character was supposed to have performed in that movie – Bobby was supposed to have been the Scarecrow to my Patchwork Girl. And that number then aired on ABC as part of the Disneyland TV show's fourth anniversary."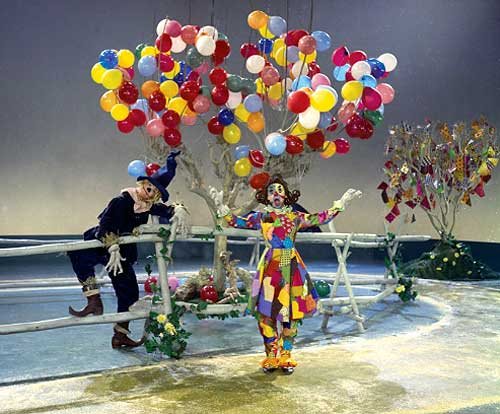 Bobby Burgess as the Scarecrow and Doreen Tracey as the Patchwork Girl of Oz perform a musical number from "The Rainbow Road to Oz" on the Disneyland TV series' fourth anniversary show. Copyright Disney Enterprises, Inc. All rights reserved
Unfortunately, when Walt opted to shut down production of "The Mickey Mouse Club" in May of 1958 (largely because Disney was reportedly upset with the number of commercials that ABC tried to cram into each daily airing of this kid's show), he also pulled the plug on "The Rainbow Road to Oz." And Tracey … Well, to hear her tell the story, she was then typecast at the age of 15 as "… that girl who used to be on 'The Mickey Mouse Club' show."
Which (to be blunt) kind of Doreen crazy in her late teens and early twenties. Which is why – in order to show the world that she was now a full-grown woman, rather than forever a Mouseketeer – Tracey married Robert Washburn on May 7, 1961. Given that this wedding took place just a month after Doreen had turned 18 … Well, is it really such a surprise to learn that – just 15 months later – it ended in divorce?
Mind you, there was at least one good thing that came out of this very brief union. And that was Doreen & Robert's son Bradley. And since Tracey was determined to provide for this child, she then worked all sorts of show biz-related gigs. Doing everything from working as the opening act for performers like George Gobel, Trini Lopez, the Mills Brothers, and Neal Sedaka to trying her hand at songwriting over at Crown Records.
Once she returned from entertaining the troops in Vietnam in the early 1970s, Doreen then transitioned to a position in promotions. And during the years that she worked at Warner Brothers Records, Tracey took great pride in the part she played in helping to launch the careers of the Doobie Brothers, Tower of Power and Frank Zappa.
But that said, Doreen still found herself dealing with colleagues who just couldn't see past her appearances on "The Mickey Mouse Club" TV show. They continued to view Tracey as that girl who used to dress in a Mouseketeer sweater and wear ears.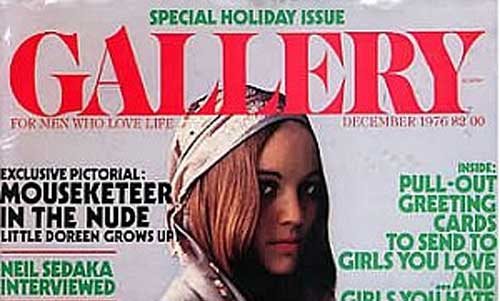 Which is why – in an effort to make a definitive break from her Disney-related past – Doreen agreed to appear in the December 1976 issue of "Gallery" magazine. That men's magazine trumpeted Tracy's appearance with a headline that read "… Exclusive pictorial. Mouseketeer in the nude: Little Doreen Grows Up."
That 5-page pictorial proved to be so popular that – less than 3 years later – "Gallery" asked Tracey to do another shoot. This one – which the magazine heralded with a "Mouseketeer Doreen Back (And Front) By Popular Demand" headline – was considered especially heinous by Mouse House managers at that time. Largely because (as Tracey recounted to Armstrong in "Why? Because We Still Like You: An Oral History of the Mickey Mouse Club") this article featured a photo where she flashed …
… the camera while posing near the actual Walt Disney Productions employee entrance at 500 S. Buena Vista Street. "I'm in a trench coat. I'm walking at Alameda and Buena Vista – that used to be our parking lot where we would also play baseball. It was like six o'clock in the morning and the guard wasn't on duty when we shot it. And there's a big sign that says PROPERTY OF WALT DISNEY STUDIOS. I thought it was brilliant."
Disney management obviously didn't share Tracey's opinion. Which is why – for a time – Doreen wasn't allowed to appear at any Mouseketeer reunion events. Which (given the main reason that Tracey had agreed to appear in "Gallery" was that she'd actively been looking for a way to put "The Mickey Mouse Club" behind her) initially suited her just fine.
But then – as Doreen continued to have success while working at Warners (She spent decades working at that studio and eventually became a valued member of their anti-piracy unit) – Tracey found that she now missed all of the friends that she'd made while working on "The Mickey Mouse Club." She found herself looking back fondly on moments like when Doreen & Annette had stolen some cigarettes from a hairdresser on the Disney Lot and then secretly smoked them out behind the sound stage. Thrilled that they'd now somehow made the jump from being Mouseketeers to becoming bad girls.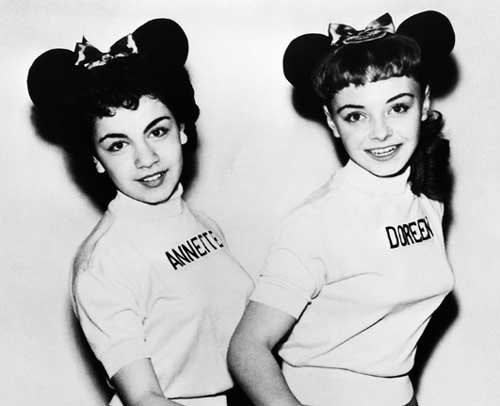 Copyright Disney Enterprises, Inc. All rights reserved
Given that Tracey shared all of these once-in-a-lifetime adventures with her fellow Mouseketeers (EX: Appearing as an aerialist in the "Mickey Mouse Club Circus" at Disneyland Park. That 1959 tour of Australia with Jimmy Dodd where they were mobbed by 4000 screaming teens at the airport in Sydney), she then decided to make amends with Disney. See if there was some way that everyone could possibly get past those pictorials.
Happily, given that the "Mickey Mouse Club March" actually includes the phrase " … you're as welcome as can be," I'm pleased to report that Disney execs eventually did come to overlook Doreen's appearances in "Gallery" magazine. Which is how Tracey was then able to spend so many happy hours with her fellow Mouseketeers meeting with fans at events like Disneyland's 50th & 60th anniversary celebrations. Not to mention the 2015 D23 EXPO.
So with apologies to Thomas Wolfe, sometimes you can actually go home again. Especially if you're someone like Doreen Tracey, a genuinely accomplished woman who was also enough of a show business pro / self-aware enough to realize that sometimes the smartest thing you can do for yourself is A) just let go and then B) get out of your own way.
Tracey is survived by her son, Bradley, as well as two grandchildren, Gavin & Autumn. She was 74.
This article was originally published by the Huffington Post on Monday, January 15, 2018
Chip 'N' Dale make more mischief with "Nutty Tales" shorts on Disney Channel & Disney Junior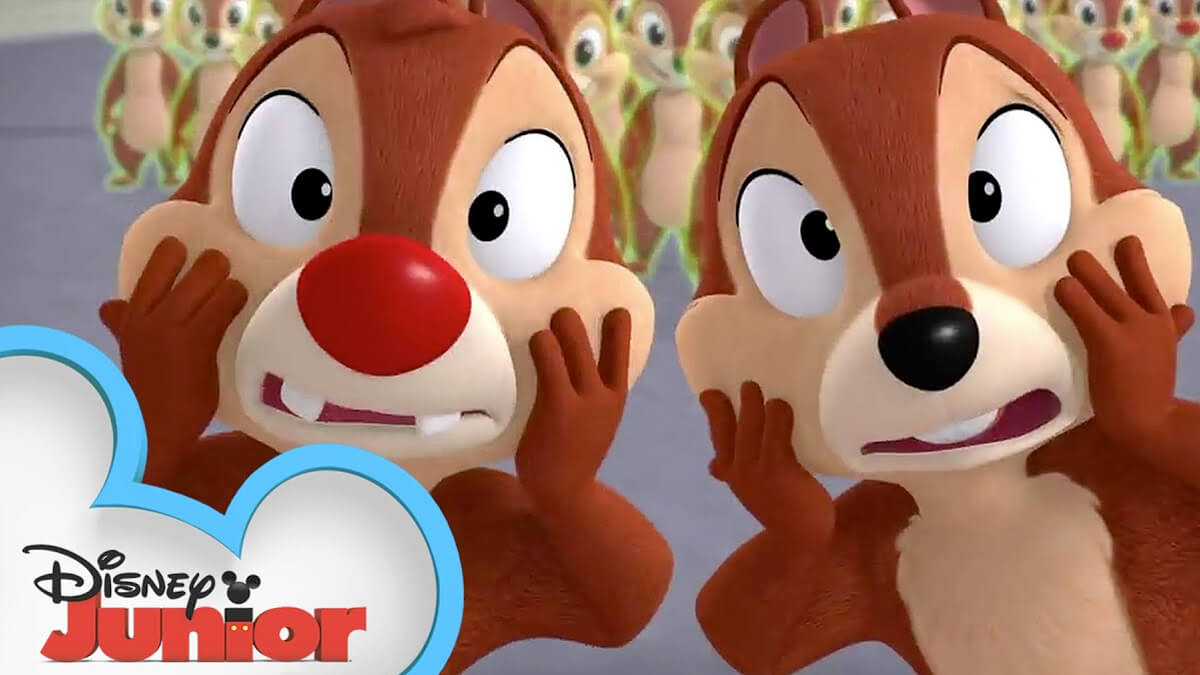 Over the month of November, Disney will be spending some serious cheddar on its Big Cheese. But that's all because Mickey Mouse will be celebrating his 89th birthday on November 18th.
As part of the lead-up to his big day, Mickey has begun traveling around the globe. Making stops in places like London so that he can then surprise some of his biggest fans (and – of course – share these encounters on Disney's official Mickey Mouse Facebook page).
Which is all well & good. But Mickey isn't the only Disney cartoon character who has a big milestone coming up this month. 70 years ago (on November 28, 1947, to be exact), "Chip 'an Dale" was released to theaters.
Mind you, there's some debate among animation history buffs as to whether this particular animated short should officially be considered Chip 'N' Dale's cinematic debut. Were you to ask the staff at Disney's corporate archives (which I actually did during the research phase of this story), they'd point to two previous shorts (i.e., 1943's "Private Pluto" and 1946's "Squatter's Rights") where Mickey's pal Pluto finds himself battling an identical pair of mischief-making chipmunks.
On the other hand, when I interviewed Disney Legend Jack Hannah (He's the animation legend who directed 20 of the 23 "Chip 'N' Dale" shorts that were released theatrically) back in the late 1980s, Jack was insistent that these cartoon characters didn't actually officially arrive on the scene 'til 1947. As Hannah pointed out, it was in this specific short that these characters went from being identical chipmunks to taking on their signature looks (i.e., Chip is the one with the nose that looks like a chocolate chip. Dale is the one with a tuft of ruffled fur on the top of his head).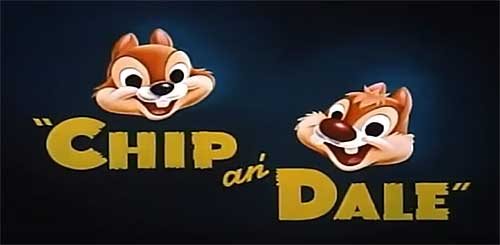 Copyright Disney Enterprises, Inc. All rights reserved
Moving past Chip 'N' Dale's debut debate … Over the next nine years, Walt Disney Animation Studios kept churning out theatrical shorts featuring these characters. With the very last one, "Chips Ahoy," bowing on February 24, 1956. Which should have spelled the end of these mischievous chipmunks. But because the folks who produced the "Disneyland" television program for ABC repeatedly found new ways to fold old Chip 'n' Dale cartoons into this TV show's line-up, these rodents remained in the spotlight.
Mind you, millennials don't think of these Disney characters as obnoxious rodents who get great pleasure out of torturing Donald Duck. To them, Chip 'n Dale will always be the Rescue Rangers. The stars of that Walt Disney Television Animation production which premiered on Disney Channel in March of 1989 and – after airing as part of the "Disney Afternoon" programming block — and syndicated for some time after that.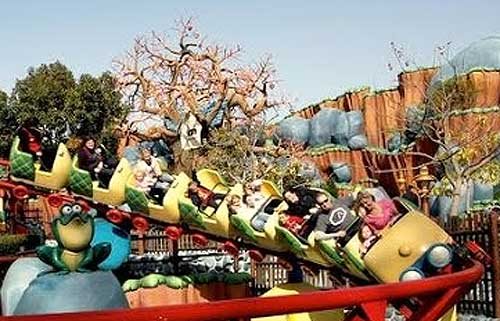 As Gadget Go Coaster zooms around the track at Disneyland Park, the tree that previously housed Chip 'n Dale's Acorn Crawl looms in the background.
"Chip 'N' Dale Rescue Rangers" was so popular that – when the Imagineers decided to create a new "land" to Disneyland in the early 1990s which would serve as the permanent home for tunes at that theme park – this "Disney Afternoon" show served as the inspiration for two attractions in Mickey's Toontown: Gadget's Go Coaster and Chip 'n Dale's Acorn Crawl.
"Chip 'n Dale Rescue Rangers" wrapped production after 65 episodes. But these two chipmunks continued to pop up in other Walt Disney Television Animation productions over the past 25 years. They were the central characters in a September 2002 episode of Disney's "House of Mouse." Not to mention making their CG debut in Disney Television Animation's "Mickey Mouse Clubhouse," which aired on Disney Junior from May 2006 through November of last year.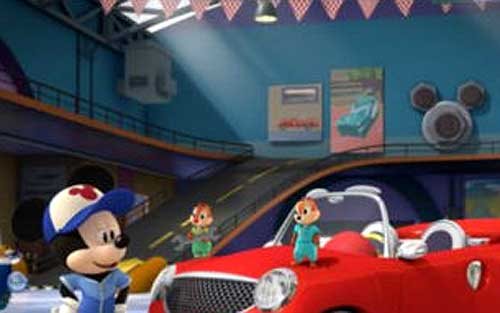 Copyright Disney Enterprises, Inc. All rights reserved
These days, Chip 'n Dale can be found among the supporting cast for "Mickey and the Roadster Racers." In this new Disney Junior production, the chipmunks now work as mechanics in Mickey's garage high up in Hot Dog Hills.
Speaking of the "Mickey and the Roadster Racers" … The team there (i.e., executive producer Rob LaDuca, and co-executive producer/supervising story editor Mark Seidenberg) clearly has a few Chip 'N' Dale fans on it. Why else would they have given these characters the chance to make more mischief with that new series of 2 ½ minute cartoons that feature these characters that they just put into production?
Written by Robert C. Ramirez ("Sheriff Callie's Wild West") and directed by Ramirez and Jeff Gordon ("Jake and the Never Land Pirates"), "Chip 'N' Dale's Nutty Tales" debuts on Disney Channel, Disney Junior, Disney Junior YouTube and the DisneyNOW app ) on Monday, November 13th. But if you're really not willing to wait 'til Monday … Well, Disney Television Animation was nice enough to give us a complete "Chip 'N' Dale Nutty Tales" to view ahead of this new short-form series debut on the 13th.
Just in case you're wondering, this birthday-themed short (which will begin airing on Disney Channel and Disney Junior on Friday, November 17th) is part of a company-wide celebration of Mickey's 89th birthday. Over that weekend, there'll be a special celebration cavalcade staged at Disneyland that travels from that theme park's "it's a small world" attraction all the way down to Town Square. Out in Orlando, guests there will be able to dine on Sorcerer Mickey cake as well as pick up a free "Happy Birthday Mickey!" At both the Shanghai Disney & Tokyo Disney Resorts, people can take advantage of special party-themed photo opportunities as well as sing "Happy Birthday" to the world's most famous mouse.
Speaking of Tokyo … Mickey is supposed to swing through Japan on his magical moments world tour before he then stops by the Good Morning America studios in NYC's Times Square on November 15th. Here's hoping that the Mouse gets the chance to drop by Tokyo Disney so that he can then check out the hot new seasonal souvenir at that Resort's two theme parks.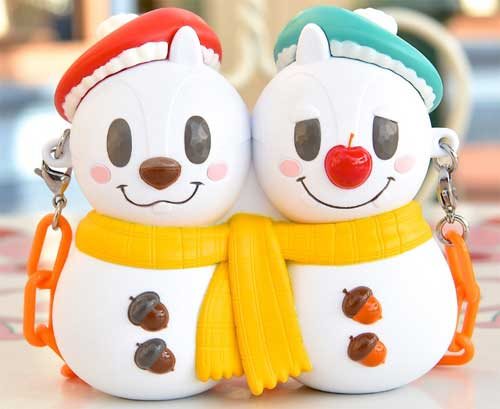 Copyright Tokyo Disney. All rights reserved
"And what is that?," you ask. A line of Chip 'N' Dale merchandise that reimagines these ageless cartoon characters as snowmen. Kind of a nutty idea, don't you think?
This article was originally published by the Huffington Post on Friday, November 10, 2017