Halloween Horror Nights to feature "Stranger Things" -inspired mazes at Universal Studios' theme parks in Hollywood, Orlando & Singapore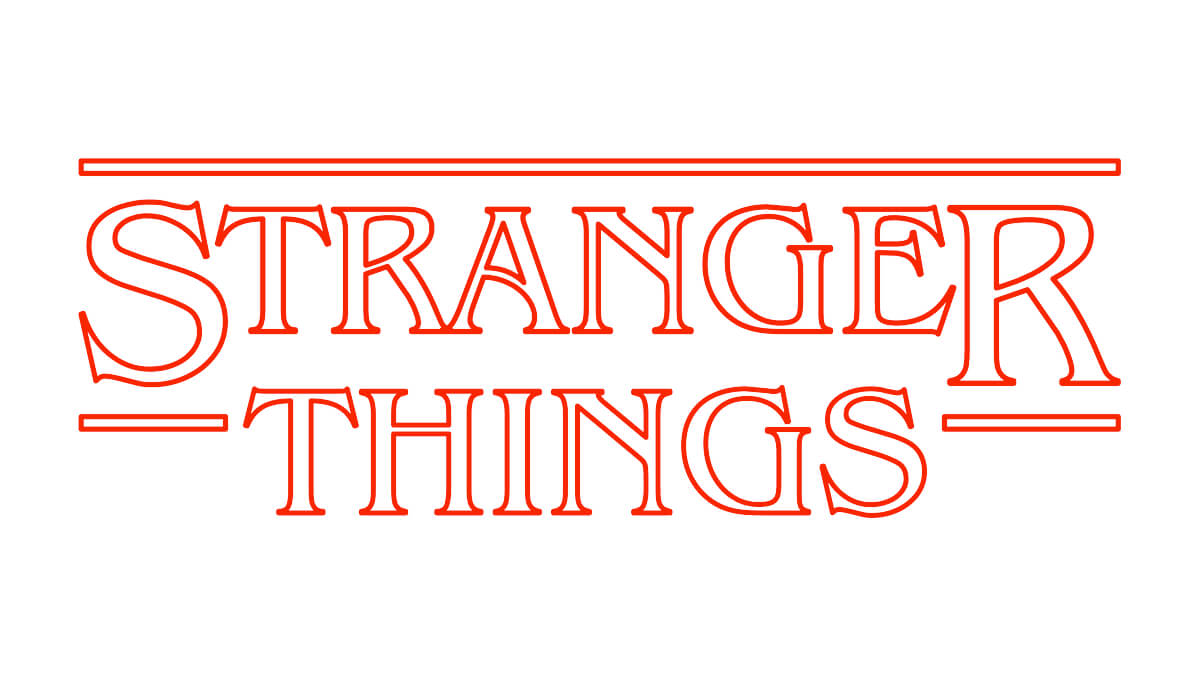 Universal Studios' theme parks are full of strange & wondrous things. State-of-the-art rides, shows & attractions based on super-popular film & television franchises like "Fast & The Furious" and "The Simpsons." Not to mention fun things to eat & drink like Krusty Burgers, Butterbeer and Voodoo Doughnuts.
But will visitors who journey to the Universal Studios parks soon find themselves craving some Eggo frozen waffles? To be honest, that depends on how familiar these folks are with Netflix's acclaimed original series, "Stranger Things."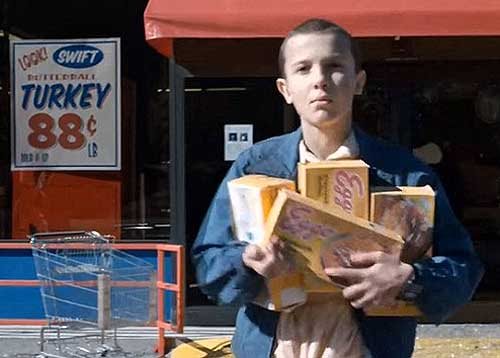 Copyright Netflix. All Rights Reserved
The talented team behind Universal Studio's Halloween Horror Nights certainly hopes that you are very familiar with this award-winning sci-fi thriller series. That's why they've chosen to build "Stranger Things" -themed mazes at the seasonal hard ticket events they'll be holding at the Universal Studios parks in Hollywood, Orlando & Singapore this Fall.
Universal has been working closely with Matt Duffer, Ross Duffer and Shawn Levy (i.e., the creators & executive producers of this acclaimed Netflix series) to make sure that the "Stranger Things" mazes that'll be featured at Universal Studios Hollywood, Universal Orlando Resort and Universal Studios Singapore will be as authentic as possible.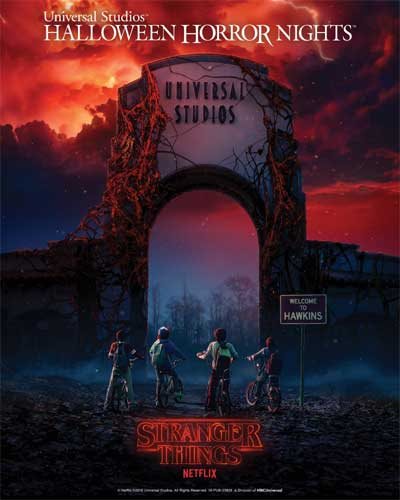 Copyright Netflix / 2018 Universal Studios. All Rights Reserved
Those who are brave enough to enter will find themselves immersed in authentically detailed recreations of selected scenes & storylines from Season One of Stranger Things." They'll journey under the Department of Energy into Hawkins National Laboratory. These guests will also visit the Byers home with its eerie Christmas lights display before then making their way to the Upside Down woods.
Will these Halloween Horror Night attendees encounter a Demogorgon as they make their way through Mirkwood. HHN's design team isn't tipping its hand. Not yet, anyway. All that they were willing to reveal so far is that "Stranger Things" fans can expect to find surprising twists & unexpected turns around every corner as they make their way through the hyper-detailed mazes that are being constructed in Orlando, Hollywood & Singapore.
Halloween Horror Nights begins Friday, September 14 in Hollywood & Orlando and on Friday, September 28 in Singapore. Additional details about these seasonal hard ticket events – which feature multiple movie-quality mazes based on iconic horror television shows, films as well as original stories — will be revealed soon.
"Honey, I Shrunk the Kids": The Movie & Early Attractions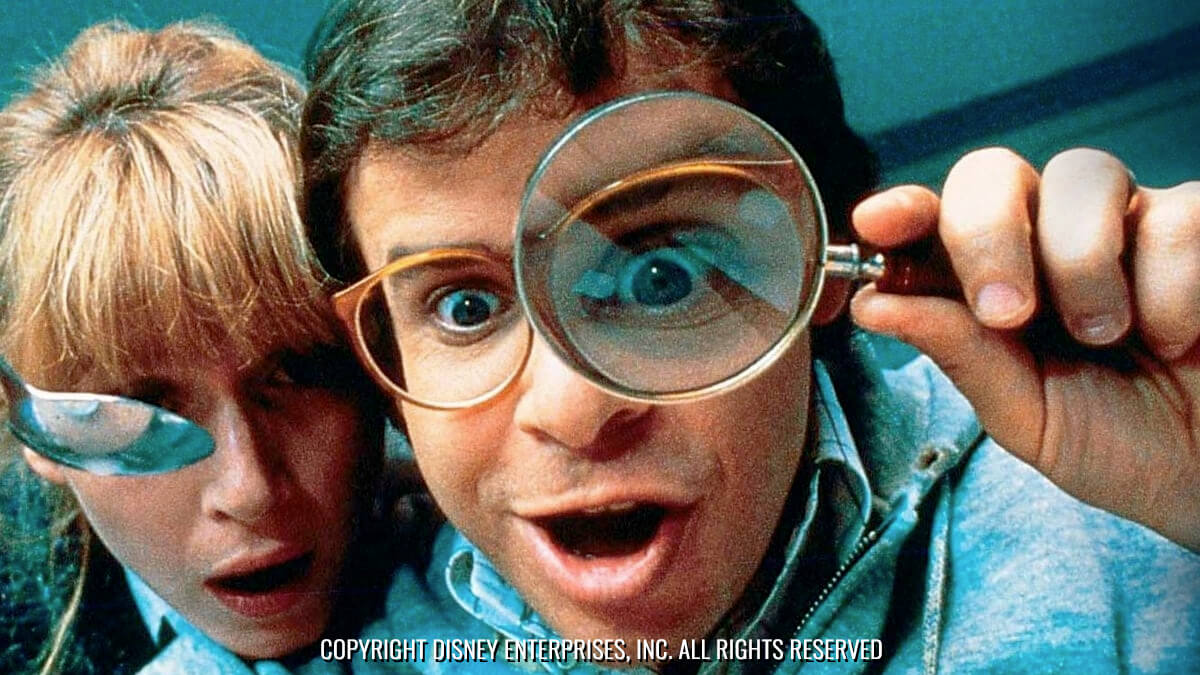 This article is part of a series documenting the story of "Honey, I Shrunk the Kids" and Disney Science-Based movies. Be sure to check out our additional research on the "Honey, I Shrunk the Kids".
When Michael Eisner came on board as Disney's new CEO in the mid-1980s, he had gone over the company's books and learned that there was this certain type of film (a science-based gimmick comedy) that the Studio used to release that had done very well at the box office over the past 25 years or so.
We're talking about Disney-produced comedies like "The Absent-Minded Professor," "The Computer Wore Tennis Shoes," "The Misadventures of Merlin Jones." FX-filled films where college kids accidentally a paint that could then make them invisible. Or a family pet — in this case, a duck — gets exposed to radiation and then starts laying solid-gold eggs. You know, things that could happen to anyone in every day life. Provided — of course — your name is Dean Jones or Kurt Russell.
Flight of the Navigator and Rebirth of Science-Based Movies
So Eisner decides that it's high time that Walt Disney Pictures gets back in the science-based gimmick comedy business again. Which is why he greenlights production of "Flight of the Navigator," which arrives in theaters in July of 1986. The only problem is … This Randall Kleiser film (Remember that name. It's going to come up again) suffers from "This-movie-really-wants-to-be-E.T.-instead" syndrome. Which means that it's heartfelt and has some wonderful, sincere moments as well as some killer visual effects.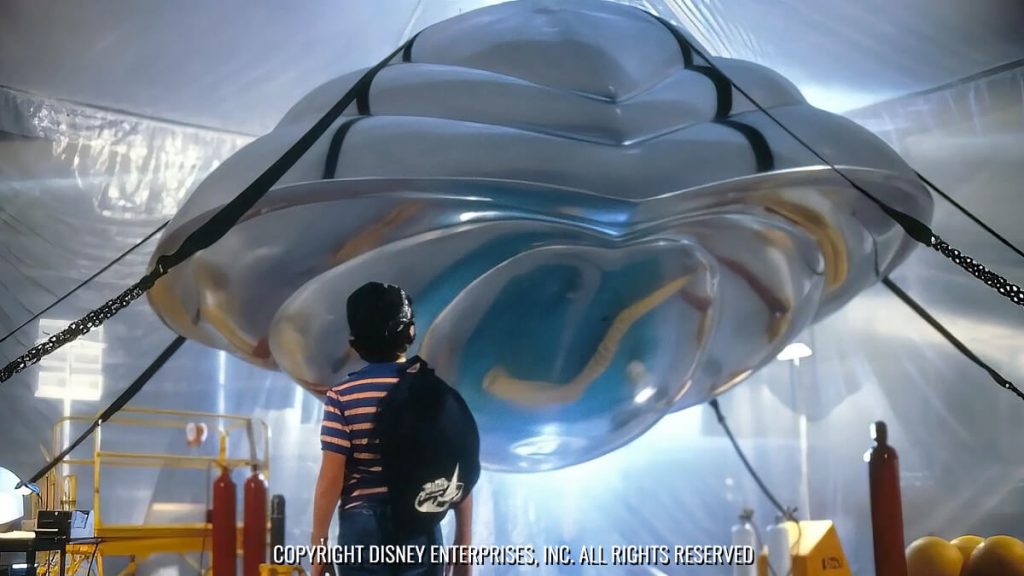 But "Flight of the Navigator" is not long on laughs. And remember that the reason that Eisner put this Randall Kleiser film into production in the first place is because he wanted to revive the science-based gimmick comedy genre at Disney Studios.
But "Flight of the Navigator" (while it didn't exactly set the box office on fire when it was released to theaters in the Summer of 1986) did well enough when the VHS version of this movie hit store shelves in January of 1987 that Eisner thought "Okay. We can take another stab at this. Get me a script for another science-based gimmick comedy."
Which is when the script for "Teenie Weenies" shows up on his desk.
Teenie Weenies – Origins of "Honey, I Shrunk the Kids"
Now "Teenie Weenies" has kind of an interesting pedigree. Because it came to Disney by way of Stuart Gordon. Who — back in the mid-1980s, anyway — was best known for having written & directed some pretty out-there horror comedies, 1985's "Re-Animator" and 1986's "From Beyond." But Stuart also had a love for cheesy 1950s sci-fi films like "The Incredible Shrinking Man" (which Universal Pictures first released to theaters in April of 1957).
And one day Gordon had a brainstorm: What if — instead of some earnest white guy scientist in a lab coat who gets shrunk down to the size of a bread crumb — it's a kid instead? Or — better yet — kids? What would happen in that case?
So Gordon and his frequent collaborators — Ed Naha & Brian Yuzna — work up a screenplay that explores this idea. And it eventually makes its way to Disney. And Eisner likes what he sees. But even so, Michael doesn't want to spend a whole lot of money on this movie. Plus he's not crazy about that title, "Teeny Weenies." Can we please come up with a better title for this movie? Which is why — for a time — this film is called "Grounded," then "The Big Backyard."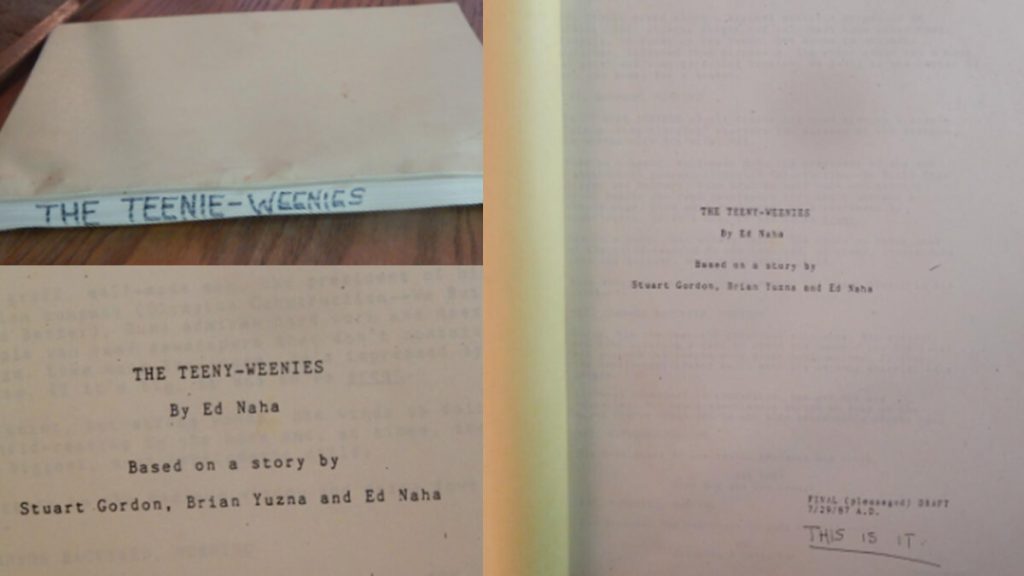 So Stuart is initially supposed to direct this movie for Disney. Which — I know — given that this guy previously directed really out-there horror comedies (Trust me, folks. If you've ever seen "Re-Animator," you'll know what I'm talking about) seems like a weird choice for the Mouse House.
But Michael's thinking at the time was … Well, "The Big Backyard" is going to be full of visual effects shots. And given some of the scenes in "Re-Animator" & "From Beyond," this guy already knows how to do this stuff. So better to stick with the devil you know.
So — to keep production cost down — Disney decides to shoot "The Big Backyard" down in Mexico City at Churubusco Studios. So Stuart casts up the project.
FYI: The role of inventor Wayne Szalinski was originally written with Chevy Chase in mind. But since he was shooting "National Lampoon's Christmas Vacation" around this same time, he wasn't available. So Disney then offer this part to John Candy. Who — when he passed on the role — suggested that the Studio consider Rick Moranis, his old pal from "SCTV," for the part. Which is how Moranis became Szalinksi.
Production & Filming "Honey, I Shrunk the Kids"
Production is just about to get underway on "The Big Backyard." But then Stuart Gordon gets sick and has to withdraw from this project. Michael Eisner now starts freaking out. I've got a big new visual-effects-drive comedy for Disney Studios all set to start shooting and — days before production is supposed to begin — I don't have a director.
Enter Academy Award-winning visual effects guy Joe Johnston. This is the guy who started as a concept artist on the first "Star Wars" film, went on to design Boba Fett for "The Empire Strikes Back," and — by the time "Willow" rolled around — George Lucas had promoted Joe to associate producer. More to the point, Johnston was the production designer on those two "Ewok" TV movies that ran on ABC in 1984 & 1985.
So Joe had come up through the ranks at Lucasfilm. Yet, he hadn't actually directed a movie up until that time. But he'd basically done everything else you could do behind-the-camera on a big visual effects film. Johnston was the right guy in the right place at the right time when Disney desperately needed a director for "The Big Backyard." So tag. You're it.
And Joe — to his credit — delivered. Disney was so pleased with the work that he did on "The Big Backyard" that — after this science-based gimmick comedy officially opened at the box office in June of 1989 and did really, really well, the Studio immediately offered Johnston another FX-fille project. This one being a big screen adaptation of Dave Stevens' cult classic comic book, "The Rocketeer."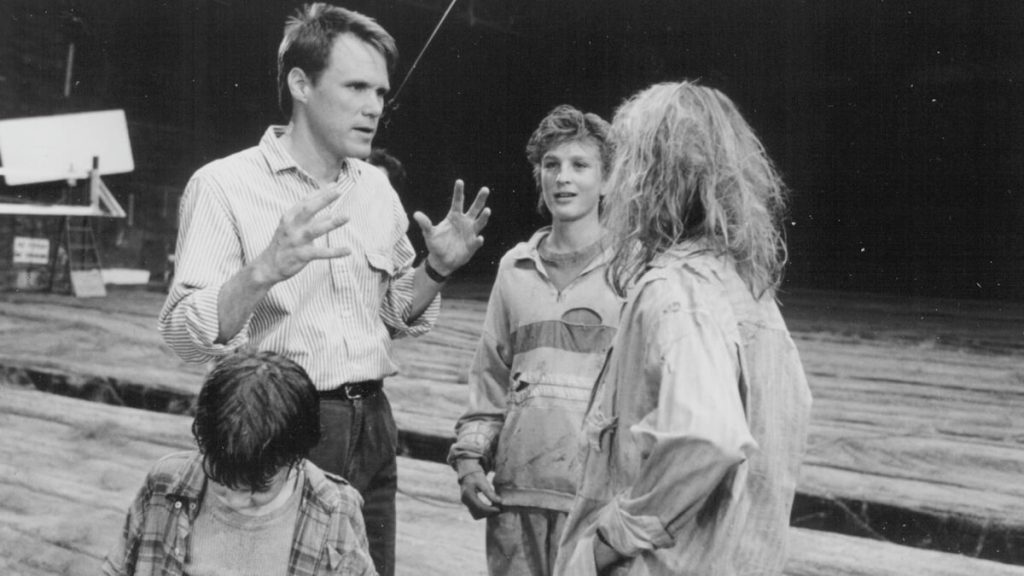 From "The Big Backyard" to "Honey, I Shrunk the Kids"
But that title. "The Big Backyard." Michael still hated it. He wanted something punchy & fun like the titles of those earlier Disney science-based gimmick comedies from the 1960s & the 1970s. Something like "Now You See Him, Now You Don't" or "The Monkey's Uncle." A title that tells you right up front that this is a family comedy.
There was a line in the movie that always got a big laugh at test screenings. It was when Rick Moranis turned to his wife Marcia Strassman and then reluctantly admitted "Honey, I Shrunk the Kids." Eisner said "That gets a laugh. Let's go with that." Which is how "The Big Backyard" became "Honey, I Shrunk the Kids."
"Honey, I Shrunk the Kids" Box Office Success
And "Honey, I Shrunk the Kids" did crazy business at the box office in the Summer of 1989. We're talling $222 million in ticket sales worldwide. Which is the equivalent of nearly a half a billion dollars in today's money. Which then made "Honey, I Shrunk the Kids" the highest grossing live-action Disney film of all time. A title it retained for five years, only to then be dethroned by "The Santa Clause."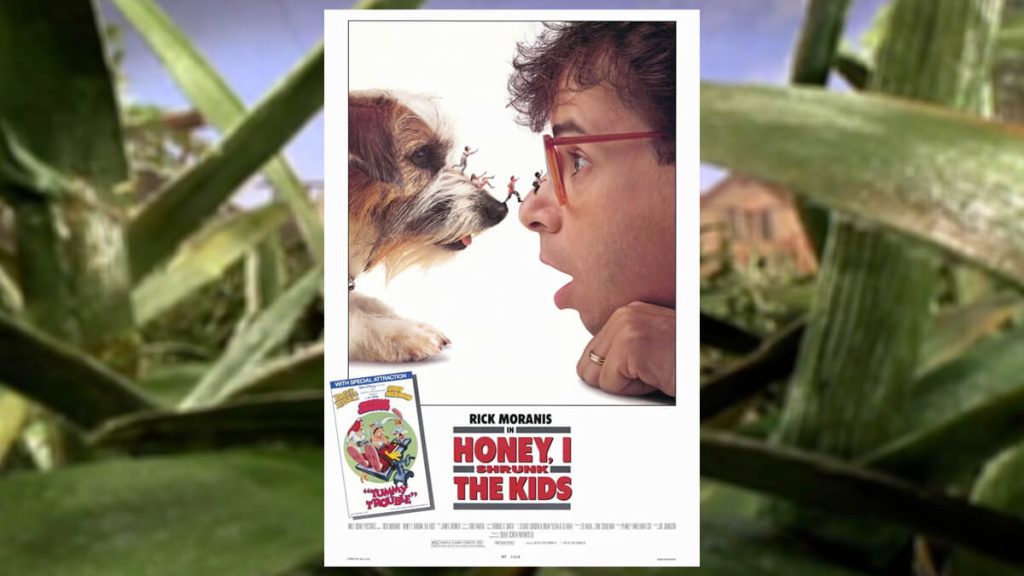 Now it's worth noting here that one of the reasons that "Honey, I Shrunk the Kids" did so well at the box office in the Summer of 1989 was that — right in front of this Joe Johnston movie — was the very first "Roger Rabbit" short, "Tummy Trouble." The film that inspired this short — "Who Framed Roger Rabbit" — had come out the previous summer and done very well at the box office. That Robert Zemeckis movie had taken home four Oscars at the 61st Academy Awards, which had been held just three months previous in late March of 1989.
So there are some folks even today who say "Well, 'Honey, I Shrunk the Kids' wasn't really this monstrous hit back in the Summer of 1989. It was more a case that 'Honey, I Shrunk the Kids' — when it was paired with "Tummy Trouble" — was such a tempting combo that moviegoers just could not resist this double bill. Especially on the heels of "Who Framed Roger Rabbit" and how well that movie had done the previous Summer.
"Honey, I Blew Up the Kid"
This would become painfully clear in the Summer of 1992 when the sequel to "Honey, I Shrunk the Kids" — "Honey, I Blew Up the Kid" — finally arrived in theaters. Only instead of a new "Roger Rabbit" short, this Randall Kleiser film (See. I told you that name would come up again) had a Disney-produced CG short in front of it called "Off Your Rocker." And that Barry Cook cartoon — while fun — just wasn't the box office draw that "Tummy Trouble," "Roller Coaster Rabbit" or "Trail Mix-Up" had been.
Consequently, "Honey, I Blew Up the Kid" only did about 2/3rds of the business that "Honey, I Shrunk the Kids" did domestically. We're talking $96 million in ticket sales in North America versus $130 million in North American ticket sales back in 1989.
Which — when you factor in that the original "Honey, I Shrunk the Kids" cost $18 million to make versus the $32 million it cost to make "Honey, I Blew Up the Kid" — isn't a great place to be. Especially in a Hollywood where — increasingly — the Studio's accountants are the ones calling the shots. Rather than the creatives.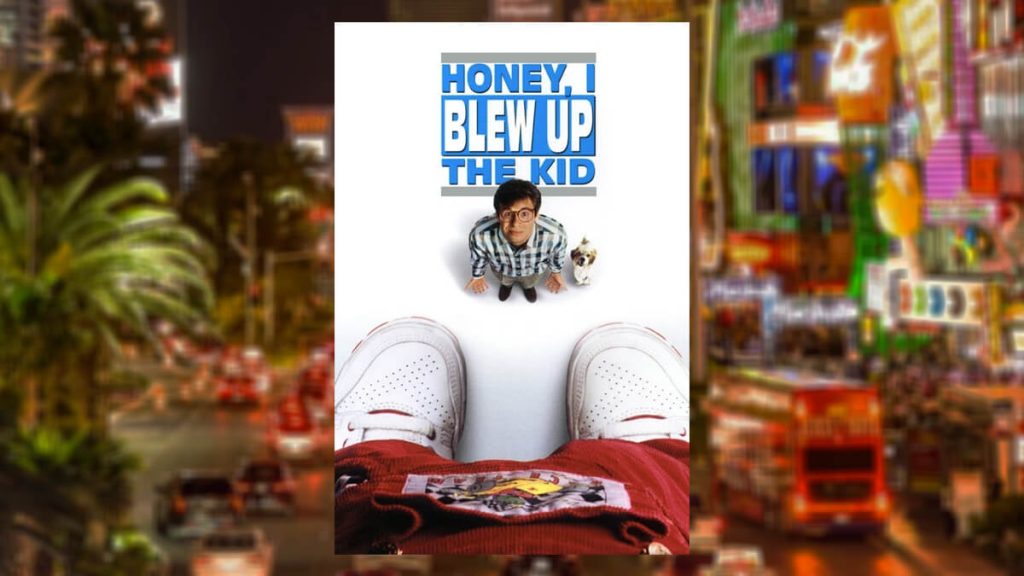 Potential "Honey" Sequels
It's the Summer of 1989 and "Honey, I Shrunk the Kids" is still this enormous hit. Which Disney immediately wants to make all sorts of sequels to.
Which is why — as the Wall Street Journal reported in August of that same year — the Studio pre-emptively trademarked a bunch of possible titles for follow-ups to the original "Honey, I Shrunk the Kids" movies. These titles included:
"Honey, I Sent the Kids to the Moon"
"Honey, I Made the Kids Invisible"
"Honey, I Xeroxed the Kids"
and "Honey, I Switched Brains with the Dog"
"Honey, I Shrunk the Kids" Attractions at Disney MGM Studio Theme Park
Now where this gets interesting is that — even before "Honey, I Shrunk the Kids" had opened in theaters (on June 23, 1989) — Michael Eisner was insisting that this Joe Johnston movie be folded into the Disney theme parks somewhere.
Luckily in the Late Winter / early Spring of that same year, the Imagineers were readying the Disney MGM Studio theme park for its May 1st opening.
Tram Tour Blue Screen Bumble Bee Experience
Since WDW's 3rd gate was supposed to help promote the Studio's latest releases … Well, WDI decided that — as part of the Visual Effects portion of that theme park's Backstage walking tour (which used to be the second half of the Tram Tour at Disney MGM) — they'd use Blue Screen as a way to recreate that moment from "Honey, I Shrunk the Kids" when the boys accidentally fall onto the back of a bumble bee and then get flown all around the backyard.
This experience selected two kids to demonstrate how blue screen technology worked. They were then strapped by Cast Members to this huge fake bumble bee. These kids were then told to flail about as a camera moved in and out, capturing their expressions.
Then — seconds later — this just-captured footage was inserted into a clip from "Honey, I Shrunk the Kids." Which then showed these same kids — now miniaturized — buzzing around a backyard on the back of a giant bumble bee.
Siskel and Ebert Cameo
Roger Ebert & Gene Siskel (who — at the time — were the hosts of the hugely popular "At the Movies" show) suddenly came onscreen. Roger & Gene then seemingly began to criticize the performance of the two kids who had just volunteered to demonstrate how blue screen technology worked. With Roger Ebert (he was the heavy-set grumpier member of this duo. Siskel was the more even-tempered, bald-headed guy) complained that " … it looked like those two were hanging onto a huge fuzzball."
This cameo was made possible by a deal that Disney had made with Roger & Gene back in 1986. Prior to that, Ebert & Siskel's movie review show — which began life as a one-time-only TV special on Chicago Public Television back in 1975 — had been shown on various PBS stations around the country. Disney offered to make "At the Movies" the very first syndicated show offered by Buena Vista Television and to then take Ebert & Siskel nationally.
Roger & Gene agreed to this deal with one condition: That Disney execs wouldn't then interfere in any way with the production of "At the Movies." More to the point, if Walt Disney Studios made a stinker of a movie, that Ebert & Siskel would then be allowed to state that opinion — loud & clear — on a TV show that the Mouse himself produced.
Michael Eisner personally guaranteed that Roger & Gene would be free to say whatever they liked about Disney-produced films. And because Disney execs made a point of being completely hands-off when it came to "At the Movies" …
Well, that's why — when the Imagineers came a-calling and said "Would you please shoot this 30 second bit for the Special Effects Workshop. Which will be part of the Backstage Tour thing we're now building at Disney-MGM Studios," Ebert & Siskel said "Sure."
I mean, these two guys took their film criticism jobs seriously. They were total pros. But at the same time, Roger & Gene didn't take themselves all that seriously. They got the gag, I mean.
"Honey, I Shrunk the Kids" Playground
When "Honey, I Shrunk the Kids" finally opened in theaters and then became the fifth highest grossing film of the year (behind "Batman," "Indiana Jones and the Last Crusade," "Lethal Weapon 2" and "Rain Man"), Eisner insisted that something of size that celebrated the "Honey, I Shrunk the Kids" be built at Disney MGM. Which is why — between New York Street and the Studio Catering Company — a brand-new playground began to rise up.
The gimmick of the "Honey, I Shrunk the Kids: Movie Set Adventure" was — as soon as Guests enterted this space — they were shrunk down to the size of an ant. This enclosed space (which was designed to look like a teeny tiny chunk of the Szlanski's backyard that was now writ huge) featured 30-foot-tall blades of grass that were built out of metal & fiber glass. Which — prior to installation — had to (in model form, mind you) go through a wind tunnel test to prove that these faux enormous blades of grass could withstand 300 MPH winds and still stay in place. Because … Well, Florida. Hurricanes. You do the math.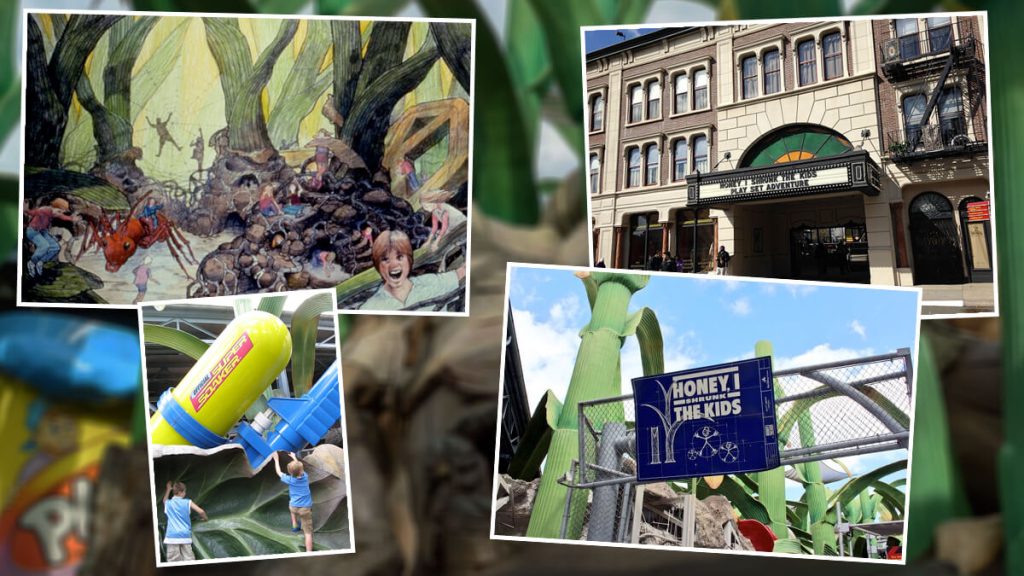 And since this "Honey, I Shrunk the Kids" play area was being built in Florida … Well, keeping Guests cool was a major consideration. So the Imagineers have people choices. They could either stand under a 52-foot-long nozzle of a giant garden hose and periodically get dripped. Or they could stand in front of a giant dog nose. And — every so often — that enormous canine would sneeze. But instead of snot, a cool mist of water would come shooting out of those enormous nostrils.
By the way, both of these enormous props — the leaky nozzle of that garden hose AND that giant dog nose — were manufactured out in California at WDI's Tujunga facility and then shipped cross country. You gotta wonder what motorists in the Midwest thought of that as they saw a flatbed with a giant dog nose on it rolling by them on the interstate.
A lot of folks — when talking about the "Honey, I Shrunk the Kids: Movie Set Adventure" — remember that soggy material which covered the ground. It sort of looked like dirt. That was Safe Deck, a material that the Imagineers found which was made up of ground-up old truck tires. Mind you, to make it actually look like the dirt you have in your own backyard, the Imagineers had to scatter little handfuls of ground up green truck tires & red truck tires & blue truck tries. Which brings us to the real important question: Where do you get green & blue truck tires?
Kodak-themed Slide: Was Kodak the Sponsor of "Honey, I Shrunk the Kids: Movie Set Adventure"?
One of the most popular and famous props in the play area was a slide that was shaped as an enormous, partially opened cannister of Kodak film.
Because that huge cannister of Kodak film was so obviously on display in the "Honey, I Shrunk the Kids: Movie Set Adventure" — did that then mean that Kodak was the sponsor of this Disney-MGM attraction?
And the answer to that question is actually "No." Eastman Kodak Co. signed a 15-year-long promotional agreement with The Walt Disney Company the year previous (On April 27, 1989. Just days before Disney-MGM officially opened to the public). And this was a deal that linked Disney & Kodak in multiple ways. On television, at the movies and in the Disney theme parks.
The Kodak-themed slide was actually something of a freebie. I mean, you have to understand that the "Honey, I Shrunk the Kids: Movie Set Adventure" was one of the very first projects that Walt Disney Imagineering put into development after the Mouse House signed that new 15-year-long deal with Eastman Kodak.
And what better way to tell all of those Kodak executives back in Rochester, NY that we really appreciate you sticking with us for the long haul and being a participant at Disney Parks & Resorts but then surprise them with a slide that was shaped like an enormous cannister of Kodak film.
Mind you, all of this goodwill would evaporate just a few years later when the Imagineers went to Kodak and said "Hey. It's time to redo the 'Journey into Imagination' ride at Epcot." To which Kodak executives replied "Film sales are falling through the floor because of the rise of digital photography. We have no money available to fund a redo of the 'Imagination' ride. You're on your own, Disney."
Closing "Honey, I Shrunk the Kids: Movie Set Adventure"
The "Honey, I Shrunk the Kids: Movie Set Adventure" had a good long run at the Studio theme park. It officially opened on December 17, 1990 and then closed on April 2, 2016 to make way for an entirely different sort of movie set adventure. Maybe you've heard of the place? "Star Wars: Galaxy's Edge" ?
Up Next: Sequel Challenges and 3D Movie Experiences.
Anyway … On the next installment of this series (The third & final chapter of the "Honey, I Shrunk the Kids" story), we'll discuss Disney's troubles when it came to developing a suitable sequel to the first film in this series. Not to mention the challenges that the Imagineers faced when they decided to build a new 3D movie experience around Wayne Szalinski's shrink ray.
Get ready for way too many mice.
This article is based on research for The Disney Dish Podcast "Episode 374", published on May 16, 2022. The Disney Dish Podcast is part of the Jim Hill Media Podcast Network.
History of Reedy Creek Improvement District: Part 4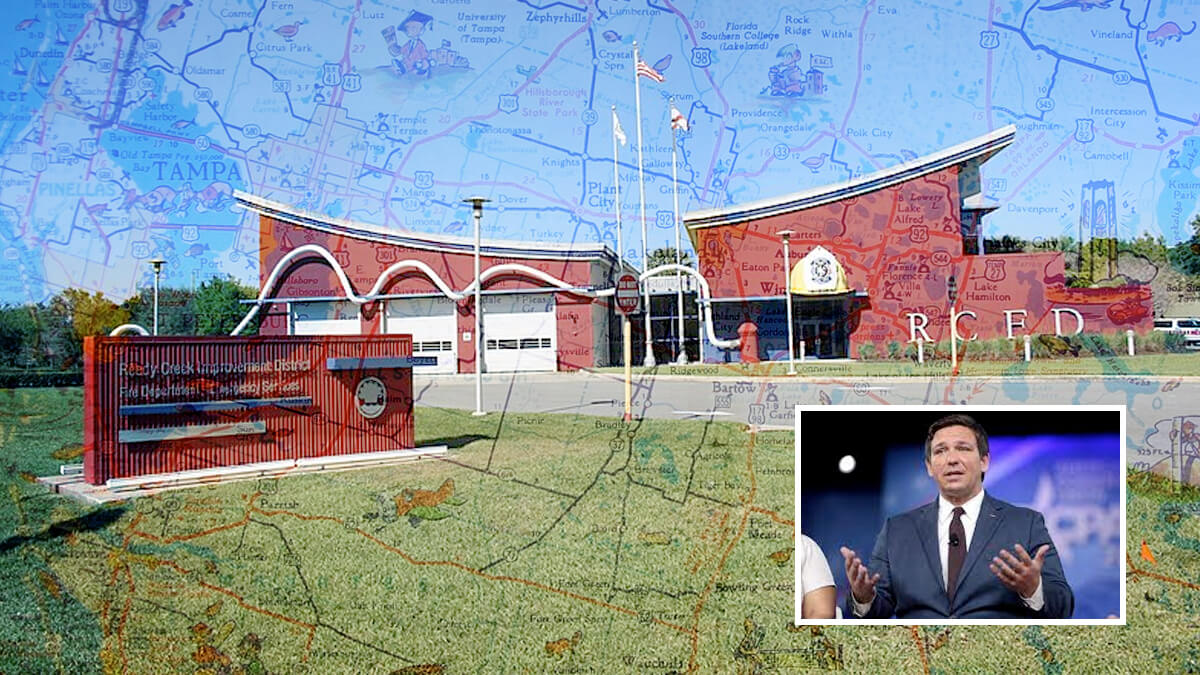 This article is part of a series – History of Reedy Creek Improvement District. Be sure to check out our additional research on the RCID.
Back in the 1960s, Florida legislators weren't picking fights with Disney Corporate. But rather, they welcomed the Mouse with open arms.
Do you remember how — on November 15, 1965 — Florida Governor Haydon Burns actually shared a dais with Walt Disney & his brother Roy at the Cherry Plaza Hotel in Orlando as they then shared their plans for Project Florida?
Florida Representatives Meet in Burbank
Well, what doesn't get talked about all that often is what happened just one month later. On December 16, 1965, a delegate of some of the most powerful people in Florida flew from Tallahassee to Burbank. We're talking:
Fred "Bud" Dickinson, the State Comptroller
J. Ed Straughn, the director of the Florida Revenue Commission
Wilken McDuff & Edward Cowart, both prominent attorneys within the Attorney General's Office
And Joseph Chapman, administrative assistant to Governor Haydon Burns
These gentlemen — along with key members of their support staff — made a special trip out to California just days before Christmas because, in the eyes of Governor Haydon Burns, this matter just could not wait. The Disney World Project was seen as such a huge opportunity for Florida that the state's elected officials had to move with all due speed.
So a month and a day after Walt first spoke — in pretty non-specific terms, mind you — about what his Company was thinking about doing with that 43 square miles of swampland in Central Florida it had just purchased, here was a delegation from Tallahassee meeting personally with Walt & Roy so that they could then better understand the whole of Walt Disney Productions. More importantly, so that these elected officials could then make it easier for the Mouse to quickly set up shop in the Sunshine State.
As Walt's brother recounted in an article that was published about these state officials' trip to Disney Corporate Headquarters in the December 1965 – January 1966 issue of "The Disney World," the Company's in-house newsletter back then:
"They need to study our operation in considerable detail so that they can then advise us on how Florida tax laws would apply to our proposed project," Roy said.
Touring WED and Disneyland
After they spent the morning with Walt & Roy drilling down into the specifics of Project Florida, the team from Tallahassee was then taken over to Glendale. Where they then toured WED (which is where all of the rides, shows & attractions for the Disney Parks were designed). More importantly, this was where the folks from Florida got their very first glimpse at what the Imagineers were actually dreaming up for Disney World.
To make sure that — when the team from Tallahassee flew back home to Florida — they had only good things to say about everything they'd seen … After WED closed for the day, the folks from Florida were then invited to linger at this facility after-hours. You see, that night (Friday, December 17th) was when Imagineering held its third annual holiday party / open house. So there was plenty of food & drink on hand. Not to mention the opportunity to schmooze with Disney stars like Dick Van Dyke & Dean Jones.
The very next day, this delegation from Florida was then driven down to Anaheim. Where they were then given a thorough behind-the-scenes tour of Disneyland Park. With the idea that they'd then have an intimate understanding of how an East Coast version of this family fun park might operate. After this backstage tour was over, the team from Tallahassee was then cut loose to explore Disneyland on their own / experience many of the Park's rides, shows & attractions for a few hours.
That evening, the Florida delegation regrouped in Town Square. Where they were then Walt's personal guests at the premiere of that year's edition of Disneyland's holiday parade.
These elected officials then flew home on Sunday. And — on Monday morning — walked back into the state capital and then told the Governor "Give Disney whatever it wants. We have to bring this project to Florida. We will make so much damn money."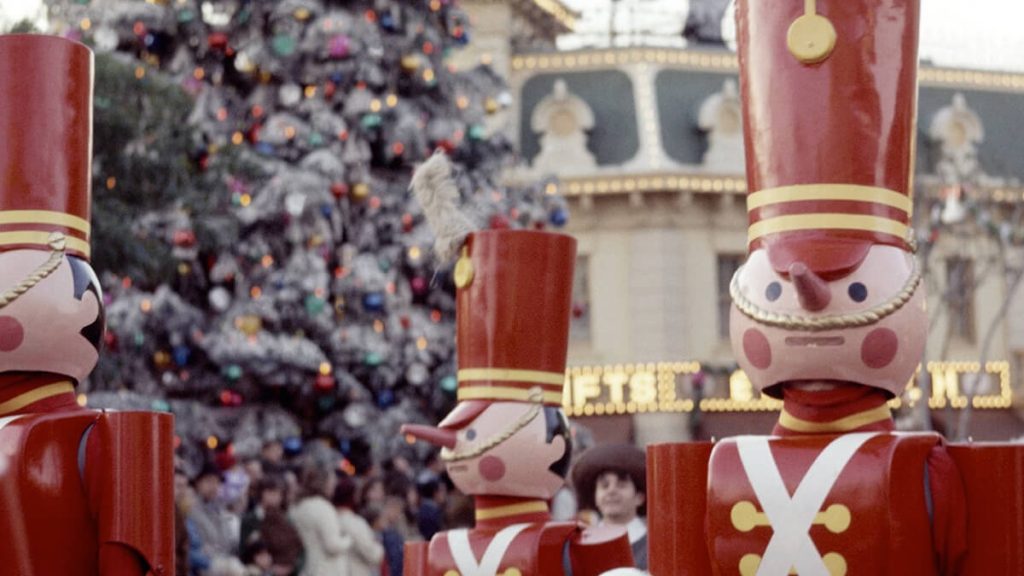 Excitement About EPCOT: Event at Park West Theater
We jump ahead to February of 1967. Which is when Walt Disney Productions — in an invitation-only event that's held in the Park West Theater in Winter Park, FL — shows people other than that selected delegation that flew out to Burbank in December of 1965 — exactly what the Company's plans are for all that swampland in Orange & Osceola County.
908 leaders from the local community cram into this auditorium and are just dazzled by what the Disney team presents. Which — at that time, anyway — call for developing (over time) 20,000 of the 27,500 acres that the Mouse now owned in Central Florida.
It's important to stress here that a lot of what excited the audience in the Park West Theater wasn't that Vacation Kingdom the Imagineers wanted to build next to Bay Lake (i.e., The Magic Kingdom and the monorail resorts right outside that theme park). But — rather — Phase 2 of Project Florida. Which was supposed to see a city of the future (with a 30 story-tall skyscraper at its very center) and its adjacent industrial park. Which was then — in Walt's own words — supposed to eventually become " … " … a showplace for American free enterprise."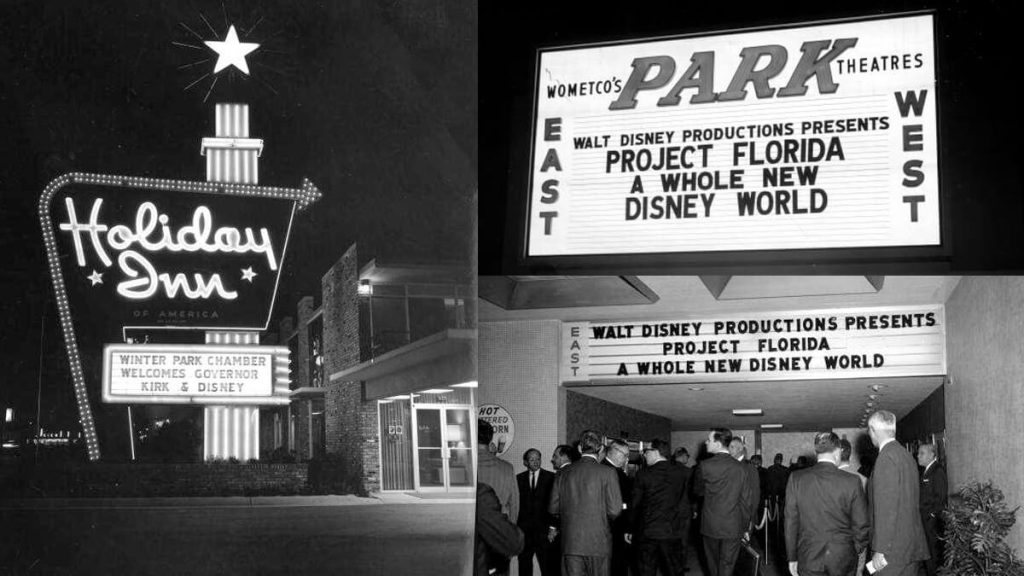 It was this part of Project Florida that especially tantalized the folks up in Tallahassee. Think about it: If Disney had actually built Epcot-the-City and that radial design industrial park right next door, Central Florida wouldn't just become a tourism destination thanks to the Magic Kingdom and the monorail resorts. But rather, Walt Disney World could have potentially turned this part of the State into a second Cape Canaveral. A place where thousands of highly paid folks would then have worked at full-time hi-tech jobs.
Those folks who worked in Epcot's industrial park would have had to live locally. And the money that they made from those high paying, hi-tech jobs in this showcase for American industry would have then poured right back into the local economy.
It was this aspect of Project Florida — rather than the Vacation Kingdom — that really powered the push to ram the Reedy Creek Improvement District legislation through. If you thought that Ron DeSantis' response to Disney's opposition to Florida's "Parental Rights in Education " legislation (AKA the "Don't Say Gay" bill) was fast, consider this: That presentation in the Park West Theater was held in February 2, 1967.
Fast-tracking the Reedy Creek Improvement District
By May 12th of that same year (Just three months and 10 days later), the bill that gave Walt Disney Productions the right to … Well, not only to build 18 story-tall castles and install cutting-edge transportation systems without seeking the approval from some local planning commission — not to mention collecting taxes and issuing bonds — was being signed into law. In a ceremony that's held in the garden at the Governor's mansion, no less.
I also want to stress here that — back then, anyway — the Reedy Creek Improvement District had bipartisan support. Haydon Burns — the governor who shared the dais with Walt & Roy at the Cherry Plaza Hotel in November of 1965 — was a Democrat. Whereas Claude Kirk — the governor who actually signed this bill into law in May of 1967 — was a Republican. The first Republican governor the State of Florida had had since the Reconstruction, I might add.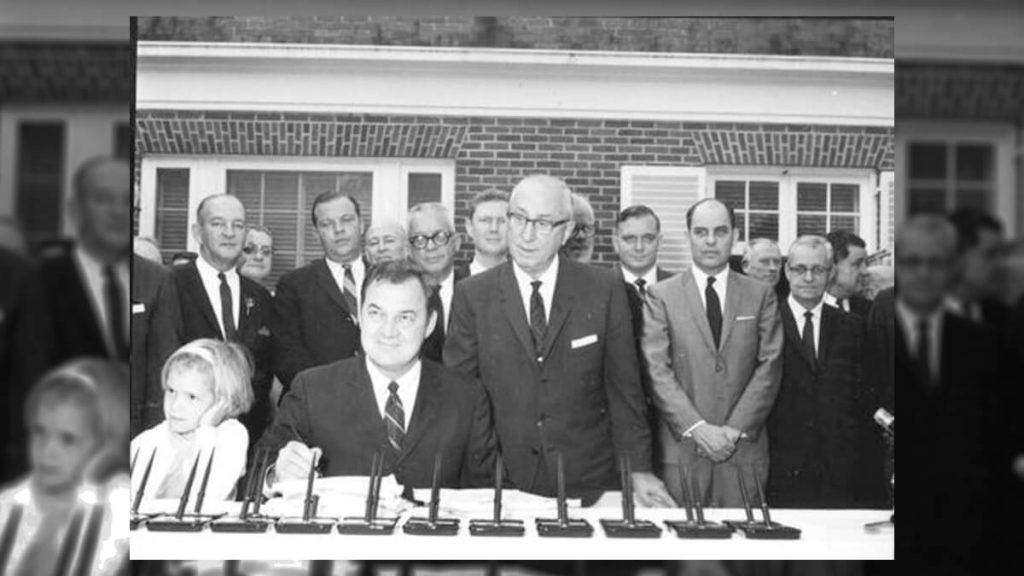 A bit more background here: At this special signing ceremony in the garden of the Governor's mansion in Florida, Roy O. Disney went out of his way to state publicly that …
The entire delegation from Orange and Osceola County, in which we will soon be making our home, have given us the upmost in cooperation since the inception of this project. I would particularly like to call attention to Senator Bob Elrod and Bill Gunter, and Representatives John Ducker and Henry Land of this delegation. These four men acted as floor leaders and primary sponsors for the Disney legislation.

Roy O. Disney
So — just to be clear here — the Reedy Creek Improvement District wasn't some sort of shady backroom deal with Walt Disney Productions that suddenly got rammed through by the folks up in Tallahassee in the dark of night. There were all sorts of public hearings and lots of thoughtful discussion about what should actually go into this bill prior to Governor Claude Kirk actually signing the thing.
Dissolving the Reedy Creek Improvement District in 2023: Where is the City of the Future?
That's why DeSantis' people are running into so much trouble now. They tried to undo a comprehensive piece of legislation that had been carefully crafted over a period of months by top notch state attorneys (Not to mention Disney's own corporate lawyers) with a bill that was hastily slapped together over days. Which is why their effort to dissolve the Reedy Creek Improvement District is doomed to fail once it finally gets challenged in court.
Which isn't to say that Governor DeSantis doesn't have another card up his sleeve. I'm told that his new plan when it comes to taking on The Walt Disney Company has to do with promises the Mouse made to the State of Florida that then weren't kept. To be specific, the construction of the City of EPCOT and its adjacent industrial park.
As I mentioned earlier, it was that aspect of Project Florida — rather than the Vacation Kingdom — that really excited Florida legislators back in the mid-1960s. The idea that the State could soon have a second Cape Canaveral of sorts, a second place in Florida where highly educated folks would work at high-tech jobs that paid well (with a good chunk of their salaries being funneled back into the local community via payroll taxes and purchases at area businesses & restaurants) was what ultimately powered Sunshine State officials to grant the Mouse this unprecedented amount of autonomy.
This is how DeSantis' people are reportedly looking to spin Phase 2 of their dissolve-Reedy-Creek effort. They're going to say " … We're doing this because Disney never actually delivered on their promise to build a city-of-the-future in the swamps of Central Florida. Back in the 1960s, we were promised all of these high paying, high tech jobs. What we got instead were thousands of low paying positions in Disney's theme parks."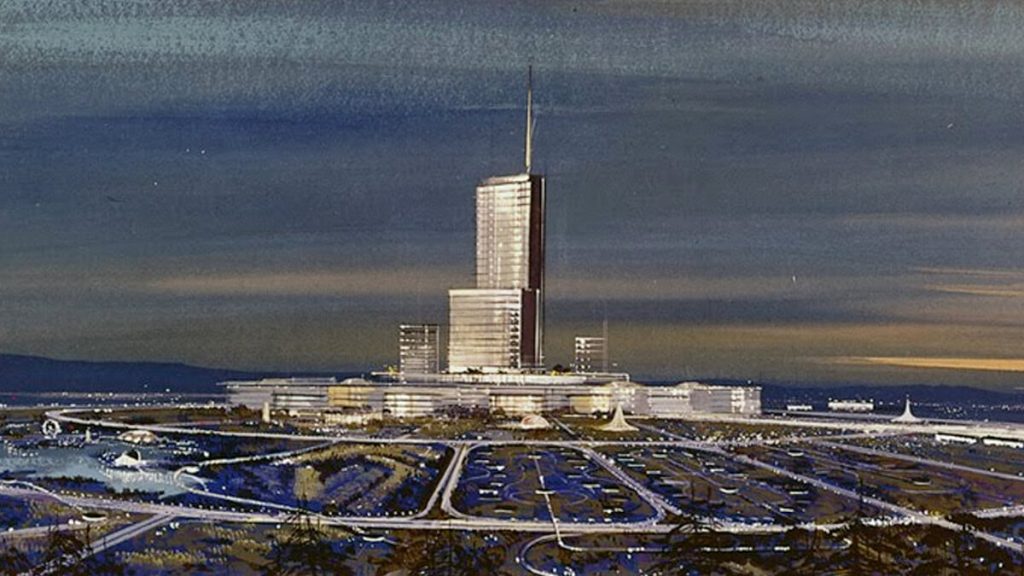 Given that the Walt Disney World Resort is still in the process of celebrating its 50th, it'll be hard for the Company to put together a solid response to this line of attack at this particular moment in time. I mean, it's been five decades now. Shouldn't that City of the Future — and all of those high paying jobs that were supposed to come along with it — have risen up out of Central Florida's swamps by now?
Of course, Disney's response will no doubt involve pointing at Epcot-the-theme park as well as at Celebration. But let's face it: A theme park and a residential community isn't exactly a City of the Future or its adjacent industrial park.
Disney's reportedly readying its response to the anticipated continuation of Governor DeSantis' effort to dissolve the Reedy Creek Improvement District. That's one of the main reasons that Geoff Morrell was let go as Disney's Communications Chief after less than four months on the job. Going forward, the Company wants to take a far more nuanced approach to how Disney Corporate handles the governor of Florida. Who has learned — given how much money has recently poured into DeSantis' war chest for his potential Presidential run in 2024 — how truly lucrative it can be to attack the Mouse House.
That's Disney's real worry right now. That what's happening in Florida — Disney being pulled into the culture war that's currently inflamed public discourse across the country — could then become a prairie fire. With other politicians across the United States deciding that they too need to get into the declaring-that-Disney-is-evil game. All with the hope that they too will then be able to fundraise off of this controversy.
The Reedy Creek Improvement District: Yesterday, Today, and Tomorrow
And that — for now, anyway — is the end of our look back at the formation of the Reedy Creek Improvement District. It's honestly hard to imagine — given how eager Florida officials initially were to make this deal, persuade Disney to spend hundreds of millions of dollars to turn some swampland in Orange & Osceola County into a world class tourist destination — to see the current state of the State's relationship with the Mouse House. But here we are.
And not to belabor the obvious, but we've got another six months 'til November. Which is when the Mid Terms happen. Not to mention when we learn whether Governor DeSantis winds up getting re-elected as the Governor of Florida. That's a lot of time for The Walt Disney Company to find itself back in the spotlight in a not-so-flattering fashion.
It's gonna be interesting to see what happens next.
This article is based on research for The Disney Dish Podcast "Episode 372", published on April 25, 2022. The Disney Dish Podcast is part of the Jim Hill Media Podcast Network.
History of Reedy Creek Improvement District: Part 3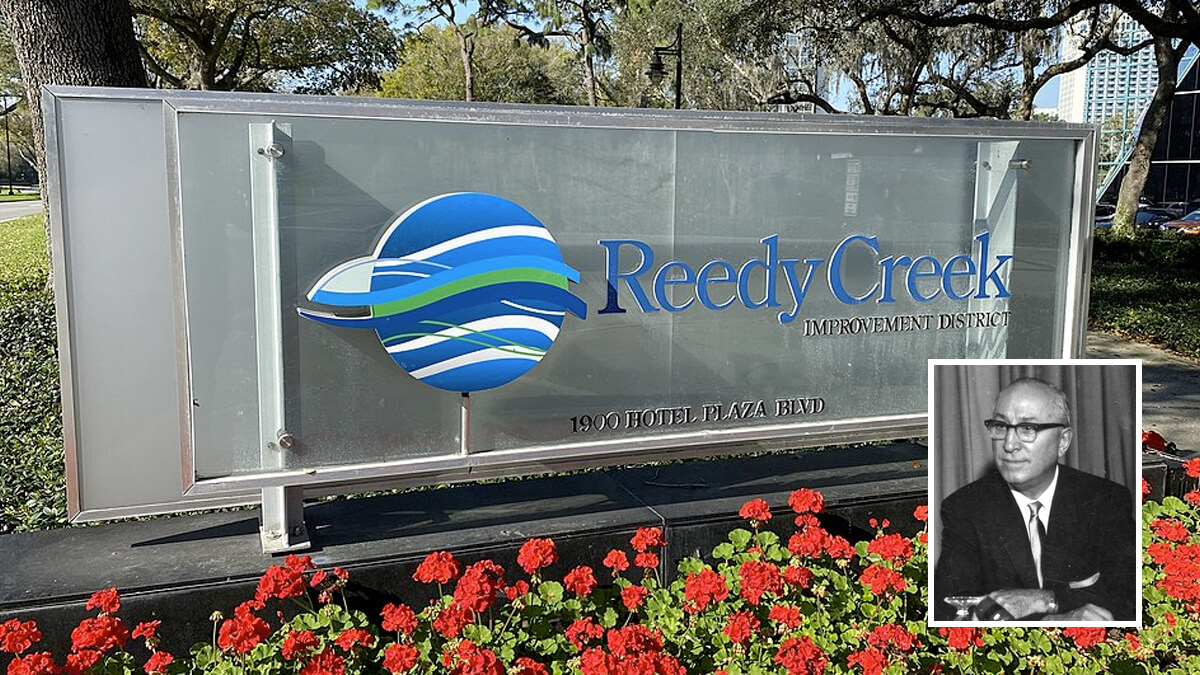 In our last Reedy Creek Improvement District article, I shared a lot of information that I had pulled from Walt Disney Productions' annual report of 1966. That fiscal year had closed back on September 30th of that same year. Staffers then pulled together the necessary info for this report about the various divisions at Disney. And the report itself was published on December 9, 1966.
Then Walt died just six days later on December 15, 1966.
Walt Disney Productions' Annual Report – Revisions After Walt's Death
This is why that year's annual report came with a wraparound. A document that had been hastily attached to the outside of that physical booklet. Which would then acknowledge … Well, the obvious.
I'm quoting from this wraparound now:
An Important Message to Our Shareholders and Employees.

This annual report was prepared prior to Walt Disney's passing.

The enthusiasm for the future you'll find in these pages stemmed directly from Walt.

In this report are the fact that supported that enthusiasm. It should confirm for you that the substantial creative assets of Walt Disney Productions — Motion Picture Properties (completed and yet to be produced), real estate, Disneyland, Character Merchandising, Music, Publications and the world-famous Disney name — will result in a successful future.

It was Walt's wish that — when the time came — he would have built an organization with the creative talents to carry on as he had established and directed it through the years. Today this organization has been built and we shall carry out this wish.

Walt Disney's preparation for the future is a solid, creative foundation. All of the plans for the future that Walt had begun — new motion pictures, the expansion of Disneyland, and our Florida and Mineral King projects as outlined in this report — will continue to move ahead.

Signed Roy O Disney. President and Chairman of the Board. Walt Disney Productions
Walt Disney Productions Real Estate
What fascinates me about this letter is — when Roy is listing what he sees as the Company's core assets in the wake of Walt's passing … Well, the batting order he puts together:
Motion Picture Properties
Real Estate
Disneyland
Then Character Merchandising
Think about that.
Roy put the Company's real estate holdings (Which — at that time — were mostly those 43 square miles of undeveloped swampland in Central Florida) ahead of Disneyland. That's really telling about Walt's brother's head space in the immediate wake of Walt's passing.
You have to remember that — at this point — Walt Disney Productions had spent roughly $5 million on the acquisition of that land. And then General Joe Potter — in order to get this land ready for construction (particularly that 2500 acre chunk right at the heart of this property which would eventually become the home of … Well, as the Company liked to describe Walt Disney World back in the late 1960s / early 1970s, "Florida's Vacation Kingdom").
Anyway … To get those 2500 acres of swampland & wetland ready for construction, General Joe had to first build 38 miles of water control channels. All of which Walt had asked Joe not to do as straight Panama Canal-like structures. But — rather — as picturesque winding canals that then blended in with the landscape.
This sort of work (as you might expect) was brutal, hot & expensive. And there were those with the Company (especially in the early part of 1967) who were wondering:
Should we really be spending this money ? I mean, Walt's gone. Does it even make sense now that we push ahead with construction of this giant project in Florida? Not to mention a ski area up in the High Sierras?
For a time, the sheer momentum of Project Florida was enough to keep that enterprise moving forward. By that I mean, Joe Potter and all that earth-moving equipment were already down in Orange & Osceola County. And even if the Company were to eventually abandon Walt's dream of building the Vacation Kingdom … Well, if they still wanted to get the full value out of Disney's massive real estate holding in Central Florida, they'd first have to complete construction of a network of access roads throughout the work site. Likewise mitigate all of that property's drainage problems. Which — again — brings us to the Reedy Creek Drainage District. The earliest iteration of the Reedy Creek Improvement District.
Florida Legislators and Project Florida
And now here are Florida's legislators. Who are still anxiously awaiting those detailed plans for Project Florida. Which Disney is supposed to finally unveil in February of 1967 at a special presentation to Orange & Osceola County officials.
This is a scary, scary time for those folks. Especially when Roy O. briefly steps away from the day-to-day operations of Walt Disney Productions so that he can then mourn the loss of his brother. This period — surprise, surprise — directly coincided with the time between when Walt passed away in December of 1966 and that date in late February of 1967 when the Company was supposed to finally unveil its plans for Project Florida.
And this whole time, officials up in Tallahassee are working the phone, calling folks who are supposedly in the know when it comes to what's going on in Anaheim & Burbank. As these elected officials try & get some information about what the current thinking inside the Mouse House might be.
Because — remember — Florida officials saw themselves as being in direct competition with the Mineral King project. The thinking back then is … Well, Walt's gone. And — in the wake of his passing — there is just no way that the Company will now go forward with construction of both of these ambitious projects. People & corporations naturally get conservative at moments like this. Disney will eventually have to regroup. Retrench.
And when that happens … One of these two projects is going to wind up falling by the wayside. And given what Project Florida could mean to the future of Orange & Osceola County (All of those jobs. Not to mention turning a chunk of Central Florida — which, back then, was largely rural and made most of its money off of growing citrus & raising cattle — into a tourist destination that could potentially eventually rival the Sunshine State's beaches) … Well, the stakes were just too high here. No matter what the costs, the folks up in Tallahassee just had to make sure that Project Florida ultimately went forward.
Mineral King or Project Florida?
That said, Florida's elected officials were heartened when they learned that — in late December of 1966 — wilderness protection groups (chief among them the Sierra Club) were mounting a challenge to Mineral King. Their chief concern was that all-weather road which the Forest Service had told Disney officials that it was willing to build in order to grant access to this ski resort which would then have to pass through a grove of Sequoias that had grown up — over time — outside of the physical boundaries of Sequoia National Forest.
To Disney's way of thinking, that was supposed to be one of the big draws for Mineral King. The natural beauty of California's High Sierras. Little did they realize that this would also eventually become one of the main drawbacks of Mineral King. That naturalists & environmentalists would have a huge problem with the idea of this giant corporation facilitating the destruction of a grove of Sequoias / old growth forest just so a bunch of tourists could then drive up into the mountains for the day and go hiking or skiing.
And the folks in Florida were right. Inside of the halls of Walt Disney Productions (at least in the early, early part of 1967), the thinking was
" … Why are we going ahead with this stupid ski area idea? Florida at least makes sense … Sort of. It's just Disneyland writ large. We — as a company — already have a decade's worth of experience when it comes to operating family fun parks. All we have to do in Orlando is replicate what we already have in Anaheim. And Boom! Profit."
That said, there were folks within Disney who argued that
" … we need to grow beyond just producing movies and operating theme parks. That's what Walt wanted to, after all. For the Company to keep changing & growing.

And the Company does have experience operating sport-related operations. Look at the Celebrity Sports Center in Denver. We've been the sole operator of that 7-acre facility with its 80 bowling alleys and Olympic-sized swimming pool since 1962. And we've been making good money off of that place.

More to the point, we — as a Company — know nothing when it comes to building cities. That's why we need to sell off all of that property in Central Florida. That Experimental Prototype Community of Tomorrow idea of Walt's is an absolute recipe for disaster now that he's gone. This is why we need to forget about Florida and concentrate all of our efforts in California.

Stick with the original Disneyland & our Studio in Burbank. And then build that ski area up in Mineral King."
So picture this. You're an elected official up in Tallahassee. And your staffers — who have been diligently working the phones — now come to you with these two distinctly different messages. Meaning that the folks at Disney themselves aren't sure about whether they want to go forward with Project Florida OR Mineral King.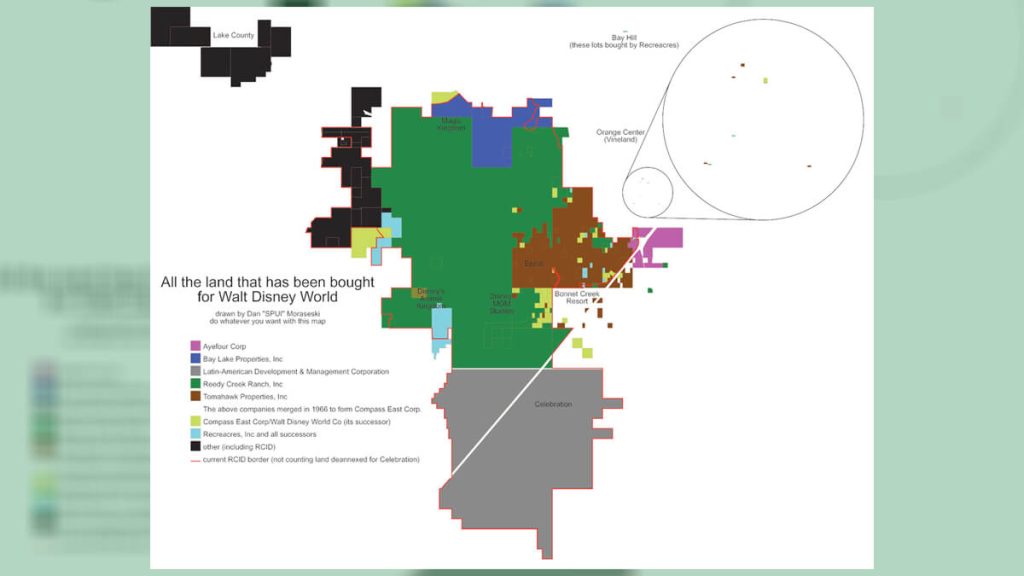 Say "Yes" – Disney's Leverage on Florida Legislators
At this point, in order to get Walt Disney Productions to say "Yes" to proceeding with developing all of this property that the Company owned in Central Florida (and then creating all sorts of jobs for the residents of largely rural Orange & Osceola County), Florida officials have to literally create a glide path to Disney saying "Yes." Remove virtually every impediment to the Company moving beyond building just those 38 miles of drainage canals.
Change the Reedy Creek Drainage District into a construction site where things then start going vertical. But to in order to make that happen … That would meaning relaxing a lot of Florida's zoning regulations and building codes.
Mind you, Florida had done this before. Back in the early 1960s, when developer Del E. Webb expressed an interest in building an East Coast version of Sun City (that hugely popular retirement community that he'd established out in the Southern California desert near the tiny town of Menifee), Sunshine State officials bent over backwards to try and make Del's dreams of a Sun City in Florida a reality.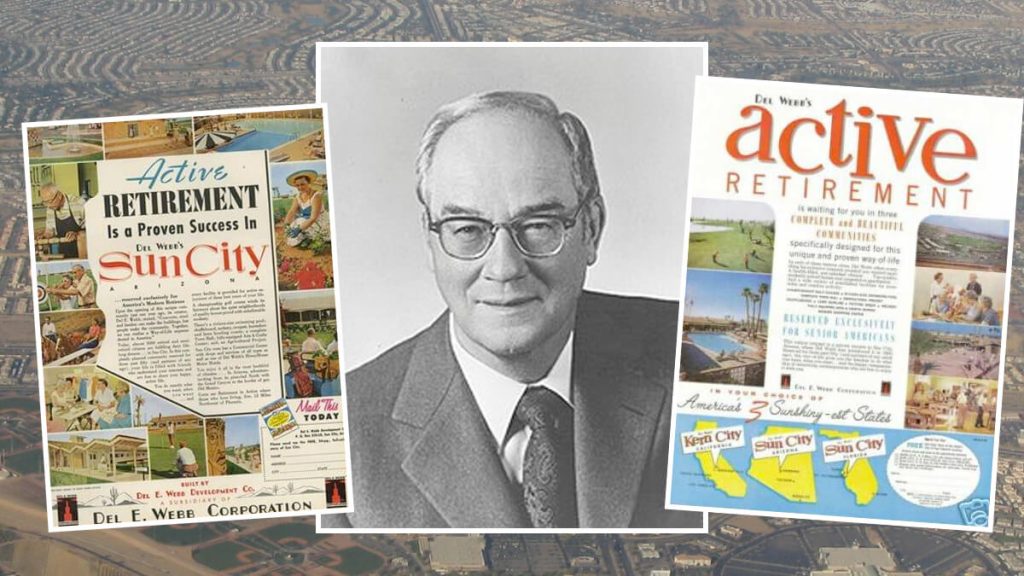 In order to get Webb to build Sun City Center in Southern Hillsborough County (to the south of Tampa and the north of Sarasota) on nearly 16 square miles of swampland … Florida made all sort of concessions to that developer. Keeping this huge chunk of property unincorporated, for example.
That — in the end — was enough to convince Webb to purchase this 12,000 acre property in early 1961. Today, Sun City Center (an age restricted retirement community) is home to over 30,000 people.
That was the thinking up in Tallahassee. If we're going to beat out that ski area up in the High Sierras, we're going to have to do for Disney what we did for Del Webb. Give them whatever they want.
History of Reedy Creek Improvement District: Part 4
In our next & final chapter, we'll talk about how the deal for the Reedy Creek Improvement District ultimately came together. And what's going to happen now, now that the Florida legislature — under the guidance of Governor DeSantis — seems determined to sunset any special districts that were created in that state prior to 1968. What this all means to Walt Disney World as well as the residents of Sun City Center.
This article is based on research for The Disney Dish Podcast "Episode 371", published on April 25, 2022. The Disney Dish Podcast is part of the Jim Hill Media Podcast Network.