"House of the Future" – The Plastic House in Disneyland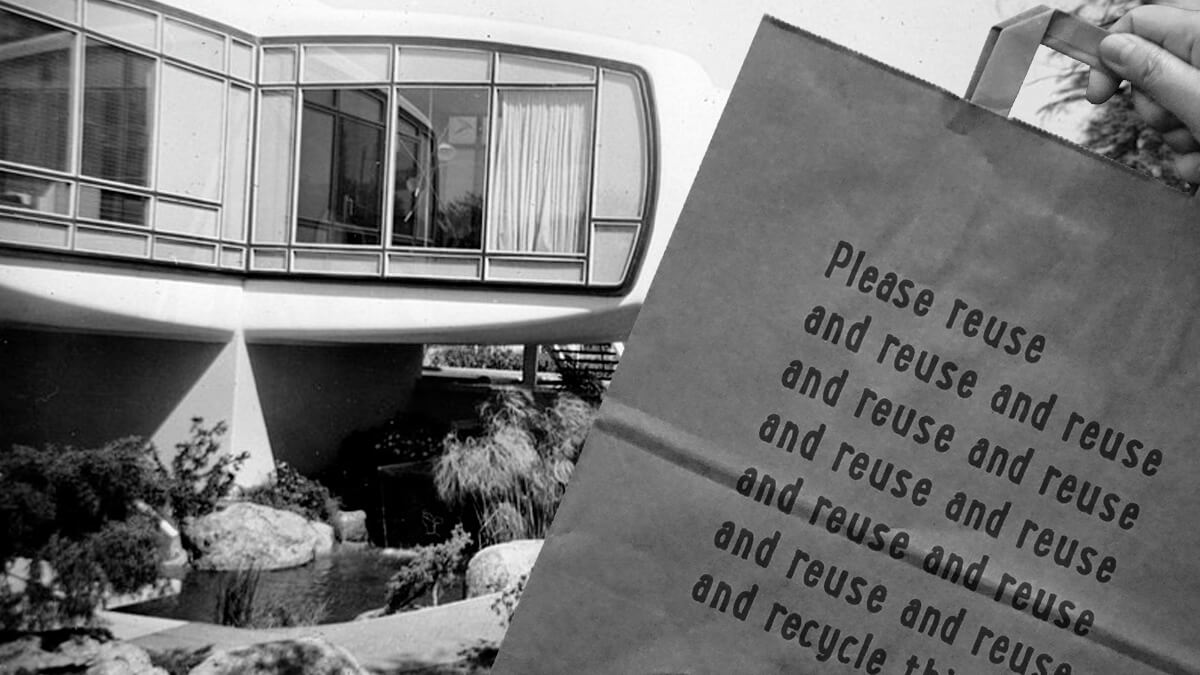 I was down in Massachusetts the other day doing some shopping at the Target in Framingham. And as I completed that transaction, I was somewhat surprised to see my groceries being loaded into … Well, not the usual Target bags (i.e., those white plastic ones with the bright red circular Target symbol on the side). But – rather – some plain jane brown paper bags.
Of course, that was because the State of Massachusetts (along with California, Connecticut, Delaware, Hawaii, Maine, New York, Oregon, Vermont & Washington State) has banned the use of plastic bags within the borders of that state.
FYI: The State of New Jersey put its own statewide ban of plastic bags in place earlier this year. On May 4, 2022, to be exact.
Which – if you're a child of the 1960s – this is kind of an ironic development. Given that – back when we were kids – the world-at-large seemed to be actively looking for even more ways to incorporate the use of plastic in our day-to-day lives.
Which reminds me of one of the odder walk-thru experiences that was ever built at Disneyland Park (Which – given that Happiest Place on Earth was once home to the Hollywood-Maxwell's Intimate Apparel Shop [This Main Street, U.S.A. store used to feature – no lie — a "Wonderful Wizard of Bras" show] – is really saying something). That was the "House of the Future," a 1,280-square-foot structure that the Monsanto Corporation proudly proclaimed was made out of 14 different types of plastics.
Given that this Tomorrowland attraction wasn't designed by the Imagineers … Well, how the "House of the Future" wind up being built right off Disneyland's Hub to the left of the entrance of Disneyland?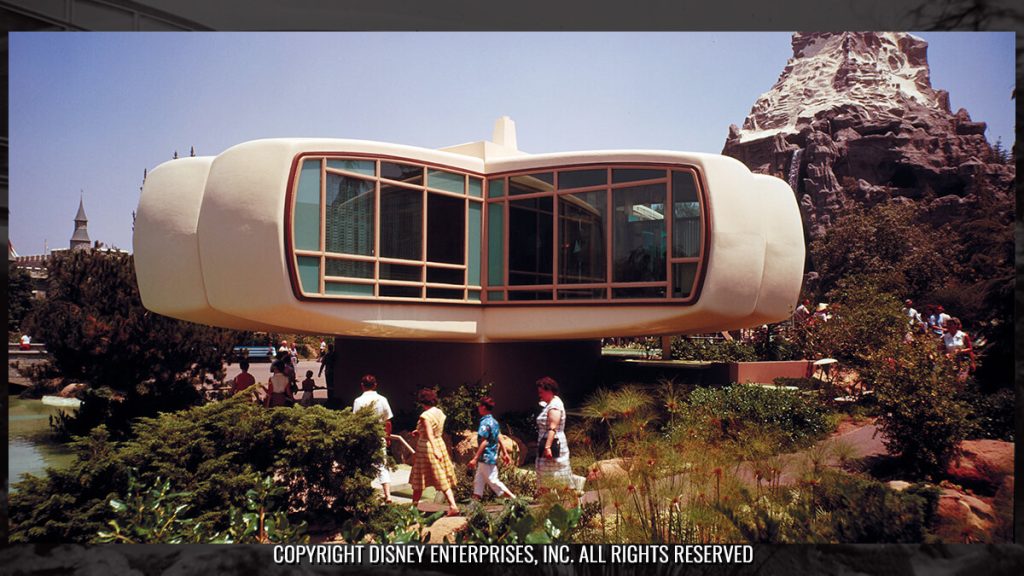 Post World War II – Moving Out of the City
Well, to tell that story, we have to jump back in time to the years right after World War II. Where – thanks to the G.I. Bill – hundreds of thousands of veterans decided to pursue college degrees. Which then allowed these former fighting men to land positions that paid much, much better than the jobs that their parents had held years previous.
And since these newly affluent veterans could now afford to move out of the city … Well, that's just what they did. Which we saw places like Levittown (i.e., America's very first planned community. The prototypical suburb, if you will) get founded in New York State's Nassau in 1947 and – in just six years time – become the home of more than 70,000 residents.
Mind you, the downside of this sort of building boom is that – by the mid-1950s – America began to experience sort of a shortage when it came to the supplies necessary to continue to build all these new homes for would-be surburbanites.
Monsanto and Plastic Homes
Which the Monsanto Corporation – which was actively looking for additional way to market the plastic that that company produced – saw as an opportunity. Which is when Monsanto executives reached out to Marvin Goody & Richard Hamilton, who were members of the faculty at the Massachusetts Institute of Technology that taught the principles of architecture to students attending that prestigious university. And those execs then asked Goody & Hamilton two intriguing questions:
Would it be possible to build an affordable modular home entirely out of plastic?
And – if so – what would that structure look like?
These two MIT professors then went off and considered this problem. And the concept that Goody & Hamilton eventually came up with was … Well, this prefabricated plastic structure that consisted of four cantilevered "wings" that would then rise up off of a concrete slab, which would then as the foundation for what Monsanto was now calling its "House of the Future."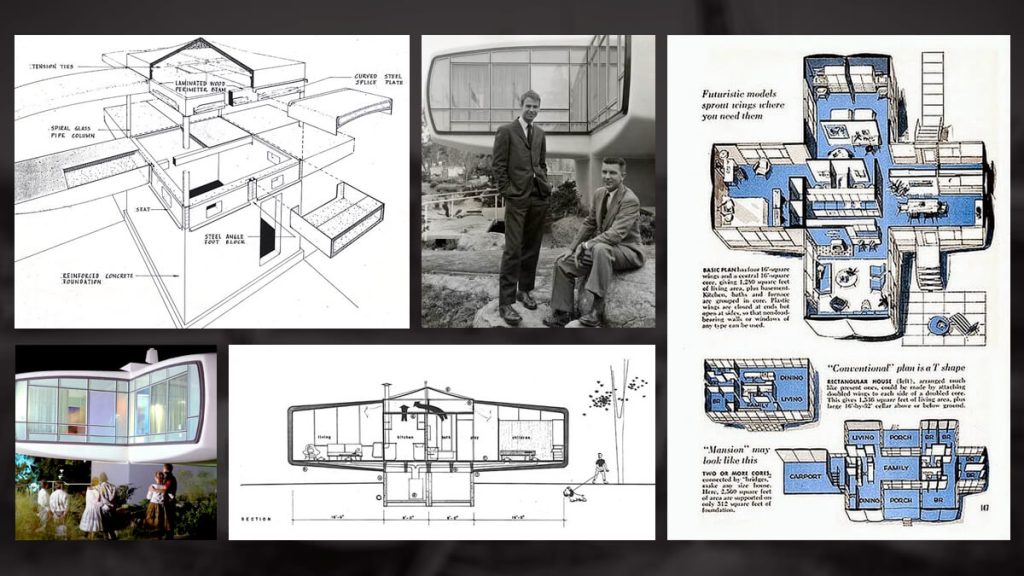 And the executives at Monsanto just loved what Goody & Hamilton had designed & developed. They knew that – if this prefabricated plastic home prototype were promoted properly and if enough consumers then indicated to home-builders that they'd be interested in purchasing & then living in this sort of modular structure – the "House of the Future" could turn into a significant new revenue stream for that corporation.
Which is when Monsanto then began casting about for a very prominent spot where they could then build a "House of the Future" prototype. Some place where thousands of people could then tour this prefabricated plastic home every single day.
Walt Disney and Problems with Tomorrowland
Which brings us to Walt Disney. Who – in the mid-1950s – has a few problems of his own. Chief among them being that his then-newly-built Disneyland Park desperately needed some new attractions. Especially in the Tomorrowland section of Walt's family fun park.
What's genuinely ironic here is that – in spite of the fact that "Man in Space," "Man and the Moon" and "Mars and Beyond" (i.e., A trio of "Tomorrowland" themed episodes of the "Disneyland" TV show which then aired on that ABC anthology series between March of 1955 & December of 1957) were among the most popular episodes to air on this program … The Tomorrowland section of Disneyland Park was this under-developed hodge-podge of pseudo-futuristic elements.
I mean, sure. This side of Walt's family fun park had the "Flight to the Moon" ride. Likewise "Space Station X-1." But right next door to these two genuinely forward-looking attractions were shows that had absolutely nothing to do with the future. Walk-through exhibits like the Dutch Boy Color Gallery, Kaiser's Hall of Aluminum and Crane's Bathroom of the Future.
Monsanto Corporation Partnership with Walt Disney Productions
Now it's important to note here that the Monsanto Corporation and Walt Disney Productions already had a working relationship at this point. After all, Monsanto was already sponsoring an attraction at Disneyland, the Hall of Chemistry.
And it's about this same time (we're talking late 1956) that some enterprising executive at Monsanto thinks: "No wait a minute. Disneyland gets thousands of visitors every day. And if we build the prototype of our prefabricated plastic home there, our 'House of the Future' project would then virtually be guaranteed to get plenty of foot traffic."
"House of the Future" in Disneyland
So they then reach out to Walt. And as the story goes, the executives at Monsanto hadn't even finished their pitch for this prototype-prefabricated-plastic-home-to-be-displayed-at-Disneyland idea when Disney said "Yes." In fact, according to what Disney Legend John Hench once told me, Walt was so enthusiastic about Monsanto's "House of the Future" that he proposed that this prototype of a prefabricated plastic home not just be built in Tomorrowland but that it be built right at the entrance of Tomorrowland. As in: That the "House of the Future" would be one of the very first things Guests would see when they arrived at Disneyland's Hub.
More importantly, that Monsanto's prototype of a prefabricated plastic house be built right across the way from the most photographed thing in Walt's family fun park. Which was – of course – Sleeping Beauty Castle.
To say that this project was fast-tracked is an understatement. Within weeks of signing the deal with Monsanto, the folks at Disneyland were already pouring the concrete slab that this 1,280-square-foot house would then sit on.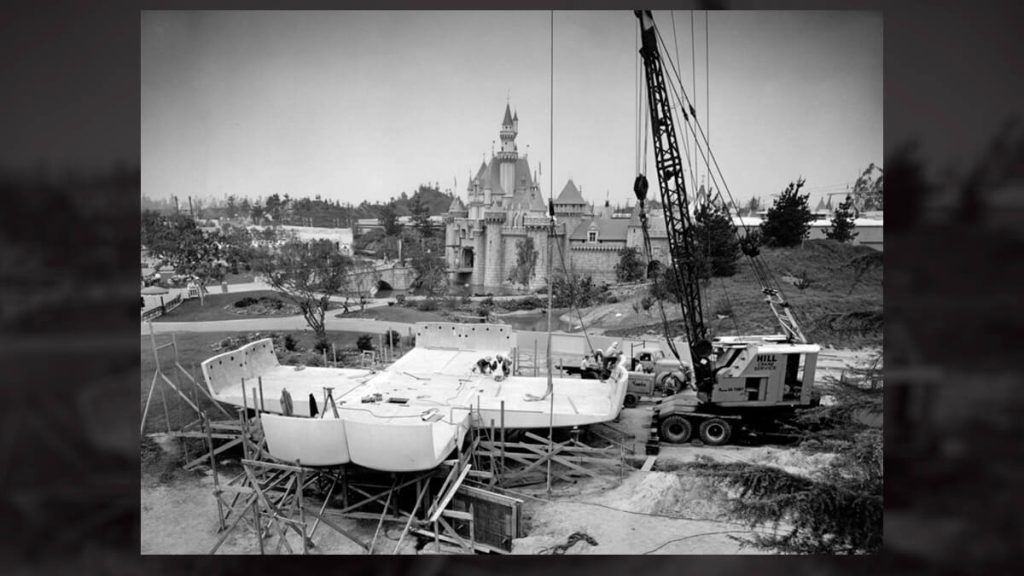 By the way, to make sure that virtually every Disneyland Guest would be able to tour the "House of the Future" when they visited Walt's family fun park, this new Tomorrowland attraction was heavily hyped as being a freebie. As was Monsanto's Hall of Chemistry, by the way.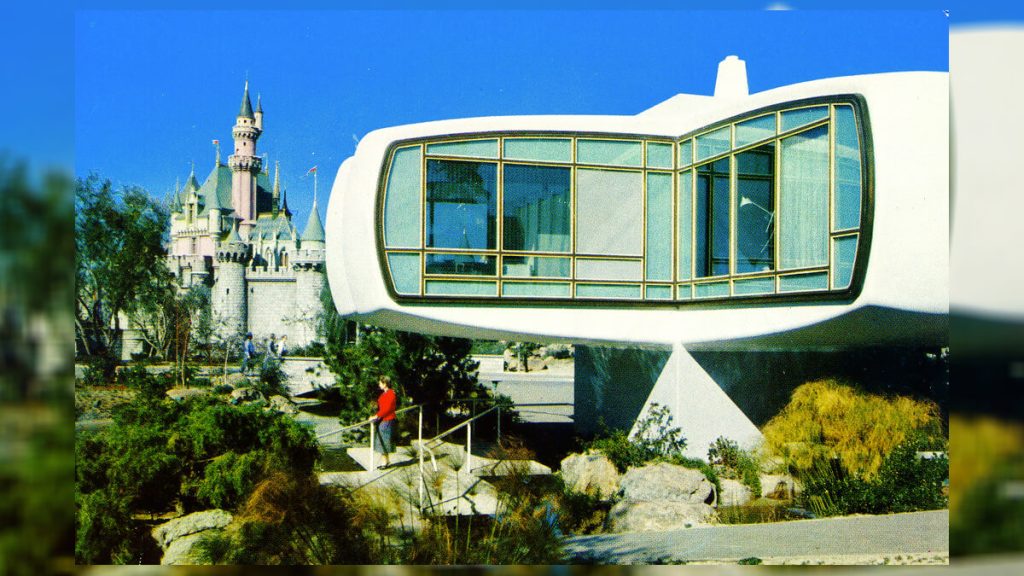 Opening Monsanto's "House of the Future" at Disneyland
And Walt … Of the heels of construction of Monsanto's "House of the Future" beginning, he decided to double down on expanding & upgrading Disneyland's Tomorrowland section. Which is why — just two days before Monsanto's prototype of a prefabricated plastic home opened to the public on June 12, 1957, Walt cut the ribbon on the Viewliner. Which was advertised as the "Train of Tomorrow." Though –truth be told – WED's resident mechanical genius Bob Gurr had cobbled together this futuristic-looking narrow gauge train out of parts he'd harvested off of various Oldsmobiles & Jeeps.
Anyway … Monsanto's instincts when it came to building its "House of the Future" at Disneyland Park translating into lots of foot traffic for its prefabricated plastic home prototype turned out to be dead on. Within the first six weeks that this new Tomorrowland attraction was open to the public, over 435,000 people toured the "House of the Future." That's over 10,000 Guests per day.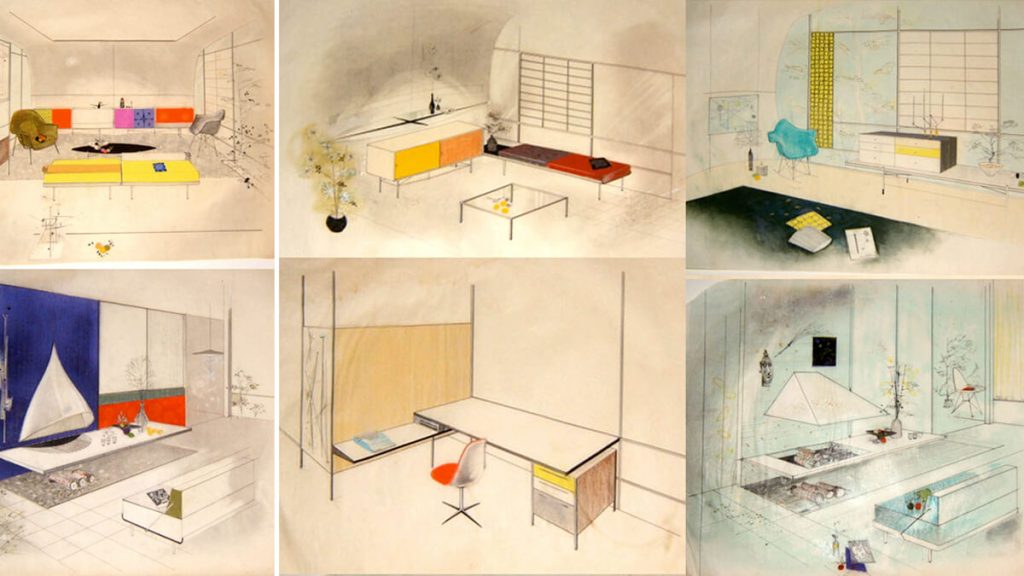 And the Disneyland hosts & hostesses (That's what Disneyland employees were called back in the late 1950s / early 1960s. Not Cast Members. But – rather – hosts & hostesses) who led tour groups through the prototype of Monsanto's prefabricated home proudly talked about the 14 different types of plastic that had been used in its construction. They also pointed out the cutting edge tech that had been incorporated into this house's design. Things like a microwave oven.
The Future of Plastic Homes
But while over 20 million people who trooped through Monsanto's "House of the Future" during its decade-long stay in Tomorrowland (and then "Ooohed" & "Aaahed" at things like this home's ultra sonic dishwasher. Which didn't use any water to clean the all-plastic dishes & utensils that were used in its kitchen) … Unfortunately, Monsanto got very few takers for its prefabricated plastic homes.
Which is why – by the early 1960s – the Company had all but abandoned its original idea of making the manufacture of prefabricated plastic homes a new division for the Monsanto Corporation. Which is why – when Walt approached Monsanto around this same time and said "Hey, we're thinking of redoing Disneyland's Tomorrowland area. Do you want to stay on as a sponsor of something on this side of the Park?," Monsanto's response was "Yeah. But we want something new. Pull down the 'House of the Future' and close the' Hall of Chemistry.' This time around, we want some sort of Tomorrowland attraction that the Guests can ride on."
And that's exactly what the Imagineers did. They gutted Monsanto's "Hall Of Chemistry" and then placed an Omnimover inside of that Tomorrowland show building. And that became the ride system which then took Disneyland visitors on an "Adventure Thru Inner Space." Which first opened to the public on August 5, 1967.
What Happened to Disneylands "House of the Future"?
As for the "House of the Future" … Given that that structure was constructed out of 14 different types of plastics, pulling down this Tomorrowland attraction proved to be problematic. What was supposed to be completed in a single day eventually stretched out into a two week-long ordeal. Largely because this prefabricated plastic house stymied all of the usual methods that Disneyland employees used (i.e., wrecking balls, bulldozers, etc) when they were leveling a show building. In time, they had to go at this futuristic structure with hacksaws & chain pullers. Because that was the only way to reduce the "House of the Future" to small enough pieces that it could then be hauled away.
Mind you, the concrete slab that had served as the "House of the Future" 's foundation stayed in place. As did the vaguely futuristic-looking landscaping that Morgan "Bill" Evans and the rest of Disneyland's horticultural team had planted around this Tomorrowland walk-thu.
Jump ahead a few years. And now that landscaping (which had been originally planted back in 1957 to give the "House of the Future" a lush, green frame) had grown up so much that this section of the Hub was then redubbed this theme park's Alpine Garden. With the idea now being that this chunk of greenery would now serve as the forested foothills of Matterhorn Mountain.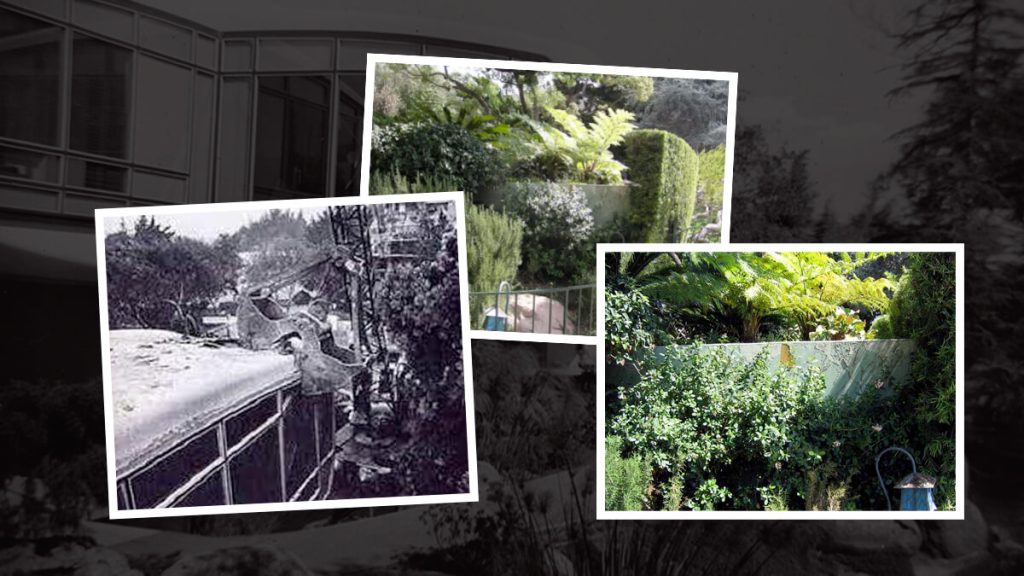 That was done in the early 1970s. Nearly 15 years after that, someone else moved into the neighborhood: The Little Mermaid. Which is why – in 1996 – Disneyland's Alpine Garden was renamed King Triton's Garden. Then in 2008, this part of that theme park (which had been changed into a place where Guests could then meet & greet with Ariel) was reimagined as Pixie Hollow. Which then gave Disneyland visitors a place where they could go interact with Tinker Bell.
This meet & greet is still operational at the Happiest Place on Earth. That said, if you look off the right of that oversized teapot which Tink calls home … Well, you can still see that concrete slab which – over 50 years ago now – once served as the foundation for the "House of the Future."
FYI: If you'd like to learn more about this Tomorrowland walk-thru, Dave Bossert – the author of "Kem Weber: Mid-Century Furniture Designs for the Disney Studios" and "Claude Coats: Walt Disney's Imagineer—The Making of Disneyland, From Toad Hall to the Haunted Mansion and Beyond" – is in the process of writing a brand-new book, "The House of the Future: Walt Disney, MIT, and Monsanto's Vision of Tomorrow." Which is due to be published sometime in 2023.
This article is based on research for The Disney Dish Podcast "Episode 379", published on June 20, 2022. The Disney Dish Podcast is part of the Jim Hill Media Podcast Network.
Abraham Lincoln is Here to Stay – Walt's Disneyland Attraction That "Can't" Be Replaced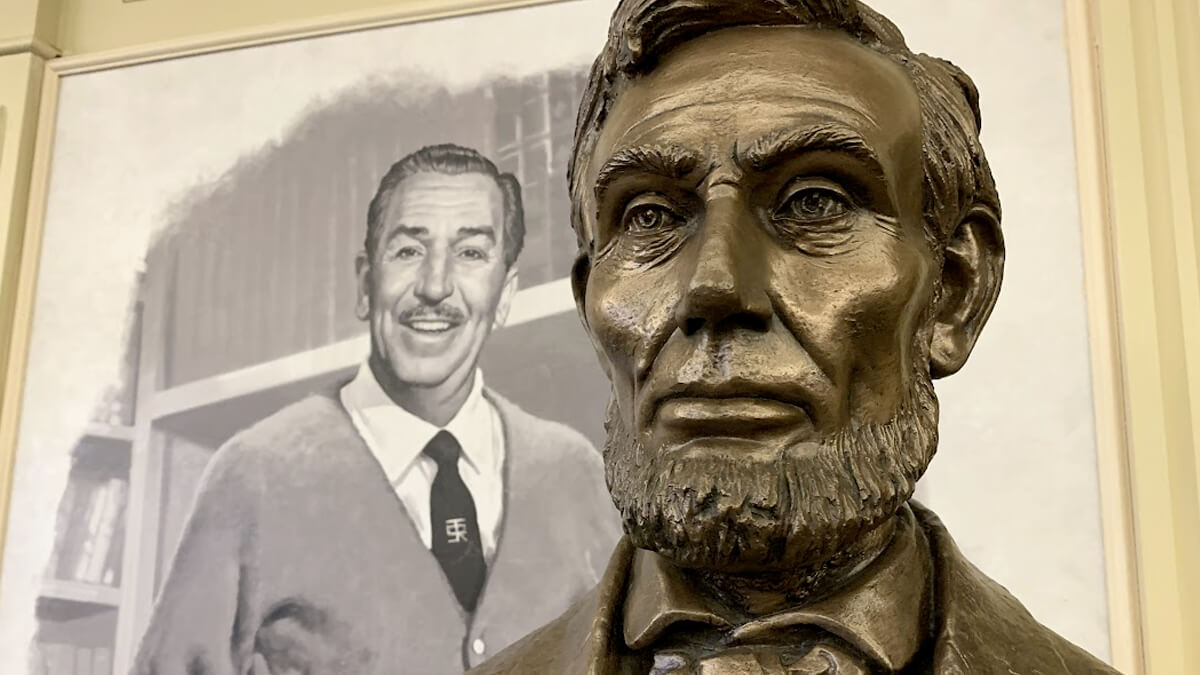 Happy Presidents Day. Which is when we – as Americans – are supposed to honor the memory of two of our country's commanders-in-chief: George Washington (born on February 22, 1732) and Abraham Lincoln (born February 12, 1809).
Walt Disney and Abraham Lincoln
Walt Disney was a life-long admirer of Honest Abe. Walt often told the tale of how – back when he was a kid – Disney fashioned a stove pipe hat & a fake beard for himself (supposedly made out of poster paper). Then – dressed in this outfit — Disney stood in front of his grade class and recited Lincoln's Gettysburg address from memory.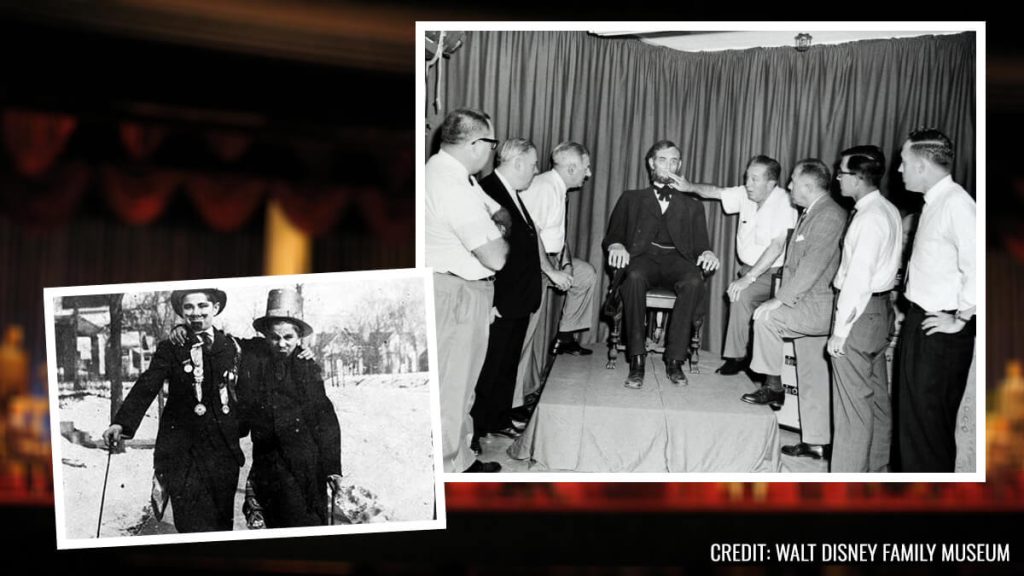 Walt's obvious affection & admiration for our 16th President continued well into his adulthood. Which explains "Great Moments with Mr. Lincoln," an attraction that the Imagineers originally created for the 1964 – 1965 New York World's Fair which was built around an Audio Animatronic version of Abraham Lincoln.
This robotic Lincoln caused such a sensation among visitors to Flushing Meadows that – even before this edition of the New York World's Fair ended on October 15, 1965 – Walt had a second version of "Great Moments with Mr. Lincoln" built. Which he then had installed inside of the Main Street Opera House at Disneyland Park.
Disneyland's "Great Moments with Mr. Lincoln"
This second version of "Great Moments with Mr. Lincoln" opened on July 18, 1965. But the West Coast clone of this New York World's Fair show never quite caught on the way that the East Coast original had. Even when Disneyland began giving away a free pass to this Main Street, U.S.A. attraction with every ticket book sold to Guests, the Californian version of "Great Moments" failed to capture even a tenth of the people who visited this theme park annually.
And given that the Main Street Opera House was this 500-seat venue right up by the entrance of Walt's family fun park, it made the Imagineers crazy that this beautifully appointed / centrally located theater would only have a handful of people inside at most performances of "Great Moments with Mr. Lincoln."
Which is why – after Walt passed away in December of 1966 – WDI began quietly casting around for show ideas that they could possibly use as replacements for the seriously under-performing "Great Moments."
Walt Disney Replaces "Great Moments"
Ironically, it was Walt himself who provided the solution to Anaheim's "Great Moments" problem. As part of Walt Disney Productions' 50th anniversary celebration, the Imagineers mounted "The Walt Disney Story" inside of the Main Street Opera House. This exhibit (which featured a lobby filled with the awards that Walt had won over his lifetime as well as a film which then looked back at Disney's career) necessitated the closing of Disneyland's "Great Moments with Mr. Lincoln."
Which did NOT sit well with the good folks of Orange County. This corner of Southern California is known nationwide as a conservative stronghold. Which is why – when these folks learned that the April 8, 1973 opening of "The Walt Disney Story" at Disneyland meant that that theme park's robotic version of Honest Abe would now go into storage – these people began bombarding the Mouse House with angry phone calls & letters.
"The Walt Disney Story featuring Great Moments with Mr. Lincoln"
Which is why — less than two years into the run of "The Walt Disney Story" at Disneyland Park – the Company caved. The Main Street Opera House closed its doors on February 12, 1975 and began yet another revamping. Some four months later, this 500-seat venue re-opened with what can politely be described as something of a camel of an attraction: "The Walt Disney Story featuring Great Moments with Mr. Lincoln."
The way that this retooled version of this Main Street, U.S.A. attraction worked was … Well, the lobby area of the Main Street Opera House now celebrated the life & career of Walt Disney. Whereas once Guest entered the actual theater portion of Disneyland's opera house … This was where the "Great Moments with Mr. Lincoln" show from the 1964 – 1964 New York World's Fair was now framed in such a way that this AA-based attraction was supposed to be seen as one of Walt's greatest achievements. This technological triumph that then paid tribute to our 16th president.
This creative compromise may have addressed many of the concerns that Southern Californian conservatives had (not to mention quelling a lot of the complaints that had been coming out of Orange County). But it also frustrated Disneyland managers as well as the Imagineers.
"And why was that?," you ask. Because the revised "Walt Disney Story featuring Great Moments with Mr. Lincoln" hadn't solved the Main Street Opera House's attendance problem. This nearly-10-year-old attraction was now even less popular with Disneyland visitors. Fewer than 1-in-20 Guests now bothered to check out this show during their day at the Park.
Bringing "Hall of Presidents" to Disneyland
What especially made the Imagineers crazy about Mr. Lincoln's return to the Main Street Opera House is that this development then derailed their plans to bring Disney World's "Hall of Presidents" to Anaheim.
How many of you remember the "Disneyland Presents a Preview of Coming Attractions" display that used to be on Main Street, U.S.A.? This collection of models & concept art was housed inside of that theme park's old Wurlitzer Music Hall building. And from 1973 to 1989, Guests could drop by here for free and then check out some of the rides, shows & attractions that the Imagineers were considering for construction in Anaheim.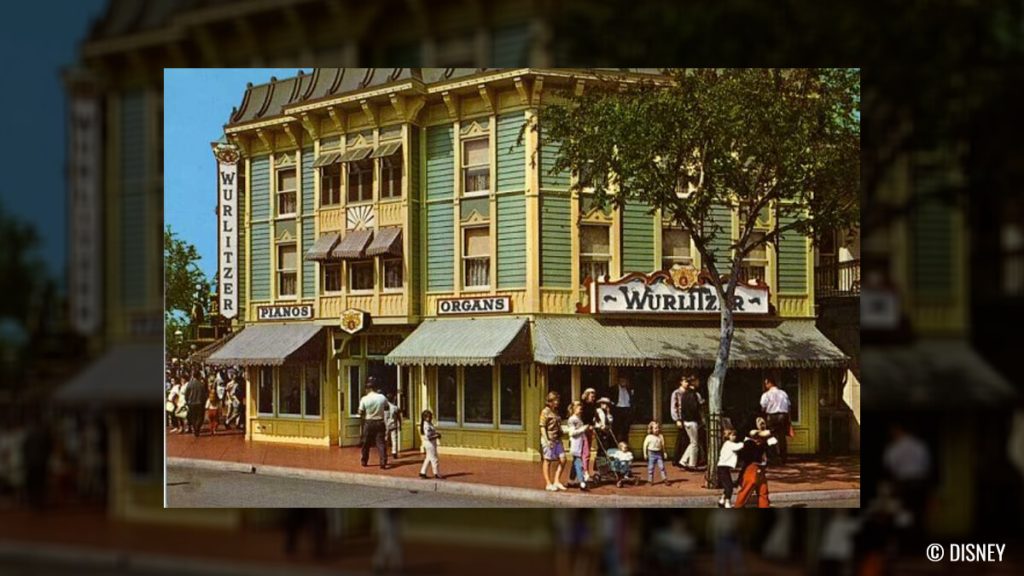 And among those ideas was a West Coast version of WDW's "Hall of Presidents." Which – if all had gone according to plan – was to have opened at Disneyland Park just in time for the Summer of 1976 (i.e., America's bicentennial).
But what with the good folks of Orange County insisting on "Great Moments with Mr. Lincoln" 's return to the Main Street Opera House ASAP back in 1973, that idea was now off the table. Which is why – instead of a West Coast version of WDW's "Hall of Presidents" – Disneyland got another patriotic, Audio Animatronic-filled show out ahead of America's bicentennial. And that located-in-Tomorrowland attraction was "America Sings," which opened at Disneyland Park on June 29, 1974.
Meanwhile, attendance levels for the "Walt Disney Story featuring Great Moments with Mr. Lincoln" show continued to erode (Now fewer than 1-in-50 visitors bothered to swing by the Main Street Opera House to check out that show during their day in the Park). The Imagineers tried to use cutting edge-tech as a reason to lure people back to this under-attended attraction. Which is why — in 1984 — they installed an all-new Lincoln in this theater that (at that time, anyway) was the most sophisticated Animatronic figure ever built for a Disney park. It didn't matter. People still stayed away.
"MuppetVision 3D" to Replace "Great Moments" at Disneyland
Which brings us to the Summer of 1990. Prior to his tragic passing on May 16th of that year, Jim Henson had completed production of "MuppetVision 3D." Then-Disney CEO Michael Eisner wanted to honor his friend's memory by having "MuppetVision 3D" open at Disney theme parks on both coasts in the Spring of 1991.
Down in Florida, "Kermit the Frog presents MuppetVision 3D" would be shown inside of a purpose-built theater at Disney-MGM Studios. Whereas the West Coast version of this attraction … Well, by now, attendance levels for "The Walt Disney Story featuring Great Moments with Mr. Lincoln" had fallen straight through the floor. Only 1-out-of-a-100 Guests ever bothered to drop by the Main Street Opera house. And even with that new cutting-edge Lincoln AA figure (which made use of the very same tech that powered the Wicked Witch of the West AA figure in "The Great Movie Ride" at Disney-MGM Studios theme park) on display, this seriously-under-attended show often experienced walk-outs.
Which is why the Imagineers now wanted to install "Kermit the Frog presents MuppetVision 3D" in the Main Street Opera House at Disneyland. Given that the theater that the Imagineers were building in Florida was to have 564 seats and the one that already existed in Anaheim had 500 seats … These two venues for "MuppetVision 3D" basically had the same hourly capacity.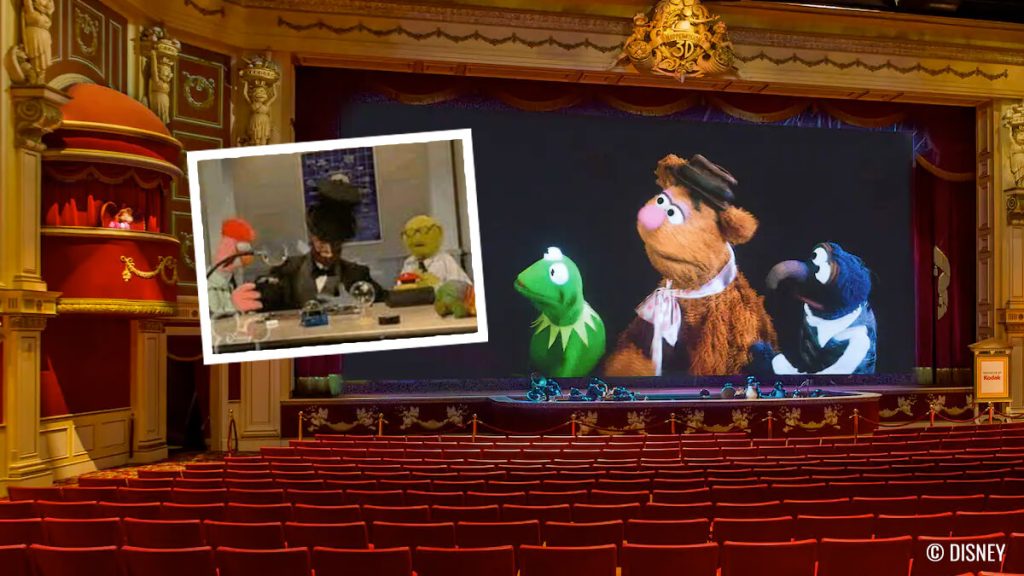 So the plan was that "The Walt Disney Story featuring Great Moments with Mr. Lincoln" was to quietly close after the Labor Day Weekend in 1990. Then the Imagineers would retool the Main Street Opera House both inside & out so that it would then be a suitable venue for the Muppets. The Imagineers were already inside of this Main Street, U.S.A. taking measurements for this proposed redo when these plans then went off the rails.
Abe Lincoln to Stay
You see – on August 19, 1990 – news broke about this upcoming redo of the Main Street Opera House. Both the Orange County Register & the Los Angeles Times ran stories about this proposed show swap. And while Disneyland spokesman Bob tried to put things in the best possible light, insisting that this Disneyland theater would soon receive a floor-to-ceiling refurbishment, that this venue would look better than it had in years, Orange County conservatives would have none of this. In a large way, it was 1973 all over again. They quickly flooded the Company's switchboards with thousands of angry phone calls.
And within one week's time, the Los Angeles Times actually ran an article with this headline:
Will Disneyland's "Great Moments with Mr. Lincoln" Ever Get Replaced?
And since then … Well, while the Imagineers still periodically make an attempt at sprucing up Disneyland's "Great Moments with Mr. Lincoln" show (How many of you remember that god-awful binaural sound version of this attraction which debuted in Anaheim back in July of 2001? That version — which featured a 3D haircut as well as Honest Abe seeming to bend over & whisper into Guests' ears – earned the comical nickname, "Creepy Moments with Mr. Lincoln." It was quietly shuttered in February of 2005) … Nowadays, the "Great Moments with Mr. Lincoln" show at Disneyland Park is considered untouchable.
Whenever the Imagineers have tried in the past to put a different show in this space at that theme park, Orange County conservatives have risen up in force. And as a direct result, the Main Street Opera is one of the most under-utilized facilities at Disneyland Park. Last I heard, the average attendance for a presentation of this Audio Animatronic show is 30 people.
But on the other hand, if you're looking for something to do at Disneyland and you happen to be headed there on Presidents Day Weekend … Well, there's one place at that theme park where I can guarantee you that you won't encounter a line.
Park's Closed: "Vacation '58" Inspired by Seasonal Closing at Disneyland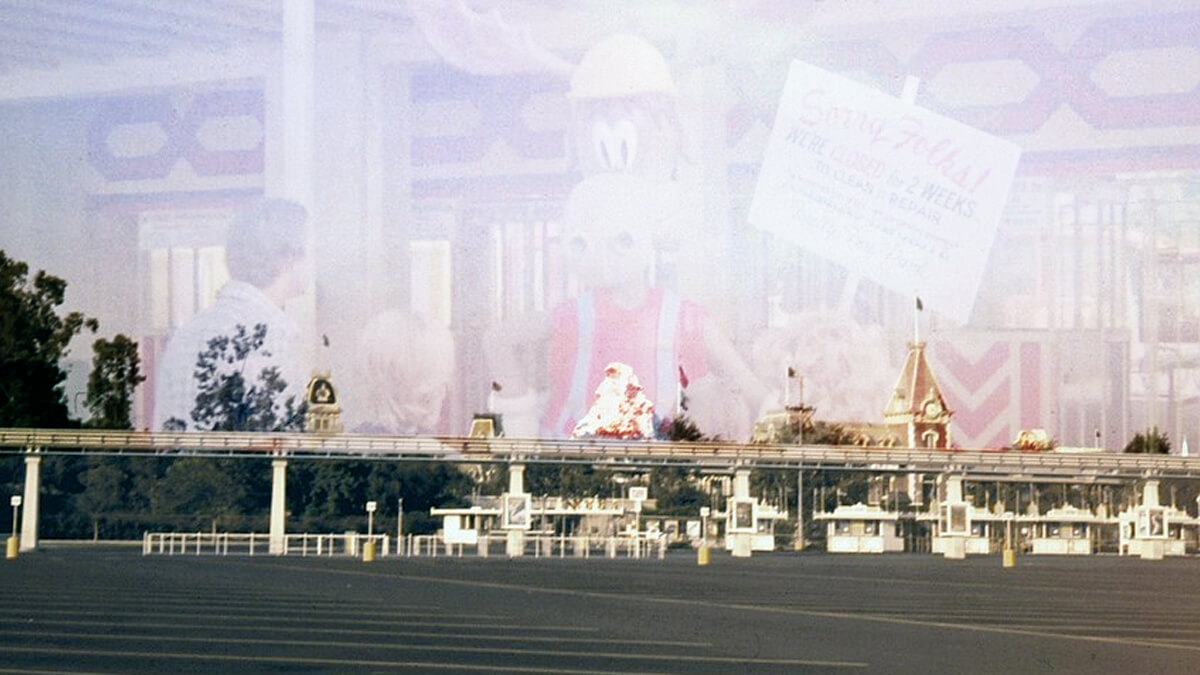 This year is the 30th anniversary of the release of National Lampoon's "Vacation." Warner Bros. released this Harold Ramis movie to theaters back in July of 1983.
John Hughes adapted his own short story (i.e., "Vacation '58," which had run in "National Lampoon" magazine less than four years earlier. The September 1979 issue, to be exact) to the screen.
Key difference between "Vacation '58" and "National Lampoon's Vacation" is that the movie follows the Griswold family on their epic journey to Walley World. Whereas the short story that Hughes wrote (i.e., "Vacation '58") follows an unnamed family to a different theme park. The actual Disneyland in Anaheim.
Let me remove any doubt here. Here's the actual opening line to John Hughes' "Vacation '58."
What's kind of intriguing about the plot complication that sets Act 3 of "National Lampoon's Vacation" in motion (i.e., that – just as the Grisworld arrive at Walley World [after a harrowing cross-country journey] – they discover that "America's favorite family fun park" is closed for two weeks for cleaning and to make repairs) is that … Well, it's based on something that Hughes learned about the real Disneyland. That – from 1958 through 1985 [a total of 27 years] the Happiest Place on Earth used to close two days a week during the slower times of year. To be specific, Mondays & Tuesday in the Fall & early Winter as well as in the late Winter / early Spring.
Want to stress here: Two days a week versus the two weeks each year in "National Lampoon's Vacation."
When Did Disneyland Start Opening 7-Days a Week?
It wasn't 'til February 6, 1985 that Disneyland Park formally switched to being a seven-day-a-week operation. This was just four months after Michael Eisner had become Disney's new CEO. And part of his effort to get as much profit as possible out of Disney's theme parks.
Which is a trifle ironic. Given that – back in December of 1958 – Disneyland deliberately switched over to an open-five-days-a-week-during-the-off-season schedule in an effort to get Anaheim's operating costs under control. But I'm getting ahead of myself here.
Early Disneyland Operations – Ticket Books and Ticket Booths
So let's start with the obvious: When Disneyland Park first opened in July of 1955, there had never been one of these before. So the Happiest Place on Earth was a learn-as-you-go operation.
So things that are now closely associated with a visit to Disneyland back in the day (EX: Having to purchase a book of tickets before you entered that theme park. Which then pushed Guests to go seek out various A, B, C & D Ticket attractions around the grounds) … Well, that form of admission media didn't come online 'til October 11, 1955. Some three months after Disneyland Park first open.
Prior to this, if you wanted to go on a ride at Disneyland, you had to first get on line at one of the Park's omni-present ticket booth. Once you got to the front of that line, you then had to open your wallet and purchase enough tickets for your entire family to enjoy that attraction. Only then could you go over to the actual attraction and get in line for that experience. Where – just before boarding that ride – you then surrendered that ticket.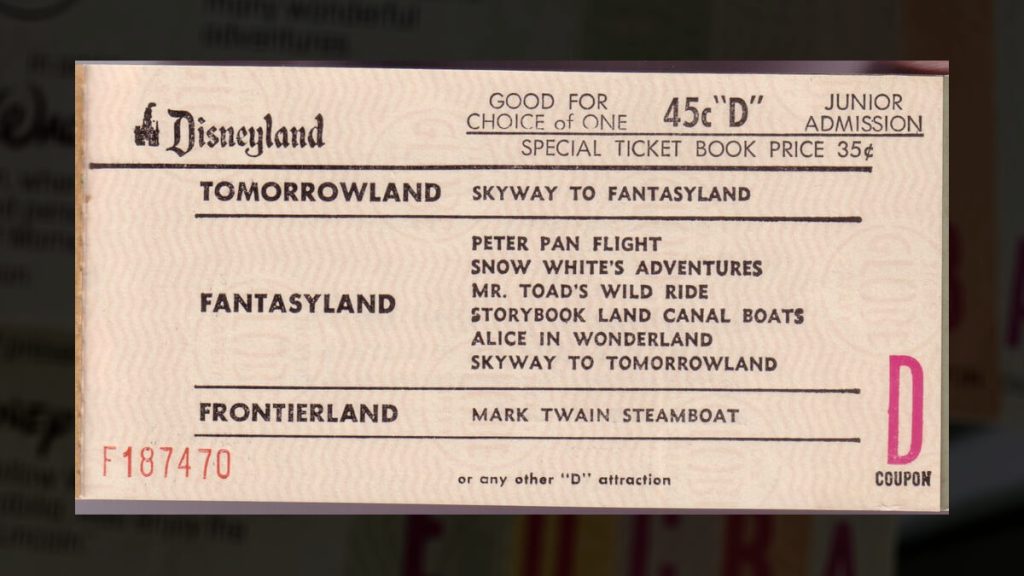 Disney Parks Getting Too Expensive
Interesting side note: It's now an established part of the on-going Disney theme park narrative that "Going to the Parks has just gotten to be too expensive and/or complicated," what with the institution of Lightning Lane and then forcing people to use virtual queues if they want to experience newer attractions at the Parks like "Guardians of the Galaxy: Cosmic Rewind" at Epcot or "Mickey & Minnie's Runaway Railway" out in Anaheim.
Walt Fixes "Expensive" Impression
What fascinates me about the parallels here is that … When Walt began to see the same thing bubble up in press coverage for his new family fun park (i.e., All of those Summer-of-1955 stories in newspapers & magazines about how expensive it was to visit Disneyland. How – whenever a Guest visited this place – they were constantly being forced to repeatedly open their wallet), his immediate reaction was "We need to fix this now. I don't want people coming away from their visit to Disneyland with this impression." And by October 11, 1955 (less than 3 months after Disneyland Park first opened), they had a fix in place.
Lightning Lane – Raising Prices
Counter this with Lightning Lane. Which was first introduced at Walt Disney World in October of 2021. Which has gotten miserable press since Day One (and is a large part of people's growing perception that it's just gotten too expensive to take their family on vacation to WDW). Disney Corporate knows about this (hence the number of times questions about this perception has bubbled up in recent surveys that Resort has sent out).
And what does the Company do with this info? During the 2022 holiday season, Disney Parks actually raised the prices on individual Lightning Lanes for popular attractions like "Rise of the Resistance" to $22 a person.
Conclusion: Disney knows about all the bad press the Resort is getting lately but doesn't care. They like all of the short-term money that Lightning Lane is pulling in right now and are deliberately overlooking all of the long-term implications of the narrative getting out there that going to WDW is getting too expensive.
"Spend Dollars to Get People Back" – Disney Cutting Corners on Projects
Which reminds me of something Walt once said when an Imagineer suggested that the Company could save a few bucks by cutting corners on a particular project: "If people ever stop coming to the Park because they think we cut corners on a project, the few cents we saved ultimately aren't going to matter. We're then going to have to spend dollars to get those people back."
That's what worries me about Disney's current situation. What's the Company ultimately going to have to do convince those people who now think that a trip to WDW has just gotten too expensive for the family to come back.
Disneyland Parking Closing on Mondays & Tuesdays
Back to Disneyland Park closing on Mondays & Tuesdays during the off-season … When did this practice start? Let me share something that I just found in the 1958 edition of Walt Disney Productions' annual report. This document (which was published on December 23, 1958) states that:
So – reading between the lines here – in Disneyland's second year of operation (July 1956 – June 1957), the folks down in Anaheim experimented with keeping Walt's family fun park open six days a week during the slower times of the year. Which – I'm told – resulted in all sort of angry people at the entrance of Disneyland's parking lot. Who had to drive down to Anaheim for the day to experience the Happiest Place on Earth only to find said place closed.
Okay. So for Disneyland's third year of operation (July 1957 – June 1958) on Walt's orders, Disneyland is then kept open seven days a week all year long. Which proves to be a problem on the off-season, given that there are days in the late Fall / early Spring when there are more Cast Members working in the Park than there are Guests coming through the turnstiles.
Which explains this line in the 1958 version of Walt Disney Productions' annual report. Which – again – I remind you was published on December 23rd of that year:
So did this change in the way that Disneyland Park ultimately operated off-season ultimately work out? Let's jump ahead to the 1959 version of Walt Disney Productions' annual report. In that document (which was also published on December 23rd of that year) states that:
Making it Right for the Disneyland Hotel
Okay. So this change in the way that Disneyland Park operated during the off-season made things easier for Walt and Disney's book-keepers back in Burbank. But what about Jack Wrather, the guy that Walt went to back in the Late Winter / Early Spring of 1955 and begged & pleaded for Wrather to build a hotel right next to Disneyland Park?
What happened to the Disneyland Hotel in late 1958 / early 1959 when – in the off-season – Disneyland Park goes to just a five-day-a-week operating schedule? At this point, the Disneyland Hotel is the largest hotel in all of Orange County with over 300 rooms.
It's at this point that Walt personally reaches out to Jack and says "I know, I know. This operational change at the Park is going to affect your bottom line at the Hotel. Don't fret. I'm definitely going to make this worth your while."
Extending the Monorail to the Disneyland Hotel
And Walt followed through on that promise. In June of 1961, he extended Disneyland's monorail system by a full 2 & a half miles so that this futuristic transportation system rolled right up to the Disneyland Hotel's front door. Which was a perk that no other hotel in Orange County had.
And just in case you're wondering: The cost of extending Disneyland's monorail system over to the Disneyland Hotel was $1.9 million (That's $19 million in 2023 money).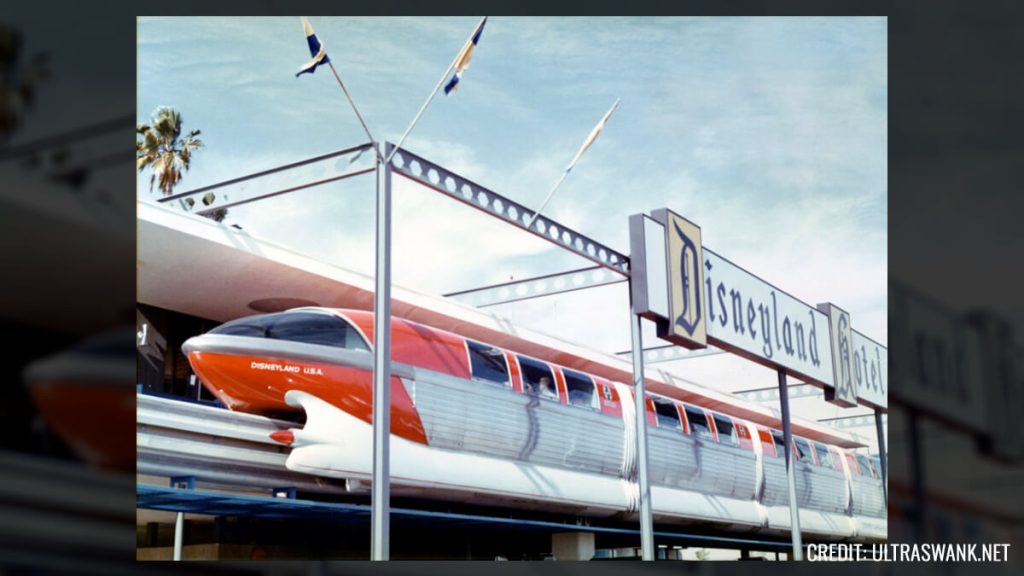 Magic Kingdom Golf Course at Disneyland Hotel
That very same year, Walt had some of his staff artists design a miniature golf course that could then be built on the grounds of the Disneyland Hotel. This kid-friendly area (called the Magic Kingdom Golf Course) featured elaborately themed holes with recreations of attractions that could be found right next door at Disneyland Park.
Hole No. Three was Sleeping Beauty Castle
Hole No. Five was Matterhorn Mountain
Other holes featured recreations of popular Disneyland attractions of the 1960s. Among them the TWA Moonliner, the Submarine Voyage, the Painted Desert from Frontierland (this is the area Guests traveled through when they experienced Disneyland"s "Mine Train thru Nature's Wonderland" attraction), Tom Sawyer Island, the Fort in Frontierland, not to mention Skull Rock as well as Monstro the Whale from Disneyland's Fantasyland.
This area was specially illuminated for night-time play. Which meant that the Magic Kingdom Golf Course at the Disneyland Hotel could operate from 10 a.m. in the morning 'til 10 p.m. a night seven days a week.
Additional Disneyland Hotel Expansion and Offerings
It's worth noting here that – from the moment the monorail was connected to The Disneyland Hotel – that hotel achieved 100% occupancy. Which is why – even after Disneyland Park switched to a 5-day-a-week operating schedule during the off-season – Disneyland Hotel launched into an aggressive expansion plan. With its 11 story-tall Sierra Tower breaking ground in 1961 (it opened the following year in September of 1962). Not to mention adding all sort of restaurants & shops to the area surrounding that hotel's Olympic-sized pool.
All of which came in handy during those Mondays & Tuesdays during the Winter Months when people were staying at the Disneyland Hotel and had nowhere to go on those days when the Happiest Place on Earth was closed.
It's worth noting here that the Disneyland Hotel (with Walt's permission, by the way) on those days when Disneyland was closed would offer its Guests the opportunity to visit Knott's Berry Farm as well as Universal Studios Hollywood. A Gray Line Bus would pull up in front of that hotel several times a day offering round-trip transportation to both of those Southern California attractions.
Likewise the Japanese Village and Deer Park over Buena Park. It was a different time. Back when Disney prided itself in being a good neighbor. Back when the Mouse didn't have to have ALL of the money when it came to the Southern California tourism market. When there was plenty to go around for everyone.
Walley World Shooting Locations
And back to "National Lampoon's Vacation"… The Walley World stuff was all shot at two Southern California attractions.
The scenes set in the parking lot at Walley World as well as at the entrance of that fictious theme park were shot in the parking lot & entrance of Santa Anita Race Track (Horse Track).
Any scene that's supposed to be inside of the actual Walley World theme park was shot at Six Flags Magic Mountain.
"Build It" – How the Swiss Family Treehouse Ended up in Disneyland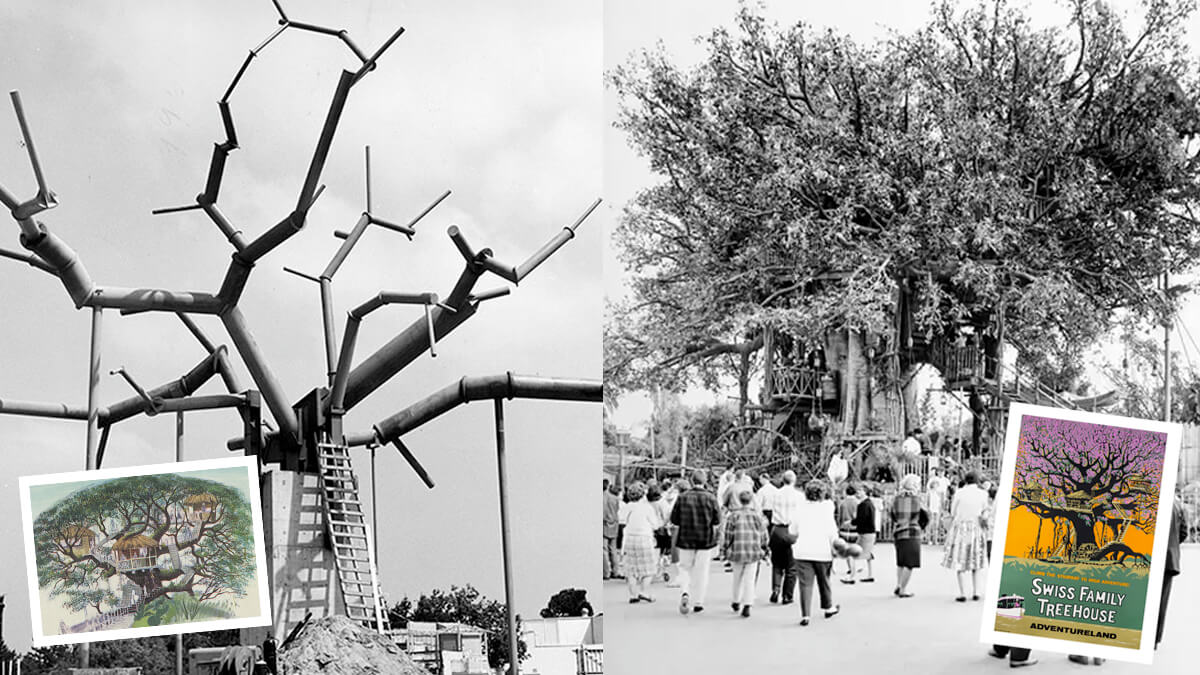 Things get built at the Disney Theme Parks – but not always for the reasons that you might think.
Case in point: The Swiss Family Treehouse, which first opened at Disneyland Park back in November of 1962.
Swiss Family Robinson – 1960 Disney Film
Back then, Walt Disney Studios just had a hit film that was based on Johann David Wyss' famous adventure novel of 1812. And at that time, Walt was justly proud of this project.
Out ahead of the release of this Ken Annakin film (Walt's go-to director in the 1950s), Walt talked up this project in the Company's annual report for 1959, saying that Swiss Family Robinson is …
Okay. Walt may have been overselling things a little here.
But when Disney's version of Swiss Family Robinson finally arrived in theaters in December of 1960, it did quite well at the box office. It was No. 4 at the box office that year, behind "Spartacus," "Psycho," and "Exodus."
And one of the main reasons that this Walt Disney Productions release did so well at the box office that year was … Well, Swiss Family Robinson looked great.
It had all of this lush shot-on-location footage (Though – to be fair here – I guess we should mention that this movie's interiors were shot over in London at Pinewood Studios). One of the sequences from this Disney film that people most fondly remember is that montage where the Robinsons salvage what they can of their wrecked ship, the Swallow, and then use that same material to construct this amazing treehouse on an uninhabited island off the shore of New Guinea.
The Swiss Family. Robinson Tree was Real
By the way, the tree that appears in this Disney film is real. John Howell – who was the art director on "Swiss Family Robinson" – was out scouting locations for this movie in 1958. He had stopped work for the day and drinking with friends at a cricket match. When – out of the corner of his eye (through a gap in the fence that surrounded this cricket pitch) – John spied this beautiful Samaan tree with a huge 200 foot-wide canopy of leaves.
It's still there, by the way. If you ever want to journey to the town of Goldsborough on the Caribbean island of Tobago.
Success at the Movies – Helping Disneyland Attendance
Anyway … Like I said, Disney's movie version of Swiss Family Robinson comes out in December of 1960 and does quite well at the box office (Fourth highest grossing film of the year domestically). Walt keenly remembers what happened when he last built an attraction at Disneyland that was based on a Ken Annakin film (Matterhorn Bobsleds inspired by Third Man on the Mountain). 1959 was Disneyland's greatest year attendance-wise. Largely because so many people came out to the Park that Summer to experience Disneyland's heavily hyped brand-new attractions – which included the Matterhorn Bobsleds.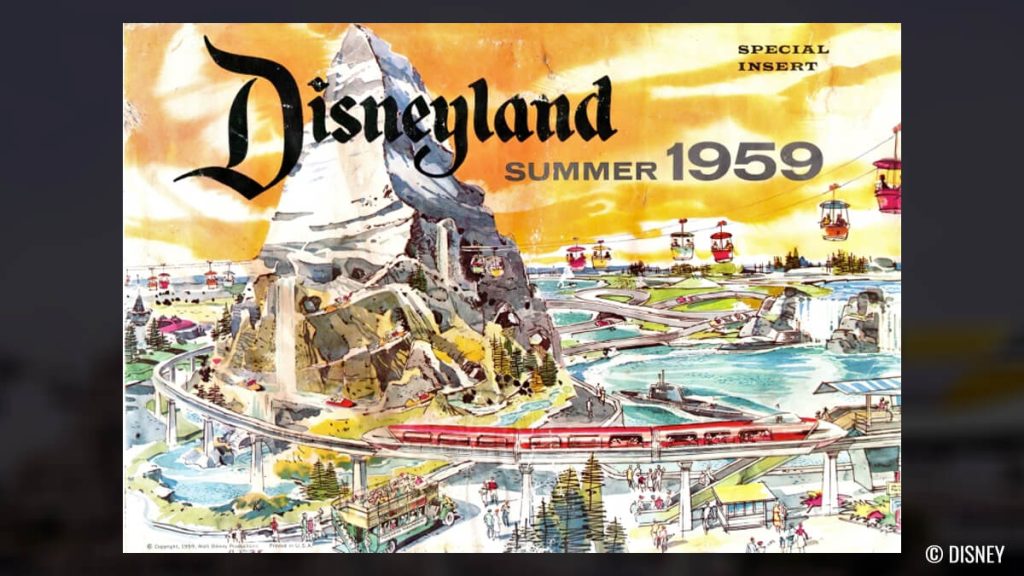 The Matterhorn Bobsleds at Disneyland
The Matterhorn at Disneyland was largely inspired by research that the Studio did in Zermatt, Switzerland in late 1957 / early 1958 out ahead of the location shooting that was done for Third Man on the Mountain – which officially got underway in June of 1958).
There's a famous story about the origin of the Matterhorn-at-Disneyland project. Walt was over in Switzerland for the start of shooting on Third Man on the Mountain in 1958 and evidently really liked what he saw. So be bought a postcard of the actual Matterhorn and then mailed it to Dick Irvine (who – at that time – was the Company's lead Imagineer). Beyond Dick's address at WDI, Walt reportedly only wrote two words on this postcard.
And those words supposedly were "Build this."
It's now the Spring of 1961 and attendance at Disneyland Park has actually fallen off from the previous year by 200,000 people. (You can read all about this in Walt Disney Productions' annual report for 1961. Which was published on December 14th of that year. There's a full scan of that annual report over on DisneyDocs.net). And Walt now wants to turn that attendance deficit around.
So what spurred Disneyland's attendance surge in the Summer of 1959 was Walt pumping $6 million into the place for the construction of new attractions (Matterhorn Bobsleds, Submarine Voyage, & Monorail). So that's now the plan for 1962 & 1963. Only this time around, it'll be $7 million worth of new attractions. More to the point, since Disneyland's 1959 expansion project was largely focused on Tomorrowland … This time around, the work will largely be focused on the other side of the Park. To be specific, Frontierland & Adventureland.
Adventureland Upgrades
Attendance had been dropping on the Jungle River Cruise attraction because it was largely unchanged from when Disneyland Park first opened back in July of 1955.
There's a famous story of Walt observing a Mom pulling her kid away from the entrance of the "Jungle Cruise." Saying words to the effect "We've already seen that ride. We went on it the last time we went to Disneyland." This is what then inspired Disney to develop the practice of plussing the attractions at his theme parks.
This was what led Walt to bring Marc Davis over to WED from Feature Animation in October of 1960 and effectively say "Help me make Disneyland better. Let's look for ways to make the rides there funnier. Better staged." This is when Marc came up with the idea for the Sacred Elephant Bathing Pool and the Africa Veldt sequences for "The Jungle Cruise." Not to mention the Trapped Safari.
How the Trapped Safari Vignette Ended Up in "The Jungle Cruise"
Interesting story about that vignette that Marc created for "The Jungle Cruise." It originally wasn't supposed to be part of that ride. Guests were supposed to see it alongside the side of the tracks as they rode the Santa Fe & Disneyland Railroad from Main Street Station over to Frontierland. The Trapped Safari was basically supposed to be something that made Guests think "Ooh, I need to get over to Adventureland while I'm here at the Park and go check out that new, improved version of the Jungle River Cruise that everyone's talking about."
That was the original plan, anyway. But as soon as Walt saw Marc's art for the Trapped Safari, he basically said "That's too good a gag to waste on the people who are riding Disneyland's train. That's gotta go inside of the actual Jungle Cruise." So – at Walt's insistence – the Trapped Safari then became the tag gag for the African Veldt section of that Adventureland attraction.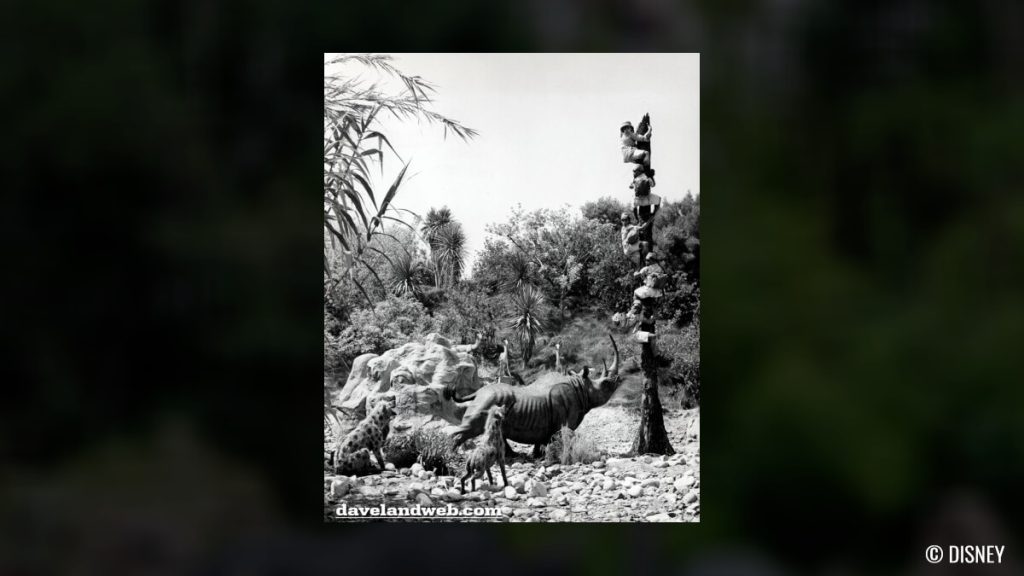 In fact, Walt so loved this gag that – after the Africa Veldt section first opened at Disneyland Park in June of 1964 – he actually made the Imagineers go back in this portion of that Adventureland attraction and restage it. Build up the cave that was behind that pride of lions which was watching over that sleeping zebra so that the Trapped Safari would then have a stronger reveal. Would get a bigger reaction / stronger laugh largely because Guests now wouldn't see the Trapped Safari until they then floated by the lion's cave.
Draining Jungle River Cruise and Rivers of America
Anyway … Now what made this redo / expansion of the Jungle River Cruise complicated is that this Adventureland attraction shared a water system with the Rivers of America (Guests who were headed to Disneyland's old Chicken Plantation Restaurant for lunch or dinner used to have to walk over a bridge in Frontierland. Under which flowed the water that traveled from the Jungle River Cruise into the Rivers of America).
If the Jungle Cruise was being drained for months so that the Imagineers could then install the Sacred Elephant Bathing Pool sequence in that Adventureland attraction, that meant the Rivers of America had to be drained as well.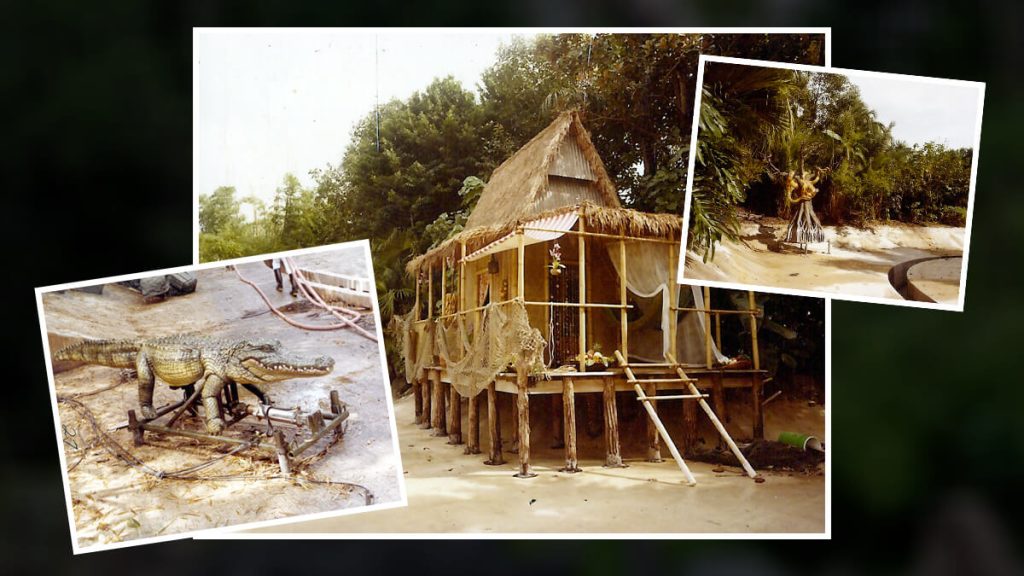 The Rivers of America were now going to be dry for months at a time from January of 1962 through June of that same year, this is when the Imagineers decided to tackle two projects that were well below Disneyland's waterline – which was digging out the basement space in New Orleans Square (which was originally supposed to house the walk-thru tour version of "Pirates of the Caribbean") as well as carving out that below-grade space over at the Haunted Mansion. Which was going to be necessary for the two elevators that would then make that attraction's "stretching room" scenes possible.
While this work was being done along the shore of the Rivers of America, over towards the entrance of Adventureland, the Imagineers were reconfiguring that restaurant that faced out towards Disneyland's Hub. They were using the temporary closure of the Jungle Cruise to revamp that operation. Carving out the space for the Tahitian Terrace as well as the Enchanted Tiki Room.
As you can see by all of the projects that I've just described – this was a hugely complex addition to the Parks with lots of moving parts.
This redo of Adventureland & Frontierland (which then set the stage for Disneyland's New Orleans Square) was moving through its final design phase – the Imagineers were startled when Walt pointed to the very center of this incredibly ambitious $7 million construction project (the very spot where Adventureland bumped up against Frontierland) and said:
"Build It" – Swiss Family Treehouse in Disneyland
It wasn't that easy.
The Imagineers explained "But Walt. That's the piece of land that the pipe which connects the Jungle Cruise and the Rivers of America runs through. We'd have to rip that up and then reroute that water system."
Walt said "I don't care. Build it."
The Imagineers then said "But Walt. If we built a Swiss Family Treehouse in the Park … Well, that then means a steep set of stairs first going up into that tree and then a second steep set of stairs coming down out of that tree. People aren't going to like doing all of that climbing."
Walt said "You're wrong. Build it."
Imagineers continued "An attraction like that's only going to appeal to kids. And we've already got Tom Sawyer Island across the way."
Walt " Again, you're wrong. Build it.
So that's what the Imagineers did. Not happily, I might add. Because the concrete foundation that supported this six ton structure had to go down some 42 feet … Well, that totally screwed up the water system that previously connected Disneyland's Jungle River Cruise to the Rivers of America.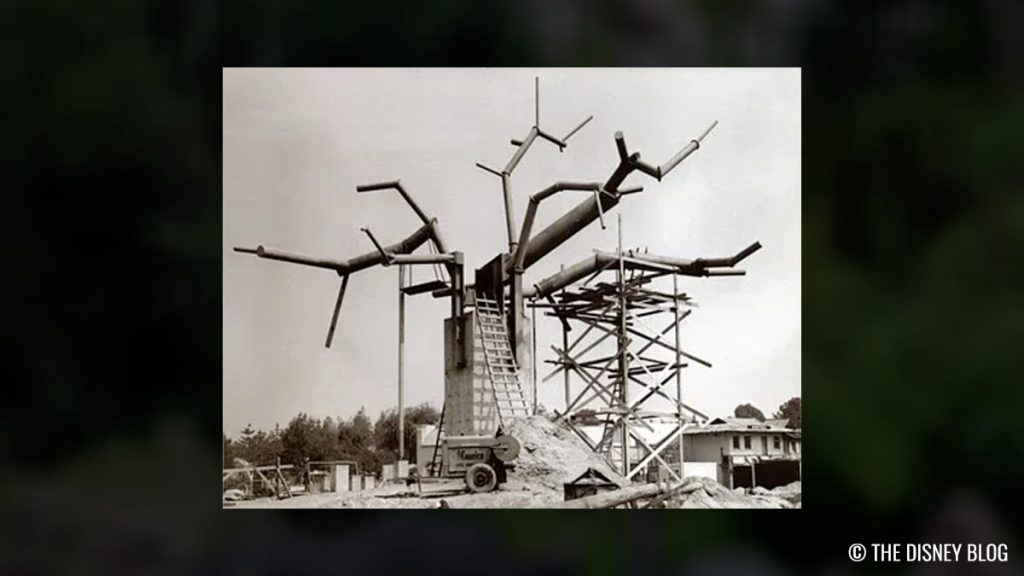 And as for those steep sets of stairs … While work was underway on this 70-foot-tall faux tree, Walt persuaded Betty Taylor (who was playing Sue Foot Sue over at the Golden Horseshoe at that time) to come over to the Swiss Family Treehouse construction site one afternoon. Betty was wearing a dress and high heels at the time. But she & Walt put on hard hats. And then the two of them made multiple trips up & down the stairs that had already been installed in & around Disneyland's Swiss Family Treehouse. Just so Walt could then be certain that this attraction's stairways weren't too steep. More importantly, that they'd also be safe for ladies who were wearing skirts & dressed in heels to use.
The Opening of Swiss Family Treehouse at Disneyland
This 70-foot-tall faux tree (with its 80 foot-wide canopy of 300,000 pink plastic leaves) opened just in time for Thanksgiving of 1962. John Mills (the male lead of Disney's "Swiss Family Robinson" film) was on hand for the dedication of this Adventureland attraction. FYI: He brought along his daughter, Halley (As in Halley Mills, the star of Disney's "Pollyana" and "The Parent Trap").
There's this great 3-minutes-and-41-second video over on YouTube that shows Walt leading the Mills family (John, Halley & Mary Mills, John's wife) around Disneyland's Swiss Family Treehouse in the Fall of 1962. You can see Disney proudly showing off the elaborate water wheel system at the heart of this Adventureland attraction, which send 200 gallons of water high up into that faux tree.
How Much Did it Cost to Build the Swiss Family Treehouse at Disneyland?
Disneyland spent $254,900 on the construction of that theme park's version of Swiss Family Treehouse. Which the Imagineers (back then, anyway) felt was money wasted. Because no one was ever going to climb up the 68 steps that then led to the three rooms in this Adventureland attraction (The parents bedroom, the boys bedroom [up in the crow's next] and then the common area / kitchen / dining room) and then the 69 steps back down to the ground.
This is where the Imagineers were wrong.
Don't Bet Against Walt – Success of Swiss Family Treehouse
Swiss Family Treehouse quickly became one of the more popular attractions in the Park. Back then, this Adventureland attraction was a C Ticket (35 cents apiece). And since it only took three Disneyland employees to safely staff & operate the Treehouse (i.e., one person to take tickets at the entrance, a second staffer patrolling upstairs in the tree to make sure the Guests were behaving themselves / not touching the props, and then a third Cast Member down by the exit making sure that Guests aren't sneaking up the back stairs to experience the Swiss Family Treehouse without first surrendering a C Ticket), it also became one of the more profitable attractions in the Park.
200 people up in the tree at any one time. 1200 people an hour. Killer views of New Orleans Square construction / the Jungle Cruise ride just below.

Oh, and that only appeal to kids thing? Out of every four Guests who came through the turnstile / surrounded that 35 cent C ticket, only one was a kid under 10. The other three were adults.
To be specific here: Once construction of Disneyland's Swiss Family Treehouse was complete in the Fall of 1962, it only cost $21,000 to staff & operate annually. An additional $16,000 to maintain each year. In 1965, this Adventureland Attraction – even after taking those costs into consideration – still managed to turn a profit of $313,000.
Long story short: It was never a smart thing to bet against Walt. At least when it came to how popular an attraction would be with Guests (The Mickey Mouse Club Circus fiasco of the holiday season of 1955 being the exception, of course).
Ken Annakin – Film Director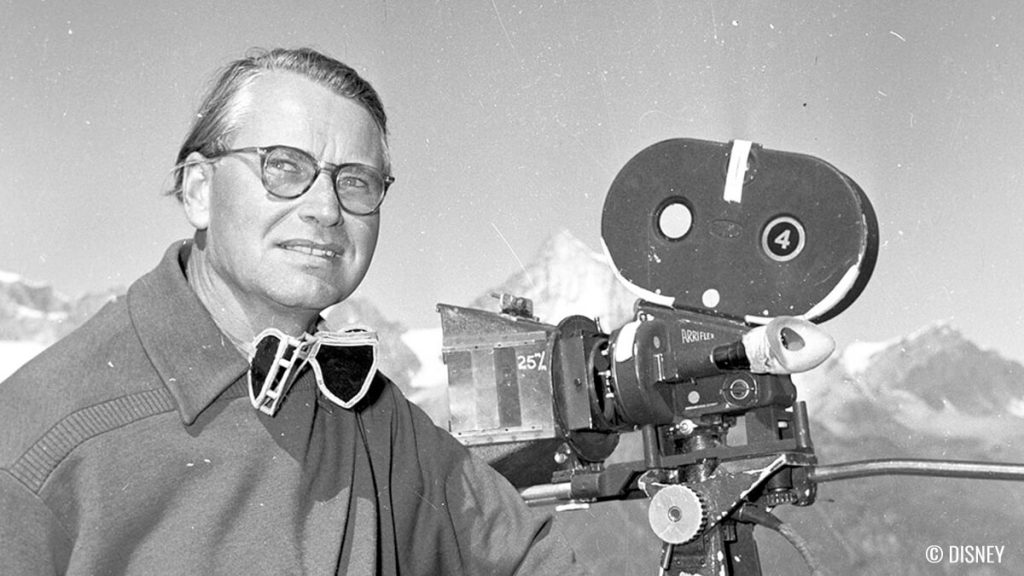 Sadly, the Imagineers weren't able to base any other theme park attractions on Ken Annakin movies. "Swiss Family Robinson" was the very last film that he directed for Disney Studios.
Annakin went on to direct several very popular family films in the 1960s & 1970s, among them "Those Magnificent Men in their Flying Machines" and "The New Adventures of Pippi Longstocking." And the Walt Disney Company went out of its way to recognize Ken's contribution to the overall success of Disney Studio & the Company's theme parks by naming him a Disney Legend in 2002.
Sadly, Ken passed away at his home in Beverly Hills back in April of 2009 at the ripe old age of 94. Worth noting here that – in the late 1960s / early 1970s – when Walt Disney Animation Studios was fumbling around for an idea for a project to tackle after "The Aristocats" (That was the last animated feature that Walt Disney personally put into production / greenlit) – someone asks that classic question "What would Walt do?"
And in this case, the thinking was … Walt really liked those live-action movies that Ken Annakin directed for the Studio. Maybe we should look at those. So they then screened the very first movie that Ken directed for Disney, which was "The Story of Robin Hood and his Merrie Men" from 1952. And since people in Feature Animation thought that that was a pretty solid story … Well, that's how we wound up with Disney's animated version of "Robin Hood" in November of 1973.
New Robin Hood on Disney+?
Back in April of 2020, Disney announced that it was working on a CG version of Disney's 1973 hand-drawn version of "Robin Hood." Which is eventually supposed to show up on Disney+. Carlos Lopez Estrada had been signed to helm this film. Kari Granlund was writing the screenplay for this "Robin Hood" reboot. An Justin Springer, who helped get "Tron: Legacy" off the ground back in 2010, would be producing.
So the Ken Annakin corona effect lives on at Disney.
So does Disneyland's Swiss Family Treehouse. Which – after being renamed / rethemed as the Tarzan Treehouse in June of 1999 – will revert to being the Adventureland Treehouse later this year. With a loose retheming that then allows this Disneyland attraction to become home to characters from Disney's "Swiss Family Robinson," "Tarzan," and "Encanto."
This article is based on research for The Disney Dish Podcast "Episode 412", published on January 30, 2023. The Disney Dish Podcast is part of the Jim Hill Media Podcast Network.