It's not just funny animals …
Roger Colton returns with a column that explores another side of fandom: those folks who really appreciate the anthropomorphic aspect of animation.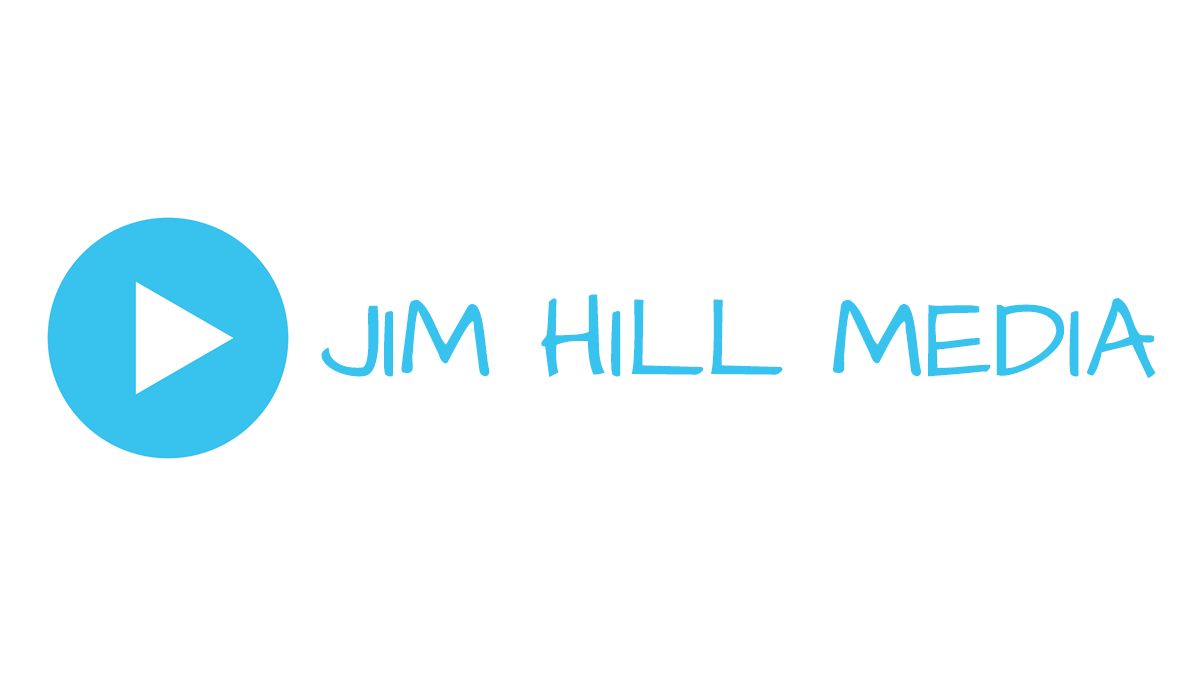 Buckle up. Big, bumpy column ahead…
This week, I'm off (okay, when am I not?) to visit another fandom based event. This time it has a connection you should be interested in. If you've ever watched a Bugs Bunny cartoon and laughed, you're already there.
Consider this word: Anthropomorphic.
Truly, a three-dollar word. One not heard in everyday conversations. Right? So? What does it mean?
Well, trying the lovely dictionary provided by the folks at the borg-like cubes in Redmond, Washington, "anthropomorphic" comes up as "anthropomorphize" with the following description: "to give a nonhuman thing a human form or human characteristics".
I'll start slowly on this and say that it is not a new concept. Storytellers have given animals human or human-like characteristics since the dawn of time. Spirits appearing as animals communicating with humans were an essential element of many religious oral traditions.
Our own Disney and other animation favorites certainly can trace their lineage right back to those tales told at the campfires of our ancestors. Aesops Fables, the stories by the Brothers Grimm, Beatrix Potter and a whole lot more make heavy use of the practice of anthropomorphizing of their characters. Would you have found the tale of Peter Rabbit as interesting if it had been just another story about a little boy? Maybe not… But that one little story element has made it just that for generations – interesting. Perhaps just as important is the connection it makes with the audience, in this case, younger readers.
Again, back to the connection. But that is what really creates the difference between a story that just offers information and one that an audience can identify with. And that's just what anthropomorhpics is all about.
Now that you have learned a small lesson on the subject, let us take a look at a fan-based event known as "Further Confusion", held over the Superbowl weekend, at San Jose's Doubletree Hotel.
Further Confusion (or FC) is the project of an organization known as Anthropomorphic Arts and Education. This non-profit corporation (501c3 in case you're curious) supports educational and charitable activities of interest to fans of anthropomorphic art and animals in general.
They do good work in supporting a variety of community projects and FC has become their best way to do so. Over the last five years, they have donated thousands of dollars to a variety of charities including the Oakland Zoo, the Coyote Park Museum, the Barry R Kirshner Wildlife Foundation, the Cartoon Art Museum, the Comic Book Legal Defense Fund, Tiger Touch and Therapy Pets.
This year, various events benefited two worthy organizations. PAWS (Pets Are Wonderful Support) is a volunteer-based organization that helps improve the quality of life for people with AIDS and other disabling illnesses by offering the emotional and practical support to keep the love and companionship of pets.
The other organization was the Seymour Marine Discovery Center, at the Long Marine Laboratory. Part of the Institute of Marine Sciences at the University of California at Santa Cruz, it is a research and education facility that serves as a base for field research in the Monterey Bay and oceans beyond.
So, I can hear you saying, "Who are the folks who attend FC?" Well, simply put, this tends to be the "Furry" crowd.
And before that turns you off, saying not for me, I consider myself part of that group, and you might be one of them and not know it. As I said up at the start of this effort, if have you ever watched a Bugs Bunny cartoon and laughed at it? Guess what? You're a fan of Anthropomorphics.
I don't draw funny animals, I don't write stories about them, nor do I own a fur suit. What I do have is an appreciation of the talents and dedications of some of the people who do. Some do it for fun, others do it for profit.
Just like any group at a fan-based convention, some folks like to dress up and play. Whether you talk about Trekkies, Deadheads, Civil War re-enactors, SCA (the Society for Create Anachronism), the Knights of Columbus or the Shriners, they all have this in common. These are people who take their interests genuinely enough to the point of wearing a costume and adopting a different personality to go along with it. It's the child in all of us trying to get out for a bit. And they all have their fringe elements, some people who take it a bit too earnestly.
The ugly truth is, shockingly, that the furry folks are all quite normal, for the most part – despite some media attention trying to be sensational and demonstrate the contrary.
Sorry, but that's the reality here. Just plain folks, odd in some ways, but aren't we all? These people come from a variety of backgrounds and professions, but all enjoy this fandom in their own special ways.
So… you are about to meet some of them.
Jeff Ferris is one of my closest friends. If anyone could be called my "big brother", I suppose he would be the one. I've known him for some twenty odd years, and this is only one of several interests I share with him. Among the others, there are trains (surprise!), Disneyland, comic books, a good Basque meal, and a wicked riposte or two. We have worked as volunteers at various science fiction and fantasy conventions, and driven a mile or two to some very interesting places. (More tales for more columns. One worth telling involves Ely, Nevada, just to tease…) Jeff acts as the CFO for AA&E.
Jeff Ferris and Dasha Clancey being interrupted by some mouse while enjoying lunch at Club 33.
Photo by Roger Colton
Over all those years, he has become the publisher of "Yarf! The Journal of Applied Anthropomorphics". Publishing a fanzine (fan produced magazine) isn't all that unusual but this one has legs. 66 issues have been produced since issue 0.1 in 1990 and that is extremely unusual.
The average fanzine lasts about two years. The person or persons behind it tend to move on to other interests or the readership drops off. I can think only think of one other fanzine that has kept publishing so long, and that is Jack and Leon Janzen's "E-Ticket".
So what's the secret to this success? Part of it has to be the enthusiasm of the staff for the fandom they are promoting with the publication. Another part has to be the more than occasional infusion of new talent, either in the content or in the editorial side. While I can't speak for Jack & Leon, I do know that Jeff has been lucky enough to get more than his fair share on both sides of the proverbial coin.
Content has run from stories in print and strip form, to some great stories that deserve the graphic novel treatment. And, yes, there are funny or cute animals in drawings in profusion. "Yarf!" has tended not to allow content of a decidedly graphic sexual nature, as other "furry" fanzines may have. That's not to say that passion does not become an element, but it tends to leave more to the imagination than to drag it out in front of the readers for display.
So why does Jeff and his crew keep doing it?
It's the contributors for one. As long as they keep sending in great things to share, he keeps publishing them. The quality tends to be quite good, and that helps keep subscribers coming back for more. Sales of single issues and back issues do well, again with the quality of the product as part of the process. An average year (one in which the publisher doesn't have quad bypass surgery…) tends to see four issues produced.
Nominally, black and white tends to be the format for the issues. Having used most of the Astrobright paper colors available for cover stock, there have been three full color covers, and Jeff says that will probably happen again. Over the lifespan of the zine, costs have come way down for color, as well as the quality of overall reproduction having improved. At an average cost of $6.00 an issue, that's not too expensive a way to enjoy this interest. YARF! has a web presence at http://yarf.furry.com
With a good crew on the production end to keep him honest, Jeff expects this year will see a full slate or better.
This interest is not limited to the male of the human species. Women represent a strong element of the "furry" crowd. One artist is Shannon Stuart. At twenty, she's not exactly new to all of this. At a young age, she became interested in drawing, having admired the anime style found in "Sailor Moon"
Her father had the furry interest, and that grew from attending various science fiction and fantasy conventions. After one event, he brought home a book of furry art. She discovered it and decided this was a style she wanted to explore. More anime such as Magic Knight Rayearth and others influenced her. As the result, the characters Shannon creates are based in the anime and manga styles – especially with big, very expressive eyes (even down to the shading and textures of the irises.
Art by Shannon Stuart
She's making her art pay by selling at school as well as conventions and online. Paintings and drawings are putting her through school, and getting her exposure. She is also a frequent contributor to fanzines such as YARF!
For her future, Shannon hope to progress to a sequential work, perhaps some story in strip form. If she has a challenge to face, it is to stick with one idea, and be consistent. She's got no problem coming up with new subjects, but it's trying to stick to one and finish it before something new comes along to inspire her. The pacing of stories and reaching a conclusion are areas she's looking to improve on.
She's twenty now and has five years of furry art behind her. Off at school, she's an art major. Classroom work such as illustration and landscapes are adding to her style. The use of textures is something she sees as helpful in adding her own touches to the usually flat anime styles.
I asked her if she had a piece she was especially proud of. An oil painting, titled "Himeko's World" offers a look into what might become that sequential story. The character takes the center of the painting and is circled by her friends and allies, including the spirits she summons for assistance. If persistence pays off, this might just be the starting point for that sequential work.
Shannon's web pages are located at http://www.minespot.com
Taking a momentary break, the Parade of Fur Suits just passed by, some fifty odd strong. Some great costumes including Pinky from "Pinky and the Brain", and Don Carnage from "Talespin"…
One of the two Guests of Honor for this year's FC was Toby Bluth. For Disney fans, he may be most well known as the Art Director for Disney's "Tigger Movie", and his brother Don has a legacy all his own.
One busy guy this weekend, with lots to do. During a workshop on watercolors, Toby produced a completed painting in about 90 minutes. Another panel discussion he participated in was "The State of Modern Animation". Joining him was John Nunamacher (who also worked on the "Tigger movie" as well as other projects at Disney).
Boiling down the 90 minutes… If the story isn't there, it doesn't matter how good it looks.
Business now seems to have become more the focus than story and animators. Today's Production Assistant is likely to become tomorrows Producer. Ironically, it was noted that when a project ended, there was more concern what the PA's would be assigned to next, rather than the artists.
There was also a brief discussion on Disney and it's focus being more on what fits the "Disney" mold, instead of looking to expand the horizon. That tends to be left more for studios like Pixar or Dreamworks.
Another comment was the incredible lack of synergy between marketing, merchandising, theme parks and production at Disney. A prominent example came up of how Disney Stores had merchandise for "Monsters Inc." some six weeks before the film opened. No one knew anything about the characters or story, so these items sat on shelves for five weeks, and mangers ordered a 50 percent clearance the week before the film opened. When demand did hit, the profit margin had already been torpedoed.
The opposite was noted for "Lilo & Stich", where merchandise was selling so well, that it was pulled from shelves at the World Of Disney in Anaheim for fear of not having anything on hand when the movie did open. Quality between the pre-opening products and those rushed to market after opening is somewhat noticeable.
The lack of merchandising for adult clothing also was discussed. No one could understand why. Toby did volunteer that he had managed to get his own personal pair of "Tigger" shorts, which he proudly wore around the office to many questions of "Where did you get those?"
Another topic of concern was the theme of how folks want to see Disney fall flat on its face with animation. Were that to happen, it might be catastrophic for the industry as a whole. If the premiere producer of animated films cannot make money in this medium, who else could?
Ain't technology grand? Jim Groat, right, shows Ken Mitchroney, center, and Toby Bluth, left, that he
actually has a life! His digital camera displayed pictures of his wife and children, safe at home.
Toby was this year's Artist Guest of Honor, and Ken had been FC's first Artist GOH five years ago.
Photo by Dasha Clancey
Another interesting fan is Jim Groat. In younger days, his interests were peaked by Disney's "Robin Hood" and the Rankin Bass "Rudolph the Red Nosed Reindeer" TV classic. Always a fan of horses in animation, he also was attracted to Hannah Barbera's "Quickdraw McGraw". A true "anthropomorphic" moment came when he first saw "Animalympics". Originally intended as segments for the NBC coverage 1988 Moscow Summer Olympics (which were boycotted by the US teams, after the Soviets had boycotted the 1984 Los Angeles Summer Olympic Games) this project was assembled as a feature for theatrical release and is somewhat of a cult favorite on video today.
So it's a good bet to say that Jim is one of the old-timers of "Furry Fandom" as it exists today. He started drawing funny animals in high school, and that led him to a period of employment drawing a syndicated strip called "Mudd Flat" between 1979 and 1981. That came to an end after a major problem with a paper changing his dialog to fit it's own political agenda. He was so fed up with it all, that he literally burned all of his work on hand, and gave up drawing entirely for two years. He feels today that he lost a great deal of skill by taking that break, and that he will never draw as he did back then.
He was invited to resume his schooling at Cal Arts, but didn't feel he could burden his parents with expense, even then a healthy chunk of change each year at $8000. So he passed.
A big change for Jim came in 1983 when he met his partner in comics, Richard Konkle. He had gotten his start working at Marvel Comics. They shared interests in the Conan stories as well as the anthopomorphics. Along the way, they discovered an interesting pattern of elements to the Conan stories that boiled down to five steps.
Number One: Conan would discover some fantastic lost city or castle.
Number Two: Conan would hear of some lost treasure within guarded by either an evil demon or sorcerer.
Number Three: Conan would always discover a scantily clad, attractive woman in peril, thanks to the demon or sorcerer.
Number Four: Inevitably, Conan would defeat the demon or the wizard, rescue the girl and get the gold.
Number Five: Conan would lose the girl and the gold and start all over again at Number One.
So… Jim and Richard decided to take on the challenge and did a similar story, set in the furry world in their own comic book. And they did it all in one issue, called "Equine the Uncivilized". It was true success story for the summer of 1985. In ten days, they sold 20,000 copies of this black and white comic book with a color cover.
Jim is thankful to those days because the comics let him meet other fans like Steve Gallaci, who was kind enough to offer him table space at the San Diego Comicon, that led him to a much wider audience.
However, comics became simply too much of a good thing as the market became over saturated between 1985 and 1987. It was heady days for the independents like Jim. But eventually, the bottom fell out of comics as the major players like Marvel squeezed the dealers and distributors by forcing them to carry titles. In the end, there was simply no shelf space in comic shops for the small publishers. A good example from Marvel was one title where the same issue had multiple covers, which they hoped the drooling comic fans would need to buy a copy of each one to keep collections complete. (I understand that, as I was one of those fans who had to keep a complete set of issues on certain titles – most of which are rotting away in my storage locker today.)
Jim was only one of the casualties of that time, as not only comic publishers, but also distributors and dealers went out of business almost overnight.
Today, he's still drawing and sharing his interest. He sees the future of furry fandom as solid, but hopes that today's crop of young artists will try to remember that their actually is a life outside of fandom.
Jim's web presence is located at http://www.graphxpress.com and he'll have some artist jam pages from FC 2003 up soon…
Now we've looked over the people. What was the content of the convention all about? With a theme based on "Alice In Wonderland", you know to expect something unusual, right? A great piece of entertainment, or if you take the view of some, a fine piece of satire or allegory on society in Great Britain in it's day. Undeniably, Lewis Carroll anthropomorphized the characters to appeal to his readers, and it works extremely well. All in all, a great choice for a theme.
So it leads to all kinds of programming on a number of distinct tracks.
An artist track, a writers track, a gaming track, a costuming track, a puppeteering track, and a spirituality track provided more than enough content for five days, as the event ran Thursday through Monday. Throw in a main stage for special events and there was never a dull moment. A particular highlight on stage was the Iron Artist event in the method of the popular Fuji TV "Iron Chef" show. Last year, the competing artists found cake and frosting awaiting them. This year things were kicked up a notch with the theme ingredient: Sharpie Markers! The media for the artist to work upon was volunteers from the audience. Arms provided a great place for Sharpie tattoos.
With a time limit of 30 minutes, three Iron Artists took on three challengers in the categories of Cute, Spotty and Comics. John Nunamacher took up the last minute challenge as Iron Artist Cute. Guests of Honor Toby Bluth and Karen Anderson assisted other (impartial?) judges in scoring the works. Some great works resulted, complete with a tie in the Cute competition. That called for a five-minute tiebreaker on the other arm, with Iron Artist Cute winning with a classic cartoon red fox. In all the Iron Artists successfully defended their titles.
There were a variety of room parties, dances and other social events to keep everyone busy. That didn't stop folks from just pulling up a chair and making new friends, or enjoying good times with old ones.
Tigris relaxes after a long day with friends, Samantha and Stacy.
Photo by Jeff Ferris
A large dealers room offered all kinds of merchandise. Everything from videos to comics to specially created art was on sale. The Art show proved extremely popular as well with a good number of works going to auction.
FC is only one of a growing number of furry fan events across the world.
They are already planning for FC 2004, with one guest announced, author Larry Niven, and the theme of "The Great Outdoors" (curious for an event that takes place inside a hotel in urban San Jose…)
I'll probably be there again, and there are folks trying to get me to volunteer as the Guest of Honor liaison. We'll see how that goes.
For more info, visit http://www.furtherconfusion.org
Coming to the close of my longest column yet, I hope this has offered you a bit more of an insight into the world of furry fandom. Contrary to the multitude of horror stories, these are just regular people. As one Oakland Raider fan said on TV over the weekend, "Fan is just short for fanatic."
Roger's been a contributor to Yarf! off and on. Issues 4 and 5 featured book reviews of Warner and Disney character information. He and wife Michele, and cat Cruiser all have their own favored plush animals (although Roger and Michele's aren't filled with catnip). You read about Roger's fur suit experience in a previous column, and he has no plans to reprise that soon. Jeff reported that FC 2003 did top 1200 registrants and that the art show and charity auction topped estimates by a healthy margin. No word yet on who will be the Artist Guest of Honor for 2004.
The Road to Cars Land – Part One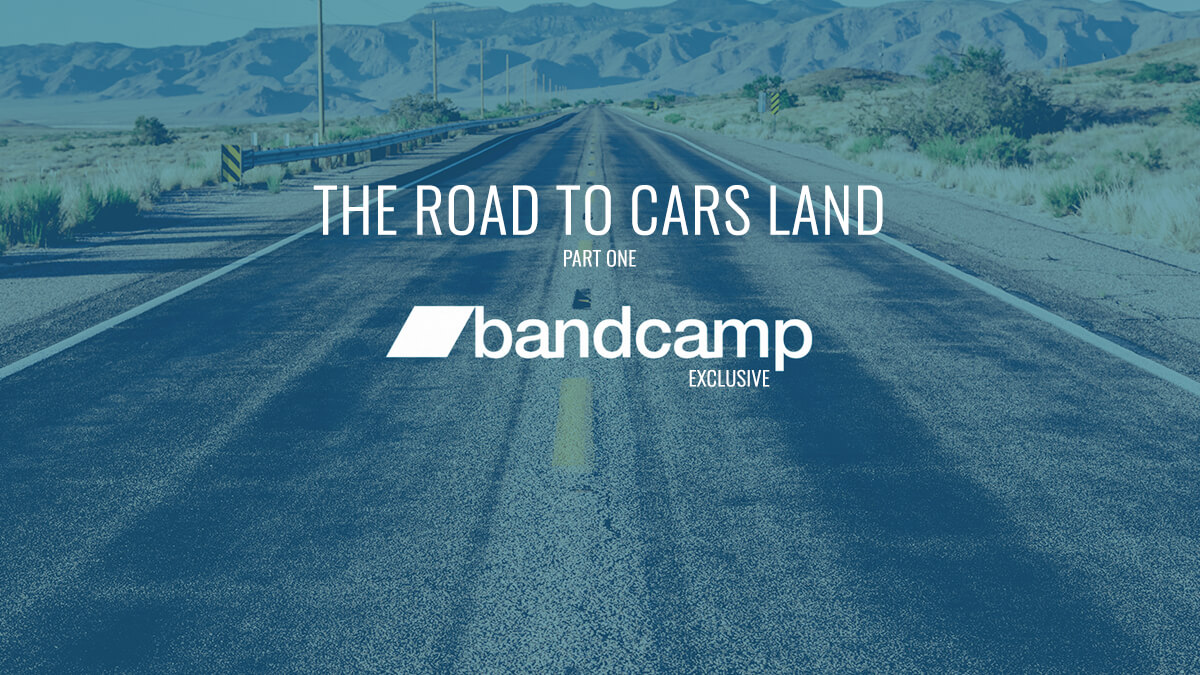 It's the early 2000s. Things are starting to get spikey between Michael Eisner and Steve Jobs in regards to Pixar Animation Studios.
These two titans of industry are trying to hammer out a third extension of that animation studio's production & distribution deal with the Mouse House. Their original three picture deal had been signed back in March of 1991, and then – following the enormous success of "Toy Story" in November of 1995 – was then been renegotiated & turned into a 5-picture co-production deal in February of 1997.
As far as Steve Jobs was concerned, Pixar was now within inches of meeting its contractual obligation to Disney. Which meant that was now time for these two studios to hammer out a new deal. One that would be far more lucrative for Pixar. After all, the folks up in Emeryville (They'd only just moved from Pixar's original studio set-up in Port Richmond over to Emeryville in 2000) had already delivered six films for Disney to distribute:
"Toy Story" (1995)
"A Bug's Life" (1998)
"Toy Story 2" (1999)
"Monsters, Inc. (2001)
"Finding Nemo" (2003)
"The Incredibles" (2004)
"Toy Story" & "Toy Story 2" Don't Count – Pixar's Original Film Obligation to Disney
Not so fast, says Disney's lawyers. "Toy Story" was produced outside of that 5 picture co-production deal that was signed back in February in 1997. So it then couldn't be counted as one of the five films that Pixar was contractually obligated to deliver to Disney.
More to the point, because "Toy Story 2" was a sequel to the original "Toy Story" movie from 1995 (and was originally supposed to be a Disney Home Premiere, rather than a theatrical release. Disney only decided that "Toy Story 2" would be released to theaters a year or so out from completion of that production. Which caused an awful lot of angst up in Emeryville) … Well, that film also couldn't be counted towards those 5 co-productions that Pixar was now contractually obligated to deliver to Disney.
Which made Steve Jobs furious.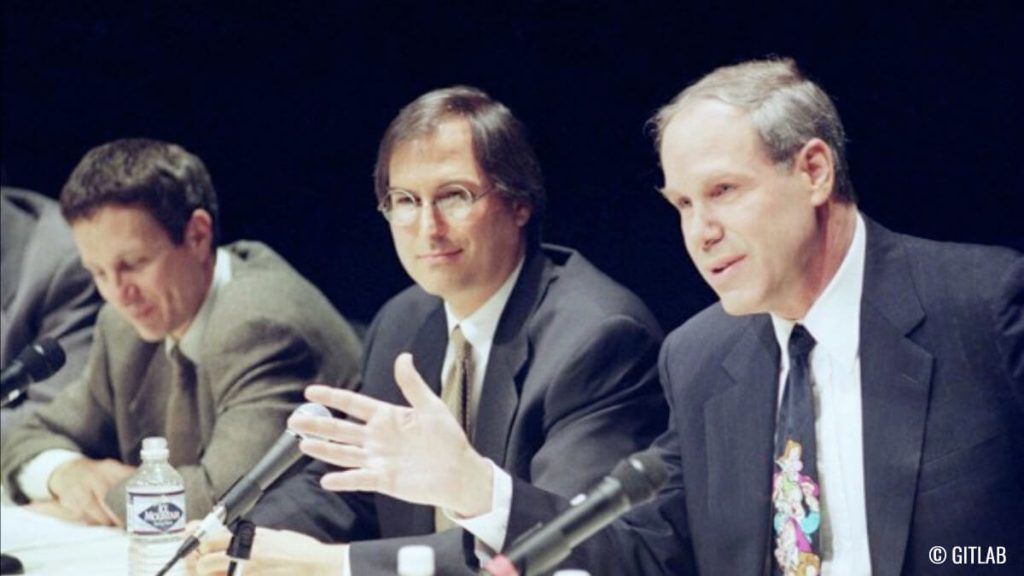 Steve Jobs had every right to be angry – given how many movie tickets had been sold to "Toy Story" & "Toy Story 2" (the first film in this series earned $244 million at the worldwide box office. While the second film in this series effectively doubled the first "Toy Story" 's box office take, pulling in $487 million at the worldwide box office), it just made Jobs crazy that a film franchise which had already pull in three quarters of a billion dollars at the worldwide box office didn't count towards Pixar's 5 picture co-production deal. Never mind the hundreds of millions of merchandising-related dollars that Disney had also pulled in from the sales of "Toy Story" -related toys.
Anyway … As far as Disney was concerned, factoring in the whole the-first-"Toy-Story"-doesn't-count-towards-that-five-picture-deal-because-it-was-produced-before-this-co-production-deal-was-signed and "Toy-Story-2"-doesn't-count-towards-that-five-picture-co-production-deal-either-because-it's-a-sequel-to-the-original-"Toy-Story" thing … Well, Disney's lawyers insisted that – to date – Pixar had only delivered four of the five movies it was under contract to deliver to the Mouse House.
"A Bug's Life" (1998)
"Monsters, Inc. (2001)
"Finding Nemo" (2003)
"The Incredibles" (2004)
Early Talks of "Toy Story 3" – Will It Count ?!
Now where this gets interesting is that – in the middle of this negotiation in the early 2000s – Pixar actually approached Disney with an idea for "Toy Story 3." Which they then wanted to produce as the fifth and final film Pixar was contractually obligated to deliver to Disney as part of that co-production deal they'd signed with the Mouse House back in February of 1997.
Now remember that the first two "Toy Story" movies had already earned three quarters of a billion at the worldwide box office. So it was a gimme that a third "Toy Story" film would sell lots & lots of movie tickets as well. Not to mention all of the fees that Disney would collect from toy manufacturers for those officially licensed "Toy Story" toys.
And – just in case you're wondering – Disney wasn't wrong. When "Toy Story 3" was finally released to theaters in June of 2010, it would go on to earn over a billion dollars at the worldwide box office all by itself. Never mind about all of the officially licensed toy money.
But here's the thing: Pixar will only make "Toy Story 3" IF Disney agrees that this sequel then counts as the fifth and final film that this Emeryville-based operation is still under contract to deliver to the Mouse House. And Michael Eisner – when he hears about this – digs in his heels and says "You know that's not the deal. Sequels don't count towards your 5-picture contractual obligation to us. If you opt to produce 'Toy Story 3,' you're still going to need to deliver another movie to Disney after that in order to honor the terms of that contract."
Which makes Jobs furious. Here he was offering Disney yet another sequel to "Toy Story" that – as I mentioned earlier – would eventually go on to earn over a billion dollars at the worldwide box office … And here was Michael Eisner saying "Nope. That doesn't count towards completion of our 5-picture co-production deal. You're still going to owe us another movie after you deliver 'Toy Story 3.' "
Which is when Jobs decides to play hardball. He says "Okay then. No 'Toy Story 3.' "
To which Eisner responds "Okay then. No 'Toy Story 3.' Let's make that cars movie instead."
"The Yellow Car" – Origin Story to "Cars"
Which now brings us to "Cars." Or – as this proposed animated feature was known back then (when work first began on the development of this Pixar project back in 1998) – "The Yellow Car." Now – given what's going on in California right now (You did see where that State is looking to ban the sales of new gasoline-powered cars and light trucks by 2035?) – the original storyline that Pixar had put together for "The Yellow Car" was kind of interesting. It dealt with a tiny little electric car – which had just arrived from overseas – trying to make a new life for itself in the American southwest. Where it was then surrounded by all of these gas-guzzling 4-wheelers and long-haul trucks.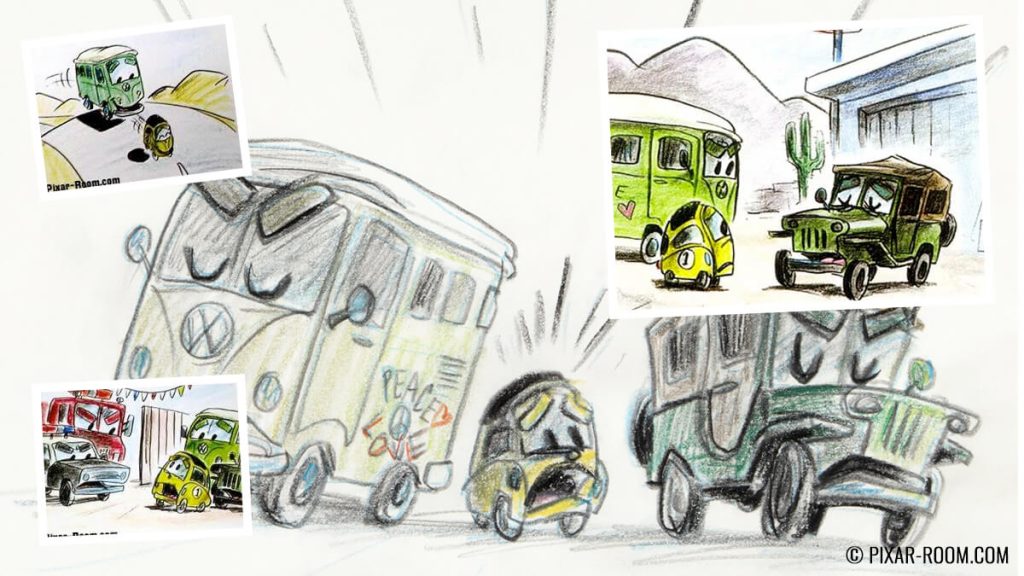 That storyline might have had a chance today. But back in the late 1990s / early 2000s, the story notes that Disney kept sending Pixar were more along the lines of "Is there any way we can change that scrappy immigrant into … Say, a young race car who's on the cusp of his first big professional win?"
And that note reportedly came from Michael Eisner himself. Who – even though he had said "No" to Pixar making "Toy Story 3" because of that whole contractual-obligation thing – still thought that he had a huge winner for Disney in "Cars." And that was because – back in the late 1960s – Michael had had a front row seat when Mattel's Hot Wheels first arrived on the scene.
Michael Eisner & Hot Wheels
You gotta remember that Michael Eisner started out in television. To be specific, he had two brief stints at NBC & CBS in the mid-1960s before he then got hired ABC. Where – in 1968 — Eisner was named that network's director of program development for the East Coast. Which meant that Michael was then largely responsible for what aired on ABC on Saturday morning.
And around this very same time (May of 1968), Mattel introduced Hot Wheels. Which was this new toy line of scale model cars. The first 16 Hot Wheels hit the market that year and were supported by this massive television advertising campaign (with the bulk of that commercial time which was supposed to support the launch of this new toy line — of course — being purchased on shows that would air on Saturday mornings. Which is when kids would be guaranteed to be watching TV).
So taking into account where Michael Eisner was working at that time, he was obviously keenly aware of what an enormous success the "Hot Wheels" toy line had been for Mattel. So – some 35 years later – when Pixar effectively told Eisner "You can't have 'Toy Story 3.' You'll now have to settle for 'The Yellow Car' instead," Michael's response was "Okay. Disney will temporarily shut down its 'Toy Story' gold mine and now go and open a 'Cars' -themed platinum mine instead."
Now please note that I used the word "temporarily" there. That was because Disney's lawyers believed that they owned the Pixar-produced characters from the original agreement.
Pixar Breaks Away from Disney – Disney Creates Circle 7 Studios
In January of 2004 – Steve Jobs announced that he was breaking off negotiations with The Walt Disney Company and upon delivery of "Cars" – which would be released to theaters in June of 2006 – Pixar was finally free & clear of its obligations to the Mouse House. Which is why they now open negotiations with other studios in Hollywood seeking a new production / distribution partner.
Once Pixar formally broke off negotiations with Disney, The Walt Disney Company announced that it would be starting Circle 7 Studios (named for the street that this brand-new animation studio was located on. Which is Circle 7 Drive in Glendale, CA. Which is where KABC, the Los Angeles-based ABC affiliate is located. "And what is the KABC logo?," you ask. A 7 – for Channel 7 – with a circle around it)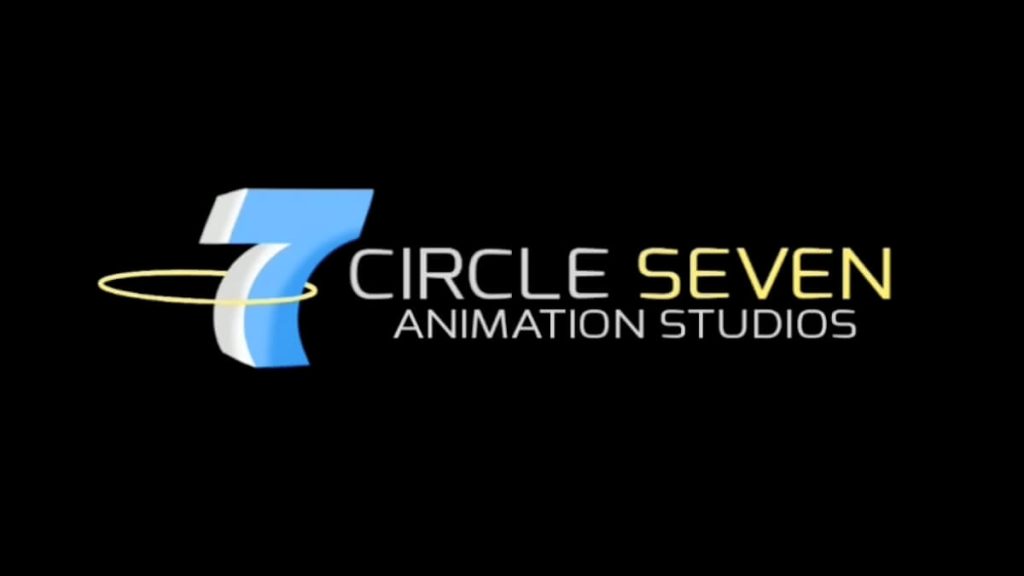 … And at Circle 7 Studios, Disney intended to produce its own sequels to "Toy Story," "Monsters, Inc." and "Finding Nemo." Because – under the terms of those production & distribution deals, later co-production deals that Pixar had signed with Disney back in 1991 and then 1997 respectively – the Mouse felt that they owned this Pixar-produced characters & storylines outright and could then do whatever they wanted with them.
That whole Circle 7 Studios was a nightmare for the folks at Pixar. Though – it's worth noting here – the people at Disney who did work on those "Toy Story," "Monsters, Inc." and "Finding Nemo" sequels did do some decent work.
Original "Toy Story 3" Plot
The storyline for Disney's version of "Toy Story 3" (which had Buzz Lightyear getting recalled to the factory that originally made him in Japan, and then the Andy's Room gang shipping themselves via FedEx to that very same factory in an effort to save Buzz from being dismantled) had its charms.
"Monsters, Inc." Sequel – "Lost in Scaradice"
I'd argue that the storyline for Disney's version of "Monsters, Inc." (which was to have been entitled "Lost in Scaradice") would have made for a far better film than the one that Pixar themselves produced in June of 2013. Which was "Monsters University."
But we're not here to talk about "Lost in Scaradice." We're here to talk about "Cars."
"Cars" – Michael Eisner's Decision Creates Billions with New Franchise
"Cars" finally got released to theaters in June of 2006 and then went on earn $461 million at the worldwide box office.
Which – admittedly – wasn't the over-a-billion that "Toy Story 3" would earn at the worldwide box office just four years later in June of 2010. But then when you factor in the $11 BILLION in sales of officially licensed "Cars" toys (And that was just in the first two years after "Cars" was released to theaters) … Well, like I said earlier, Disney had just temporarily traded its "Toy Story" -themed gold mine for a "Cars" -themed platinum mine.
Important to stress here: Michael Eisner's "Hot Wheels" -related hunch proved to be correct. Him deciding to make Pixar produce "Cars" rather than opting to greenlight production of Toy Story 3" created a whole new, extremely lucrative franchise for The Walt Disney Company. Which is paying off even today.
For example, Over on Disney+ the very day that this Bandcamp Exclusive show went live (September 8, 2022), a brand new original animated series – "Cars on the Road" – starring Mater & Lightning McQueen debuts. Nine episode detailing what happens on a road trip when Lightning & Mater drive back East to attend Mater's sister's wedding. Can't wait to see what Mater's sister looks like.
Bob Iger Helps Disney Reclaim Pixar
Eisner doesn't often get credit for the success of cars. But that's largely because Michael Eisner is no longer the CEO of The Walt Disney Company. He stepped down in September of 2005. Now Bob Iger is called the shots at the Mouse House. And he's determined to do whatever he has to in order to repair the Company's working relationship with Pixar. Up to & including buying that animation studio in January of 2006 for $7.4 billion and then making Steve Jobs the Company's largest individual shareholder. For a time, Steve owned 7% of that Company.
And when you lay out that kind of cash … Well, of course, you're looking for a quick return on your investment. Which is Iger then turned to the Imagineers and said "I want a lot of Pixar-related stuff in the Disney Parks as quickly as possible."
"Cars" Attractions in Disney Parks
And the Imagineers took the orders they were getting from Disney's new CEO very seriously. Which is why – a year to the day after "Cars" first opened in theaters (June 9, 2006) – Cars Race Rally opened at Walt Disney Studios Park at Disneyland Paris (on June 9, 2007).
Cars Race Rally at Walt Disney Studios Park in Disneyland Paris
Mind you, Cars Race Rally wasn't the most elaborate or ambitious attraction to ever be installed at a Disney theme park. Located in the Toon Studios section of Walt Disney Studios Park, this flat ride was a reimagining of Zamperla's Demolition Derby. Only in this case, this ride's vehicles that have been rethemed to look as though they were part of the "Cars" universe.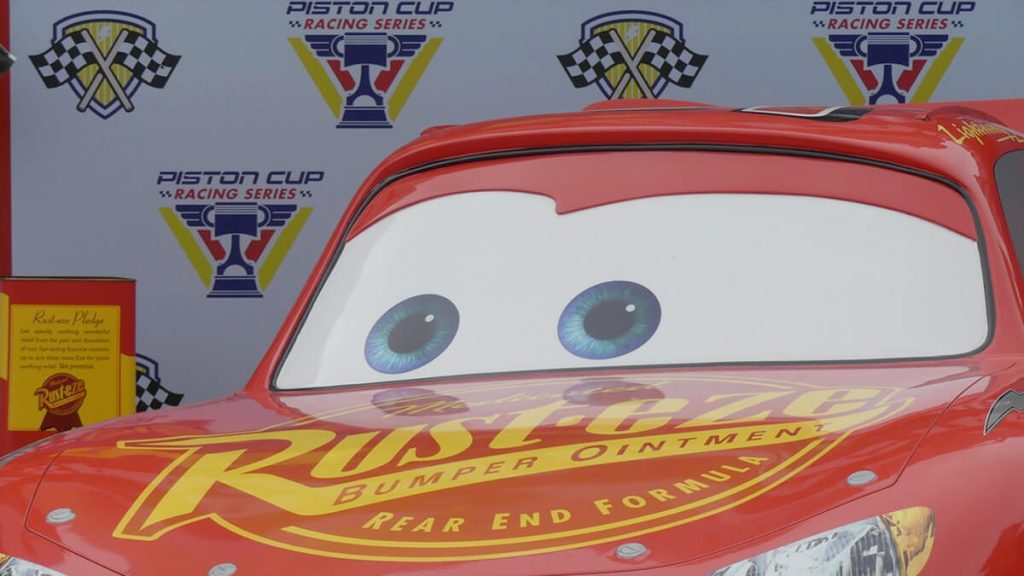 Radiator Springs Announcement for Disney California Adventure
But just four months after Cars Race Rally would open at Walt Disney Studios Park in Disneyland Paris (on October 17, 2007, to be exact), The Walt Disney Company announced its $1.1 billion redo of Disney California Adventure. This 5-year-long project be capped off by the creation of a 12-acre area that would basically recreate Radiator Springs in all its glory at the very center of this theme park. Which – it was hoped – would then give Southern Californians a compelling new reason to go visit the Disneyland Resort's second gate.
Mind you, the irony here is – if you look back at the original plans for Disney's California Adventure (back when this theme park was first announced back in July of 1996), Disneyland's second gate was supposed to have had an area that celebrated California Car Culture. A place that would have allowed DCA visitors to experience firsthand street racing or the joy of cruising along Route 66 or just the fun of sitting in a classic car from the 1950s outside of a neon-laden drive-in restaurant. Where you could then have had your fast food order brought right to your vehicle by a car hop who was wearing roller skates.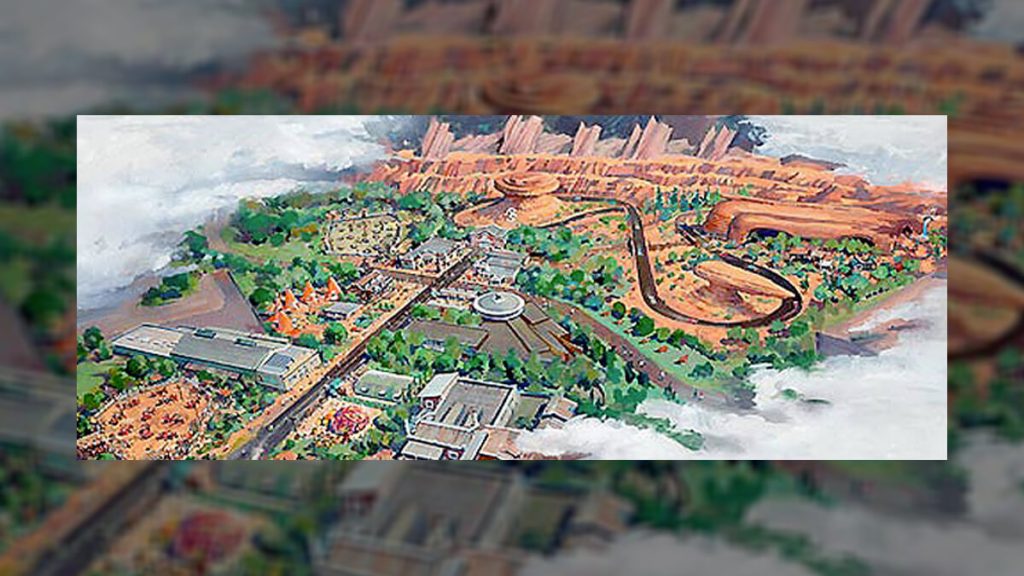 Sounds like fun, doesn't it? So how did we go from an area at DCA that was supposed to have celebrated California's car culture to a land that then recreated Radiator Springs from Pixar's original "Cars" movie? We'll get to that on the second installment of this new Bandcamp Exclusive series, "The Road to Cars Land."
The Closing of Walt Disney World's "20,000 Leagues Under the Sea"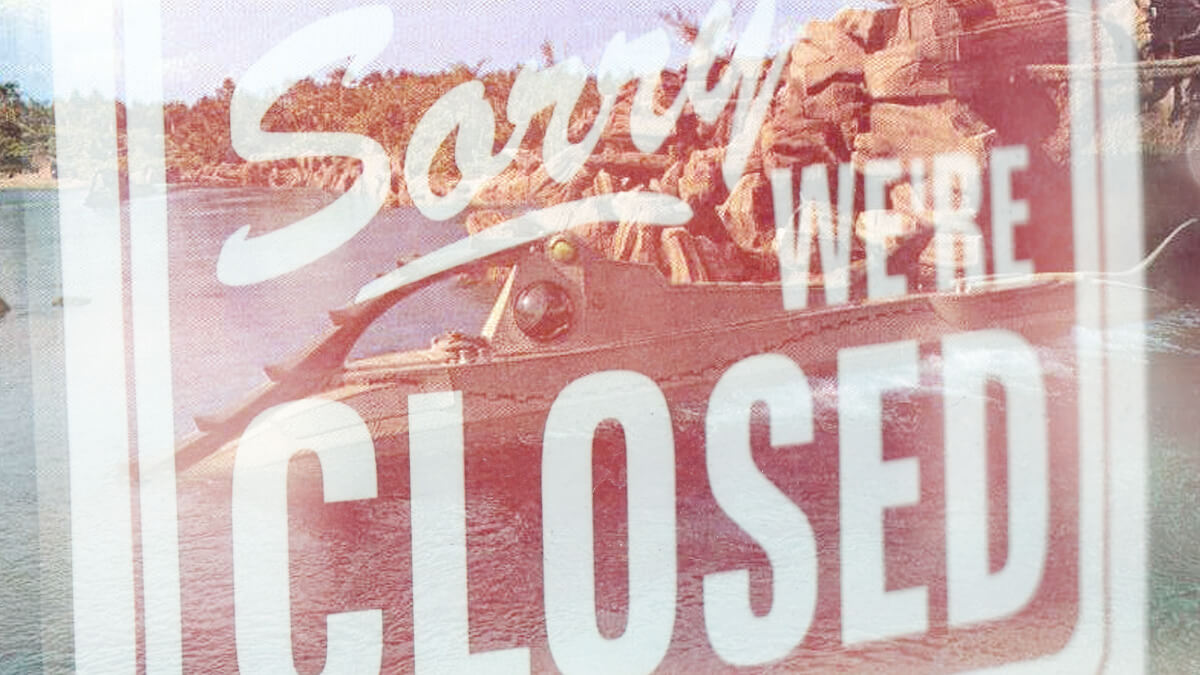 I need help from a Disney World employee. To be specific, someone who used to work at the Magic Kingdom back in the late 1980s / early 1990s.
The reason I'm asking for help is that there used to be this one-page newsletter that that theme park printed & distributed weekly to Cast Members who worked JUST at the Magic Kingdom.
Walt Disney World Cast Member Newsletter Request
I want to stress that this newsletter was different from the Eyes & Ears – which (back then, anyway) was a weekly newspaper (not a newsletter) that the Resort then printed & distributed to ALL Cast Members who worked on property.
This publication – which might have been called Kingdom Cast (Sorry. It's been almost 30 years now. I'm old after all and I'm now blanking this newsletter's name) – was typically printed on different colored paper stock every week.
I just need some help here when it comes to recalling the specific name of this newsletter which was primarily intended for Disney World employees who worked at the Magic Kingdom.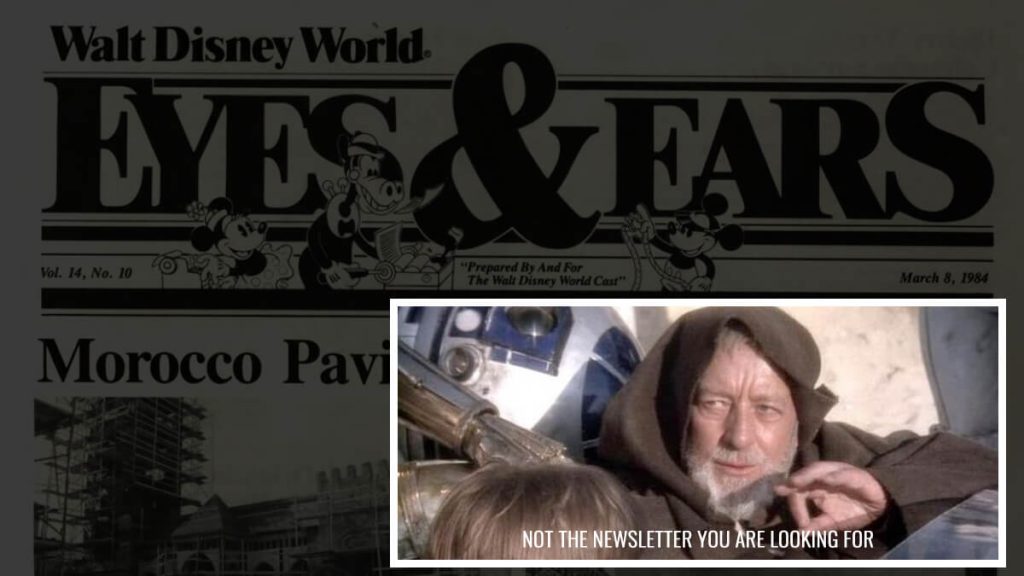 Magic Kingdom Newsletter – August 1994
Anyway … I was living down in Orlando at this time. Where I was trying to make a living writing about The Walt Disney Company. Which was challenging in those pre-Internet days. On the upside, I had lots of friends who worked at the Resort at the time. Who would then slip me copies of all sorts of in-house publications. Which then allowed me to stay on top of what was actually going on on-property.
Anywho … In late August of 1994, I got sent a copy of this particular Magic-Kingdom-only newsletter. Which included a brief item (That I'm recalling from memory now) that said …
… any & all Cast Members who had worked at "20,000 Leagues Under the Seas" over the past 23 years are invited to come by this Fantasyland attraction on the night of Monday, September 5th. We'd like to get together as many current & former 20K employees as possible for a group photo in front of that attraction's marquee. This image will then be used to commemorate the closing of this Disney World favorite.
This item in that newsletter then went on to say that – after the Magic Kingdom had officially closed for the night – all WDW Cast Members were then welcome to come by the Subs and get in one last ride before "20,000 Leagues" closed for good.
So I immediately realized that this was huge, huge news.
Disney World is closing the Subs at the Magic Kingdom.
And since I was friendly with Leslie Doolittle, the reporter who was wrote the "On Tourism" column for the Orlando Sentinel, I give Leslie a call and read her this item straight out of this Magic Kingdom employee newsletter verbatim. Which Ms. Doolittle then reports in her very next "On Tourism" column. Which then prompts WDW officials to lose their minds.
Initially senior management at the Resort flat-out denies that this Opening Day attraction is actually closing and they demand that the Sentinel immediately print a full retraction. After I provide Ms. Doolittle with a physical copy of this Magic Kingdom employee newsletter and she then shares that with WDW's PR team … Well, the Resort's senior management then changes its tune.
They now say … Well, yes. "20,000 Leagues" WILL be closing on September 5, 1994. But what was published in that Magic Kingdom employee newsletter was incorrect. This Fantasyland favorite is NOT closing permanently. But – rather –- 20K will be going down for a lengthy rehab. A REALLY lengthy rehab. The longest ever in this ride's history.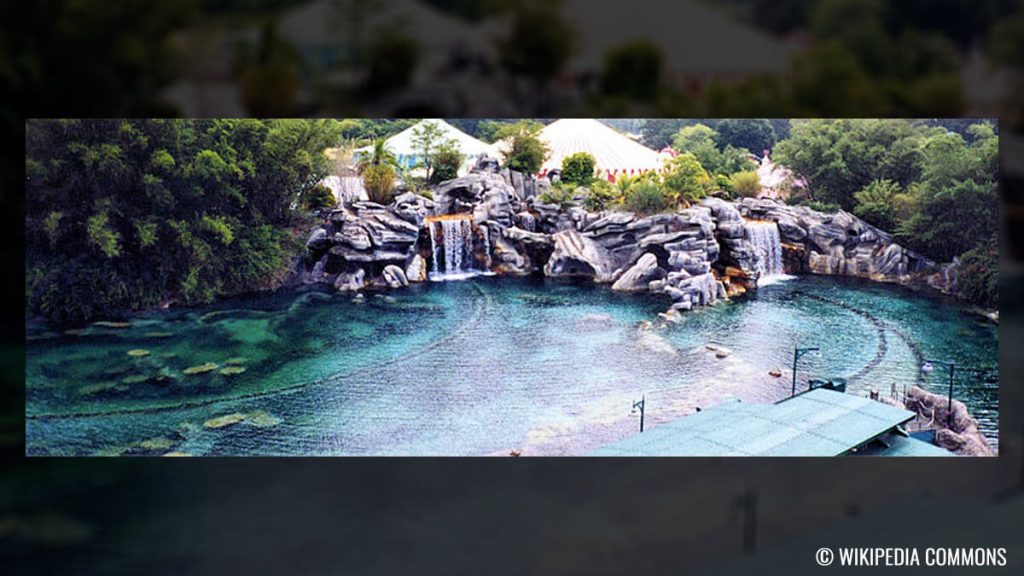 Maintenance Issues with WDW's "20,000 Leagues Under the Sea"
To explain: Anyone who loved this WDW attraction back in the day will talk about how frustrating it would be back then to visit the Magic Kingdom and then find that "20,000 Leagues" was down for maintenance … again.
Between the harsh Florida sun bleaching the color out of the fake coral & all those plastic fish (which is why – every year – the lagoon had to be drained & dried so these items could then be repainted) not to mention all of the mechanical challenges associated with keeping that fleet of 14 diesel-powered Subs up & running … "20K" was an operational nightmare.
Not to mention being a huge money suck when it came to the Magic Kingdom's annual operating budget.
So what Disney World senior management said – on the heels of that Orlando Sentinel story — was that "20K" was now closing for a top-to-bottom overhaul. This would be a two year-long project. But the good news was work would be completed in time for WDW's 25th anniversary celebration. Which was supposed to begin in October of 1996.
Which – I have to tell you – wasn't the truth at all.
That Magic Kingdom employee only newsletter had actually gotten everything right. Disney World's "20,000 Leagues" ride WAS closing for good on September 4, 1994. But not for the reason you might think.
Euro Disney Financial Troubles
Euro Disney had opened back in April of 1992. The park itself did well, attendance-wise. Not so much when it came to those 6 on-site hotels. Weighed down by enormous debt, Eisner actually talked about closing the place down in December of 1993 unless a new financial arrangement could be worked out with the 30+ banks that had originally funded construction of this $4.4 billion resort. A deal was reached in the late Winter / early Spring of 1994. But one of the conditions of this deal is that The Walt Disney Company would suspend the collection of any royalty payments that the Company was due from the Euro Disney Project from 1994 through 1998.
This new agreement / financial restructuring may have saved Euro Disney (which then got rebranded / relaunched as the Disneyland Paris Resort). But it also choked off a huge revenue stream at The Walt Disney Company. Which is why word then came down from on high that ALL divisions at the Mouse House now needed to tighten their belts. Economize.
And down at Walt Disney World … Well, managers then saw this edict as an opportunity to finally pull the plug on the Magic Kingdom's expensive-to-maintain / difficult-to-operate "20,000 Leagues" ride. And the beauty part was … This wasn't their fault. They were just following Corporate's orders.
Fan Backlash for "20,000 Leagues" Closing Announcement
What Walt Disney World senior management hadn't anticipated was – on the heels of Leslie Doolittle's story about how "20K" would be closing – that the Resort would then be flooded with letters begging Magic Kingdom managers to change their minds. Save this opening day attraction.
Which – again – brings us back to that "The-Subs-will-be-back-up-and-running-by-1996-just-in-time-for-WDW's-25th-anniversary" story. Which – I'll again remind you – just wasn't true. This was a lie that the Company quickly put out there to deflect & divert from what quickly had become a PR nightmare for the Magic Kingdom.
Michael Ovitz – Save or Close "20k Leagues"
So okay. We now jump ahead to August of 1995. Which is when Michael Ovitz – previously the head of CAA and once rumored to be the most powerful man in Hollywood – becomes the President of The Walt Disney Company. Michael Eisner hires Ovitz to be his new second-in-command (Following the tragic death of Frank Wells back in April of 1994).
And Ovitz … He wants to hit the ground running. Prove to Eisner that he's now going to be an extremely valuable member of the Disney team.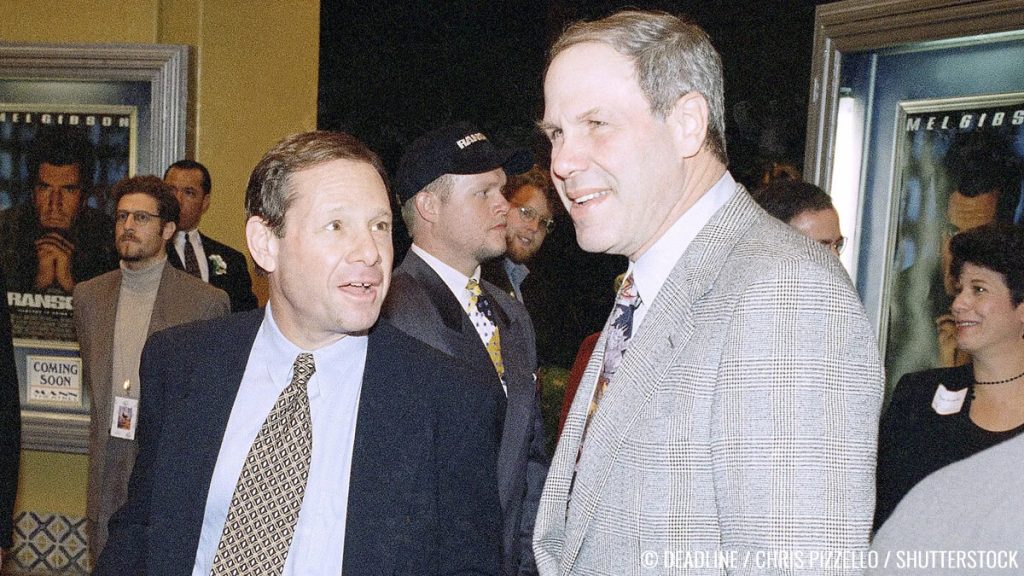 So picture this. It's now September of 1995. And Michael Ovitz – because he wants to learn about every aspect of The Walt Disney Company – is now on a familiarization tour of the entire corporation. And one of his very first stops is The Walt Disney World Resort.
And Michael (Ovitz, not Eisner) is a very data-driven guy. And he knows about the now-thousands of letters & phone calls that the Walt Disney World Resort has received about "20,000 Leagues Under the Sea." Which – again (remember) – WDW managers have been saying publicly is only temporarily closed. At this point, they're still insisting that that this Opening Day Attraction will be back up & running in time for WDW's 25th anniversary. Which is supposed to start on October 1, 1996.
So Ovitz – once he arrives on WDW property says – "Hey, I've heard about the Magic Kingdom's 20K problem. And I'd like to personally check out that ride while I'm down here in Florida. Maybe once I see it, I can then make some recommendations. Perhaps help speed along the funding you need to get that ride up & running again."
And seeing as Michael Ovitz is the newly installed second-in-command at the Mouse House, WDW senior management – after they hear this request – says "Sure. Absolutely. We'd love to do that, Mr. Ovitz. We'll come by your hotel first thing tomorrow morning and take you straight over to the Magic Kingdom before that park opens to the public. That way, you can see for yourself the challenges that we're now facing with bringing this Fantasyland ride back up online in time for Disney World's 25th anniversary celebration. We'd LOVE to hear your recommendations."
Which is why — the following morning at 7 a.m. — Mike Ovitz found himself standing in the queue at "20,000 Leagues Under the Sea" as a sub that was loudly belching smoke came rumbling up to the dock. The Disney Company's brand-new President then climbed down the stairs and found a quarter inch of water sloshing around in the bottom of the boat. When Mike pointed this out, a WDW ops staffer said "Well, you have to understand that a lot of our subs are over 20 years old, Mr. Ovitz. So many of them have developed small pinhole leaks over time."
The sub then lurched away from the dock and took Ovitz & the ops crew on a somewhat jerky trip around the "20K" ride track, with the attraction's soundtrack barely audible through the ship's crackling loudspeakers.
As you might imagine, once the boat pulled up to the dock, Michael quickly climbed out of the mildewed interior. He then turned to WDW's ops staff and then asked what it would cost to bring "20K" back online. Ovitz was then quoted a number that was reportedly more than the Resort was planning on spending on its entire year-long 25th anniversary celebration.
Ovitz knew that a redo of the Subs that was going to be that expensive would be a non-started with Eisner. Especially at that time in the Company's history, where – on the heels of the Euro Disney debt reorg and Disney deferring any royalty payments they were supposed to take out of that Resort 'til 1998 – word was coming down from on high to every division at Disney to economize & cut back.
Ovitz wanted to show Eisner that – as The Walt Disney Company's new president – that he could make the tough calls. So after hearing how much it would supposedly now cost the WDW Resort to bring the Subs back online, Ovitz then supposedy said "Well, maybe we'd just better cancel this rehab project and close 20K for good." And those WDW managers standing with Ovitz in the Subs Load / Unload area then said "Oh, no. Really? Are you sure?"
Not Reopening by Summer – 20,000 Leagues "Delayed"
Which is why – in the early part of 1996. Just a few months after Michael Ovitz visited the Walt Disney World Resort on that fam trip — Bruce Laval, who was (at that time, anyway) the Resort's Vice President for Operations – did an interview with the Sentinel. Where Bruce told Leslie Doolittle that …
"We were originally pursuing a short-term strategy with 20K. Something would have then allowed us to reopen the Subs with minor enhancements. But we found that there was no way we could accomplish that by this Summer."
Now please note that what Bruce is saying in early 1996 is very different from what the Resort had been putting out back in the Fall of 1994. Back then, the Magic Kingdom was going to shut down "20K" for a nearly two-year-long, top-to-bottom redo so that this Fantasyland attraction could then be part of WDW's 25th anniversary celebration looking bigger & better from ever. But come April of 1996, that story has significantly changed. The Park was now looking to re-open the Subs with "minor enhancements." But even that would be impossible for the Resort to now pull off by the Summer of 1996.
Which bring us to what Laval next told the Sentinel:
"We are abandoning those plans for the Subs and are now exploring other long term options."
So would it surprise you to learn that – in the middle of all the hoopla associated with the officially launch of WDW's 25th anniversary celebration in October of 1996 – Disney World's PR very quietly realizes the news that 20K is now closed permanently. That – on the recommendation of Michael Ovitz, the president of The Walt Disney Company — the Magic Kingdom is now abandoning any plans to rehab / revitalize that attraction.
Poor Guest Experience for Michael Ovitz
You wanna know the kicker to this story. Those WDW managers – when they brought Michael Ovitz into the Magic Kingdom early that September morning back in 1995 – had totally sandbagged the new president of The Walt Disney Company.
To make sure that Ovitz had the worst possible ride experience that morning …
Well, out of the fleet of 14 subs that had been built for this Fantasyland attraction, those managers deliberately picked the one that was in the worst possible shape.
They then recruited a veteran ride operator and quietly gave this Cast Member the expressed instructions to "Give Ovitz the roughest ride possible."
Then – to seal the deal — they threw a couple of buckets of water down into the bottom of that Sub to simulate a pinhole leak.
And all of this was done to give Ovitz the impression that WDW's subs were now beyond salvaging.
The real irony here is that Michael Ovitz, the man who made the permanent closure of the Subs at WDW's Magic Kingdom possible because he fell for the elaborate ruse that those Disney World managers staged back in September of 1995 … wasn't all that long-lived at the Mouse House.
Eisner fired Ovitz in December of 1996 (just 15 months after he'd taken the job) largely because Eisner felt that Ovitz just wasn't a good fit at Disney.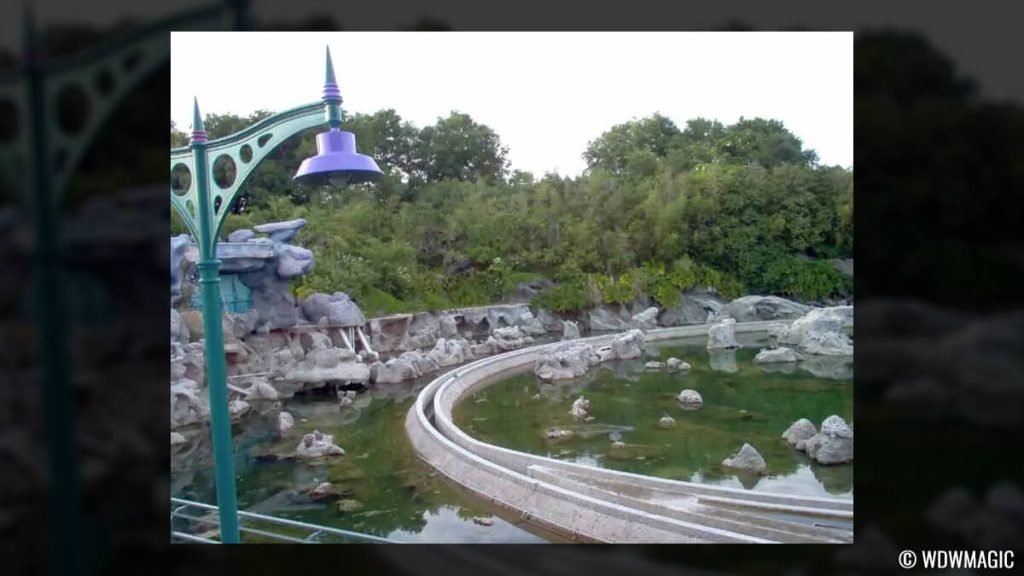 I have to tell you that WDW managers were thrilled that Ovitz was on the job at Disney for as long as he was. For – in September of 1995 — he made it possible to do what they couldn't. Which was close the Subs for good. Which then left that huge chunk of Fantasyland open for redevelopment.
Mind you, it would take nearly another 13 years (from when the WDW Resort finally officially announced that the Subs at the Magic Kingdom were closed in October of 1996 'til the first D23 Expo back in September of 2009. Which was when the WDW Resort officially confirmed that the long-rumored expansion of the Magic Kingdom's Fantasyland section was in the works) before that redevelopment effort would then move forward. But as anyone who's been watching the construction of "TRON Lightcycle Run" limp along at the Magic Kingdom these past five years, things move slowly these days at the Magic Kingdom.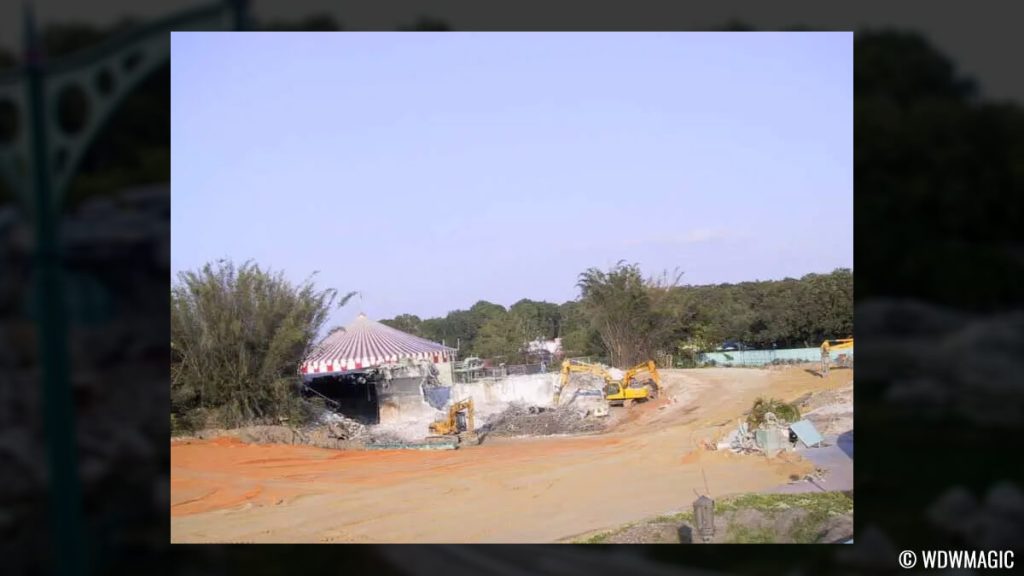 And – speaking of the Magic Kingdom – if anyone who worked at that theme park back in the late 1980s / early 1990s could please get back to me about that newsletter-for-Cast-Members-who-worked-specifically-at-that-Park (I'm 90% certain this weekly newsletter was called Kingdom Cast. But – again – I could be wrong), I'd really appreciate it.
This article is based on research for The Disney Dish Podcast "Episode 390", published on September 5, 2022. The Disney Dish Podcast is part of the Jim Hill Media Podcast Network.
Original Disneyland Lessee: Van Camp Seafood and The Chicken of the Sea Pirate Ship Restaurant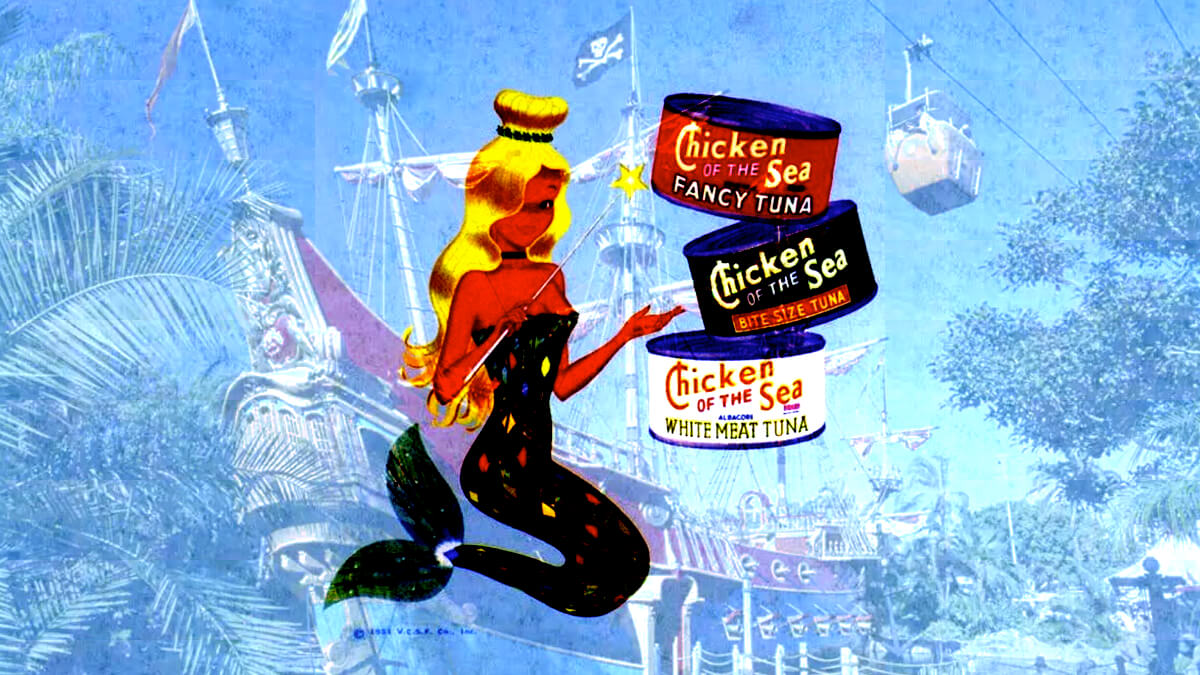 Since we've gotten such strong reaction to previous "Disney Dishes" where Len & I talked about original Disneyland lessees like Swift Meats (who sponsored the Red Wagon Inn at the Park, which was the precursor to Disneyland's Plaza Inn Restaurants) and Monsanto (who sponsor the Hall of Chemistry AND the House of the Future), I thought that we'd take a moment to shine a spotlight on another company that helped make up the original 48 lessees at Disneyland.
Original Disneyland Lessees
When Disneyland first opened in July of 1955 – the Park had 48 lessees. A number of those were short-lived outfits like Hollywood Maxwell's Intimate Apparel Shop and the BlueBird Shoes for Children Shop that came & went within the first few years that Disneyland was operational. By 1966 / 1967, the number of lessees that the Park had had shrunk down by nearly a third. To 33, to be exact.
That's an interesting number – 33.
Seems significant for some reason. Can't place why, though.
Van Camp Seafood Company
Some 67 years ago (August 29, 1955, to be exact), the Chicken of the Sea Pirate Ship Restaurant (the quick service restaurant that Van Camp Seafood sponsored at the Park) first opened for business.
Kind of appropriate that Van Camp Seafood came to sponsor a restaurant at Disneyland. After all, this fish canning company actually got its start some 95 miles to the south of Anaheim in San Diego, California back in May of 1914 – founded by Frank Van Camp & his son Gilbert.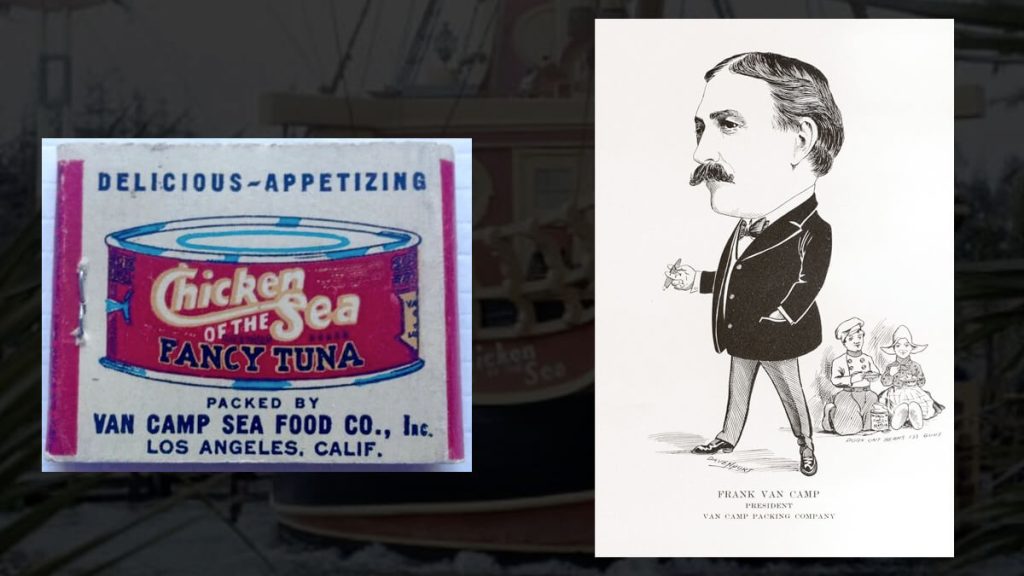 And as for that "Chicken of the Sea" thing … That was a bit of branding Van Camp embraced back in 1930. You see, the type of tuna that they initially specialized in canning (i.e., white albacore) was acclaimed for its mild flavor & color.
"Tastes like chicken" = "Chicken of the Sea."
By 1952, Van Camp Seafood further refined their brand by introducing the Company's icon: Catalina the Mermaid.
Interesting side note: If Catalina the Mermaid looks kind of familiar to all you Trekkies out there … Well, there's a good reason for that. Grace Lee Whitney – who played Yeoman Rand on the original "Star Trek" television series – was actually the inspiration for Van Camp Seafood's corporate icon.
Peter Pan & Mermaid Lagoon
We jump ahead now to February of 1953, which is when Walt Disney Studios releases its feature-length animated version of "Peter Pan" (which is based on J.M. Barrie's 1904 play about "The Boy Who Wouldn't Grow Up"). This animated feature includes a scene where Peter takes Wendy Darling to Mermaid Lagoon. Where those mermaids then try to drown Wendy. I guess Catalina hangs out with a rough crowd.
Jump ahead to 1954. Walt is looking to lock in sponsors for his new family fun park. And Disney's animated version of "Peter Pan" is still very front of mind. Which is why – when Disney representatives reach out to Van Camp Seafoods to ask if this fish canning company would be willing to sponsor some sort of attraction at Disneyland – Frank & his son Gilbert are interested.
The Van Camps do have some conditions, though. As part of whatever their Company sponsors at Disneyland, this shop, restaurant or attraction has to prominently feature Catalina the Mermaid, the Chicken of the Sea icon.
The folks at Disney go away for a bit to ponder this proposition … and then eventually come back with a proposal for the Van Camp family. What about a restaurant that's also an attraction? As in: The Chicken of the Sea Pirate Ship Restaurant.
The Chicken of the Sea Pirate Ship Restaurant
This massive structure – we're talking 79 feet long and 80 feet tall (That includes the ship's three masts. Which were each 60 feet tall) – was to be a recreation of the Jolly Roger, Captain Hook's ship from Disney's animated version of "Peter Pan." Guests would have the opportunity to board this vessel and explore the upper deck. Below decks, there'd be a quick service restaurant that only served food items that could be made with Van Camp Seafood products. We're talking:
A Tuna Sandwich
A Tuna Burger
A Tuna Pie served in a Pastry Shell
A Tuna Boat Salad
A Tuna Clipper Salad (a clipper is a slightly bigger boat)
Shrimp Cocktail (Van Camp Seafood also sold canned shrimp)
and Fruit Tart with Whipped Cream (which must have had a little tuna in it)
Reminds me of that Monty Python bit. "It's only got some spam in it. Spam, spam, spam, span, baked beans & spam.")
Frank & Gilbert Van Camp loved this idea. Even so, it took a while to Van Cap Seafood & Walt Disney Productions to negotiate the final contract. Not to mention draw up the construction blueprints for this Fantasyland restaurant / attraction. I've seen a set of these blueprints that Fred Stoos (he was one of the original construction coordinators on the Disneyland project) drew up that are dated May 7, 1955.
Building the Jolly Roger
That's basically 10 weeks before Disneyland first opens to the public. So as soon as those blueprints were signed off on, they immediately began building the Jolly Roger out behind the park's lumber mill. Which – after the Park was completed – this building would then become the Main Street Opera House.
The ship itself was built out of Douglas Fir. And as for this pirate ship's trim, that was genuine mahogany which had been shipped in from Honduras.
Now remember that condition that Frank & Gilbert Van Camp insisted upon? That Disneyland's Chicken of the Sea Pirate Ship Restaurant had to feature their company's icon – Catalina the Mermaid – in some way?
Catalina the Mermaid – Figurehead
Disney honored this sponsorship condition by making Catalina the Jolly Roger's figurehead. Chris Mueller (who sculpted all of the animals that Guests saw on Disneyland's "Jungle Cruise." Not to mention the giant squid in Disney Studio's "20,000 Leagues Under the Sea" film. In addition to creating "The Creature from the Black Lagoon" for Universal Pictures' 1954 film of the same name) not only created that beautiful 6-foot-tall piece, Mueller also sculpted an enormous piece for this ship's stern. Which replicated the way Catalina the Mermaid was depicted on each can of "Chicken of the Sea" tuna. With Catalina seated atop her shell throne which is then borne on the back of a giant sea turtle. Beautiful piece.
The Flying Jolly Roger
Remember how this pirate ship restaurant was quickly being built backstage at Disneyland out behind that park's lumber mill? When it came time for this building to finally be moved into place over in Fantasyland … Well, remember how the Jolly Roger flew in Disneyland's animated version of "Peter Pan" ? This structure flew as well. It was lifted by a construction crane over all of those still-under-construction Tomorrowland buildings and then dropped into place behind the Park's Mad Tea Party flat ride.
Painting and Camera Tricks
The only problem was … The night before that "Dateline: Disneyland" special aired live on ABC, Walt realized that he was running out of time & money. And the Chicken of the Sea Pirate Ship Restaurant (while it was now in its proper place in the Park) was still unpainted. And if the Van Camp family saw the restaurant / attraction that they'd paid for show up on live television looking like that, Frank & Gilbert would be furious.
Walt's solution to this not-enough-time / not-enough-money problem was kind of ingenious. He only had his painters paint the side of the Chicken of the Sea Pirate Ship Restaurant that faced into the Park (i.e. the side that would appear on camera). Walt then had a bunch of Disney Studios employees placed on deck. When the cameras came on, these folks rushed to the rail and then wave frantically towards the camera. That way, no one would notice that the props or rigging on this ship weren't in place either.
This trick worked. The Jolly Roger looked great on camera. And just so you know: It would take another six weeks of hard work after the "Dateline: Disneyland" TV special aired before the Chicken of the Sea Pirate Ship Restaurant was finally ready to serve food / begin entertaining Disneyland Guests.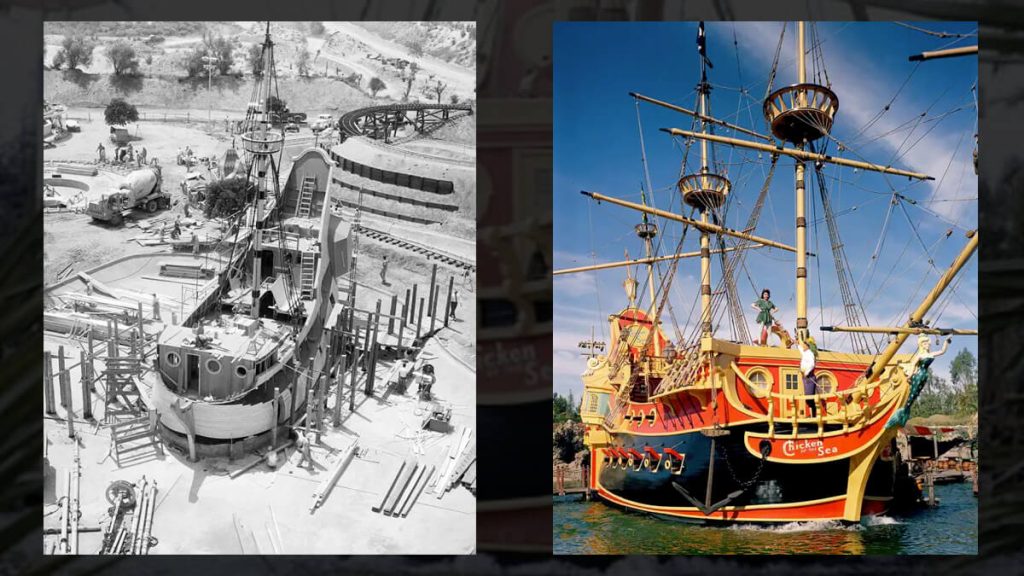 Popularity and Expansion of The Chicken of the Sea Pirate Ship
This eatery became so popular with Disneyland Guests that … Well, after Walt finally wrestled ABC's partial ownership of the Park away from that broadcast company in June of 1960 (He had to pay that company $7.5 million for its one third ownership of the Park) … One of the very first thing Disney did was to create a secondary seating area for this Fantasyland eatery.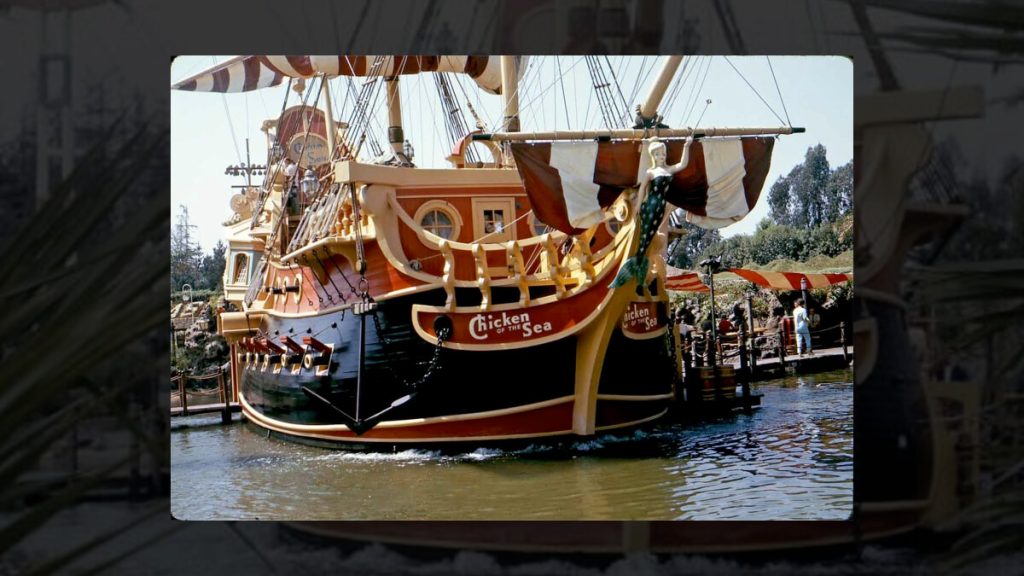 Here's how that expansion project was described in the October – November 1960 issue of the "Disneylander" (i.e., the park's employee newsletter back then):
This article's headline read: "Pirate Ship To Have New And Exotic Setting"
And here's a quote from this piece:
"By the time you read this, you'll be aware that the Chicken of the Sea Pirate Ship is closed for extensive rehab. It is scheduled to reopen about December 15th. Isolated by craggy cliffs covered with lush tropical foliage will be 'Pirate's Cove,' where the Park's well known Pirate Ship resides at anchor. WED designers have included in their plans the familiar landmark of Skull Rock from the Peter Pan story with three waterfalls cascading from rocky heights."
Construction of Pirate's Cove & Skull Rock actually took a little longer than expected. This Fantasyland addition wouldn't open 'til just before Christmas. December 23, 1960, to be exact.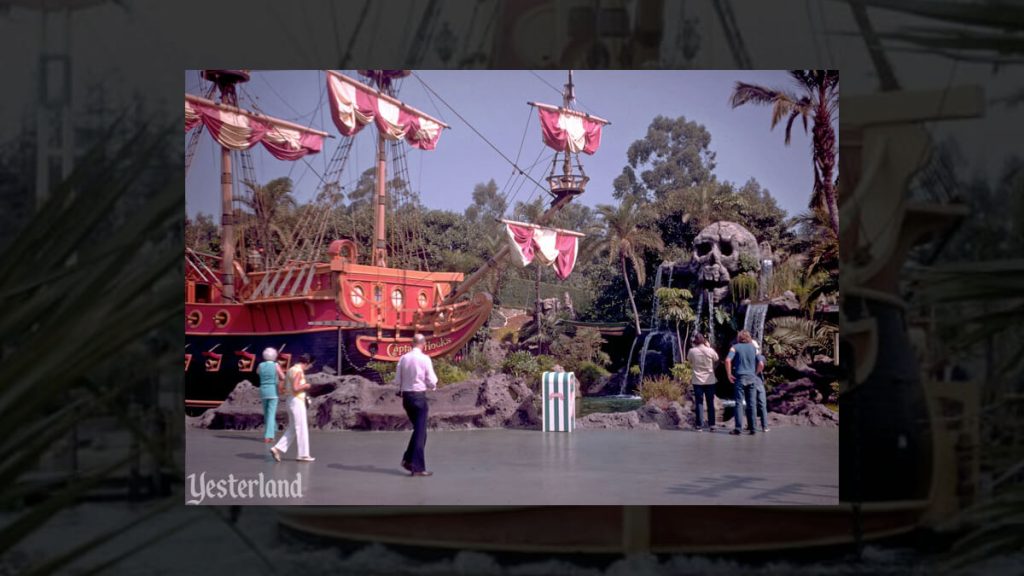 Van Camp Seafood Partnership
The folks at Van Camp Seafood initially seemed very pleased with their association with Disneyland Park. They renewed their original sponsorship agreement with the Park in 1962 for another seven year-long lease. Unfortunately, in 1963, Frank & Gilbert sold their fish canning company to Ralston Purina. And when the sponsorship contract for the Chicken of the Sea Pirate Ship Restaurant came up for renewal in 1969, Ralston Purina opted out.
Captain Hook's Galley
Disneyland management responded to this loss of sponsor by changing the name of this Fantasyland restaurant from The Chicken of the Sea Pirate Ship Restaurant to Captain Hook's Galley. They also made minor tweaks to the ship's figurehead and the giant stern piece so that the mermaids there no longer looked just like Catalina, Chicken of the Sea's corporate icon.
Moving to New Fantasyland
We now jump ahead to the Fall of 1981. Work has just begun on Disneyland's New Fantasyland. Which – when this side of the Park re-opens in the Summer of 1983 – will feature all-new versions of Disneyland's classic dark rides like "Snow White's Scary Adventures" & "Mr. Toad's Wild Ride" featuring then-state-of-the-art effects like fiber optics & digital sound.
Among the changes that are in the works for this side of the Park is that the ship that houses Captain Hook's Galley is once again going to be lifted by a crane. Only this time, it's going to lifted over a 100 feet or so that this full-sized pirate ship could then became the finale of Disneyland's Storybook Land Canal Boats ride. The canal boats – after floating by all of those miniaturized recreations of settings from famous Disney films – would now find themselves, in the final moments of this ride, right alongside of the Jolly Roger.
The Imagineers thinking here was … Well, Disneyland's Storybook Land Canal Boats ride starts off with a big moment (the canal boat you're riding in gets swallowed up by Monstro the whale from "Pinocchio"). It should then have a similarly big moment at the moment at the end. Besides – by moving the structure that previously housed Captain Hook's Galley from the centerbackmost portion of Fantasyland over to the eastern edge of this land at Disneyland – this then opened some very valuable real estate right in the middle of one of the more popular / most crowded corners of the Park.
So okay. So once this part of the Imagineers' plans for a new Fantasyland at Disneyland was signed off on by Park Management … Phase One of Operation "The Jolly Roger Flies Again" was to first gently pry Chris Mueller's now 26-year-old mermaid sculptures off of the bow & the stern of the Chicken of the Sea Pirate Ship Restaurant and then take them backstage to be restored. Then the pirate ship would be hoisted into its new location at the edge of Small World Plaza. Whereupon the load / unload area for the Storybook Land Canal Boats ride would be expanded to create a brand-new lagoon space that this pirate ship could be anchored in.
Just so you know: I've never been able to confirm that Skull Rock was to have then be recreated in this new location. The insinuation here was that – once both phases of the New Fantasyland project were complete (Phase One was to be ready for the Late Spring of 1983. While Phase Two – which involved the revamped version of the "Alice in Wonderland" dark ride, the relocation of Disneyland's "Mad Tea Party" dark ride and the Mad Hatter's Hat Shop – would open in the Spring of 1984) — the Imagineers would then attempt to ram through the creation of a second version of Skull Rock. Which would then help hide where the maintenance dock for the Storybook Land Canal Boats would be taken every night.
I have also been told that the below-decks area (which was initially supposed to be closed off to Guests once the Jolly Roger was flown into its new location of the Eastern edge of Small World Plaza) was to have then been completely renovated. And that – for the Summer of 1985 (Just in time for Disneyland's 30th birthday celebration) what had previously been a quick service restaurant would then be turned into a pirate-themed juice bar. Which was kind of a cool idea.
Problems with the Move & Demolition of the Jolly Roger
This was the plan anyway. Unfortunately, after those two mermaid pieces were carefully pried off of the bow & the stern of Captain Hook's Galley, the forklift that was taking both of these pieces backstage made a sudden stop. The mermaid pieces then fell off and shattered to smithereens.
Worse that that: When the New Fantasyland construction crew went to go arrange the harnesses that were necessary to hoist this 26-year-old pirate ship high in the air over to its new location, they then discovered that the old Chicken of the Sea Pirate Ship Restaurant (which — remember – had originally built out of Douglas Fir outside of Disneyland's old lumber mill and then been trimmed with genuine Honduran mahogany) was now riddled with termites. Long story short: This structure would have immediately crumbled into pieces as soon as that construction crane starts to pull on those harnesses.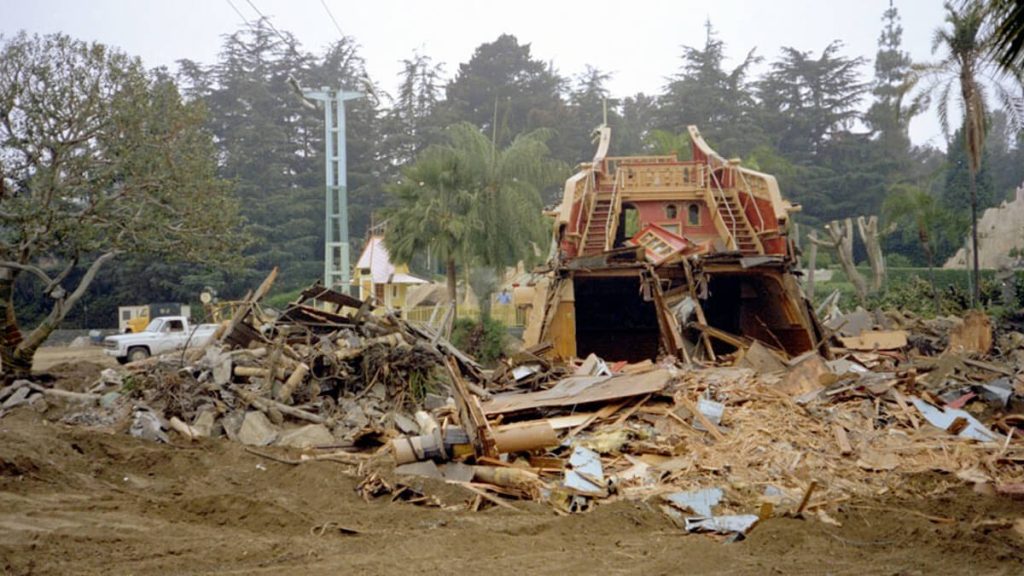 As a direct result, the Chicken of the Sea Pirate Ship Restaurant was left at anchor right where it was until a demolition team could come along and pull this ship-shaped structure down. While they were at it, this demolition team also destroyed one of Disneyland's favorite photo spots (Skull Island Cove). In its place today, you'll now find Disneyland's relocated Dumbo the Flying Elephant ride.
Which – of course – makes us OG Disneyland fans sad. I mean, that's something that Walt put in place and then plussed. But it's worth noting that the Jolly Roger — as well as Pirate Cove & Skull Rock — do live on. Only at a different Disney theme park.
Adventure Isle at Disneyland Paris
When the Imagineers opted to build Adventure Isle at Disneyland Paris in the early 1990s, they included a full-sized pirate ship that was then placed at anchor in front of a large-ish version of Skull Rock. And inside of this pirate ship, you'll find yet another Captain Hook's Galley. This one's a counter-service restaurant, though. Not a pirate-themed juice bar.
Disneyland Tuna Burger and Fruit Tart with Whipped Cream
Just so you know: If you're a Disneyland completist and wonder what it was like to actually dine at the Chicken of the Sea Pirate Ship Restaurant, if you Google "Disneyland Tuna Burger," you can find a number of recipes online that will then allow you to replicate this signature item from the menu of this now-gone-for-nearly-40-years restaurant.
Me personally, given that whole everything-served-here-must-make-use-of-items-that-Van-Camp-Seafood-makes-or-sells condition, I still have to wonder just how much tuna there was in that one dessert item the Chicken of the Sea Pirate Ship Restaurant sold. Which was the fruit tart with whipped cream.
This article is based on research for The Disney Dish Podcast "Episode 389", published on August 29, 2022. The Disney Dish Podcast is part of the Jim Hill Media Podcast Network.