Mything in Action: Harry Potter Must Die!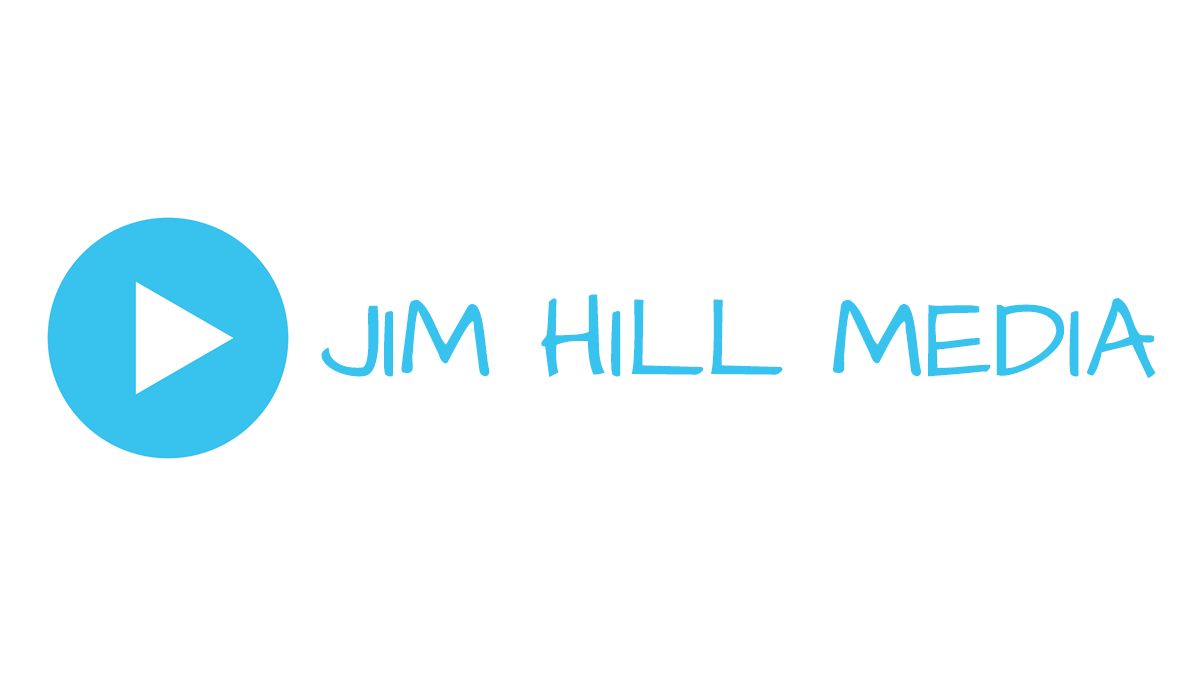 I realize it's only summer, but excitement is already building toward the November 19th theatrical release of Harry Potter and the Deathly Hallows – Part 1. And starting today (Thursday, July 8), ABC Family is giving you a chance to prepare for the newest installment by reacquainting you with the previous six. This cable channel's "Harry Potter Weekend" (which runs through Sunday, July 11) also promises "never-before-seen interviews with your favorite cast members" as well as a "sneak peek" of a scene from the seventh movie.
As you watch, see if you notice one theme that seems to dominate all the Harry Potter stories. Do you know which theme I'm referring to? Yes—it's "death." As author J.K. Rowling, quoted in London's Daily Telegraph in 2006, explained: "My books are largely about death. They open with the death of Harry's parents. There is Voldemort's obsession with conquering death and his quest for immortality at any price, the goal of anyone with magic. I so understand why Voldemort wants to conquer death. We're all frightened of it."
The death theme takes center stage in Harry Potter and the Deathly Hallows, beginning, of course, with the volume's title. So it's not surprising that the biggest controversy preceding the book's July 2007 publication centered on this question: "Would J.K. Rowling kill off her title character…or would 'the boy who lived' continue to live?"
SPOILER ALERT! If you haven't yet read Deathly Hallows and don't want to know Harry's fate, then you may want to skip the next three paragraphs.
For me, the answer had always been obvious: Harry was toast.
Followers of the Hero's Journey knew all along what Harry Potter's fate would be in Book 7. Harry Potter publishing rights copyright J.K.R.
No, I was not being clairvoyant—nor had I managed to sneak a glance at Rowling's super-secret Book 7 manuscript. Instead, I was equipped with the knowledge that the narrative arc of the previous six Harry Potter novels was closely following the Campbellian model of the mythic "Hero's Journey." (If the late mythologist Joseph Campbell and his theory of the Hero's Journey are new to you, take a few moments to look at my "Hidden in Plain Sight" introductory article. You'll be glad you did.)
Furthermore, I recognized that each of those stories was also a self-contained Hero's Journey, and that Harry had "died" (either figuratively or vicariously) at some point in all six novels. So I knew beyond a sliver of doubt that Harry was fated to die in the final installment … but that he would also be resurrected. And through his rebirth, Harry would have the means to decisively vanquish Lord Voldemort and complete his epic quest.
Though I always knew that Harry would be resurrected, Harry himself had no such expectation. By courageously sacrificing his own life anyway, Harry proved that he had fully absorbed the lessons of all his previous adventures and was at last fully in control of his new insights and abilities. Through his selfless act, Harry finally met the definition of a true mythic hero: one who puts the welfare of others before his or her own, and is prepared to make the ultimate self-sacrifice for their sake.
By the end of the series, Harry has conquered death and proven himself to be a true hero. Copyright Warner Bros. Ent. All rights reserved. Harry Potter publishing rights copyright J.K.R.
I believe Rowling's mastery of this and other powerful and intensely resonant mythic ideas goes a long way toward explaining why her books have become such massive best-sellers…and why the movies based on those books have all been blockbuster hits, both critically and at the box office (the first six movies have collectively pulled in over $4.5 billion to date in worldwide receipts, making it the highest-grossing film series of all time when not adjusted for inflation).
Now Universal Orlando's Wizarding World of Harry Potter, which officially opened to the public on June 18th, seems well on its way to becoming as popular as the books and movies. Moreover, by translating the "Potterverse" into a physical, 3-dimensional, immersive experience, the designers have given audiences a means of connecting with the stories and characters in a more compelling and personal way than ever before. And this aspect of the experience makes its mythic qualities all the more powerful. Thus, instead of engaging the mythic content vicariously (as in the books and movies), you can now feel that you are actually "in the story." You are no longer a bystander or witness or passive observer. Instead, you have become an active participant in the Potterverse. As Universal's ubiquitous Wizarding World billboards and banner ads proudly proclaim: "His journey is now yours."
By making the Potterverse tactile and immersive, Universal also makes it more personal. Copyright 2010 Universal Orlando. All rights reserved. Harry Potter publishing rights copyright J.K.R.
Like all mythic Hero Journeys, your Wizarding World experience begins with a Call to Adventure. If you don't count those aforementioned ads, that Call will take the form of your first glimpse of the soaring spires of Hogwarts Castle, which beckon to you from afar as you traverse the Lost Continent section of Islands of Adventure. Soon enough, you are crossing the First Threshold into the Special World, which Joseph Campbell described as "a dream landscape…where [the hero] must survive a succession of trials."
In the books and movies, the Special World of Hogwarts, Hogsmeade, Diagon Alley, the Forbidden Forest, and other locales, are fully fleshed out, imaginatively detailed, and remarkably self-contained. In the course of his adventures in these realms, Harry encounters one potentially lethal challenge after another—including dragons, Death Eaters, Dementors … and many other threats that don't begin with the letter "d." Each of these adventures brings him closer to his fateful final confrontation with his immortality-obsessed nemesis, Lord Voldermort.
The cast of the "Harry Potter" films marvels at all the detailing found in Universal Islands of Adventure's "Wizarding World." Copyright 2010 Universal Orlando. All rights reserved. Harry Potter publishing rights copyright J.K.R.
At The Wizarding World of Harry Potter, you are in the hero role and your Special World is the hyper-real environs of Hogsmeade Village and Hogwarts Castle. If you're not in a huge hurry to line up for Harry Potter and the Forbidden Journey, you really should take some time to explore the intricately detailed shops and other locales within Hogsmeade. They not only create a brilliantly evocative atmosphere—they also fulfill a crucial mythic function. For it is within the Special World that the hero traditionally learns the "lay of the land" and gains the knowledge, training, and essential "gifts" (magical weapons, tools, clothing, talismans, etc.) that will be vital to his or her ultimate quest.
The Hogsmeade shops help you equip yourself for the next stage of your mythic adventure. Copyright 2010 Universal Orlando. All rights reserved. Harry Potter publishing rights copyright J.K.R.
Thus, within the Special World of Hogsmeade Village, you will find a collection of quirky shops stuffed to the rafters with all manner of magical items which no self-respecting Hogwarts student should be without — from wands to Sneakoscopes to Firebolt broomsticks. Elsewhere in Hogsmeade, you'll have the opportunity to familiarize yourself with the local culture of this Special World as you are introduced to such oddities as its owl-based wizard postal system and unique beverages such as Pumpkin Juice and Butterbeer.
Hogwarts Castle takes the idea of the mythic "Approach to the Inmost Cave" rather literally. Copyright 2010 Universal Orlando. All rights reserved. Harry Potter publishing rights copyright J.K.R.
When you are ready for the next stage of your heroic journey, you'll find that the Approach to the Inmost Cave leads you to the entrance of Hogwarts Castle — the threshold of which happens to be built around a cave-like opening at the foot of a craggy mountain. (Coincidence? I think not.) Winding your way through the long network of corridors, chambers, and halls leading to the ride load platform, you'll meet threshold guardians (a gallery of talking paintings, the Sorting Hat), a herald (Professor Dumbledore), and a trio of mentors (Harry, Ron, and Hermione).
Talking portraits fulfill the role of threshold guardians. Copyright 2010 Universal Orlando. All rights reserved. Harry Potter publishing rights copyright J.K.R.
At last, you will be launched out of the castle aboard an enchanted "flying bench" for a tour of the Hogwarts Quidditch pitch that instead sends you hurtling through a succession of harrowing and potentially deadly detours. You'll have too-close calls with one of Hagrid's pet dragons, an army of giant spiders, the notorious Whomping Willow tree, and a swarm of soul-sucking Dementors.
The Forbidden Journey ride challenges you to face and conquer some of your worst fears. Copyright 2010 Universal Orlando. All rights reserved. Harry Potter publishing rights copyright J.K.R.
Though you may be a mere Muggle, your ability to endure and survive this "Supreme Ordeal" reveals that you, like Harry and his mates, are already showing the traits of a mythic hero. You discovered reserves of courage and fortitude you never realized you had, as you bravely conquered some of your worst fears. Soon, your initial feelings of post-adventure exhilaration may give way to the realization that this breathtaking "initiation" has subtly altered your way of looking at yourself and your world. (If nothing else, you may come away with a renewed appreciation of the joy of being alive.) And who knows … you may have the makings of a future wizard in you after all!
(By the way: I am hardly the first person to explore the connections between the Campbellian Hero's Journey and the Potterverse. So if you'd like to explore the mythic themes and archetypes of the Harry Potter stories in more detail, just Google the search terms "Harry Potter Hero's Journey" and you'll come up with plenty of excellent resources…including websites such as this one.
Adam M. Berger is president and senior writer at Berger Creative Associates, Inc., an Orlando, Florida-based creative writing and consulting firm serving the themed entertainment and attraction design industry. You can read more of Adam's thoughts on mythic storytelling in popular entertainment at his blogsite: www.TheMythingLink.com.
The longish path that "Catch My Breath," Paul Briggs' picture book took to be published by Disney Hyperion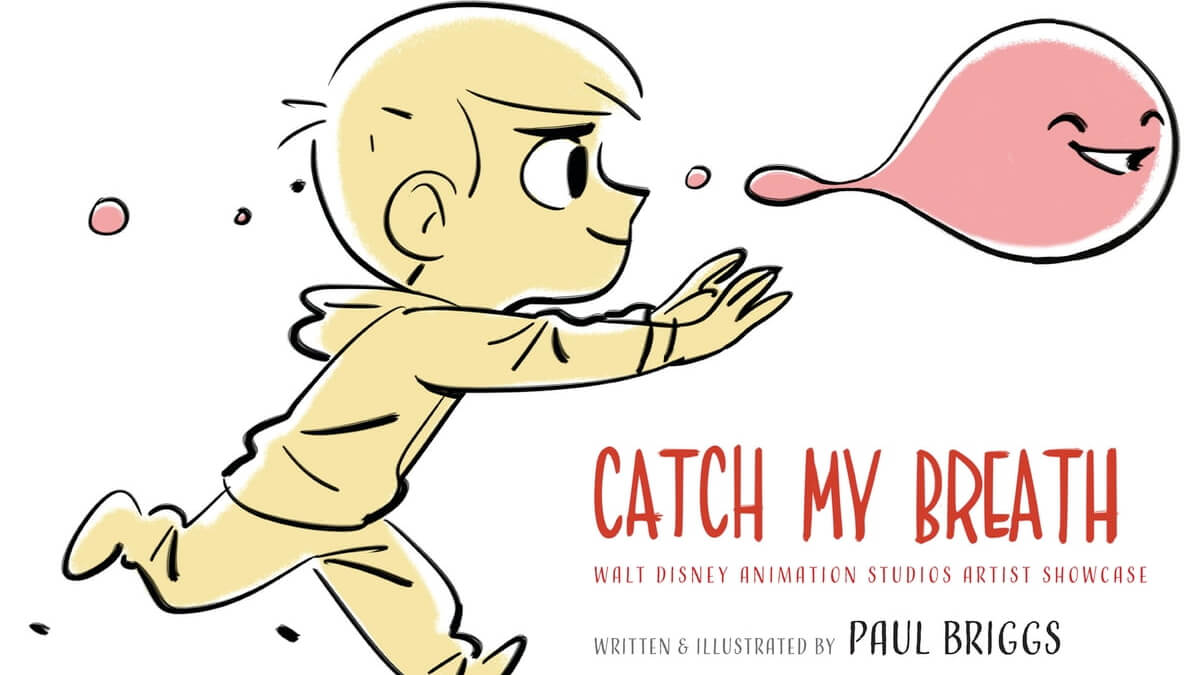 How long can you hold your breath?
I ask this question because Paul Briggs wound up holding his "Breath" (i.e., "Catch My Breath," that charming picture book which Briggs wrote & illustrated. This is also the 48-page hardcover that Disney Hyperion sent out into stores late last month as the most recent installment of its Walt Disney Animation Studios Artist Showcase series) for over five years.
"I initially submitted my pitch for a children's book back in early 2012. But just as my idea was selected for Disney's Artist Showcase program, I was then asked to become Head of Story on 'Frozen,' " Briggs recalled during a recent phone interview. "So I put my picture book proposal in a drawer and then devoted the next year of my life to 'Frozen.' All with the idea that – once this job was done – I'd then turn my attention back to 'Catch My Breath.' "
Paul Briggs at a recent signing for "Catch My Breath," his new picture book. Copyright Disney Enterprises, Inc. All rights reserved
That was Paul's plan, anyway. But then in the Fall of 2013, just as the team at Walt Disney Animation Studios was completing "Frozen," Briggs learned that he was needed on "Big Hero 6."
"I was literally at the 'Frozen' wrap party when I learned that I was going to be asked to come on board 'Big Hero 6.' So I was like 'Okay! I'll now go work on that project and then – as soon as that's done – get back to work on my picture book,' Paul continued. "But once I finished working on 'Big Hero 6,' there were another couple of projects that the Studio wanted me to help out with. Which meant that another year or so went by before I was then finally able to circle back on 'Catch My Breath.' "
Given all of these delays, another writer might have thought "It's not meant to be" and have just left this book pitch in that drawer. But not Briggs.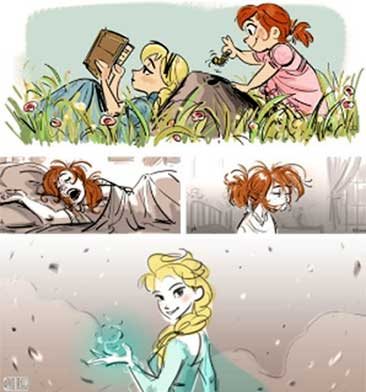 Story sketches that Paul Briggs did for Disney's "Frozen." Copyright Disney Enterprises, Inc. All rights reserved
"I'm the kind of guy who likes to fold bits & pieces of his real life into the stories that he's trying to tell. Take – for example – 'Frozen.' I have four sisters. Which is why – when I was working on that movie – I tried to make sure that Anna & Elsa came across as realistic siblings. That – over the course of that film's story — these two behaved like real sisters do," Paul explained. "Now on 'Big Hero 6' … Well, my Mom had just passed away as I began working on that movie. So as the story team was sorting through how to best tell 'Big Hero 6' 's story, I was in the middle of my own personal journey of understanding. Trying to learn how to accept grief into my life without it then overwhelming or undermining everything else in my life. And what I learned by going through that part of the grieving process then influenced a lot of the story suggestions that I made on 'Big Hero 6.' "
Truth be told, the passing of Briggs' mother did help shape the sort of story that he was hoping to tell with "Catch My Breath."
"The very same year that my Mom died, my son was born. So in that same short span of time, I got to see my mother take her very last breath and my first-born take his very first breath," Paul remembered. "And that's when it occurred to me that our breath is kind of like our bestest, closest friend. Which is why you can't ever allow it to get away."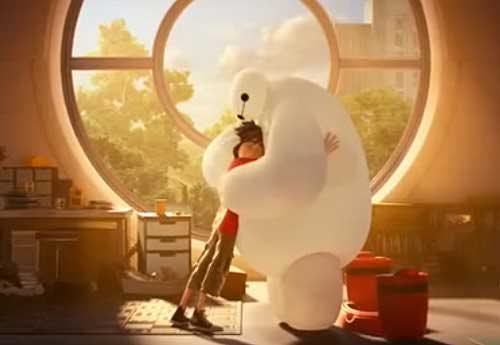 Copyright Disney Enterprises, Inc. All rights reserved
So with that creative conceit in his head, Briggs then began to sketch out a story for 'Catch My Breath.' A tale which Paul admits took a teeny bit of inspiration from that Grammy Award-winning author, Shel Silverstein.
"I just loved his stuff when I was growing up. But – to be honest – there are so many authors that I read when I was a kid, so many artists whose styles I'd tried to emulate when I was just getting started with my career and I was still trying to find myself that …," Briggs stated. "Well, when it came to 'Catch My Breath,' what was really important to me with this picture book was that I just do my own thing. Mind you, I didn't exactly know what that was when I was just getting started on this project. But in the end, it would up being this very intimate, personal thing."
And given that his pitch for the Walt Disney Animation Studio Artists Showcase was so personal, Paul wasn't entirely sure that they'd actually go for this story.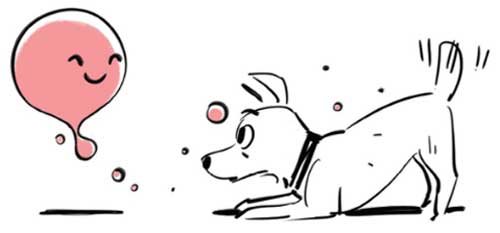 Copyright Disney Enterprises, Inc. All rights reserved
"Even when I first proposed it, I was like 'The illustrations for this book are only going to be two colors and they're just going to be line work. Is that going to be a problem?' But Samantha McFerrin and Scott Piehl at Disney Publishing were so supportive. And they said 'No. This picture book is great. We love it just the way it is,' " Briggs said. "So barring some tiny tweaks that the three of us made for clarity's sake, this story pretty much stayed the same throughout the entire development process. It's pretty close to the same thing that I originally pitched."
"Which – I have to tell you – is just not something that I'm used to. Because when we're working on the story for a new film at Walt Disney Animation Studios, we're just brutally honest with one another," Paul continued. "You see, our process is that – every couple of months — we have these screenings of the animated movies that we're making. And then we look closely at what's working – more importantly, what's not working – and we just attack it. I think that's what makes the films that Disney Animation Studios makes today so great. There's this honesty between the filmmakers & the writers & the story team & the Studio as a whole."
And given that Briggs has been working for the Mouse for 21 years now ("I started back when I was 20. Which meant that I couldn't drink. So it was really painful sometimes to have to work on some of these movies," Paul laughed), he's had a front row seat for the huge creative cultural shift that Walt Disney Animation Studios has undergone during that period.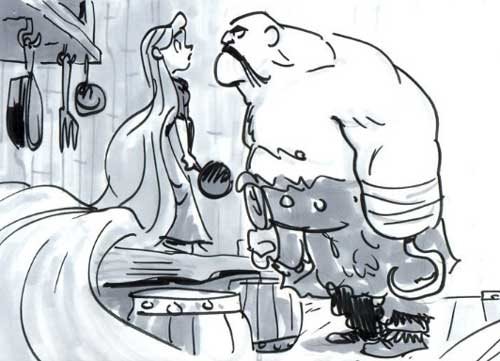 Story sketch that Paul Briggs did for Disney's "Tangled." Copyright Disney Enterprises, Inc. All rights reserved
"I started at the satellite studio that Walt Disney Feature Animation had in Florida back then working on 'Mulan.' That was a really tight unit down there. Especially once 'Lilo & Stitch' came down. That was a very special movie to me," Briggs recalled. "Then after 9 years, I moved out here. But I still run into a lot of my old Florida friends here at work. There's definitely a feeling of family here, a sense of pride. You can definitely feel that nowadays. We all want to continue to make great films here. Which is why we're always so focused on the next movie we're making."
Which is why Paul can't get away at the moment to do the traditional promotional book tour for "Catch My Breath." You see, he's right in the middle of working on a project for Walt Disney Animation Studios that Briggs isn't allowed to talk about. Not yet, anyway.
"We're still trying to figure out what my schedule is. When the best time to travel would be, so that I can then go out in the world and do some promotion," Paul admitted. "In the meantime, I'm sticking pretty close to home."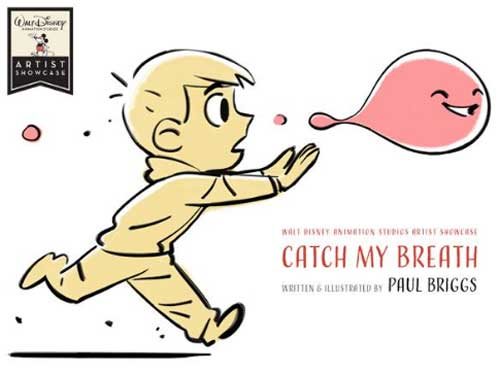 Copyright Disney Enterprises, Inc. All rights reserved
And speaking of close to home … Given that Briggs & his wife Christin have two little boys of their own (i.e., Luke & Leo), who does Paul tell his sons the lead character of "Catch My Breath" is based on?
"It's funny. My boys have actually asked me that. 'Daddy, which one of us is this?" And my response is 'Well, it's my favorite,' " Briggs teased.
Here's hoping that Luke & Leo don't decide to try and wait out Paul out when it comes to getting a definitive answer to their which-of-us-is-this-character-actually-based-on question? Because – as Briggs has already proven by the five-plus years it took to get his children's picture book published as part of the Walt Disney Animation Studios Artist Showcase program – he is an infinitely patient man.
This article was originally published by the Huffington Post on Tuesday, October 3, 2017
"My Golden Ticket" allows Willy Wonka fans to go on a personalized tour of that fabled chocolate factory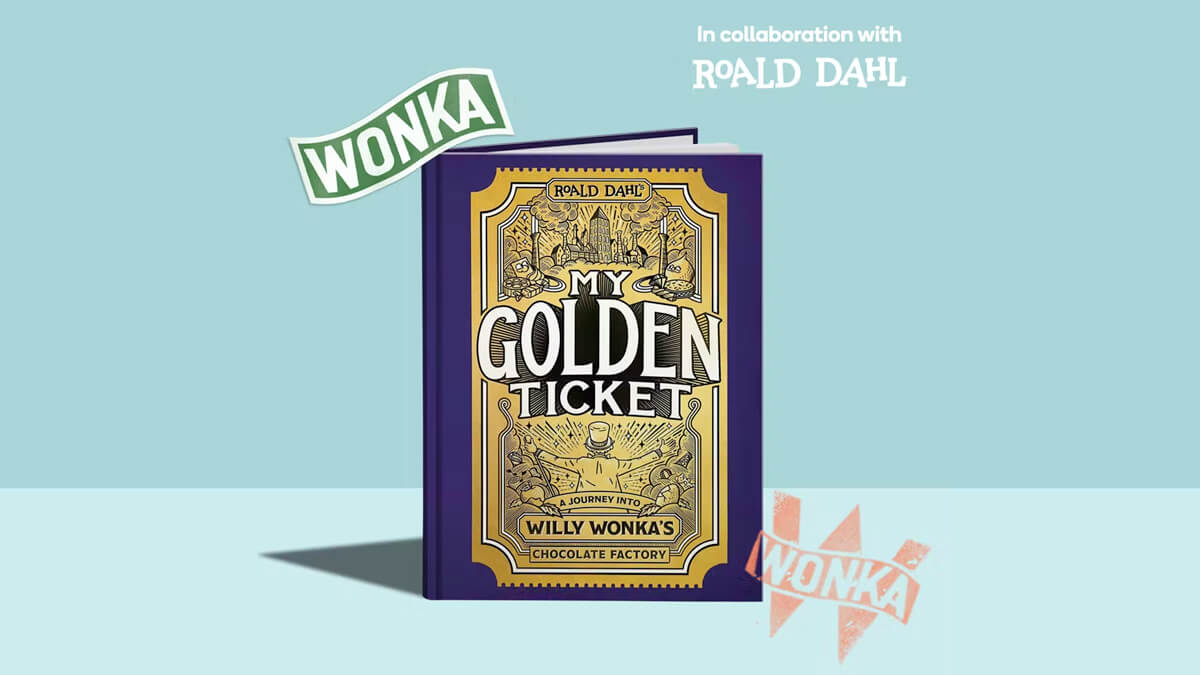 Ever since "Charlie and the Chocolate Factory" was first published back in 1964, people have dreamed of visiting the Wonka Works. Make their way past those fabled gates and then … Well, go for a sail down the chocolate river aboard the Wonkatania.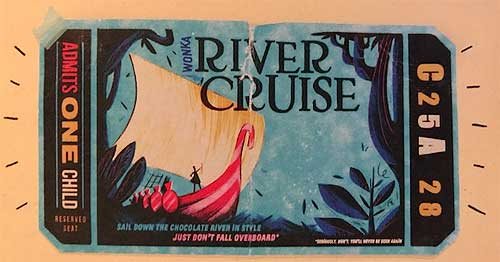 Copyright Wonderbly. All rights reserved
Or – better yet – visit some of the rooms at that factory that Roald Dahl mentioned in his text but which readers then never got to explore. I mean, what sort of machinery is actually inside of the Juicing Room (i.e., where the Oompa-Loompas took Violet Beauregarde after she chewed that piece of gum which isn't ready for human consumption yet and then wound up as a giant blueberry)?
Well, thanks to "My Golden Ticket: A Journey into Willy Wonka's Chocolate Factory," you can now do what Charlie Bucket did. Wander that factory floor. Peek behind all of those closed doors. Have a literary adventure that – thanks to the state-of-the-art personalization technology which powers the creation of this volume – will be different for every single person who orders this book.
An inspired collaboration between the Roald Dahl Literary Estate and Wonderbly (that Google-backed personalized startup), "My Golden Ticket" not only allows the reader to revisit some of the candy rooms that were described in the original "Charlie and the Chocolate Factory" book (and were subsequently visualized for the two films that followed), it also takes them to rooms that Roald only mentioned in passing. Better yet, visit sections of the factory that Wonka fans didn't even know existed before that were taken directly from Dahl's original notes for this much-beloved book.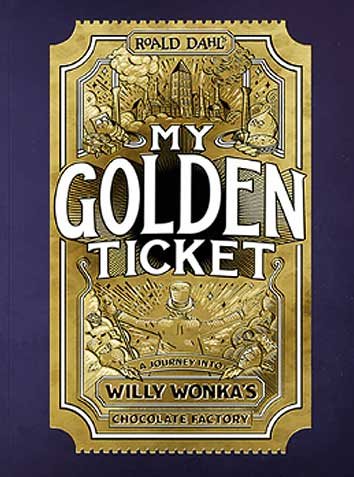 Copyright Wonderbly. All rights reserved
"It has been an amazing privilege to work with the Roald Dahl Literary Estate to bring to life and re-open the gates of one of the most iconically imaginative worlds in children's literary history," said Asi Sharabi, the CEO of Wonderbly. "Our two teams here worked closely to strike just the right balance here: Creating a book that captures the spirit of Roald Dahl's original tale, while – at the same time – crafting a story that expands & enriches what people already knew about Willy Wonka's factory that also allows plenty of opportunity for personalization."
And how exactly does Wonderbly go about personalizing each reader's journey through "My Golden Ticket?" Just like that mysterious chocolatier, this innovative children's book publisher has its secrets. But what can be revealed is that "A Journey Through Willy Wonka's Chocolate Factory" – as it goes through its personalization production process – then makes use of an algorithm that keys off of the placement of letters in each child's name.
Take – for example – what happens during this tour after each child eats a sweet that comes out tumbling out of Wonka's Fizzical Effects Machine. This particular spread in "My Golden Ticket" makes use of whatever the fourth letter in your child's name is. So if your daughter's name is Sofia, that character in the book then becomes invisible. Or if your son's name is Charlie, that character then becomes rubbery in this story.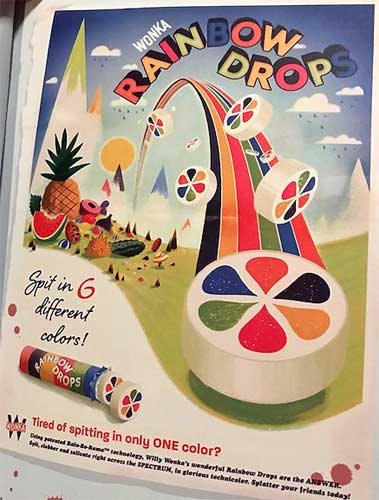 Copyright Wonderbly. All rights reserved
This sort of super-specific personalization continues as each Golden Ticket holder explores the factory. In the Toffee Apple Orchard, each child will discover a Dahl-ified version of their family tree that then keys off of what their individual surname is. In the Rainbow Drop Room, as the reader makes a rainbow, something goes wrong. And then everything turns a color that's dictated by the second letter of this child's name (EX: Sofia = Orange, Alan = Lavender, etc).
Adding to the fun of "A Journey Through Willy Wonka's Chocolate Factory" are all the great illustrations that Adam Hancher has created for this project. Using classic candy & chocolate ads from the 1950s, 1960s & 1970s as his jumping-off point, Adam filled this 36-to-40-page volume with dozens of witty drawings & paintings that perfectly capture the look of what a modern-day Wonka Works might be like.
The end result is – to borrow a phrase from the song that Leslie Bricusse & Anthony Newley wrote for "Willy Wonka and the Chocolate Factory" – is a product of "Pure Imagination." A beautifully illustrated book very much in the original Roald Dahl style where – thanks to the algorithms that power Wonderbly's personalization technology – no two readers will ever have the exact same adventure.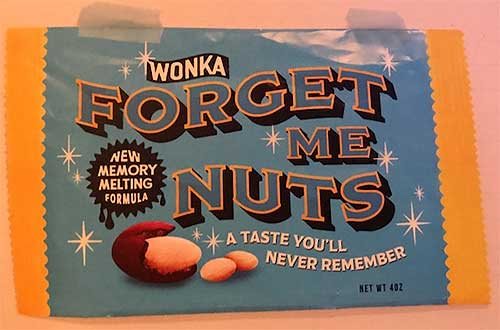 Copyright Wonderbly, All rights reserved
So if you'd like your child to receive the Veruca Salt treatment (i.e., finding out what their own personalized Oompa-Loompa song would be like) without then being tossed down a garage chute by judgmental squirrels, why not wander over to the Wonderbly website and learn a bit more about "My Golden Ticket: A Journey into Willy Wonka's Chocolate Factory" ?
This article was originally published by the Huffington Post on Thursday, September 7, 2017
The Property Brothers take Jonathan and Drew's House Party on the road to promote their new memoir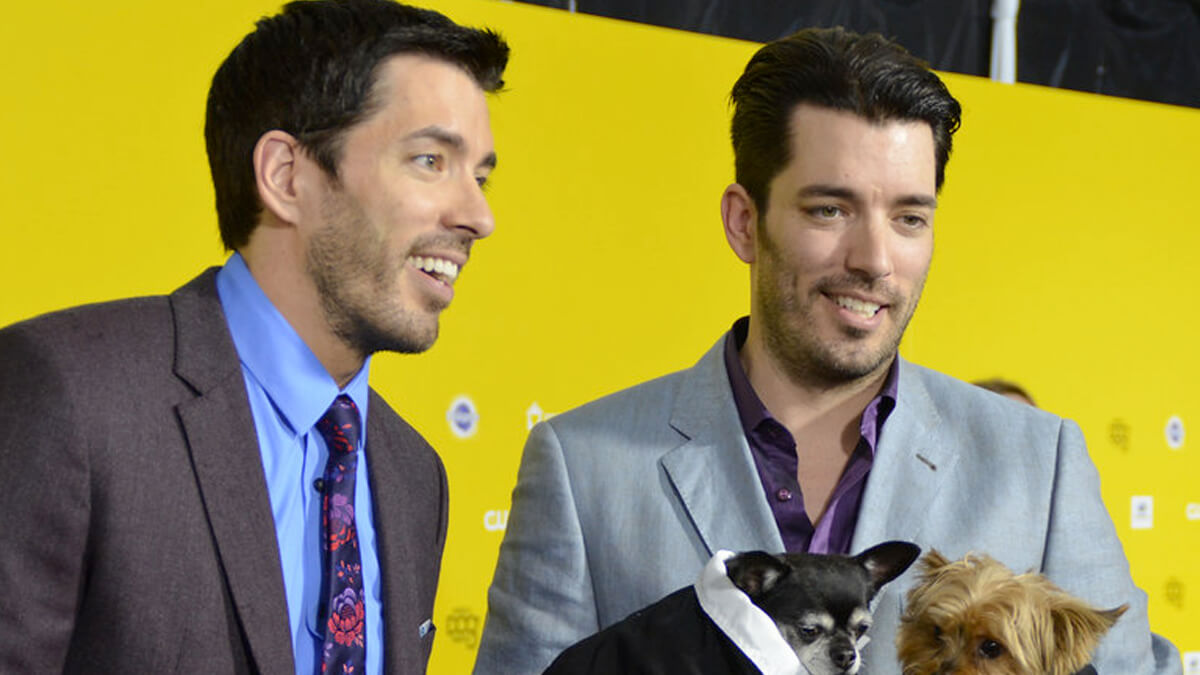 The long Labor Day weekend is traditionally when Americans kick back for a bit. Catch a three day-long breather before these same people then plunge into all of the projects work that they've got planned for the Fall.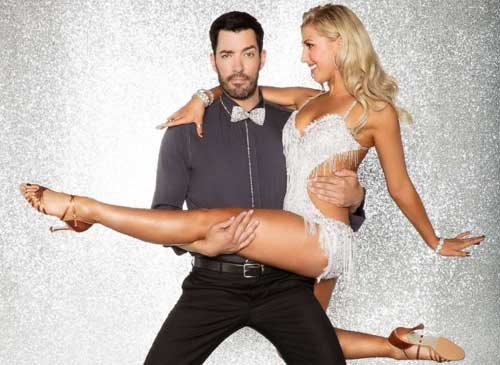 Drew Scott and Emma Slater, his professional dancing partner for the upcoming season of ABC's "Dancing with the Stars." Photo by Craig Sjodin. Copyright American Broadcasting Companies, Inc. All rights reserved
Well, Drew Scott clearly never got the take-Labor-Day-off memo. For – while he's been out in Los Angeles with his twin brother Jonathan shooting "Property Brothers at Home: Drew's Honeymoon House" episodes (FYI: The latest season of the Scott's super-popular house renovation / home improvement show "Buying & Selling" began airing on HGTV this past Wednesday) – Drew's also been rehearsing with Emma Slater for their upcoming debut on ABC's hit reality series, "Dancing with the Stars."
"Whenever Jonathan and I are shooting new episodes of our 'Property Brothers' show, we typically spend 12 – 14 hours a day in front of the cameras. But these days, as soon as I finish doing that, I then do three, sometimes three-and-a-half hours of dance rehearsal with Emma," Scott admitted during a recent phone interview. "It's been exhilarating but exhausting. I love taking on a new challenge."
And speaking of challenges … The next two weeks should be especially challenging for the brothers. For – on either side of "Dancing with the Stars" September 18th premiere – Drew & Jonathan will be traveling all over the country, making stops in 11 major cities as they promote their new memoir, "It Takes Two: Our Story" (Houghton Mifflin Harcourt, September 2017).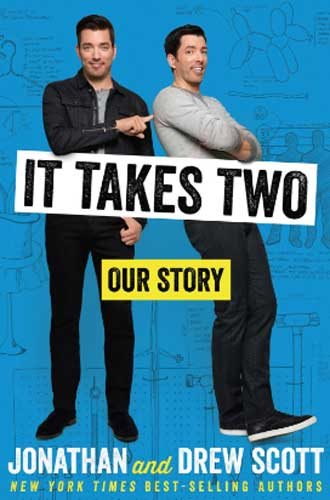 Copyright 2017 Houghton Mifflin Harcourt. All rights reserved
"And because Drew and I have never done anything normal in our lives … Well, we decided that we didn't want this to be the typical sign-and-shuffle kind of book tour. We wanted to do something special for our fans. Something that really lets these people know how much my brother and I appreciate all of the support that they've given us over the years," Jonathan explained.
Which is why – tomorrow night at the Bergen PAC in Englewood, NJ – the Scott brothers are kicking off Jonathan and Drew's House Party tour. Which promises to give "Property Brothers" fans an uncensored look at the lives of these 39 year-old twins.
"Our goal with this book tour is that – at each stop along the way – we want to make it seem as though we're staging the ultimate variety show for 2000 of our closest friends. Drew and I have actually been calling this a bro-riety show, because – as part of this program – we'll be singing a song that made Billboard's country charts a few years back. And I'll also be doing some magic. Plus showing behind-the-scene bloopers from the show and giving away door prizes," this Scott Brother enthused. "There'll be something for everyone."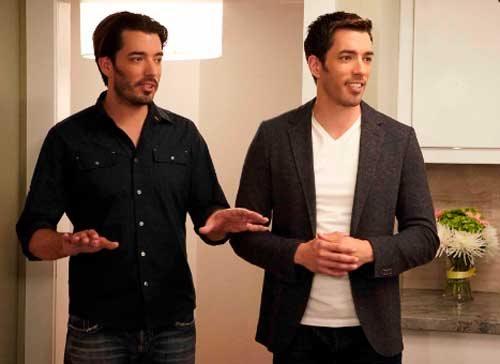 Copyright HGTV. All rights reserved
One aspect of Jonathan and Drew's House Party that "Property Brothers" fans are particularly sure to enjoy as their impromptu design consults.
"During this interactive part of the show, Jonathan and I are going to do something that we've ever never done before. We're going to have people who come out for our House Party tour submit a photo of the worst room in their house. And then Jonathan and I are going to bring these fans up onstage and we're going to be doing live digital makeovers of these problem spaces in their homes," Scott continued. "Mind you, it's only the people who come out for our book tour who'll get this opportunity. And did I mention that everyone who buys a ticket for Jonathan and Drew's House Party also gets a free copy of 'It Takes Two' ?"
And what makes "It Takes Two: Our Story" different from the Scott's earlier book, "Dream Home: The Property Brothers' Ultimate Guide to Finding & Fixing Your Perfect House" (Houghton Mifflin Harcourt, April 2016) ? That New York Times best seller was really more about the design side of things. Drew and Jonathan's process when dealing with their clients. Whereas "It Takes Two" attempts to address a lot of personal questions that "Property Brothers" fans have had about this pair.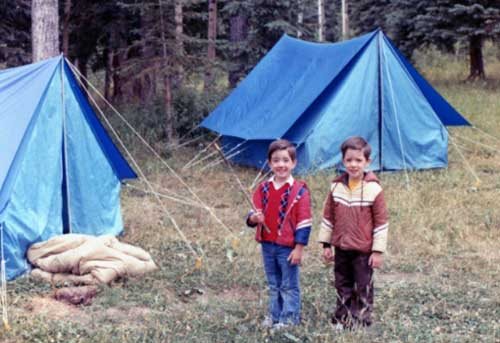 Drew & Jonathan roughing it as kids. Copyright HGTV. All rights reserved
"What we tried to do with this book, this memoir, was show the good, the bad, and the ugly. Drew and I weren't born with silver spoons in our mouths. We grew up on a ranch in Canada after all. We had to work hard for every penny. And we've definitely had our ups & downs over the years," Jonathan stated.
"That's why – when we began working on 'It Takes Two' – Drew and I made a pact with one another that we would not eliminate anything from this book. That if something that happened to us was an important part of our story, crucial to our fans understanding how we wound up the way we did, it was going to be in this memoir," Scott continued. "That's why – in 'It Takes Two' – even I've never ever talked about my divorce before, I share how painful that was for me. I also talked how when I was scammed when I was younger and how I was forced to declare bankruptcy."
The present day has also had a lot of challenges for the Scotts. Take – for example – all the effort it takes to complete production on all of their series for HGTV.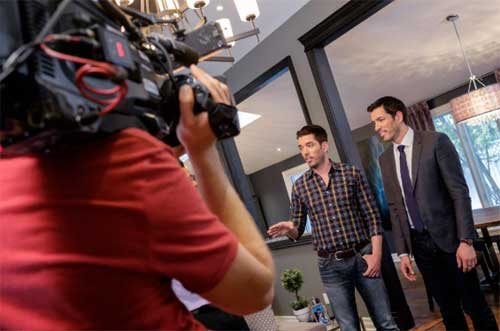 Copyright HGTV. All rights reserved
"We shoot up to 17 episodes at a time. That means that we're actually doing 17 full renovations at the exact same time. Which would just be impossible – especially when you take into consideration that, every two or three months or so, we move across the country to a brand-new city and then start working with families on their house renovations. But that's where our great production team comes in. Without that well-oiled machine, our terrific design & construction crews, Jonathan and I would never be able to do what we do," Drew said.
It's this kind of candor about what actually goes on behind-the-scenes that's sure to Jonathan and Drew's House Party a must-attend event for Property Brothers fans. Not to mention the insights you'll be able to glean about the brothers' next show for HGTV, "Drew's Honeymoon House" (which doesn't officially debut 'til November).
"I overheard a recent conversation when Drew and Linda were negotiating who gets how much closet space," Jonathan laughed. "And Drew was saying that he'd only allow her to have 30% of the closets."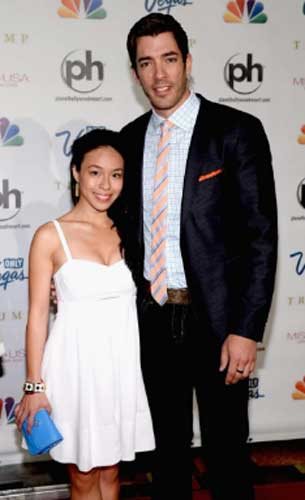 Linda Phan & Drew Scott
"That's because my shoes are three times the size of hers!," his brother interjected.
This is the sort of live onstage silliness that you can expect to Jonathan and Drew's House Party. Which – after it kicks off tomorrow night at the Bergen PAC in Englewood, NJ – then travels over North America before this not-your-typical-book-tour makes its final stop at the Cobb Energy Center in Atlanta, Ga on September 19th.
And speaking of energy … That's one of the main reasons that the Scott Brothers are so looking forward to the Jonathan and Drew's House Party getting underway tomorrow night.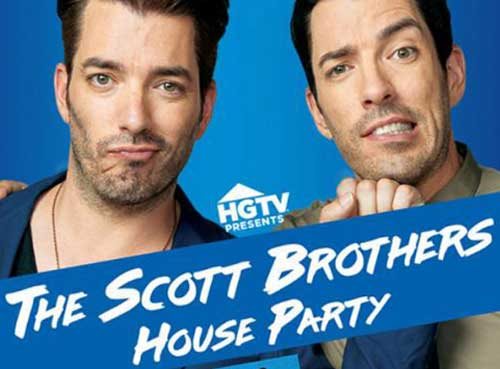 Copyright HGTV. All rights reserved
"The two of us actually come from an improv comedy, stand-up background. That why Jonathan and I have always enjoyed cracking up the crew whenever we're on location shooting a new episode," Drew enthused. "But now we get to do that silly sort of stuff for our biggest fans. I can't wait to feed off of their energy of the audience.
"You know, we have a very unique relationship with our audience. Thanks to social media, we're very, very close to a lot of these folks," Jonathan concluded. "That – to me, anyway – is the greatest compliment. When people come up to us on the street and then say 'You two are just like you are on the shows.' " That's because we're not pretending to be somebody else. These are the people that my brother and I actually are."
This article was originally published by the Huffington Post on Monday, September 4, 2017