Paul's CD Bin
So how do you top a sneak peek at the "Finding Nemo" DVD? How about a new column from JHM contributor Paul Schnebelen which offers up his opinions about which CDs to pick up. PLUS an update on Paul's progress toward his WDW marathon run.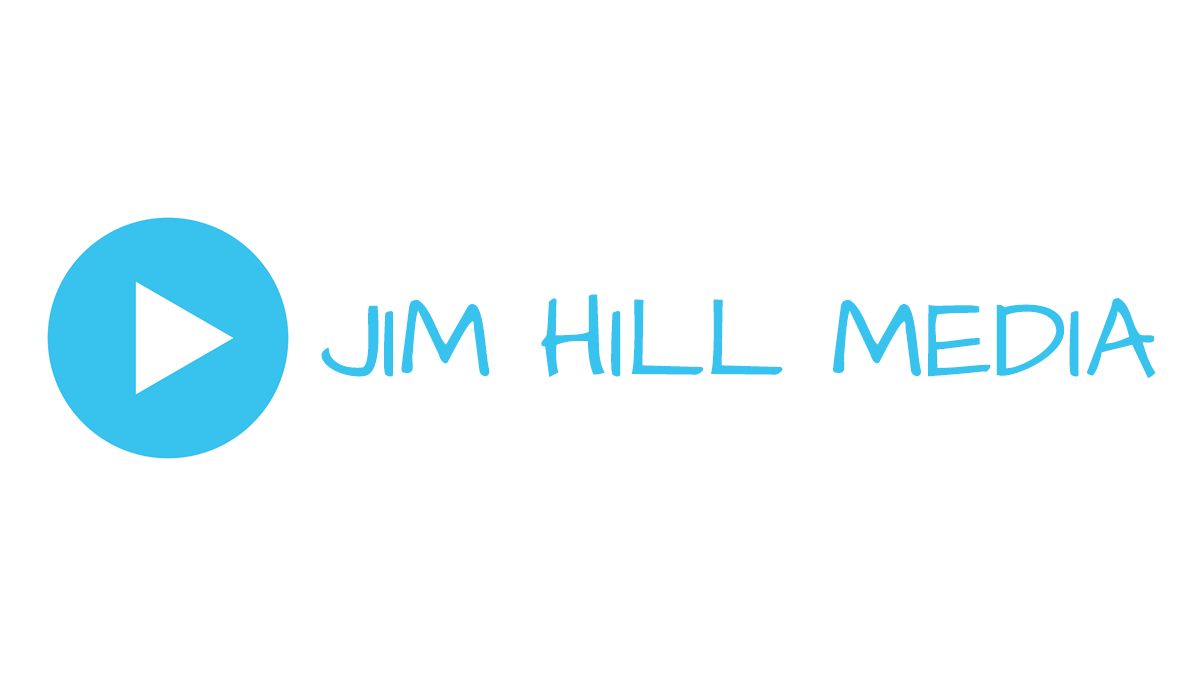 Welcome to the first step in a new direction for me — the debut of Paul Schnebelen, music reviewer! (First Napster, now this … hasn't the music industry got enough problems?) Today's column is the first of what I hope will become a regular feature on JimHillMedia.com called "Paul's CD Bin," where I'll be reviewing new Disney-related CDs as well as looking back at some of the bits of musical magic that Disney's previously released.
Before I get started with the reviews, let's dispense with the obvious questions — why a music review column and why me? Well, the reason I'm starting this feature is that although there are plenty of places you can find out about Disney music and there are also plenty of places that review Disney movie, TV, and DVD releases, there aren't a lot of places where you can find reviews of Disney music. Let's face it, folks, you're not going to see reviews of the latest "Disneyland Official Album" in the pages of "Rolling Stone". I thought I'd take a shot at letting Disney music fans know what's out there and whether it's worth picking up.
As for what qualifies me to be a music critic, I … uh … well, I listen to a lot of Disney music and Jim's letting me write a column. Okay, so I don't have much in the way of credentials, but that's never stopped a lot of media critics from stating their opinions. (Insert the name of your least favorite movie critic here.) Let's get started!
---
Our first victim… uh, I mean, the first CD we'll be reviewing today… is a special musical tribute to everybody's favorite mouse — one that's not available at your local record store. Not to worry, folks, I'm not going to ask you to get anything that gets you in trouble with the RIAA. In honor of Mickey's 75th birthday, Walt Disney Records and Hallmark have released a CD called "Hallmark Celebrates 75 Years with Mickey," a collection of songs related to the Mouse.
Although the album mainly focuses on music from the children's albums, there's a little bit from many periods in Mickey's musical career; the album's selections range from the "Steamboat Willie" recording of "Turkey in the Straw" to "Yankee Doodle Mickey" from last year's "Sing Along With Mickey and Pals" album.
I never realized how many different musical genres the character albums released by Walt Disney Records have covered until I gave this CD a listen; this is one musically diverse Mouse, folks. Like your Disney music with a country twang? There's Minnie singing her heart out on "Mickey's The Mouse For Me." Is disco more your style? Put on your leisure suit and dance the night away to "Disco Mickey Mouse." If you're more of a traditionalist or you're just stuck in the 50's, the album features the "Mickey Mouse Club March" and the "Mickey Mouse Club Alma Mater." Kudos to Randy Thornton for putting together a compilation that gives you a good feel for what musical mayhem Mickey and pals have been up to over the years.
The best part of this album is that you can pick it up for free if you're in the mood to buy some Hallmark ornaments; the stores are currently offering the album as a bonus gift with the purchase of 3 ornaments. (The CD is marked for retail sale at $15.95, but you may be able to get it much cheaper — my local Hallmark store had them for about 5 bucks apiece. I guess Mickey's not exactly burning up the Billboard charts these days. ) Get your Christmas shopping done a little early and pick up a copy.
Paul's CD Bin Rating: 3 1/2 Mouse Ears out of 5.
---
Several years back, Walt Disney Records released a series of about 12 albums called "Disney's Greatest Hits;" the series did a pretty good job of putting a good selection of music from Disney movies, TV shows, and theme parks, but I guess the series starting getting a little too unwieldy, so last year Disney released a two-volume collection of its most famous music called "Disney's Greatest." As you might expect when you take a music catalog as large and diverse as Disney's and try to cut it down to two albums with 20 songs apiece, there were a lot of songs that people consider Disney classics that didn't make it onto the CDs. Apparently, Disney heard the grumbling of the music fans, because Disney has released "Disney's Greatest, Volume 3."
Although the CD adds some songs that definitely rank among the best that the Company has released, you have to wonder about some of the choices made here. "I'll Try" from "Return to Neverland" is one of Disney's greatest? "He Lives in You" from "Rhythm of the Pridelands"? And not to take anything away from Jim Cummings in "The Tigger Movie," but how could you put "The Wonderful Thing About Tiggers" on a greatest hits album and not use the recording done by the original voice of Tigger, Paul Winchell?
Overall, though, the CD has a lot more hits than misses. in addition to some great songs that there wasn't room for on the first two volumes like "Part of Your World" and "A Spoonful of Sugar," there are some songs that were pretty good but weren't the songs most people instantly think of, like "Pink Elephants on Parade" from "Dumbo."
The "Disney's Greatest" collection would make a great gift for someone who's a fan of the "magical music of the Mouse" (and yes, I stole that from another website) or a great general introduction for someone who's not all that familiar with Disney music. "Disney's Greatest Volume 3" isn't perfect, but it's a very good addition to the collection. Here's hoping that eventually see a "Disney's Greatest, Volume 4" — there's a lot more great music in the Disney vaults!
Paul's CD Bin Rating: 4 1/2 Mouse Ears out of 5.
---
Our next CD up for review isn't really Disney, but since you can find the stars of this CD at Disney theme parks, there's sort of a tie-in to the Mouse! It's hard to believe, but it's been more than 25 years since Jim Henson brought us an inspired bit of zaniness called "The Muppet Show," featuring our old friend from "Sesame Street" Kermit the Frog and new friends like Miss Piggy, Gonzo the Great, and Fozzie Bear.
In honor of this anniversary, Rhino Records and the Jim Henson Company have released "The Muppet Show: The 25th Anniversary Collection – Music Mayhem and More!" Rhino and Henson have done a wonderful job of capturing the spirit of the show on this compilation of music and skits from "The Muppet Show" and the 6 Muppet motion pictures.
Both casual fans of the Muppets and folks that can recite skits from "The Muppet Show" verbatim should enjoy this CD; there's a nice selection of old favorites, plus a few fun songs that you might not be that familiar with. I'm glad to see that a lot of my favorite songs from "The Muppet Movie" are finally available again, and it was a lot of fun to listen to songs from some of the Muppet films I either missed or I haven't seen for a while. And good luck trying to get the song "Mahna Mahna" out of your head for the rest of the day after you've heard it on this CD!
If you enjoy the Muppets, this is a CD you'll want to have in your collection – don't wait 25 years to get yourself a copy.
Paul's CD Bin Rating: 4 Frog Legs out of 5.
---
The final recording I'll be reviewing isn't generally available, but I want to get the word out about this recording because I think something like it really should be released. A few years ago, Randy Thronton at Walt Disney Records took on an ambitious project called "Operation Lazarus," where classic Disney recordings were brought out of the vault and were restored so they could be re-released. As part of his presentation for the 1998 Official Disneyana Convention, Randy provided the ConventionEars a cassette of some recordings that received the "Lazarus" treatment, and someone was kind enough to give me a copy.
This cassette is a real treat, folks. The sound quality on the recordings is absolutely wonderful; it's obvious that some real care was put into the restoration project, and if the recordings don't sound as good as they did on the day they were recorded it certainly wasn't for lack of trying. The cassette contains some rarities that, alas, still haven't been released by Walt Disney Records. The tracks include a recording of the soundtrack for General Electric's Progressland from the 1964-65 New York World's Fair that makes you want to lay down a shag carpet in the living room and start mixing martinis, a rendition of "the Headless Horseman by Thurl Ravenscroft that either had to be an inspiration for "Grim Grinning Ghosts" at least encouraged the Imagineers to get Thurl to sing it, the title music from "20,000 Leagues Under The Sea" and "Song of the South," and even musical performances featuring Louis Prima, Paul Frees as Professor Ludwig von Drake, and Clarence "Ducky" Nash as Donald. I've been having a wonderful time listening to it.
So why am I reviewing a cassette that's really hard to come by? Because I think that Disney fans deserve to hear more of what "Operation Lazarus" has wrought. I suspect that one of the main reasons that many of the tracks on the "Lazarus" cassette (and many classic Disney recordings) haven't been re-released is that the powers that be at the Company don't consider the music to be commercially viable. I'd love to see the Company give it a shot, though — even if only as a compilation CD that contains the "Lazarus" cassette tracks plus a few more recordings. Granted, the CD might never go double platinum, but I think there'd be enough interest from Disneyphiles out there that Walt Disney Records might be encouraged to restore and release more of the classic recordings, either in their original album formats or as compilation CD sets like the "Disney's Greatest" CDs or "Walt Disney Treasures" DVDs. Here's hoping, anyway. Keep your fingers crossed, folks — maybe someday soon we'll all be able to give this music a listen.
Paul's CD Bin Rating: 4 ½ Mouse Ears out of 5.
Well, that'll do it for this look through "Paul's CD Bin!" If you have any suggestions as to CDs you'd like to see reviewed or you have any comments (I wonder if my next column will be titled "Paul, You Ignorant ***!"), please e-mail me at schnebs@hotmail.com or post them to the JimHillMedia discussion boards.
Thanks for reading!
---
Marathon Training Update: Today I am a racer! After 6 weeks of training walks with the Ventura Roadrunners, I participated in my first race, a 5K walk, last Sunday. The distance of the race didn't seem like it'd be a big deal — 5 kilometers is about 3.1 miles, and the last couple of weeks I've been going at least that far on my training walks — but the prospect of running a really-for-real race seemed a little daunting. My fears appeared to be justified when the starter's gun went off and I watched a whole bunch of runners take off and disappear around the corner while I was just getting started with my walking.
Once I finally put the other racers out of my mind and concentrated on my own walking pace, I did pretty well. I finished the race in 40 minutes; that may not sound really fast, but that was a personal best for me, since that represents a pace that's a minute per mile faster than my usual walking time. Walking a race was a blast — I loved all the cheers and support from people I passed as a walked the race. I'm supposed to be walking a 10K race in a couple of weeks, and this race is going to have a lot more people participating than the 5K I was in — that should be really interesting! Things are looking pretty good so far — hopefully, I'll keep doing well and I'll keep from getting hurt, and I'll be ready for the Los Angeles Marathon in March.
I'll keep you posted as to how things are going.
"House of the Future" – The Plastic House in Disneyland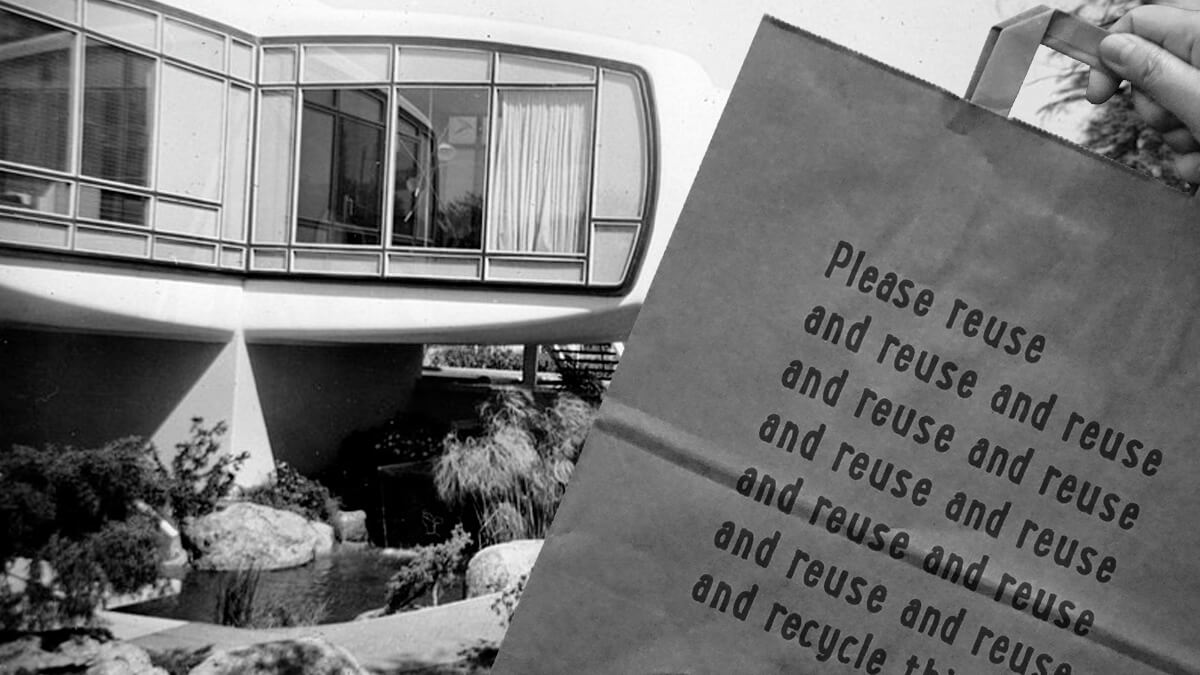 I was down in Massachusetts the other day doing some shopping at the Target in Framingham. And as I completed that transaction, I was somewhat surprised to see my groceries being loaded into … Well, not the usual Target bags (i.e., those white plastic ones with the bright red circular Target symbol on the side). But – rather – some plain jane brown paper bags.
Of course, that was because the State of Massachusetts (along with California, Connecticut, Delaware, Hawaii, Maine, New York, Oregon, Vermont & Washington State) has banned the use of plastic bags within the borders of that state.
FYI: The State of New Jersey put its own statewide ban of plastic bags in place earlier this year. On May 4, 2022, to be exact.
Which – if you're a child of the 1960s – this is kind of an ironic development. Given that – back when we were kids – the world-at-large seemed to be actively looking for even more ways to incorporate the use of plastic in our day-to-day lives.
Which reminds me of one of the odder walk-thru experiences that was ever built at Disneyland Park (Which – given that Happiest Place on Earth was once home to the Hollywood-Maxwell's Intimate Apparel Shop [This Main Street, U.S.A. store used to feature – no lie — a "Wonderful Wizard of Bras" show] – is really saying something). That was the "House of the Future," a 1,280-square-foot structure that the Monsanto Corporation proudly proclaimed was made out of 14 different types of plastics.
Given that this Tomorrowland attraction wasn't designed by the Imagineers … Well, how the "House of the Future" wind up being built right off Disneyland's Hub to the left of the entrance of Disneyland?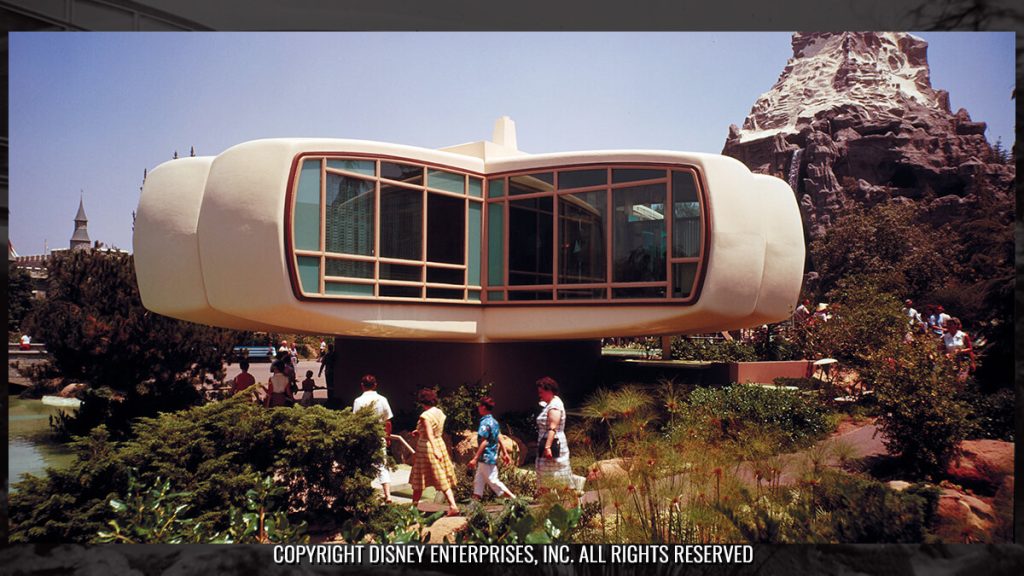 Post World War II – Moving Out of the City
Well, to tell that story, we have to jump back in time to the years right after World War II. Where – thanks to the G.I. Bill – hundreds of thousands of veterans decided to pursue college degrees. Which then allowed these former fighting men to land positions that paid much, much better than the jobs that their parents had held years previous.
And since these newly affluent veterans could now afford to move out of the city … Well, that's just what they did. Which we saw places like Levittown (i.e., America's very first planned community. The prototypical suburb, if you will) get founded in New York State's Nassau in 1947 and – in just six years time – become the home of more than 70,000 residents.
Mind you, the downside of this sort of building boom is that – by the mid-1950s – America began to experience sort of a shortage when it came to the supplies necessary to continue to build all these new homes for would-be surburbanites.
Monsanto and Plastic Homes
Which the Monsanto Corporation – which was actively looking for additional way to market the plastic that that company produced – saw as an opportunity. Which is when Monsanto executives reached out to Marvin Goody & Richard Hamilton, who were members of the faculty at the Massachusetts Institute of Technology that taught the principles of architecture to students attending that prestigious university. And those execs then asked Goody & Hamilton two intriguing questions:
Would it be possible to build an affordable modular home entirely out of plastic?
And – if so – what would that structure look like?
These two MIT professors then went off and considered this problem. And the concept that Goody & Hamilton eventually came up with was … Well, this prefabricated plastic structure that consisted of four cantilevered "wings" that would then rise up off of a concrete slab, which would then as the foundation for what Monsanto was now calling its "House of the Future."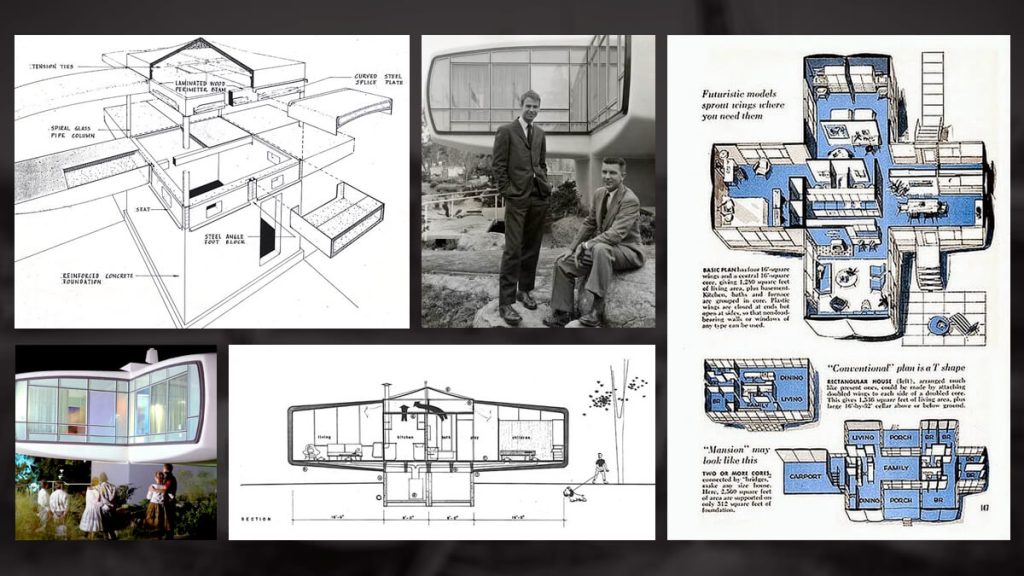 And the executives at Monsanto just loved what Goody & Hamilton had designed & developed. They knew that – if this prefabricated plastic home prototype were promoted properly and if enough consumers then indicated to home-builders that they'd be interested in purchasing & then living in this sort of modular structure – the "House of the Future" could turn into a significant new revenue stream for that corporation.
Which is when Monsanto then began casting about for a very prominent spot where they could then build a "House of the Future" prototype. Some place where thousands of people could then tour this prefabricated plastic home every single day.
Walt Disney and Problems with Tomorrowland
Which brings us to Walt Disney. Who – in the mid-1950s – has a few problems of his own. Chief among them being that his then-newly-built Disneyland Park desperately needed some new attractions. Especially in the Tomorrowland section of Walt's family fun park.
What's genuinely ironic here is that – in spite of the fact that "Man in Space," "Man and the Moon" and "Mars and Beyond" (i.e., A trio of "Tomorrowland" themed episodes of the "Disneyland" TV show which then aired on that ABC anthology series between March of 1955 & December of 1957) were among the most popular episodes to air on this program … The Tomorrowland section of Disneyland Park was this under-developed hodge-podge of pseudo-futuristic elements.
I mean, sure. This side of Walt's family fun park had the "Flight to the Moon" ride. Likewise "Space Station X-1." But right next door to these two genuinely forward-looking attractions were shows that had absolutely nothing to do with the future. Walk-through exhibits like the Dutch Boy Color Gallery, Kaiser's Hall of Aluminum and Crane's Bathroom of the Future.
Monsanto Corporation Partnership with Walt Disney Productions
Now it's important to note here that the Monsanto Corporation and Walt Disney Productions already had a working relationship at this point. After all, Monsanto was already sponsoring an attraction at Disneyland, the Hall of Chemistry.
And it's about this same time (we're talking late 1956) that some enterprising executive at Monsanto thinks: "No wait a minute. Disneyland gets thousands of visitors every day. And if we build the prototype of our prefabricated plastic home there, our 'House of the Future' project would then virtually be guaranteed to get plenty of foot traffic."
"House of the Future" in Disneyland
So they then reach out to Walt. And as the story goes, the executives at Monsanto hadn't even finished their pitch for this prototype-prefabricated-plastic-home-to-be-displayed-at-Disneyland idea when Disney said "Yes." In fact, according to what Disney Legend John Hench once told me, Walt was so enthusiastic about Monsanto's "House of the Future" that he proposed that this prototype of a prefabricated plastic home not just be built in Tomorrowland but that it be built right at the entrance of Tomorrowland. As in: That the "House of the Future" would be one of the very first things Guests would see when they arrived at Disneyland's Hub.
More importantly, that Monsanto's prototype of a prefabricated plastic house be built right across the way from the most photographed thing in Walt's family fun park. Which was – of course – Sleeping Beauty Castle.
To say that this project was fast-tracked is an understatement. Within weeks of signing the deal with Monsanto, the folks at Disneyland were already pouring the concrete slab that this 1,280-square-foot house would then sit on.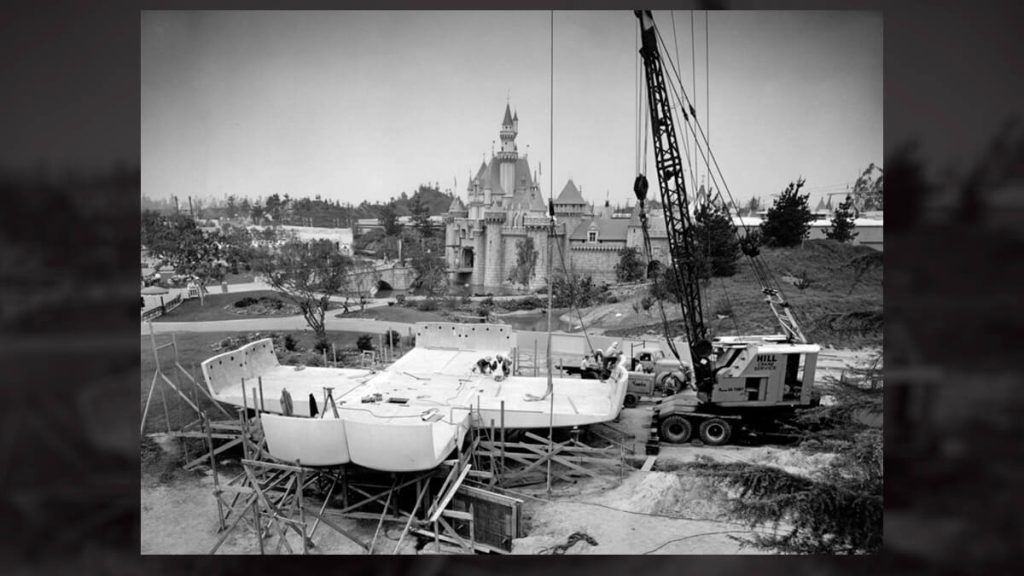 By the way, to make sure that virtually every Disneyland Guest would be able to tour the "House of the Future" when they visited Walt's family fun park, this new Tomorrowland attraction was heavily hyped as being a freebie. As was Monsanto's Hall of Chemistry, by the way.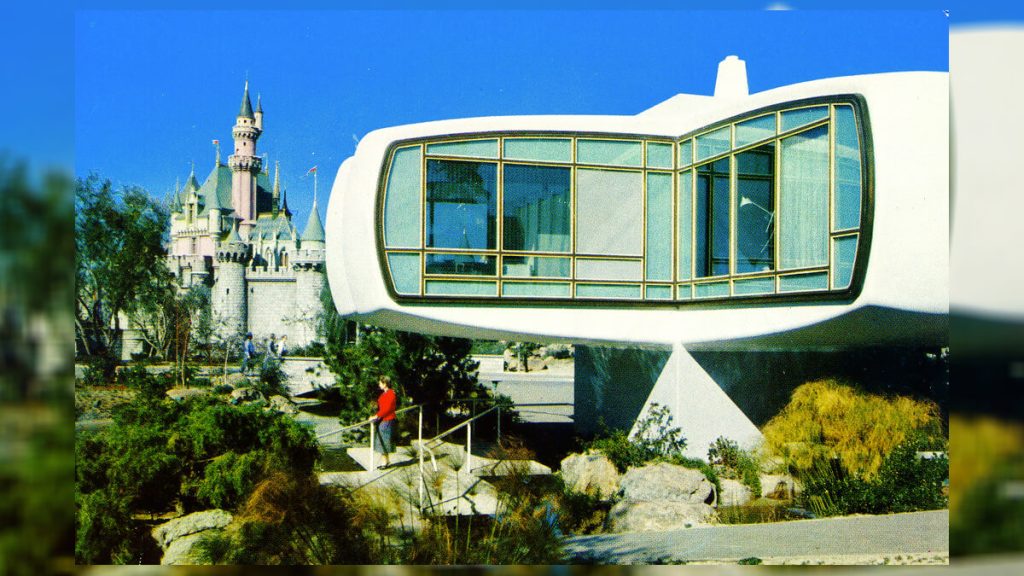 Opening Monsanto's "House of the Future" at Disneyland
And Walt … Of the heels of construction of Monsanto's "House of the Future" beginning, he decided to double down on expanding & upgrading Disneyland's Tomorrowland section. Which is why — just two days before Monsanto's prototype of a prefabricated plastic home opened to the public on June 12, 1957, Walt cut the ribbon on the Viewliner. Which was advertised as the "Train of Tomorrow." Though –truth be told – WED's resident mechanical genius Bob Gurr had cobbled together this futuristic-looking narrow gauge train out of parts he'd harvested off of various Oldsmobiles & Jeeps.
Anyway … Monsanto's instincts when it came to building its "House of the Future" at Disneyland Park translating into lots of foot traffic for its prefabricated plastic home prototype turned out to be dead on. Within the first six weeks that this new Tomorrowland attraction was open to the public, over 435,000 people toured the "House of the Future." That's over 10,000 Guests per day.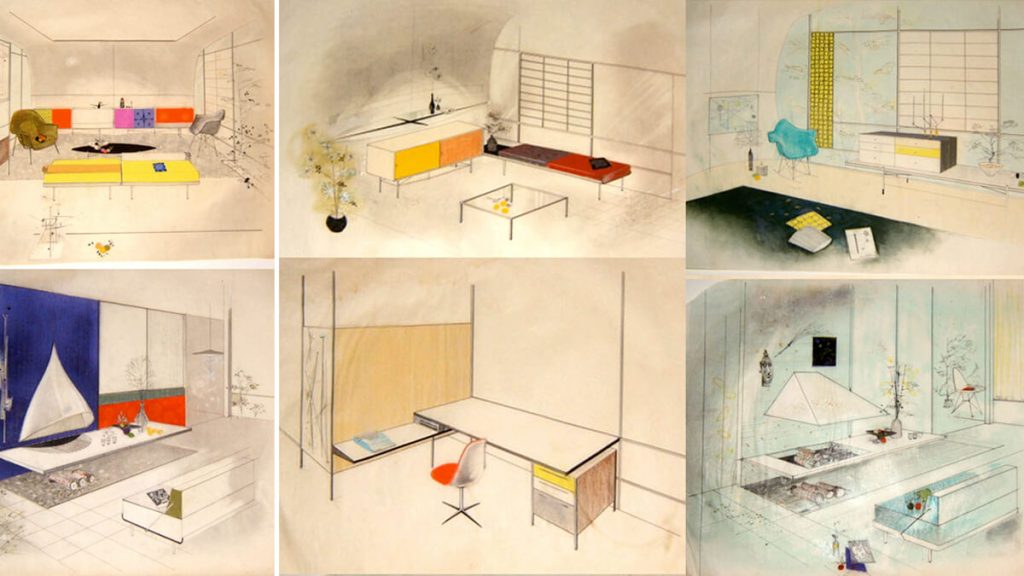 And the Disneyland hosts & hostesses (That's what Disneyland employees were called back in the late 1950s / early 1960s. Not Cast Members. But – rather – hosts & hostesses) who led tour groups through the prototype of Monsanto's prefabricated home proudly talked about the 14 different types of plastic that had been used in its construction. They also pointed out the cutting edge tech that had been incorporated into this house's design. Things like a microwave oven.
The Future of Plastic Homes
But while over 20 million people who trooped through Monsanto's "House of the Future" during its decade-long stay in Tomorrowland (and then "Ooohed" & "Aaahed" at things like this home's ultra sonic dishwasher. Which didn't use any water to clean the all-plastic dishes & utensils that were used in its kitchen) … Unfortunately, Monsanto got very few takers for its prefabricated plastic homes.
Which is why – by the early 1960s – the Company had all but abandoned its original idea of making the manufacture of prefabricated plastic homes a new division for the Monsanto Corporation. Which is why – when Walt approached Monsanto around this same time and said "Hey, we're thinking of redoing Disneyland's Tomorrowland area. Do you want to stay on as a sponsor of something on this side of the Park?," Monsanto's response was "Yeah. But we want something new. Pull down the 'House of the Future' and close the' Hall of Chemistry.' This time around, we want some sort of Tomorrowland attraction that the Guests can ride on."
And that's exactly what the Imagineers did. They gutted Monsanto's "Hall Of Chemistry" and then placed an Omnimover inside of that Tomorrowland show building. And that became the ride system which then took Disneyland visitors on an "Adventure Thru Inner Space." Which first opened to the public on August 5, 1967.
What Happened to Disneylands "House of the Future"?
As for the "House of the Future" … Given that that structure was constructed out of 14 different types of plastics, pulling down this Tomorrowland attraction proved to be problematic. What was supposed to be completed in a single day eventually stretched out into a two week-long ordeal. Largely because this prefabricated plastic house stymied all of the usual methods that Disneyland employees used (i.e., wrecking balls, bulldozers, etc) when they were leveling a show building. In time, they had to go at this futuristic structure with hacksaws & chain pullers. Because that was the only way to reduce the "House of the Future" to small enough pieces that it could then be hauled away.
Mind you, the concrete slab that had served as the "House of the Future" 's foundation stayed in place. As did the vaguely futuristic-looking landscaping that Morgan "Bill" Evans and the rest of Disneyland's horticultural team had planted around this Tomorrowland walk-thu.
Jump ahead a few years. And now that landscaping (which had been originally planted back in 1957 to give the "House of the Future" a lush, green frame) had grown up so much that this section of the Hub was then redubbed this theme park's Alpine Garden. With the idea now being that this chunk of greenery would now serve as the forested foothills of Matterhorn Mountain.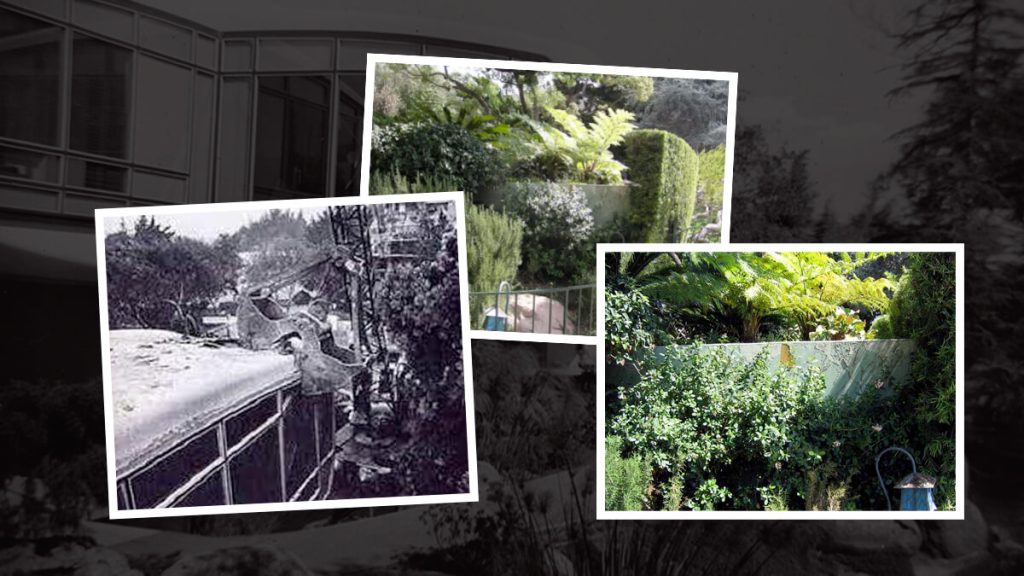 That was done in the early 1970s. Nearly 15 years after that, someone else moved into the neighborhood: The Little Mermaid. Which is why – in 1996 – Disneyland's Alpine Garden was renamed King Triton's Garden. Then in 2008, this part of that theme park (which had been changed into a place where Guests could then meet & greet with Ariel) was reimagined as Pixie Hollow. Which then gave Disneyland visitors a place where they could go interact with Tinker Bell.
This meet & greet is still operational at the Happiest Place on Earth. That said, if you look off the right of that oversized teapot which Tink calls home … Well, you can still see that concrete slab which – over 50 years ago now – once served as the foundation for the "House of the Future."
FYI: If you'd like to learn more about this Tomorrowland walk-thru, Dave Bossert – the author of "Kem Weber: Mid-Century Furniture Designs for the Disney Studios" and "Claude Coats: Walt Disney's Imagineer—The Making of Disneyland, From Toad Hall to the Haunted Mansion and Beyond" – is in the process of writing a brand-new book, "The House of the Future: Walt Disney, MIT, and Monsanto's Vision of Tomorrow." Which is due to be published sometime in 2023.
This article is based on research for The Disney Dish Podcast "Episode 379", published on June 20, 2022. The Disney Dish Podcast is part of the Jim Hill Media Podcast Network.
Fort Wilderness – What Might Have Been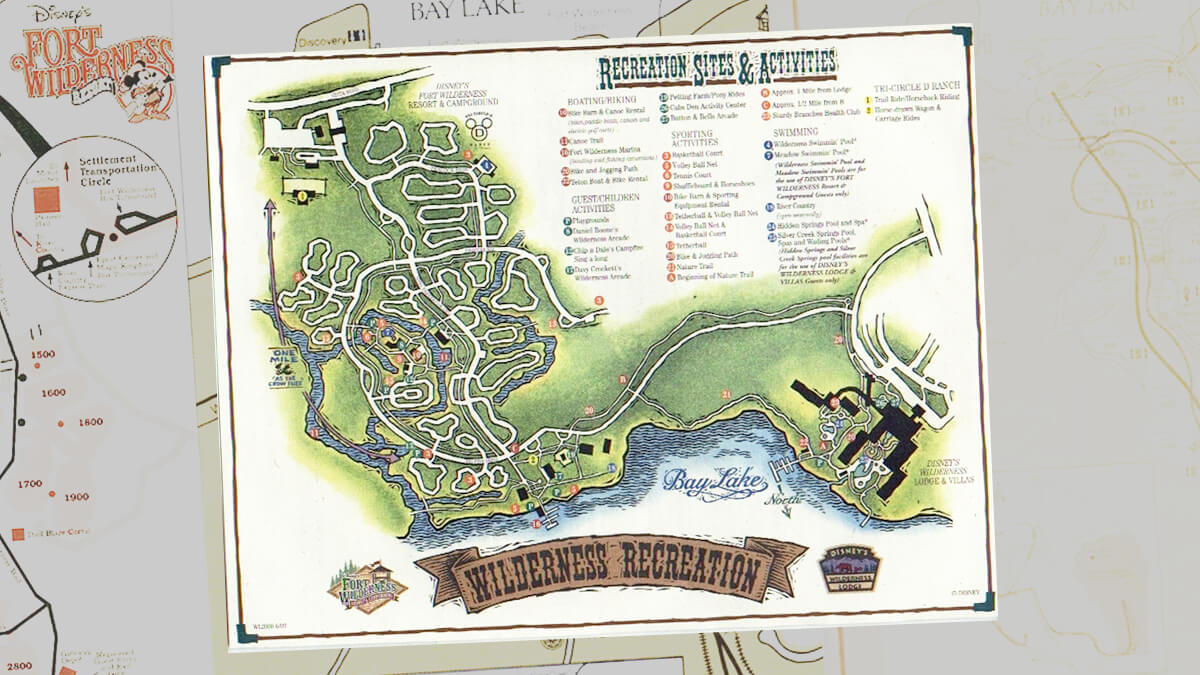 The Hoop-Dee-Doo Musical Revue at Fort Wilderness Campground has been silent for 27 months. On June 23, 2022, Pioneer Hall will come roaring back to life with three nightly presentations of this beloved musical dinner show (4 p.m., 6:15 p.m. & 8:30 p.m.)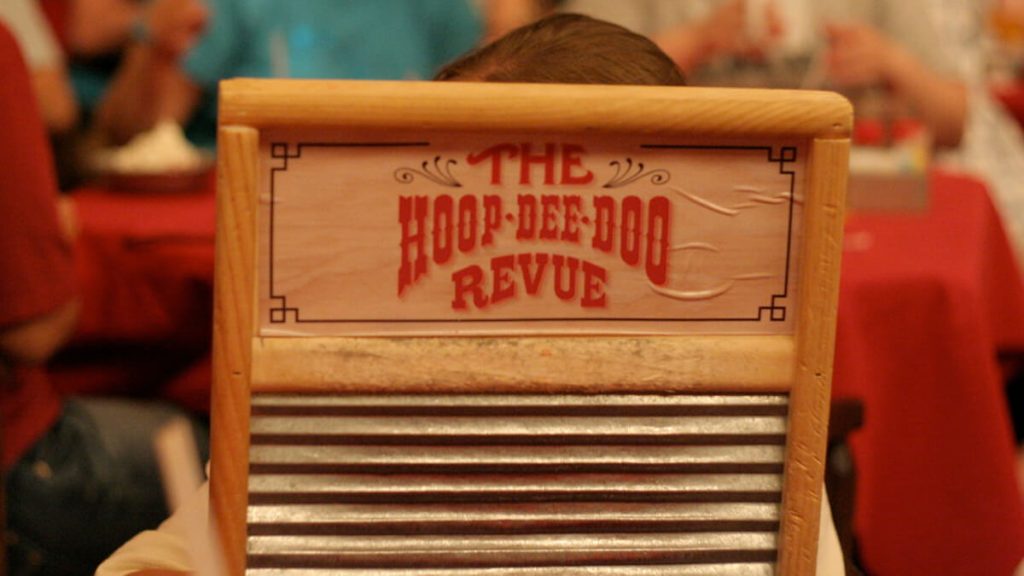 Building Fort Wilderness Campground
Just 9 months prior to the October 1971 opening of the WDW Resort – Dick Nunis (who had just been placed in charge of getting Disney World open on time) had just learned that little to no work had been done to date on the Disney's Fort Wilderness resort's campground.
Dick turned to Keith Kambak – a veteran Disneyland employee who had a degree in recreation – and effectively said "You're coming to Florida with me. And you're going to build a campground."
When Keith pointed out that he had never built a campground before and began to ask questions like "What sort of budget am I working with?," Dick growled "Don't bother me with questions. Just go build that campground?"
Kambak gets on the ground in Orlando and then discovers why Nunis didn't tell him what the budget was for Fort Wilderness.
There is no budget.
Disney World is so far over-budget at this point that there's a real question – in the late Winter / early Spring of 1971 – whether the Resort will be able to find the funding necessary to complete construction of the Contemporary and/or the Polynesian Village Resorts. Let alone get started on building a new onsite campground.
But the PR material for Walt Disney World has been talking up camping at the Vacation Kingdom for over 5 years now. Saying things like …
People have already booked trips to Disney World because they wanted to go camping at that Resort. Go swimming in Bay Lake. So Disney now has to figure out how to deliver on what it said in all those press release.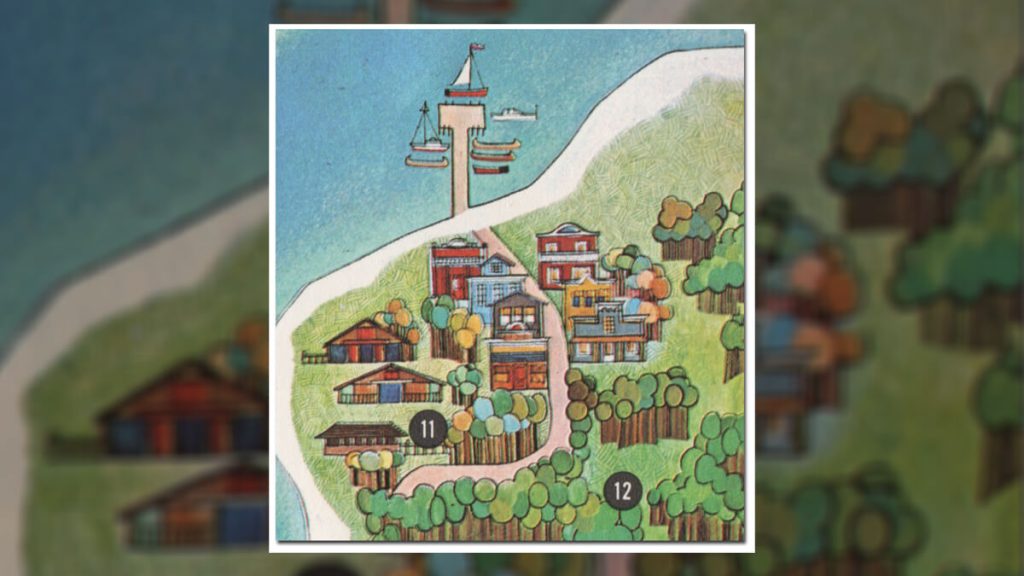 Luckily, Keith Kambak is clever, resourceful and slightly dishonest. He becomes famous for waiting 'til the construction workers go home at 5 and then sending trucks into the Magic Kingdom worksite to steal lumber & bags of cement. Which is what Keith then uses to build Fort Wilderness' original reception center and the first 200 campsites.
Opening Disney's Fort Wilderness Campground
Mind you – Fort Wilderness isn't ready for opening day.
Hell, this campground really isn't ready when in finally throws open its doors on November 19, 1971 – seven weeks after the first group of Guests pushed through the turnstiles over at the Magic Kingdom.
But even if Fort Wilderness isn't really ready for prime time, campers absolutely love the place right out of the gate. It initially costs $11 a night to stay there. And the people who stay there are really excited that – as part of that $11 fee – they get access to the entire WDW transportation system. The monorails, the launches, the motor coaches.
And given that demand for those 200 campsites far exceeds the available supply, Walt Disney World quickly begins to expand Fort Wilderness. In October of 1972 (just in time for the celebration of the Resort's grand opening a year previous), it is announced that Disney World's onsite campground will more than doubling in size. Adding an additional 300 sites.
By now, WDW managers have noticed an interesting phenomenon. Guests who are staying at the Contemporary & Polynesian Village will make a special trip over to Fort Wilderness over the course of their WDW vacation just to check the place out.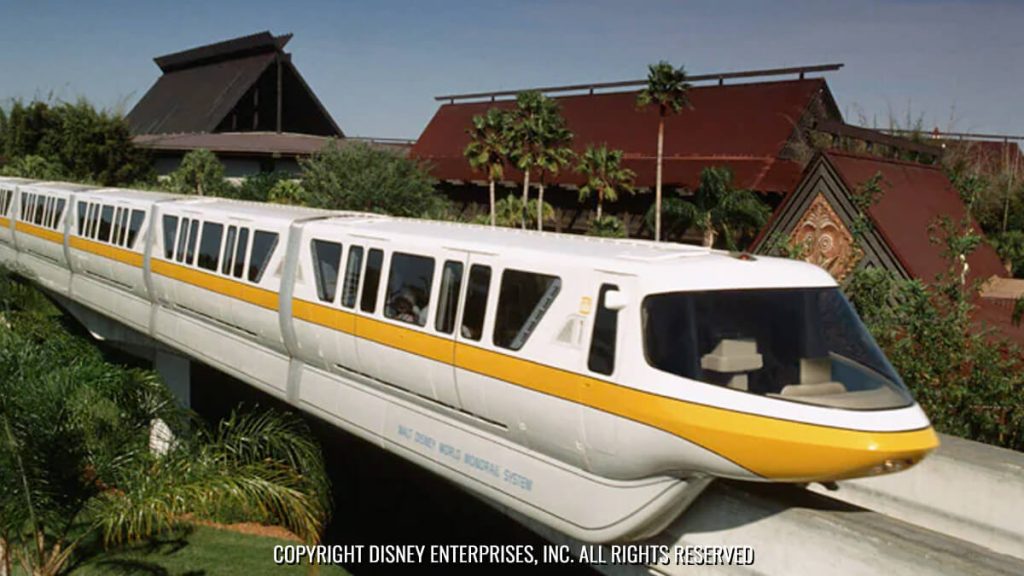 Mind you, there isn't much to see at this point. A handful of campsites and a trading post. But the Imagineers make note of the steady stream of daily visitors that Fort Wilderness has been experiencing and then decides … Well, let's give them something to see.
Fort Wilderness Railroad
So a plan is formed. First and foremost, the Imagineers decide to build a transportation system that will take Guests from Fort Wilderness' reception area to the south all the way up to the campground's recreation area along Bay Lake. This 3-mile-long round-trip narrow gauge rail line (which will be serviced by four steam trains with 5 cars each – capable of carrying 90 passengers at a time) will carry Guests from their campsites to the reception area and then down to the waterfront.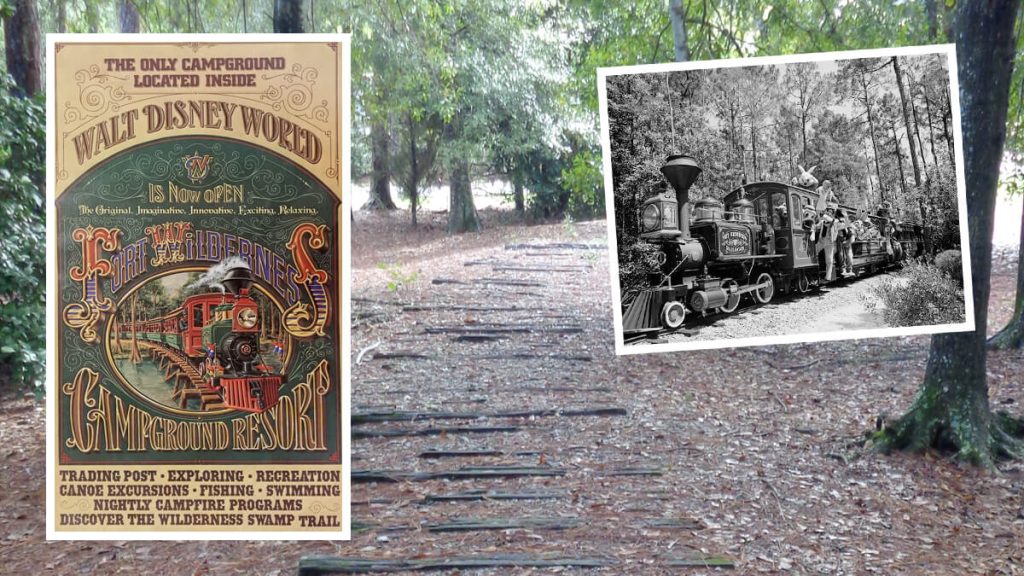 That rail line gets installed over the Summer of 1973. It's field-tested in the Fall of that same year and finally fully operational just time for Christmas Week 1973 / 1st week of January 1974.
Tri-Circle D Ranch
There's another reason that the Imagineers built that rail line. That's because they're looking to develop the middle-most section of Fort Wilderness. This area – known as the Settlement – initially holds just the Tri-Circle D Ranch (which is where the horses that pull the trolleys on Main Street over at the Magic Kingdom spend their days off. Likewise Fort Wilderness' petting zoo).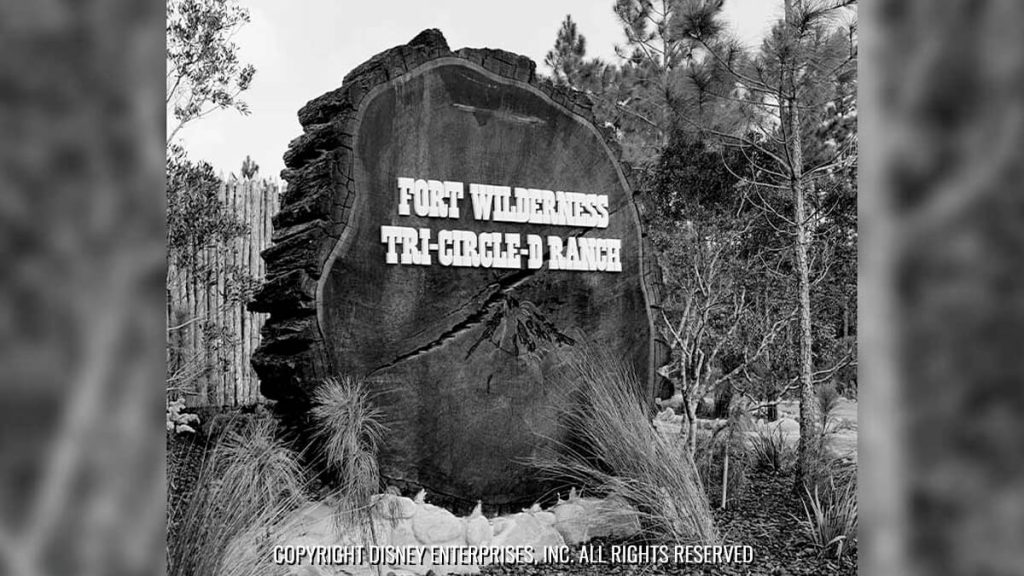 But because so many Guests staying at the Contemporary & the Polynesian Village are making a special trip over to Fort Wilderness as part of their WDW vacation just to see what there is to see over there … the Imagineers give them something to see.
Pioneer Hall
The first thing up out of the ground is Pioneer Hall, which is constructed out of 1,283 hand-fitted pine logs from Montana and 70 tons of stones from North Carolina. This venue first opens its doors on April 1, 1974. And initially there is absolutely no mention of the "Hoop-Dee-Doo Musical Revue."
Instead, Pioneer Hall is described as having " … a 250-seat steak house where ranch-style barbecues will be offered, plus a 150-seat snack bar, theme shops and an arcade for after-hours recreation."
Mind you, if you dig down in the original Pioneer Hall press release (which initially says that this complex will be up & running by February of 1974), there is mention that this "new service-oriented campground complex" would be fully equipped when it came to the presenting of musical stage shows.
But at this point (The Spring of 1974), there's honestly no talk of the "Hoop-Dee-Doo." There is – however – all sorts of talk of the other components of Fort Wilderness' Settlement project. Which are supposed to begin construction shortly.
And a year or so after Western Town opened at Fort Wilderness opened, the Imagineers then wanted to build (this is from the Company's 1973 annual report) …
The Roost and River Country
Wait. It gets better. WDW managers – at this point – were actually talking about building a fun house onsite at Fort Wilderness. One that would feature show scenes designed by Marc Davis and would be housed in an eccentric-looking mansion that would be called "The Roost."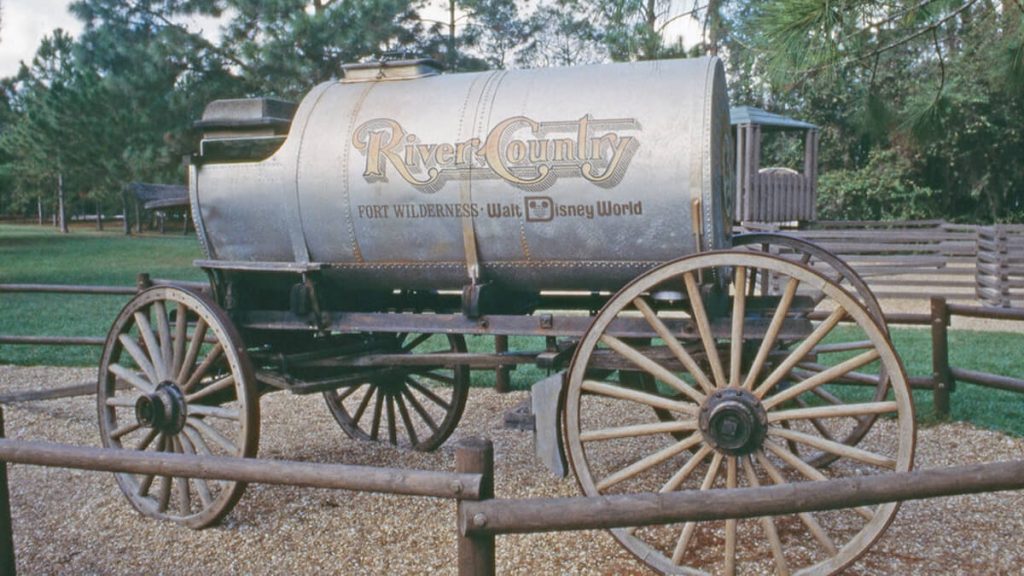 Once "The Roost" was opened (This project was projected to be completed by the Summer of 1977, with Fort Wilderness' swimming hole – eventually called "River Country" – opening the previous year. Just in time for America's bicentennial), WDW officials eventually envisioned selling visitors to their Florida vacation kingdom a special Fort Wilderness ticket book. Which would then give Guests a full day of fun at Fort Wilderness.
Take the bus over to Fort Wilderness' reception area
Then take the train down to that campground's settlement section
Swim in the morning at River Country
Spend the afternoon exploring the Roost, hiking Fort Wilderness' nature trails, visiting the petting zoo and/or go horseback riding
Catch a performance of the "Hoop-Dee-Doo Musical Revue" at Pioneer Hall
Do some souvenir shopping in Frontier Town
Walk down to the waterfront at Bay Lake after dusk and then catch a presentation of the "Electrical Water Pageant"
Grab the train and head back up to Fort Wilderness' reception area
Take a motor coach back to your hotel
1973 Arab Oil Embargo Impacts Fort Wilderness Development
This was the plan as the Fall of 1973. Which then – of course – is when the Arab Oil Embargo got underway. And attendance levels at Walt Disney World suddenly fell off by 20% because of the odd / even gas rationing that was going on at that time. So many Guests were worried that – if they began driving down to Walt Disney World – that they then wouldn't be able to find enough gasoline en route to complete their journey to the Resort.
The Arab Oil Embargo obviously had a huge impact on Fort Wilderness' previously-stellar occupancy levels (Typically at 100% capacity from Christmas Week through Labor Day) because of the number of people who'd drive down to Disney World pulling a trailer. Occupancy levels dropped to 70% and managers there got scared.
The other components of the Fort Wilderness' Settlement area – the Stockade and Western Town, to be specific – that were to follow Pioneer Hall got placed on hold. As did Marc Davis' The Roost project.
As for "River Country" … I'm told that the only reason that project went forward is because the Company had already ordered the 2500 feet of flume that would eventually be used to build Whoop-n-Holler Hollow.
Fascinating to think what might have been around Pioneer Hall if the Arab Oil Embargo hadn't tripped up WDW's executives to turn Fort Wilderness into a day-long destination for Disney World visitors to experience over their Florida vacation.
One final stat from a Disney annual report from 1974 that just fascinated me:
Just so you know: WDW didn't entirely abandon its plans to turn Fort Wilderness into a day-long vacation destination.
Opening River Country at Fort Wilderness Campground
River Country opened at Fort Wilderness on June 19, 1976. This five-acre water park quickly started drawing – on average — 4,700 Guests per day during the Summer months of 1976. Interestingly enough, there is no drop in attendance levels over at the Magic Kingdom after the opening of River Country. Which means that this new water park is drawing an additional nearly 5000 people to the Resort every day. Which means that River Country immediately became a huge new profit center at WDW.
Downside … All of these additional people coming to Fort Wilderness every day needing to get down to the water park just as most people staying at WDW's campsite want to get over to the Magic kingdom overwhelm the campground's steam train line / eventually causing the system to fail.
Imagineers immediately begin looking for ways to expand Fort Wilderness. Company's 1976 annual report mentions plans for " … more water rides, an additional raft ride or a two-man boat ride."
Likewise, to try and handle the crowds who are now pouring int Fort Wilderness each day, the Imagineers revisit the idea of building Frontiertown in the stretch of land that exists between Pioneer Hall and River Country.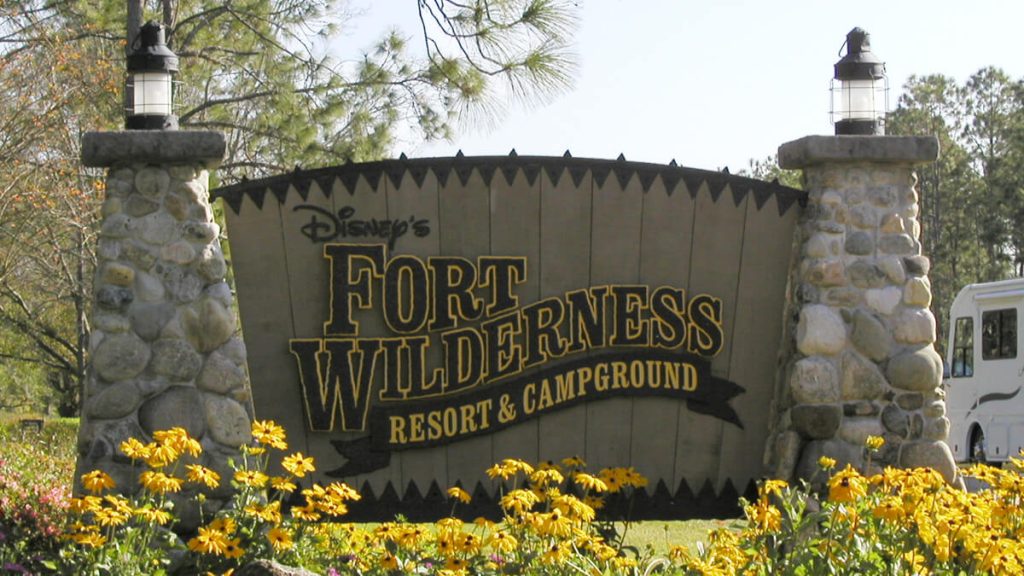 But then the Company gets serious about going forward with construction of EPCOT Center. And all available funding for future expansion at the WDW Resort – including the funds that had been set aside for Fort Wilderness – gets funneled into WDW's second gate.
This article is based on research for The Disney Dish Podcast "Episode 378", published on June 13, 2022. The Disney Dish Podcast is part of the Jim Hill Media Podcast Network.
Steam Trains & World's Fair Attractions: Speed of Construction at Disneyland in the 1960s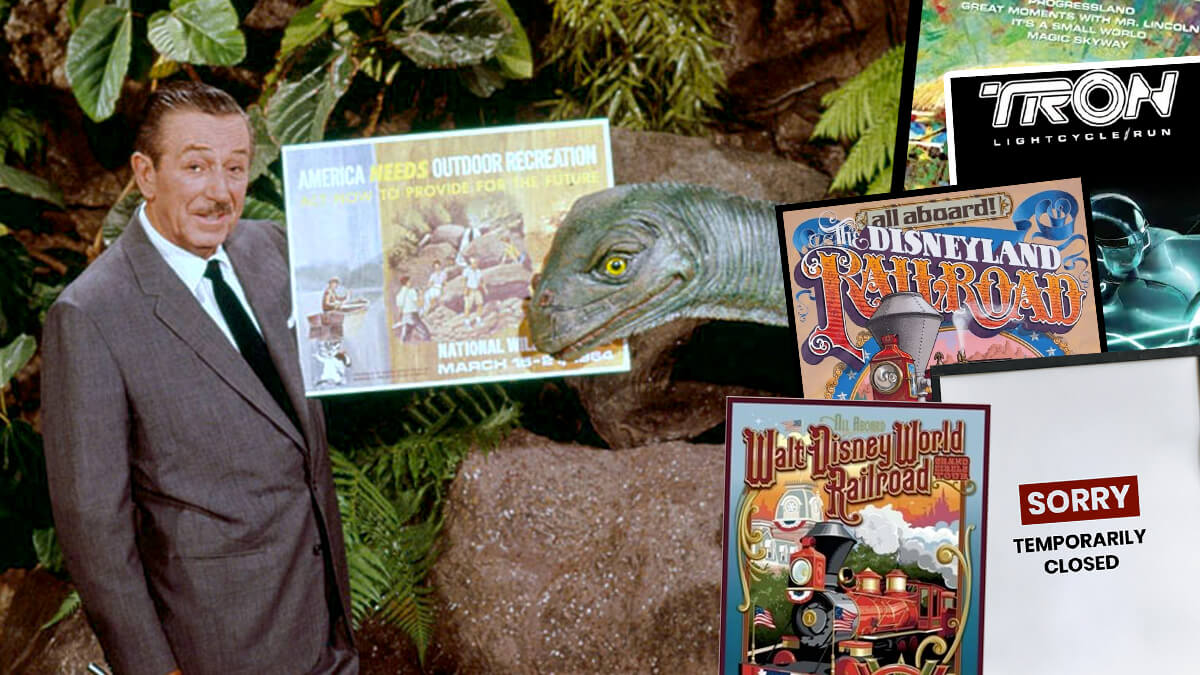 Steam train fans rejoiced in May 2022 when photos appeared online showing crews prepping the rail bed for the Walt Disney World Railroad. This Magic Kingdom favorite was temporarily shut down in early December of 2018 so that site prep could then begin for Tomorrowland's next thrill ride, TRON Lightcycle Run.
Three years and 5 months later (which – let's be honest here – is a pretty relaxed definition of "temporarily"), what with the rail bed being regraded … It's only a matter of time before the ties that the rails sit on get put in place. Which means that we're only months out from the Walt Disney World Railroad once again making a Grand Circle Tour of the Magic Kingdom. 20-minute-long experience / rolling along 1.5 miles worth of track.
Early Disneyland Attraction Downtime and Maintenance
I have to say that Walt himself wouldn't have tolerated the idea of Disney World's steam train being out of commission for 3 & a ½ years while a single attraction was added to the Magic Kingdom. He could barely tolerate it back in late 1965 / early 1966 when Disneyland's railroad had to be shut down for a few months so that FOUR new attractions could added to "The Happiest Place on Earth."
Mind you, Walt had an advantage in Anaheim back in the Fall of 1965 / Spring of 1966 that the folks who operate the Disney theme parks in Florida never got to enjoy. Which was — for much of the first 30 years Disneyland Park was in operation – that theme park was closed on Mondays & Tuesdays during the slow season. Which was the early Fall and late Winter months.
Which meant that – during those two-days-a-week the theme park-going public wasn't wandering around the Happiest Place on Earth, getting underfoot – construction teams could get a crazy amount of work done.
More to the point: This was right after "Mary Poppins" had first opened in theaters (Its Hollywood premiere was held in late August of 1964, with the film itself going into wide release just three weeks later). And given that this Walt Disney Productions release would go on to be the highest grossing film of 1964 … Well, Walt now had a money fire hose in his hand and wasn't afraid to use it.
World's Fair Attractions Moved to Disneyland
So the first season of the 1964 – 1965 New York World's Fair ends on October 18, 1964. Walt immediately has the Lincoln animatronic pulled out of the Illinois pavilion and brought back to Glendale. Where the Imagineers not only build a brand-new version of Honest Abe (one that will then address all of the operational issues that this Audio Animatronic had during its first year in Flushing Meadow where it was then constantly dealing with the Fair's flukey electrical system), they built a second animatronic Lincoln.
Which is how the "Great Moments with Mr. Lincoln" show was able to open in the Main Street Opera House on July 18, 1965 (just as Disneyland was celebrating its tencennial. As in: The 10th anniversary of the Park's opening to the public).
Changing Disneyland's Anniversary
Interesting side note: While Walt was still alive, Disney's anniversary of Disneyland's opening was always celebrated on July 18th (which was when the public was first allowed into that family fun park). After Walt died in December of 1966, the date of the celebration of the anniversary of the opening of Disneyland Park eventually got shifted one day forward to July 17th. Because – if the Company used that date instead of July 18th – it then became possible to reshow that 90 minute-long "Dateline: Disneyland" special that aired live on ABC. Not to mention share all of those pictures of celebrities who visited the Park on July 17, 1955.
Disney's done the same thing in the past. Mickey Mouse's birthday used to be October 1st. Walt Disney himself – back in 1933 – announced that was the Mouse's birthdate. But in 1978, then-Disney archivist Dave Smith issued a correction. Given that Mickey's first cartoon with synchronized sound – "Steamboat Willie" – debuted at New York City's Colonial Theatre on November 18, 1928 … Well, from that point forward, November 18th would be considered Mickey's birthday.
Long story short: To borrow a phrase from "Doctor Who," when it comes to the timey-wimey aspects of Disney Company history, things can get a little slippy-slidey.
Moving "it's a small world" to Disneyland
Getting back to Walt and his money fire hose … While the New York World's Fair was shut down for the Winter between October 1964 and April of 1967, Walt had the 27 technicians that he'd sent out from Disney Studios out to New York to keep all of the shows that the Imagineers had built for the Fair up & running … Well, Walt first had these folks retool the load / unload area for "it's a small world."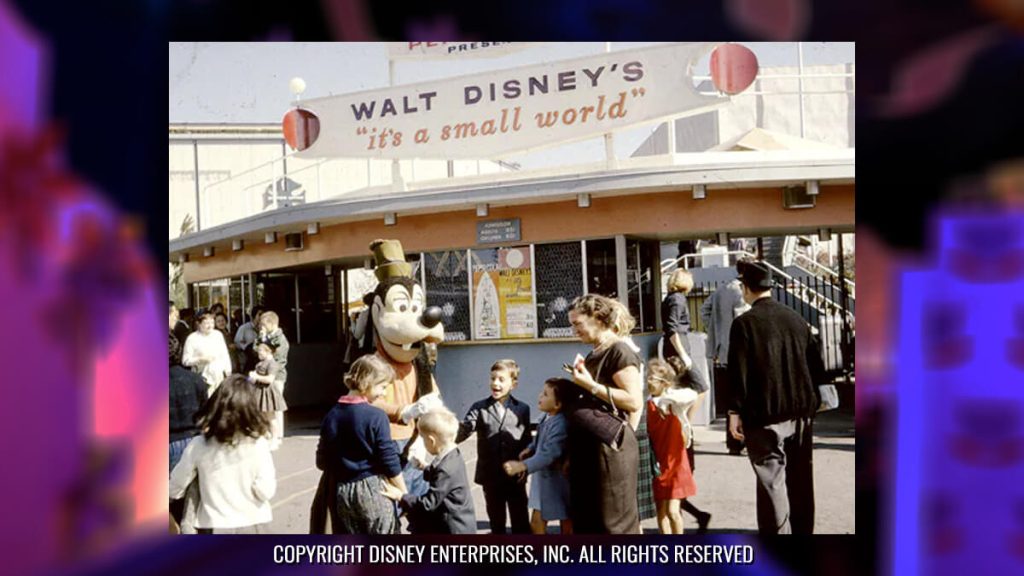 That sponsored-by-Pepsi-Cola attraction was a people-eating machine. On average, 4500 people a hour were able to experience "The Happiest Voyage That Ever Sailed." Which meant that 80% of the people who went to the New York World's Fair in 1964 & 1965 were able to experience "Small World."
But Walt thought that they could do even better. Which is why – during the off-season – he had the Imagineers reworked that attraction's load/ unload area so that it could be even more efficient. With the goal of getting an additional 500 people an hour through "it's a small world."
World's Fair Closing and Final Move
Of course, once the New York World's Fair closed for good on October 17, 1965, the race was on. The Imagineers partnered with the Mayflower Moving Company to get all of those sets & animatronic figures packed up as quickly as possible and then set back to Glendale for refurbishment. That's what happened to the 32 animatronic figures in "General Electric's Progressland" pavilion. Likewise all of the mechanical dinosaurs that used to menace fairgoers as they rolled through "Ford's Magic Skyway."
Now the genuinely crazy part of this story is that – just seven months later – the Disneyland versions of these New York World's Fair shows began to open in Anaheim. "it's a small world" opened on the West Coast on May 28, 1966. And this wasn't just the exact same show that had played in Flushing Meadow for the past two years. Walt insisted that it be plussed & improved prior to installation. Which is how the Anaheim edition of "it's a small world" wound up with two additional scenes – the Pacific Islands and the North Pole.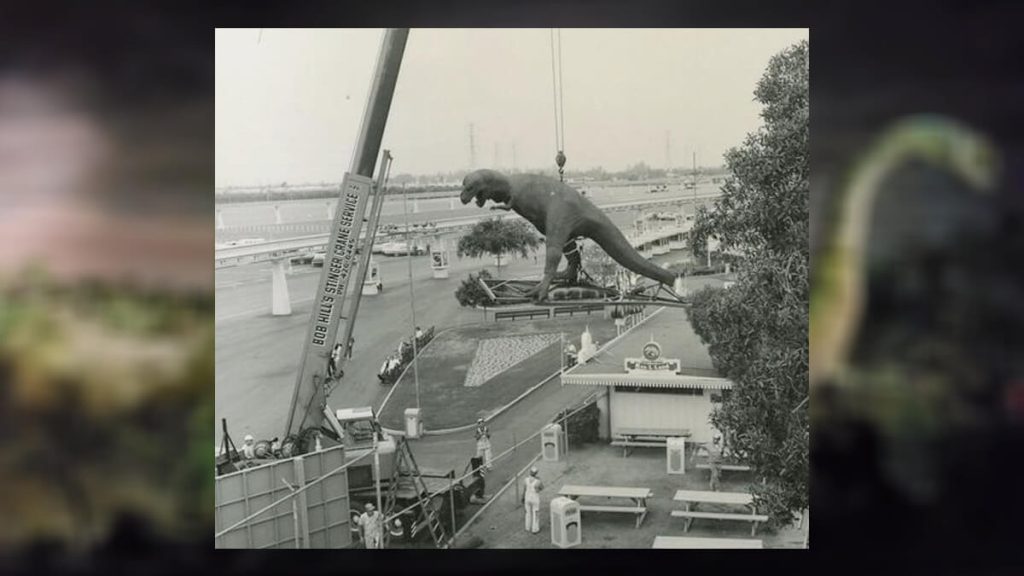 "The Primeval World" Diorama
And just a month or so after that, "The Primeval World" – which, at that time, the Company's PR team described as " … the world's largest diorama featuring life-like recreations of some of the largest creatures to ever roam our planet" – opened on July 1, 1966.
Now what's kind of intriguing about the "Primeval World" diorama is what's to either side of this structure. Which is the old Disneyland administration building. This three story structure – which was also built in late 1965 / early 1966 as part of what was then supposed to be the biggest building program in Disneyland history – was built in such a way that half of this 450 foot-long structure was built on the outside of the berm and the other half of this 450 foot-long structure was built on the inside of the berm. With the structure that the Disneyland steam train passed through, that lengthy glassed-in room full of animatronic dinosaurs then serving as … Well, if you think of Disneyland's new Admin building as an enormous Oreo, the "Primeval World" diorama then served as this 100,000 square foot structure's creamy center.
Kind of a funny side story here. Everyone who worked in the 200 offices who were housed in Disneyland's new Admin building would tell the same story. How – for the first few days you worked in this three story tall structure – you couldn't help but notice how the Admin building would rumble as the steam train passed through the giant diorama in the middle of that structure. Or – for that matter – how the roar of the mechanical dinosaurs below would endlessly faintly echo center through the building as long as that ride was running.
Conversely though, after a few days of working in the Disneyland admin building, the rumble of the steam train and the roar of the dinosaurs just became white noise. That's how you'd then know if you were dealing with a new hire at the Park. If someone who had just been assigned to the Admin building would then turn to you and say "What is that noise?" And – as a Company vet – you could then say "Oh, yeah. About that."
"…a Disneyland without its steam trains just isn't worth the full price of admission."
Getting back to all of the construction that was going on at Disneyland in late 1965 / early 1966 … You have to remember that – if we're talking about "Pirates of the Caribbean" and "it's a small world" – we're talking about two attractions with huge show buildings that were built outside of the theme park. Which meant – in order for these two boat-powered rides to take Guests under the berm and then out to their main show buildings and then back into the Park to their off-load areas … That meant digging a passage under the track bed of the Disneyland Railroad. Several passages, actually.
But again, because the steam train at Disneyland was Walt's personal property at this time (along with the Mark Twain steamboat AND the Alweg Monorail), Walt just wouldn't tolerate the idea that the steam train at the park would be shut down for a year or more to allow construction of these four new major attractions. As Disneyland's tencennial celebration began to wind down in the late Summer / early Fall of 1965, Walt turned to the Imagineers and said "I'll give you five months. Figure it out."
Mind you, Walt reportedly got furious with the Imagineers when – due to the enormous construction challenges this $23 million project entailed — …
… That – by the way – is what it cost to building the Disneyland version of "it's a small world," New Orleans Square, Pirates of the Caribbean, Primeval World AND the Park's new administration building. Just $23 million total .
… Anyway, Walt reportedly got furious when – due to a very wet Spring (By the way, that Albert Hammond song from 1972 – "It Never Rains in Southern California" – lies through its teeth) – work on getting the Disneyland Railroad fell behind schedule by one entire month.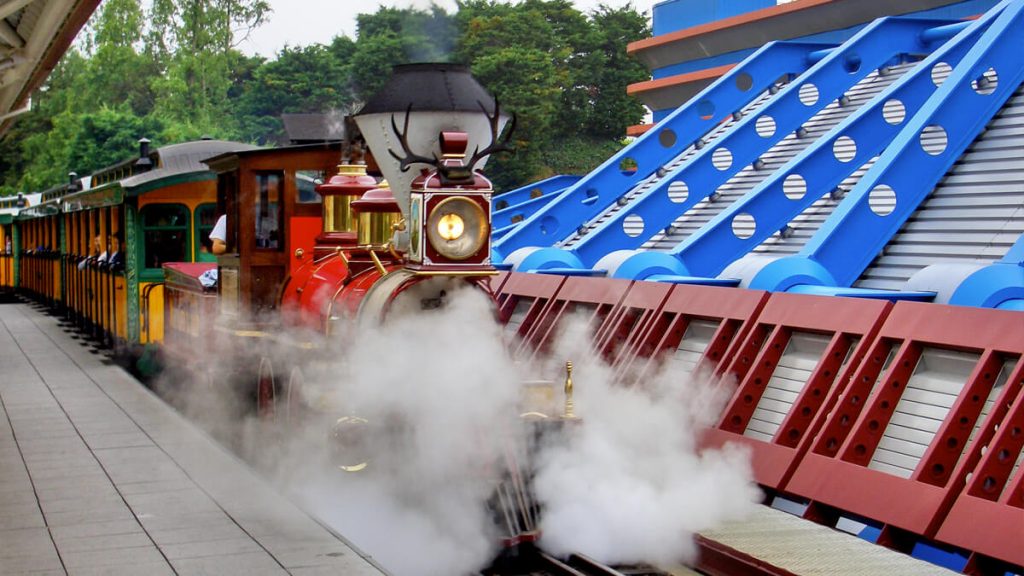 John Hench once told me about how – when they had to tell Walt that the opening of Disneyland's railroad would be delayed by a full month in the Spring of 1966 – he'd never seen his boss so mad. Walt reportedly went on & on about how a Disney theme park without a steam train wasn't worth the price that they were then charging people to get into Disneyland (a then-whopping $5.00 for adults, $4.50 for juniors – ages 12 – 17 – and $4.00 for kids 3 – 11. That would have gotten you the park's Deluxe 15 Ticket book). Walt reportedly turned to John and said "If people ask, we're going to have to agree to issue them a refund. Because a Disneyland without its steam trains just isn't worth the full price of admission."
I wonder what would happen if someone today went into City Hall at WDW's Magic Kingdom and shared that story from the Spring of 1966. What a Cast Member who was working in Guest Relations at that theme park would have to say in response.
Walt Disney World Railroad Downtime
I mean, I get that it's not their fault that the Walt Disney World Railroad has been out of commission since December of 2018. And we also have to acknowledge that much of the Resort was shuttered for months in 2020 during the early days of the pandemic.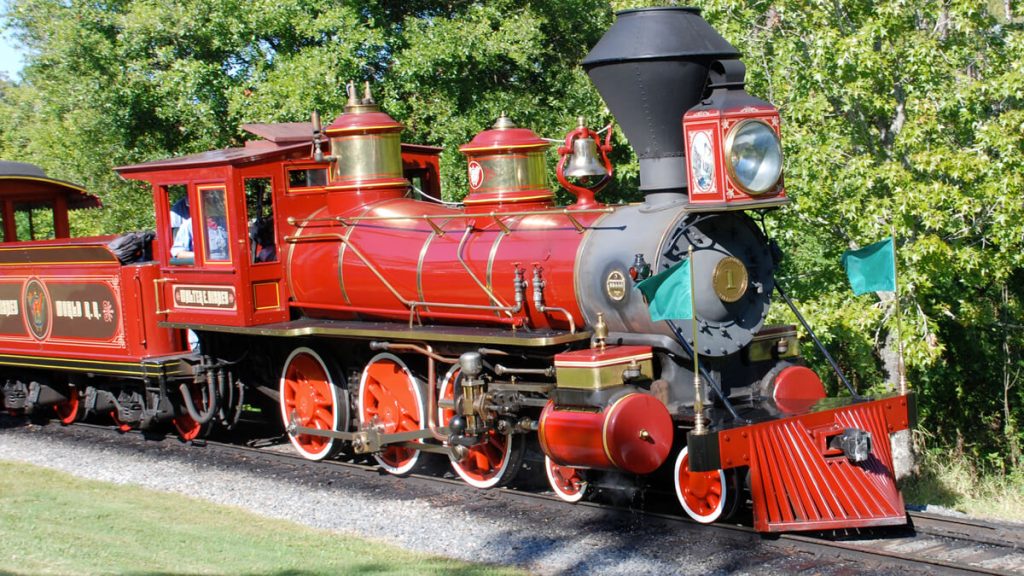 But even so, at a time when the Florida parks are continually struggling to keep the rides, shows & attractions that they already have up & running on a reliable, regular basis, to have a people eater like the Magic Kingdom's steam trains shut down for 3 & a half years … That's just inexcusable.
This article is based on research for The Disney Dish Podcast "Episode 377", published on June 6, 2022. The Disney Dish Podcast is part of the Jim Hill Media Podcast Network.