Ruminations
As the holidays wind down, Roger looks back at how Disney contributed to the success and popularity of a Christmas favorite. Or did it? Read on to find out…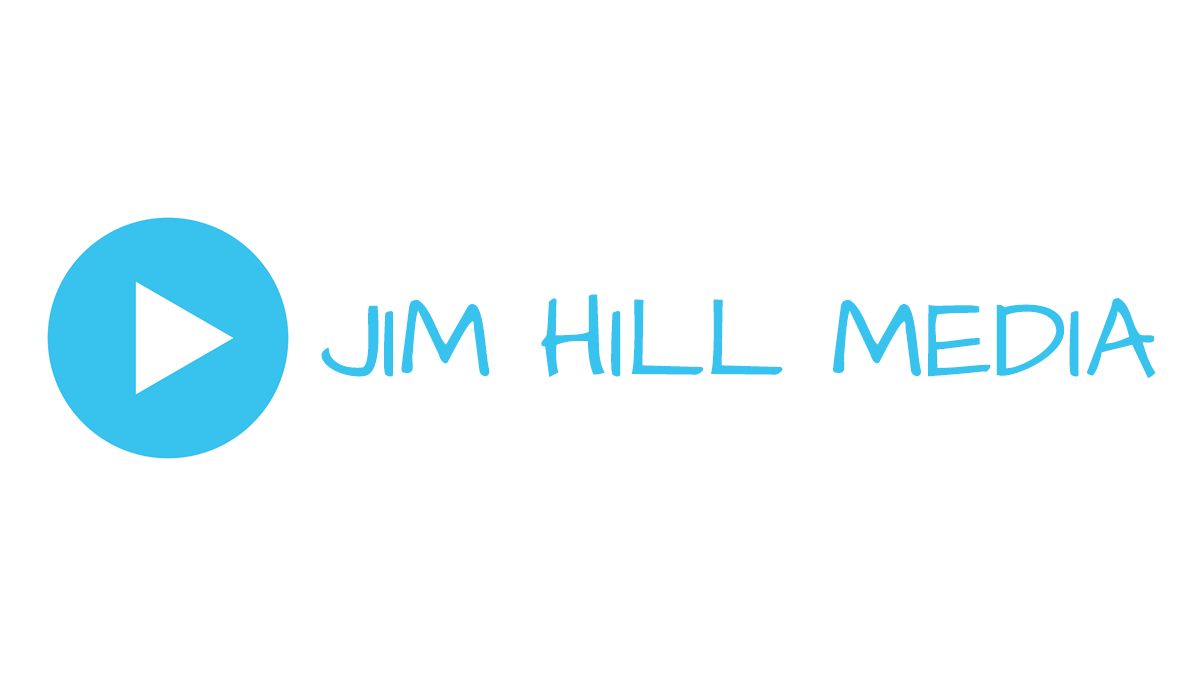 Among the topics discussed on the "Holiday Time at Disneyland" tour was how Santa Claus is portrayed around the world. The image we have (in the U.S.) of Santa is largely influenced through views done by commercial artist Haddon Sundblom for the Coca Cola Company starting in 1931.
The jolly old elf in his red suit enjoyed a number of poses in amusing holiday situations. Of out the more than thirty-five years of advertisements, today's effort focuses on one in particular. The 1962 view shows Santa enjoying "The pause that refreshes" in front of a Christmas tree and bring surprised by a helicopter in mid-flight as a Lionel train (in the popular Santa Fe Railroad's "Super Chief" warbonnet red and yellow paint scheme) passes in front of him.
Now for many of us, that image of the train circling the tree is a fond one from childhood. I've enjoyed a number of such over the years, and will admit that Lionel trains are a favorite. Now that shouldn't be much of a surprise. But I have enjoyed other manufacturers products and sets in different scales than those offered by Lionel. (Yes, I still play with trains, even today; HO Scale being the preference as a long time member of the Walnut Creek Model Railroad Society.) I recall an uncle and my father setting up and getting their fair share of enjoyment out of a train set at the home of my great-grandfather (the locomotive engineer). That interest seems to have run on my mother's side of the family as well. Her father had a nice collection of pre-war and post war Lionel that was always a favored toy on those special occasions it would be set up in the San Francisco home. As well there were many hours spent in envy looking over the pages of various Lionel catalogues from the Sixties.
In the years before everyone had their own automobile or before airline travel became the preferred method, odds are if you went home for the holidays, it was by train. Lots of memories of holidays gone by are evoked through simple images that tie railroading and Christmas together. With all of that to play at our emotions, it should be little surprise that toy trains were and still today are popular with children of all ages.
Toy trains date way back. Ward Kimball had one of the most amazing collections of them that I know of. A short film, "Toccata for Toy Trains" by the amazing husband and wife design team of Charles and Ray Eames, features some of the best of them, all to an Elmer Bernstein soundtrack.
The earliest of toy trains range from hand-powered (as in you push, it goes) to clockwork and even live-steam powered. Batteries or electricity didn't make their inroads until just before the turn of the 20th century. Wood gave way to cast iron that in turn gave way to lithographer paper and tin. It was not uncommon for toys to be as ornate as the prototypes upon which they were based.
When one thinks of toy trains, the name most likely to come to mind is Lionel. It wasn't the only company of its kind, but perhaps the one still most associated with the hobby more than 100 years later. Joshua Lionel Cowen got his start not with trains, but with another simple device we all might easily take for granted today — a battery-powered flash lamp for photography. It was only a short step to the flashlights we know today. And even if Cowen couldn't claim that invention, his flash lamp did open doors that led him into business with the Navy providing detonators for mines. Profits from that venture led to the creation of the Lionel Manufacturing Company engaging in the "manufacture of electrical novelties".
Electric trains had been around for sometime before Lionel came along, and even for sale. The company's first such product was designed as an advertising tool more than a toy. Using battery power, small four wheel cars would carry merchandise around a shop window. Those eventually became popular as toys and the first Lionel electric train catalogue (16 pages in black and white) tantalized prospective buyers in 1902.
Fast forward through the company and the country's history. Lionel found a market and competition for its products. World War I changed the manufacture of trains being replaced by that of compass binnacles for the Navy. And while the years after the War were good, the Depression found the company in serious financial peril — much of it made by the company it's self. And most folks were spending money on things more essential than electric trains, when they had it to spend.
As popular as Lionel had become, it would not survive without a new way to increase sales. Depending on who tells the tale from here on, it was two mice and a wind-up toy train that did the trick. A great resource on Lionel is "All Aboard" by Ron Hollander. (Although it is out-of-print, there are a fair number of copies for sale on Amazon, both in hardback and softbound.) Ron relates the tale of how these Disney characters (and others) played their part in keeping Lionel going during those tough years.
I'll give you a brief synopsis of the tale. Lionel often received suggestions from it's customers on what they thought might be good products to add to the line. One in particular was a version of a handcar (so-called because men would stand on either side of a hand operated lever and push up and down to propel the car along the railroad) with a cartoon character. Taking the concept even further, a Lionel employee experimented with figures of Mickey and Minnie Mouse found at a local stationery store. The finished product was ready just in time for the Christmas season. A clock-work (a.k.a. wind-up) toy with the Mice was sold with a circle of track for only a dollar!
Mickey and Minnie make their toy train debut
The fall of 1934 saw the company produce 253,000 of them and turn down additional orders for a further 100,000 units. Not even included in its traditional holiday catalog, it was considered a genuine "winner" of a product. Some folks even gave the Disney characters credit for turning around the fortunes of the Lionel Company. Radio commentator Lowell Thomas was among them, as Hollander relates "commenting on the fairy tale quality of Lionel's successful journey on the little wind-up railroad of Mickey and Minnie, bravely pumping around their circle of track. There was irony in the world's greatest electric train company being saved from extinction by a turn-of-the-century wind-up train." In a nation looking for good economic news after years of bad, a tale like this was genuinely welcomed.
Yet, the reality is another story entirely. Lionel found its corporate butt in a sling as the result of financial mismanagement and even some downright illegal maneuvers (that resulted in court actions against the perpetrators). The sale of the Mickey and Minnie handcars had been good, but not as good as they appeared. Even though priced at a dollar, the actual cost was more in the neighborhood of sixty cents for retailers with very little in the way of profit margin for Lionel (especially after Disney got their cut). Doing much better was a model of the Union Pacific Railroad's new Streamliner "City of Salina." It sold well with a much high profit margin, and was the first in a series of new trains that the public picked up.
Over the years since, Lionel has gone through a series of changes and re-emerged as an industry leader in the toy train business. A continued good relationship with Disney has offered all kinds of products featuring likenesses of many Disney characters. The handcar has been reproduced as well, and originals in good condition definitely are worth more than that original dollar — like many Disney collectibles from the same period.
As amusing a tale as it could have been, the truth is that Mickey and Minnie merely played their part, not starred in the Lionel success.
Next week … is it Macworld already?

As usual, if you'd like to toss a couple of dollars in Roger's Paypal Donation Box, he'd appreciate it. Really.
History of Epcot's World ShowPlace & Millennium Celebration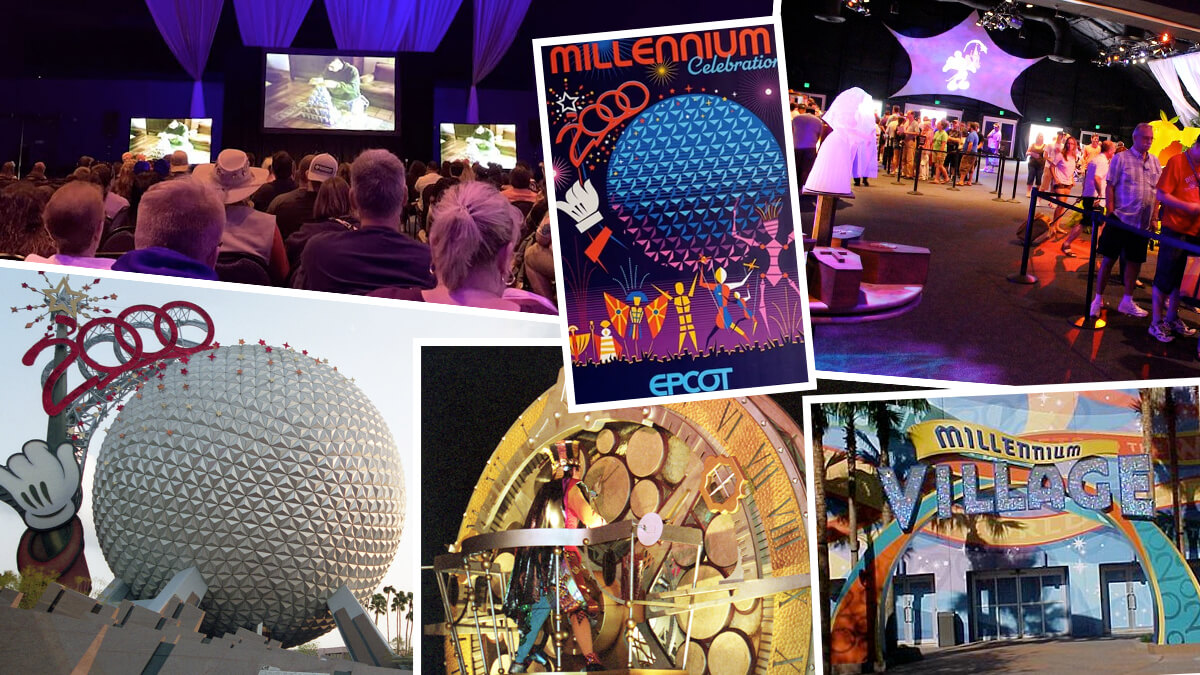 It's 1996. And Disney Parks & Resorts is already thinking about how it should handle the Millennium.
Not that Y2K bug thing, mind you.
Y2K and the Disney Theme Parks
Do you remember how – back in the late 1990s – there were people who were absolutely terrified that, due to a flawed bit of computer code … Well, at the very second the world transitioned over from 1999 to 2000, everything that was run by computer would suddenly shut down. Including the North American power grid.
This was something that many corporations – including The Walt Disney Company – took very, very seriously in the lead-up to the Millennium. The Mouse actually set up a dedicated task force of 800 employees to investigate the Disney Company's possible exposure to a Y2K bug threat and then put together a response plan.
One element of Disney's Y2K bug response plan was – should the North American power grid actually fail at the stroke of midnight on December 31, 1999 – each of Disney's stateside parks had dozens of emergency lights & back-up generators on hand. These items were stashed backstage at the Parks (out of sight of the Guests, of course), ready to be deployed at a moment's notice. Just in case the country's power grid really did suddenly collapse that night.
Shutting Down Every Attraction on 12/31/1999
And speaking of December 31, 1999, how many Disney theme park fans remember how – on that night – the Mouse shut down every single ride, show & attraction at its stateside theme parks 15 minutes prior to midnight and then held those things in place / in check for 30 minutes or so? They did this until it was clear that the North American power grid hadn't actually collapsed and that every computer on the planet hadn't really gone haywire.
"Better safe than sorry" was the thinking among the Park's Ops Team. They didn't want Guests stuck on Disneyland's or WDW's attractions should the Y2K bug prove be a very real thing.
Anyway … A half hour after the stroke of midnight on what-was-now-January 1st, 2000, all of those rides, shows & attractions at Disney's stateside parks were back up & running again. Loaded with happy, still alive Guests.
Mind you, the Mouse never admitted publicly that the reason they'd shut down all of the rides, shows & attractions at its stateside theme parks just prior to midnight on December 31, 1999 was out of Y2K bug-related safety concerns. What Disney spokespersons said instead was – in essence – " … we just to be sure that all of our Guests got the chance to see that night's special fireworks display."
Yeah. Right.
Millennium Celebration for Walt Disney World and Disneyland
Back to 1996 now.
What The Walt Disney Company was most concerned about – as it looked ahead to the Millennium was — … Well, to borrow a phrase from a very famous Prince song, figure out what to do in California & Florida when Disney theme park fans wanted " … to party like it's 1999."
On the West Coat, given that Disney's California Adventure would still be under construction at the start of the Millennium (That theme park wouldn't actually open to the public 'til February 8, 2001. And given that the Disneyland Parking Lot would close on January 21, 1998 to then make room for DCA … Well, the rest of that Resort would largely be a maze of construction fences when December 31, 1999 finally arrived), a one-night-only party seems like the smartest way to go.
Whereas in Florida … The thinking is – instead of a one-night-only party – Walt Disney World should explore the idea of a staging a months-long Millennium celebration. Something that could start in 1999 and then roll on into 2000.
Quick aside here: WDW's PR team just loved this idea. Largely because – by the late Spring / early Summer of 1999 — the newness & excitement associated with Disney's Animal Kingdom (That theme park was due to open in April of 1998) would have begun to wear off.
Selecting Epcot for the Millennium Celebration at Walt Disney World
As to which park should host Walt Disney World's Millennium Celebration … Well, that was kind of a gimmee back then. Largely because — while Epcot was the park at the Walt Disney World Resort with the second highest attendance levels (Magic Kingdom was first) — it was also [at that time, anyway] the least profitable park on property.
I know that that's strange to hear today. Especially given the hand-over-fist money that the WDW Resort now makes off of those super-sized, extended versions of Food & Wine and Flower & Garden. But you also have to remember that today's story starts back in 1996. And the …
1st Flower & Garden wasn't held til April of 1994 (And even then, it was just five weeks long)
Likewise the 1st Food & Wine wasn't held 'til September of 1996 (and it was just 30 days long)
Interestingly, the 1st Holidays Around the World / now International Festival of the Holidays debuted that very same year. In November of 1996 to be precise (it also was just five weeks long)
And Epcot's International Festival of the Arts is the newest of the bunch. It debuted just 5 years ago in January of 2017 (and was also only five weeks long)
So you have to understand that these massive money makers (as we know them today, anyway) weren't really in place back then. Which is why Epcot – which then had to largely rely on its original assortment of attractions to lure WDW visitors through its turnstiles – was the least profitable park on property.
Anyway … Disney Parks & Resorts hoped to turn this situation around (at least for 15 months or so) by making Epcot Center the center of WDW's Millennium Celebration. Which was supposed to get underway in October of 1999 and then run at least through December of 2000.
Just so you know, though: There was a secondary agenda being serviced here as well … Disney Parks & Resorts wanted to use WDW's Millennium Celebration as a way to reintroduce the world to a new, fun version of Epcot …
Epcot 2.0
Sound familiar? Yep, that is exactly what Walt Disney World had also hoped they'd be able to do with the Resort's 50th anniversary celebration which began back on October of 2021. Reintroduce the world to the brand-new, fun version of Epcot 2.0. (They say no good idea ever dies at Disney. But wasn't it Santayana who said that " … a fanatic is someone who redoubles their effort when they've forgotten their original aim" ? )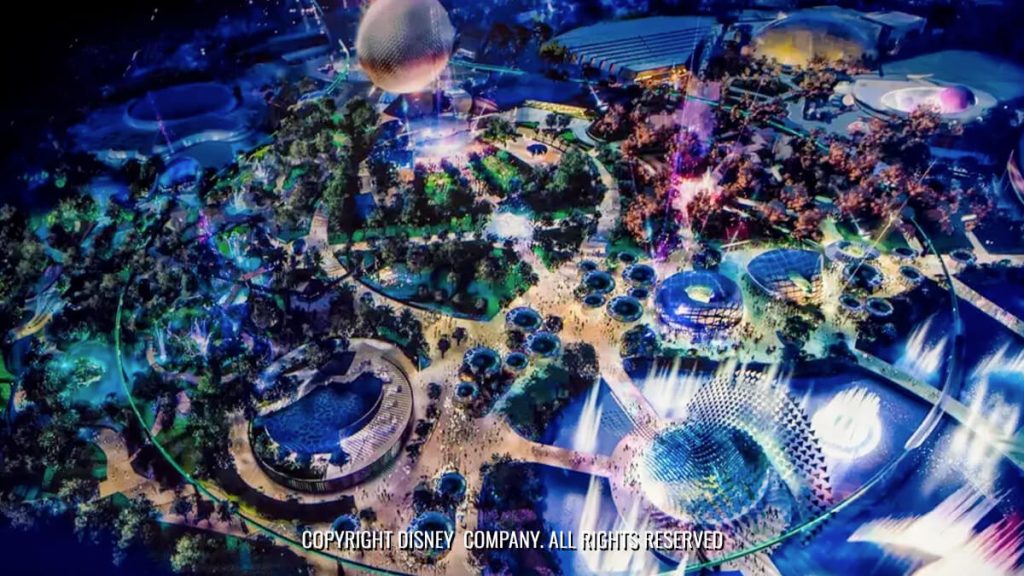 Of course, when it came to the launch of the brand-new, fun version of Epcot 2.0, the pandemic & its impact on the labor force and worldwide supply chains kind of blew that very ambitious plan right out of the water. So instead of a bright new shiny version of Walt Disney World's science & discovery park being in place just in time for the launch of this Resort's 50th anniversary celebration back in October of 2021 … What we got instead is a handful of new rides, shows & attractions like "Remy's Ratatouille Adventure," "HarmonioUS," "Guardians of the Galaxy: Cosmic Rewind," "The Creations Store," "Space 220," "The Connections Café & Eatery," and – soon – "Moana: The Journey of Water" opening one at a time in kind of a scattershot fashion … Which (let's be honest here) didn't have nearly as big an impact / make nearly as big a splash than as if all of these new rides, shows & attractions had managed to come online in the exact same window of time (i.e., late Summer / early Fall of 2021. Just in time for the start of WDW's 50th anniversary celebration).
Quick aside: I want to be clear here: This wasn't poor planning on Disney's part. Nobody could have ever foreseen that a once-in-a-century pandemic would come over the hill and then disrupt WDW's a-decade-in-the-making 50th anniversary plans. Epcot's still limping along through its reimagining right now. Which — I'm now hearing –should largely be complete by 2024 (This is when the Play! Pavilion, CommuniCore Hall & Communicore Plaza are supposed to finally come online. We'll get to those latter two projects in the back half of today's story).
Prepping Epcot for WDW's Millennium Celebration
Back to 1996 and the Resort's advance prep & planning for WDW's Millennium celebration now … There was a method to the Imagineers' madness. All of the changes that were to be made to Epcot out ahead of October of 1999 (the target date for the launch of this park's 15 month-long Millennium celebration) had a very deliberate purpose.
That giant "Sorcerer Mickey" arm which was erected over Spaceship Earth was supposed to send a message to Guests that Epcot was now far more magical & fun.
The "Tapestry of Nations" parade (which was presented twice daily, once starting at 6:30 p.m. and then a second presentation of the same parade starting at 8:10 p.m.) was supposed to compel Guests to stay in Epcot long enough each day to actually view that parade. And while these people were killing time waiting … Well, they'd either have to shop or grab a meal (Which would then hopefully help with Epcot's least-profitable-theme-park problem) …
Then – to absolutely make sure that people lingered as long as possible inside of Epcot while the Resort's Millennium Celebration was being presented – WDW Entertainment rolled out a brand-new edition of "Illuminations," "Reflections of Earth." Which was a significant upgrade of the previous nighttime show that had been staged out on World Showcase Lagoon. With giant torches erected all along the esplanade and the Inferno Barge literally starting this show with a bang.
The hope was that people would have such a great time at WDW's 15 month-long Millennium Celebration that they'd then want to commemorate this special occasion. This is why the Imagineers then built the "Leave a Legacy" plaza directly in front of Spaceship Earth.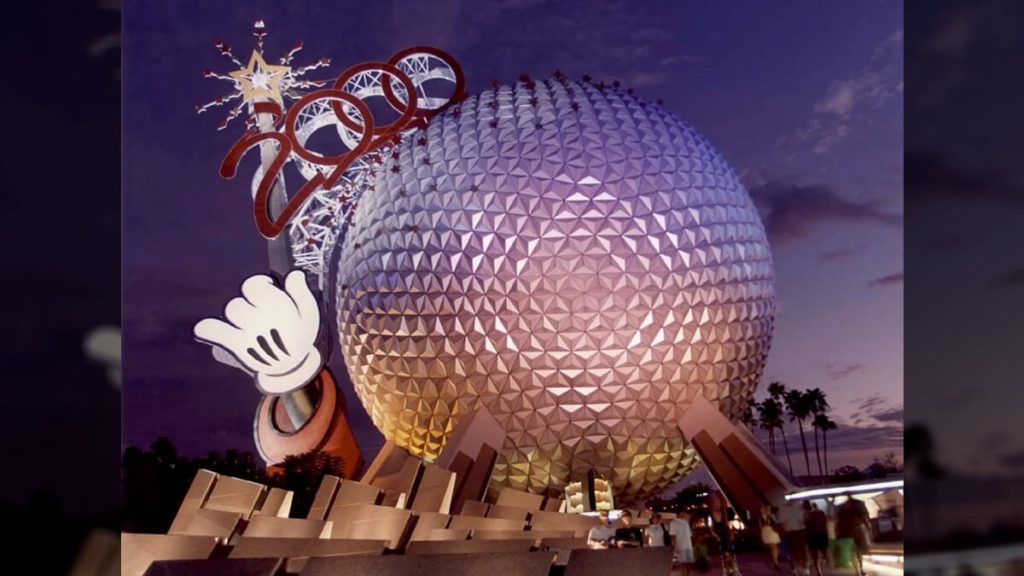 This retail initiative was a sequel of sorts to those hugely popular "Walk Around the World" pavers that had been sold over at the Magic Kingdom as part of WDW's 25th anniversary celebration.
FYI: WDW's 25th anniversary celebration was also originally supposed to be just a 15 month-long celebration, running from October of 1996 through December of 1997. But that event proved to be so popular with WDW visitors that the Resort's 25th anniversary celebration got extended another three months. All the way to March of 1998.
And to be honest, if the Resort could have gotten away with it, they'd have extended WDW's 25th anniversary celebration event even further than that. But they were forced to finally shut those festivities down in March of 1998, largely because Disney's Animal Kingdom would be opening in late April of that same year. And that theme park's opening was supposed to be the primary focus of the WDW Resort's promotional efforts for the bulk of 1998).
"Leave a Legacy" at Epcot
Back to the "Leave a Legacy" retail program now … The Imagineers built a Stonehenge-like plaza in front of Spaceship Earth which had space for 750,000 tiles that could then feature the smiling faces of Guests who had just attended Epcot's Millennium Celebration (Which the Company really hoped would eventually turn into a WDW 20th anniversary-like success. Which would have then forced the Resort to extend its 15th month-long Millennium celebration another three months into the late Winter / early Spring of 2001).
That wasn't to be, though. "Leave a Legacy" ultimately proved to be something of a disappointment. Only 440,000 tiles were sold over the course of Epcot's Millennium celebration. (I'm told that this was because most people didn't like how their likenesses on the finished tiles turned out AND because it was then hard to find your "Leave a Legacy" tile once it was finally put in place in that stone garden in front of Spaceship Earth).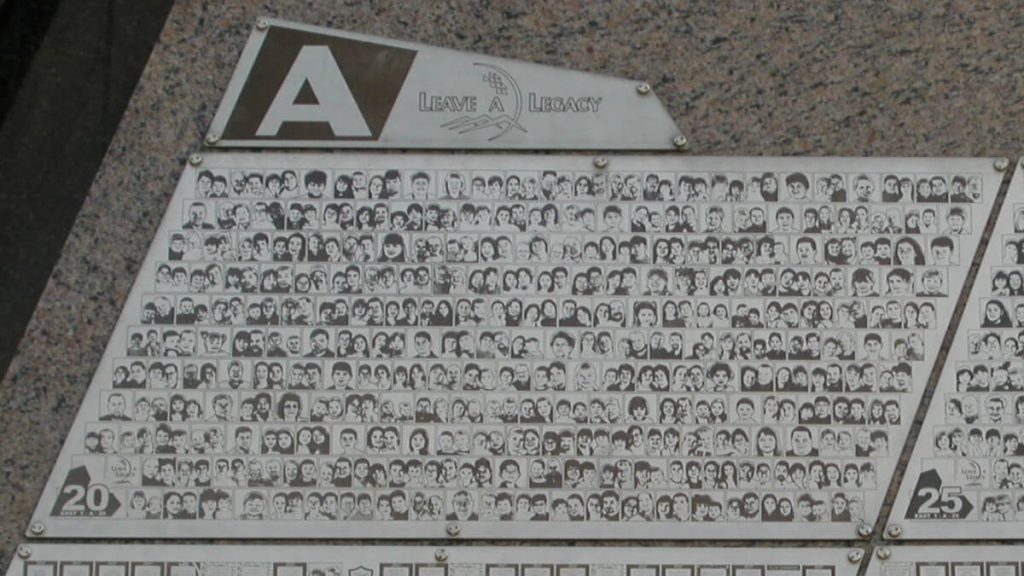 Terry Dobson (Walt Disney Imagineer)
We've talked about what Walt Disney World was going to do in order to get Guests to linger at Epcot in the late afternoon / early evening during that Resort's Millennium Celebration with that one-two punch of "Tapestry of Nations" and "Illuminations: Reflections of Earth." But what was supposed to compel people to visit that theme park earlier in the day while this 15-month-long event was going on?
That was the assignment that was handed to Terry Dobson. Who – at this point – was a veteran Show Producer at Walt Disney Imagineering.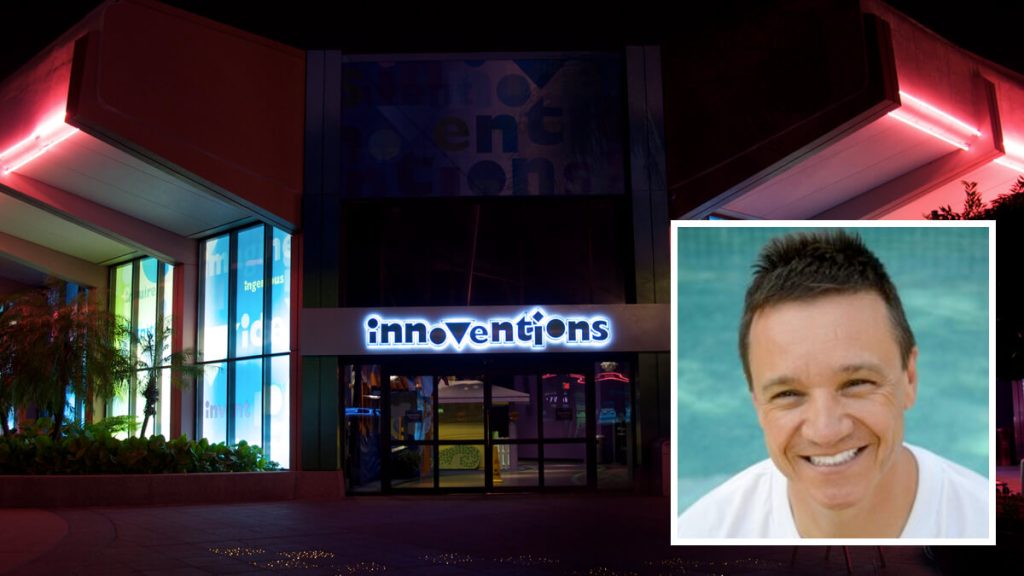 Innoventions at Epcot
From January of 1993 through October of 1994, Terry had been the guy who rode herd on the transformation of CommuniCore West into Innoventions. That 100,000 square foot exhibition officially opened in Epcot's Future World section in July of 1994 and featured displays by all sorts of major American corporations. Among them AT&T, GE, GM, Motorola, Honeywell, IBM, Apple, Silicon Graphics, and Lego.
That Future World display proved to be so popular that the team who was working on reimagining Disneyland's Tomorrowland area back in the late 1980s / early 1990s then said "Hey, we wanted an Innoventions too."
Disneyland Innoventions
So from February of 1996 through May of 1998 (which is when Disneyland's new version of a New Tomorrowland finally opened), Terry did the exact same thing. Which was take a pre-existing structure (In this case, the Carousel of Progress theater-go-round building) and then turn it into a space where … Well, here's a piece of Disney speak for you …
… deliver corporate messages through family play experiences through a mixture of high-tech, low-tech and no-tech hands-on exhibits.
This time around, Dobson delivered a 30,000 square foot exhibition space that featured displays by for SAP, Compaq, Honeywell, AT&T, GM and Kaiser Permanente. That last sponsor was a throwback to an opening day attraction at Disneyland.
Anyway, just like the East Coast version of Innoventions, the West Coast version of this exhibit proved to be hugely popular with Guests. Which is why – when Dobson finally returned to his office at Imagineering headquarters in Glendale – he found WDW's the Millennium Celebration team waiting for him.
Epcot's World ShowPlace and Millennium Village
They told Terry "Hey, how'd you like to tackle another Innoventions-like project with lots of displays? Only this time, you'll be working with countries, rather than corporations. Which – I'm sure — will be far easier to deal with. But the upside is … At least this time, you'll be working with a brand-new 65,000 square foot building."
Did I say "building" ? To be honest here, the World ShowPlace (that's what this 65,000 square foot structure eventually became known as. But let's not get ahead of ourselves here, shall we?) is a tent. A very large, supposed-to-be-temporary tent.
Those tents that now house Pete's Silly Sideshow & Big Top Souvenirs over WDW's Magic Kingdom, which were originally erected back in 1988 as part of Mickey Mouse's 60th birthday celebration and then only supposed to be in place for a year), there's nothing quite so permanent as a supposed-to-be-temporary tent at Walt Disney World.
As Terry Dobson began actively developing World ShowPlace and the Millennium Village display that was supposed to eventually be staged inside of this 65,000 square foot temporary building / tent, this Imagineering vet quickly realized that he was now serving two masters.
By that I mean: WDW Resort officials wanted the Millennium Village to be this must-see spectacle. A colorful gathering which represented over 50 nations from around the globe that would then compel people to fly on down to Orlando and check this exhibition out during its 15-month-long run. Disney World's only creative caveat going into this project was that Terry NOT include any displays from countries that already had a pavilion out along the shores of World Showcase Lagoon. Only new & different nations, please.
Whereas Epcot's management team … Well, they went into the Millennium Village / World ShowPlace project with a somewhat different agenda. They were much more intrigued by how this 65,000 square foot building / tent / supposedly-temporary structure could possibly be used AFTER WDW's 15-month-long Millennium Celebration was over.
Rain's Impact on Festival Attendance at Epcot
By that I mean: At this point in that theme park's history, Epcot had been running its seasonal Flower & Garden, Food & Wine, and Holidays Around the World festival for a few years now. And while all three of these seasonal events had shown huge profit potential … Well, the problem was that Flower & Garden, Food & Wine as well as Holidays Around the World was that they were largely events that were staged outdoors. Which mean that all it took to tank that day's attendance at Epcot (and thereby significantly undermine the profit potential of that particular seasonal event) was one of Central Florida's famous torrential rainstorms.
So – to mitigate this situation – Epcot wanted a big, new, under-cover venue. Some place where — even when it was pouring outside – Guests could then gather indoors and still enjoy food from around the globe, or listen to Disney's own horticulturists tell them how to improve their gardens at home, or shop for pieces of art that these tourists could then haul home.
Constructing Epcot's World ShowPlace
And to get this enormous, new, under-cover venue … Epcot was willing to make some pretty big sacrifices. They were willing to give up that expansion pad between World Showcase's Canada Pavilion and the UK Pavilion (This is where – back when EPCOT Center was originally being designed – the Imagineers envisioned another international pavilion eventually rising up) so that a long, wide walkway could then built to allow WDW visitors access to the largely-backstage area where World ShowPlace was being built.
Of course, this was kind of costly. Which is why Epcot's managers reached out to Walt Disney World's Special Events / Corporate Events office. And then basically said "The Imagineers are now designing a brand-new venue at our theme park that you guys are probably going to want to start using once WDW's Millennium Celebration is over. Do you want to give them any input / some notes?"
And indeed Disney World's Special Events / Corporate Events office did. Seeing World ShowPlace as a place where – in the not-so-distant future – they could soon begin staging super-sized dessert parties for companies that were holding their annual conventions on WDW property … Disney World's Special Events / Corporate Events office asked that the plans for World ShowPlace include:
A giant professional prep kitchen (which was supposed to have its loading dock deliberately orientated out towards Epcot's perimeter road. Which would then make food & supply deliveries to this super-sized facility far simpler)
An enormous bathroom just off of the theme-park-facing entrance to this 65,000 square foot structure. This was to be at the top of that walkway up from World Showcase Promenade. Which – again – had been built between Epcot's UK pavilion & the Canada pavilion.
The idea here was … Well, if you were having some sort of corporate event with an open bar, you'd then have a place where all of these deep-pocketed / paying-with-their-per-diem Guests could quickly pee before they then walked out towards World Showcase Lagoon to watch a presentation of "Illuminations: Reflections of Earth."
Next is an element that's crucial for any building-of-size that was being built in Central Florida today. And that's no less than six enormous professional-grade air conditioning units, which were set up around the perimeter of this enormous tent-like structure. Which would virtually guarantee that – no matter how many people were crammed into this building at any one time dressed in formal business attire – they'd all always stay cool.
And speaking of keeping things cool (or should I say "wet"?), a network of sprinklers were to be built into the roof line of the again-supposed-to-be-temporary World ShowPlace.
These sprinklers were be turned on every night just prior to the start of "Illuminations: Reflections of Earth." So that – should a stray firework shell ever accidentally come down on top of this massive tent-like structure as this nightly fireworks / laser extravaganza is being presented – World ShowPlace wouldn't then go up in flame.
Now please keep in mind that all of the above were permanent structures that were then added to the plans of what was originally supposed to be just a temporary structure. Which obviously added to the cost of originally building World ShowPlace but also – further on down the line — made this Epcot addition that much more valuable & versatile as a venue for corporate & special events.
"Millennium Village"
But before any of that stuff could happen, Terry Dobson had to first deliver that Innoventions-like "Millennium Village" display. Which needed to be up & running by October of 1999.
And remember how Terry's original marching orders were "We want a spectacle. A massive display featuring over 50 nations from around the globe"? Well, recruiting corporations to show off their latest & greatest hi-tech wares in Innoventions was a lot easier than persuading countries to come take part in Epcot's Millennium Village exhibition. In the end, Dobson was only able to persuade 24 nations to set up displays inside of World ShowPlace.
And even then, a lot of countries weren't willing to come be part of the "Millennium Village" unless they were then allowed to cut corners.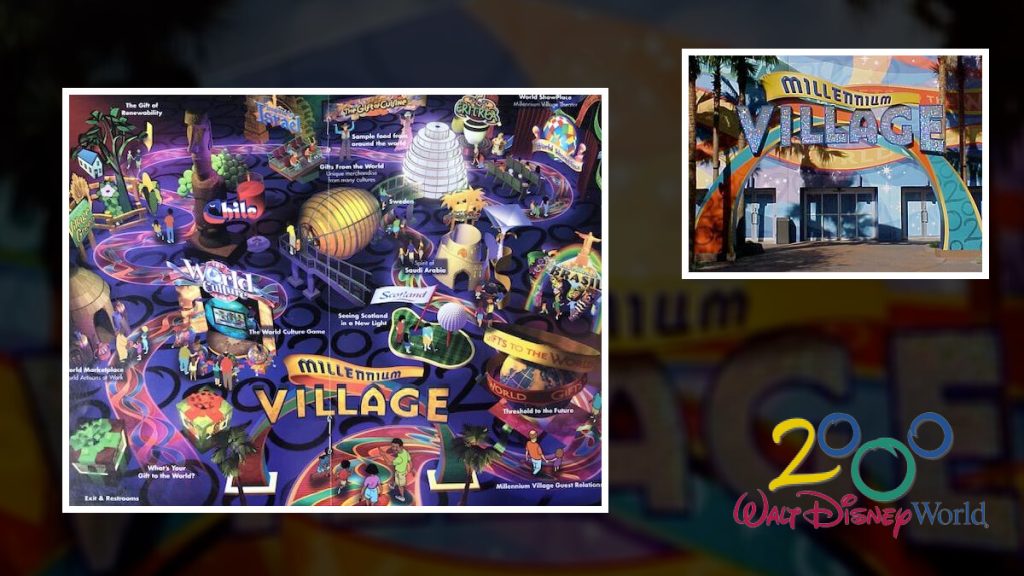 Sweeden
Case in point: Sweden. While this Nordic country was genuinely interested in taking part in Epcot's Millennium Celebration, Swedish officials weren't all that eager to spend a large sum of money to build a brand-new display for Disney World. Which is why they asked permission to just recycle the "Four Seasons of Sweden" exhibit that Swedish officials had originally built for Expo '98 (which had been held the year previous in Lisbon, Portugal) and erect those 30 foot-tall egg-shaped biodomes inside of World ShowPlace. Dobson said "Yes."
Jerusalem
One country that Terry maybe – in hindsight – wishes that he hadn't recruit for this event was Israel. Who then presented the somewhat controversial "Journey to Jerusalem" simulator ride in that country's section of the Millennium Village.
"And what was so controversial about Israel's 'Journey to Jerusalem' ride?," you ask. Well, this motion-based experience gave WDW visitors a simulated tour of that Holy City through various periods in history.
And because Jerusalem is considered a holy city by a number of religions, this motion-based experience became a hot button issue even before Epcot's Millennium Village officially opened in October of 1999.
The Arab League was especially incensed by the "Journey to Jerusalem" ride. They all but accused The Walt Disney Company of helping Israel to reinforce that country's long-held claim that Jerusalem was actually Israel's capital. Which had – of course — been a bone of contention in this region ever since Israel had first declared its independence back in May of 1948.
Disney (which had offered some creative input when the "Journey to Jerusalem" ride was first put into development) insisted that this motion-based simulator was apolitical. But when word got out that Israel's Ministry of Foreign Affairs – rather than its Ministry of Tourism – had contributed some $1.8 million towards the cost of building this $8 million attraction … Well, that then gave this controversy some additional oxygen.
As a direct result of this bout of bad publicity, WDW's Millennium Celebration got off to a somewhat rocky start. Disney tried to paper over this controversy by bringing Maya Angelou & UN Secretary General Kofi Annan in late October of 1999 to give the Millennium Village their official blessing.
World ShowPlace After Millennium Celebration
Once Epcot's Millennium Celebration officially ended in December of 2000, Epcot officials and the folks in charge of WDW's Special Events / Corporate Events office finally got to use World ShowPlace for the purposes they had originally envisioned. Which was as a large under-cover space where various aspects of Flower & Garden, Food & Wine, Festival of the Holidays & Festival of the Arts could be presented indoors. And – when those seasonal events aren't being staged – WDW's Special Events / Corporate Events office could then make this very same space available to companies that are staging their conventions down in Orlando.
The downside is … A lot of these corporations over the past 20+ years have already staged their company's events inside of World ShowPlace. And lately, they've been looking for someplace new on WDW property where they can then stage these events / hold their after-convention cocktail parties.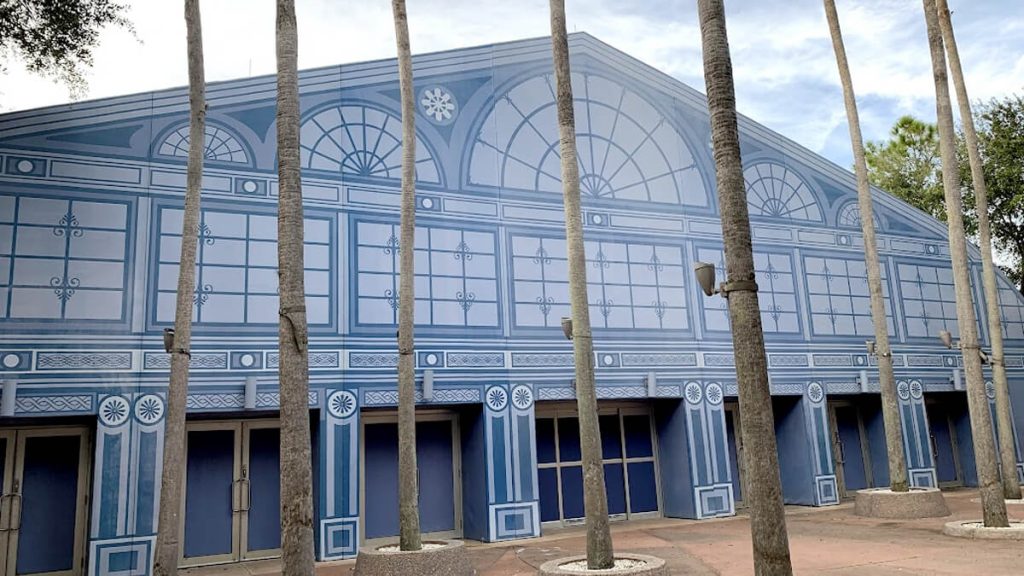 "Park in the Sky"
Which brings us to that "Park in the Sky" project which was first announced at the Disney Parks & Resorts panel that was held at the D23 Expo back in August of 2019. This was when Bob Chapek first revealed that Epcot's World Showcase was going to be broken up into three distinct neighborhoods:
World Discovery
World Nature
and World Celebration
And serving an anchor for World Celebration was supposed to be this brand-new pavilion, a three story-tall structure that would be both a venue for live events as well as the home base for Epcot's signature festivals.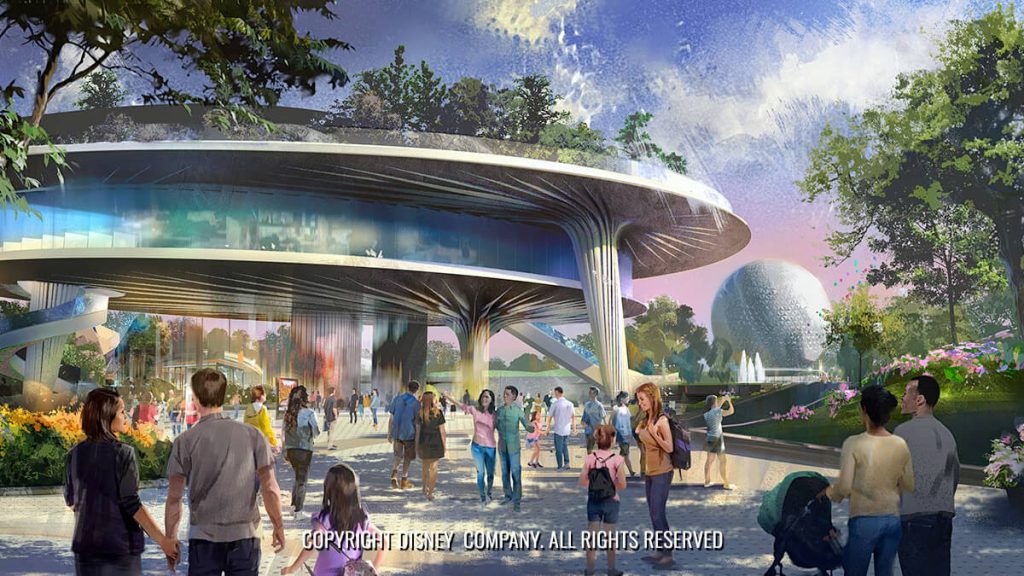 The ground level portion of this three story-tall structure was to have been known as the Plaza. Guests could easily passed through this space / directly under this building as they walked from the Creations Shop out towards World Showcase Lagoon.
As for the second floor of this structure, this was to have been the expo level. This was where various panels & presentations offered at Flower & Garden, Food & Wine, Festival of the Holidays & Festival of the Arts were to have been staged.
And as for the top floor of this three-story structure … This was the space that Disney's Corporate Events / Special Events office was most interested in. During the day, it was supposed to be this lovely green space filled with curving walkways that then offered commanding views of Epcot (Hence its "Park in the Sky" designation).
But at night, this elevated garden would have been offered to corporate groups as a possible venue for their cocktail parties / after-convention gatherings. And these companies would have been charged top dollar for the privilege of giving their employees such a stellar view of "HarmonioUS."
Sadly, in early May of this year, Walt Disney World announced that it had revised its plans for this corner of World Celebration. In place of that three-story tall "Park in the Sky" (which would have really made an interesting architectural statement), we're now going to get a far more conventional-looking (more importantly, cheaper-to-build) CommuniCore Hall & CommuniCore Plaza. Which – going forward – will eventually serve as Epcot's new festival center.
Which – I know – has to disappoint the folks at WDW's Special Events / Corporate Event offices. They'd already begun talking with various corporations about possibly renting out Epcot's "Park in the Sky" for their upcoming Orlando-based conventions. My understanding was that – prior to the pandemic – this three-story-tall structure was supposed to have opened no later than 2023.
CommuniCore Hall & CommuniCore Plaza
Now … From what I'm being told, the earliest that CommuniCore Hall & CommuniCore Plaza will be the Fall of 2024. And most of the corporations that had previously shown interest in staging events up on the third floor of Epcot's proposed "Park in the Sky" are now reportedly disappointed with this new version of the festival center that's now supposed to be built in World Celebration.
Of course, what's kind of ironic here is that – by the time CommuniCore Hall & CommuniCore Plaza finally open in late 2024 – World ShowPlace (that originally-supposed-to-be-temporary structure) will then be old enough to celebrate its 25th anniversary.
Nothing's quite as permanent as a temporary tent at Walt Disney World.
This article is based on research for The Disney Dish Podcast "Episode 386/387", published on August 8 & 15, 2022. The Disney Dish Podcast is part of the Jim Hill Media Podcast Network.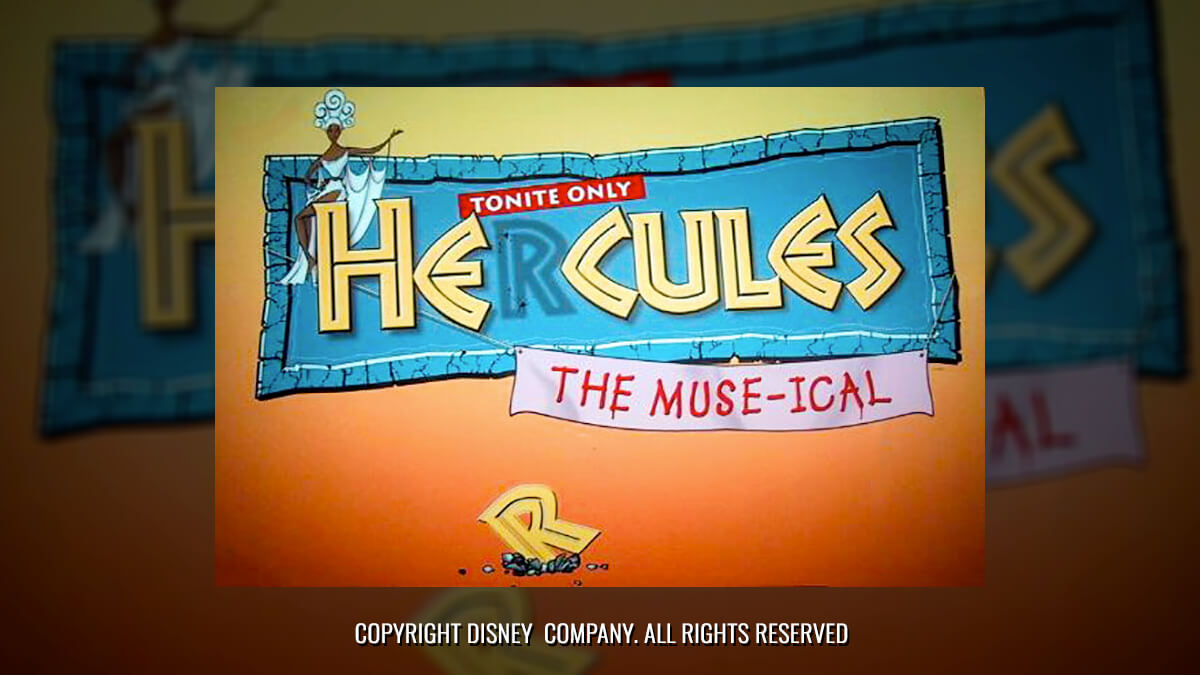 Quick trivia question: What were the names of the three stage shows that were presented on the Disney Magic on that vessel's maiden voyage back in July of 1998?
"Disney Dreams"
"Voyage of the Ghost Ship"
And "Hercules: The Muse-ical"
It's that last show – which is based on the hand drawn animated feature that Walt Disney Pictures released back in June of 1997 – that occupies an interesting spot in Mouse House history. Largely because Disney's "Hercules" (the movie, not the stage show) arrived in theaters at a time when the folks who ran the animation side of the operation at Disney Studios were getting a wee bit nervous about the Company's supposed supremacy over feature animation.
Disney Animation Success: Aladdin & The Lion King
Some three years previous (June of 1994, to be exact), no one in Hollywood had any doubts at all about who was the top dog when it came to feature animation. And that was because "The Lion King" had just arrived in theaters and was such a huge hit at the world-wide box office. $312 million in ticket sales in North America alone.
To put that in perspective: Disney's previous biggest hit, at least when it came to hand-drawn animated features, had been "Aladdin." Which arrived in theaters some 20 months earlier in November of 1992 and had sold $217 million worth of movie tickets domestically. So what with "The Lion King" earning basically one-and-a-half times what "Aladdin" had (Mind you, that's just the domestic release of this movie that we're talking about here. Overseas, "The Lion King" made $545 million. Which – compared to the $286 million that "Aladdin" made overseas back in 1992 – that's nearly double the business) … We're talking some very serious moola.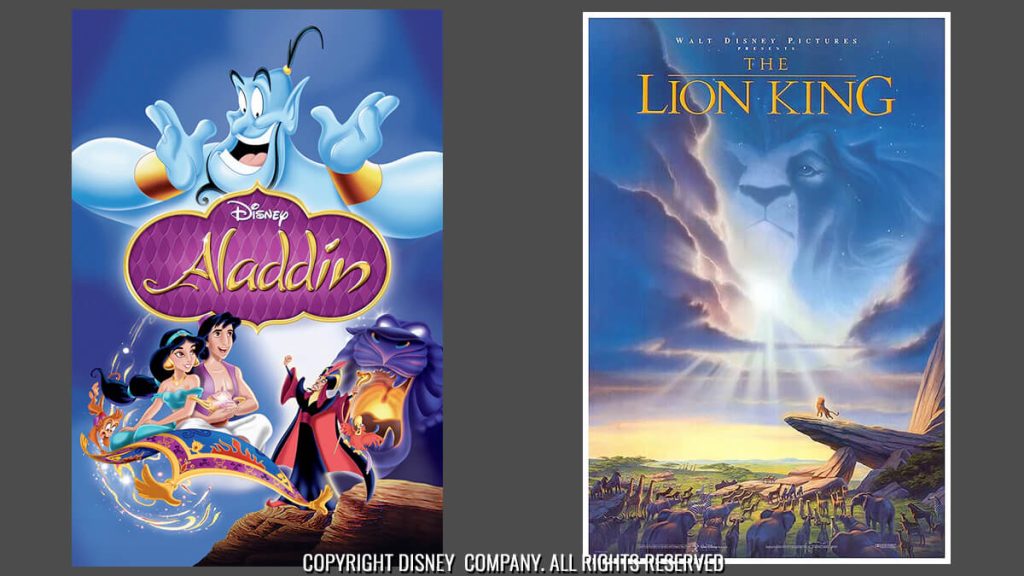 DreamWorks SKG
But then – in August of 1994 – Jeffrey Katzenberg is forced out as the Chairman of Walt Disney Studios. He – in turn – joins forces with Steven Spielberg & David Geffen. And – just two months later (October of 1994) – launches DreamWorks SKG. And one of the key components of this brand-new entertainment conglomerate is an animation studio. Which is then supposed to go head-to-head to the Mouse House.
Cold Streak for Disney Animated Films
Compounding this situation is that Walt Disney Feature Animation suddenly starts to have a cold streak. Where "The Lion King" sold $312 million worth of tickets when it was released to North American theaters in the Summer of 1994, Disney's "Pocahontas" (which is released to theaters just one year later in June of 1995) does less than half that business. $141 million in domestic ticket sales to be exact.
And then – when Disney's "Hunchback of Notre Dame" arrives in theaters just one year after that in June of 1996 – it does 2/3rds of the business that Disney's "Pocahontas" had done the previous year. It sells $100 million, $100 thousand worth of tickets in North America. Which – given that Disney's animated "Hunchback" costs a reported $100 million to make … That's a problem.
Hercules is Coming: Disney Goes All-Out to Promote New Film
So as the Summer of 1997 looms, Disney is now looking to reverse this box office trend. The Studio needs another "Lion King" -sized hit to show those guys at DreamWorks SKG who's really the boss in Hollywood when it comes to feature animation. And the Mouse is going to use every tool that it has in its promotional tool kit to make sure that every would-be movie-goer knows that "Hercules" is on its way and it's a big, bright, colorful, really funny animated feature just like Disney's "Aladdin."
Side note: Figuring that Robin Williams' star power was one of the reasons that Disney's "Aladdin" had zoomed to the top of the box office back in November of 1992, the Studio initially wanted to use the same sort of stunt casting to make Disney's "Hercules" a must-see movie-going event. Which is why they originally wanted Jack Nicolson to be the voice of Hades and then hire the Spice Girls to served as the voices of the Muses.
Sadly, in both of these cases, though the Company had meetings with Nicholson and the Spice Girls' representatives, the cost of hiring these performers to voice characters in Disney's "Hercules" proved to be prohibitive. So that stunt casting idea was ultimately abandoned.
Hercules Mega Mall Tour
Anyway … Back to promoting "Hercules" as only Disney could … This meant – starting in February of 1997 – the Company sent out the "Hercules" Mega Mall Tour. Which – to raise awareness of the June debut of this new full-length animated feature from Walt Disney Studios – involved stops in 20 different cities around North America over five months time. Over the course of this tour, 4 million cassettes of "Zero to Hero" (The song that Alan Menken & David Zippel had written for this animated feature that – it was felt at the time – had the best chance of being the break-out single from the "Hercules" soundtrack) were handed out to mall patrons.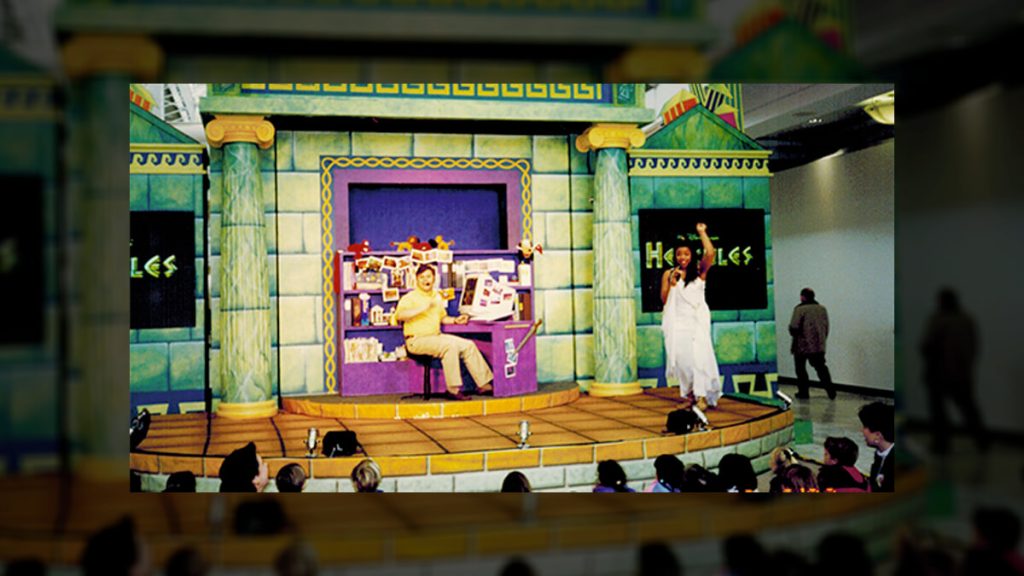 Hercules New York Movie Premiere
And speaking of June … To make sure that as many people as possible were made aware that Disney's "Hercules" was opening in theaters, the Company decided to stage the world premiere of this new Ron Clements & John Musker movie in New York City. Not only that, but to present a week-long series of screening of Disney's "Hercules" in the just-renovated New Amsterdam Theater (which would – just 5 months later, in November of 1997 – would then become home of the Company's long-running smash hit Broadway musical version of "The Lion King").
Hercules Electrical Parade
And – to make sure that everyone in NYC knew this was happening – Disney got special permission from then-New York City mayor Rudi Guiliani to roll the Main Street Electric Parade (which, for this one-time promotion event, was renamed the "Hercules Electrical Parade") down 42nd Street and then up 5th Avenue.
Speaking of parades … To make sure that theme park goers knew that Disney's "Hercules" was now in theaters, a "Hercules" – themed parade rolled through four different theme parks that Summer.
Disneyland Park in Anaheim
Disney-MGM in Florida
Disneyland Paris in France
and also at Tokyo Disneyland in Japan
It was an unprecedented promotional effort on the Company's part. More to the point, because they were absolutely certain that "Hercules" was going to turn out to be another "Aladdin" or a "Little Mermaid" (The two animated features that Ron Clements & John Musker had previously made for the Mouse House. Which had then turned into these hugely lucrative franchises for The Walt Disney Company which had gone on to have surprisingly long shelf lives) … Well, that's Disney – even before "Hercules" had actually arrived in theaters – began making plans as to how it could then extend the shelf life of this particular IP.
Disney's Hercules: The Animated Series
One way was "Disney's Hercules: The Animated Series." Which was basically a prequel to that theatrically released animated feature. 65 episodes of "Disney's Hercules: The Animated Series" were produced and then began airing on ABC in September of 1998.
Hercules: The Muse-ical on the Disney Magic
But six weeks prior to that (in late July of that same year), the Disney Magic had its maiden voyage. And Guests who sailed on this 984-foot-long, 84,000-ton vessel were treated to performances of "Hercules: The Muse-ical." I've also seen this stage show referred to as "Hercules: The Muse-ical Comedy."
There's only one problem with this plan. This new stage show was debuting onboard the Magic some 13 months after Disney's "Hercules" had originally arrived in theaters.
Hercules the Box-Office Disappointment
By now, everyone knew that this Ron Clements & John Musker movie had been a box office disappointment.
Only selling $99 million worth of tickets in North America – making "Hercules" the first Disney animated feature to not blow through the $100-million-at-the-domestic-box-office barrier since "The Rescuers Down Under" back in November of 1990.
Disney Cruise Musical Success: Hercules: The Muse-ical & Villains Tonight
Which – you'd think – would have doomed "Hercules: The Muse-ical" to a very short run on the Disney Cruise Line. But here's the thing: people who voyaged on the Disney Magic (and – later – the Disney Wonder. Which got its own clone of this stage show) just loved "Hercules: The Muse-ical." They just loved how this stage show was one part stand-up comedy act and another part well-put together musical review.
Which is when – when "Hercules: The Muse-ical" came to the end of its run (in 2005 on the Magic & then in 2008 on the Wonder) – Disney's Entertainment Department did a very unusual thing. They crafted a sequel show of sorts, "Villains Tonight." Which brought back the three most popular characters from "Hercules: The Muse-ical" (i.e., Hades, Lord of the Dead and his hapless minions, Pain & Panic) and then had this trio interact with some of Disney's most famous fiends. Among them Maleficent from "Sleeping Beauty," the Evil Queen from "Snow White," Ursula from "The Little Mermaid" … you get the idea.
"Villains Tonight" debut on the Disney Magic in 2010 and quickly proved to be so popular that this stage show was then replicated for the Disney Dream the following year (2011). "Villains Tonight" had a healthy run on both boats, with the Disney Magic version of this show closing up shop in November of 2015 and the Disney Dream version shuttering in August of 2017.
Stage Adaptation of Hercules
But here's the weird part: These long-running "Hercules" -inspired stage shows proved that there was actually an audience out there for a full-scale Broadway musical version of this Ron Clements & John Musker movie. Which is why – back in September of 2019 – the Public Theater (for one week only) staged … Well, kind of a trial production for a stage adaptation of Disney's "Hercules." It was presented outdoors at the Delacorte Theater in Central Park with a cast of 200.
This stage version of Disney's "Hercules" got such great reviews (in large part thanks to Roger Bart's performance as Hades, Lord of the Dead.
Fun fact: Mr. Bart was the singing voice of young Hercules in the original animated feature. So when you hear teenaged Herc belting out "I can go the distance," that's actually Roger who singing. Bart's spent the past 25 years being closely associated with this IP)
This world premiere of a stage version of Disney's "Hercules" was so well received that a follow-up production was immediately put in the works.
Of course, then the pandemic happened. Which then slowed down the momentum for this stage version of Disney's "Hercules" a little bit. But that follow-up production now has a venue – the Papermill Playhouse in New Jersey (which is where the stage version of Disney's "Newsies" started off life back in September 2011 and then went on to great success of Broadway). We've also got some production dates for that show: February 9 – March 12, 2023.
Disney's Live-Action Hercules
What's kind of weird about the timing of all this is – while Disney Theatrical is readying a stage version of "Hercules" – (June 2022), it was revealed that Walt Disney Studios has a live-action version of its animated "Hercules" in the works. This big budget project will be directed by Guy Ritchie (who directed that live-action version of Disney's "Aladdin" which debuted in theaters back in May of 2019 and then went on to sell over a billion dollars worth of ticket at the worldwide box office) and produced by Joe & Anthony Russo.
That's significant. Given that Joe & Anthony Russo are the guys who directed "Avengers: Infinity War," "Avengers: Endgame," "Captain America: Civil War" and "Captain America: The Winter Soldier." Which tells us that the action scenes in this upcoming live-action musical comedy are going to feature Marvel-level FX work. Which will make this "Hercules" remake / reboot a must-see for Marvel fans.
More Hercules Musicals on Cruise Ships?
So – long story short – "Hercules: The Muse-ical" & "Villains Tonight" proved that there was an audience out there for a stage version of this Ron Clements / John Musker movie. Which then led to the world premiere of the stage adaptation of Disney's "Hercules" at NYC's Public Theater in September of 2019. Which eventually led to a second production of this stage, which will bow at NJ's Papermill Playhouse in just six months time.
But is it possible that Disney's "Hercules" could eventually make its way back onto the Company's cruise ships? It is worth noting here that – following the success of the live-action reboot of its animated "Beauty & the Beast" (That Bill Condon film was released to theaters back in March of 2017 and then went on to sell $1.2 billion worth of tickets worldwide), the Disney Cruise Line then mounted an all-new stage version of "Beauty and the Beast" that was then based on that live-action remake.
This production debuted on the Disney Dream back in November of 2017 (some eight months after the live-action "Beauty & the Beast" reboot originally debuted in theaters). So it stands to reason that – if Disney Studios' upcoming live-action reboot of its animated "Hercules" is equally successful – this film too could eventually become fodder for a future stage show that could then be presented onboard the Disney Cruise Line.
Hades – The Lord of the Dead
One final note: Given that Hades was the break-out character in both of those Disney Cruise Line productions (i.e., "Hercules: The Muse-ical" & "Villains Tonight." FYI: Both of these DCL shows are currently available for viewing on YouTube), it's worth noting here is that how Hades is reportedly based on is actually one of the notorious in-jokes in Hollywood history.
You see, given that the Lord of the Dead in Disney's "Hercules" is portrayed as this slick show business grifter ("We dance, we kiss, we schmooze, we carry on, we go home happy. What do you say?"), it's worth noting here that James Woods – who voiced Hades in the original animated feature – reportedly based his performance on ousted Disney Chairman Jeffrey Katzenberg.
Going forward here, it'll be interesting to see how this character is portrayed in Guy Ritchie's upcoming live-action version of Disney's "Hercules."
This article is based on research for The Disney Dish Podcast "Episode 385", published on August 1, 2022. The Disney Dish Podcast is part of the Jim Hill Media Podcast Network.
"House of the Future" – The Plastic House in Disneyland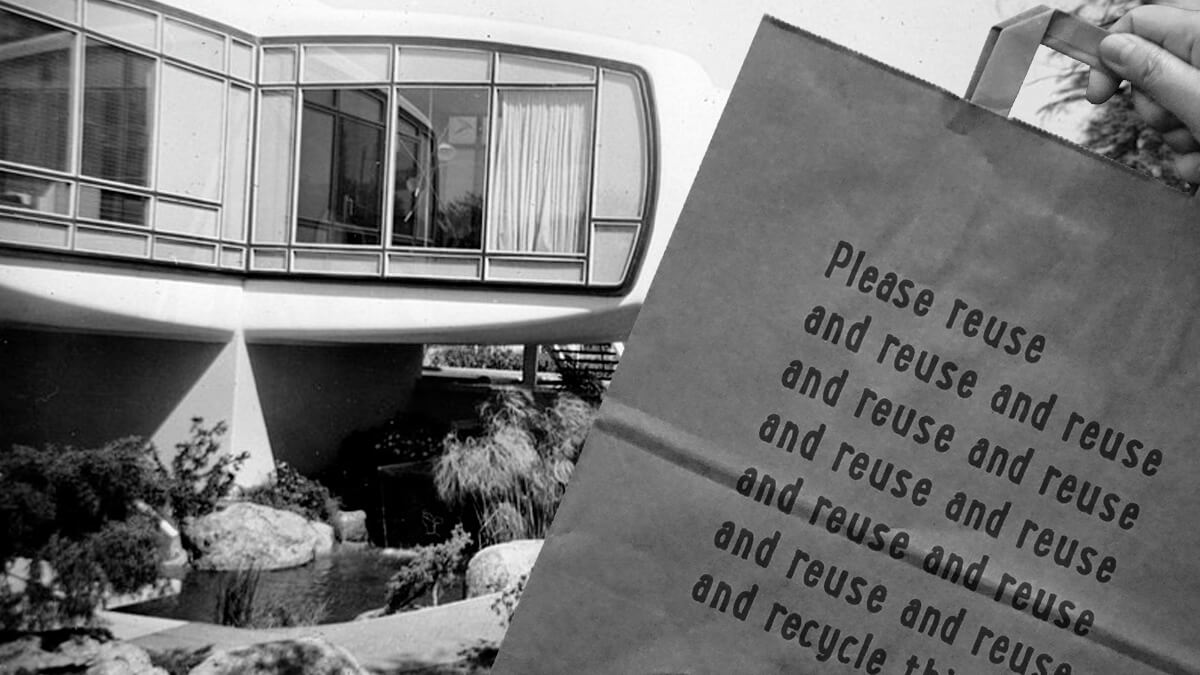 I was down in Massachusetts the other day doing some shopping at the Target in Framingham. And as I completed that transaction, I was somewhat surprised to see my groceries being loaded into … Well, not the usual Target bags (i.e., those white plastic ones with the bright red circular Target symbol on the side). But – rather – some plain jane brown paper bags.
Of course, that was because the State of Massachusetts (along with California, Connecticut, Delaware, Hawaii, Maine, New York, Oregon, Vermont & Washington State) has banned the use of plastic bags within the borders of that state.
FYI: The State of New Jersey put its own statewide ban of plastic bags in place earlier this year. On May 4, 2022, to be exact.
Which – if you're a child of the 1960s – this is kind of an ironic development. Given that – back when we were kids – the world-at-large seemed to be actively looking for even more ways to incorporate the use of plastic in our day-to-day lives.
Which reminds me of one of the odder walk-thru experiences that was ever built at Disneyland Park (Which – given that Happiest Place on Earth was once home to the Hollywood-Maxwell's Intimate Apparel Shop [This Main Street, U.S.A. store used to feature – no lie — a "Wonderful Wizard of Bras" show] – is really saying something). That was the "House of the Future," a 1,280-square-foot structure that the Monsanto Corporation proudly proclaimed was made out of 14 different types of plastics.
Given that this Tomorrowland attraction wasn't designed by the Imagineers … Well, how the "House of the Future" wind up being built right off Disneyland's Hub to the left of the entrance of Disneyland?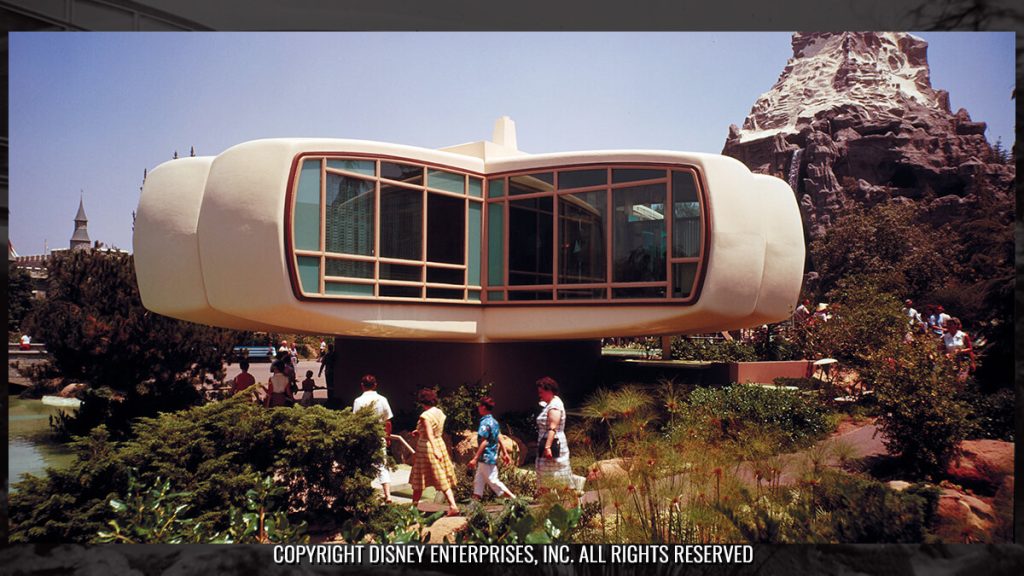 Post World War II – Moving Out of the City
Well, to tell that story, we have to jump back in time to the years right after World War II. Where – thanks to the G.I. Bill – hundreds of thousands of veterans decided to pursue college degrees. Which then allowed these former fighting men to land positions that paid much, much better than the jobs that their parents had held years previous.
And since these newly affluent veterans could now afford to move out of the city … Well, that's just what they did. Which we saw places like Levittown (i.e., America's very first planned community. The prototypical suburb, if you will) get founded in New York State's Nassau in 1947 and – in just six years time – become the home of more than 70,000 residents.
Mind you, the downside of this sort of building boom is that – by the mid-1950s – America began to experience sort of a shortage when it came to the supplies necessary to continue to build all these new homes for would-be surburbanites.
Monsanto and Plastic Homes
Which the Monsanto Corporation – which was actively looking for additional way to market the plastic that that company produced – saw as an opportunity. Which is when Monsanto executives reached out to Marvin Goody & Richard Hamilton, who were members of the faculty at the Massachusetts Institute of Technology that taught the principles of architecture to students attending that prestigious university. And those execs then asked Goody & Hamilton two intriguing questions:
Would it be possible to build an affordable modular home entirely out of plastic?
And – if so – what would that structure look like?
These two MIT professors then went off and considered this problem. And the concept that Goody & Hamilton eventually came up with was … Well, this prefabricated plastic structure that consisted of four cantilevered "wings" that would then rise up off of a concrete slab, which would then as the foundation for what Monsanto was now calling its "House of the Future."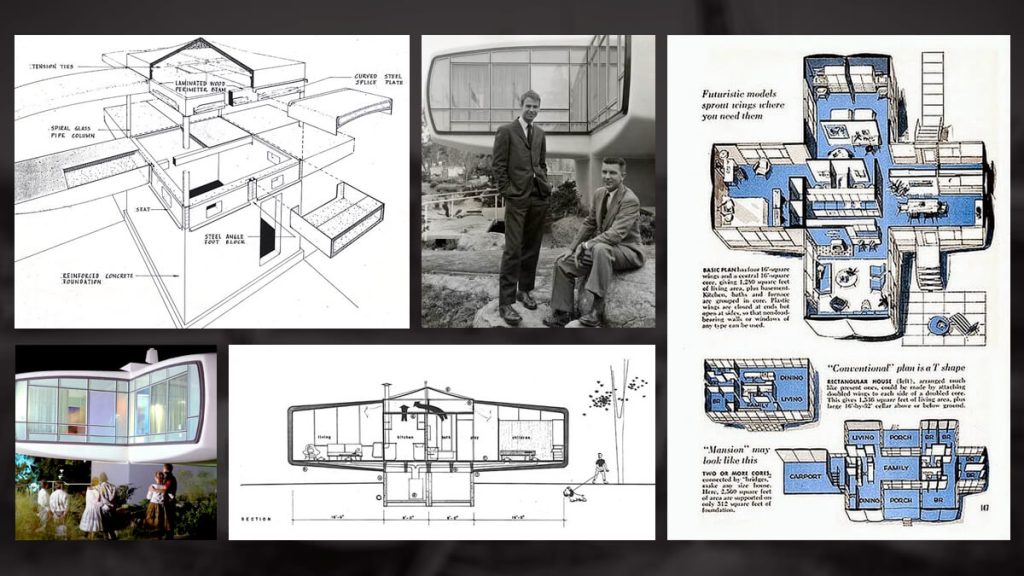 And the executives at Monsanto just loved what Goody & Hamilton had designed & developed. They knew that – if this prefabricated plastic home prototype were promoted properly and if enough consumers then indicated to home-builders that they'd be interested in purchasing & then living in this sort of modular structure – the "House of the Future" could turn into a significant new revenue stream for that corporation.
Which is when Monsanto then began casting about for a very prominent spot where they could then build a "House of the Future" prototype. Some place where thousands of people could then tour this prefabricated plastic home every single day.
Walt Disney and Problems with Tomorrowland
Which brings us to Walt Disney. Who – in the mid-1950s – has a few problems of his own. Chief among them being that his then-newly-built Disneyland Park desperately needed some new attractions. Especially in the Tomorrowland section of Walt's family fun park.
What's genuinely ironic here is that – in spite of the fact that "Man in Space," "Man and the Moon" and "Mars and Beyond" (i.e., A trio of "Tomorrowland" themed episodes of the "Disneyland" TV show which then aired on that ABC anthology series between March of 1955 & December of 1957) were among the most popular episodes to air on this program … The Tomorrowland section of Disneyland Park was this under-developed hodge-podge of pseudo-futuristic elements.
I mean, sure. This side of Walt's family fun park had the "Flight to the Moon" ride. Likewise "Space Station X-1." But right next door to these two genuinely forward-looking attractions were shows that had absolutely nothing to do with the future. Walk-through exhibits like the Dutch Boy Color Gallery, Kaiser's Hall of Aluminum and Crane's Bathroom of the Future.
Monsanto Corporation Partnership with Walt Disney Productions
Now it's important to note here that the Monsanto Corporation and Walt Disney Productions already had a working relationship at this point. After all, Monsanto was already sponsoring an attraction at Disneyland, the Hall of Chemistry.
And it's about this same time (we're talking late 1956) that some enterprising executive at Monsanto thinks: "No wait a minute. Disneyland gets thousands of visitors every day. And if we build the prototype of our prefabricated plastic home there, our 'House of the Future' project would then virtually be guaranteed to get plenty of foot traffic."
"House of the Future" in Disneyland
So they then reach out to Walt. And as the story goes, the executives at Monsanto hadn't even finished their pitch for this prototype-prefabricated-plastic-home-to-be-displayed-at-Disneyland idea when Disney said "Yes." In fact, according to what Disney Legend John Hench once told me, Walt was so enthusiastic about Monsanto's "House of the Future" that he proposed that this prototype of a prefabricated plastic home not just be built in Tomorrowland but that it be built right at the entrance of Tomorrowland. As in: That the "House of the Future" would be one of the very first things Guests would see when they arrived at Disneyland's Hub.
More importantly, that Monsanto's prototype of a prefabricated plastic house be built right across the way from the most photographed thing in Walt's family fun park. Which was – of course – Sleeping Beauty Castle.
To say that this project was fast-tracked is an understatement. Within weeks of signing the deal with Monsanto, the folks at Disneyland were already pouring the concrete slab that this 1,280-square-foot house would then sit on.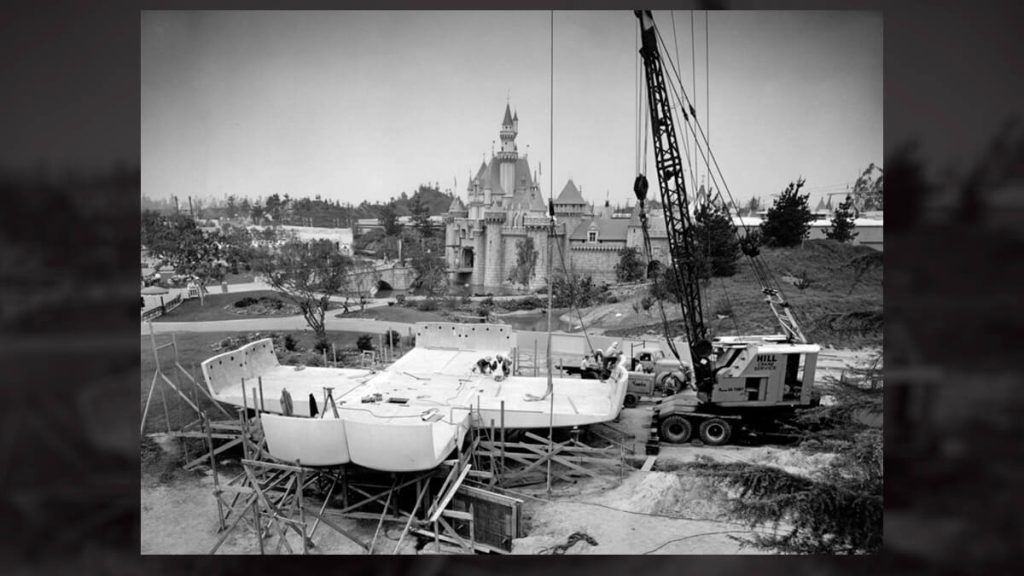 By the way, to make sure that virtually every Disneyland Guest would be able to tour the "House of the Future" when they visited Walt's family fun park, this new Tomorrowland attraction was heavily hyped as being a freebie. As was Monsanto's Hall of Chemistry, by the way.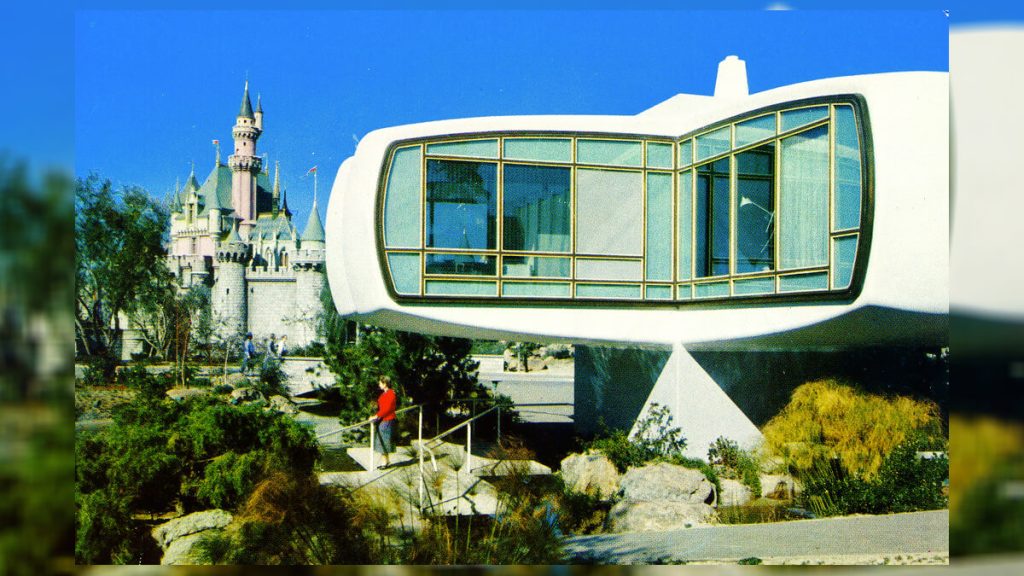 Opening Monsanto's "House of the Future" at Disneyland
And Walt … Of the heels of construction of Monsanto's "House of the Future" beginning, he decided to double down on expanding & upgrading Disneyland's Tomorrowland section. Which is why — just two days before Monsanto's prototype of a prefabricated plastic home opened to the public on June 12, 1957, Walt cut the ribbon on the Viewliner. Which was advertised as the "Train of Tomorrow." Though –truth be told – WED's resident mechanical genius Bob Gurr had cobbled together this futuristic-looking narrow gauge train out of parts he'd harvested off of various Oldsmobiles & Jeeps.
Anyway … Monsanto's instincts when it came to building its "House of the Future" at Disneyland Park translating into lots of foot traffic for its prefabricated plastic home prototype turned out to be dead on. Within the first six weeks that this new Tomorrowland attraction was open to the public, over 435,000 people toured the "House of the Future." That's over 10,000 Guests per day.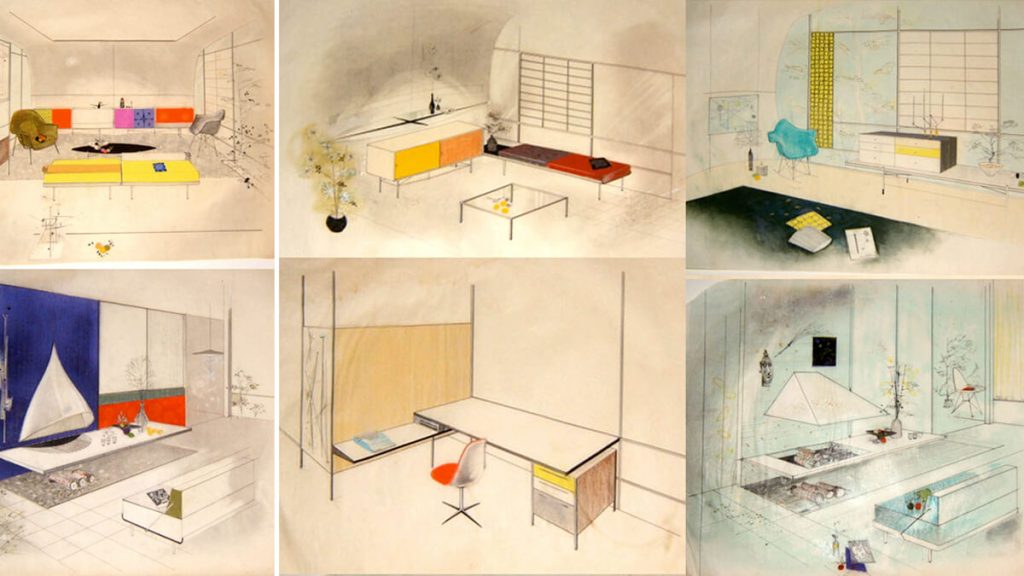 And the Disneyland hosts & hostesses (That's what Disneyland employees were called back in the late 1950s / early 1960s. Not Cast Members. But – rather – hosts & hostesses) who led tour groups through the prototype of Monsanto's prefabricated home proudly talked about the 14 different types of plastic that had been used in its construction. They also pointed out the cutting edge tech that had been incorporated into this house's design. Things like a microwave oven.
The Future of Plastic Homes
But while over 20 million people who trooped through Monsanto's "House of the Future" during its decade-long stay in Tomorrowland (and then "Ooohed" & "Aaahed" at things like this home's ultra sonic dishwasher. Which didn't use any water to clean the all-plastic dishes & utensils that were used in its kitchen) … Unfortunately, Monsanto got very few takers for its prefabricated plastic homes.
Which is why – by the early 1960s – the Company had all but abandoned its original idea of making the manufacture of prefabricated plastic homes a new division for the Monsanto Corporation. Which is why – when Walt approached Monsanto around this same time and said "Hey, we're thinking of redoing Disneyland's Tomorrowland area. Do you want to stay on as a sponsor of something on this side of the Park?," Monsanto's response was "Yeah. But we want something new. Pull down the 'House of the Future' and close the' Hall of Chemistry.' This time around, we want some sort of Tomorrowland attraction that the Guests can ride on."
And that's exactly what the Imagineers did. They gutted Monsanto's "Hall Of Chemistry" and then placed an Omnimover inside of that Tomorrowland show building. And that became the ride system which then took Disneyland visitors on an "Adventure Thru Inner Space." Which first opened to the public on August 5, 1967.
What Happened to Disneylands "House of the Future"?
As for the "House of the Future" … Given that that structure was constructed out of 14 different types of plastics, pulling down this Tomorrowland attraction proved to be problematic. What was supposed to be completed in a single day eventually stretched out into a two week-long ordeal. Largely because this prefabricated plastic house stymied all of the usual methods that Disneyland employees used (i.e., wrecking balls, bulldozers, etc) when they were leveling a show building. In time, they had to go at this futuristic structure with hacksaws & chain pullers. Because that was the only way to reduce the "House of the Future" to small enough pieces that it could then be hauled away.
Mind you, the concrete slab that had served as the "House of the Future" 's foundation stayed in place. As did the vaguely futuristic-looking landscaping that Morgan "Bill" Evans and the rest of Disneyland's horticultural team had planted around this Tomorrowland walk-thu.
Jump ahead a few years. And now that landscaping (which had been originally planted back in 1957 to give the "House of the Future" a lush, green frame) had grown up so much that this section of the Hub was then redubbed this theme park's Alpine Garden. With the idea now being that this chunk of greenery would now serve as the forested foothills of Matterhorn Mountain.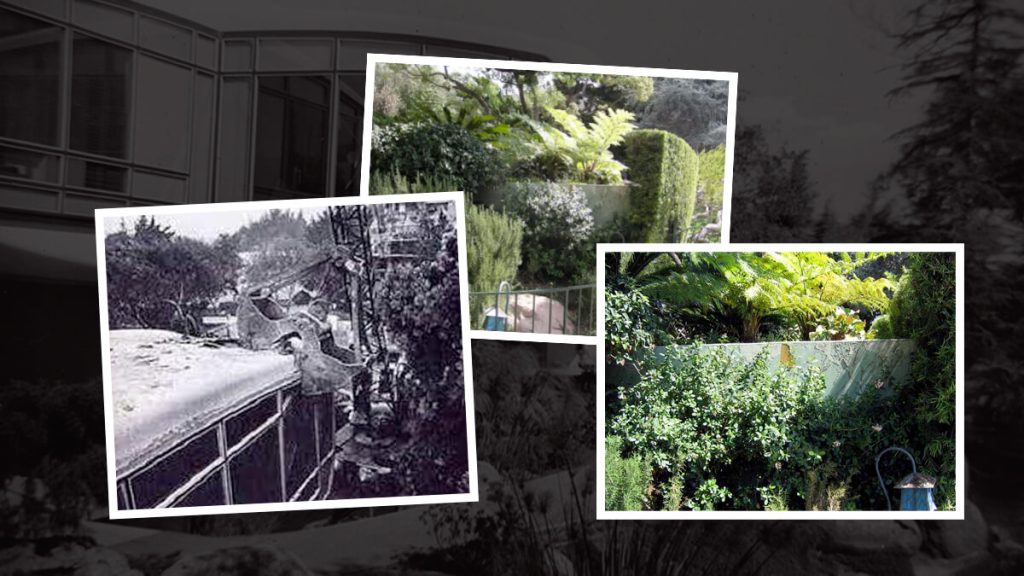 That was done in the early 1970s. Nearly 15 years after that, someone else moved into the neighborhood: The Little Mermaid. Which is why – in 1996 – Disneyland's Alpine Garden was renamed King Triton's Garden. Then in 2008, this part of that theme park (which had been changed into a place where Guests could then meet & greet with Ariel) was reimagined as Pixie Hollow. Which then gave Disneyland visitors a place where they could go interact with Tinker Bell.
This meet & greet is still operational at the Happiest Place on Earth. That said, if you look off the right of that oversized teapot which Tink calls home … Well, you can still see that concrete slab which – over 50 years ago now – once served as the foundation for the "House of the Future."
FYI: If you'd like to learn more about this Tomorrowland walk-thru, Dave Bossert – the author of "Kem Weber: Mid-Century Furniture Designs for the Disney Studios" and "Claude Coats: Walt Disney's Imagineer—The Making of Disneyland, From Toad Hall to the Haunted Mansion and Beyond" – is in the process of writing a brand-new book, "The House of the Future: Walt Disney, MIT, and Monsanto's Vision of Tomorrow." Which is due to be published sometime in 2023.
This article is based on research for The Disney Dish Podcast "Episode 379", published on June 20, 2022. The Disney Dish Podcast is part of the Jim Hill Media Podcast Network.