The Real Fat Albert
Animation industry vet (and JHM fan favorite) Floyd Norman returns with a fun new column that takes a behind-the-scenes look at Bill Cosby's first animated cartoon studio.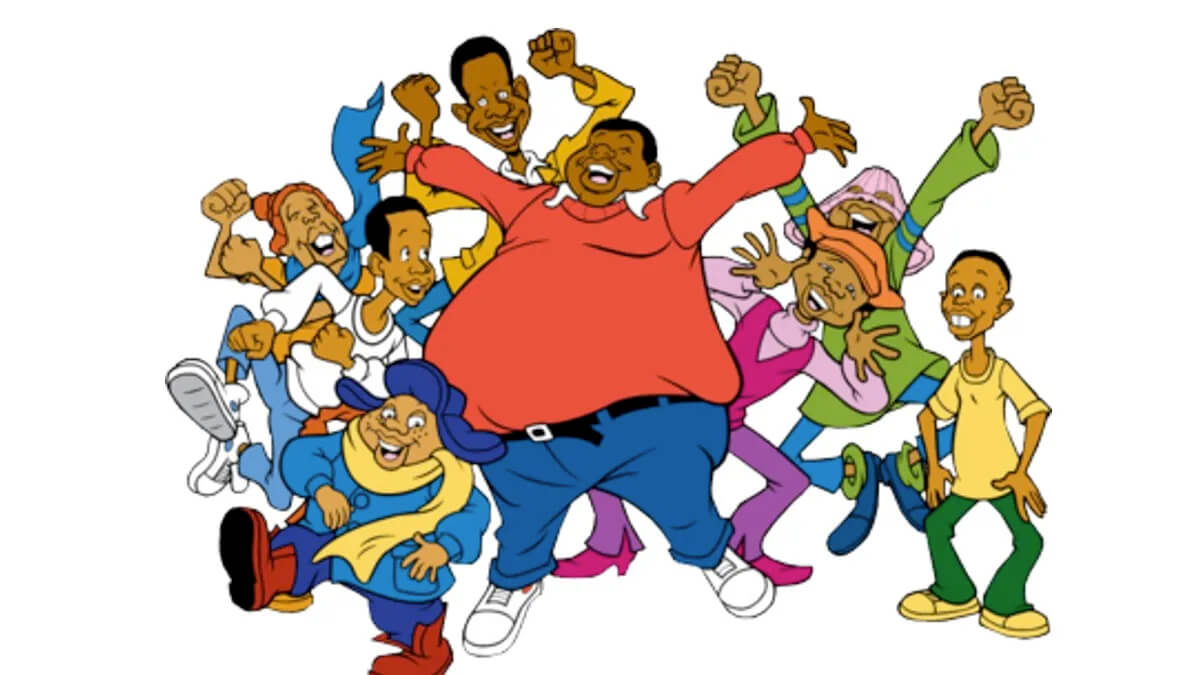 A few weeks from now movie audiences will be treated to a big screen version of Bill Cosby's comedy creation, "Fat Albert." Actually, this movie should really be titled, "Slightly Over Weight Albert" because the star of the movie can hardly be called fat. In any event, the lead character is based on Bill Cosby's childhood stories about growing up in Philadelphia in the fifties. Fat Albert was always a favorite in Bill Cosby's famous comedy routines, and that led to an animated television special, to a TV series and finally a live-action feature film. Where do I fit into all this, you ask? Well, I was there at the beginning.
After the untimely death of Walt Disney in 1966, I left the Disney studio to begin a new venture along with my partner, Leo Sullivan. Like all young and eager entrepreneurs we were ready to take on anything. Somehow, Leo had gotten word that Bill Cosby was interested in taking his Fat Albert comedy routine into cartoon animation. We knew that if we were to be taken seriously we would have to have more than talk when it came to meeting Mr. Cosby. So, the two of us took one of Cosby's routines from an LP (remember those?) entitled, "Wonderfulness," and animated the routine using Cosby's voice as the soundtrack. Having completed our little film, we began the search for Bill Cosby.
To be honest, we knew nothing about tracking down a star of Cosby's stature. Still, we were persistent, and eventually the trail led to a building in Beverly Hills, and the offices of Campbell-Silver-Cosby. After securing an appointment, we met with a producer named Marvin Miller. Miller seemed impressed by our animated pitch, but told us Bill Cosby had already spoken to another animator who wanted to be part of the deal. As a matter of fact this animator had so impressed Cosby that Bill wanted him to direct the "Fat Albert" television special. Much to our surprise, the animator turned out to be a guy we both knew. His name was Ken Mundie.
Ken Mundie had always seemed an unusual choice by many in the animation business. Ken was unconventional in many ways. Not just an animator, he was a fine artist, and a ski bum who often jetted off to Europe on many a skiing jaunt. Ken was probably best known for his main title designs for motion pictures. He also designed and directed the main titles for the TV series, "I Spy," which starred Cosby and Robert Culp. Ken hated the mainstream studio system, and felt artists should drive the creative process, not businessmen or studio managers. He had bounced from studio to studio because his unconventional ideas were not always welcomed. Now, here he was in charge of a major television animated special, with the blessing of one of America's biggest entertainers. Things were about to get interesting.
Cosby's partners, Bruce Campbell and Roy Silver found office space for the "Fat Albert" animation team on Melrose Avenue in West Los Angeles. Oddly enough, the studio was owned by producer, Dick Brown who had produced the "Clutch Cargo" TV series. Anybody remember that weird show with the animated drawings and live-action mouths? Anyway, this facility became our home for the duration of the production. One of the first things Ken Mundie ordered was an Oxberry Camera System. Ken was insistent in doing all the production in house. Nothing, not even photography was to be jobbed out. Ken was intent on breaking the so-called animation rules. This was going to be a film where the artists did everything — and I do mean everything. The art team would develop the story, sketch out the layouts, paint the backgrounds, animate the characters, and finally ink and paint the cels. Talk about breaking the rules. Ken Mundie was just getting started.
Let me introduce you to the animation team. The team that would create one of the most unusual animated specials ever produced for television. First off, there was director, Ken Mundie and production manager, Ray Thursby. The artists, in no particular order were, Richard Drew, Amby Paliwoda, Bill Hadji, Leo Sullivan, Lil Evans and Bob Bachman. Late in the production, Jackie Banks joined the crew as a cel painter. I painted cels on the production myself even though I was not an official member of the crew. I was working as a writer on another TV series for ABC called, "Turn On," but that's another story.
My pal, Leo Sullivan was the only black animator on the crew, and following Bill Cosby's instructions, Leo proceeded to teach the "white dudes" about "The black experience." How should the characters walk and talk? What makes a person hip or cool, and is there a difference? I confess it was fun watching my friend, long time Disney animator, Amby Paliwoda who was probably in his sixties at the time, trying to get the "groove" into his animation. For an "old white dude," Amby did a pretty darn good job.
When the studio opened its doors on quiet Monday morning, the crew was surprised to find coffee and fresh pastries from a Beverly Hills bakery waiting for them. With the artists being pampered from day one, it was clear the Campbell-Silver-Cosby office knew little about the animation business. Yet, there's something missing from this whole scenario. What about the creator of Fat Albert? Where was Bill Cosby in all of this? Well, to be fair Bill Cosby had his hands full back in the sixties. He was busy performing live, doing recordings, and had just begun production on his new television show over at Warner Bros. studio where he played a high school coach. Cosby pretty much turned responsibility for the special over to his partners, along with input from writer, Jack Mendelsohn. As I said, Ken Mundie's concept of animation production was unconventional. The artists animated on sheets of acetate with China markers. The stacks of acetate were painted on the opposite side, as is normal in conventional animation, and then photographed on the Oxberry Camera with live-action footage being projected up through the bottom of the camera's platen. Thus, animation and live-action was being composited during photography. No expensive opticals were required.
The unique little production continued on track with Ken Mundie and his creative team cranking out a ton of drawings. One of the things Ken was determined to prove was that animation could be developed and produced with a small team of artists. There was no need for a huge animation factory where lackluster shows are stamped out like widgets. Animation was an art form, right? Why handle art like an assembly line product? Still, it was hard work and the crew put in many late- nighters and weekends. Yet, tough as it was, the crew was energized and inspired. They were doing something that had not be done before — and as we have come to see, never would again.
"Hey! Hey! Hey! Its Fat Albert" premiered on NBC in the summer of 1969. Those who saw this unique animated film still talk about it even today. The energetic sketchy animation playing over live-action footage was unique all by itself. The film had a European sensibility, and like it or not, reflected the vision of its director, Ken Mundie. Jazz master, Herbie Hancock, provided the film score. If you've never heard the Fat Albert main theme, you've missed some truly great jazz. This television special eventually led to an animated series produced by Filmmation in the seventies called "Fat Albert and the Cosby Kids." More people probably remember this rather mundane TV series than the Campbell-Silver-Cosby produced Special. More often than not, this lackluster factory made product sticks in people's minds more than the animated masterpiece that has probably been forgotten. Yet, the story doesn't end here. Bill Cosby's little animation team actually made another film that's never been seen. Plus, there are more funny stories surrounding the little creative group that haven't been told, such as Mrs. Cosby kicking the artists out of her Beverly Hills home. In animation, it seems, the fun never ends.
So, if you happen to catch "Fat Albert," or at least the slightly overweight Albert at your local movie house this December, look for some great title animation done by a new generation of talented young animators, led by my pal, Bert Klein. I worry the current "truckload" of CGI animated feature films bodes ill for the future of traditional animation. Eventually, this wonderful art form will be lost because there will be no one left who remembers how to do it. These kids are my hope for animations' future and the future of hand drawn cartoons in particular. It's guys like this that make me want to stand up and shout, Hey! Hey! Hey!
---
Did you enjoy Floyd's column today? well, if so, please be aware that there are already two great collections of Norman's writings & cartoons on the market: his original collection of cartoons and stories — "Faster! Cheaper! The Flip Side of the Art of Animation" (which is available for sale over at John Cawley's excellent www.cataroo.com web site) as well as the follow-up to that book, "Son of Faster, Cheaper." Which you can purchase by clicking on that the image on to the right, which will take you straight over to Afrokids.com.

If you're an animation fan and don't already own either of these two great books, NOW would be a really good time to get them!
How Mattel's "Men in Space" Toyline Lead to the Creation of Buzz Lightyear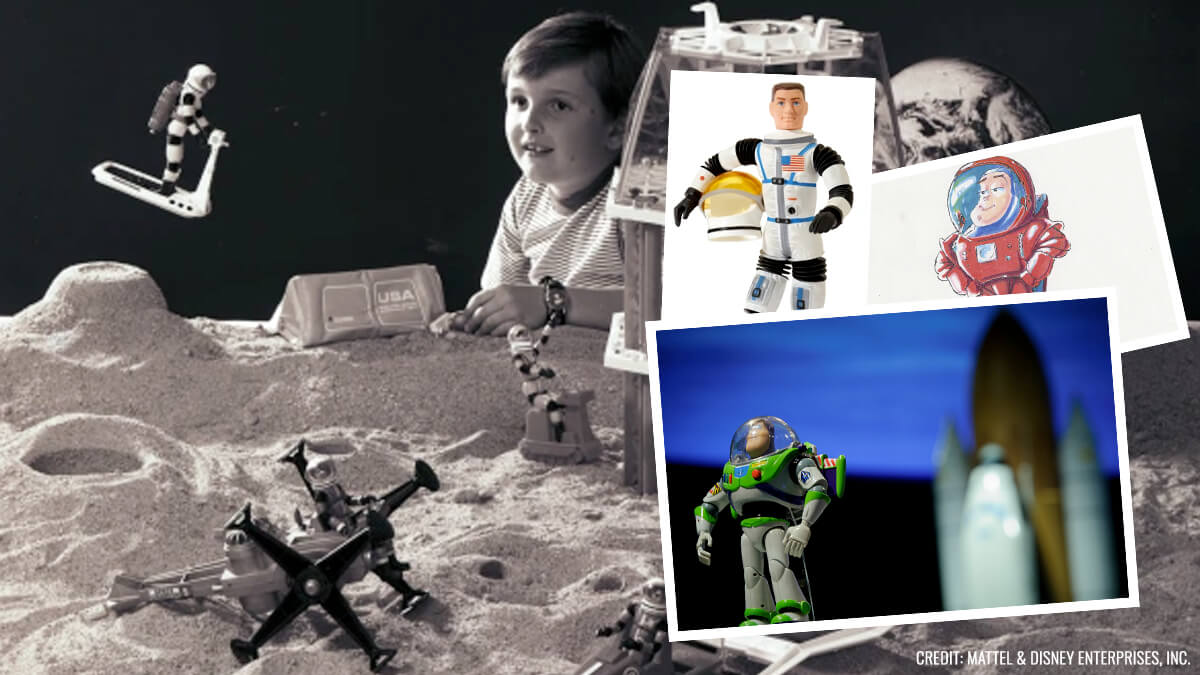 Angus MacLane's "Lightyear" is supposed to be … Well, not exactly an origin story for Buzz Lightyear, the action figure that we know from all of the "Toy Story" films. But Rather an explanation of why Andy is so excited at his birthday party in the first "Toy Story" movie when he gets that Buzz Lightyear toy.
You see, Andy's seen the movie that this action figure was based on. Which is supposed to be this huge Summer blockbuster. Which is why Andy & his friends at that party react the way they do. As far as they're concerned, the movie that spawned the Buzz Lightyear action figure line was the greatest film they've ever seen.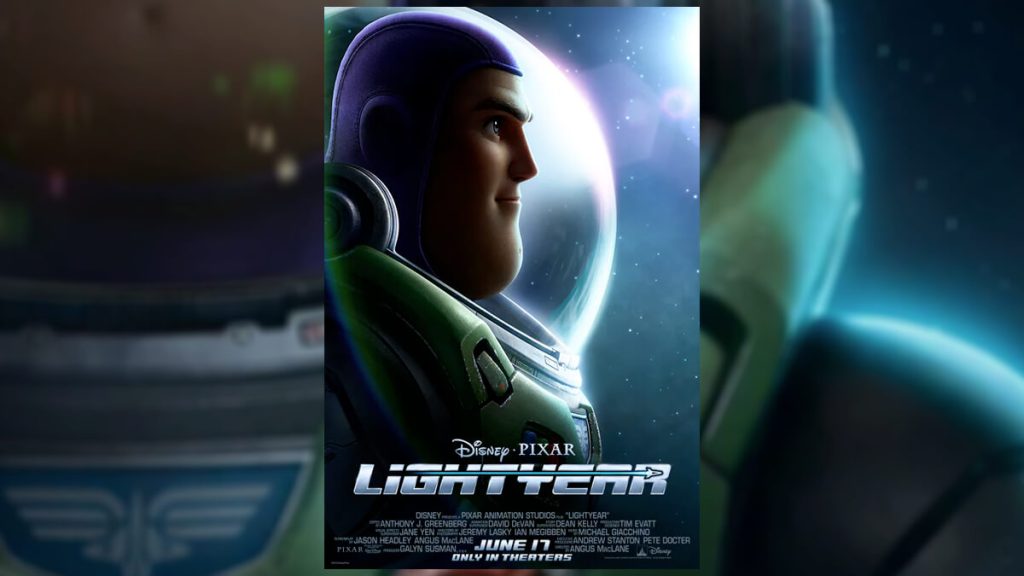 Of course, because I'm a nerd and an animation history buff, I can't help but think about how Buzz Lightyear – the character from the "Toy Story" films, rather than the really-for-real space ranger that Chris Evans voices in "Lightyear" – really started out. Which honestly wasn't supposed to be a spoof on Captain Kirk from "Star Trek" or Gil Gerad's Buck Rogers from the TV show. But – rather – as a riff on a space-themed toy line that Mattel produced in the mid-1960s called "Men in Space" which was then built around a character called Major Matt Mason.
Now how we got to the "Men in Space" toy line is kind of convoluted. This story actually starts over 60 years ago when Mattel sent two dolls out into the world, Barbie & Chatty Cathy.
Doll's For Boys – Mattel's Space Action Figure
Mattel made money hand over fist from sales of these two products. Which then made Mattel's competitors stand up and take notice. They too wanted in on this mass-produced plastic toy market. Which is what prompted Hasbro to do something bold in 1964. Which was to license a concept that Stanley Winston had been developing. Which is a military-themed doll for boys.
Hasbro's G.I. Joe
Just so you know: The executives on the marketing side of Hasbro knew that that nomenclature – "dolls for boys" – wasn't going to fly. Especially with the Dads of the 1960s. So this is why the phrase "action figure" came from.
Anyway, Hasbro introduces G.I. Joe, "America's movable fighting man" (because – again – you can't call this toy what it actually is. Which is a poseable doll for boys) in 1964. And it's a huge hit right out of the box.
Marx "Best in the West" Cowboy Dolls
And Hasbro & Mattel's direct competition, Marx, sees what going on with G.I. Joe and decides that … Well, we want in on the "dolls for boys" market … So they come up with the "Best of the West" line. Which is this series of G.I. Joe-sized poseable cowboy dolls. Those arrive in the marketplace in 1965 and are also hugely successful.
Mattel Introduces "Men in Space" Toyline
So now here's Mattel. Which has cornered the market when it comes to dolls for girls with its Barbie & Chatty Cathy lines. But now that Hasbro & Marx have blazed this brave new trail – poseable dolls for boys – with their G.I. Joe & "Best of the West" action figures, Mattel wants in too.
But now that soldiers & cowboys are the exclusive property of Hasbro & Marx, Mattel has to find some sort of hook for its new "dolls for boys" line. So rather than looking back to World War II or the glory days of the America West, Mattel decides to take a chance on what's going on in the real world at that exact moment. Which is the space race.
Which is why – just in time for the holiday buying season of 1966 – Mattel rolls out its "Men in Space" toy line. Who is headlined by Major Matt Mason an astronaut-themed action figure " … who lives and works on the Moon."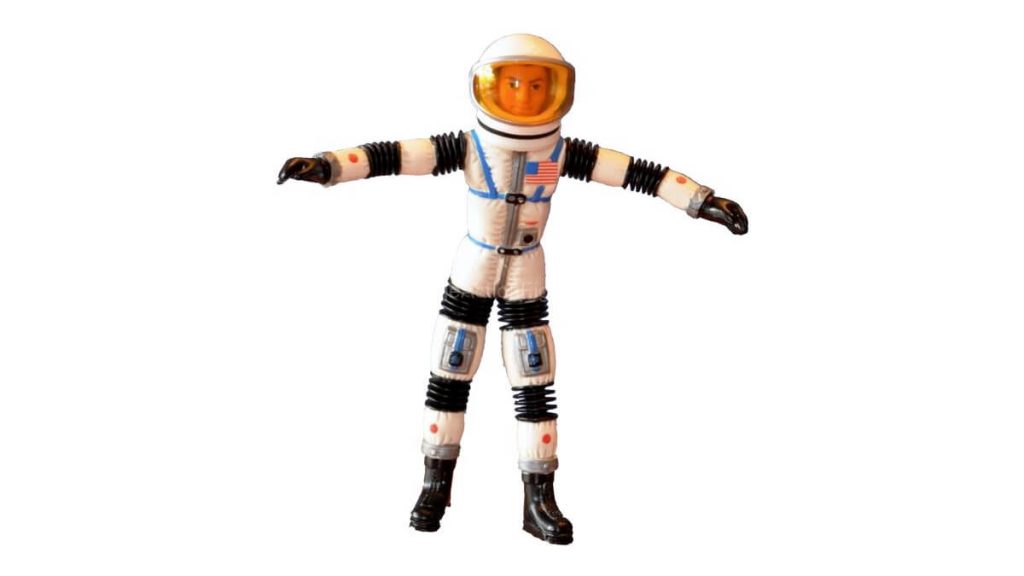 Major Matt Mason – Astronaut-Themed Action Figure
Now what was kind of interesting about Major Matt Mason is that the toy line that he headlined was based in reality. As in: A lot of the outfits & ride vehicles that were created for Mattel's "Men in Space" line were direct lifts of publicity images that NASA had already put out there of space vehicles that they envisioned building once man actually made it to the moon. Which brought up some interesting copyright-related issues at that time.
Now I have to tell you that Mattel's "Men in Space" toy line had problems right from the get-go. Instead of the sturdy 12-inch-tall poseable action figures that G.I. Joe and Marx's "Best of the West" toys were … Major Matt Mason was half that size. Also, instead of hard plastic, Mattel used a rubber-like substance called Plastizol when it was making its "Men in Space" toys. That material was poured into a mold that had a wire armature inside.
Which wasn't the sturdiest thing on the planet. Typically, after a few months of playing with your Major Matt Mason, the wire armature inside of this "Men in Space" action figure would break and it would then no longer be poseable.
Mind you, this was a deliberate choice on Mattel's part. Their thinking was – by making Major Matt Mason half the size of G.I. Joe and then making this action figure out of cheaper material – … Well, that could then help them keep the cost of their "Men in Space" toy line down. Which would then – in theory, anyway – make these action figures far more affordable and make it possible for consumers to eventually purchase the entire playset.
Major Matt Mason's Astronaut Friends
Oh, yeah. Did I forget to mention that Major Matt Mason had friends? Well, co-workers really. Sgt. Storm, Chip Davis, and Jeff Long (who was an African-American astronaut). Who could all lived & worked together with Matt inside of a three-level lunar base and then got around the moon's surface by using space sleds and jet propulsion packs.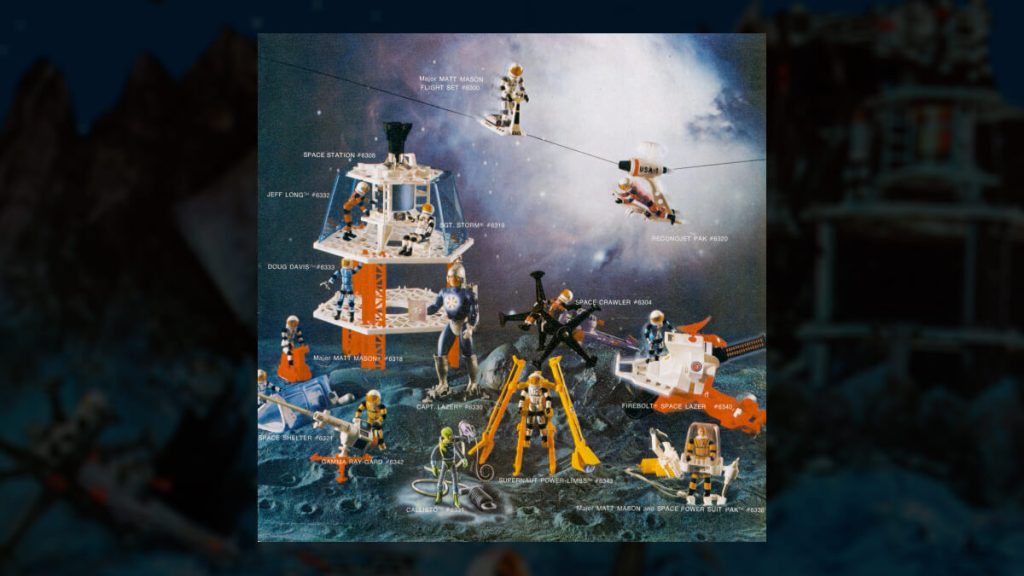 "Men in Space" Toy Sales
Mind you, Mattel's "Men in Space" action figures didn't sell nearly as well as that toy company had hoped they would over the 1966 holiday shopping season. And the thinking initially was that this was because Major Matt Mason & Co. didn't have anyone that they could battle with. So – in much the same way that Buzz Lightyear has his evil nemesis, Emperor Zurg – the "Men in Space" team then found themselves (just in time for the 1967 holiday shopping season) dealing with evil aliens like Captain Lazer, Callisto, Scorpio and Or.
Unfortunately for Mattel, interest in the space program began to wane as the 1960s gave way to the 1970s. Which is why they decided to discontinue their "Men in Space" toy line in 1970.
Lunar Larry – The Original Buzz Lightyear
So when it comes to Buzz Lightyear, where's the Major Matt Mason / "Men in Space" connection? Well, if you take a look back at the original concept art for Woody's nemesis in the first "Toy Story" movie, he isn't this G.I. Joe sized action figure. But – rather – a six-inch-tall poseable astronaut doll who (I kid you not) is called Lunar Larry.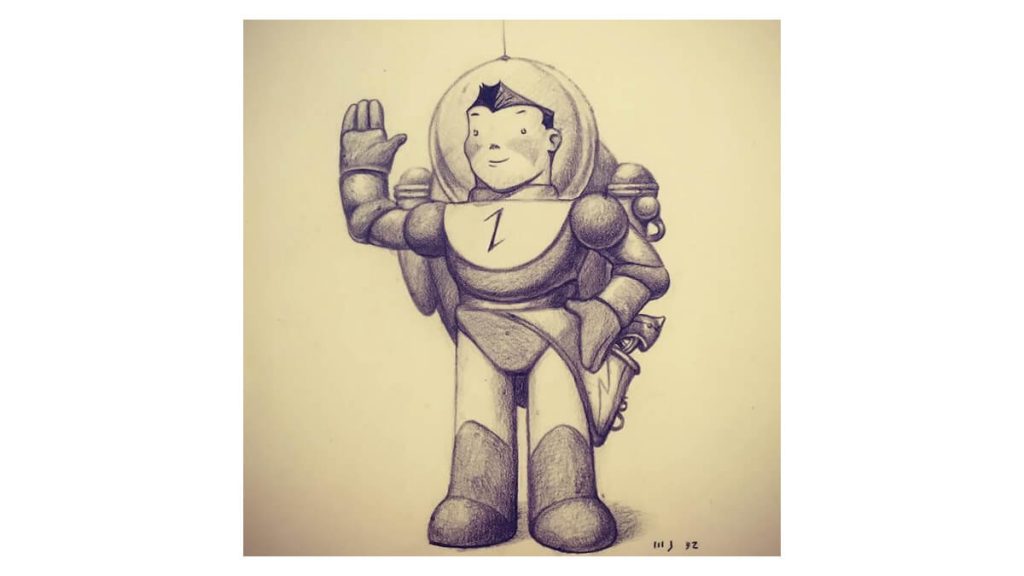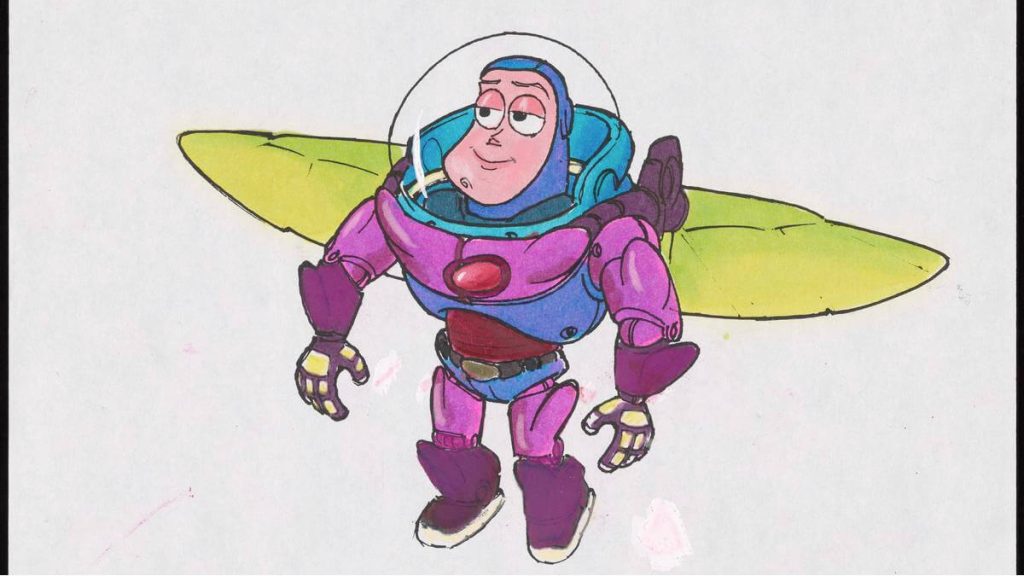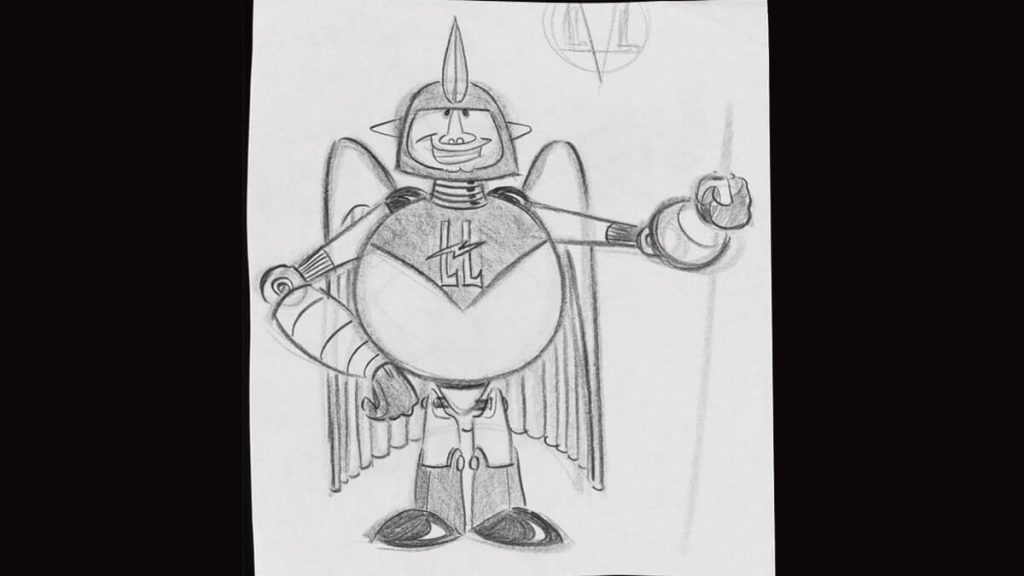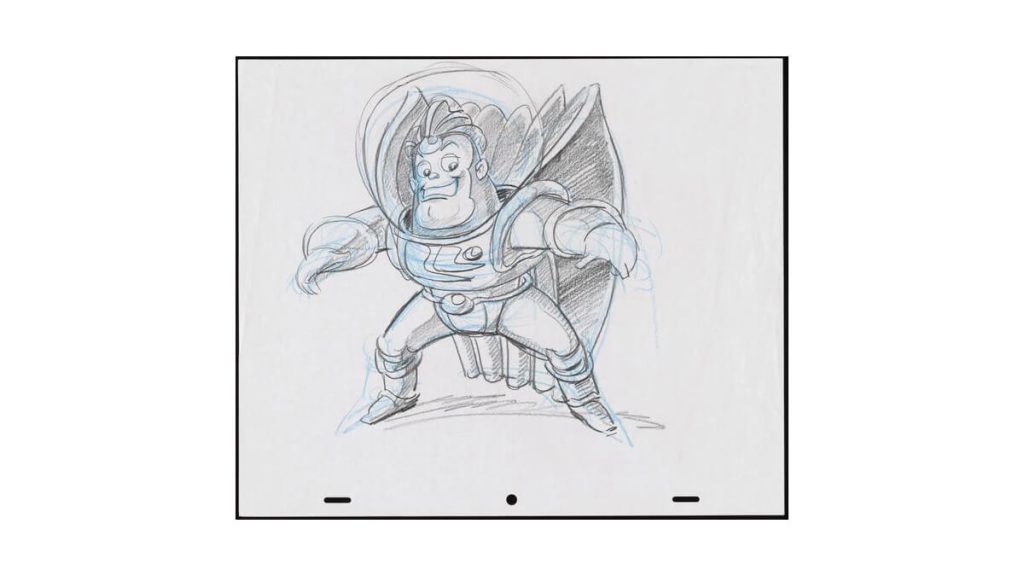 Tom Hanks, Robert Zemeckis, & "Men in Space" Film
FYI: If all had gone according to plan back in 2011, there would have been an even stronger "Toy Story" / "Major Matt Mason" connection. This was when it was announced in the Hollywood trades that Tom Hanks (that's right. The voice of Woody) had co-written a movie based on Mattel's "Men in Space" toy line. Not only that, but Hanks was trying to persuade Robert Zemeckis (who Tom had worked with on "Forest Gump," "Cast Away," "The Polar Express," and Disney+'s live-action "Pinocchio") to come direct the "Major Matt Mason" – the man who lived & worked on the Moon – movie.
Wait. It gets better, Hanks himself reportedly wanted to play Major Matt Mason.
I'm not entirely sure whatever became of Tom Hanks' "Men in Space" movie. This past February, Hanks & Zemeckis announced that they'll be re-united with Eric Roth, the writer of "Forest Gump," on a film adaptation of "Here." Which is Roth's graphic novel.
Supposedly sometime over the past 10 years, Paramount Pictures acquired the rights to make a "Men in Space" movie. Hanks is still allegedly attached as a producer for this project. But given that Tom will be turning 66 next month, I doubt that he still wants to play Major Matt Mason.
Which is kind of a shame. Given what Woody once said to Buzz in the original "Toy Story" …
… I would pay good money to see Tom Hanks play one of the original action figures: Major Matt Mason, the man who lived & worked on the Moon as part of Mattel's "Men in Space" toy line.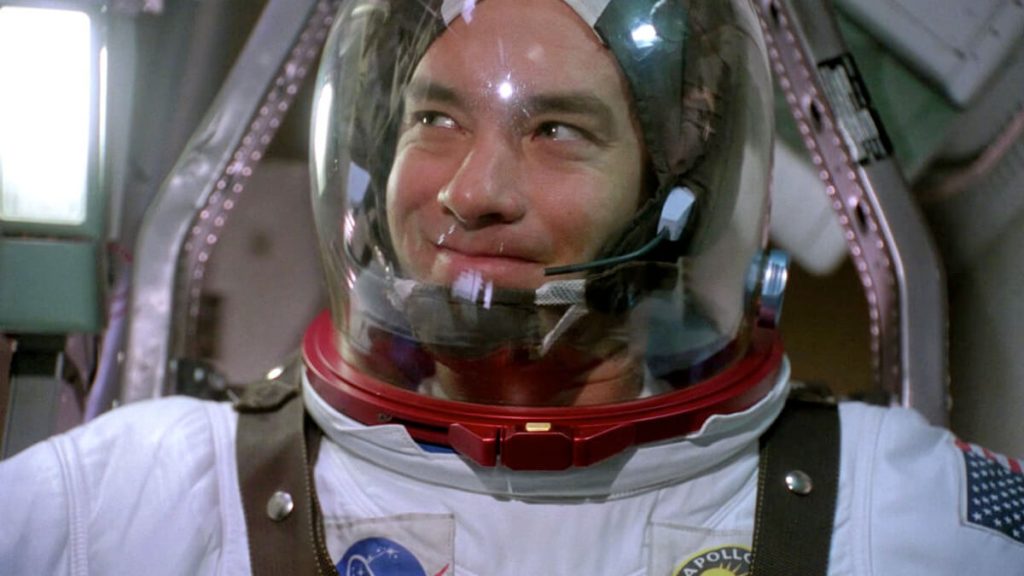 This article is based on research for Fine Tooning with Drew Taylor "Episode 178", published on June 16, 2022. Fine Tooning with Drew Taylor is part of the Jim Hill Media Podcast Network.
"Honey, I Shrunk the Audience!": Sequel Troubles and New Attractions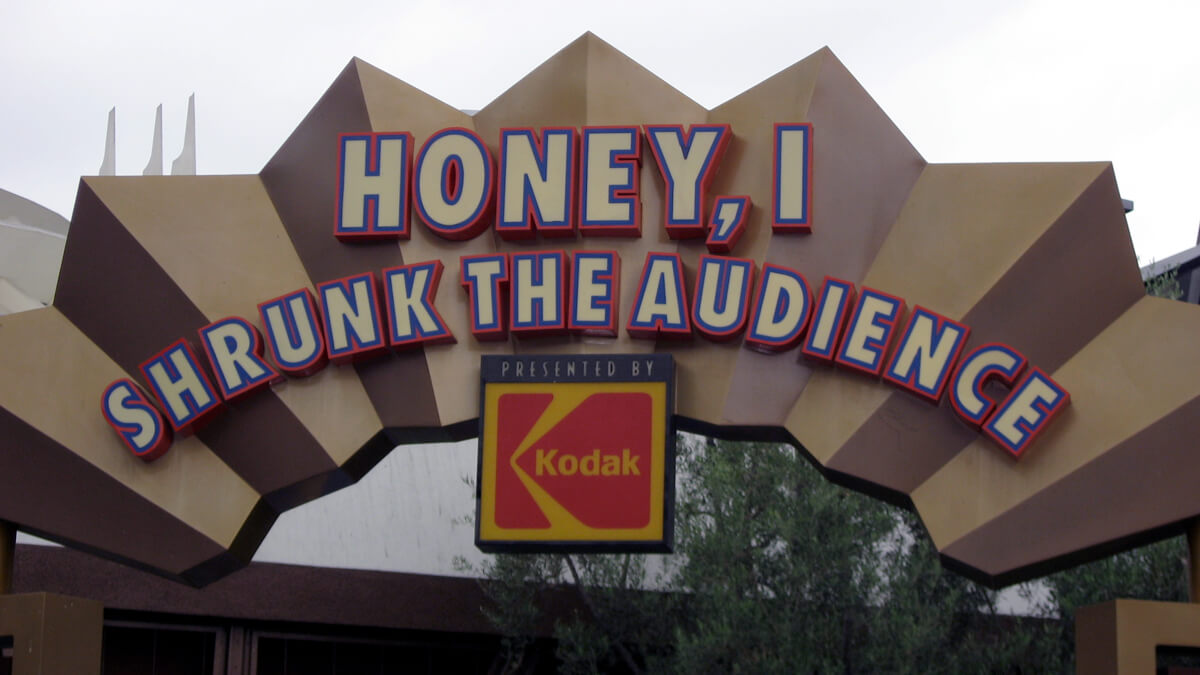 This article is part of a series documenting the story of "Honey, I Shrunk the Kids" and Disney Science-Based movies. Be sure to check out our additional research on the "Honey, I Shrunk the Kids".
On the heels of the enormous success of the original "Honey, I Shrunk the Kids" movie (which was released to theaters in June of 1989) — Disney Studios made plans to release a whole series of science-based gimmick comedies based on the "Honey" characters. A number of the titles that the Studio copywrote as possible follow-ups to that film:
"Honey, I Sent the Kids to the Moon"
"Honey, I Swapped Brains with the Dog"
With the plan here being that — from here on in — every two years, just like clockwork, a brand-new "Honey" movie would arrive in theaters (ideally in early June) and then clean up at the box office. Just like the original "Honey, I Shrunk the Kids" did in June of 1989.
"Honey, I Blew Up the Baby"
We now jump ahead to June of 1992. Which is when "Honey, I Blew Up the Baby" finally arrived in theaters.
Now if you're halfway decent at math, you'll immediately notice that — hey — the follow-up to the original "Honey, I Shrunk" film didn't arrive in theaters two years later (like Disney originally planned) but three years later.
"And why was that?," you ask. Well, at it turns out, it was a lot harder to develop a suitable sequel to the original "Honey, I Shrunk the Kids" than anyone at Disney had thought it would be. The Studio went through dozens of drafts before executives at Disney finally threw up their hands and said "We give. Let's just go buy someone else's script and then turn it into a 'Honey, I Shrunk' movie."
And that's exactly what Disney did. They found this script called "Big Baby." Which was originally supposed to be a parody of all those Godzilla movies. Only — in this case — instead of a giant radioactive lizard rising up out of Tokyo Bay and then laying waste to the city, the monster in this movie was a toddler who'd accidentally been made 200 feet tall. And who was now disrupting Rush Hour because he kept picking up cars off of the freeway and then making them go "Vroom Vroom."
Very cute idea for a movie. Definitely something there that could then be used for a "Honey, I Shrunk" story. But here's the thing: At this time, the State of Nevada was offering movie studios in Hollywood a huge tax break if they came and shot movies in that state.
Filming in Las Vegas, Nevada
And given that the movie that Disney was then calling "Honey, I Blew Up the Baby" was going to be hugely expensive to make (what with all of these elaborate special effects scenes of that giant toddler wandering around that regular-sized cityscape) … Well, Mouse House executives then began to think "Could we switch the location of 'Honey, I Blew Up the Baby' from a generic Southern Californian suburb to — say — the Las Vegas Strip? Which has all sorts of famous, recognized-around-the-globe super-sized icons like Vegas Vic, that giant neon Cowboy who's been a fixture on the Las Vegas Strip since 1951.
The only problem is that a story that's set in Las Vegas doesn't exactly scream "Family friendly." Of course, the real irony here is that — while "Honey, I Blew Up the Baby" was actually in production in June of 1991 was when Las Vegas was beginning its initial flirtation with becoming a more family-friendly destination resort. This is when we saw resorts like the Luxor first announced. Heavily themed hotels & casinos which would also have rides & attractions incorporated into their designs that would then appeal to kids.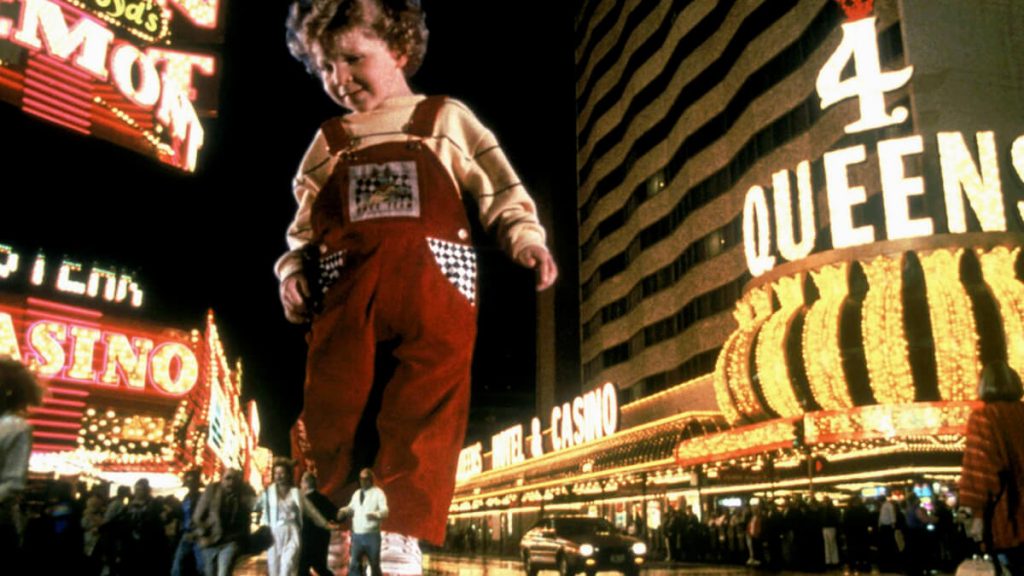 From Blowing up the Baby to Blowing up the Kid – Movie Name Change
Disney didn't initially realize that setting "Honey, I Blew Up the Baby" in Las Vegas would then have an impact on this "Honey, I Shrunk the Kids" sequel. They were more concerned with what focus groups were telling them about the title of this "Honey" sequel. As is: They didn't want to take their children to see a Disney movie where babies got blown up. That was cruel & gross sounding.
Disney's marketing team tried to explain to the people in these focus groups that no babies would actually be harmed over the course of this sequel. That — when they said "Blew Up" — they didn't mean "exploded." But — rather — made bigger.
It didn't matter. According to what Disney learned from all those focus groups, "Honey, I Blew Up the Baby" was the sort of film title that turned people off. It sent the wrong message to would-be movie-goers. So they would up trashing the thousands of teaser posters that had already been printed for this project as a new title was crafted for this "Honey, I Shrunk" sequel. Which would now be known as "Honey, I Blew Up the Kid."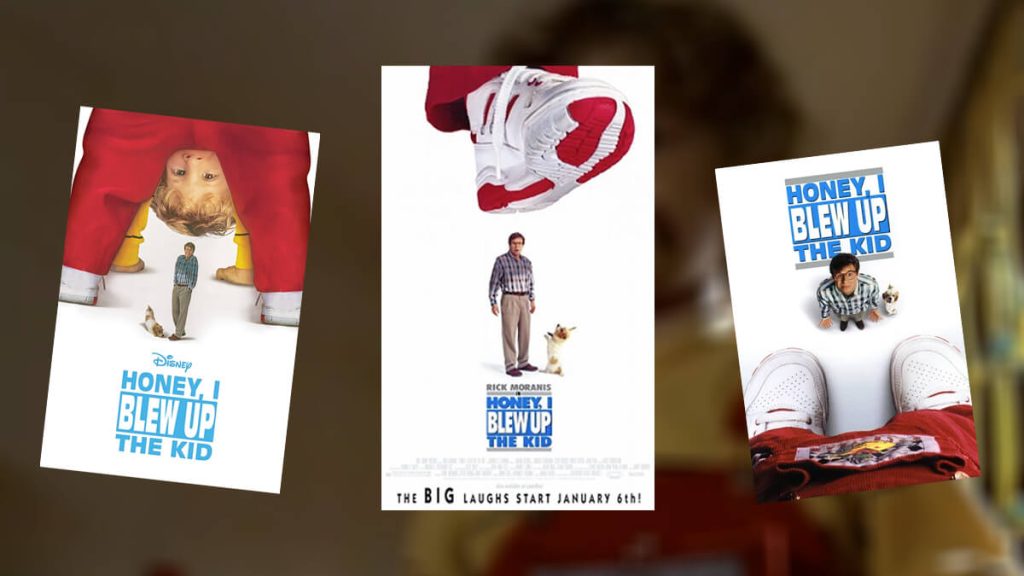 Box Office Troubles for Franchise
The new title didn't matter. To this day, no one at Disney knows what exactly went wrong here. Whether it was the movie's title or that decision to take advantage of the tax credit that the State of Nevada was offering and changing the story's location to Las Vegas … But long story short, "Honey, I Blew Up the Kids" cost almost twice as much as the original "Honey, I Shrunk" did to shoot and only did 2/3rds of the original film's ticket sales.
Which then sent the message to Disney film executives that perhaps this was NOT the studio's next big film franchise. More to the point, that the enormous success of the first "Honey, I Shrunk " movie may have had more to do with "Tummy Trouble" (the new Roger Rabbit short that had been placed in front of this film when it went out into theaters back in June of 1989) more than audiences falling in love with the antics of Wayne Szalinski.
So the idea of creating any further theatrical releases based on the "Honey, I Shrunk" characters was temporarily tabled as execs at the Mouse House regrouped. Debated about what should happen next with this franchise.
More "Honey, I Shrunk…" in the Disney Theme Parks
Whereas the Imagineers, they had no such qualms when it came to the "Honey, I Shrunk" franchise. They had seen how popular the "Honey, I Shrunk the Kids: Movie Set Adventure" was with Guests at Disney-MGM Studios. Likewise the Flying Bumble Bee vignette in the Special Effects Workshop of the Backstage Tour at this theme park.
And given that — starting in August of 1993 — accusations had begun to surface about Michael Jackson and some of his younger fans, the thinking at Imagineering (at that time, anyway) was that maybe it was time to start working on a replacement for "Captain EO" (which had first opened at the Parks in the Fall of 1986).
And given that "Captain EO" was being presented in 3D theaters that were located in Future World at EPCOT and in Tomorrowlands at Disney Parks around the globe, the thinking was that a new movie that featured characters from a Disney-produced science-based gimmick comedy would be the perfect replacement for this Michael Jackson movie.
"Honey, I Shrunk the Audience" – Hiring Eric Idle
So production began in earnest in the Fall of 1993 on this new 3D movie. But "Honey, I Shrunk the Audience" almost stopped before it even began. Monty Python vet Eric Idle likes to tell the story about how — one afternoon — he walked into a hotel bar in Los Angeles and found actress Marcia Strassman sitting there, nursing a drink. Eric noticed that Marcia looked a little down and asked if he could join her.
Anyway, Idle eventually asked Strassman why she looked so depressed. And Marcia — who played Diane Szalinkski, Wayne's wife in the "Honey, I Shrunk" film — explained that they were supposed to begin shooting "Honey, I Shrunk the Audience" (a new 3D movie for the Disney Parks) that morning. But that — just before shooting was to begin — the actor who was supposed to play Nigel Channing in that film had dropped out. And now the whole project was on hold while Disney scrambled to find a new actor to play the host of that show's "Inventor of the Year" ceremony.
It was then that Eric Idle supposedly said "Well, I'm not doing anything for the next couple of days. Do you think that Disney would consider me for this part?" And Marcia said "Let's find out," and then asked the bartender for the house phone.
And the very next day, Eric Idle is on the set for "Honey, I Shrunk the Audience." As director Randall Kleiser walked this Monty Python vet through this hugely-difficult-to-shoot / FX-filled production. Kleiser — by the way — got this gig because the Imagineers thought that he'd done an amazing job with the direction of that "Honey, I Blew Up the Kid."
And speaking of doing a great job, the Imagineers were so pleased with Eric Idle's performance as Nigel Channing, the MC of the "Inventor of the Year" Awards that — when it came time to redo the "Journey into Imagination" ride — they reached out to Idle again and asked if he'd be willing to reprise that character. Which he was. So now Eric Idle is an established fixture at Future World … I mean, World Nature.
"Honey, I Shrunk the Audience" – Attractions Around the World
"Honey, I Shrunk the Audience" finally opened at EPCOT in November of 1994. And it proved to be so popular with WDW visitors that Oriental Land Company execs (They're the folks who operate Tokyo Disneyland & Tokyo DisneySea) insisted that they get a clone of this 3D movie for the Tomorrowland theater at their Disneyland.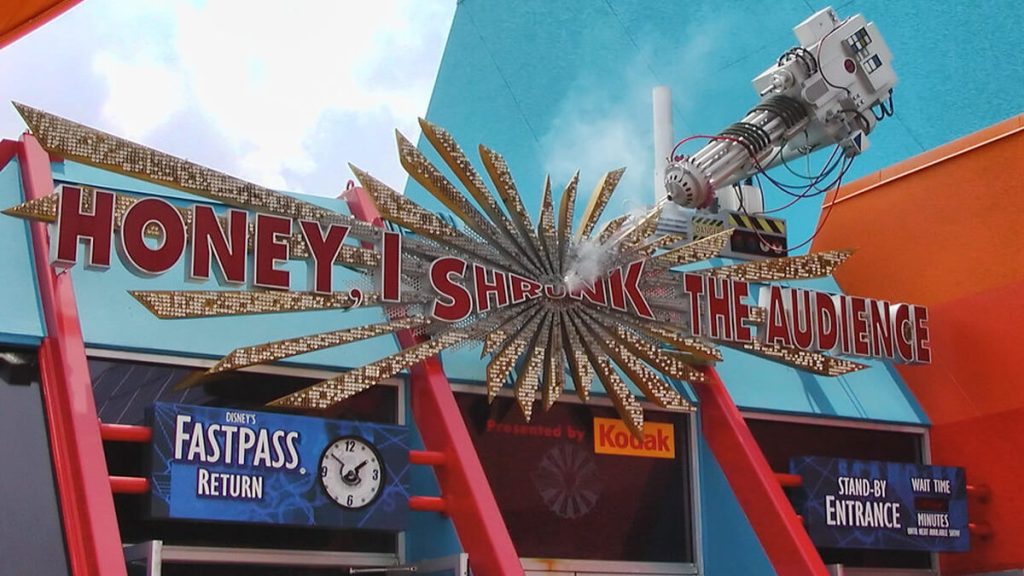 The Tokyo version — which went by the name of "MicroAdventure!" There's an exclamation point at the end of that attraction's name, by the way) opened in April of 1997. It was so well received that the original Disneyland Park in Anaheim — which was in the process of designing its second New Tomorrowland (which would open for the Spring of 1998) — said "Hey, we want a clone too."
So the Anaheim version of "Honey, I Shrunk the Audience" opened in May of 1998, going into the exact same theater that Disneyland's version of "Captain EO" had been screened in. And then — the following year — Disneyland Paris got its own version of "Honey, I Shrunk the Audience." Which opened at that theme park in March of 1999.
Closing for "Captain EO"
All four versions of "Honey, I Shrunk the Audience" then screened at theme parks around the globe the next 11 years. Until May of 2010 arrived. Which was when — within one month's time — all four versions of this 3D attraction shuttered.
Michael Jackson had died back in June of 2009. And since Disney believes firmly in death being the ultimate disinfectant, the Summer of 2010 was deemed to be the perfect time to begin screening "Captain Eo" at the Parks again.
"Honey, We Shrunk Ourselves" & "Honey, I Shrunk the Kids: The TV Show"
In May of 1997 — Walt Disney Studios Home Entertainment releases "Honey, We Shrunk Ourselves." Which was a home premiere extension of that film series which marked Rick Moranis' last appearance as Wayne Szalinksi.
In September of 1997, "Honey, I Shrunk the Kids: The TV Show" debuts in syndication. This hour-long adventure comedy series ran for three season. With Peter Scolari (formerly Tom Hanks' co-star on "Bosom Buddies") now playing the role of Wayne Szalinski. A total of 66 episodes were produced, with the last one airing May 20, 2000.
Next Steps for "Honey, I Shrunk" Film Franchise
On May 13, 2019 , a"Honey, I Shrunk" reboot was announced. To star Josh Gad playing Wayne Szalinski's son Nick. Josh persuaded Rick Moranis to come out of retirement to play Wayne again & recruited Joe Johnston — the guy who directed the original "Honey, I Shrunk the Kids" more than 30 years earlier to come back and direct the sequel.
Joe was done in Atlanta in March of 2020 directing the construction of the sets for "Shrunk." That's what this sequel (which will air of Disney+) will be called. Just "Shrunk." When the pandemic happened. Production suspended.
Good news. "Shrunk" is now back on. Can't reveal where it's going to be shot. But Josh & Rick are slated to go before the cameras next year. Can't wait.
This article is based on research for The Disney Dish Podcast "Episode 375", published on May 23, 2022. The Disney Dish Podcast is part of the Jim Hill Media Podcast Network.
"Honey, I Shrunk the Kids": The Movie & Early Attractions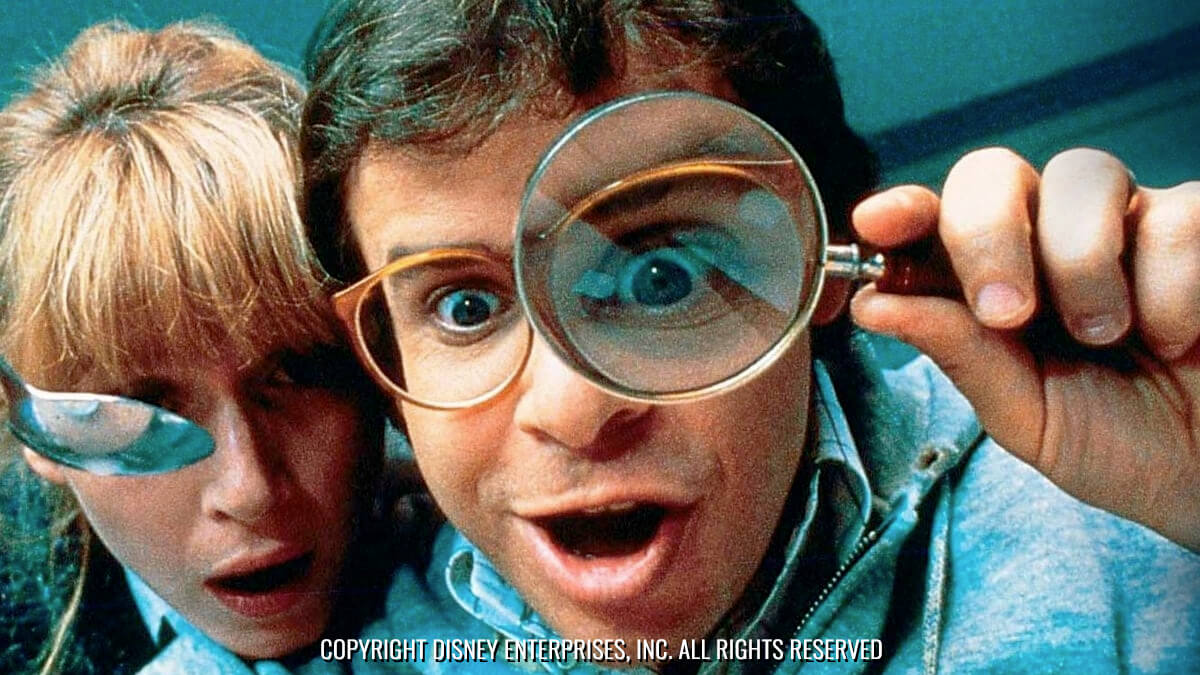 This article is part of a series documenting the story of "Honey, I Shrunk the Kids" and Disney Science-Based movies. Be sure to check out our additional research on the "Honey, I Shrunk the Kids".
When Michael Eisner came on board as Disney's new CEO in the mid-1980s, he had gone over the company's books and learned that there was this certain type of film (a science-based gimmick comedy) that the Studio used to release that had done very well at the box office over the past 25 years or so.
We're talking about Disney-produced comedies like "The Absent-Minded Professor," "The Computer Wore Tennis Shoes," "The Misadventures of Merlin Jones." FX-filled films where college kids accidentally a paint that could then make them invisible. Or a family pet — in this case, a duck — gets exposed to radiation and then starts laying solid-gold eggs. You know, things that could happen to anyone in every day life. Provided — of course — your name is Dean Jones or Kurt Russell.
Flight of the Navigator and Rebirth of Science-Based Movies
So Eisner decides that it's high time that Walt Disney Pictures gets back in the science-based gimmick comedy business again. Which is why he greenlights production of "Flight of the Navigator," which arrives in theaters in July of 1986. The only problem is … This Randall Kleiser film (Remember that name. It's going to come up again) suffers from "This-movie-really-wants-to-be-E.T.-instead" syndrome. Which means that it's heartfelt and has some wonderful, sincere moments as well as some killer visual effects.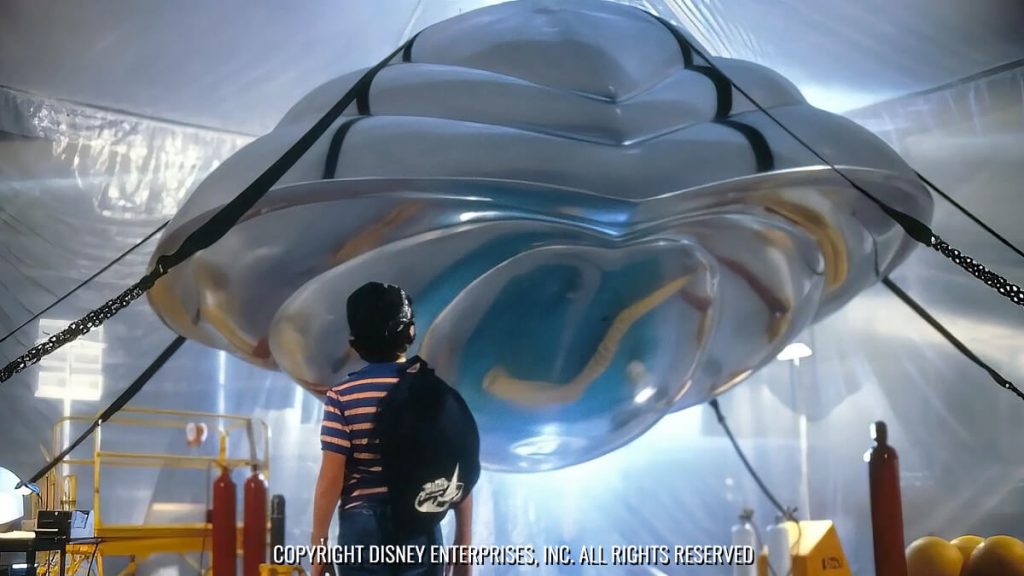 But "Flight of the Navigator" is not long on laughs. And remember that the reason that Eisner put this Randall Kleiser film into production in the first place is because he wanted to revive the science-based gimmick comedy genre at Disney Studios.
But "Flight of the Navigator" (while it didn't exactly set the box office on fire when it was released to theaters in the Summer of 1986) did well enough when the VHS version of this movie hit store shelves in January of 1987 that Eisner thought "Okay. We can take another stab at this. Get me a script for another science-based gimmick comedy."
Which is when the script for "Teenie Weenies" shows up on his desk.
Teenie Weenies – Origins of "Honey, I Shrunk the Kids"
Now "Teenie Weenies" has kind of an interesting pedigree. Because it came to Disney by way of Stuart Gordon. Who — back in the mid-1980s, anyway — was best known for having written & directed some pretty out-there horror comedies, 1985's "Re-Animator" and 1986's "From Beyond." But Stuart also had a love for cheesy 1950s sci-fi films like "The Incredible Shrinking Man" (which Universal Pictures first released to theaters in April of 1957).
And one day Gordon had a brainstorm: What if — instead of some earnest white guy scientist in a lab coat who gets shrunk down to the size of a bread crumb — it's a kid instead? Or — better yet — kids? What would happen in that case?
So Gordon and his frequent collaborators — Ed Naha & Brian Yuzna — work up a screenplay that explores this idea. And it eventually makes its way to Disney. And Eisner likes what he sees. But even so, Michael doesn't want to spend a whole lot of money on this movie. Plus he's not crazy about that title, "Teeny Weenies." Can we please come up with a better title for this movie? Which is why — for a time — this film is called "Grounded," then "The Big Backyard."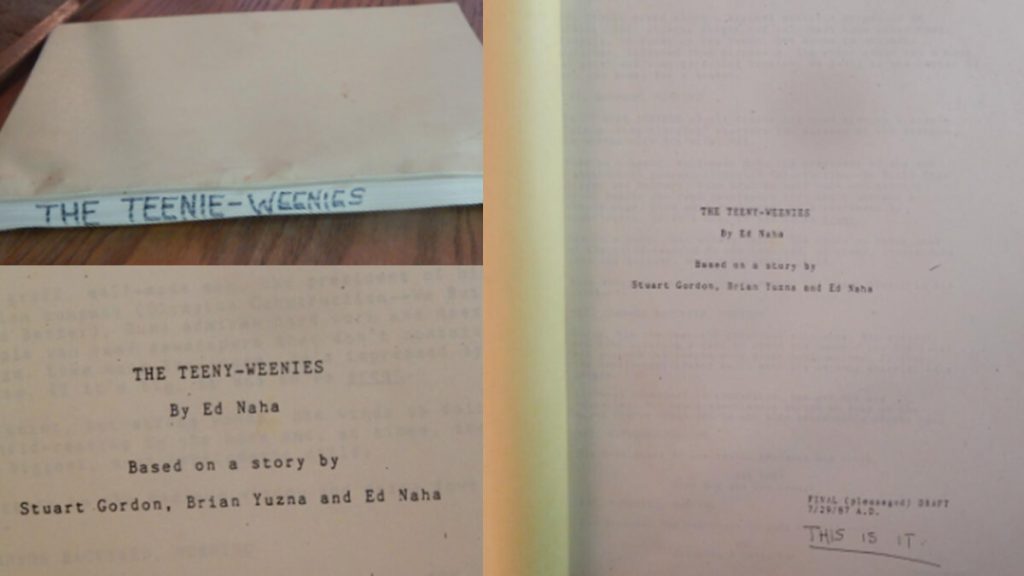 So Stuart is initially supposed to direct this movie for Disney. Which — I know — given that this guy previously directed really out-there horror comedies (Trust me, folks. If you've ever seen "Re-Animator," you'll know what I'm talking about) seems like a weird choice for the Mouse House.
But Michael's thinking at the time was … Well, "The Big Backyard" is going to be full of visual effects shots. And given some of the scenes in "Re-Animator" & "From Beyond," this guy already knows how to do this stuff. So better to stick with the devil you know.
So — to keep production cost down — Disney decides to shoot "The Big Backyard" down in Mexico City at Churubusco Studios. So Stuart casts up the project.
FYI: The role of inventor Wayne Szalinski was originally written with Chevy Chase in mind. But since he was shooting "National Lampoon's Christmas Vacation" around this same time, he wasn't available. So Disney then offer this part to John Candy. Who — when he passed on the role — suggested that the Studio consider Rick Moranis, his old pal from "SCTV," for the part. Which is how Moranis became Szalinksi.
Production & Filming "Honey, I Shrunk the Kids"
Production is just about to get underway on "The Big Backyard." But then Stuart Gordon gets sick and has to withdraw from this project. Michael Eisner now starts freaking out. I've got a big new visual-effects-drive comedy for Disney Studios all set to start shooting and — days before production is supposed to begin — I don't have a director.
Enter Academy Award-winning visual effects guy Joe Johnston. This is the guy who started as a concept artist on the first "Star Wars" film, went on to design Boba Fett for "The Empire Strikes Back," and — by the time "Willow" rolled around — George Lucas had promoted Joe to associate producer. More to the point, Johnston was the production designer on those two "Ewok" TV movies that ran on ABC in 1984 & 1985.
So Joe had come up through the ranks at Lucasfilm. Yet, he hadn't actually directed a movie up until that time. But he'd basically done everything else you could do behind-the-camera on a big visual effects film. Johnston was the right guy in the right place at the right time when Disney desperately needed a director for "The Big Backyard." So tag. You're it.
And Joe — to his credit — delivered. Disney was so pleased with the work that he did on "The Big Backyard" that — after this science-based gimmick comedy officially opened at the box office in June of 1989 and did really, really well, the Studio immediately offered Johnston another FX-fille project. This one being a big screen adaptation of Dave Stevens' cult classic comic book, "The Rocketeer."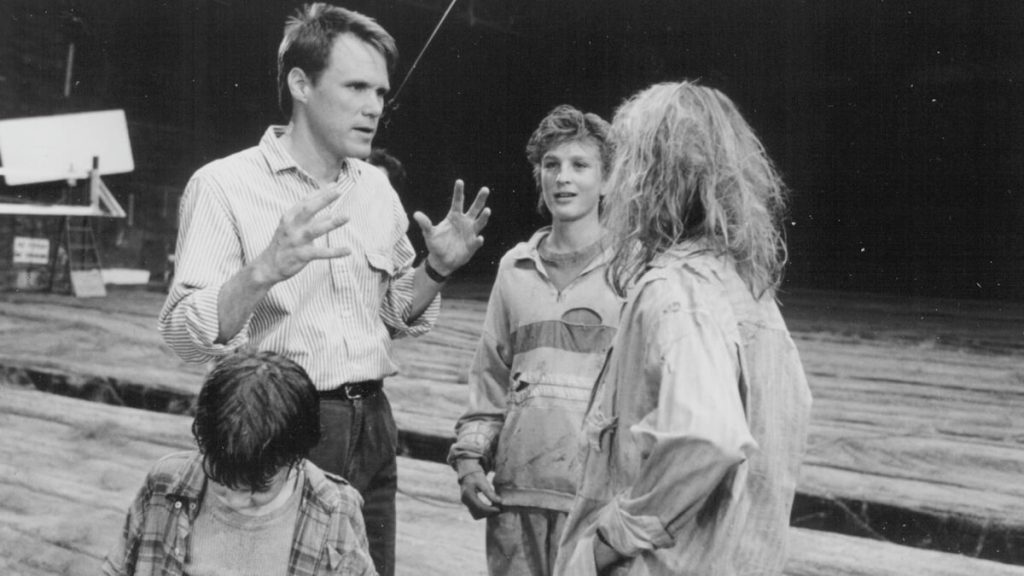 From "The Big Backyard" to "Honey, I Shrunk the Kids"
But that title. "The Big Backyard." Michael still hated it. He wanted something punchy & fun like the titles of those earlier Disney science-based gimmick comedies from the 1960s & the 1970s. Something like "Now You See Him, Now You Don't" or "The Monkey's Uncle." A title that tells you right up front that this is a family comedy.
There was a line in the movie that always got a big laugh at test screenings. It was when Rick Moranis turned to his wife Marcia Strassman and then reluctantly admitted "Honey, I Shrunk the Kids." Eisner said "That gets a laugh. Let's go with that." Which is how "The Big Backyard" became "Honey, I Shrunk the Kids."
"Honey, I Shrunk the Kids" Box Office Success
And "Honey, I Shrunk the Kids" did crazy business at the box office in the Summer of 1989. We're talling $222 million in ticket sales worldwide. Which is the equivalent of nearly a half a billion dollars in today's money. Which then made "Honey, I Shrunk the Kids" the highest grossing live-action Disney film of all time. A title it retained for five years, only to then be dethroned by "The Santa Clause."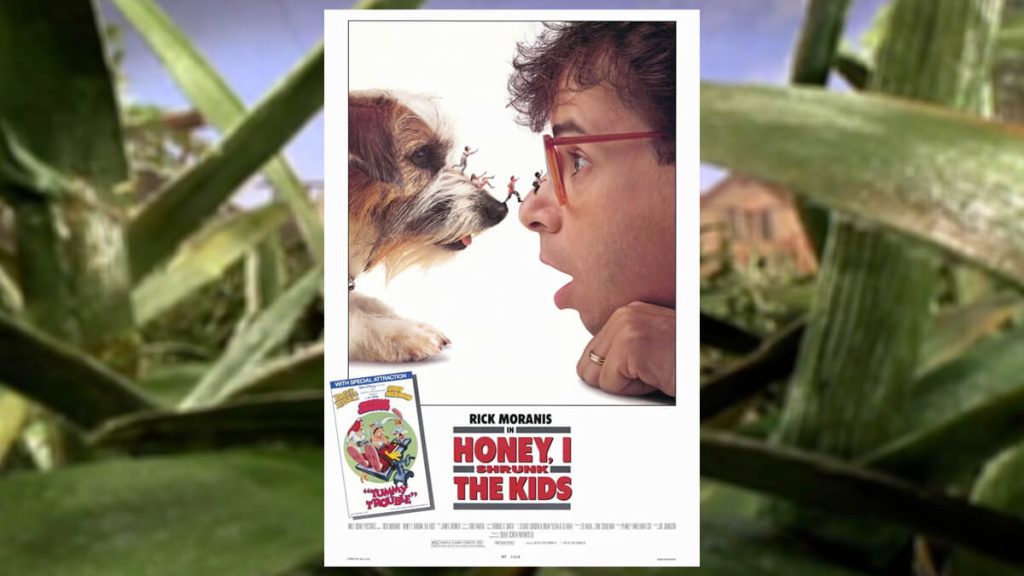 Now it's worth noting here that one of the reasons that "Honey, I Shrunk the Kids" did so well at the box office in the Summer of 1989 was that — right in front of this Joe Johnston movie — was the very first "Roger Rabbit" short, "Tummy Trouble." The film that inspired this short — "Who Framed Roger Rabbit" — had come out the previous summer and done very well at the box office. That Robert Zemeckis movie had taken home four Oscars at the 61st Academy Awards, which had been held just three months previous in late March of 1989.
So there are some folks even today who say "Well, 'Honey, I Shrunk the Kids' wasn't really this monstrous hit back in the Summer of 1989. It was more a case that 'Honey, I Shrunk the Kids' — when it was paired with "Tummy Trouble" — was such a tempting combo that moviegoers just could not resist this double bill. Especially on the heels of "Who Framed Roger Rabbit" and how well that movie had done the previous Summer.
"Honey, I Blew Up the Kid"
This would become painfully clear in the Summer of 1992 when the sequel to "Honey, I Shrunk the Kids" — "Honey, I Blew Up the Kid" — finally arrived in theaters. Only instead of a new "Roger Rabbit" short, this Randall Kleiser film (See. I told you that name would come up again) had a Disney-produced CG short in front of it called "Off Your Rocker." And that Barry Cook cartoon — while fun — just wasn't the box office draw that "Tummy Trouble," "Roller Coaster Rabbit" or "Trail Mix-Up" had been.
Consequently, "Honey, I Blew Up the Kid" only did about 2/3rds of the business that "Honey, I Shrunk the Kids" did domestically. We're talking $96 million in ticket sales in North America versus $130 million in North American ticket sales back in 1989.
Which — when you factor in that the original "Honey, I Shrunk the Kids" cost $18 million to make versus the $32 million it cost to make "Honey, I Blew Up the Kid" — isn't a great place to be. Especially in a Hollywood where — increasingly — the Studio's accountants are the ones calling the shots. Rather than the creatives.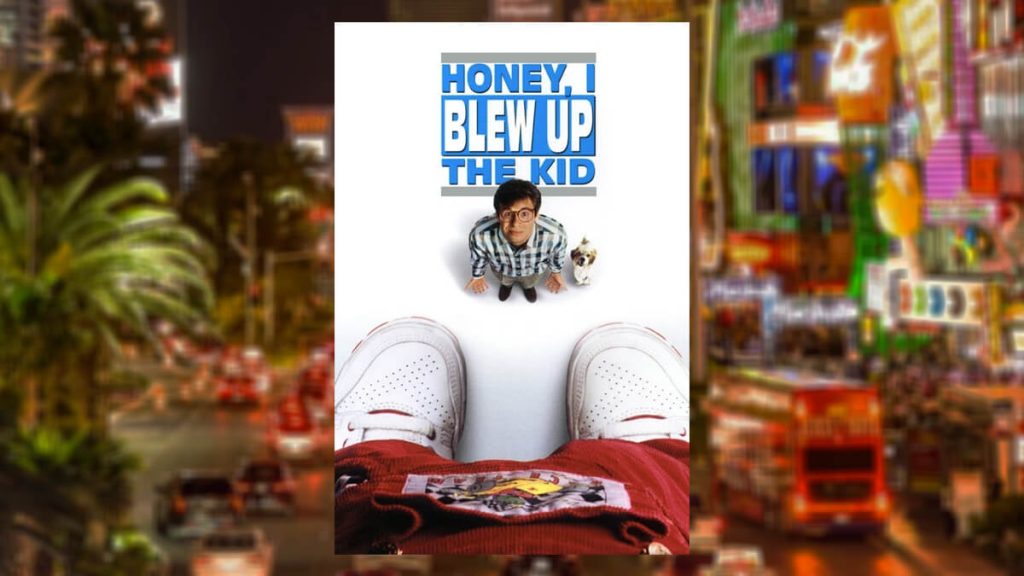 Potential "Honey" Sequels
It's the Summer of 1989 and "Honey, I Shrunk the Kids" is still this enormous hit. Which Disney immediately wants to make all sorts of sequels to.
Which is why — as the Wall Street Journal reported in August of that same year — the Studio pre-emptively trademarked a bunch of possible titles for follow-ups to the original "Honey, I Shrunk the Kids" movies. These titles included:
"Honey, I Sent the Kids to the Moon"
"Honey, I Made the Kids Invisible"
"Honey, I Xeroxed the Kids"
and "Honey, I Switched Brains with the Dog"
"Honey, I Shrunk the Kids" Attractions at Disney MGM Studio Theme Park
Now where this gets interesting is that — even before "Honey, I Shrunk the Kids" had opened in theaters (on June 23, 1989) — Michael Eisner was insisting that this Joe Johnston movie be folded into the Disney theme parks somewhere.
Luckily in the Late Winter / early Spring of that same year, the Imagineers were readying the Disney MGM Studio theme park for its May 1st opening.
Tram Tour Blue Screen Bumble Bee Experience
Since WDW's 3rd gate was supposed to help promote the Studio's latest releases … Well, WDI decided that — as part of the Visual Effects portion of that theme park's Backstage walking tour (which used to be the second half of the Tram Tour at Disney MGM) — they'd use Blue Screen as a way to recreate that moment from "Honey, I Shrunk the Kids" when the boys accidentally fall onto the back of a bumble bee and then get flown all around the backyard.
This experience selected two kids to demonstrate how blue screen technology worked. They were then strapped by Cast Members to this huge fake bumble bee. These kids were then told to flail about as a camera moved in and out, capturing their expressions.
Then — seconds later — this just-captured footage was inserted into a clip from "Honey, I Shrunk the Kids." Which then showed these same kids — now miniaturized — buzzing around a backyard on the back of a giant bumble bee.
Siskel and Ebert Cameo
Roger Ebert & Gene Siskel (who — at the time — were the hosts of the hugely popular "At the Movies" show) suddenly came onscreen. Roger & Gene then seemingly began to criticize the performance of the two kids who had just volunteered to demonstrate how blue screen technology worked. With Roger Ebert (he was the heavy-set grumpier member of this duo. Siskel was the more even-tempered, bald-headed guy) complained that " … it looked like those two were hanging onto a huge fuzzball."
This cameo was made possible by a deal that Disney had made with Roger & Gene back in 1986. Prior to that, Ebert & Siskel's movie review show — which began life as a one-time-only TV special on Chicago Public Television back in 1975 — had been shown on various PBS stations around the country. Disney offered to make "At the Movies" the very first syndicated show offered by Buena Vista Television and to then take Ebert & Siskel nationally.
Roger & Gene agreed to this deal with one condition: That Disney execs wouldn't then interfere in any way with the production of "At the Movies." More to the point, if Walt Disney Studios made a stinker of a movie, that Ebert & Siskel would then be allowed to state that opinion — loud & clear — on a TV show that the Mouse himself produced.
Michael Eisner personally guaranteed that Roger & Gene would be free to say whatever they liked about Disney-produced films. And because Disney execs made a point of being completely hands-off when it came to "At the Movies" …
Well, that's why — when the Imagineers came a-calling and said "Would you please shoot this 30 second bit for the Special Effects Workshop. Which will be part of the Backstage Tour thing we're now building at Disney-MGM Studios," Ebert & Siskel said "Sure."
I mean, these two guys took their film criticism jobs seriously. They were total pros. But at the same time, Roger & Gene didn't take themselves all that seriously. They got the gag, I mean.
"Honey, I Shrunk the Kids" Playground
When "Honey, I Shrunk the Kids" finally opened in theaters and then became the fifth highest grossing film of the year (behind "Batman," "Indiana Jones and the Last Crusade," "Lethal Weapon 2" and "Rain Man"), Eisner insisted that something of size that celebrated the "Honey, I Shrunk the Kids" be built at Disney MGM. Which is why — between New York Street and the Studio Catering Company — a brand-new playground began to rise up.
The gimmick of the "Honey, I Shrunk the Kids: Movie Set Adventure" was — as soon as Guests enterted this space — they were shrunk down to the size of an ant. This enclosed space (which was designed to look like a teeny tiny chunk of the Szlanski's backyard that was now writ huge) featured 30-foot-tall blades of grass that were built out of metal & fiber glass. Which — prior to installation — had to (in model form, mind you) go through a wind tunnel test to prove that these faux enormous blades of grass could withstand 300 MPH winds and still stay in place. Because … Well, Florida. Hurricanes. You do the math.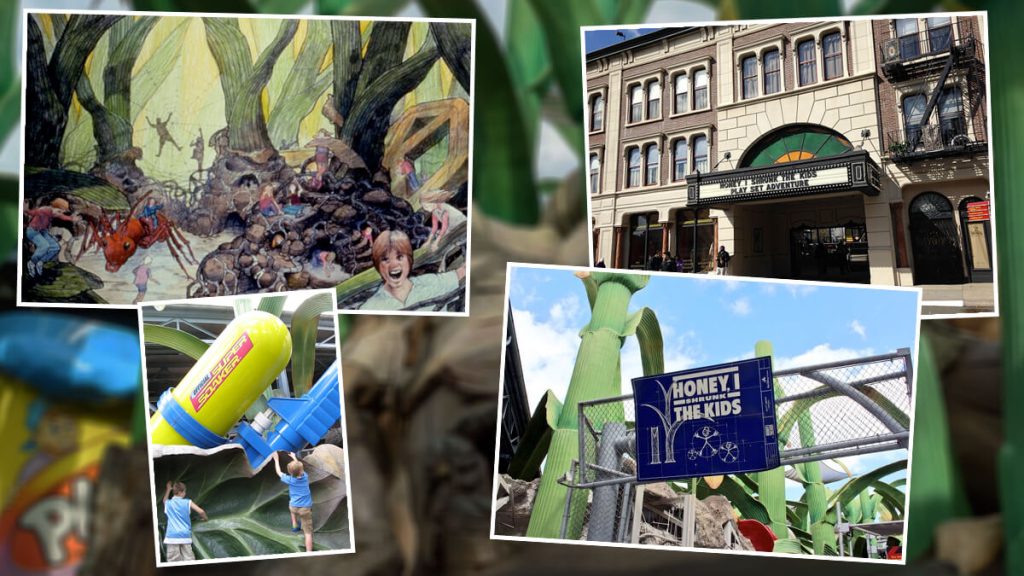 And since this "Honey, I Shrunk the Kids" play area was being built in Florida … Well, keeping Guests cool was a major consideration. So the Imagineers have people choices. They could either stand under a 52-foot-long nozzle of a giant garden hose and periodically get dripped. Or they could stand in front of a giant dog nose. And — every so often — that enormous canine would sneeze. But instead of snot, a cool mist of water would come shooting out of those enormous nostrils.
By the way, both of these enormous props — the leaky nozzle of that garden hose AND that giant dog nose — were manufactured out in California at WDI's Tujunga facility and then shipped cross country. You gotta wonder what motorists in the Midwest thought of that as they saw a flatbed with a giant dog nose on it rolling by them on the interstate.
A lot of folks — when talking about the "Honey, I Shrunk the Kids: Movie Set Adventure" — remember that soggy material which covered the ground. It sort of looked like dirt. That was Safe Deck, a material that the Imagineers found which was made up of ground-up old truck tires. Mind you, to make it actually look like the dirt you have in your own backyard, the Imagineers had to scatter little handfuls of ground up green truck tires & red truck tires & blue truck tries. Which brings us to the real important question: Where do you get green & blue truck tires?
Kodak-themed Slide: Was Kodak the Sponsor of "Honey, I Shrunk the Kids: Movie Set Adventure"?
One of the most popular and famous props in the play area was a slide that was shaped as an enormous, partially opened cannister of Kodak film.
Because that huge cannister of Kodak film was so obviously on display in the "Honey, I Shrunk the Kids: Movie Set Adventure" — did that then mean that Kodak was the sponsor of this Disney-MGM attraction?
And the answer to that question is actually "No." Eastman Kodak Co. signed a 15-year-long promotional agreement with The Walt Disney Company the year previous (On April 27, 1989. Just days before Disney-MGM officially opened to the public). And this was a deal that linked Disney & Kodak in multiple ways. On television, at the movies and in the Disney theme parks.
The Kodak-themed slide was actually something of a freebie. I mean, you have to understand that the "Honey, I Shrunk the Kids: Movie Set Adventure" was one of the very first projects that Walt Disney Imagineering put into development after the Mouse House signed that new 15-year-long deal with Eastman Kodak.
And what better way to tell all of those Kodak executives back in Rochester, NY that we really appreciate you sticking with us for the long haul and being a participant at Disney Parks & Resorts but then surprise them with a slide that was shaped like an enormous cannister of Kodak film.
Mind you, all of this goodwill would evaporate just a few years later when the Imagineers went to Kodak and said "Hey. It's time to redo the 'Journey into Imagination' ride at Epcot." To which Kodak executives replied "Film sales are falling through the floor because of the rise of digital photography. We have no money available to fund a redo of the 'Imagination' ride. You're on your own, Disney."
Closing "Honey, I Shrunk the Kids: Movie Set Adventure"
The "Honey, I Shrunk the Kids: Movie Set Adventure" had a good long run at the Studio theme park. It officially opened on December 17, 1990 and then closed on April 2, 2016 to make way for an entirely different sort of movie set adventure. Maybe you've heard of the place? "Star Wars: Galaxy's Edge" ?
Up Next: Sequel Challenges and 3D Movie Experiences.
Anyway … On the next installment of this series (The third & final chapter of the "Honey, I Shrunk the Kids" story), we'll discuss Disney's troubles when it came to developing a suitable sequel to the first film in this series. Not to mention the challenges that the Imagineers faced when they decided to build a new 3D movie experience around Wayne Szalinski's shrink ray.
Get ready for way too many mice.
This article is based on research for The Disney Dish Podcast "Episode 374", published on May 16, 2022. The Disney Dish Podcast is part of the Jim Hill Media Podcast Network.