The Walt Disney Family Museum Presents Leading Ladies and Femmes Fatales: The Art of Marc Davis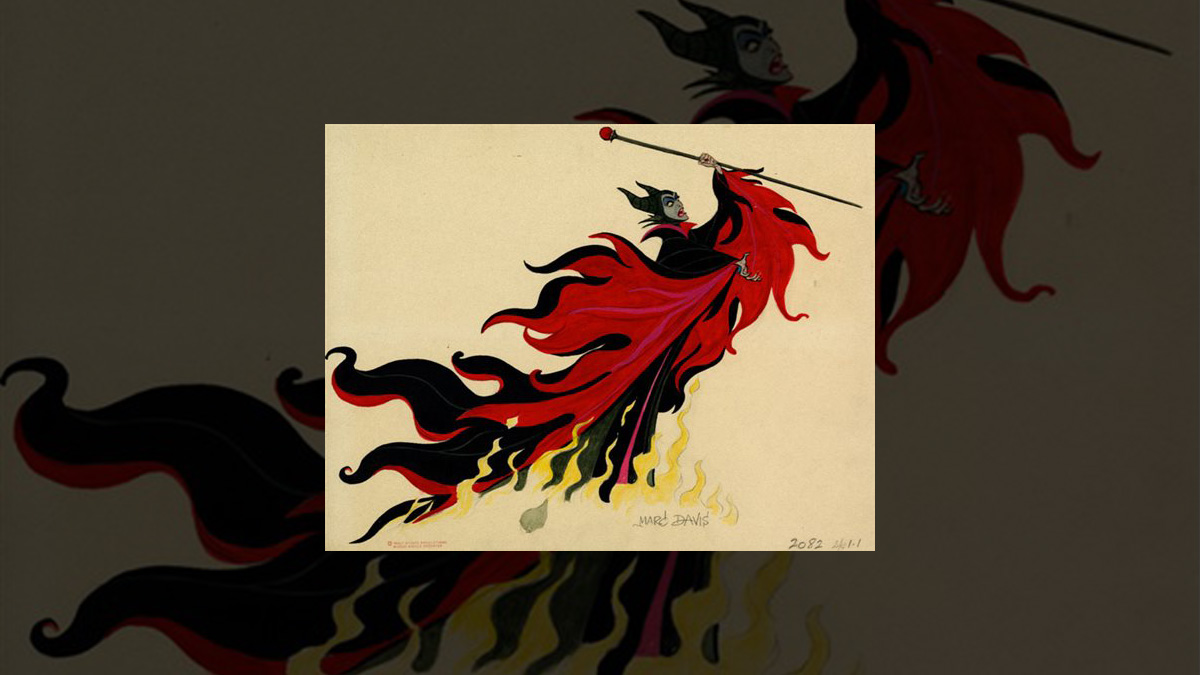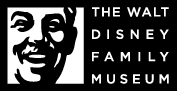 April 30 – November 3, 2014
Exhibition Celebrates Award-Winning Work by one of Walt's infamous Nine Old Men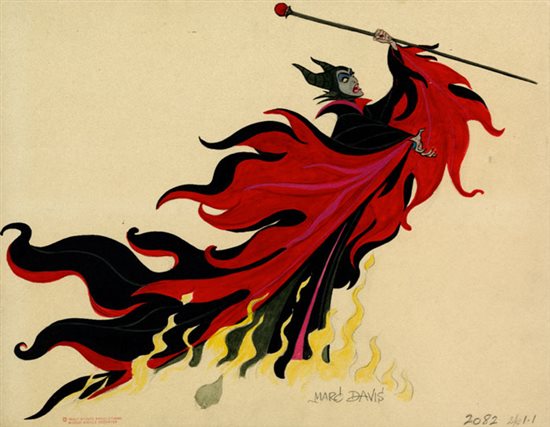 Marc Davis, visual development for Sleeping Beauty, ca. 1959;Collection Mike Glad; © Disney
San Francisco, CA, March 25, 2014 – The Walt Disney Family Museum is excited to present the exhibition Leading Ladies and Femmes Fatales: The Art of Marc Davis. On view in the museum's Theater Gallery from April 30 to November 3, 2014, this exhibition co-curated by the museum's director of collections and exhibitions, Michael Labrie, and animator Andreas Deja spotlights some 70 original pencil animation drawings, conceptual artwork, paintings, cels, and photographs from animator and Imagineer Marc Davis (b. 1913). Davis, who was named a Disney Legend in 1989, was assigned and executed some of the most difficult animation for Walt Disney's leading ladies and femmes fatales from classics such as Peter Pan (1953), Sleeping Beauty (1956), and One Hundred and One Dalmatians (1961). It was Davis' mastery of the human form and authority on anatomy and movement that brought these iconic female characters to life and made them believable.
Although his work and accomplishments could fill a much larger gallery, selected artworks mainly from Davis' personal collection, Walt Disney Imagineering, several private collectors, and the Walt Disney Family Foundation's collection, intend to focus on a part of Davis' life and career with his mastery of the human form.Leading Ladies and Femmes Fatales highlights Davis' female characters in film-such as Peter Pan's Tinker Bell, Sleeping Beauty's title heroine Aurora, its villain Maleficent, and One Hundred and One Dalmatians' Cruella de Vil-as well as in live entertainment, his fine art, and through his beloved wife Alice Davis.

"If you can't draw it, you can't animate it," Marc Davis once told an interviewer. He was proud of his drawing ability and had all the reasons for being so. Basically a self-taught artist, he honed his skills through a lonely childhood, and from his life experience he developed a keen sense of observation and ultimately became an excellent draftsman. Davis' gift for dramatic storytelling coupled with his ability to inject humanity, humor, and emotion into his drawings is what made him stand out.
"Marc can do story, he can do character, he can animate, he can design shows for me. All I have to do is tell him what I want and it's there. He's my Renaissance Man," said Walt Disney of Davis.
Davis' sense of style and ability commanded admiration and respect. Employed at The Walt Disney Studio for forty-three years, Marc Davis was a master whose skills proved essential to a wide variety of projects both in film and live entertainment. As one of Walt's renowned "Nine Old Men," Davis was the only of the nine whom Walt asked to help in the planning of attractions at Disneyland the 1964/1965 New York World's Fair. His creative contributions include attractions such as Pirates of the Caribbean, it's a small world, and the Haunted Mansion, to name a few.
"Marc Davis became the most prolific Imagineer of his time in developing ideas and drawings for Disney Park attractions. There is a treasury of some of the world's best-known and most humorous characters," said Disney Legend and Imagineer Marty Sklar.
In 1947, Alice Estes-a promising artist from Long Beach, California-received a scholarship to the prestigious Chouinard Art Institute-a training ground for many Disney artists. With Alice's goals of becoming an animator crushed because of the male-dominance in the field at that time, Mrs. Chouinard herself assigned Alice to become a costume designer, and gave her the added task of assisting the new animation teacher, Marc Davis.
After her graduation, Alice married Davis, eventually working with him at The Walt Disney Studios and becoming one of the first female Imagineers. She designed costumes for a number of Disneyland attractions, including Pirates of the Caribbean and Carousel of Progress-many based on her husband's whimsical drawings.
Both Alice and Marc worked with a team of Disney artists and engineers to design and dress the Audio-Animatronics® figures for it's a small world, including famed artist Mary Blair, one of Walt's most recognizable leading ladies.
The exhibition is aptly timed with MAGIC, COLOR, FLAIR: the world of Mary Blair, on view from March 13 through September 7, 2014 in the Diane Disney Miller Exhibition Hall.
Leading Ladies and Femmes Fatales: The Art of Marc Davis is organized by The Walt Disney Family Museum.
Disney Will Bring D23: The Ultimate Disney Fan Event to Anaheim, California in August 2024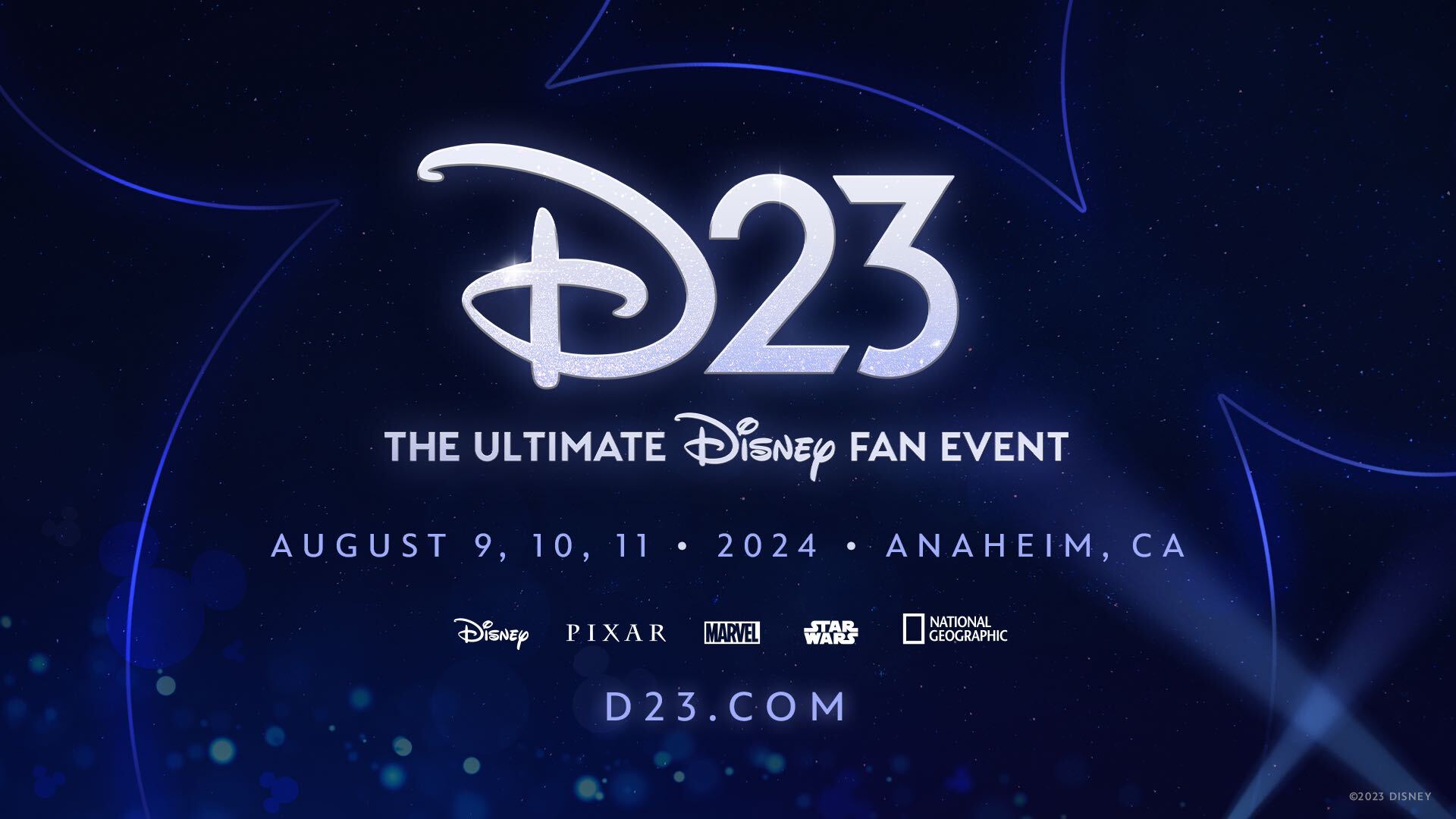 Expanded Disney Fan Experience Will Feature New and Exciting Events Across Multiple Locations, Including a D23 Takeover of the Happiest Place On Earth, Evening Entertainment at the Honda Center, D23 Day at Angel Stadium, and Much More
Fan Favorites Including Exhibits, Panels, Shows, and Shopping Will Dazzle Disney Enthusiasts at the Anaheim Convention Center
D23: The Ultimate Disney Fan Event is a one-of-a-kind fan experience like never before with spectacular shows, new venues, and multiple days of entertainment that will bring together the best of Disney, Pixar, Marvel, Star Wars, and more!
Highlightswill include:
Sunday, August 4: D23 Day at Angel Stadium, where D23 fans are invited to attend the Los Angeles Angels vs. New York Mets game.
Thursday, August 8: D23 kickoff celebration at Disneyland Resort.
Friday, August 9 – Sunday, August 11: Shopping, exhibits, panels, and presentations will take place at the Anaheim Convention Center during the day, with the fun extending into the evening at the Honda Center, the bigger home to marquee shows.
Tickets for D23: The Ultimate Disney Fan Event will go on sale in Spring 2024, with ticketing options to be announced later for access to the Anaheim Convention Center and the Honda Center. Admission for D23 Day at Angel Stadium and the D23 kickoff celebration at Disneyland Resort will be available as separate ticketed events. Additional details for D23: The Ultimate Disney Fan Event will be announced in early 2024.
You can get updates by staying connected to D23 via social media (@DisneyD23 on Facebook, Instagram, X), D23.com, and our weekly D23 FanFare email (sign up for free as a D23 General Member at JoinD23.com).
About D23
The name "D23" pays homage to the exciting journey that began in 1923 when Walt Disney opened his first studio in Hollywood. D23 is the first official club for fans in Disney's nearly 100-year history. It gives its members a greater connection to the entire world of Disney by placing them in the middle of the magic year-round through its quarterly publication, Disney twenty-three; the latest news and stories on D23.com; member-exclusive offers and discounts; the popular D23 Inside Disney podcast; and special experiences for D23 Members throughout the year.
Fans can join D23 at Gold Membership ($99.99/year), Gold Duo Membership ($129.99/year), and General Membership (complimentary) levels at D23.com. To keep up with all the latest D23 news and events, follow DisneyD23 on Facebook, Instagram, X, TikTok, and YouTube.
Star Wars Spoof: Space Robots in Outer Space Ep X: Battle for the Halcyon: The Last Starcruiser
Sure, Star Wars is cool and all. But let's not forget about that other multi-part sci-fi cinematic spectacular, "Space Robots in Outer Space." In fact, Hank Lonely (Hollywood's ultimate hyphenate — actor / producer / director / writer / guy who makes sure the Porto Potties are kept squeaky-clean) just announced that there'll soon be a 10th installment of this … Well, not exactly beloved. How about we say "admired from afar" instead? … series coming to a theater near you. In fact, here's the highly anticipated teaser trailer for that project. Which is supposed to be titled "Space Robots in Outer Space X — Battle for the Halycon: The Last Starcruiser."
Okay. Now the real story … In honor of Star Wars Day (i.e., May 4th. As in "May the Fourth Be With You"), Len Testa and I are sharing something that we produced with the help of all the nice folks who joined us last month aboard the Halycon.
We turned the Galactic Starcruiser as well as Black Spire Outpost into the backdrop for an affectionate send-up of all things Stars Wars. We hope that you (more importantly, the legal team at Lucasfilm) take this faux trailer in the spirit with which it was intended. Special thanks to Aaron Adams for so skillfully stitching all of this footage together. Also thanks to the team at Storybook Destinations, Touring Plans and the talented cast & crew aboard the "Star Wars: Galactic Starcruiser" for making this "Disney Dish" fan event so memorable.
Disney's New Trailer Reveals How Ralph & Vanellope Get to the Internet in "Ralph Breaks the Internet: Wreck-It Ralph 2"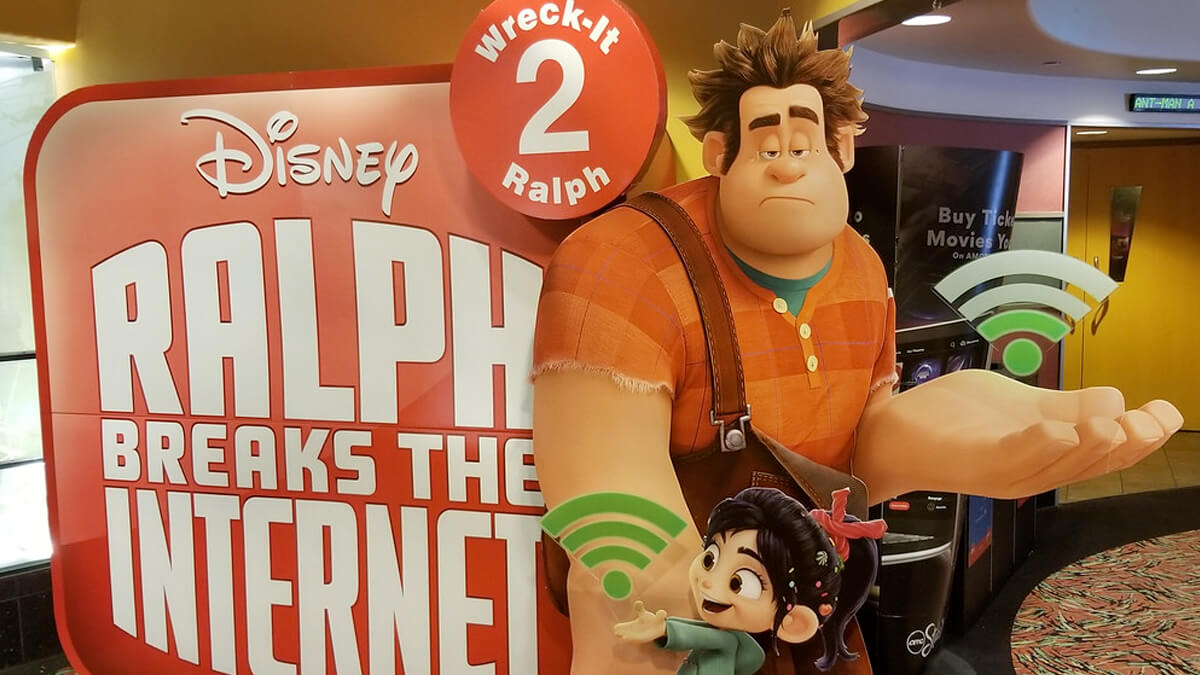 When "Wreck-It Ralph" opened on Nov. 2, 2012, it turned in the highest opening weekend ever for a Walt Disney Animation Studios film at the time of release. Now Disney is hoping Ralph will not only break the Internet but the 2018 Thanksgiving boxoffice records as well.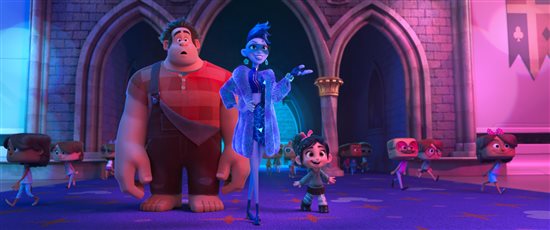 The film re-teams the original director, producer and co-writer behind "Wreck-It Ralph." The screenplay is currently being written by Phil Johnston and Pamela Ribon. Director Rich Moore, producer Clark Spencer, and co-writer Phil Johnston partnered with fellow director Byron Howard and co-writer/co-director Jared Bush to create the Academy Award®-winning blockbuster feature "Zootopia."
ROYAL REUNION – In "Ralph Breaks the Internet: Wreck It Ralph 2," Vanellope von Schweetz-along with her best friend Ralph-ventures into the uncharted world of the internet. When she finds herself surrounded by Disney princesses, she's surprised to learn that she actually has a lot in common with them. The scene, highlighted in a new trailer for the film (below), features several of the original princess voices, including Auli'i Cravalho ("Moana"), Kristen Bell (Anna in "Frozen"), Idina Menzel (Elsa in "Frozen"), Kelly MacDonald (Merida in "Brave"), Mandy Moore (Rapunzel in "Tangled"), Anika Noni Rose (Tiana in "The Princess and the Frog"), Ming-Na Wen ("Mulan"), Irene Bedard ("Pocahontas"), Linda Larkin (Jasmine in "Aladdin"), Paige O'Hara (Belle in "Beauty and the Beast") and Jodi Benson (Ariel in "The Little Mermaid"). Featuring Sarah Silverman as the voice of Vanellope, "Ralph Breaks the Internet: Wreck It Ralph 2" opens in theaters nationwide Nov. 21, 2018.