Tune Tuesday : "Shrek the Musical" gets off to a great start in Seattle
WARNING !! There be spoilers ahead in this preview piece about DreamWorks Theatrical's Broadway-bound production. Which is a musical adaptation of DW's Academy Award-winning animated feature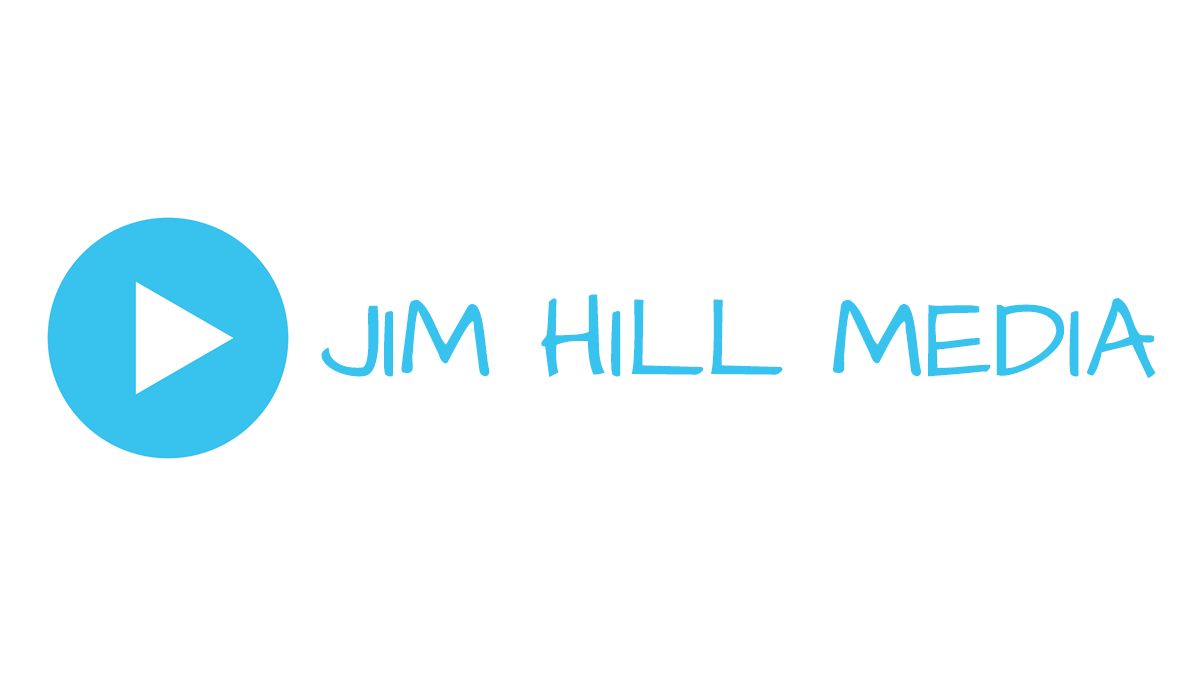 There are so many movie-based musicals turning up on Broadway these days that the theater community has actually invented a somewhat derogatory term to describe these high profile productions: movsicals.
And what with the rather tepid respection that "Young Frankenstein" and "The Little Mermaid" received this past season … Well, it's easy to understand why there isn't all that much enthusiasm right now for the two new movsicals that are currently on deck: "9 to 5 : The Musical" (Which will actually have its world premiere tonight at LA's Ahmanson Theater ) and "Shrek the Musical" (Which has been trying out at Seattle's 5th Avenue Theatre since August 14th and will have its official out-of-town opening tomorrow night).
Which — at least in the case of "Shrek the Musical" — may be a mistake. Based on the extremely positive response that the stage version of this Academy Award-winning Dreamworks Animation production has been receiving from Seattle audiences, this big green ogre could really be a smash once he reaches the Great White Way.
Of course, that may be because "Shrek the Musical" 's creative team — director Jason Moore, librettist David Lindsay-Abaire, composer Jeanine Tesori and designer Tim Hatley — did a very smart thing. Which was …



WARNING !! There be spoilers ahead !! If you don't want to know anything about this new Broadway-bound musical, now would be a really good time to exit the swamp … er … bail out of today's article.




Still there? Okay. Here goes …





Copyright 2008 DreamWorks Theatrical. All Rights Reserved
… that they backed up the start of their story by about 20 years. As the musical version of this faux fairy tale gets underway, we see Shrek and his parents getting ready to celebrate this cute little ogre's 7th birthday. As a pint-sized Shrek frisks about, pretending to be a knight, Momma & Poppa Ogre sit him down and — through song — explain …






MOMMA SHREK : Listen, son. You're growing up so quickly.
Growing up, bigger by the day.




POPPA SHREK: And though we want you here,
The rules are very clear.




MOMMA SHREK: Now you're seven




POPPA SHREK: Now you've seven




TOGETHER: So it's time … to go away.
… And — with this bit of news — the 7 year-old Shrek (Who now has his back to the audience) sadly slumps his shoulders. And the audience — as one — all goes "Awww," as the ogre's parents continue their song.






FATHER SHREK: Your Momma packed a sandwich for your trip.




MOMMA SHREK: Your Poppa packed your boots in case of snow.




TOGETHER: You're gonna make us proud,
No backing up allowed




MOMMA SHREK: Just keep walking




POPPA SHREK: Just keeping walking




TOGETHER: And you'll find somewhere to go.




It's a big bright beautiful world,
With happiness all around,
It's peaches and cream,
And every dream comes true …




… But not for you.
It's often been said that you only get one chance to make a first impression. But with this opening number, "Shrek the Musical" manages to do in minutes what the original animated feature struggled for an hour or more to do. Which is give the audience a reason to actually care about the title character. Make Shrek someone that we can emotionally invest in. Which is why — by the end of "Big Bright Beautiful World" (Which you can hear by clicking this link. DreamWorks Theatrical — in a very web-savvy move — decided to post several songs from "Shrek the Musical" 's score on YouTube. You can find Fiona's introductory number, "I Know It's Today" by clicking here and Donkey's first tune, "I Could Get Used to This" by clicking here) when the fully-grown version of Shrek (played winningly by Brian D'Arcy James) comes busting out of that outhouse … Everyone inside the 5th Avenue Theatre is already solidly in his corner.

Brian D'Arcy James as the adult Shrek. Photo by Andrew Eccles.
Copyright 2008 DreamWorks Theatricals. All Rights Reserved
More to the point, by giving Shrek this sort of backstory … Well, this plot point now gives the ogre and the long-locked-away princess yet another reason to bond. You see, Shrek and Fiona were both abused & abandoned by their parents. These two's squabble about who actually had the worst childhood eventually leads to their second act challenge song, "I Think I Got You Beat."
Speaking of challenges: Given that choreographer Rob Ashford just flew out to Seattle to "assist" with the three or four new numbers that have just been added to this show … Well, that suggests that there's still a bit of work to be done before "Shrek the Musical" is actually ready for New York audiences. Though — that said — this show's opening is still scheduled for December 14th at the Broadway Theatre.
And speaking of the Broadway Theatre … This particular playhouse has a unique tie to the Walt Disney Company. You see, back in November of 1928, this then-movie theater was known as the Colony. Which is where "Steamboat Willie" had its world premiere. And then — some twelve years later — the world premiere of "Fantasia" was held at this very same theater.
Which — given the many Disney-related gags that are featured in "Shrek the Musical" — makes staging this show at the Broadway Theatre only seem appropriate. "What sort of gags?," you ask. Well, there's at least one witty nod to Julie Taymor's "The Lion King." Not to mention an explanation of Lord Farquaad's parenthood that's sure to upset "Snow White" fans everywhere.
But as for the rest of "Shrek the Musical" 's surprises … I'm afraid that you're going to have buy a ticket in order to discover those. Which — given the sure-to-be-strong reviews that this show will be receiving tomorrow night once it officially opens in Seattle — now might be a really good time to snag a few seats for "Shrek" 's Broadway debut.
So what do you folks think? Does the above description make "Shrek the Musical" sound like the sort of show that you'd really like to check out? Or are you — for the moment — movsicaled out?
Your thoughts?
Advertisement

Gaylord Palms Resort and Spa is a 1,406-room 4.5 star luxury resort which is located only 1 mile from Walt Disney World's Maingate entrance. Indulge your senses in the wonders of the Sunshine State under three soaring glass atriums. Each of which recreates one of Florida's most captivating regions – St. Augustine, Key West and The Everglades. Renew your spirit at our world-renown Canyon Ranch Spa. Celebrate fine regional cuisine at four distinctive signature restaurants. Join us when we feed the alligators & turtles at our specially designed habitat, Gator Springs. Enjoy our family water park, Clearwater Cove, and swim into the night at our magnificent outdoor Marine Pool.
When you're having "Yourself A Merry Little Christmas," which version of this holiday classic do you prefer to sing?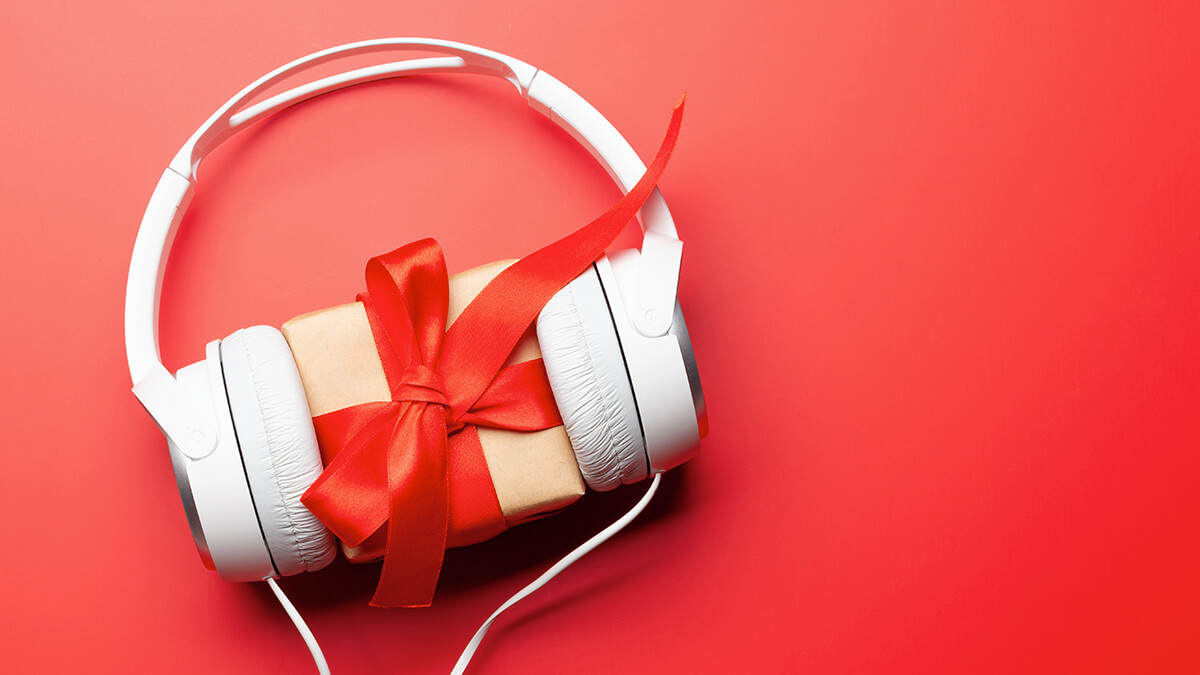 "Have Yourself a Merry Little Christmas" had a pretty big year in 2016. Thanks to Josh Groban, this 72 year-old Hugh Martin / Ralph Blane tune reached No. 1 on Billboard's adult contemporary charts.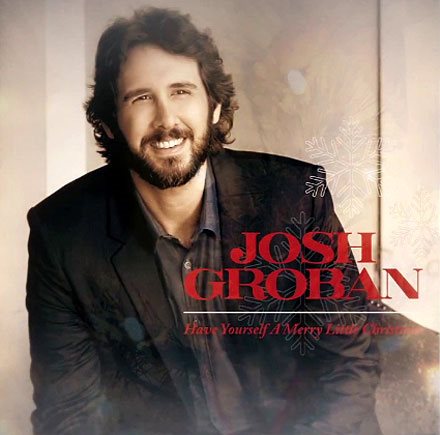 Copyright Reprise / Warner Bros. All rights reserved
Mind you, this isn't the only time in recent memory that this holiday song has charted. Back in 2014, Sam Smith's cover of "Merry Little Christmas" made it into Billboard's Hot 100. And Michael Bublé's version did equally well back in 2011.
Which is pretty impressive. Especially when you take into consideration that – in spite of its rather ironic title — "Have Yourself a Merry Little Christmas" is actually one of the saddest holiday songs ever written.
Mind you, it used to be even sadder. When Martin & Blane originally wrote this tune for MGM's 1944 musical, "Meet Me in St. Louis," it was supposed to musically comment on that moment in this motion picture where the Smith family had just learned that – due to Father's promotion – they'd now all have to move to New York and thus miss out on seeing the 1904 World's Fair.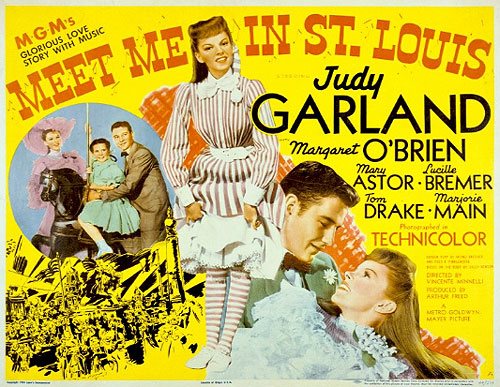 Copyright Warner Bros. Entertainment. All rights reserved
So – as older sibling Esther (played by Judy Garland) attempted to console her heart-broken little sister Tootie (played by Margaret O'Brien) during a scene set on Christmas Eve, Ralph & Hugh had originally envisioned "Have Yourself a Merry Little Christmas" getting underway by having Garland's character sing:
Have yourself a merry little Christmas
It may be your last
Next year we may all be living in the past
Have yourself a merry little Christmas
Pop that champagne cork
Next year we may all be living in New York.
Judy balked at singing these lyrics as written, arguing that – if her character actually said something like that to her little sister – Esther would wind up traumatizing poor Tootie. Which would then make the audience hate her character. And when "Meet Me in St. Louis" director Vincente Minnelli (who would go on to marry Garland the following year) backed up his star, Martin & Blane were forced to soften this song's opening stanza.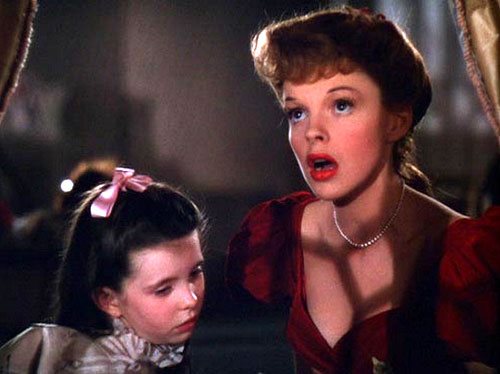 Copyright Warner Bros. Entertainment. All rights reserved
Have yourself a merry little Christmas
Let your heart be light
Next year all our troubles will be out of sight
Have yourself a merry little Christmas
Make the yuletide gay
Next year all our troubles will be miles away
When MGM released "Meet Me in St. Louis" to theaters in November of 1944, it was a smash hit for the studio. And Garland's version of "Have Yourself a Merry Little Christmas" proved to be so popular during the waning days of World War II that Decca actually released two different versions of this recording over a 6-month period. One paired this holiday tune with another Martin & Blane song from "Meet Me in St. Louis," "The Boy Next Door." This version was then followed up by a Decca recording that paired "Have Yourself a Merry Little Christmas" with Garland's performance of "You're Never Walk Alone." This Rodgers & Hammerstein song had quickly become a favorite after it was introduced in "Carousel," which opened on Broadway back on April 19, 1945.
Barring some relatively minor tweaks to the song's lyrics (i.e., "From now on" replacing the phrase "Next year"), this was the version of "Have Yourself a Merry Little Christmas" that was performed from 1944 – 1957.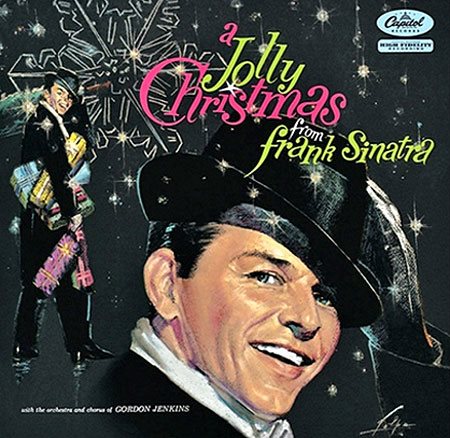 Copyright Capitol Records, Inc. All rights reserved
"So what happened in 1957?," you ask. Well, Old Blue Eyes went into the studio at Capital Records to record his very first full-length Christmas album, "A Jolly Christmas from Frank Sinatra." Frank labored from May 1st through July 10, 1957 on this recording. Working in front of an orchestra conducted by Gordon Jenkins and backed up by the Ralph Brewster Singers, he put that distinctive Sinatra spin on such holiday favorites as "Jingle Bells," "Silent Night," and "I'll be Home for Christmas."
But when it finally came time to record Frank's version of 'Have Yourself a Merry Christmas," Old Blue Eyes balked. Largely because Sinatra felt that the closing stanza of this song (as it was originally written for "Meet Me in St. Louis") …
Someday soon we all will be together
If the fates allow
Until then, we'll have to muddle through somehow
So have yourself a merry little Christmas now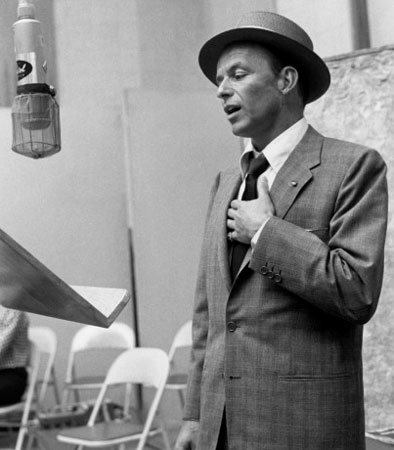 Frank Sinatra recording at Capital Studios in Hollywood in the 1950s
… was far too bleak.
So Frank reached out to Hugh Martin and supposedly said that " … I'm working on an album called 'A Jolly Christmas.' I'd really like to include 'Merry Little Christmas' on this recording, but that ' … muddle through' line is a real downer. Do you think you could jolly up that line for me?"
And given that it was now the more hopeful 1950s … Well, Hugh agreed to tweak "Merry Little Christmas" 's lyrics for Frank. Swapping out " … until then, we'll have to muddle through somehow" for " … hang a shining star upon the highest bough." Which then allowed this still-bittersweet holiday song to end on a more upbeat note.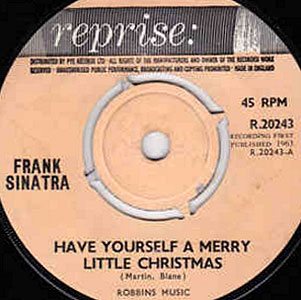 Copyright Reprise / Warner Bros. All rights reserved
And since the Sinatra version of "Have Yourself a Merry Little Christmas" became a smash hit … For nearly 50 years now, singers have had to make a hard choice whenever they decide to perform this holiday standard. Do they do as Judy did back in "Meet Me in St. Louis" and opt to " … muddle through" what can often be a very emotional time of year? Or do they follow Frank's example and offer a more hopeful view of the season? Literally reaching for the stars by hanging one " … upon the highest bough" ?
Me? I have to admit that I'm one of those guys who embraces what Walt Disney once supposedly said (i.e.,"For every laugh, there should be a tear"). So I honestly don't mind a little melancholy mixed in with my Merry Christmas. Which is why it kind of does my heart good to hear versions of "Have Yourself a Merry Little Christmas" like the one James Taylor performs. Where the original bittersweet message of this Martin & Blane song is basically left intact.
But how about you folks? When you're having "A Merry Little Christmas," which version of this holiday classic do you prefer? Are you a muddler like myself? Or do you prefer to hang a shiny star?
This article was originally published by the Huffington Post on Saturday, December 24, 2016
Seth MacFarlane celebrates the classic Christmas albums of the 1940s & 1950s with "Holiday for Swing!"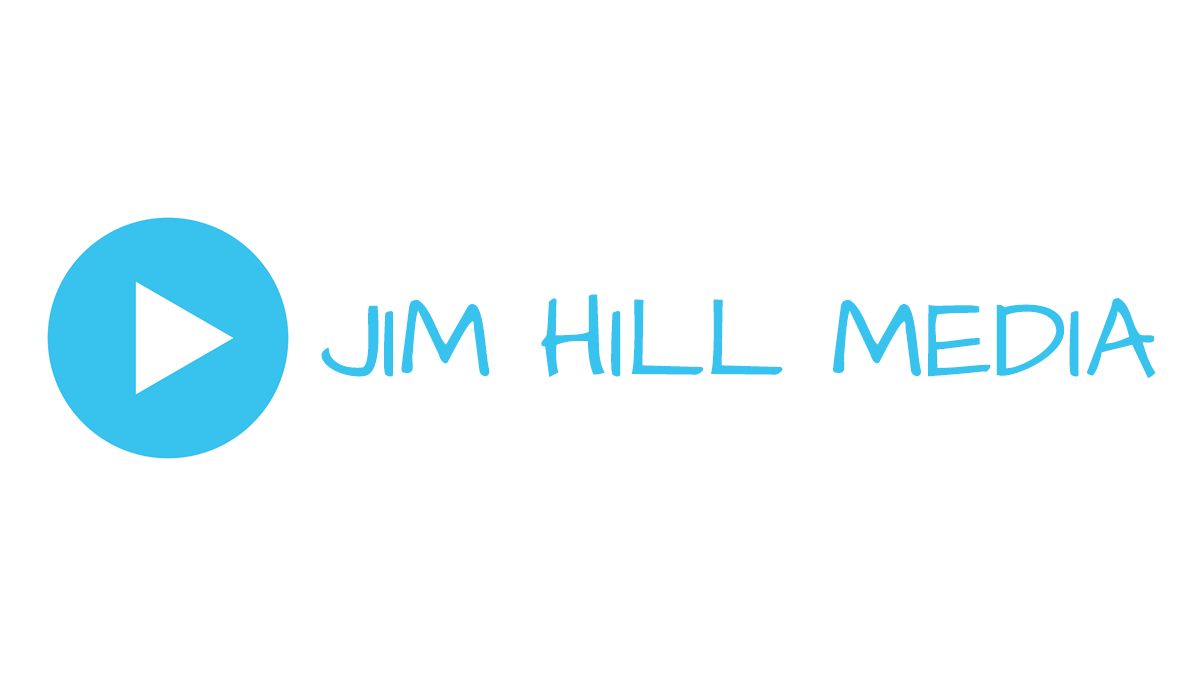 So how much time does it take to craft a brand-new holiday
album that has a timeless sound?
To hear Joel McNeely (i.e., the Emmy Award-winning arranger
/ producer behind Seth MacFarlane's "Holiday for
Swing!") talk, it took a full year to lay down all 13 tracks for this
top-selling recording. Which honors the rich sound / orchestral jazz tradition of
those classic Christmas albums that Bing Crosby, Perry Como and Rosemary
Clooney performed on back in the 1940s & 1950s.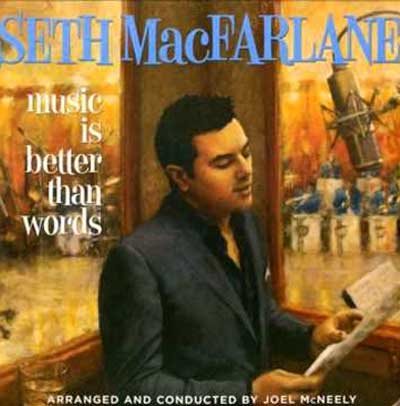 Copyright 2011 Universal Republic. All rights reserved
"What with his film work and all the TV series he rides herd on, Seth's schedule is just crazy these days. But he and I had such a good time working together on 'Music is Better than Words' that Seth were determined to carve out time necessary to record a second album," Joel explained during a recent phone interview. "Ironically it wasn't until 2012 when the two of us were over in England doing promo for that first album when the two of us realized that we both had the exact same weekend free. And since I already had six arrangements done for the holiday album that we had been talking about doing, Seth and I decided to get started recording. Which is when I made a quick call to Abbey Road."
Thankfully because of all the film work that he'd previously done at Abbey Road Studios, McNeely was able to pull in a few favors and book some time in Studio Two. And once he'd secured use of what many people consider the most famous recording studio in the world ("This is where the Beatles recorded," Joel enthused. "Which is why — if you're someone who works in the music field — you almost feel like you have to genuflect when you enter this space. I mean, the tinny piano that they used is still sitting there in the corner. You can walk right up and play it!"), he then reached out to some of London's best musicians.
"We even brought over Peter Erskine, the great jazz
drummer. Mind you, Studio Two is not a huge room. But we eventually wedged 54
players in there. But not a one of those musicians was off in an iso booth.
Everybody was in the same space. We had Peter and his drums right in the center
of the orchestra amongst all the strings and the woodwinds. So his sound was
leaking into all the other mics. And everybody else's sound was leaking into
everybody else's mics," McNeely said.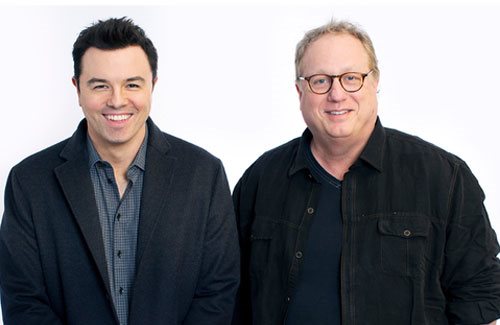 Seth MacFarlane and Joel McNeely
"And why was that important?," you ask. Because Seth and Joel were out to replicate a very particular sound from that era of recording. You see, when everyone's in the exact same space at the exact same time working on a track for an album, you get less of a pristine sound. And as a direct result, whatever you're recording then sounds more like a live performance.
"And given that all those classic holiday albums that
Ray Conniff and Dean Martin and Frank Sinatra did back in the day all have that
same sort of sound and feel … Well, Seth and I wanted this record to sound
like it had been part of that era as well. That 'Holiday
for Swing!' come across as this honest, completely sincere and authentic celebration
of all those great orchestral Christmas songs that were produced back in the
1940s and 1950s," McNeely stated.
So how did Seth & Joel go about choosing the holiday
songs that would be featured on this recording? Given that MacFarlane has an
almost encyclopedic knowledge of the great American songbook, McNeely opted to
let Seth choose the line-up for "Holiday for
Swing!"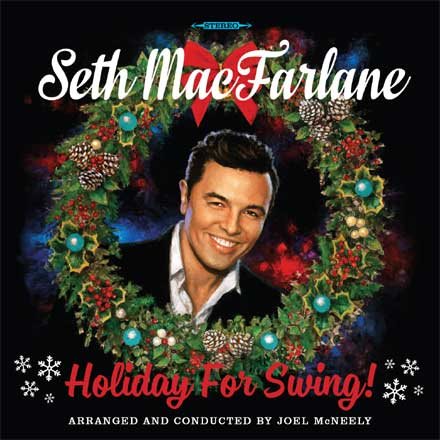 Copyright 2014 Universal Republic. All rights reserved
"Seth knows more obscure songs than anyone I've ever
worked with. On 'Music is Better than Words,' he just pulled all of these great
songs that I'd never heard of right out of his hat. Seth genuinely delights in
unearthing musical numbers that very few people have ever heard of before,"
Joel stated. "So that was what he wanted to do with this holiday album. Split 'Holiday
for Swing!' between those classic Christmas numbers that everyone knows and
those holiday songs that maybe you haven't heard before like 'Christmas
Dreaming' and 'Little Jack Frost Get Lost."
And what was Joel's job on this project? To come up with
orchestrations that he hoped would then make Seth laugh.
"Look, when you're working with a comedy professional,
you generally keep your jokes to yourself.
Because there's just no way that you can ever come with a gag that this
guy hasn't heard before or doesn't already know," McNeely explained.
"But what I can do — by making the orchestrations for these holiday songs
as fun as possible — is make Seth laugh with music. Try and tell a story with
each arrangement. Take — for example — 'Mele Kalikimaka.' The way that I orchestrated
this song for 'Holiday for Swing!,' it supposed to sound
like something straight out of a Bob Hope / Bing
Crosby Road picture. A moment from one of those movies where they enter
a jungle clearing and find this crazy witch doctor getting ready for Christmas.
That's just the sort of arrangement that I knew would make Seth laugh. And it
did."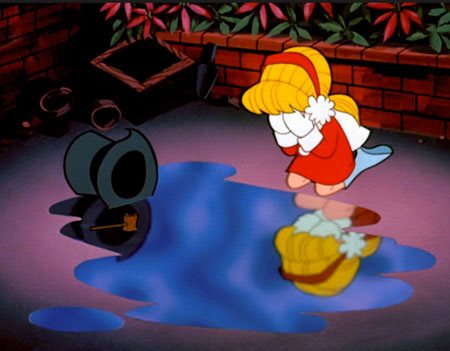 Copyright Classic Media, LLC. All rights reserved
Mind you, not every witty reinvention of a holiday classic that
Joel dreamed up for "Holiday for Swing!" made
the final cut. Take — for example — Joel's bluesy take on "Frosty the
Snowman."
"When everyone else does 'Frosty,' they treat it as
this upbeat, bouncy tune. But if you actually listen to the lyrics, you then
realize that 'Frosty' is this really sad holiday song. I mean, he dies, the snowman
melts at the end of this song. So I thought that it might be fun to embrace the
sad story that those lyrics are actually trying to tell people. Turn 'Frosty
the Snowman' into this really dark, kind of bluesy dirge. But every which way I
went with that arrangement, it just felt false. I still believe in this
concept. I think that there's a genuinely funny take on this holiday classic in
there somewhere. But in the end, what Seth and I were looking to do with 'Holiday
for Swing!' was create a sincere, authentic Christmas album. Make something
that celebrated these songs, not do something that was mean-spirited or riffed
on these holiday classics. Which is why 'Frosty' never made it past the this-sounds-like-a-funny-idea
stage," McNeely said.
And once those first six holiday songs were laid down, what
with working on "Ted," "Family Guy," "American
Dad," "A Million Ways to Die in the West" and
"Cosmos," it would be another full year before Seth & Joel could
get then together again and record the last seven tracks for "Holiday for
Swing!"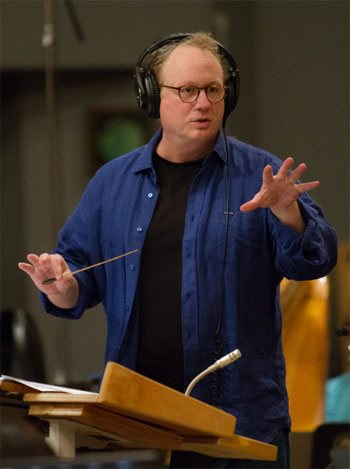 Arranger / composer Joel McNeely
"And 'The Christmas Song' at the very end of this
album, that was just a Hail Mary. We were done recording and there was this
beautiful grand piano there in the recording studio. And I said 'Hey, you wanna
do this?' So we quickly up a mic and then did 'A Christmas Song' two times
straight through. And the second take is what you can now hear in its entirety
on the album. It was recorded live just with that piano. A simple and sincere
version of that song," McNeely recalled. "Which — to be honest — was
kind of the effect that I was going for. That — after all of the wackiness and
merriment that had preceded 'The Christmas Song' on 'Holiday
for Swing!' — I thought that it might be smart to put something quiet and
reflective at the end at this recording."
Well, clearly Christmas shoppers have approved of what Seth
& Joel put together. Given that — for a time — "Holiday
for Swing!" was the No. 1 recording for 2014. Just last week, this Universal
Republic recording occupied the
Number 8 position on Billboard's Holiday Album chart.
"Look, the fact that this album has been selling well is great
news. But from Seth's point of view, what really matters most is that the stuff
he loves — orchestral jazz — is getting out there again and being heard and
that people seem to be enjoying it," Joel stated. "I mean, you have
to understand that Seth doesn't take vacations. The way that he blows off steam
is by doing something he really loves. Which is singing. So when we were doing
promo for 'Holiday for Swing!' earlier this month and — in the span of one day
— Seth had to sing live on 'Good Morning America,' 'Live with Kelli and
Michael,' 'The View' and then finish that trip to NYC by performing on NBC's 'Lighting-of-the-Rockefeller-Center-Christmas-Tree'
TV program … I've honestly never seen the guy happier. These music projects
are just like candy to him."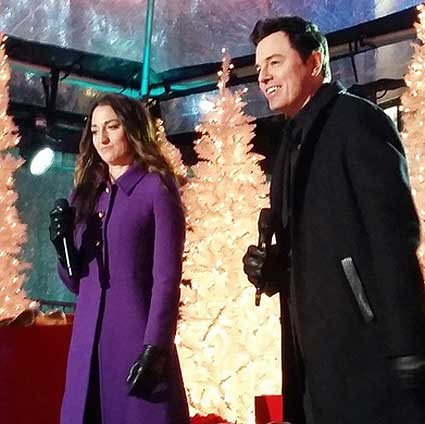 Sara Bareilles and Seth MacFarlane perform "Baby, It's Cold Outside" at
the 82nd Rockefeller Center Christmas Tree Lighting ceremony.
Copyright National Broadcasting Company. All rights reserved
Which perhaps explains why MacFarlane is already texting McNeely with ideas
and concepts for yet another album. One that Joel is really not free to talk
about at this point, but — should it ever actually come to pass (which, given
Seth's extremely packed schedule, is a very legitimate concern) — it could
possibly top the fun of "Music is Better than Words" and "Holiday
for Swing!"
FYI: If you'd like to see MacFarlane perform live, he'll be
singing on New Year's Eve with the San Francisco Symphony. Where — I'll bet
you — Seth will be performing Joel's arrangement of that Frank Loesser holiday
favorite, "What Are You Doing New Year's Eve?"
This article originally appeared on the Huffington Post's Entertainment page on December 24, 2014
Sing Along with Mickey and Oswald in Epic Mickey 2: The Power of 2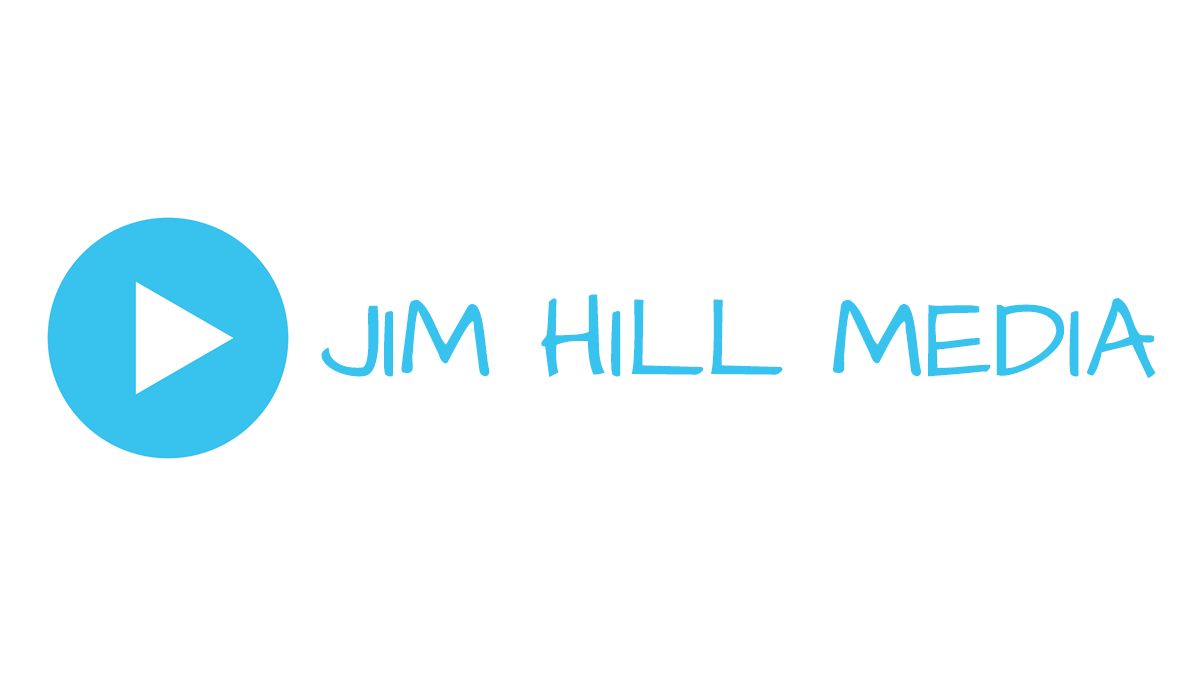 Disney
Interactive Media Group and game designer, master storyteller and huge Disney
geek Warren Spector announced the sequel to last year's Wii game "Disney Epic Mickey
,"
with some changes that fans will love – or hate. The problems with the camera that plagued
Epic Mickey will be a thing of the past, and Oswald will be a playable,
speaking character.
Traditionalists
may argue that since Oswald never had a voice in his Disney shorts, he shouldn't
talk now. However, the majority of gamers who play the Epic Mickey games won't
know this, and might find a silent character off-putting. He DID speak in Epic
Mickey, but the sounds that emanated from the characters were more like sighs
and grunts, something Warren Spector stated (in Nintendo Power Magazine) was
akin to the classic Mario games.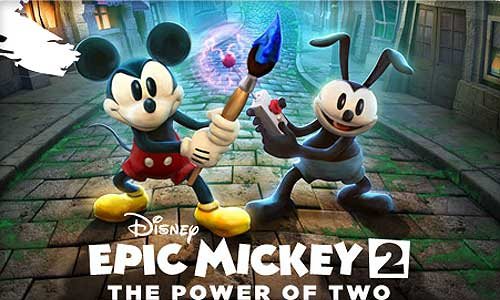 Copyright Disney Enterprises, Inc. All rights reserved
Not
only will the characters speak in Epic Mickey 2: The Power of Two, they will sing! Epic Mickey 2: The Power of Two will be a
classic Disney magical, musical adventure, with songs written especially for
the game by James Dooley ("Pirates Of The Caribbean: The Curse Of The Black Pearl
/ At World's End," "The Simpsons Movie") and Mike Himelstein ("Shrek," "Mickey Mouse Clubhouse") – note: Himelstein wrote the hilarious "Welcome to Duloc."
Oswald
will not only be a playable character for co-operative play (two people playing
together) but will also be a strong NPC (non-player character), with intuitive
AI (artificial intelligence). What do all these acronyms mean? It means that
even if you're playing alone as Mickey, Oswald will join you independently and
actually help you get along as the game progresses. This is a wonderful and
rare thing in the gaming world.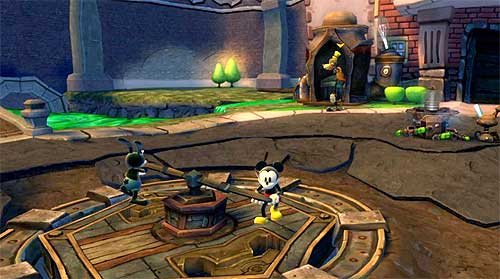 Copyright Disney Enterprises, Inc. All rights reserved
PlayStyle
Matters, which was explored a bit in the first game, will be further exploited
in the sequel. PSM means that the decisions you make as a player toward "good"
or "scrappy Mickey are actually reflected in later gameplay, Mickey with his
paint/thinner brush like in the first game, Oswald with a remote control that
controls electricity. In Epic Mickey,
Mickey actually changed his looks depending upon whether the player played him
as kind or not.
Disney Epic Mickey 2: The Power of Two
will be the first cross-platform Epic Mickey game,
playable not only on the Nintendo Wii
but also on the Xbox 360
and the PlayStation 3, introducing the story and characters to a much wider audience of
gamers.