Walt Disney Studios Home Entertainment to release Diamond Edition of "Bambi" on March 1st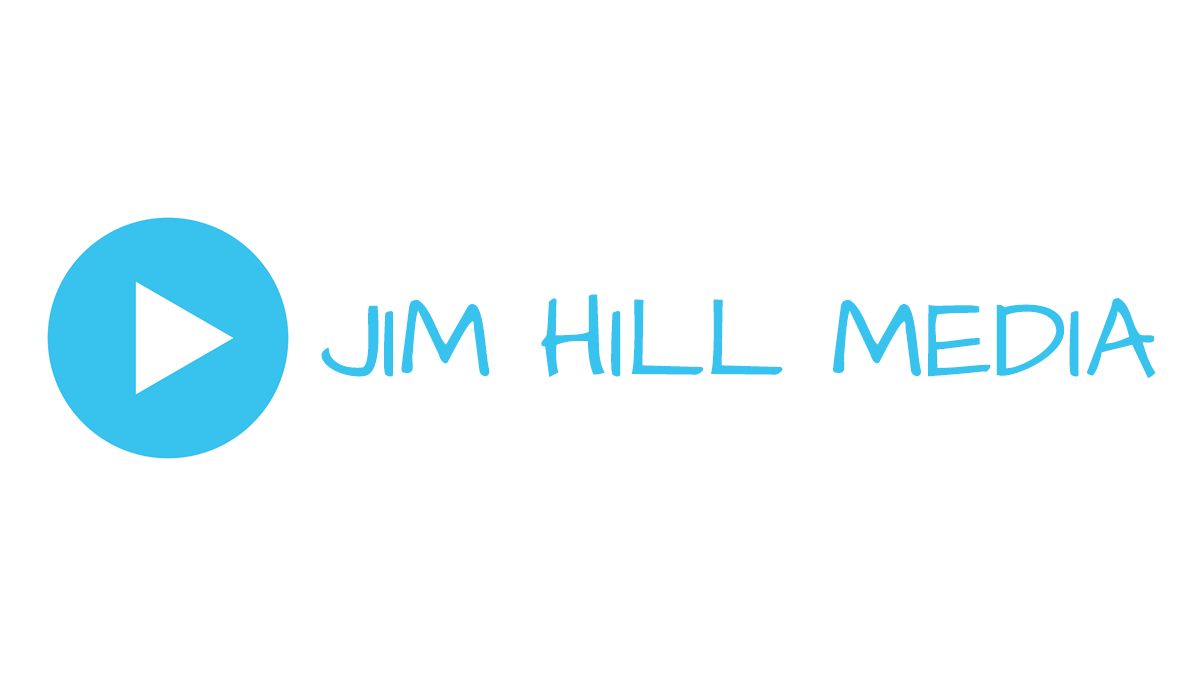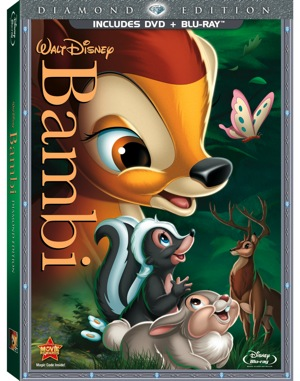 DISNEY ADDS A NEW GEM TO THE BLU-RAY™ DIAMOND COLLECTION
Walt Disney's
BAMBI Diamond Edition
Releases From The Disney Vault on March 1, 2011
Burbank, Calif., December, 2010 – The Walt Disney Studios proudly announces the addition of BAMBI to its coveted, cutting-edge Blu-ray™ Diamond Collection line-up of Disney's greatest animated-classics. Released from the Disney vault for a limited time only, BAMBI Diamond Edition features the loveable and adorable wide-eyed fawn and his forest friends in Blu-ray high-definition on March 1, 2011.
The Diamond Edition debut of BAMBI, Walt's fifth full-length animated classic, is an endearing tale about a young prince of the forest who learns valuable life-lessons about friendship, love, and the miracle of life. The movie is a must-own coming-of-age story that Walt Disney Studios Home Entertainment has especially packaged with families in mind – providing the ultimate, interactive hi-def home entertainment experience with a newly enhanced digital restoration, enhanced picture and sound, games, activities and more.
The new BAMBI Diamond Edition will be available as a 2-Disc Disney Combo Pack (Blu-ray + DVD) for the suggested retail price of $39.99 US/$46.99 Canada, a High Definition Movie Download for the suggested retail price of $19.99 US/$39.99 Canada, and/or a Standard Definition Movie Download for the suggested retail price of $14.99 US/$24.99 Canada. Those who wish to own the standard definition DVD version of BAMBI will need to wait seven additional weeks – until April 19, 2011.
Disney's new "Second Screen" technology, which is being introduced for the very first time on the BAMBI Diamond Edition release, will further transform the at-home movie watching experience by empowering viewers with the ability to engage with film content on multiple media platforms and bring them to life in their own hands at the touch of a button. By simply downloading the new Disney Second Screen App onto an internet-connected computer or iPad™* and synching it to the movie, consumers will instantly be able to dive deeper into the film by engaging with fun interactive elements like animated flipbooks, galleries, photos, trivia and more.
Film Synopsis:
As morning light breaks across the meadow, a young deer named Bambi is born and hailed as 'Prince of the Forest.' Soon Bambi emerges from the thicket on wobbly legs, much to the delight of his new friends, Thumper, the playful rabbit, and Flower, the bashful yet lovable skunk. But the fun of nibbling on fresh blossoms and frolicking through the woods is only the beginning. Exploring his new world, and guided by the wisdom of Friend Owl,Bambi learns valuable life lessons with every adventure – experiencing the power of friendship, family, and love along the away.
[View:http://www.youtube.com/watch?v=8RabnWiEryQ]
The Making of the Film:
BAMBI was Walt Disney's fifth animated full-length feature film which released in 1942 during World War II and took approximately five years in the making due to the exquisite artwork and attention to detail of each and every scene, character and figure. The artwork itself was created by some of the legendary "nine old men," including Frank Thomas, Ollie Johnston, Marc Davis, Milt Kahl and Eric Larson and in order to achieve the film's unprecedented level of realism, animators modeled anatomical studies using live animals (including a pair of fawns named Bambi and Faline) and imbued each with a uniquely endearing personality. Bambi's delightful forest home received the same painstaking attention to detail, as background artists painted hundreds of landscapes based on extensive field research and nature photographs.
Walt Disney broke the longstanding animation tradition by casting child actors in the roles of Bambi's young animals, including Bobby Stewart as Baby Bambi, Donnie Dunagan as Young Bambi, Hardie Albright as Adolescent Bambi and Peter Behn as Young Thumper. The cast also includes Sam Edwards as Adult Thumper, John Sutherland as Adult Bambi, Paula Winslowe as Bambi's Mother and Sterling Holloway (the voice of Winnie the Pooh and The Jungle Book's Kaa, the snake) as Adult Flower.
Film Accolades:
BAMBI was nominated for three Academy Awards® for Best Song ("Love Is a Song,"), Best Sound Recording, and Best Music Score of a Dramatic or Comedy Picture. To date, BAMBI is No. 3 on the list of American Film Institute's Top 10 Animated Films of All Times. And in 2004, the movie was commemorated with a first-class U.S. postage stamp and in the 1990's the film inspired astronomers to name a pair of asteroids after the adorable characters – Thumper (April 20, 1993) and Bambi (October 17, 1995).
Bonus Features:
Backstage Disney:
· Inside Walt's Story Meetings-Enhanced Edition – A fascinating, multi-tiered, interactive story-telling experience. Go back in time with dramatic voice re-enactments of the moments with Walt that led to the creation of this classic film.
· 2 Never Before Seen Deleted Scenes
· Deleted Song: "Twitterpated"
· Blu-ray Galleries—A collection of the extraordinary images originally created as part of the design process for BAMBI.
Family Play: Games & Activities:
· Disney's Big Book of Knowledge: BAMBI Edition— An interactive educational gaming experience that uses the film as a learning tool. Players can customize their own Big Book of Knowledge and learn all about forest creatures, seasons andmore! Each time a player completes a task, they are rewarded with new stickers to decorate their Big Book of Knowledge.
Digital Exclusive:
· The Golden Age
Classic DVD Bonus Features:
· The Making Of BAMBI: A Prince Is Born—A comprehensive look at the making of BAMBI covers the story, the characters, the actors, the art design, the music and the history of Walt Disney's classic film using behind the scenes footage, production stills, animation, artwork and multiple interviews withperformers and behind the scenes participants.
. Tricks of the Trade (excerpt)—In an episode from the 1957 Disneyland TV show, Walt narrates the story of the multiplane camera, an animation innovation crucial to the production of BAMBI.
· Inside the Disney Archives—Disney Supervising Animator Andreas Deja guides viewers through Disney's Animation Research Library, where artwork from past Disney animated feature films is stored, including early story sketches of Bobo the rabbit," (who became Thumper), glass paintings made for the multiplane camera and more.
· The Old Mill—Winner of the 1937 Academy Award® for Best Short Subject/Cartoon, The Old Mill was a testing ground for several techniques critical to Walt's artistic vision for BAMBI, including the multiplane camera, animating realistic animals and experimenting with such natural occurrences such as wind, rain and lightning.
· DisneyPedia: Bambi's Forest Friends

About Disney's Blu-ray™ Diamond Collection:
Disney's Blu-ray™ Diamond Collection represents The Walt Disney Studio's most prestigious animated classics. The Collection will be comprised with many of Walt Disney's most treasured animated classic titles to be released through 2016. These titles represent the highest level of picture and sound, feature groundbreaking, state-of-the-art immersive bonus content, and include unprecedented levels of interactivity, personalization and customization, made possible because of Blu-ray technology.
About The Walt Disney Studios:
For more than 85 years, The Walt Disney Studios has been the foundation on which The Walt Disney Company (DIS: NYSE) was built. Today, the Studio brings quality movies, music and stage plays to consumers throughout the world. Feature films are released under four banners: Walt Disney Pictures, which includes Walt Disney Animation Studios and Pixar Animation Studios, Disneynature, Touchstone Pictures and Marvel. Through the Home Entertainment division, innovative distribution methods provide access to creative content across multiple platforms. Original music and motion picture soundtracks are produced under Walt Disney Records and Hollywood Records, while Disney Theatrical Group produces and licenses live events, including Broadway theatrical productions, Disney on Ice and Disney LIVE! For more information, please visit www.disney.com.
Disney Will Bring D23: The Ultimate Disney Fan Event to Anaheim, California in August 2024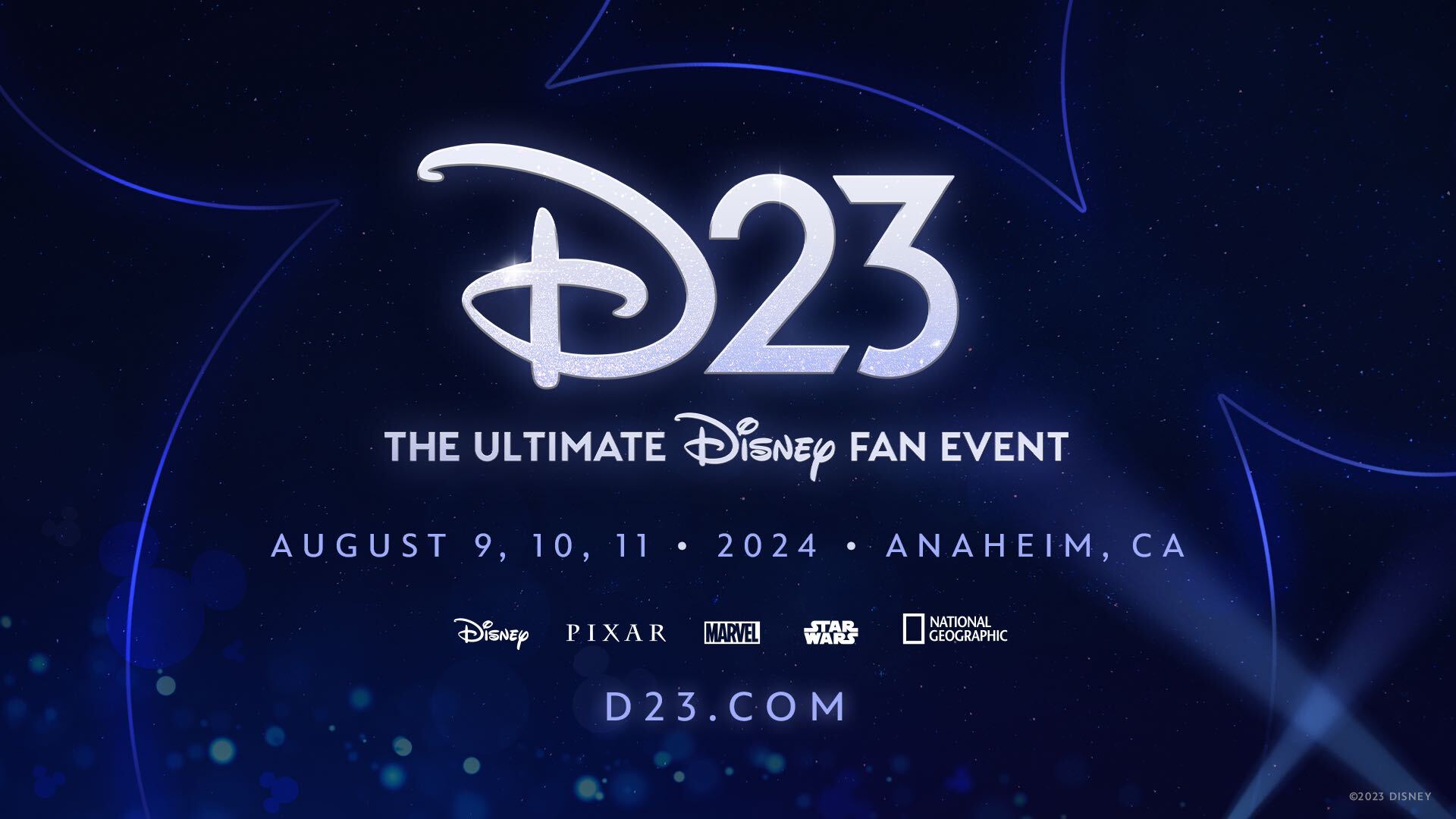 Expanded Disney Fan Experience Will Feature New and Exciting Events Across Multiple Locations, Including a D23 Takeover of the Happiest Place On Earth, Evening Entertainment at the Honda Center, D23 Day at Angel Stadium, and Much More
Fan Favorites Including Exhibits, Panels, Shows, and Shopping Will Dazzle Disney Enthusiasts at the Anaheim Convention Center
D23: The Ultimate Disney Fan Event is a one-of-a-kind fan experience like never before with spectacular shows, new venues, and multiple days of entertainment that will bring together the best of Disney, Pixar, Marvel, Star Wars, and more!
Highlightswill include:
Sunday, August 4: D23 Day at Angel Stadium, where D23 fans are invited to attend the Los Angeles Angels vs. New York Mets game.
Thursday, August 8: D23 kickoff celebration at Disneyland Resort.
Friday, August 9 – Sunday, August 11: Shopping, exhibits, panels, and presentations will take place at the Anaheim Convention Center during the day, with the fun extending into the evening at the Honda Center, the bigger home to marquee shows.
Tickets for D23: The Ultimate Disney Fan Event will go on sale in Spring 2024, with ticketing options to be announced later for access to the Anaheim Convention Center and the Honda Center. Admission for D23 Day at Angel Stadium and the D23 kickoff celebration at Disneyland Resort will be available as separate ticketed events. Additional details for D23: The Ultimate Disney Fan Event will be announced in early 2024.
You can get updates by staying connected to D23 via social media (@DisneyD23 on Facebook, Instagram, X), D23.com, and our weekly D23 FanFare email (sign up for free as a D23 General Member at JoinD23.com).
About D23
The name "D23" pays homage to the exciting journey that began in 1923 when Walt Disney opened his first studio in Hollywood. D23 is the first official club for fans in Disney's nearly 100-year history. It gives its members a greater connection to the entire world of Disney by placing them in the middle of the magic year-round through its quarterly publication, Disney twenty-three; the latest news and stories on D23.com; member-exclusive offers and discounts; the popular D23 Inside Disney podcast; and special experiences for D23 Members throughout the year.
Fans can join D23 at Gold Membership ($99.99/year), Gold Duo Membership ($129.99/year), and General Membership (complimentary) levels at D23.com. To keep up with all the latest D23 news and events, follow DisneyD23 on Facebook, Instagram, X, TikTok, and YouTube.
Star Wars Spoof: Space Robots in Outer Space Ep X: Battle for the Halcyon: The Last Starcruiser
Sure, Star Wars is cool and all. But let's not forget about that other multi-part sci-fi cinematic spectacular, "Space Robots in Outer Space." In fact, Hank Lonely (Hollywood's ultimate hyphenate — actor / producer / director / writer / guy who makes sure the Porto Potties are kept squeaky-clean) just announced that there'll soon be a 10th installment of this … Well, not exactly beloved. How about we say "admired from afar" instead? … series coming to a theater near you. In fact, here's the highly anticipated teaser trailer for that project. Which is supposed to be titled "Space Robots in Outer Space X — Battle for the Halycon: The Last Starcruiser."
Okay. Now the real story … In honor of Star Wars Day (i.e., May 4th. As in "May the Fourth Be With You"), Len Testa and I are sharing something that we produced with the help of all the nice folks who joined us last month aboard the Halycon.
We turned the Galactic Starcruiser as well as Black Spire Outpost into the backdrop for an affectionate send-up of all things Stars Wars. We hope that you (more importantly, the legal team at Lucasfilm) take this faux trailer in the spirit with which it was intended. Special thanks to Aaron Adams for so skillfully stitching all of this footage together. Also thanks to the team at Storybook Destinations, Touring Plans and the talented cast & crew aboard the "Star Wars: Galactic Starcruiser" for making this "Disney Dish" fan event so memorable.
Disney's New Trailer Reveals How Ralph & Vanellope Get to the Internet in "Ralph Breaks the Internet: Wreck-It Ralph 2"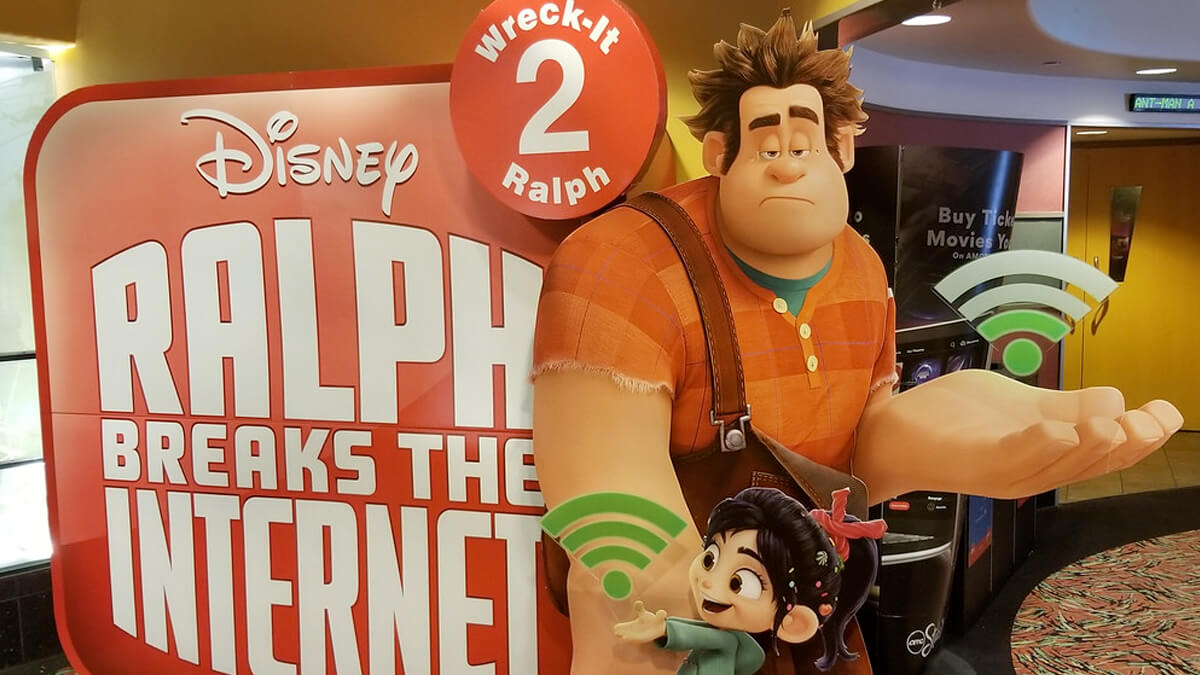 When "Wreck-It Ralph" opened on Nov. 2, 2012, it turned in the highest opening weekend ever for a Walt Disney Animation Studios film at the time of release. Now Disney is hoping Ralph will not only break the Internet but the 2018 Thanksgiving boxoffice records as well.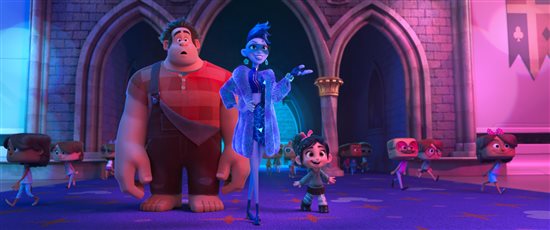 The film re-teams the original director, producer and co-writer behind "Wreck-It Ralph." The screenplay is currently being written by Phil Johnston and Pamela Ribon. Director Rich Moore, producer Clark Spencer, and co-writer Phil Johnston partnered with fellow director Byron Howard and co-writer/co-director Jared Bush to create the Academy Award®-winning blockbuster feature "Zootopia."
ROYAL REUNION – In "Ralph Breaks the Internet: Wreck It Ralph 2," Vanellope von Schweetz-along with her best friend Ralph-ventures into the uncharted world of the internet. When she finds herself surrounded by Disney princesses, she's surprised to learn that she actually has a lot in common with them. The scene, highlighted in a new trailer for the film (below), features several of the original princess voices, including Auli'i Cravalho ("Moana"), Kristen Bell (Anna in "Frozen"), Idina Menzel (Elsa in "Frozen"), Kelly MacDonald (Merida in "Brave"), Mandy Moore (Rapunzel in "Tangled"), Anika Noni Rose (Tiana in "The Princess and the Frog"), Ming-Na Wen ("Mulan"), Irene Bedard ("Pocahontas"), Linda Larkin (Jasmine in "Aladdin"), Paige O'Hara (Belle in "Beauty and the Beast") and Jodi Benson (Ariel in "The Little Mermaid"). Featuring Sarah Silverman as the voice of Vanellope, "Ralph Breaks the Internet: Wreck It Ralph 2" opens in theaters nationwide Nov. 21, 2018.