What was supposed to be built at Disney World during the "Disney Decade"?
Want another peek at what might have been? Jim Hill provides a complete listing of all the rides, shows, resorts & attractions that were supposed to built in Orlando during the "Disney Decade." Most of which never made it off the drawing board.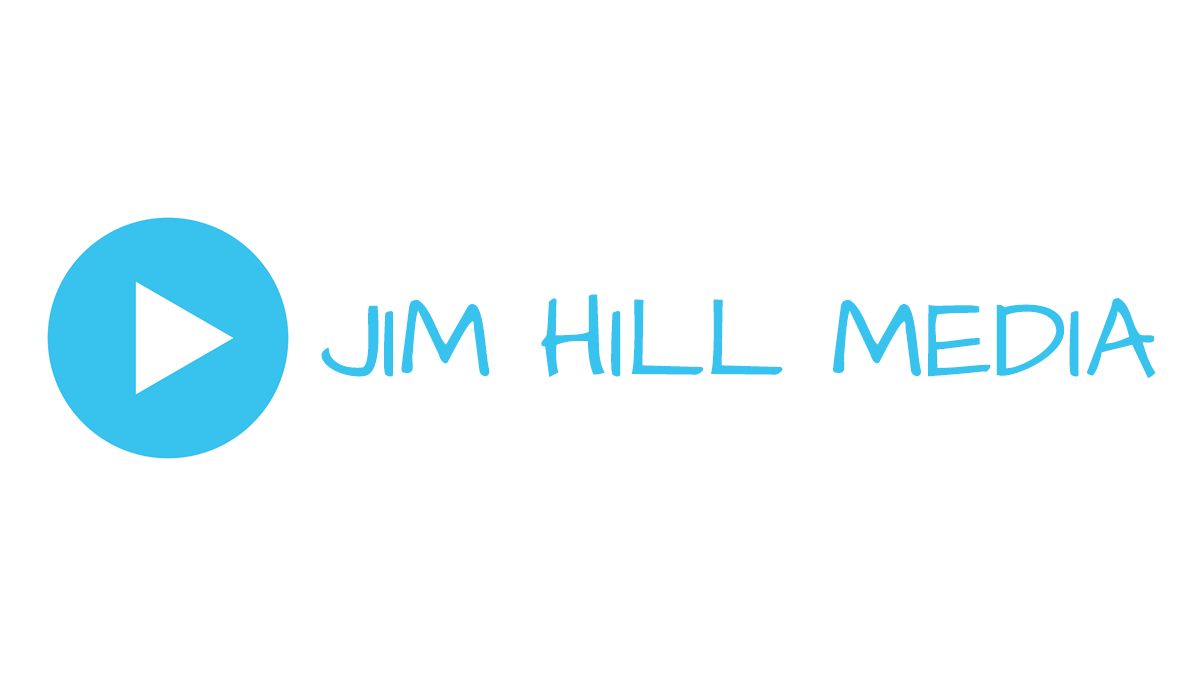 So — what with all the hoopla surrounding that "Coming Home" commercial — I decided to go check out disneydestinations.com yesterday. And — as I'm poking around the site — I come across the "Happiest Memories on Earth Timeline" . This neat feature which allows you to explore the history of the Disney theme parks by going decade-by-decade and/or year-by-year.
And I have to admit that — at first, anyway — I was really enjoying playing around this timeline. I mean, it was obvious that someone with a slightly perverse sense of humor had set the whole thing up.
How so? Well, take — for example — 1997. That year's entry makes absolutely no mention of "Light Magic." Which — given all the money & the embarassment that this ill-fated streetacular cost the Walt Disney Company — is perfectly understandable.
Yet which piece of art is used to illustrate 1997 in the "Happiest Memories on Earth Timeline" ? You guessed it. A "Light Magic" concept painting.
Similiarly, the year 1998 is represented by several photographs of Disneyland's Rocket Rodds. Which tells me that whoever put the "Happiest Memories on Earth Timeline" timeline for the disneydestinations web page isn't a big fan of sweeping the Mouse's more embarassing moments under the rug.
Or –at least — I thought so. Until I read what was written under the "1991" section of the timeline. Take a gander at this radical reworking of Disney Company history:
Michael Eisner announces Disney's Animal Kingdom theme park, part of the planned "Disney Decade" that also includes Disneyland Resort Paris, the acquistion of ABC, the premiere of Disney Cruise Line, and the company's entry into interactive entertainment, the internet and theatrical production.
What a crock. Actually, Disney's Animal Kingdom theme park wasn't officially announced 'til June of 1994. And — back in 1991 — ABC wasn't the network that the Walt Disney Company wanted to acquire. But — rather — it was CBS that Mickey then had his eye on. And as for the Mouse getting into theatrical production … Well, if you read the Jerry Orbach tribute that I wrote last week, then you know how Broadway's "Beauty & the Beast" actually came into being.
As longtime JHM readers already know, I really don't like it when Mouse House flaks play fast-and-loose with the company's history. I mean, to just dismiss the whole "Disney Decade" project with a single poorly written sentence … That's a travesty.
You see, the "Disney Decade" … That was the moment when — for a lot of people who worked for the Walt Disney Company, anyway — when the dream died.
For — you see — that's how Michael Eisner and the late Frank Wells actually initially described their ambitious plans for the "Disney Decade." As a dream. In the introduction to the Walt Disney Company's 1990 employee annual report (which — appropriately enough — was entitled "Building a Dream Together"), Eisner and Wells said that they'd …
"… been doing a lot of dreaming lately. And we've given the dream a name. It's called the 'Disney Decade.'

The Disney Decade is about a dream, and it's about us. The plans are incredibly exciting and will touch every aspect of this Company … New hotels, new attractions and a new theme park at Walt Disney World. The biggest expansion of Disneyland in its history.

Some might think that we're overly ambitious. We don't think so … We're confident about achieving the mission we've set for the next ten years. After all, people the world over expect Disney to dream, and dream big.

If the Disney dream, in its sheer size and scope, takes your breath away, we want you to know it does the same for us. But we're certain that there are still plenty more dreams to go around. Just wait until … ten years from now … when we'll be talking about Mickey's Millennium!"
'Way back in November of last year, I wrote a "Why For" where I went into great detail about all the stuff that was supposed to be built at the Disneyland Resort during the "Disney Decade." But — to date — I haven't yet talked about all the rides, shows and attractions (not to mention all the restaurants & resorts) that were supposed to be built at Walt Disney World during that same 10-year span.
Well, you may want to find yourself a comfortable chair. For I'm about to talk about everything that WDW visitors missed out once Eisner decided to radically scale back his plans for the Central Florida resort. And I mean everything.
I have to warn you, folks: This is a really long list. More to the point, this story does not end happily. The more you learn about all the rides, shows and attractions that you missed out on … Well, the madder and more disappointed you're likely to get. So don't say that I didn't warn you, okay?
Now a little background info before we get started here: The info that I'm about to share with you comes straight from two official Disney Company documents: the aforementioned "Building a Dream Together" employee annual report from 1990 plus an informational hand-out that I picked up at the EPCOT Outreach Center many moons ago.
According to these two documents, the Walt Disney Company's original plans for its Central Florida resort during the "Disney Decade" were supposed to have gone something like this:
At the Magic Kingdom Park

One Man's Dream — For 1992, a spectacular salute to 65 years of musical highlights from such favorite Disney films as "Peter Pan," "Snow White and the Seven Dwarfs," "Lady and the Tramp," "The Jungle Book" and many more, The extravaganza, to be presented at Tomorrowland Theatre throughout the day, has been a super hit at Tokyo Disneyland for the past four years.


Splash Mountain — The ultimate water thrill ride, Splash Mountain comes to the Magic Kingdom Park in early 1993. The attraction has drenched visitors with excitement at Disneyland Park since its opening last year. Guests ride eight-passenger logs through marvelous musical scenes from the Disney classic "Song of the South" on their way to a meeting with destiny: a drop off the side of a five-story mountain through Brer Rabbit's briar patch to a misty pool below.

The Little Mermaid — In 1994, guests will be able to board a magical, musical ride into the undersea world of the mermaid Ariel and her friend, Sebastian the crab

New Circle-Vision 360 Adventure — In 1994, a fascinating new Circle-Vision 360 attraction will quite literally surround visitors with the wonders and cultures of Western civilization. Sophisticated Audio-Animatronics characters will disappear into the film at key points, blurring the line between fantasy and reality.

New Tomorrowland — Science fiction replaces reality, allowing Walt Disney Imagineers' imaginations to run wild. For 1996, this area will be redesigned as an intergalactic space port for arriving aliens. It will feature two major new attractions.

Alien Encounter

— will put visitors in the midst of a "teleportation" experiment gone wrong and materialize the most terrifying alien being in the universe in their midst.

Plectu's Fantastic Intergalactic Revue

— will be an outer-space musical-variety revue featuring a troupe of Audio-Animatronics itinerant alien musicians whose spaceship has landed in Tomorrowland.

EPCOT Center

Future World for the '90s — Enhancements moving Future World into the 21st Century will begin within its major pavilions presented by outstanding American corporations in 1992 during the 10th anniversary of Epcot Center. These enchancements (which are scheduled to begin in 1992) will be made to Spaceship Earth, The Land, Horizons, Journey into Imagination, World of Motion, Universe of Energy and Communicore.

New 3-D Musical Movie — Premiering by 1994 will be a thrilling 3-D musical movie from George Lucas and The Walt Disney Studios. Plans call fora high-tech production to dazzle audiences as does "Captain EO," a smash hit presented at "Journey into Imagination."

Soviet Union Showcase — A USSR showcase is the addition most requested by EPCOT Center visitors. Its towering onion-domed spires and bold architecture will add a breath-taking new silhouette to the World Showcase skyline by the end of 1999.

Matterhorn Mountain and Bobsled Ride — Inspired by Europe's tenth most famous mountain, this imposing landmark will be built on the shores of World Showcase Lagoon beside a charming Swiss Village. Bobsleds will race up, down, around and through a chilling ice-covered adventure. It will be the centerpiece of a picturesque Switzerland Showcase.

Copyright 1989. The Walt Disney Company.
Journeys in Space — The long-planned Future World attraction will present visitors with the ultimate thrill-ride: space travel. New systems and special effects will be used to give guests an outer-space experience without ever leaving terra firma.

Copyright 1989. The Walt Disney Company.

Disney-MGM Studios Theme Park

Honey, I Shrunk the Kids Adventure Zone — Opening in 1990, this oversized outdoor play area — featuring 20-foot blades of grass, monstrous insects and giant sprinklers — gives "miniaturized" guests another place to explore at the studio theme park.

The Disney Channel Auditions — An entirely new kind of audience participation show where guests not only will watch auditions in progress but will have a chance to show their own talents. The winning "screen test" will be shown on The Disney Channel. Those with outstanding talents may even win professional roles in future productions. In the pre-show, the audience will review the varied schedule of shows like "Pooh Corner," "The New Mickey Mouse Club" and others. Guests then move directly onto a soundstage viewing area. Young and old will compete with others selected from the audience for their shot at show business. A TV director will oversee the tests to determine a winner for each of the 30-minute shows. Sets from popular Disney Channel shows will be built at the Disney-MGM Studios.

MuppetVision 3-D — "Kermit the Frog presents MuppetVision 3-D" will be created by Walt Disney Imagineering. Already in production, the show combines incredible 3-D film technology, live special effects and new Disney Audio-Animatronic figures to literally put Muppet-style mania right in the lap of visitors.

The Muppet Movie Ride — Opening in 1993, this ride will take guests on a misguided tour through movie history — Muppet-style.

Sunset Boulevard Area — A new Tinseltown street beginning at Hollywood Boulevard and extending the atmosphere of film's past and present with landmarks along the way geared to memorable moments. To be opened in the first half of the decade, the new attractions includes:

Roger Rabbit's Hollywood

— An exciting group of attractions, shops and restaurants are centered around the Toontown Depot including unique merchandise and the Terminal Bar & Grill. Set to open in the mid-1990s.

Toontown Trolley — This madcap adventure uses flight simulators surrounded by animated screens to take guests on a hare-raising trolley ride through a zany cartoon world with Roger Rabbit at the helm. Inspired by the Touchstone Pictures release, "Who Framed Roger Rabbit?," a joint collaboration with Steven Spielberg's Amblin Entertainment.
Baby Herman's Runaway Baby Buggy Ride — Guests aboard oversize buggies will careen through sets of Toontown Hospital, flying downstairs, crashing through doors and flying over beds. This ride was inspired by the recent Disney animated short, "Tummy Trouble."
The Benny the Cab Ride — Which puts guests behind the wheel of the famous Toontown taxi.

*** Tracy's Crimestoppers — This action-packed adventure will bring a new level of state-of-the-art technique to simulation, Audio-Animatronics, sound and special effects.


Copyright 1989. The Walt Disney Company.

Mickey's Movieland — Disney history will come to life in the form of a replica of the original Hyperion Avenue Disney Studios. Inside, children amd adults will encounter whimsical hands-on movie-making equipment which will give them a chance to live out their own motion-picture-producing fantasies.


Copyright 1989. The Walt Disney Company.

In the 1990s, additions at the Disney-MGM Studios Theme Park will include a whole new menu of unusual dining experienceces, "streetmosphere" characters and many other themed specialty shops that will line the new boulevards.

Fourth Theme Park

The company expects to design and begin construction on a fourth entertainment theme park at the Walt Disney World Resort by the end of the decade.

Resort Developments

New resort projects include major resort hotels plus Disney's Boardwalk, an exciting new entertainment, dining and shopping area. Resort development and construction is under the direction of Disney Development Co.

Disney's Boardwalk — Scheduled to open in early 1994, Disney's Boardwalk is designed in the tradition of the great amusement areas of Atlantic City and Coney Island. The 30-acre project is now under construction just west of EPCOT Center between the Walt Disney World Swan and International Gateway to World Showcase. The following are in the concept stage to be included in Disney's Boardwalk.

Copyright 1989 The Walt Disney Company.

Under the Sea

— a 900-seat indoor aquatic dinner show extravaganza featuring The Little Mermaid and Sebastian.

Family Reunion — A 300-seat environmental theater dinner show that involves guests as a part of the show when the cast sits with them.
Disney Magic — To be included in a possible expansion phase, this incorporates magic with the Disney characters in a dinner show format.

Seven new hotels with "Entertainment" as their main arhitectural theme are to be built as demand warrants with a total of more than 4,800 guest rooms. This is in addition to Disney's Port Orleans and Dixie Landings resorts already under construction. They will range from moderately priced to luxury facilities, but each range will be designed with elaborate detail to extend the fantasy and imagination with created the Magic Kingdom Park to a new dimension in resort experiences. Outstanding architects have been chosen to assist the Disney design team. All will be operated by the Walt Disney World Co.

Master architects working closely with Disney on hotel projects include Michael Graves of Princeton, New Jersey; Robert A. M. Stern of New York City; Antoine Predock of Albuquerque, New Mexico; and Gwathmey Siegel Associates of New York City.

Disney's Mediterranean Resort — 1,000 deluxe rooms in the southeast side of the Seven Seas Lagoon near the Magic Kingdom park plus 45,000 square feet of meeting and convention space. Its architecture is inspired by glamorous resorts of the Greek Islands. It will be located on the monorail system.

Disney's Fort Wilderness Lodge — 700 full-service rooms adjacent to Disney's Fort Wilderness Resort and Campground with the rustic appearance of a national parl lodge.

Disney's Fort Wilderness Junction — 600-room hotel themed in the style of a Wild West town is set for the second phase of Disney's Fort Wilderness expansion.

Kingdom Suites Hotel — 50-75 luxury suites in harmony with Disney's Contemporary Resort, located besides the Seven Seas Lagoon between the Magic Kingdom Park and Disney's Contemporary Resort,

Boardwalk Resort — An all-suite hotel of 530 units will open in early 1994 with a turn-of-the-century character compatible with the adjoining Boardwalk entertainment complex that will link the EPCOT Resort area with the International Gateway entrance to World Showcase.

Two other hotels of 1,000 rooms each will be located in the EPCOT Resort area with Hollywood-related themes.

The new hotel projects are part of an expansion for resort and convention facilities that began in 1985. Seven new hotels have already been completed. Two others that are now under construction, plus the planned projects, will bring the total to 26 separate resort hotel complexes with almost 21,000 rooms on Walt Disney World property by 1995, plus more than 1,000 campsites in Disney's Fort Wildness Resort and Campground. The room total includes hotels in the Walt Disney World Hotel Plaza and Disney's Village Resort.

Construction is well under way on two moderately priced resorts — Disney's Port Orleans (1,008 rooms opening May 1991) and Disney's Dixie Landings (2.048 rooms opening July 1992).

Expanding the attractiveness of the Walt Disney World Resort as a major meeting site, more than 200,000 square feet of convention space is included in the Walt Disney World Swan and the Walt Disney World Dolphin. Disney-operated hotels are adding almost 82,000 square feet of meeting and convention facilities, including 54,800 square feet at Disney's Contemporary Resort and 27,047 feet at Disney's Grand Floridian Beach Resort.

Disney Vacation Club — A new concept in family vacation planning, it will offer members the option of vacationing at the new Disney Vacation Club at the Walt Disney World Resort now being built at the Lake Buena Vista Gold Course. Memberships will be available July 1991.
That sounds like one pretty amazing plan, don't you think? Full of rides, shows, resorts and attractions that (I'm sure) would have made your Disney World vacation that much more memorable.
"So why didn't 70% of these proposed projects actually make it off the drawing board?," you ask. Longtime JHM readers already know the answer to this question. Almost immediately after Euro Disney opened in April of 1992, that resort was plagued with financial problems. And Michael Eisner … In the wake of that fiasco in France, Disney's CEO became quite conservative. As a result, Eisner never again dreamed as big as he used to do back in the late 1980s / early 1990s.
Consequently, the "Disney Decade" died a slow, painful death. As promising project after project — Westcot, Port Disney in Long Beach, Hollywoodland at Disneyland — got severely cut back and/or cancelled altogether.
As I said at the start, folks: This is not a story with a happy ending. The whole "Disney Decade" story is really about a dream that dies. And the truly sad part of this tale is … It all started out so hopefully.
I mean, just read what Michael had them print on the back cover of that 1990 Disney employee annual report:
"As we begin this new decade, we can look back with pride at all that has been accomplished and ahead to what we hope will be the greatest creative effort in our Company's history."
Well, that's not exactly how the next 10 years played out. Sure, there were triumphs like "The Lion King" lying ahead. But — when you think about all the hard times that the Walt Disney Company had to go through in the 1990s (I.E. Frank Wells' tragic death, Jeffrey Katzenberg's departure, the embarassing public flame-outs of Disney's America and Go.com) — it's really kind of sad to think that the management team of the Walt Disney Company moved from the 1980s to the 1990s with such optimism & confidence. Little realizing what really lay in store for the Mouse.
Talk about your dreams deferred. Soooo … What do you folks think about the whole "Disney Decade" debacle?
Jens Dahlmann of LongHorn Steakhouse has lots of great tips when it comes to grilling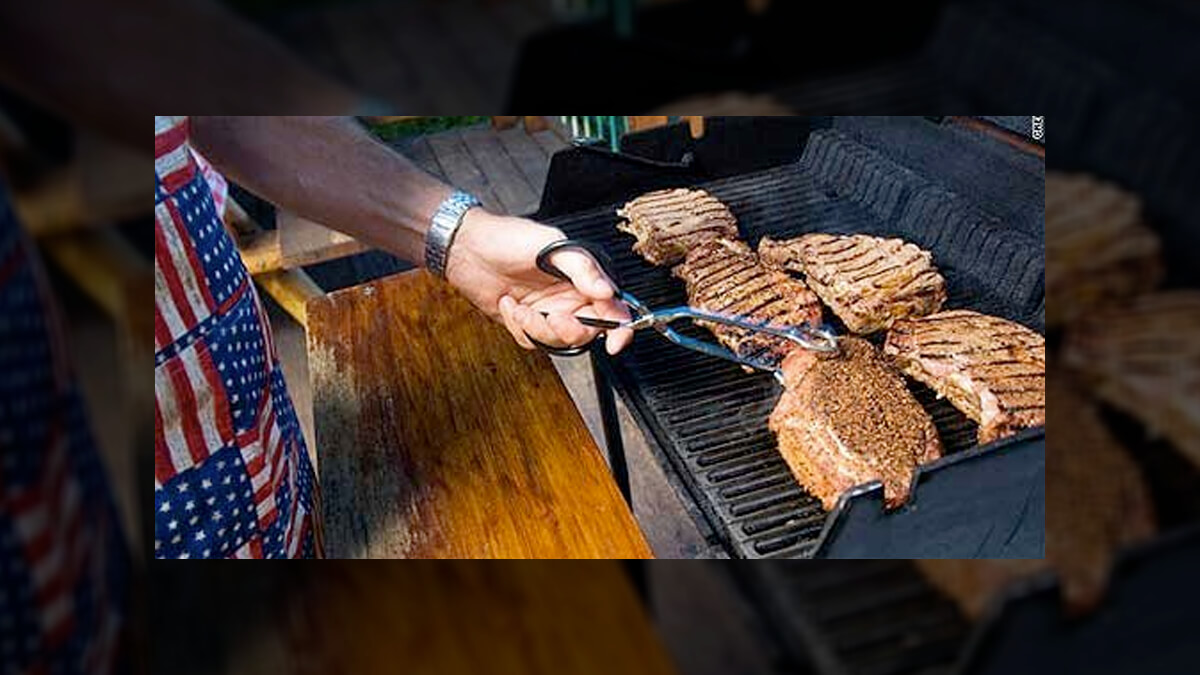 Sure, for some folks, the Fourth of July is all about fireworks. But for the 75% of all Americans who own a grill or a smoker, the Fourth is our Nation's No. 1 holiday when it comes to grilling. Which is why 3 out of 4 of those folks will spend some time outside today working over a fire.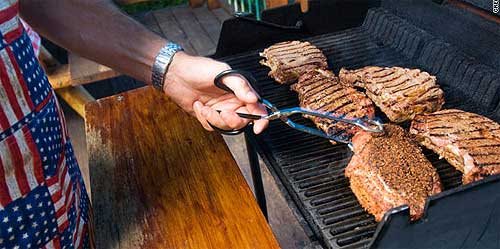 But here's the thing: Though 14 million Americans can cook a steak with confidence because they actually grill something every week, the rest of us – because we use our grill or smoker so infrequently … Well, let's just say that we have no chops when it comes to dealing with chops (pork, veal or otherwise).
So what's a backyard chef supposed to in a situation like this when there's so much at steak … er … stake? Turn to someone who really knows their way around a grill for advice. People like Jens Dahlmann, the Vice President and Corporate Executive Chef for Darden Restaurant's LongHorn Steakhouse brand.
Given that Jens' father & grandfather were chefs, this is a guy who literally grew up in a kitchen. In his teens & twenties, Dahlmann worked in hotels & restaurants all over Switzerland & Germany. Once he was classically trained in the culinary arts, Jens then jumped ship. Well, started working on cruise ships, I mean.
Anyway … While working on Cunard's Sea Goddess, Dahlmann met Sirio Maccioni, the founder of Le Cirque 2000. Sirio was so impressed with Jens' skills in the kitchen that he offered him the opportunity to become sous-chef at this New York landmark. After four years of working in Manhattan, Dahlmann then headed south to become executive chef at Palm Beach's prestigious Café L'Europe.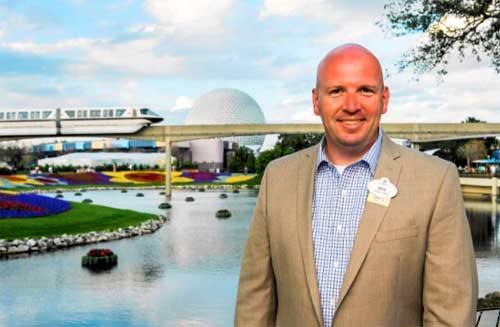 Jens Dahlmann back during his Disney World days
And once Jens began wowing foodies in Florida, it wasn't all that long 'til the Mouse came a-calling. Mickey wanted Dahlmann to shake things up in the kitchen over at WDW's Flying Fish Café. And he did such a good job with that Disney's Boardwalk eatery the next thing Jens knew, he was then being asked to work his magic with the menu at the Contemporary Resort's California Grill.
From there, Dahlmann had a relatively meteoric rise at the Mouse House. Once he became Epcot's Food & Beverage general manager, it was only a matter of time before he wound up as the executive chef in charge of this theme park's annual International Food & Wine Festival. Which – under Jens' guidance – experienced some truly explosive growth.
"When I took on Food & Wine, that festival was only 35 days long and had gross revenues of just $5.5 million. When I left Disney in 2016, Food & Wine was now over 50 days long and that festival had gross revenues of $22 million," Dahlmann admitted during a recent sit-down. "I honestly loved those 13 years I spent at Disney. When I was working there, I learned so much because I was really cooking for America."
And it was exactly that sort of experience & expertise that Darden wanted to tap into when they lured Jens away from Mickey last year to become LongHorn Steakhouse's new Vice President and Corporate Executive Chef. But today … Well, Dahlmann is offering tips to those of us who are thinking about cooking steak tips for the Fourth.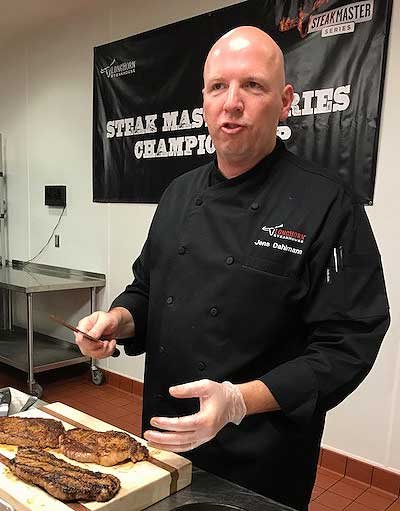 Photo by Jim Hill
"When you're planning on grilling this holiday, if you're looking for a successful result, the obvious place to start is with the quality of the meat you plan on cooking for your friends & family. If you want the best results here, don't be cheap when you go shopping. Spend the money necessary for a fresh filet or a New York strip. Better yet a Ribeye, a nice thick one with good marbling. Because when you look at the marbling on a steak, that's where all the flavor happens," Jens explained. "That said, you always have to remember that — the higher you go with the quality of your meat — the less time you're going to want that piece of meat to spend on the grill."
And speaking of cooking … Before you even get started here, Jens suggests that you first take the time to check over all of your grilling equipment. Making sure that the grill itself is first scraped clean & then properly oiled before you then turn up the heat.
"If you're working with a dirty grill, when you go to turn your meat, it may wind up sticking to the grill. Or maybe those spices that you've just so carefully coated your steak with will wind up sticking to the grill, rather than your meat," Dahlmann continued. "Which is why it's always worth it to spend a few minutes prior to firing up your grill properly cleaning & oiling it."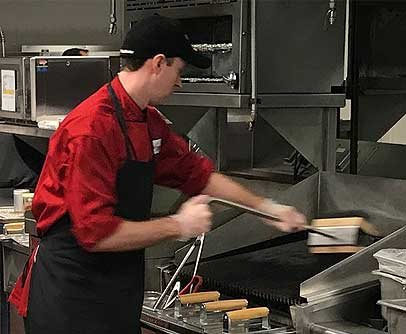 Photo by Jim Hill
And speaking of heat … Again, before you officially get started grilling here, Jens says that it's crucial to check your temperature gauges. Make sure that your char grill is set at 550 (so that it can then properly handle the thicker cuts of meat) and your flattop is set at 425 (so it can properly sear thinner pieces of meat).
Okay. Once you've bought the right cuts of quality meat, properly cleaned & oiled your grill, and then made sure that everything's set at the right temperature ("If you can only stand to hold your hand directly over the grill for two or three seconds, that's the right amount of heat," Dahlmann said), it's now time to season your steaks.
"Don't be afraid to be bold here. You can't be shy when it comes to seasoning your meat. You want to give it a nice coating. Largely because — if you're using a char grill — a lot of that seasoning is just going to fall off anyway," Jens stated. "It's up to you to decide what sort of seasoning you want to use here. Even just some salt & pepper will enhance a steak's flavor."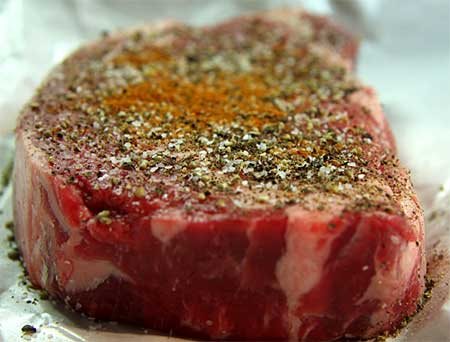 Then – according to Dahlmann – comes the really tough part. Which is placing your meat on the grill and then fighting the urge to flip it too early or too often.
"The biggest mistake that a lot of amateur cooks make is that they flip the steak too many times. The real key to a well-cooked piece of meat is just let it be, "Jens insisted. "Of course, if you're serving different cuts of meat at your Fourth of July feast, you always want to put your biggest thickest steak on the grill first. If you're also cooking a New York Strip, you want to put that one on a few minutes later. But after that, just let the grill do its job and flip your meat a total of three or four times, once every three minutes or so."
Of course, the last thing you want to do is overcook a quality piece of meat. Which is why Dahlmann suggests that – when it comes to grilling steaks – if you're going to err, err on the side of undercooking.
"You can always put a piece of meat back on the grill if it's slightly undercooked. When you over-cook something, all you can do then is start over with a brand-new piece of meat," Jens said. "Just be sure that you're using the correct cut of meat for the cooking result you're aiming for. If someone wants a rare or medium rare steak, you should go with a thicker cut of steak. If one of your guests wants their steak cooked medium or well, it's best to start with a thinner cut of meat."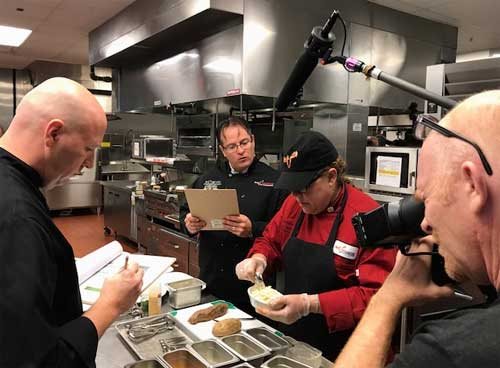 Photo by Jim Hill
As you can see, the folks at Longhorn take grilling steaks seriously. How seriously? Just last week at Darden Corporate Headquarters in Orlando, seven of these brand's top grill masters (who – after weeks of regional competitions – had been culled from the 491 restaurants that make up this chain) competed for a $10,000 prize in the Company's second annual Steak Master Series. And Dahlmann was one of the people who stood in Darden's test kitchens, watching like a hawk as each of the contestants struggled to prepare six different dishes in just 20 minutes according to Longhorn Steakhouse's exacting standards.
"I love that Darden does this. Recognizing the best of the best who work this restaurant," Jens concluded. "We have a lot of people here who are incredibly knowledgeable & passionate when it comes to grilling."
Speaking of which … If today's story doesn't include the exact piece of info that you need to properly grill that T-bone, just whip out your iPhone & text GRILL to 55702. Or – better yet – visit ExpertGriller.com prior to firing up your grill or smoker later today.
This article was originally published by the Huffington Post on Tuesday, July 4, 2017
Brattleboro's Strolling of the Heifers is a sincere if somewhat surreal way to spend a summer's day in Vermont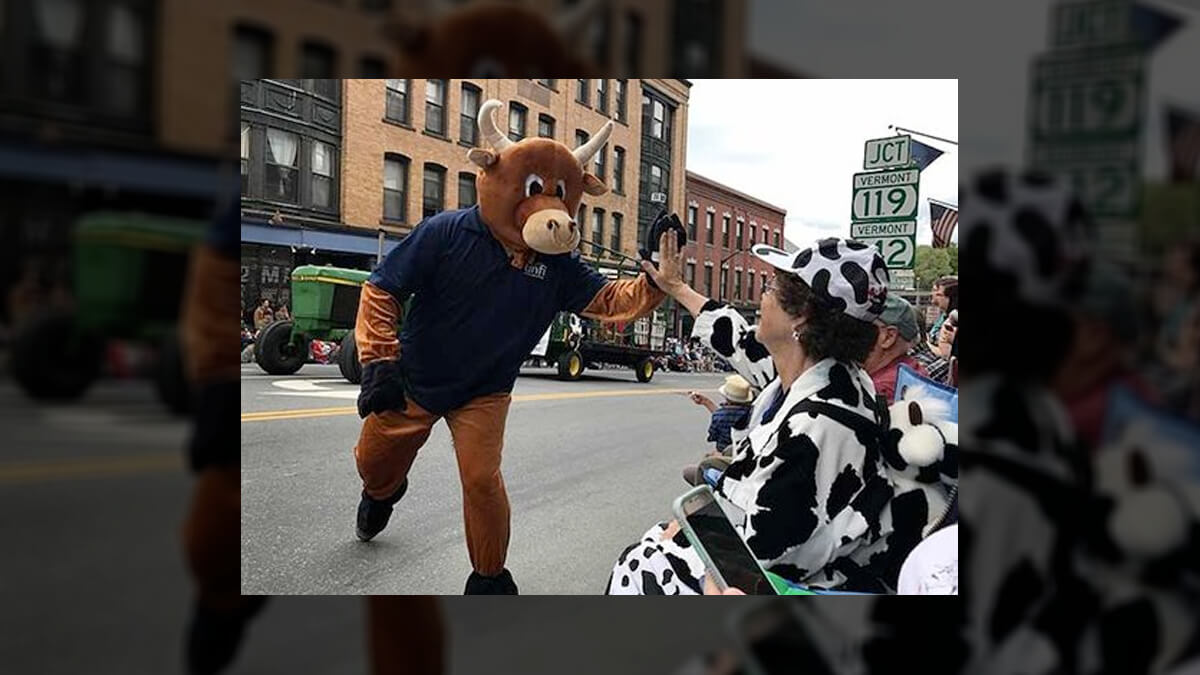 Some people travel halfway 'around the planet so that they can then experience the excitement of the Running of the Bulls in Pamplona. If you're more of a Slow Living enthusiast (as I am), then perhaps you should amble to Brattleboro, VT. Where – over the first weekend in June – you can then join a herd of cow enthusiasts at the annual Strolling of the Heifers.
Now in its 16th year, this three-day long event typically gets underway on Friday night in June with a combination block party / gallery walk. But then – come Saturday morning – Main Street in Brattleboro is lined with thousands of bovine fans.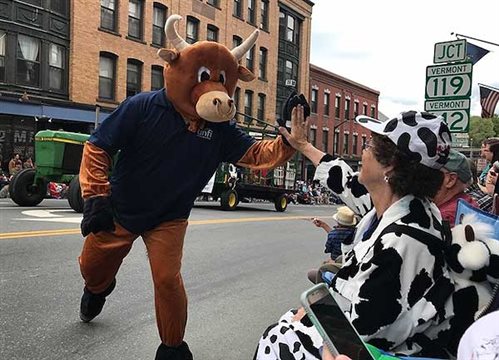 Photo by Jim Hill
They've staked out primo viewing spots and set up camp chairs hours ahead of time. Just so these folks can then have a front row seat as this year's crop of calves (which all come from local farms & 4-H clubs) are paraded through the streets.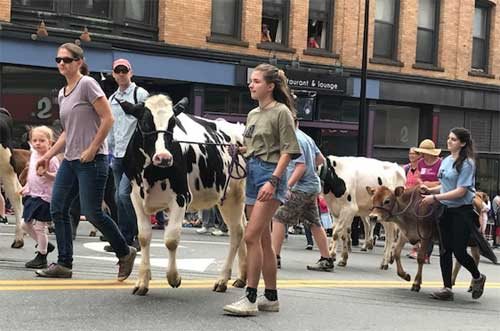 Photo by Jim Hill
Viewed from curbside, Strolling of the Heifers is kind of this weird melding of a sincere small town celebration and Pasadena's Doo Dah Parade. Meaning that – for every entry that actually acknowledged this year's theme (i.e. "Dance to the Moosic") — …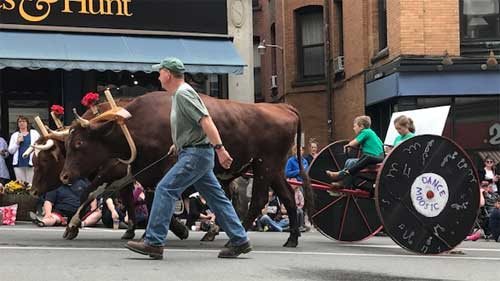 Photo by Jim Hill
… there was something completely random, like this parade's synchronized shopping cart unit.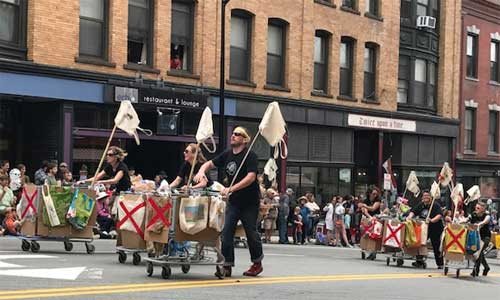 Photo by Jim Hill
And for every piece of authentic Americana (EX: That collection of antique John Deere tractors that came chugging through the city) …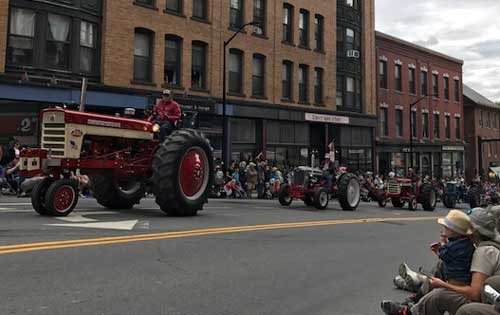 Photo by Jim Hill
… there was something silly. Like – say – a woman dressed as a Holstein pushing a baby stroller through the streets. And riding in that stroller was a pig dressed in a tutu.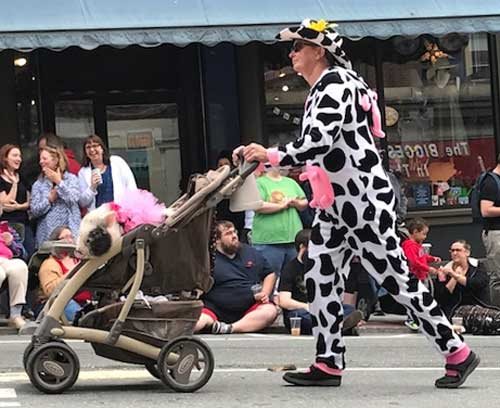 Photo by Jim Hill
And given that this event was being staged in the Green Mountain State & all … Well, does it really surprise you to learn that — among the groups that marched in this year's Strolling of the Heifers – was a group of eco-friendly folks who, with their chants of "We're Number One !," tried to persuade people along the parade route not to flush the toilet after they pee. Because – as it turns out – urine can be turned into fertilizer.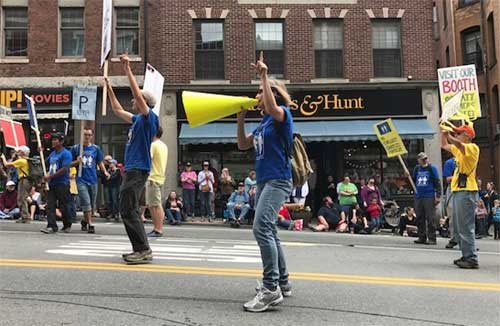 Photo by Jim Hill
And speaking of fertilizer … At the tail end of the parade, there was a group of dedicated volunteers who were dealing with what came out of the tail end of all those cows.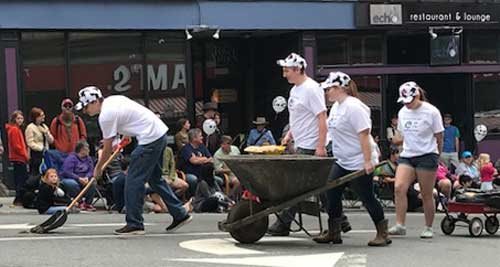 Photo by Jim Hill
This year's Strolling of the Heifers concluded at the Brattleboro town common. Where event attendees could then get a closer look at some of the featured units in this year's parade…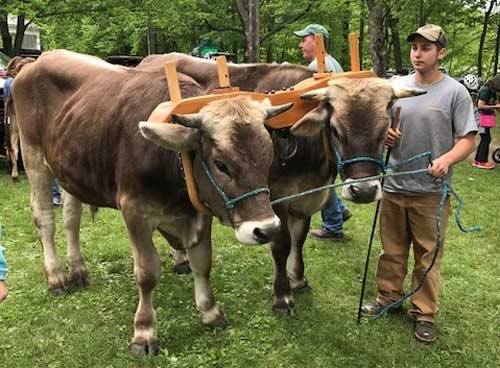 Photo by Jim Hill
… or perhaps even pet a few of the participants.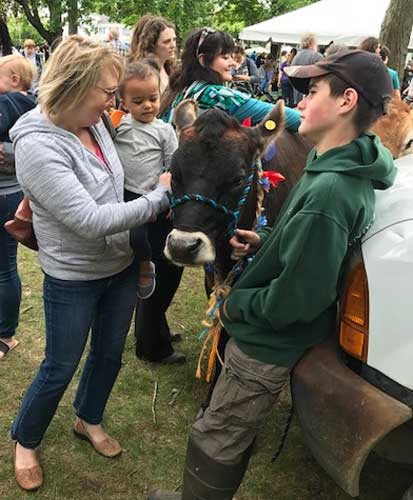 Photo by Jim Hill
But as for the 90+ calves who took part in the 2017 edition of Strolling of the Heifers, once they reached the town common, it was now time for a nosh or a nap.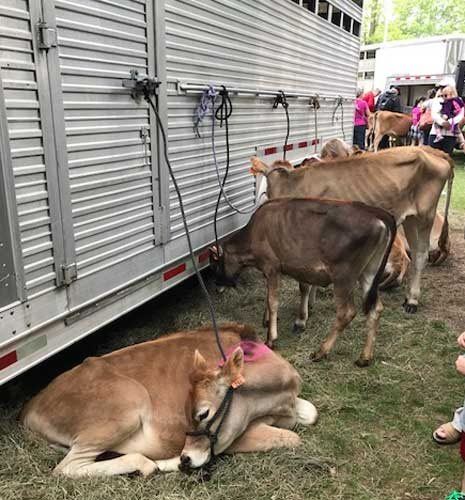 Photo by Jim Hill
Elsewhere on the common, keeping with this year's "Dance to the Moosic" theme, various musical groups performed in & around the gazebo throughout the afternoon.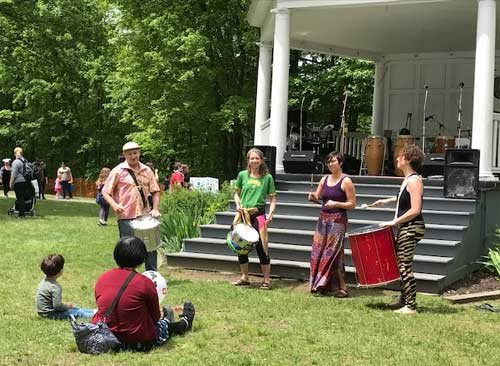 Photo by Jim Hill
While just across the way – keeping with Brattleboro's tradition of showcasing the various artisans who live & work in the local community – some pretty funky pieces were on display at the Slow Living Exposition.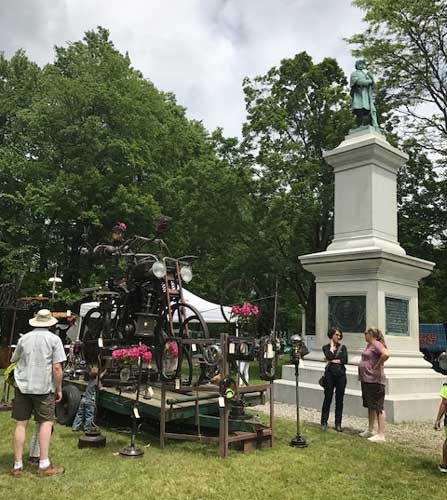 Photo by Jim Hill
All in all, attending Strolling of the Heifers is a somewhat surreal but still very pleasant way to spend a summer's day in Vermont. And that's no bull.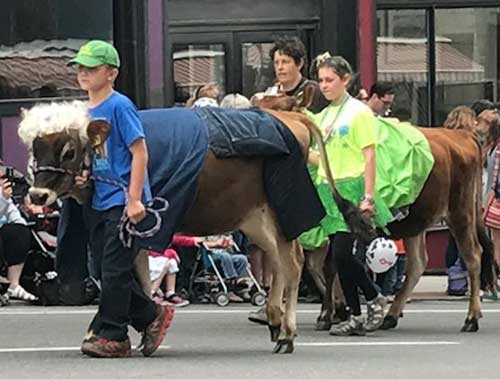 Photo by Jim Hill
Well, that could be a bull. To be honest, what with the wig & all, it's kind of hard to tell.
This article was originally published by the Huffington Post on Sunday, June 4, 2017
Looking to make an authentic Irish meal for Saint Patrick's Day? If so, then chef Kevin Dundon says not to cook corned beef & cabbage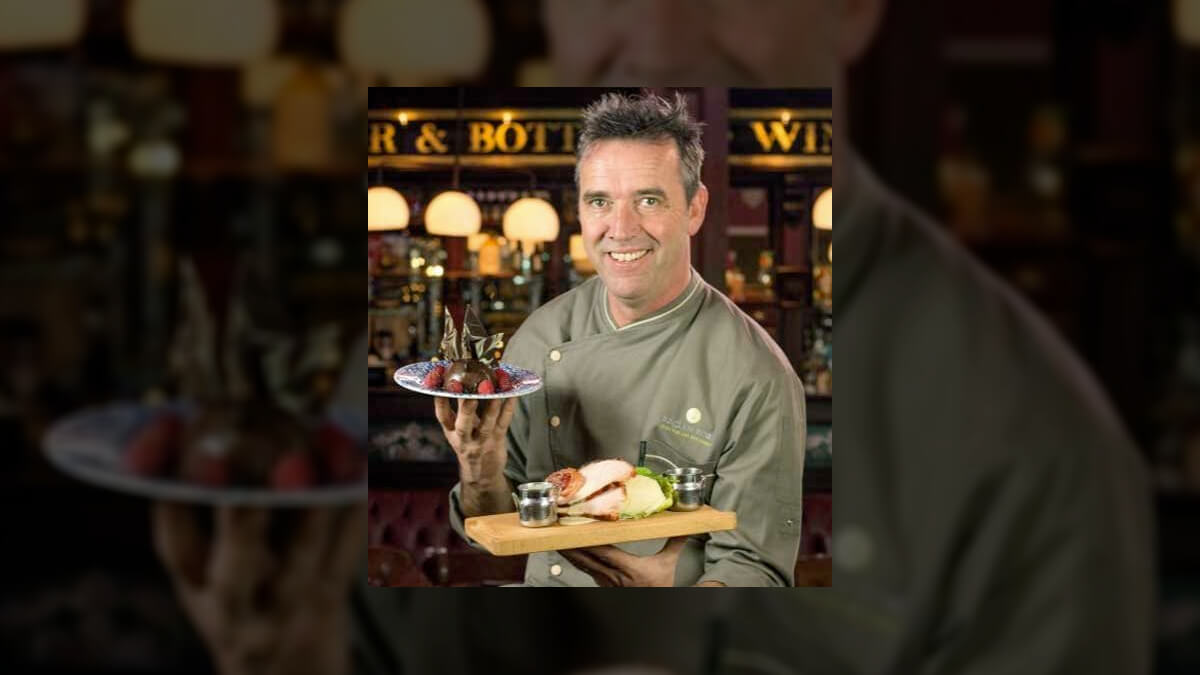 Let's at least start on a positive note: Celebrated chef, author & TV personality Kevin Dundon – the man that Tourism Ireland has repeatedly chosen as the Face of Irish Food – loves a lot of what happens in the United States on March 17th.
"I mean, look at what they do in Chicago on Saint Patrick's Day. They toss all of this vegetable-based dye into the Chicago River and then paint it green for a day. That's terrific," Kevin said.
But then when it comes to what many Americans eat & drink on St. Paddy's Day (i.e., a big plate of corned beef and cabbage. Which is then washed down with a mug of green beer) … Well, that's where Dundon has to draw the line.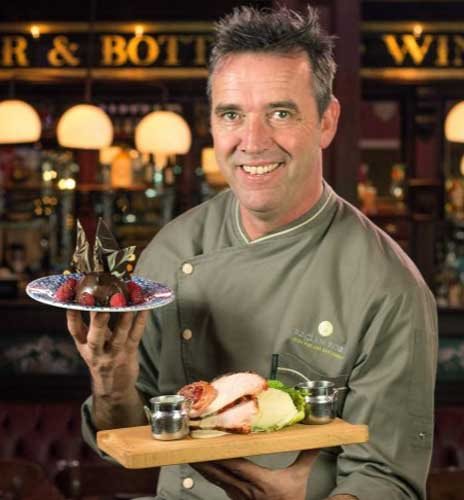 Irish celebrity chef Kevin Dundon displays a traditional Irish loin of bacon with Colcannon potatoes and a Dunbrody Kiss chocolate dessert. Photo by Tom Burton. Copyright Disney Enterprises, Inc. All rights reserved
"Green beer? No real Irishman would be caught dead drinking that stuff," Kevin insists. "And as for eating corned beef & cabbage … That's not actually authentic Irish fare either. Bacon and cabbage? Sure. But corned beef & cabbage was something that the Irish only began eating after they'd come to the States to escape the Famine. And even then these Irish-Americans only began serving corned beef & cabbage to their friends & family because they had to make do with the ingredients that were available to them at that time."
And thus begins the strange tale of how corned beef & cabbage came to be associated with the North American celebration of Saint Patrick's Day celebration. Because – according to Dundon – beef just wasn't all that big a part of the Irish diet back in the 19th century.
To explain: Back in the Old Country, cattle – while they were obviously highly prized for the milk & cheese that they produced – were also beasts of burden. Meaning that they were often used for ploughing the fields or for hauling heavy loads. Which is why – back then — these animals were rarely slaughtered when they were still young & healthy. If anything, land owners liked to put a herd of cattle on display out in one of their pastures because that was then a sign to their neighbors that this farm was prosperous.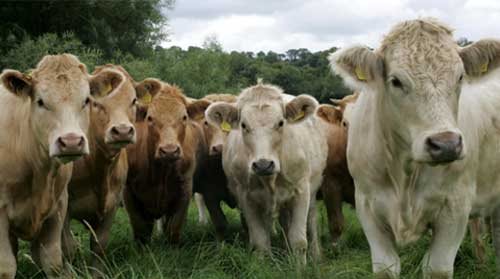 "Whereas pork … Well, everybody raised pigs back then. Which is why pork was a staple of the Irish diet rather than beef," Dundon continued.
So if that's what people actually ate back in the Old Country, how then did corned beef & cabbage come to be so strongly associated with Saint Patrick's Day in the States.? That largely had to do with where the Irish wound up living after they arrived in the New World.
"When the Irish first arrived in America following the Great Famine, a lot of them wound up living in the inner city right alongside the Germans & the Jews, who were also recent immigrants to the States. And while that farm-fresh pork that the Irish loved wasn't readily available, there was brisket. Which the Irish could then cure by first covering this piece of meat with corn kernel-sized pieces of rock salt – that's how it came to be called corned beef. Because of the sizes of the pieces of rock salt that were used in the curing process – and then placing all that in a pot of water with other spices to soak for a few days."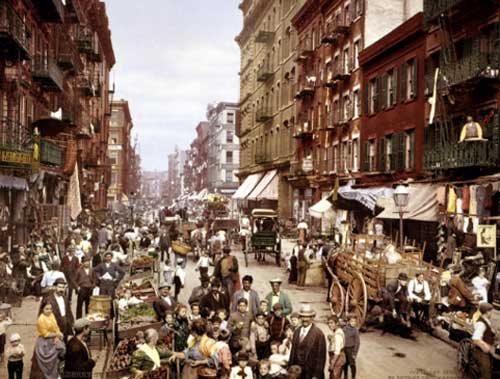 And as for the cabbage portion of corned beef & cabbage … Well, according to Kevin, in addition to buying their meat from the kosher delis in their neighborhood, the Irish would also frequent the stores that the German community shopped in. Where – thanks to their love of sauerkraut (i.e., pickled cabbage) – there was always a ready supply of cabbage to be had.
"So when you get right down to it, it was the American melting pot that led to corned beef & cabbage being found in the Irish-American cooking pot," Dundon continued. "Since they couldn't find or didn't have easy access to the exact same ingredients that they had back in Ireland, Irish-Americans made do with what they could find in the immediate vicinity. And what they made was admittedly tasty. But it's not actually authentic Irish fare."
Mind you, what Kevin serves at Raglan Road Irish Pub and Restaurant at Disney Springs (which – FYI – Orlando Magazine voted as the area's best restaurant back in 2014) is nothing if not authentic. Dundon and his team at this acclaimed gastropub pride themselves on making traditional Irish fare and then contemporized it.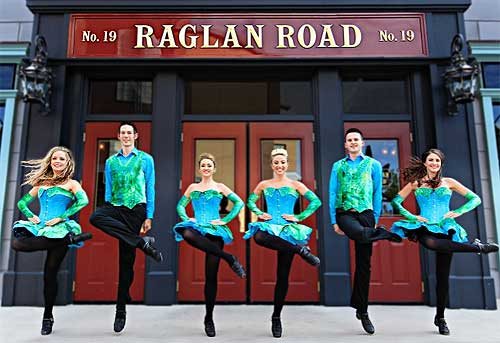 Copyright Disney Enterprises, Inc. All rights reserved
"Take – for example – what we serve here instead of corned beef & cabbage. Again, because it was pork – rather than beef – that was the true staple of the Irish diet back then, what we offer instead is a loin of bacon that has been glazed with Irish Mist. That then comes with colcannon potatoes. Which is this traditional Irish dish that's made up of mashed potato that have had some cabbage & bacon mixed through it," Kevin enthused. "This heavenly ham – that's what we actually call this traditional Irish dish at Raglan Road, Kevin's Heavenly Ham – also includes some savory cabbage with a parsley cream sauce as well as a raisin cider jus. It's simple food. But because of the basic ingredients – and that's the real secret of Irish cuisine. That our ingredients are so strong – the flavors just pop off the plate."
Which brings us to the real challenge that Dundon and the Raglan Road team face every day. Making sure that they actually have all of the ingredients necessary to make this traditional-yet-contemporized Irish fare to those folks who frequent this Walt Disney World favorite.
"Take – for example – the fish we serve here. We only used cold water fish. Salmon, mussels and haddock that have been hauled out of the Atlantic, the ocean that America and Ireland share," Kevin stated. "Not that there's anything wrong with warm water fish. It's just that … Well, it doesn't have the same structure. It's a softer fish, which doesn't really fit the parameters of Irish cuisine. And if you're going to serve authentic food, you have to be this dedicated when it comes to sourcing your ingredients.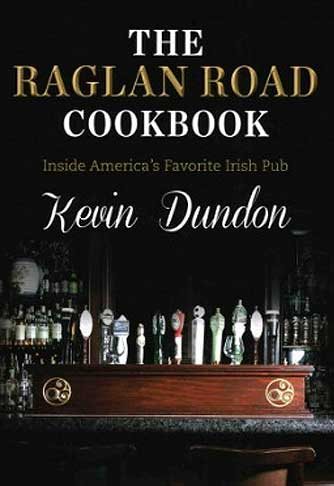 Copyright Mitchell Beazley. All rights reserved
And if you're thinking of perhaps trying to serve an authentic Irish meal this year, rather than once again serving corned beef & cabbage at your Saint Patrick's Day Feast … Well, back in September of last year, Mitchell Beazley published "The Raglan Road Cookbook: Inside America's Favorite Irish Pub." This 296-page hardcover not only includes the recipe for Kevin's Heavenly Ham but also it tells the tale of how this now-world-renown restaurant wound up being built in Orlando.
On the other hand, if you happen to have to the luck of the Irish and are actually down at The Walt Disney World Resort right now, it's worth noting that Raglan Road is right in the middle of its Mighty St. Patrick's Day Festival. This four day-long event – which includes Irish bands and professional dancers – stretches through Sunday night. And in addition to all that authentic Irish fare that Dundon and his team are cooking up, you also sample the fine selection of beers & cocktails that this establishment's four distinct antique bars (each of which are more than 130 years old and were imported directly from Ireland) will be serving. Just – As ucht Dé (That's "For God's Sake" in Gaelic) – don't make the mistake of asking the bartender there for a mug of green beer.
"Why would anyone willingly drink something like that?," Dundon laughed. "I mean, just imagine what their washroom will look like the morning after."
This article was originally published by the Huffington Post on Friday, March 17, 2017