Disney Inteactive and Harmonix have high hopes for "Fantasia: Music Evolved"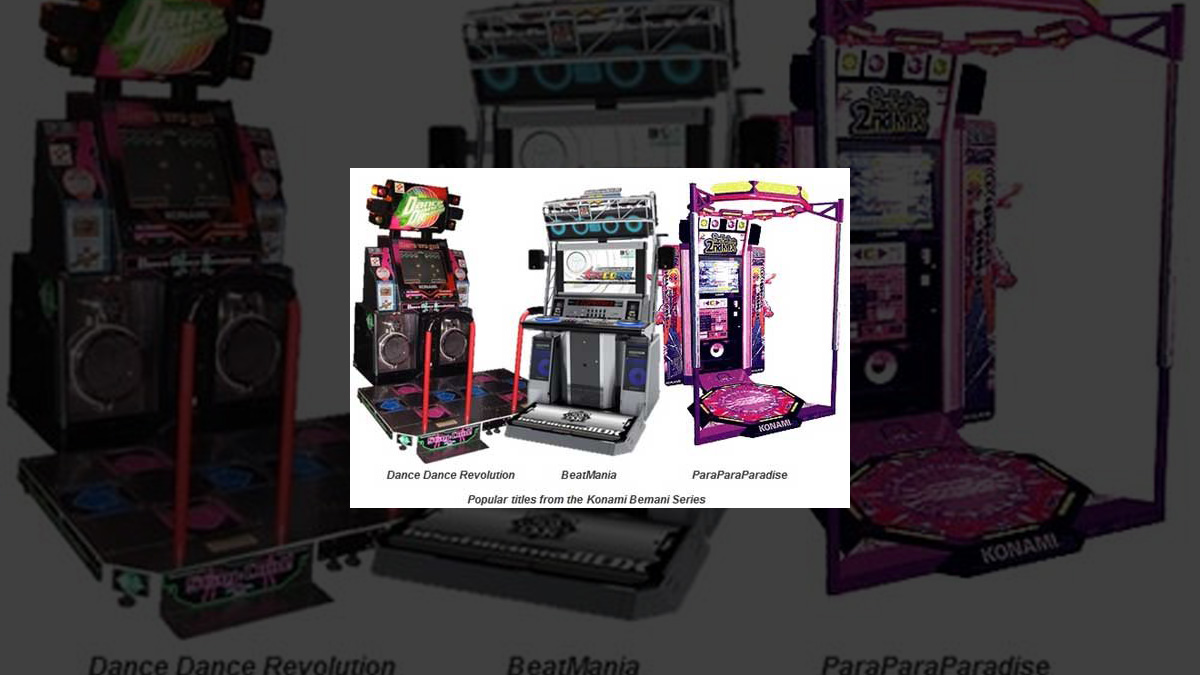 The Disney films are synonymous with music. Chances are most
fans can remember at least one song from every animated film that they've ever
seen. I shouldn't have to mention that Disney "Frozen" has been at
the top of the Billboard charts over the past 13 weeks. Disney films however do
not have a great track record in the video game arena, especially not titles
that were predominantly music-oriented.
Music is a big part of gaming. The soundtracks for some of
the biggest action-adventure and role-playing games have featured many
memorable songs. The US
mainstream may not be familiar with the names of Japanese composers Nobuo
Uematsu, Hideki Naganuma or Norihiko Hibino, game players from the west however
certainly revere their work. To be fair, some of the biggest names from the USA
have been associated with gaming. Hollywood heavyweights
Michael Giacchino and Harry Gregson-Williams have actually scored several game
soundtracks as well.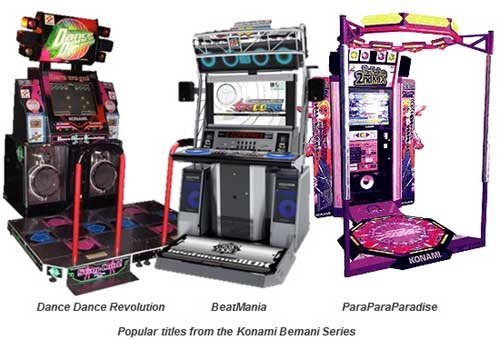 There are music-based games that take up several genres and
have been among the hottest selling titles on more than one occasion. No series
has been more influential to the industry than the Bemani series by Konami.
Bemani was the abbreviated name for Beatmania, the breakout hit from the Konami
Games & Music Division. Japanese arcade players would line up to play a
virtual DJ using a turntable and sampling buttons on an arcade cabinet. The
title only found moderate success abroad. The follow-up title broke out of the
Japanese arcade scene to become an international sensation. Dance Dance
Revolution featured a light up floor for audiences to dance on. The series
became so popular that it would be referenced everywhere in pop culture including
cartoons, movies and television. Even the film "Wreck-it-Ralph
"
featured a cameo from one of the virtual dancers. Konami continued to crank out
new Bemani experiences including Guitar Freaks and Drum Mania, which allowed
players to rock out on electronic guitars and drums. Konami tried a bold design
with the game Para Para Paradise
. Instead of stepping on a floor or playing on
a plastic instrument audiences were challenged to dance and wave their arms in
rhythm with the music. The arcade cabinet had sensors to track the hands and
feet of the players and make sure they were matching the choreography of the
game characters.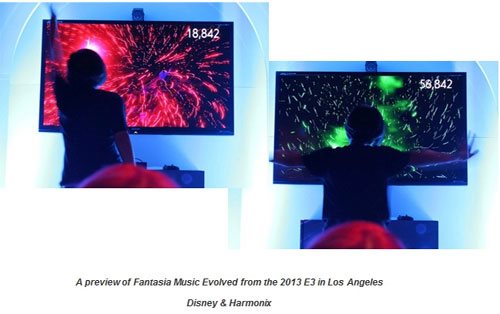 The Bemani titles spread throughout the West and inspired
the Guitar Hero
and Rock Band
console game hits. Most recently Disney Interactive
partnered up with Harmonix, the creators of the Guitar Hero and Rock Band
franchises to produce a game inspired by Fantasia
. The game Fantasia: Music
Evolved debuted at the 2013 E3 in Los Angeles
to small groups of visitors. The game had players interact with virtual
environments and "play" through different songs using hand gestures.
Because it was in a very early stage of development only Harmonix employees
could demo the game but a few press members were invited to as well. Thanks to advances
in technology the game did not require a bulky cabinet or any sort or sensor
array. Instead it used the remote-control sized Microsoft Kinect with an Xbox
360
. The game was interesting and the music selection diverse, featuring songs
from the animated film as well as pop hits. It was still a little rough around
the edges but showed potential. Audiences did not see much else on the game
until the D23 EXPO in Anaheim a few
months later.
At the D23 EXPO, the Walt Disney Archives had prepared an
exhibit next to the Harmonix display to help younger convention visitors become
familiar with the classical masterpiece. Disney pulled out all of the stops and
presented a behind-the-scenes look at the game as well as a live onstage
demonstration. Followed up by a performance from the world class musicians that
made up the Disney Chamber Ensemble. The presentation went well and the game
looked as if it had progressed somewhat from the E3 version. The audience
however did not seem very enthusiastic with the title. It looked more like a
tech demo for interactive environments and gesture-based audio editing
applications than a game. Fantasia was regarded as one of the greatest animated
masterpieces of all time but very little of the film and its sequel were
actually featured in the game. The appearance of Yen Sid seemed to be a
carryover from unused Epic Mickey
assets rather than something that was put
deliberately into the game. This was a title that did not seem to have a clear
direction or even market. Music rhythm games had run their cycle years ago and
there was little that could get players excited with them again. A big name
like Disney Interactive and Harmonix would not be enough to drive sales.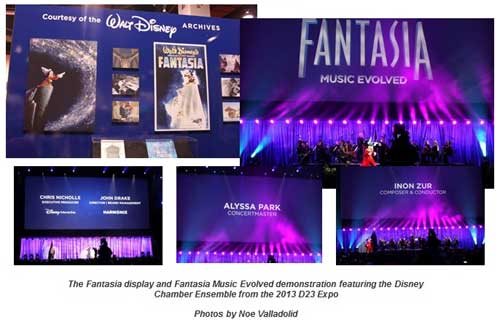 Whether this will be an expensive flop or a sleeper hit has yet to be
seen. I'm betting on the former. Fantasia: Music Evolved is scheduled for
release in 2014 for the Xbox 360 with Kinect and Xbox One
.
"Adventure Time: Pirates of the Enchiridion" game coming this summer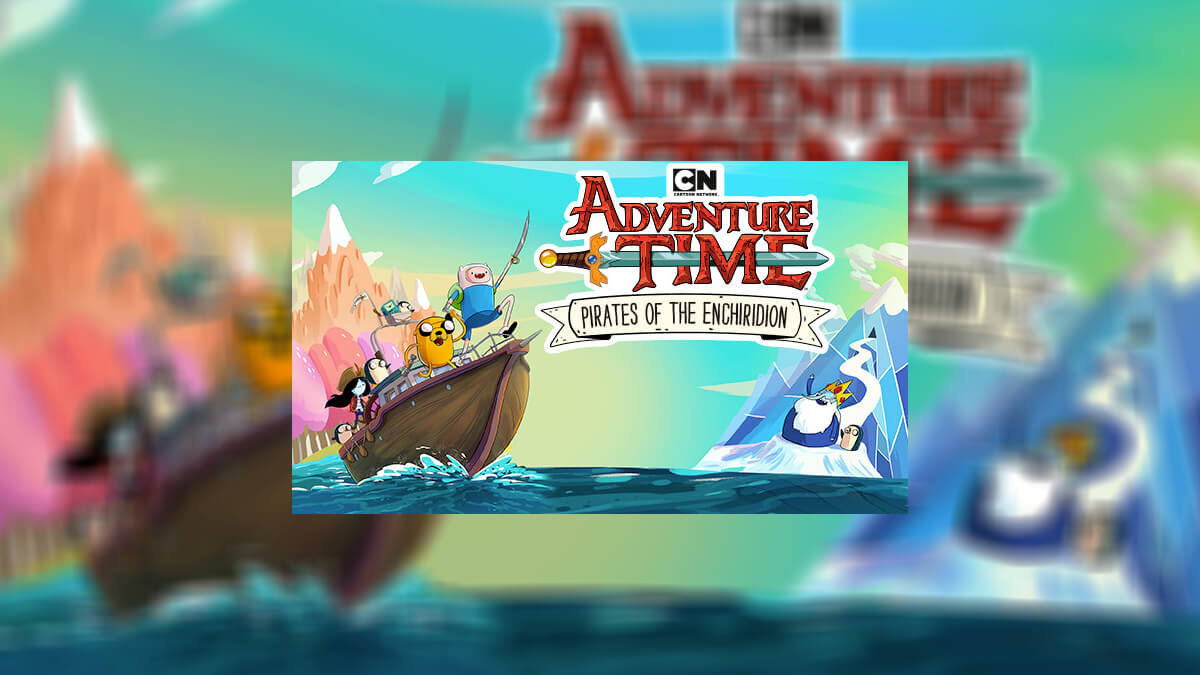 "C'mon on, grab your friends … " A new Adventure Time game is coming out across multiple platforms.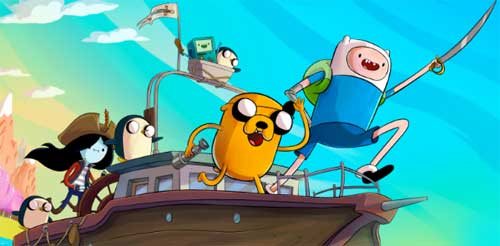 Copyright Cartoon Network / Outright Games Ltd. All rights reserved
In this open world game, Finn and Jake will be sailing on a raft (Named Jeff) through the flooded land of Ooo to solve the mystery of why water engulfed their home and to help others & get in hijinks along the way. With a ragtag gang of friends (From a vampire, to an Ice King, to a little robot) Finn and Jake will travel from the melting Ice Kingdom to the Fire Kingdom and fight in turn-based combat like an RPG.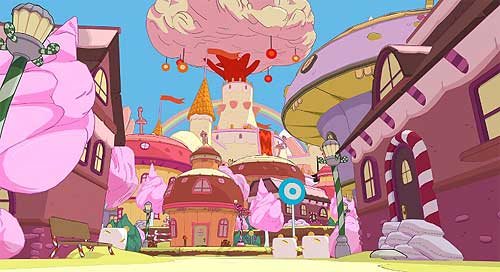 Copyright Cartoon Network / Outright Games Ltd. All rights reserved
The trailer shows off some absolutely gorgeous character models and environments. I'm particularly enchanted by the gorgeous Candy Kingdom that's briefly shown in this footage. The art design sticks close to the show, but brings with it a soft, sweet design rarely seen in adventure games. Which is a refreshing thing to bring to the table. Likewise, it's a joy to see the characters translate to 3D so well. Outright Games has done some fantastic work here with their art design.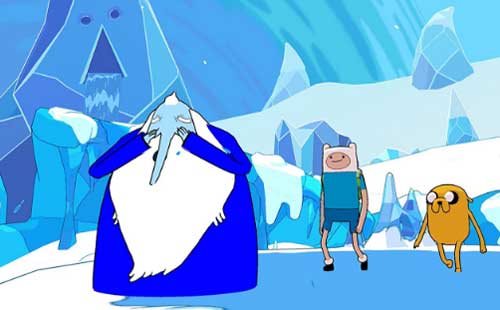 Copyright Cartoon Network / Outright Games Ltd. All rights reserved
Likewise, the voice cast for the show will be reprising their roles as characters in the land of Ooo. And they'll have a lot of lines to record. Not only can you control Finn and Jake, but you'll be able to play as BMO and Marceline as well. You can upgrade these characters to unlock unique abilities for combat and the map holds plenty of fun mysteries too. With side stories and secret locations, this seems like a game that'll have hours & hours of fun.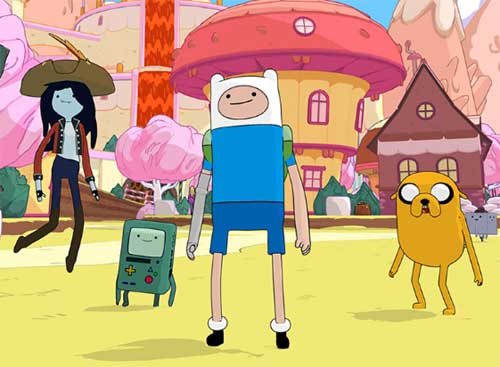 Copyright Cartoon Network / Outright Games Ltd. All rights reserved
What strikes me particularly about this game is how much it resembles Legend of Zelda: Wind Waker. This is no coincidence. Adventure Time have a history of being direct corollaries to Legend of Zelda games. "Adventure Time: Hey Ice King! Why'd You Steal Our Garbage?!" 's gameplay references "Zelda II: The Adventure of Link" and "Adventure Time: The Secret of the Nameless Kingdom" has the same top down look & combat stylings as "Legend of Zelda: A Link to the Past." With this in mind, it's absolutely delightful to see a Wind Waker homage with a series like this. Wind Waker was a gamechanger for the Legend of Zelda series, and it feels like "Pirates of the Enchiridion" will be a gamechanger for the Adventure Time games.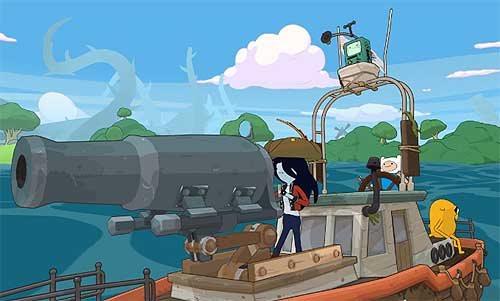 Copyright Cartoon Network / Outright Games Ltd. All rights reserved
'Adventure Time: Pirates of the Enchiridion' will be out July 17th for the Nintendo Switch, Xbox One, Playstation 4, and PC.
Do you like treasure hunting and/or cooking soup? Then Pokemon Quest is the game for you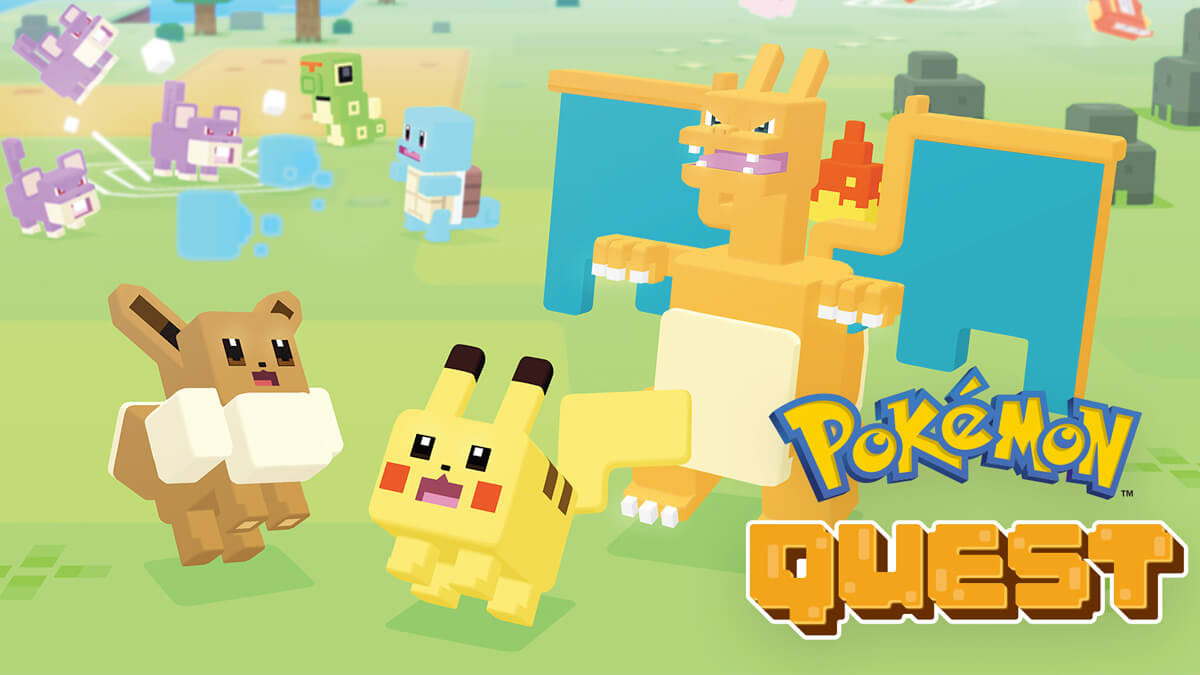 Immediately after the Pokemon press conference on May 29th, the mobile-switch cross platform game Pokemon Quest was available to download on the Nintendo eShop (with the mobile device version debuting later this month). Curious about the 'Free-to-Start' game, I snagged a download and started playing.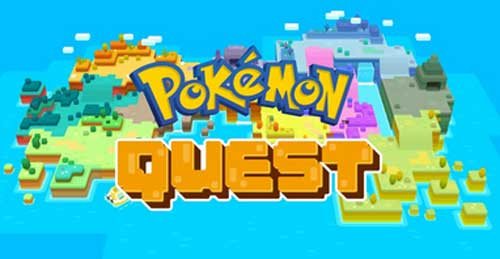 Copyright 2018 Nintendo. All rights reserved
Pokemon Quest is a game that feels best letting itself auto-run. You check in several times a day to see what Pokemon have appeared at your camp (The conceit behind this game is that you're a treasure hunter & Pokemon flock to you to fight their brethren in your honor. They also sometimes just come by because you make really good soup. What can I say?). With the Pokemon at your disposal, you build a small exploration team much in the same style as the Pokemon Mystery Dungeon game series. And you then set them out to fight other Pokemon in open levels. From these battles, you win power stones (which allow you to upgrade your Pokemon's health & attack power), and ingredients to lure other Pokemon to your camp.
You may've taken notice use of the term 'Free-to-Start' earlier in this article. That's because — like many mobile services — this game offers add-ons for purchase. I don't see any age limit on the Nintendo Switch version to take away ads for purchases (which many mobile games have chosen to add. See Disney's own 'Disney Crossy Road') but the Pokemon Company may be expecting parents to set their own controls over the switch with the parental controls available on the system.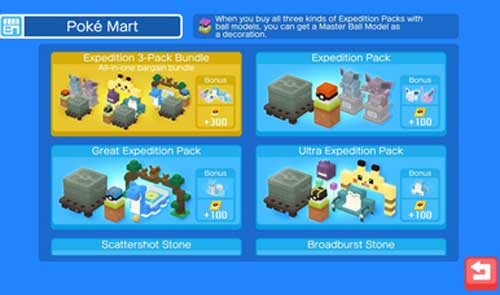 Copyright 2018 Nintendo. All rights reserved
Still, the game is typical in mobile game fare for trying to wring money out of players. Energy to play the game costs P tickets, which you can earn 50 a day … or you can just buy. The game gives you an amount to start with, shows you how to use them to speed up your game, and then takes you to the shop where you can see an advertisement to buy it — along with Pokemon furniture to help your team.
These packages can go up to $30 and include Pokemon in-game items & exclusive furniture. And while Pokemon Go offered items in bundles like this, it's still odd to see in a Pokemon game — let alone a Pokemon game on the Nintendo Switch (albeit, this is a cross-platform game). The game itself doesn't seem to have any sort of hard-pay line for gameplay, though. I'm up to the fifth world in my game without making any purchases. And while the game difficulty has dramatically ramped up, likely to encourage purchases, it's still completely manageable to play without paying.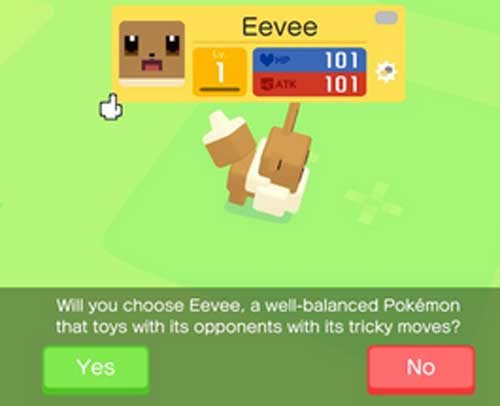 Copyright 2018 Nintendo. All rights reserved
In that sense, for a free game, it's really cute & enjoyable. The graphics are pleasing and colorful. And if you return to camp, you'll find all the Pokemon you've befriended hopping around adorable decorations. Sometimes stacking on top of each other, other times following each other around in what seems like games of tag.
The 'cooking' mechanic to encounter a random Pokemon makes encountering them feel less like gambling and more like strategy. By cooking certain recipes from materials you find on missions, you can draw certain types of Pokemon to your camp. Cooking in certain pots (unlocked by playing through the game) can draw higher powered Pokemon at the cost of more materials. And waiting while your energy fills up means running out of ingredients (At the point of the game I'm at, about half-way through) doesn't seem to be a problem.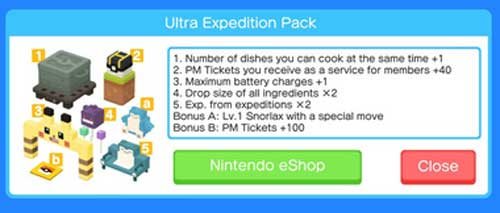 Copyright 2018 Nintendo. All rights reserved
All in all, I'd say, if you have access to this game, check it out and see if it's for you. There doesn't seem to be cross platform support for other Pokemon games. But as a standalone, it's a cute, fun blip of a game. The hard 'end' of the levels within surprises me, especially since it seems to end with 150 Pokemon (out of the over eight hundred available). So I'm not sure what there is to get out of it when you get to the end level outside of getting every Pokemon. But it's still a fun, very casual strategy game. Just keep an eye on purchases if your children decide to play.
"Pokemon — Let's Go, Pikachu !" & "Pokemon — Let's Go, Eevee !" to come to the Nintendo Switch this year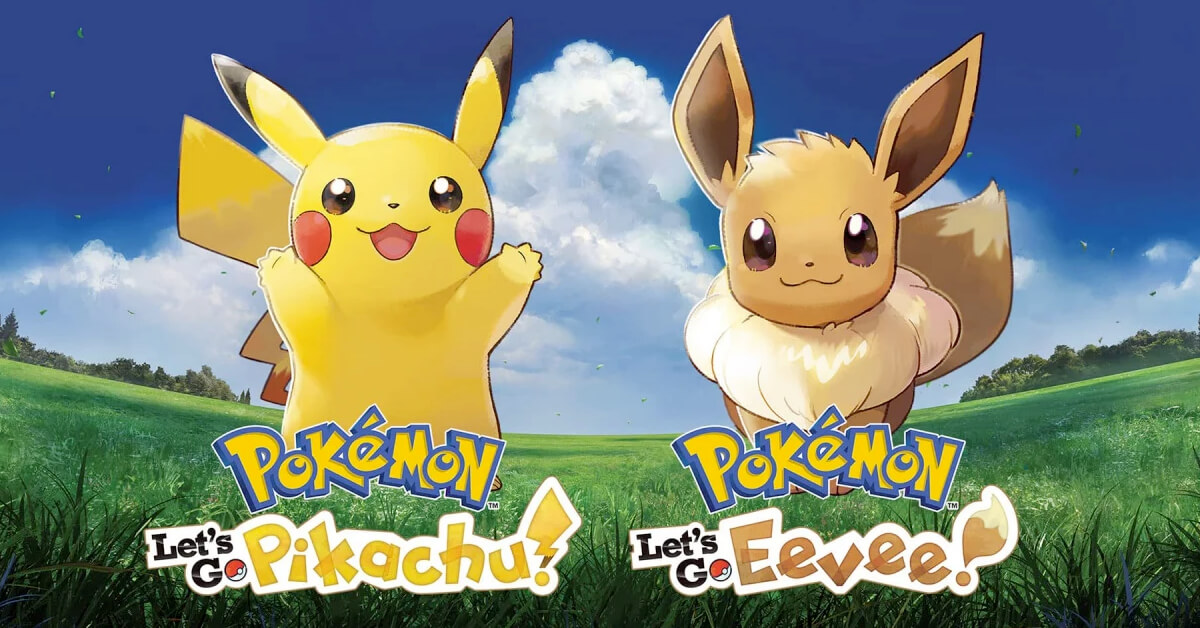 During a conference in Japan earlier this week, the Pokemon Company revealed three new games : A mobile and Nintendo Switch cross platform game, "Pokemon Quest," with graphics similar to Crossy Road and some absolutely adorable furniture in a "free to start" format; and for the Nintendo Switch, "Pokemon — Let's Go, Pikachu !" and "Pokemon — Let's Go, Eevee !"
Taking inspiration from gameplay styles from the popular "Pokemon Go" for mobile devices, "Pokemon — Let's Go, Pikachu !" and "Pokemon — Let's Go, Eevee !' adopts the thrown Pokeball system. By using one controller with the Switch system, you can make a tossing motion to throw a Pokeball and capture a cute critter for your team.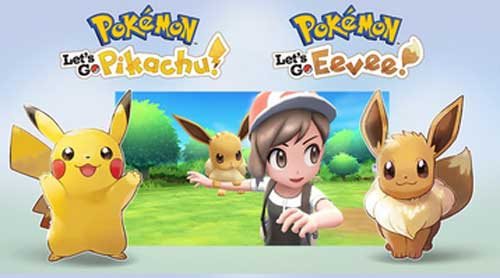 Additionally, you can buy the "Pokeball Plus" accessory to act as an additional "Joy-con" controller for your Switch to capture Pokemon. Then load a Pokemon into your pokeball, and take it out on the go.
From there, with the accessory, you'll be able to interact with the Pokemon you have inside. Although current information doesn't offer whether we'll have more options than putting Eevee or Pikachu in the Pokeball Plus, the footage seen in the linked trailer is absolutely adorable.
The game itself seems to be a remake of Pokemon Yellow, a game released twenty years ago for the Game Boy Color. You explore the Kanto Pokemon region, and seem to be limited to the 150 Pokemon available when that game was out (Well, 151, if you were lucky, or good at exploiting glitches). But these games ditch the random encounters of mainline Pokemon games and adopt the overworld encounters of Pokemon Go. What Pokemon you see on the overworld is what you get.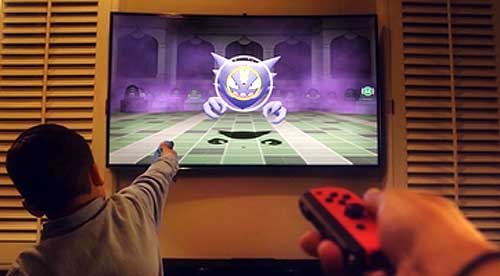 Additionally, Pokemon can follow you around and you can ride some of them. In footage, we see a trainer riding a giant Onyx (i.e., a giant snake made out of rocks. Who wouldn't be comfortable riding on that?) and followed by a starting Pokemon, Bulbasaur. Although in these two games, you start instead with the series mascot Pikachu, and the evolution Pokemon Eevee, which can evolve into several different pokemon. You can also put little outfits on them. Which is – frankly — incredible.
Likewise, this seems to have local multiplayer. Hand the left Joy-con to a friend and let them enter your game. Or if you're feeling really lonely, put the left Joy-con in your hand and pretend you have a friend while controlling the new trainer that arrives. What a fun time!
You and your friend can then team up to capture Pokemon together, or go exploring together- And you can have Pokemon you capture in Pokemon Go (of the original 151 Pokemon) arrive in your game. You can also send "Presents" back to your Pokemon Go game, including a possible new form of Pokemon as the trailer discusses.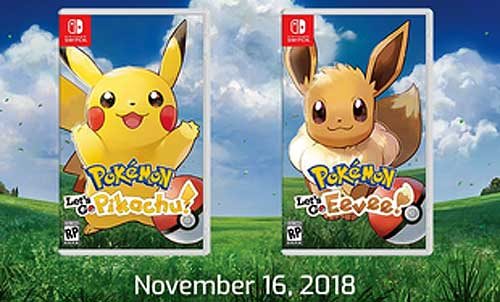 "Pokemon — Let's Go, Pikachu !" and "Pokemon — Let's Go, Eevee !" will be arriving on the Nintendo Switch this November. Likewise, a new Pokemon game will be released in the second Half of 2019. With a Mario movie in development and theme park additions on the way, it's sure to be a busy year for Nintendo.